Modern sound technology is developing at an active pace and its steep subwoofer for the house no one surprises. This device reproduces the lowest frequencies that humans can perceive. Good bass is always a good investment in your home speaker system, allowing you to enjoy more music or movies. This applies to both elite subwoofer models and budget ones.
A budget sub doesn't mean it's bad. If you are an aspiring audiophile looking to enjoy a movie with a brighter sound, then the entry-level subwoofer is perfect for you. If you are a pro and sound expert, then you need to be more careful in your choice of a subwoofer to get better quality.
The budget subwoofer is a classic design consisting of a relatively large "box" and a traditional woofer with a diameter of usually 10 inches. At the same time, the output power of the built-in amplifier, typical for the initial category, is from 50 to 150 watts.
This review can assist you in choosing the best budget subwoofer for you. Subwoofers are similar in style and technical parameters, however, this should not lead you astray.
Our pick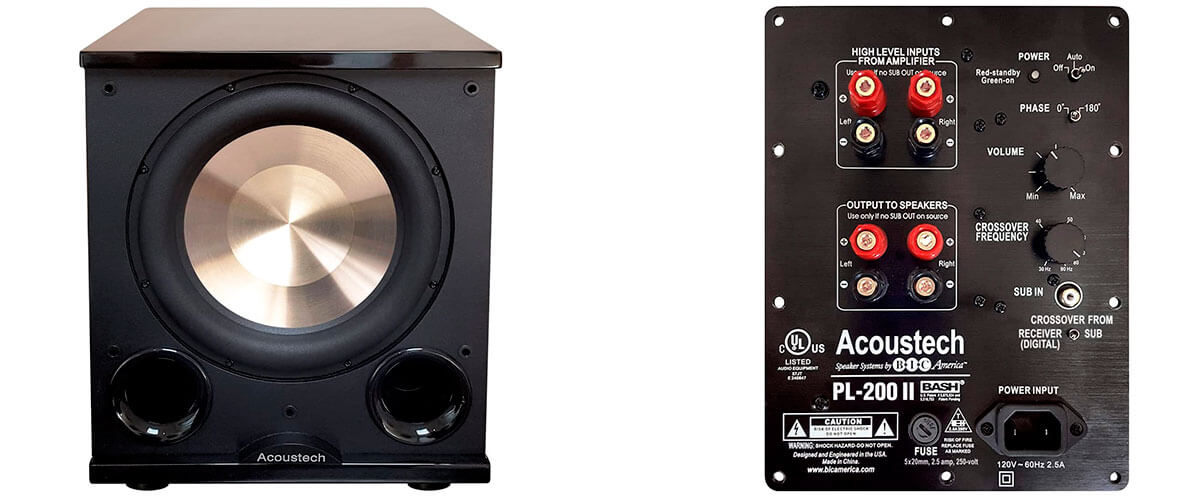 Bic Acoustech PL-200 II
Best Budget Subwoofer
The PL-200 II's new dual flared front ports enable a more even transition of sound into the room and dramatically boost deeper bass frequencies providing a smoother frequency response, virtually flat down to 20Hz.
What's the difference between a budget and expensive subwoofers
There are two important things to watch out for – frequency range and SPL. The best manufacturers will give you a frequency range of +/- 3dB. Imitators give a +/- 10dB frequency range to make it look better than it is. The difference between a cheap 124 dB SPL subwoofer and a good 132 dB SPL subwoofer is huge. The problem with a low-power subwoofer is that you might be tempted to abuse it and destroy it.
However, there is no guarantee that the more you spend on a sub, the better the sound will be. Some very expensive audiophile-targeted subwoofers are based on outdated technology and design philosophies that science has shown to sound bad. Developing a quality subwoofer doesn't necessarily cost more than developing an affordable subwoofer.
There is also a difference in the case. The cheaper subwoofers place the driver in a resonant box, which gives a higher sound pressure level at the resonant frequency but has problems with poor sound. The designers of the best models minimize resonances by using hard (and usually expensive) materials. The thickness of the plywood is an important factor: a box that does not sound good when struck is an indicator of quality.
It is difficult to talk about quality because there is a huge range of quality and different users have different expectations.
Best Budget Subwoofer Reviews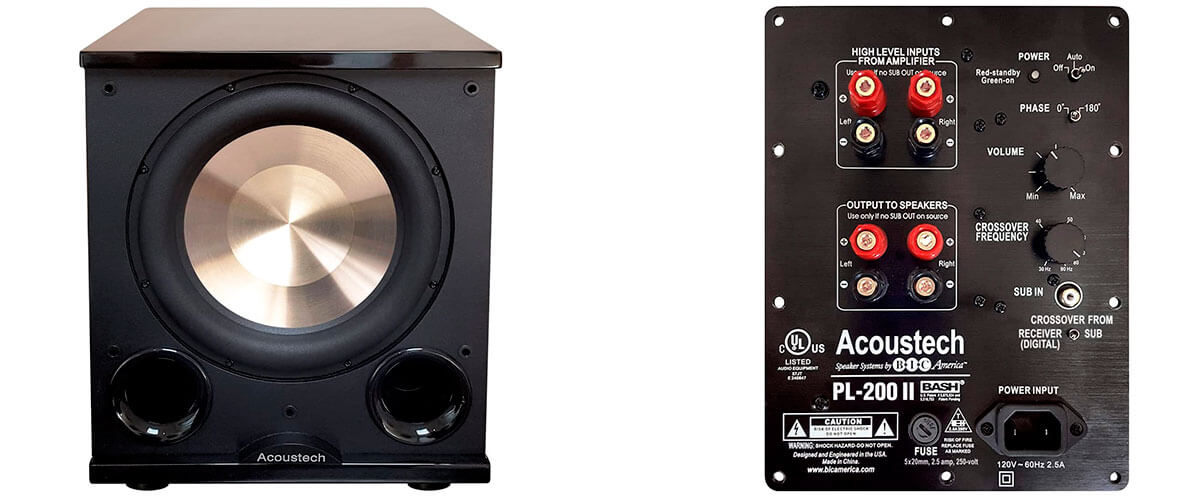 The BIC Acoustech PL-200 II is one of the best budget powered subwoofers on the market. Its quality construction, high amplifier power, and great sound make it the perfect addition to your home theater. You will be hard-pressed to find any other subwoofer on the market with comparable performance at this price point.
With a dynamic peak power of 1000W, this subwoofer will fill your space with loud and deep lows. At first glance, the BIC Acoustech PL-200 II subwoofer may look a lot like other subwoofers in its price range, but there are a few important differences under the grille. The PL-200 II boasts a better design, modern amplifier, and two front-facing expansion ports.
At 17.25 x 14.875 x 19.5 inches and 45 pounds, the sub is large and heavy. The body is made of MDF, but instead of just the familiar black laminate that we see on many budget audio products, BIC has added lacquer on some surfaces. The front panel of the subwoofer placed a powerful 12-inch poly-injection speaker. There is a removable black fabric grille, but the shiny metal center of the speaker is very attractive, and users can leave it open. Unlike other subwoofers in this budget range, the PL-200 II has not one but two ports.
The setup is very simple. The dual ports on the front make placement easier, and you don't have to spend a lot of time moving it around to find the best place. The ports also greatly reduce noise. The PL-200 II looks slightly better than other subwoofers in this price range. This is a quality sub that's surprisingly inexpensive and looks like it should cost twice as much. While the PL-200 II doesn't reproduce very well below 30Hz, it's barely noticeable in movies. The quality of what this sub has to offer hides this flaw well.
Pros
Housed in a large and heavy PL-200 II package, the BASH amplifier is capable of driving 250 watts of continuous power
There is a crossover control, volume control, and a power switch that includes an auto on/off setting
No port noise, distortion, or other unpleasant sounds
Cons
The quality of the amplifier is not very good
Elac SUB1010 – cheapest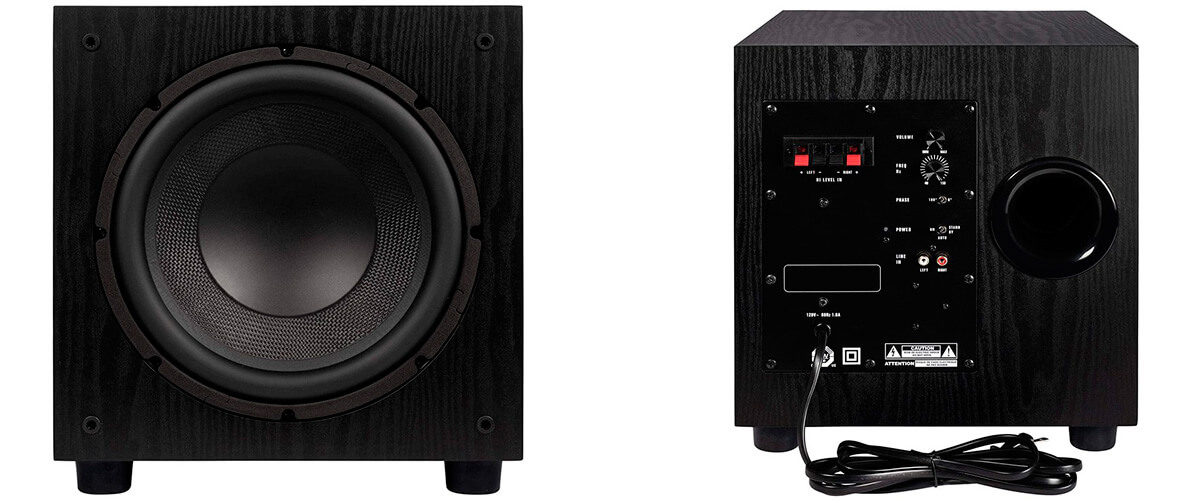 If you are looking for a small subwoofer with quality sound and an affordable price, then the Elac SUB1010 is for you. This is the best cheap subwoofer that delivers 120W of power. The model is not new, but it is still highly respected. Even today, it is one of the benchmarks for an inexpensive subwoofer. The engineers have taken care of a decent filling, thanks to which the sub conveys all the depth and power of music and sound effects.
This model has a very attractive and at the same time minimalistic design. The device is presented in black and is made of high-quality material. The shape of the case is made in a modern style. On the front wall is a textured polypropylene 10-inch woofer. There is a removable black grille, but the speaker is very attractive and can be left open. Elac will decorate any room in your home. The subwoofer cabinet is compact enough to fit in a small room.
A low-frequency bass radiator, working under pressure, goes at a low level, creating deep basses. A complete set of controls and connections allows you to connect and fully integrate with any stereo or multi-channel audio system. This is truly a unique combination of subtle musicality and cumbersome power for excellent home theater sound effects.
Very easy to install. It's a great subwoofer that's easy to hook up and pairs perfectly with your other speakers. It worked right away when connected to my system. I love the quality of this subwoofer. The system sounds great.
Pros
10 " driver with a good rear port for good sound
Crossover adjustment from 50 to 150
It looks good and unobtrusive
Cons
Works best in medium-sized rooms. For larger rooms, you may need a 12-inch woofer or more than one subwoofer
Klipsch Reference R-10SWi – wireless (optional)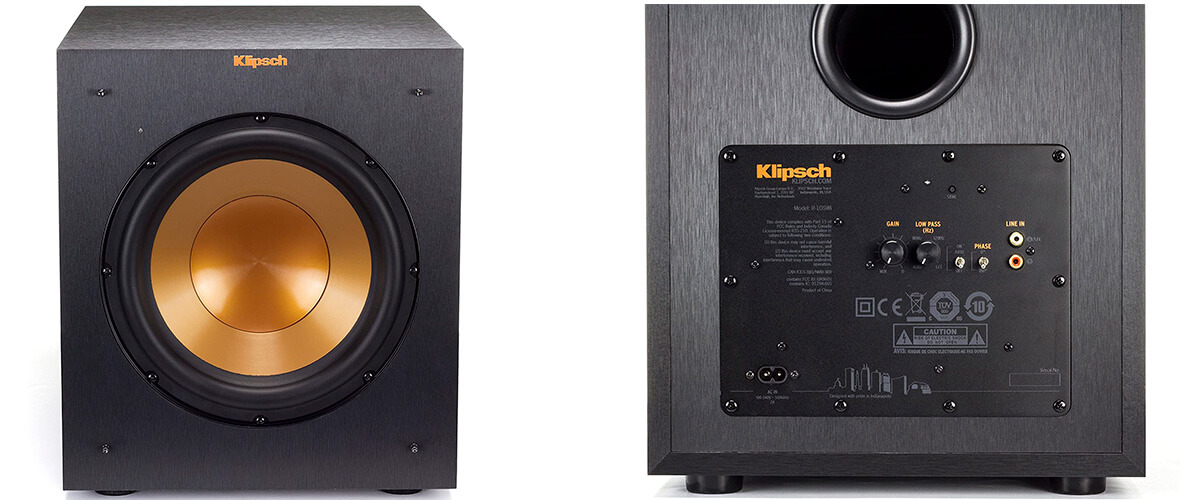 The Klipsch R-10SWi is the best budget wireless home theater subwoofer. The subwoofer is equipped with an exclusive woofer with a diameter of 250 mm. The included wireless signal transmission unit can be connected to any free line or LFE output of an amplifier or AV receiver. The wireless subwoofer can be located in any convenient place in the room, including hidden, to significantly expand the possibilities of its use. The wireless connection is established automatically in a few seconds.
The Klipsch R-10SWi features a 10-inch IMG graphite-impregnated copper driver that reproduces low frequencies with minimal distortion. The built-in digital amplifier provides sufficient power with high efficiency and fidelity. Low crossover travel and phase control allow the subwoofer's low-frequency sound to be precisely synchronized with the sound of the rest of the Klipsch speakers, as well as to optimize the bass level.
The R-10SWi has a strict exterior finish with textured Brushed Black vinyl, and its deepest bass is combined with a relatively compact cabinet. Designed with home interiors and furniture design in mind, the R-10SWi has a style that blends classic Klipsch clean audio with a modern look. Reference is an elegant addition to your furniture and interior design.
Klipsch settings were easy. This subwoofer is so loud, clear, and exact. It allows you to feel the music, not just hear it. Its rich deep bass amazes you as soon as you press Play. The built-in digital amplifier provides sufficient power and fidelity. Great bass, perfect for any home theater experience.
Pros
Wireless receiver operating over 2.4 GHz radio channels
Fully digital amplifier 300 W
Powerful 10 " magnetically shielded woofer with Injection Molded Graphite copper cone
Cons
The poor quality plug of the wireless adapter
BIC America F12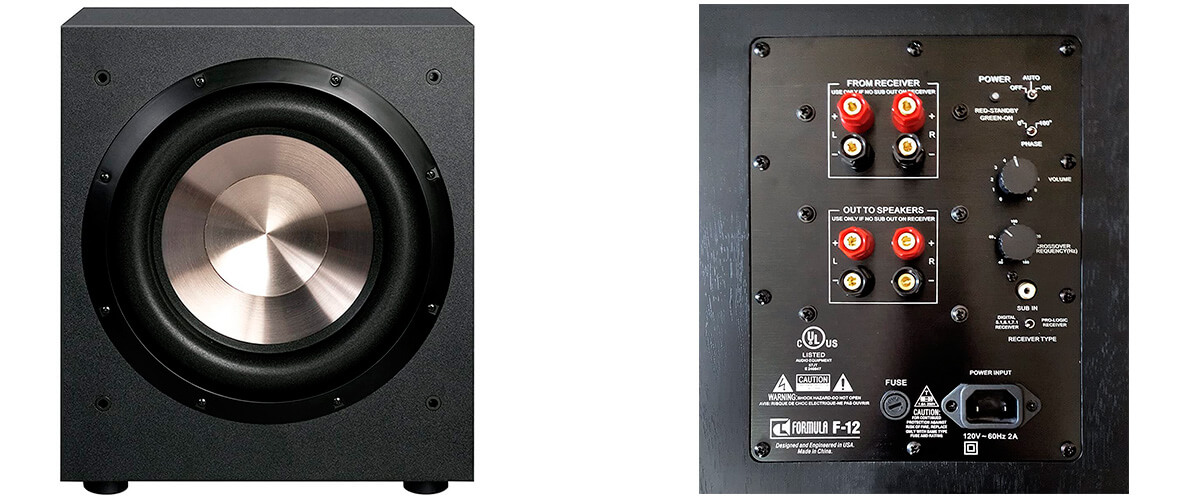 BIC America is the manufacturer of the very popular F12 subwoofer. The BIC America F12 subwoofer is one of the best budget subwoofers you can buy. It's incredibly affordable for specs, well built, and sounds great. If you're looking for the most bang for your buck, this sub is for you.
BIC America has been making audio equipment since the 70s and the BIC F12 subwoofer is one of the most talked-about budget subwoofers on the market. The F12 produces punchy and impactful bass that will rumble on your walls. Its 475W peak power delivers 150W RMS power.
The outside of the BIC America F12 subwoofer is a simple rectangular black box. It measures 17 x 14.75 x 17.25 inches and 42.7 pounds. The body is made of an MDF board with black laminate. On the bottom, four rubber feet help stabilize the woofer and prevent it from drifting when the bass starts to shake. While the speaker is at the front, there is a port at the bottom at the back and a simple panel for the amplifier. There is nothing unusual about the design of this subwoofer, but it is minimalistic.
When it comes to watching movies with Dolby or DTS HD Audio that have heavy bass, the BIC F12 performs just as well as other subwoofers well above its price tag. Not only does it represent the low notes clearly, but you can also feel every beat of it. I didn't notice any dirt or distortion, even at fairly high volumes. When you find the right location, this subwoofer sounds great with just about anything.
Pros
It has a phase switch. Thereby you can synchronize the movement of the speaker diffuser and subwoofer for better sound quality
F12 has an LED power detector. This function is very convenient; it is always clear whether the subwoofer is connected to an outlet
Magnetic shielding for noise reduction
Cons
The amplifier quickly failed
Polk Audio PSW505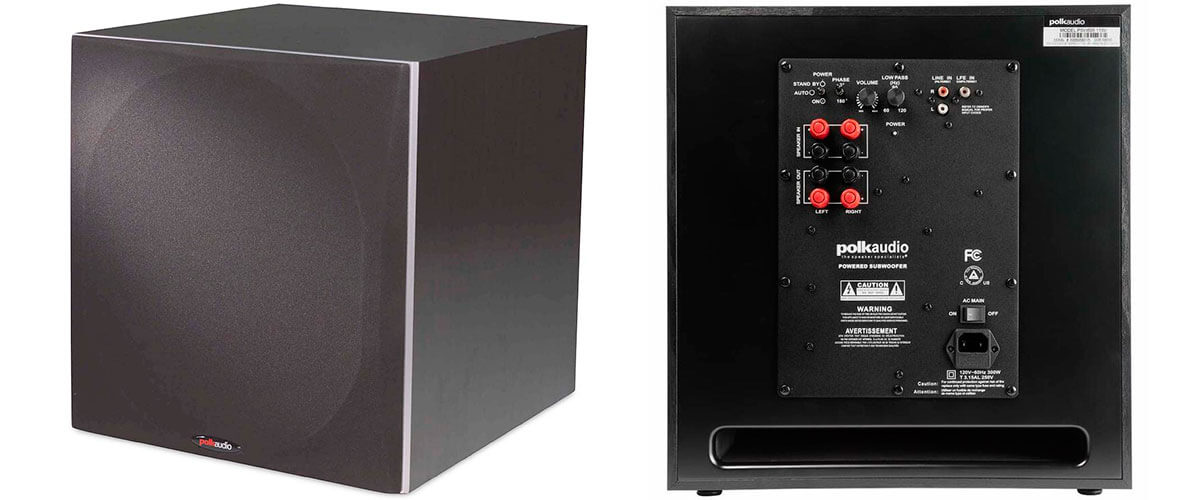 The Polk Audio PSW505 subwoofer is a very popular option among home theater lovers. It is powerful and produces quality audio for its price. The subwoofer is more than capable of shaking a room with its booming and powerful bass. The subwoofer feels great bass during an intense movie scene, and even at 50% volume, I was very pleased with the impact.
Polk Audio PSW505 has 250 W and infinitely variable crossover 60-120 Hz and 25-125 Hz frequency response. The subwoofer correctly captures the subtleties between different sounds and produces with absolute perfection. The front grill is removable. The back panel has a magnetically shielded LFE input to suppress noise. It easily integrates with any music system.
The PSW505 has a typical budget speaker enclosure. It is made of MDF with a black laminated surface, measures 16.125 x 15.125 x 18.1875 inches, and weighs 48 pounds. It has a slot-style port to the bottom of the rear panel. The cabinet is solidly constructed, but the removable front speaker grill is not as durable. The entire body rests on four plastic feet, which means that the PSW505 glides on the wood floor and "walks" when used in large volumes. The front 12-inch speaker is black, so removing the grille doesn't make the subwoofer any better.
Pros
High peak and RMS power
Magnetic shielding for noise reduction
Automatic on/off
Cons
A common complaint is port noise, only at high volumes
The inability of the plastic feet to hold the sub on smooth surfaces
Kanto sub8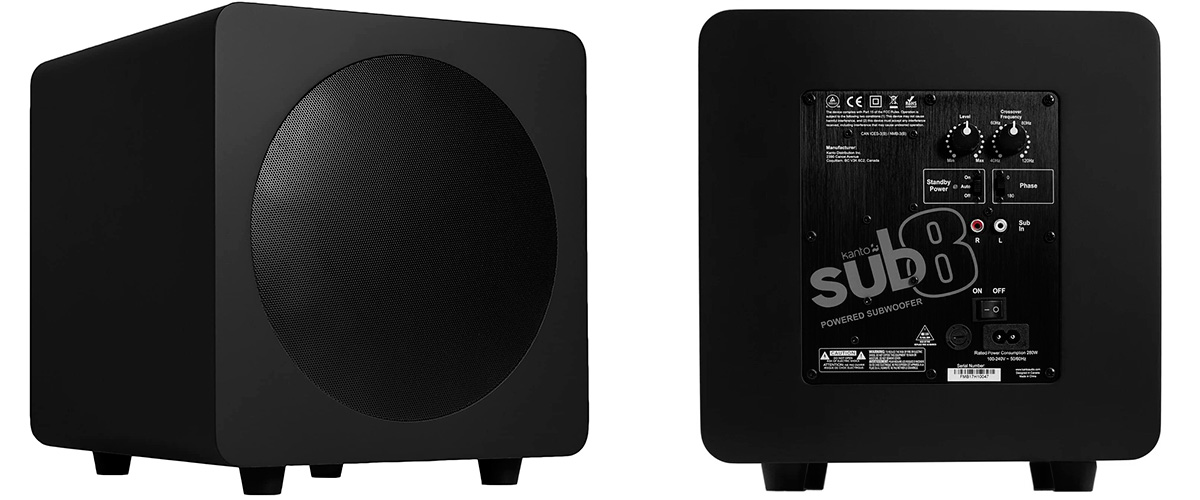 Compact subwoofer Kanto sub8 is the best inexpensive home subwoofer that easily matches any music system, as it is available in countless colors and finishes. It is an advanced model that covers the 40-120Hz frequency range and has a modest 250W RMS maximum output power. This sub can give stereos and home theaters interesting sounds with rich bass. The device is for those who are not chasing great power and just want to watch movies, having fun.
The design is almost the same as the rest of the Kanto Audio product line, minimalistic and just pleasing to the eye. The Sub8 has a sleek, cube-shaped design with 4 rubber feet to prevent "wandering" during use. The body is made of MDF, which gives it an attractive appearance and provides good sound transmission. The paper cone driver is covered with a metal grille. The main controls are on the rear panel. The power switch includes an auto on/off setting. A 2-pin power cable powers the subwoofer.
It is a very musical subwoofer, just fantastic for listening to music regardless of genre. Movies sound great, quite deep, and impressive. Sub works very low and powerful, even though it is designed only for 40 Hz. Kanto also offers a variety of accessories in addition to two subwoofers with its own and third-party speakers.
Pros
Effectively complements any stereo system with deeper bass
Sturdy wooden body and compact dimensions
Cons
For films that require deep, wall-shaking rumble, the SUB8 cannot overcome its physical size