If you often throw outdoor parties, then you need the best outdoor subwoofer to enhance the quality of your music and make your party unforgettable.
Creating the right sound atmosphere when listening to music or watching a movie is impossible without the low-frequency component. In general, a subwoofer is an essential element of a multi-channel speaker system.
What is an outdoor subwoofer? An outdoor subwoofer is a powerful enough weatherproof subwoofer ideal for outdoor installations. It is the ideal solution for all-season landscape sounding of any open area in the most extreme weather conditions. There are currently two main types of outdoor subwoofers: which are partially buried in the ground (in-ground) and which are not buried in the ground (on-ground).
This review provides a large selection of subwoofers. Each of the options has its advantages and disadvantages. If you want to choose the best outdoor subwoofer for your home, I advise you to acquaint yourself with many of the foremost fashionable models.
Best On-Ground Outdoor Subwoofer Reviews
Dayton Audio IOSUB 10 – best on-ground sub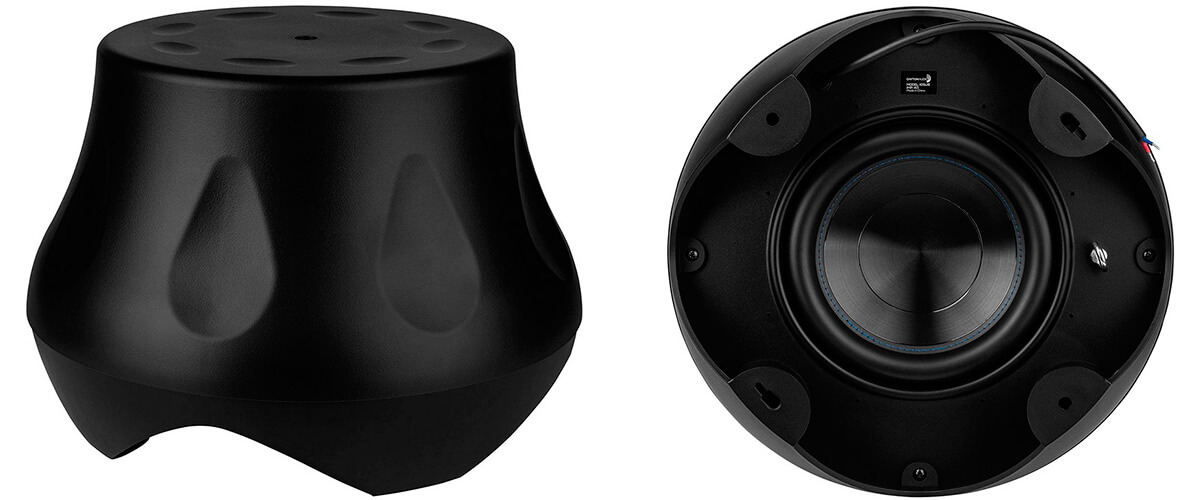 10-inch subwoofer Dayton Audio IOSUB is the perfect complement to any outdoor audio system. It is an outdoor subwoofer for all seasons, combining powerful bass with exceptional durability. The woofer, which reproduces low frequencies down to 40 Hz at 300 watts, delivers clean and deep bass in a compact weather-resistant design. This sub also uses a durable polypropylene woofer with a stitched rubber surround to create precise low frequencies for your outdoor audio system. Also worth noting is the high intelligibility of low frequencies in the main spectrum – percussion instruments are easily identified by ear, and some low-frequency effects are not smeared even at high volume.
The subwoofer construction is very durable, ideal for outdoor areas such as patios, gardens, and swimming pools. Thanks to its compact body, it remains visually unobtrusive. All surfaces are beautiful and smooth. The sub weight is 28.2 pounds. Its size makes it easy to stay out of sight. Dayton Audio can be installed anywhere as the subwoofer is downward facing and omnidirectional. The four-legged construction is extremely stable. The sub features protection against built-in theft eyebolt for secure and permanent installation.
There are not many open air subwoofers available, and Dayton Audio offers exceptional value at an affordable price. You will not regret buying Dayton Audio IOSUB 10 because its quality is worth all its money.
Pros
A floor-directed driver that shakes the ground with bass
There is an anchor with a concealed attachment for protection against theft and safety
A compact weather-resistant design
Cons
Available only in black
Doesn't work with all systems, for the best and most stable sound quality, it is recommended to use the Dayton amplifier.
OSD FORZA 10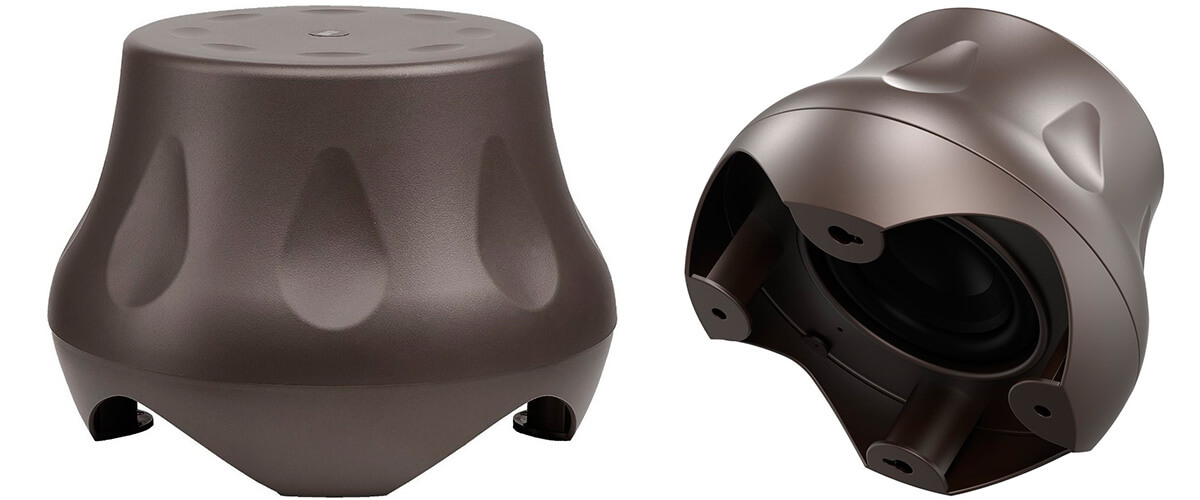 One of the best outdoor subwoofers is OSD FORZA 10. This powerful subwoofer features a 10-inch subwoofer and delivers 300 watts of power. Equipped with an IP66 protection rating, it can blend in harmoniously with any outdoor atmosphere, as well as enhance sound systems, adding important bass for richer surround sound. This subwoofer has high reliability, high-quality bass, increased functionality and is made in a waterproof case, which allows it to be used for outdoor installations in extreme climatic conditions (rain, wind, freezing temperatures).
To install OSD FORZA 10, you need to use hard surfaces. The subwoofer will perfectly show itself, for example, on open terraces or in gazebos, as well as in other buildings with permanent floors. This makes it vibrate and hum a little from the plastic legs. The design is very modern, its unusual, curved shape will fit well into your backyard. The body is made of impact-resistant plastic with a bronze finish that fits perfectly into any look.
This subwoofer primarily amazes the absolute sound versatility and the ability to reproduce almost any material of complexity. Overall, this is a great addition to street space considering the price and performance of this sub.
Pros
100% sealed and protected from dirt and dust, as well as powerful water streams
Provides reliable flexibility and outstanding sound quality
Has a built-in eyebolt that allows you to secure it to prevent theft
Withstands all weather conditions (rain, snow, high temperatures)
Cons
Sometimes creates a rumble, so it is best to place it on a hard surface
Best In-Ground Outdoor Subwoofer Reviews
Bose Free Space 51 – best in-ground sub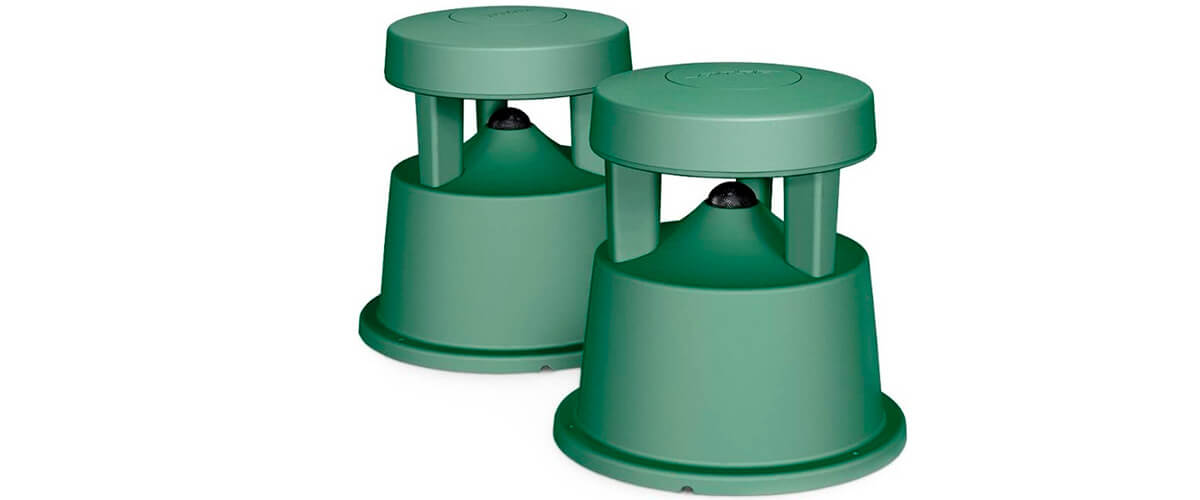 Bose Free Space 51 is an underground subwoofer installation. First of all, it is worth noting the durability and reliability of Free Space 51. Most of the street speakers are installed in the facade of the house, which initially requires significant improvement. FS can be installed directly into the ground. During production, the main task was to create the most reliable and durable equipment that can serve under any conditions.
The diffuser and all internal parts are protected. They are not afraid of freezing and complete icing. Even heavy rains can withstand without damage. The diffuser does not come into contact with moisture or snow, does not dry out in the sun, and can work fully even under the most uncomfortable conditions. The connection is simple and reliable. All compounds are protected from oxidation.
In addition to normal sound reproduction, it perfectly distinguishes low, mid, and high frequencies. You don't need to purchase a subwoofer, bass module additionally. All this is already present inside the driver. The system is complete, professional acoustics that can be used without complications – the minimum number of settings, no software, and the ability to control via a wireless network. Music in the outdoors has never been so bright and powerful. Bose Free Space 51 is more productive compared to Bluetooth speakers that do not have these characteristics.
The casing of the system is made in green. To blend in with the green lawn. The bottom of the case is equipped with special holes to fix the speaker to flat surfaces. Great design and sound make Free Space 51 the perfect choice for you. The speaker system will perfectly fit into the landscape of your garden. The system can be outdoors the whole year.
Pros
The unique radial sound-emitting design provides 360º sound uniformity
A driver that reproduces sound waves. Speakers can produce both low and high frequencies
Durability and reliability. Engineers have tested under the most extreme conditions
TIC GS50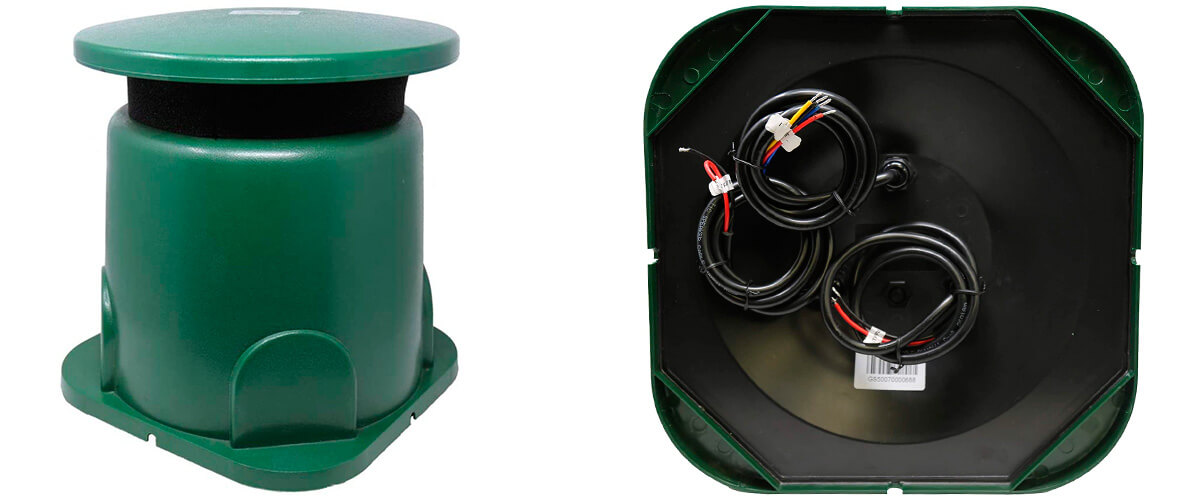 TIC GS50 is an outdoor all-weather subwoofer that will be a good addition to your music system. It will fill your garden or pool area with great sound without cluttering up space and will be able to delight you and your guests with wonderful, high-quality music at any time of the year and in any weather.
The facedown full-range speaker adds depth and richness to the music. The reflection cone allows the high-frequency tones to be dispersed evenly over the entire 360º. The speaker cone made of weatherproof polypropylene ASB provides high performance and shatter resistance in extreme weather conditions.
The high-strength elements of which all external parts of the speakers are made allow them to be left outdoors. The enclosure is made of impact-resistant ABS plastic in green color, which will fit well in almost any environment and make this speaker ideal for the garden. The TIC includes a 4-wire pigtail for meter input and a 4-wire pigtail for tweeter output to satellite speakers.
Pros
This subwoofer is very easy to set up
Aerospace-grade waterproof housing provides reliable weather protection
GS Series omnidirectional sound ensures even sound distribution
Cons
The build quality is not the best