Having invested in top-quality subwoofers and a receiver, don't forget about the cable. The best subwoofer cable is essential to provide the superior sound quality.
Its materials, cross-section, housing and flexibility may impact the sound delivery. Therefore, the cable quality should not be neglected. Select reliable and durable ones according to your needs and budget. Therefore, check the subwoofer cable review to make an informed decision.
Our pick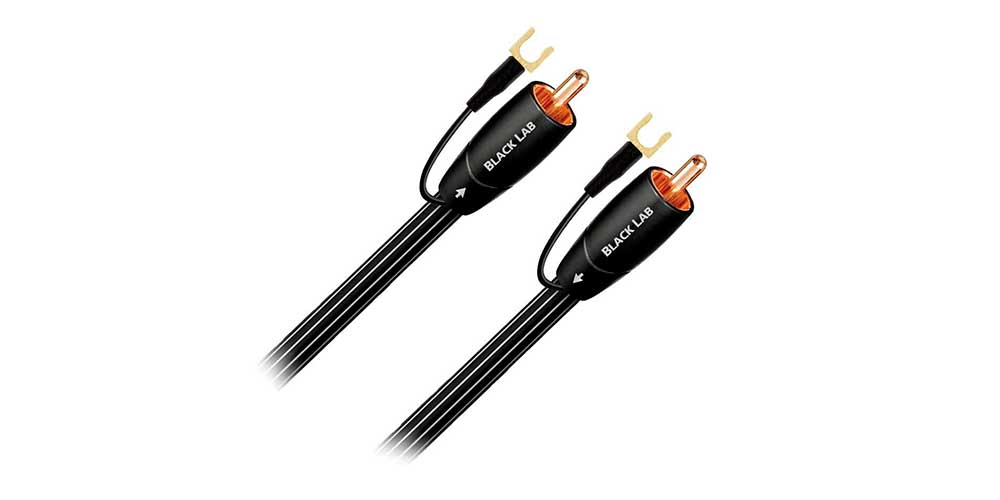 AudioQuest Black
The best subwoofer cable
AudioQuest's Black Lab cable delivers all the deep bass goodness your powered subwoofer is capable of.
Subwoofer Cable vs RCA Cable
The RCA cable was invented by Radio Corporation of America in the 1940s and initially designed to connect an amplifier to a phonograph. It stands out by an RCA end connector that is called a "wellhead". Now RCA cables for subwoofers are used to ensure audio and video signal to amplifiers, receivers, DVD players up to 100 Hz.
A subwoofer cable connects speakers with an amplifier, enabling low-frequency signals. However, active or passive subwoofers that come with or without internal amplification may include RCA connectors, being compatible with RCA cables. So, some manufacturers label RCA cables as subwoofer ones, adding some beneficial features.
Best Subwoofer Cable Reviews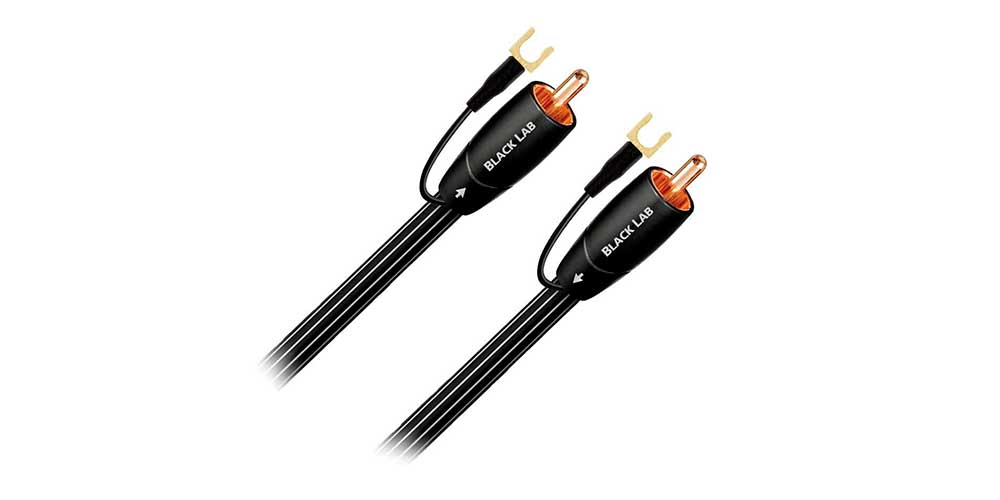 The cable that includes long-grain copper plugs enables smoother, better, clearer sound than the similar copper conductors, based on OFHC Technology (high-conductivity and oxygen-free). They contain fewer impurities, oxides and grain boundaries, ensuring better performance.
The air-filled insulation is made of foamed-polyethylene, absorbing energy and loss efficiently. Additionally, the NDS (Noise Dissipation) system is efficient due to 100% metal-layer shield coverage. Quite naturally, the plugs and gold-coated (cold-welded), corrosion-resistant and additional grounding is available, eliminating hum problems, and the separate wires are not required anymore.
Therefore, the users like the sound, enabled by the subwoofer cord and the cable itself that is flexible, turning 90° around corners, solid and high-performance. It allows deep bass, clear and loud subwoofer sound, solving occasional hum and buzzing. Thus, I guess, it's the best subwoofer cable for home theater that is easy to hook up, sturdy, simple, but still quite affordable. Additionally, it is covered by a 5-year warranty.
The cable is available is dissimilar length, such as 7, 10, 16, 26, 40, 50, 65 feet.
Pros
flexible
ground wires, eliminating noise, static, buzzing and hum
solid and durable
Cons
no braiding
a bit short ground strap
Mediabridge Ultra Series – budget subwoofer cable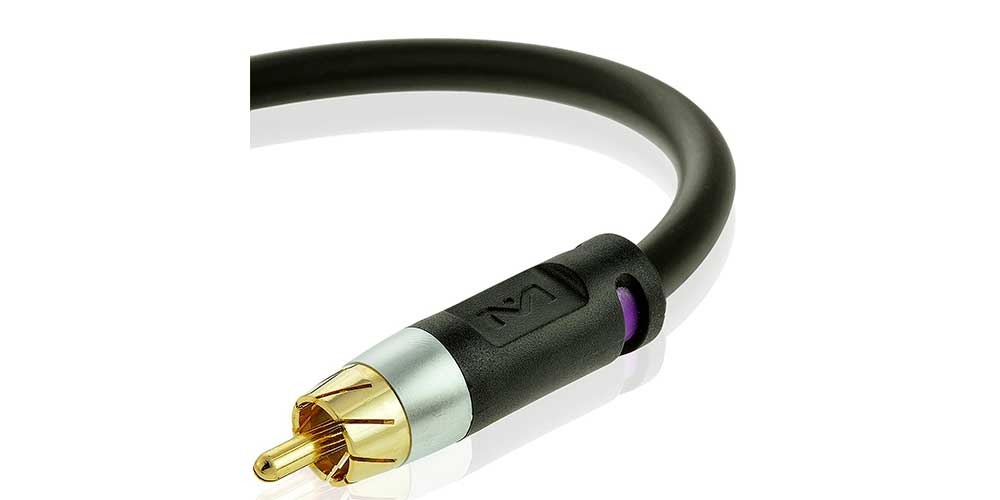 Having a tough budget, select this solid-made cable that is affordable, but still durable, thick, hefty, robust, sturdy and top-quality. Being dual-shielded and coming with gold-plated RCA connectors and copper center, it has premium conductivity, maintaining reliable connection, minimizing loss and distortion.
The aluminum braiding is also corrosion-resistant and lightweight. 2 layers of foil shielding, dielectric insulation are quite sufficient, ensuring perfect protection against distortion, static and hum.
The cable for subwoofer is adjustable and flexible, easy to install. It comes with a soft PVC jacket, being fast to plug and play. In-wall installation is also acceptable and safe. Additionally, it is compatible with various video and audio systems, for example, stereo receivers, subwoofers that are equipped with RCA ports.
The users commonly like it, admitting that the cable sends a strong signal to the speakers or a subwoofer. Some of them boast that the cable improves the response and the sound quality, eliminating hum and the terrible buzzing sound that could annoy you. With the best subwoofer RCA cable, the noise is gone and the bass audio is distortion-free.
4, 6, 8,15, 25, 35, 50 feet lengths are available.
Pros
thick, hefty and durable
ready to use, flexible
thumb grip is available
Cons
the plugs are a bit tight, hard to connect at first
not sufficient for deep bass
AudioQuest Boxer – premium cable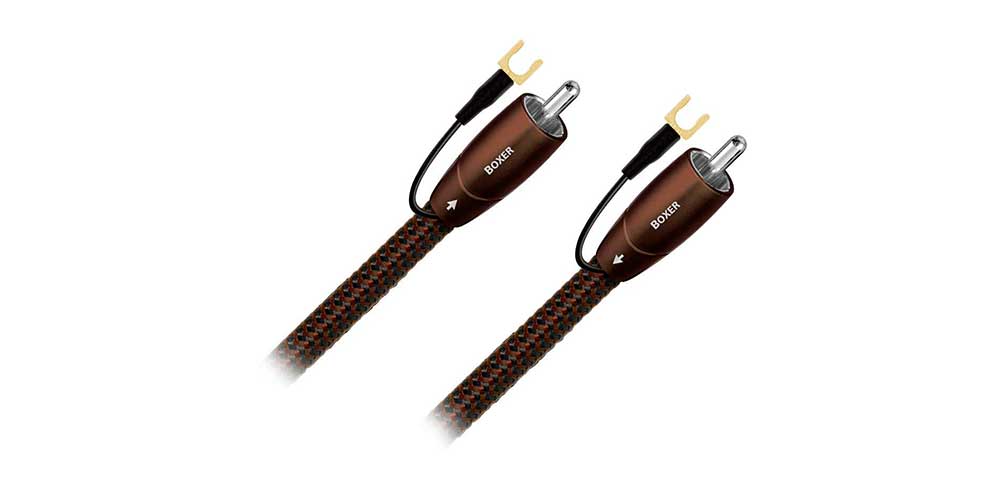 The low-frequency interconnect cable is expensive, however, the premium sound quality is definitely worth the money. The difference is due to:
high-purity silver conductors
3-layer, advanced NDS system (carbon-based)
low-loss, efficient polyethylene insulation
double-balanced geometry (grounding end on each side of the cable)
5% of true red copper inside
Therefore, radio-frequency interference is absent, even if you live near the local radio station. So, you can easily have a pre-amp, an amplifier, an AC line conditioner, a receiver and another pre-amp on the same outlet, using the same breaker switch. No interference, distortion, hum or preamp feedback, no buzzing or hissing sound bothers you.
Actually, the insulation is a sort of rubber type (sub1 plug), so the cable is extremely thick and well-insulated. In case of any distortion, connect the grounding wire to any available screw on your equipment that is subwoofer or receiver, and it definitely will work flawlessly.
Thus, I think, the cord is the best subwoofer cable that can be essential when you experience any interference problems or connect multiple devices into the same outlet. A 5-year warranty is available.
The lengths offered are: 7, 10, 16, 26, 40, 53, 65 feet.
Pros
no distortion, hum, hiss or buzz
a quite long grounding wire
superior sound quality
Cons
ground wire may be unnecessary
Better Cables Silver Serpent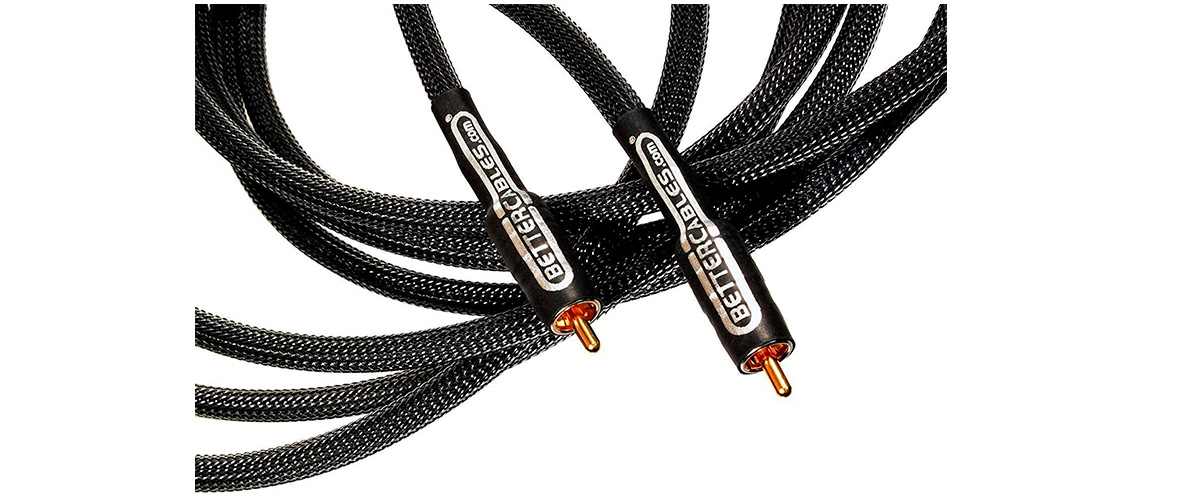 These cables are absolutely perfect for any stereo or multi-channel audio application – including high-resolution streaming media, preamps, power amplifiers, Blu-ray, DVD, DVD-Audio, SACD, CD, and DACs. They provided me with an excellent home theater experience.
There is high-purity silver coating on the conductor for exceptionally low-loss connections. The special thing about cables is that they reveal sound without the harshness of most pure silver interconnect cables.
Sonically they seem to be neutral, with a quite smooth, practically tactile midrange, a subtle hint of softening above 5 kHz, however, incredibly believable highs. The bass is tight and detailed, and it solved a roll-off problem I experienced with some other cables, which, of course, are not included in my guide.
Pros
Awesome common-mode noise rejection ability
The bare copper braid shield has 95% coverage
Absence of grunge or ghosting
Does not distort powerful choral music or opera
Cons
Not the most durable option
AmazonBasics Cord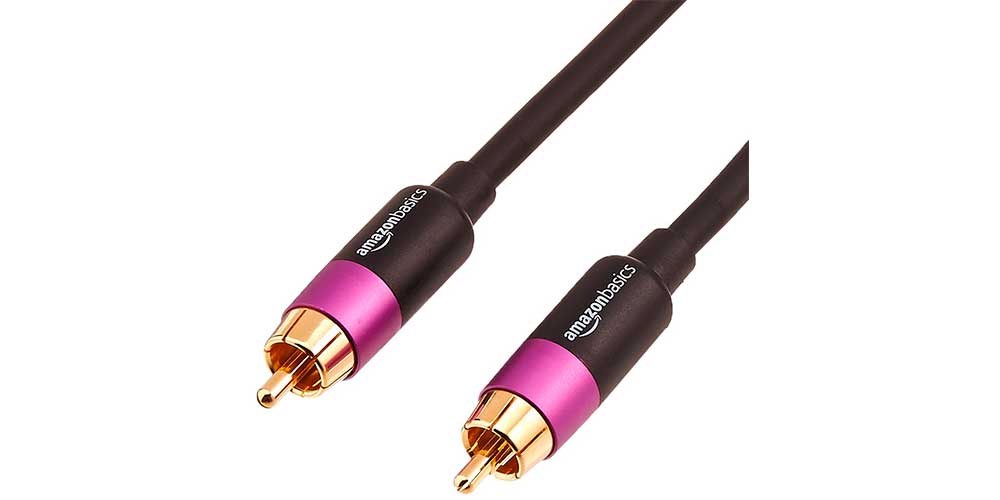 The cable is affordable, but quite durable and effective for the price. It is able to transmit low-frequency signals to stereo receivers, home theaters, for example, Pioneer, Yamaha or the similar audio devices. All the essential elements are available:
flexible, dielectric PVC insulation for convenient use
gold plating on RCA plugs
split-tip pins for increased conductivity
Therefore, the cable is able to ensure precise sound quality, with deep bass, and eliminate hum, avoiding signal loss. According to multiple subwoofer cable reviews, it commonly eliminates the basic hum of the sub. The cable is heavy-duty, being considerably thick and top-quality.
The purple ends are maintenance-free, the plugs are strong and stable (they don't come apart). The cable is suitable for safe in-wall installation. So, it's quite good if you select the correct cable length.
However, the copper inside the conductor is CCS (copper clad steel). It's not oxygen-free, and more suitable for high-frequency applications. And it's only 0.14 mm thick. Therefore, some hum can be still available. Additionally, only 30% of its aluminum jackets is braided. So, they are a bit flimsy. If you use them often, they could pull off. The warranty also covers only 1 year, that's all.
8,15,25,35,50 feet lengths are available to meet any needs and devices position.
Pros
affordable
stable and hefty
it works
Cons
flimsy jackets
better for high-frequency applications
some annoying hum may be still noticeable
AudioQuest Irish Red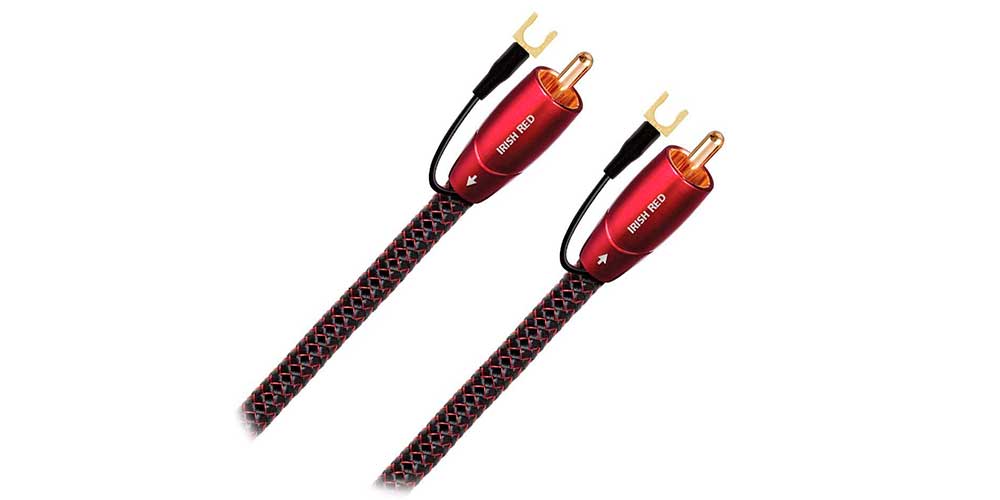 The heavy-duty, thick and properly shielded subwoofer cable is essential for multiple applications, for example, to connect speakers or subs to the receiver or amp. So, it makes bass fuller, tighter, punchier, not muddy, eliminating EMI and RF noise and interference. More frequencies are accessible to hear with it.
Silver inside the conductors is definitely more efficient than aluminum in reducing jitter and eliminating strand distortion, hissing from the sub. The cable enables really perfect sound quality! It is equipped with a quite long grounding wire on each cable side that is useful and beneficial.
However, most customers consider that it's still too expensive. Additionally, it is designed exclusively for audio, not video applications. It differs from the advanced AudioQuest Boxer only by a bit less silver content inside and a bit less advanced NDS system.
The Irish Red cable shielding is 100% and reliable, but not 3-layer, and it's metal, not carbon-based. AudioQuest supplies the best RCA cables for subwoofer as they are covered by 5-year warranty, being durable, reliable and top-quality, recommended for audiophiles.
Select any of 6, 10, 16, 26, 40, 50, 65 feet lengths for your subwoofer.
Pros
stiff, durable, heavy-duty
tight, full bass
no hum, jitter or RF
Cons
designed for audio applications and high-frequency use
JIB Boaacoustic Blueberry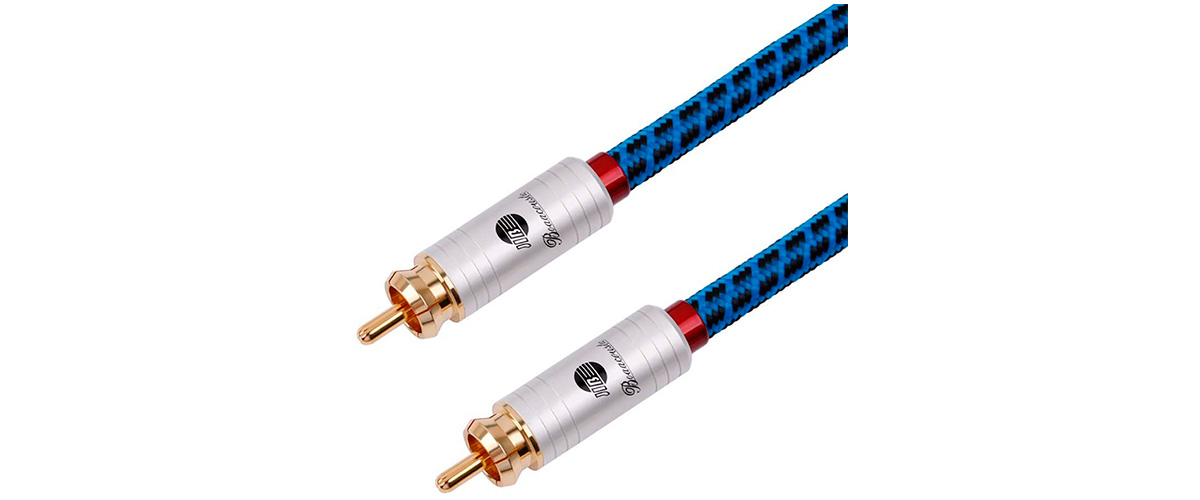 And now, I want to show you this great JIB digital optical audio cable that has German quality. The subwoofer cord can be used with standard and high-definition devices that are equipped with Toslink ports. Here is the list of appliances that can be connected with a soundbar via JIB Boaacoustic Blueberry: receiver/preamp, audio processor, DAC, TV and PS4, Playstation, Xbox gaming systems. Of course, the real number of such appliances is much higher as these cables are practically versatile. With JIB Boaacoustic Blueberry, you can listen to your favorite tracks in a totally new way.
Let's talk more about the quality and durability. As I said, JIB Boaacoustic Blueberry is made in Germany, so no wonder that it uses a high-purity POE glass fiber core conductor, which makes the lossless audio transmission and more natural. I also have to mention that this cable model is very well constructed. It has a premium look and perfect flexibility, which means you don't have to worry about damage.
Pros
Comes with corrosion-resistant gold-plated connectors, high-quality cotton braid, and buffer tubes for optimal signal transmission
Provides a noticeable enhancement to your home stereo
Cons
The length creates a lot of clutter
BlueRigger Cord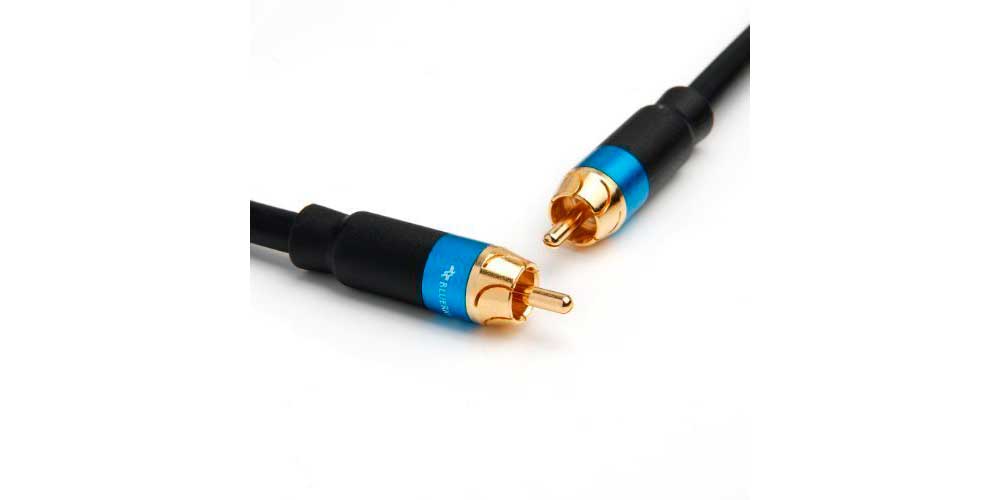 An affordable subwoofer cable may be quite durable and top-quality, anyway. The cord from BlueRigger is a perfect example. Quite naturally, it is not the thickest possible, but soft and durable (with a PVC jacket). 0.64 copper core inside the conductor is a great benefit. Aluminum shielding is not the best, anyway, but 95% of copper braiding is available, and it's good. 24K gold plating is beneficial (Mediabridge has the same, Amazinbasic cable none, at all).
The quality is good or, I would say, decent for the price. The cable works with high-end subwoofers and home theaters like Yamaha. It improves the signal, enabling clear sound. You can hear deep bass compositions with scrutiny.
However, some plugs are perfect, the others are hard to connect. The users are to squeeze them to tighten, with pliers. Additionally, some hum, feedback and vibration may be still available. Low volumes may be off at all, not acceptable.
Meanwhile, the cable is still durable, sturdy and firm. Lifetime manufacturer's warranty is a sufficient provement.
Only 8,15 and 35 feet lengths are available.
Pros
durable and flexible
inexpensive
decent sound for most applications
Cons
common "too loose or too tight connectors" issues
stiff, hard to maneuver
some humming feedback is possible
Blue Jeans LC-1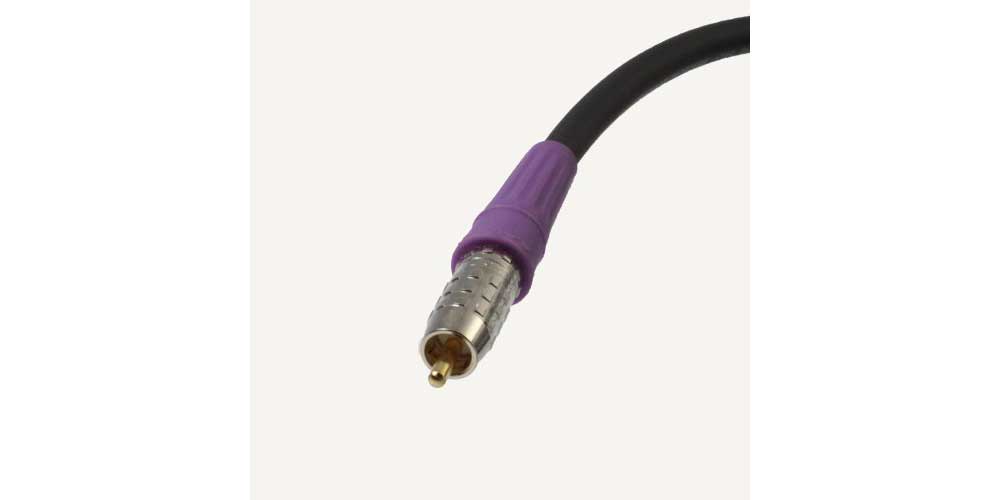 I highlight only the reliable, sturdy and easy to connect cables in this subwoofer cable review that enable decent, excellent or superior sound quality. However, the subwoofer cord from Blue Jeans Cable Company is outstanding, as it makes a sort of "happy medium".
It is thick, double-braided, well-suited for in-wall mounting and medium-priced. The analog audio cable has got 95% of copper braiding. Therefore, it provides efficient protection against hum and low-frequency interference.
The cable enables clearer sound with deeper bass, lower and better pronounced in comparison with Mediabridge or Amazonbasics ones. It works well with the Denon's Audyssey calibration system. These subwoofer cables can be efficiently used for 2 or more sources, performing multi-channel duties perfectly well.
The jacks ensure solid grip, contact tension, coming with security locks, and they fit snugly. The connectors are top-quality and the cable is quite flexible. Thick insulation and durability matter. Additionally, the cable is completely made and assembled in WA, by qualified American workers. It is proficiently tested, corresponding to the highest industry standards. So, it's really sturdy and long-lasting.
10, 20 and 35 feet lengths offered are still sufficient for most applications and needs.
Pros
clear sound with deep, tight bass
thick and durable
solid grip
Cons
response could be better
minimalistic look
no grounding wire
Buyers' Guide
What to Look for When Choosing a Subwoofer Cable?
Shielding and noise
While an audio signal is transmitted via cables, it is subject to all kinds of interferences. The latter appears as a response to surrounding equipment and noise from ground loops. If you use a cable that is properly shielded, there will appear almost no interference, which is typically manifested in the form of disturbing hums. Besides, opt for RCA cables that are properly soldered/crimped at the ends. Otherwise, the connection will be loose, and you'll hear radiated noise degrading the quality of a signal.
Thickness
Trying to prolong the service life of different equipment, subwoofers included, people usually get high-quality cables for arranging a solid system. Naturally, the thickness of wires plays a crucial role in this regard, and generally, the thicker the cable, the better. However, if you are hesitant about how thick cables you need, make sure to stick to 20-25 AWG figures. Such thickness is sufficient for most cases.
Metal type in cable
There are two common metal types used for producing woofer cables – copper and silver. While silver cables boast better conductivity capabilities, they cost several times more than cooper analogs, which may scare off some users. The main thing to remember is that subwoofers rarely play audio over 120Hz, so increased conductivity at an extra cost becomes needless. If you are mainly interested in playing music at low frequencies, safely settle for standard oxygen-free copper cables. Audio quality barely depends on the material type, so think about your finances in the first place.
Cable length
Be very mindful of how you'll use your sound system, as this largely determines how long cables you need. I highly recommend keeping them as short as possible to avoid electrical delays and resistive losses.
Which Cable is Necessary to Connect Subwoofer to Receiver?
Whenever you place your subwoofer near the speakers or in the nearest corner, signal connection is to be performed by plugging a subwoofer cable into a low-frequency effect (LFE) input of the sub, and the second jack to the subwoofer output of the amp or receiver. The LFE input can be also called an RCA or mono input.
Are RCA and Coaxial the Same or Different Types of Subwoofer Cables?
An RCA cable commonly looks like a coaxial one. However, it:
transmits analog signals, not digital
is thinner than a coaxial cable
is more affordable
has narrower bandwidth
Unlike an RCA cable, the coaxial digital one is shielded and transmits the discrete time, electrical signals through the thick copper core inside. It is suitable for connecting a TV set to the cable box. On the contrary, an RCA one, can lose the signal and enable interference from the nearest devices due to lack of shielding.
Can I Connect Several Subwoofers?
Two or more subwoofers are often used to enable stereo or three-dimensional sound, avoid any acoustic problems. In this case, it's desirable to select the subs of the same:
Thus, the way you connect 2 subwoofers, depends on the number of subwoofer outputs in your receiver:
only one – through an RCA Y-adapter (parallel)
two outputs – each sub to the separate output
In case if both RCA line-out and line-in are available on the subwoofer, the amp can be connected pre-out to the sub, and then the second subwoofer – to its line-out, correspondingly.
Selecting the best subwoofer cable, consider your budget, music listening experience and needs. Prefer thick and shielded coaxial cable, if you can afford it, or if you are an audiophile. But for the receiver or home theater, you can use it for the other devices. Additionally, if you buy a more advanced receiver later, it can be connected, using the available, top-quality cable.