Each devoted vinyl connoisseur wants to buy the best record cleaner to maintain their precious albums in a perfect condition. With the growing assortment available on the market, it is increasingly challenging to find an optimal solution. The article below is a comprehensive analysis that should help you make a well-informed choice.

Our pick
Spin-Clean MKII Complete Kit
The best Vinyl Record Cleaner
Enjoy better sounding vinyl records with Spin Clean MKII record washer, you will have everything you need to clean and maintain your LPs.
Vinyl Record Cleaners Comparison Table
Type
Spin-Clean Record Washer MKII Complete Kit

best kit

Kit
Review
Collector Protector

best brush

Brush
Review
Record Doctor V

best machine

Machine
Review
Lasermedia VNC-8

best fluid

Fluid
Review
Reviews of Top Vinyl Cleaning Products
There are countless types of vinyl cleaning products. For convenience, we have divided them into categories.
Best Record Cleaning Kits
According to the manufacturer's words, this vinyl record vacuum cleaner is fast, easy to use, and suitable for both experienced and novice vinyl lovers. Lifetime warranty is provided, which is a limited offer in the market for music products.
A device cleans both sides of a record at once and makes minimal noise. It can be used autonomously without a turntable. Installation does not require much effort due to a cleaner's convenient construction.
By placing a single order, you can get everything necessary for successful record cleaning. The following accessories are provided in a kit: cleaning fluid prepared according to the latest technologies and not containing alcohol, basin, brushes, rollers, and drying cloth.
Spin-Clean Record Washer seems to be a good buy. However, when I was almost ready to call it the best record cleaning kit, some nuances made me hesitate. Let's take a look at the key pros and cons.
Pros
This kit is universal, i.e. suitable for a large variety of record types. Vinyl connoisseurs do not have to spend money on multiple tools.
Compact sizes and economic materials spending. Manufacturers strive to save your space and finances by optimizing every product's features.
Cons
Some buyers report that it made their records sound worse and it is better to opt for a brush. Aggressive treatment rubs down the record's surface, and some audio fragments are erased.
Another category of consumers claims the tool is way too expensive and made of poor-quality materials. They call it garbage.
The manufacturer often fails to include various elements, for example, rollers, in a kit. Once people unpack their newly purchased cleaning sets, they get upset due to the lack of certain parts.
Vinyl Styl Deep Groove Record Washer System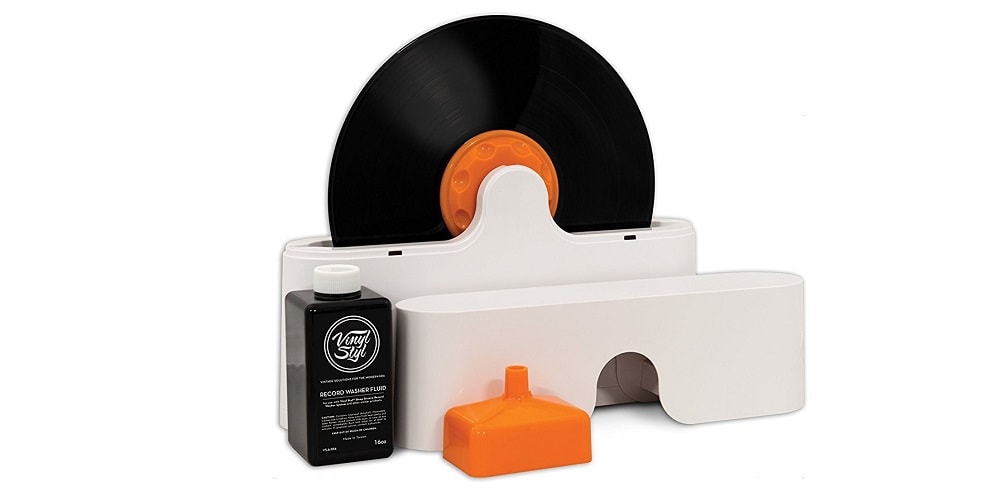 With the cleaner itself, you will get the following accessories: drying rack, cleaning fluid, protection clamp wheel, RPM adapter, reusable funnel, strainer, 3 filters, and manufacturer's instructions. It is assumed that you can entrust the whole process to a smart machine and count on a refreshed sound of your records.
The manufacturer has given vinyl cleaners a new look and enriched it with modern traits. Most DJ's would like to have such a good-looking device in their toolkit. It would fit organically into any club's design.
However, users report that this kit leaves residue. It makes records shiny and neat but worsens sound. While playing, this chemical residue plasters on a stylus. It is necessary to stop the music and clean it. Records should be cleaned manually as well. If all this is true, you will have to make all the work on your own and the device will rather dirty app your vinyl than clean it.
So, is it a wise investment? Let's summarize the models' weak and strong sides. I researched the feedback of those who have marked the kit with five stars and witnessed its advantages and those who claimed that they had got a relatively cheap and beautiful device that stands on their table like a decoration and does no real work.
Pros
Stylish design.
The cleaner is totally self-controlled, which makes it very user-friendly.
It is suitable for multiple record types. You can buy different vinyl products and maintain their perfect state by using a single device.
Cons
After cleaning, residue stays on records.
Also, consumers claim this device to be far not the best record cleaning kit since it can scratch records. So it is better not to test it on rare and expensive samples from your collection.
A bad construction often provokes liquid leakage.
Record Friend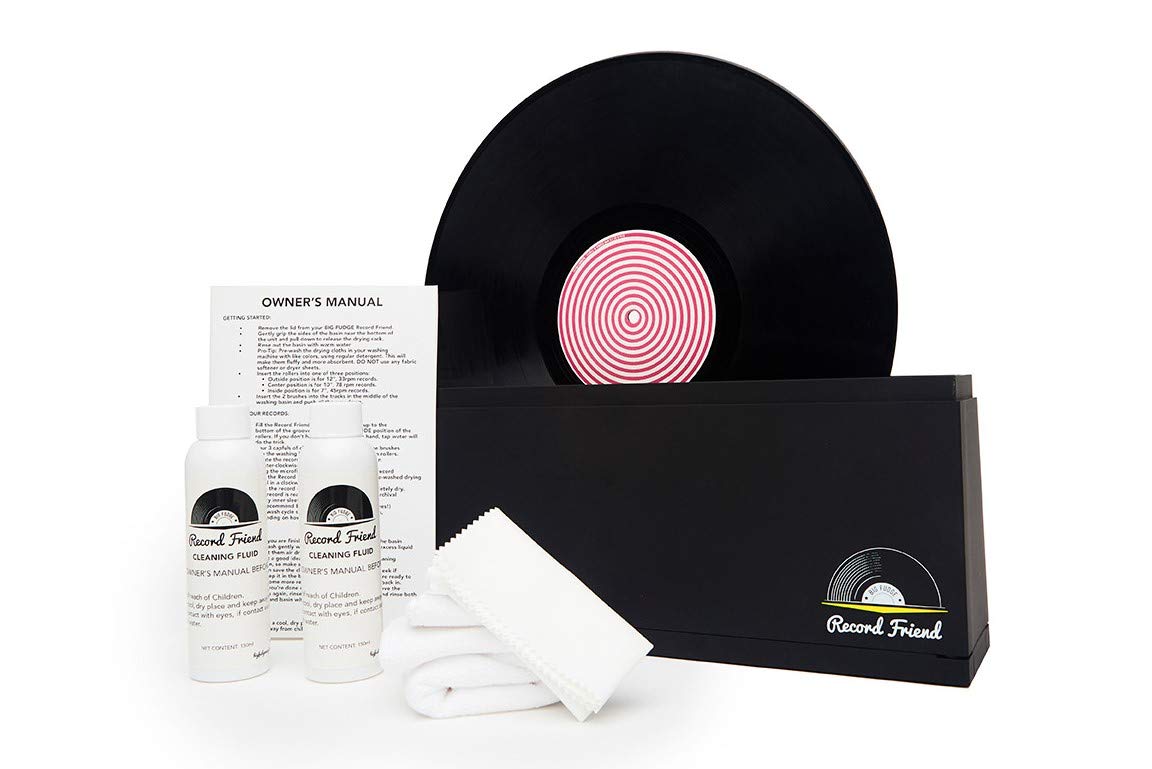 This kit with a nice name includes cleaner, spinner machine, set of brushes and rollers, cleaning solution, cloth, and record rack. Fluid supplied in a kit is enough to process 500 albums. The manufacturer provides lifetime guarantee.
Even people without record cleaning experience would quickly understand how to use this simple mechanism. In addition, set up is elementary. You can clean records of various sizes. Both sides will be treated simultaneously by a few gentle but effective spins.
The device works smoothly and delicately thanks to microfiber brushes. Therefore, none of your records would be damaged and lose its original sound as it sometimes happens with other cleaners that pretend to be extra powerful.
However, even though the manufacturer praises its soft brushes, 1-star reviews inform that they are of poor quality and quickly wear out.
Also, chemicals have an unpleasant smell. This is an obstacle for those who treat the care for their precious vinyl collections as a sacred ritual. In addition, the fewer chemicals get to our organism the healthier we are. Therefore, this drawback brings both moral and physical inconvenience.
So, is it really a friend worthy of your trust and a title of the best vinyl cleaner? It's up to you to decide, keeping in mind its pros and cons.
Pros
Record Friend is fast, universal, and easy to use.
It has anti-scratch protection.
Cons
Some accessories are poorly packed while others are lacking in a kit. It is very unpleasant to spend extra money on undersupplied parts.
Chemicals smell bad, which turns record cleaning into an unpleasant process.
After cleaning, records fit very tight, which hinders rotation.
Big Fudge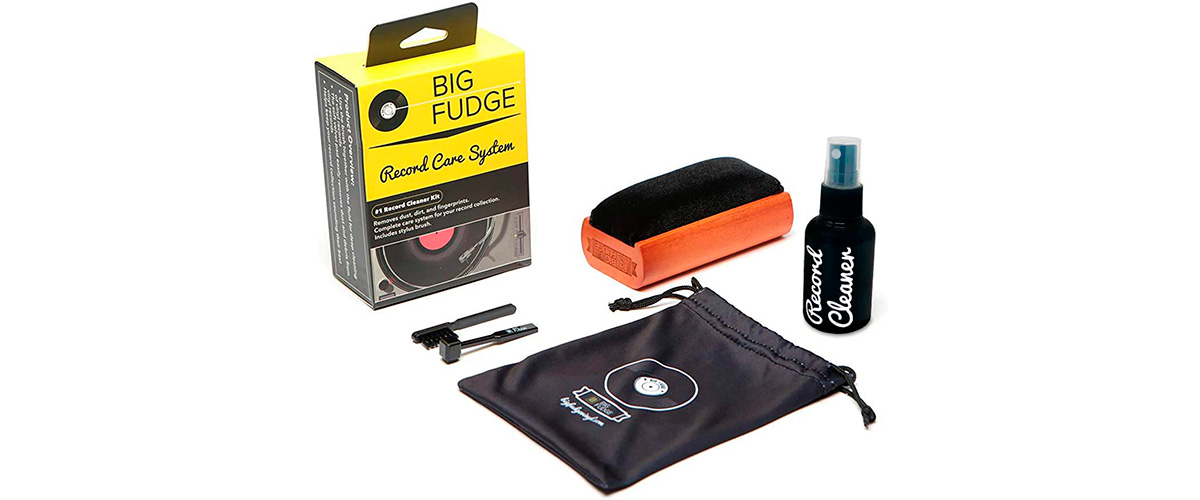 This kit consists of a small bottle with 50 ml of alcohol-free cleaning spray, an antistatic velvet brush, an all-purpose brush, and a stylus brush. I like that all this Big Fudge set comes in a pouch, which makes it very convenient to keep everything all in one place.
The velvet brush included in this kit has been finished and engraved really well. In contrast to other record brushes produced from carbon fiber, the soft velvet Big Fudge brush did not leave any scratches on my precious vinyl.
Pros
The stylus brush is super soft and works very well, allowing you to get rid of any light build up of dust or fingerprints on the stylus
The 50 ml cleaning solution should last you quite a while
Cons
I wouldn't use it for a deep clean, as there is Big Fudge Vinyl, another kit for it
Best Record Cleaning Brushes
Vinyl Buddy Record Cleaner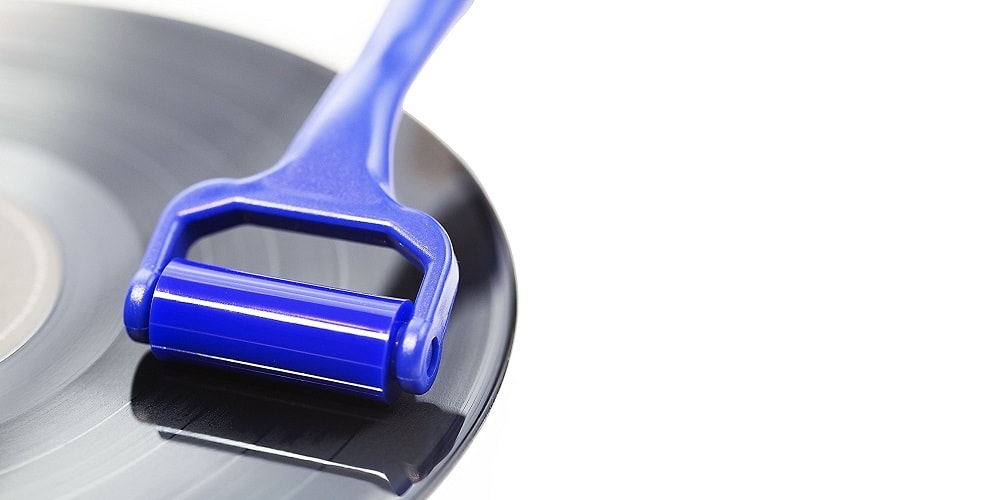 This tool has a sticky roller for picking up debris and other small participles from a record surface. It is much simpler than cleaning kits. You will not have to buy a dozen accessories that may wear out and require change. In general, this solution is for those who want to simplify the cleaning process as much as possible and save their money.
There is no need to take a record off a turntable and put it in a special device. You can make a few rotations and collect all the debris, even from deep grooves, on a roller. Also, it is extremely easy to care for this brush – just rinse it with water from time to time.
Some vinyl connoisseurs claim it is the best record cleaner due to the fact that, in contrast to traditional brushes, it does not smear participles. A sticky roller thoroughly processes the surface and picks up all the dust and debris.
However, keeping a cleaner under an inappropriate angle, you risk damaging your record. A strong enough hit can completely destroy it. Also, once dust plasters on a roller, it will lose its original useful properties and not regain them, even if you regularly rinse it with water.
Pros
Simple operation, which is very important for those who are always busy or have a habit of postponing record cleaning due to laziness.
The tool will not scratch your records. No adhesives or aggressive chemicals are used.
Innovative technology.
Cons
In many respects, the success of a cleaning session depends on your manual control.
The quick loss of stickiness.
The gel can get into the grooves and worsen the sound.
VinylVac 33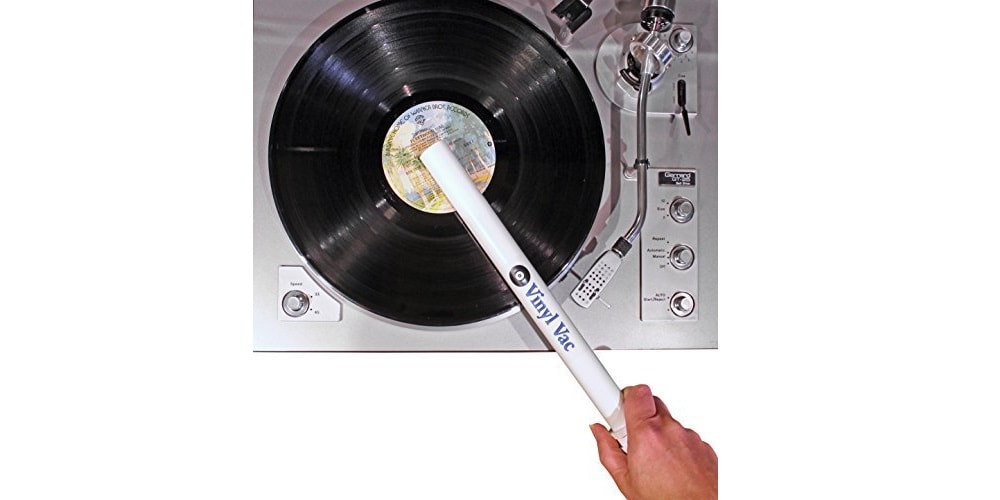 This cleaning device is a wand (a tube) equipped with a vacuum system efficiently absorbing dust and dirt. The manufacturer recommends using this tool at the end of a cleaning session, after cloth and a cleaning solution, in order to make sure even the deepest grooves are thoroughly processed.
Along with the cleaner, you will get a set of replacement pads, o-ring, two suction reducers, felt washer, and soft velvet pads. Sellers are so confident in the high quality of their product that they are ready to return you money if a device works inappropriately.
However, the one inconvenience is that with a belt-driven turntable, you will have to rotate a record manually by one hand, while keeping a tube in the second hand. This is very inconvenient.
Satisfied customers claim it is the best vinyl record cleaner, while there are also some objections.
Pros
Thorough cleaning of the deepest grooves on the record surface. No more dirt on your stylus. No more distorted sound. The manufacturer promises that you will enjoy every note of your favorite compositions and maintain your vinyl collection in a perfect state.
Compact size and convenient storage.
Cons
Since the device is made of cheap materials (PVC pipe and felt), many buyers believe that it is not worth its price.
Also, reviewers inform that this model does not suit some standard vacuum cleaners. It is possible that you will not be able to use it due to the lack of a necessary adapter.
A direct drive table is necessary.
Collector Protector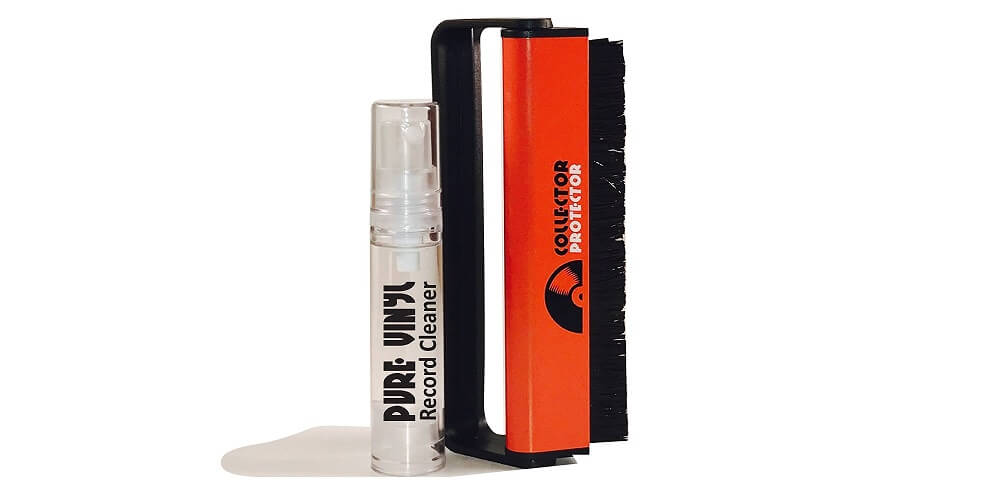 This tool has an easy operation principle. Holding it at a 90-degree angle to the record spinning on a turntable, you can conduct dry dusting or wet cleaning by involving a spray. Dry dusting is recommended before and after playing a record. The manufacturer also recommends processing new records since they are not always 100% clean. Bristles of the brush should be treated carefully since their aggressive use can cause shedding. 2-year warranty of flawless operation is provided.
However, according to customer feedback, fibers constantly fall out on record surface, polluting it rather than cleaning. Therefore, brush can quickly lose its useful properties. It suits only new records, which is not a big deal. Also, the nozzle on the spray bottle breaks quickly.
At first glance, this brush seems the best vinyl cleaner, but some buyers got disappointed. Let's consider what is good and bad about it.
Pros
Apart from dust and dirt, you can also eliminate static charges thanks to the useful properties of an anti-static solution. It contains no ammonia and alcohol and gets deep into the smallest grooves.
You will get a cool red storage pouch for free.
Cons
Like many other inexpensive things, Collector Protector is made of cheap materials.
Even though the manufacturer claims bristles are very soft and work gently, some vinyl lovers repot that scratches appeared on their precious LPs after cleaning, even when the brush was used with minimal force.
Some people complain that the cleaning solution is ineffective for records covered with deep dirt.
Record Cleaning Velvet Brush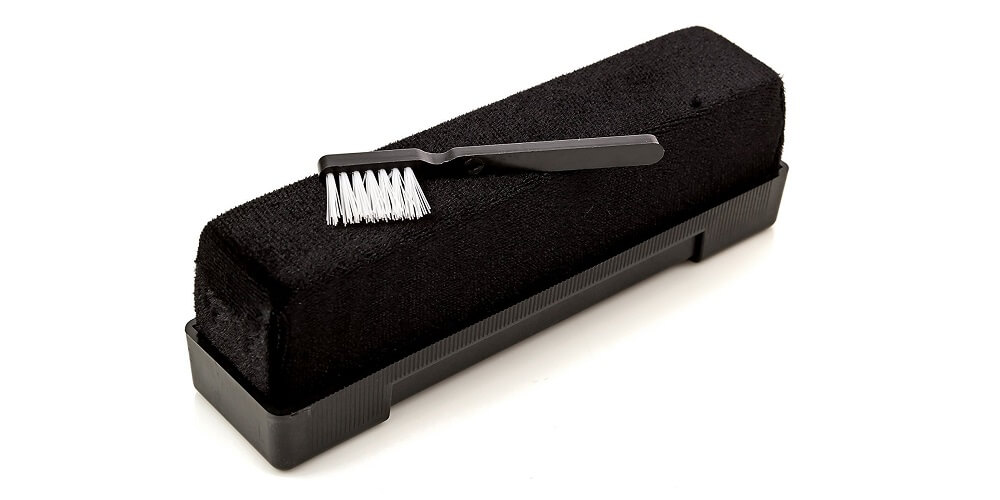 This brush has an elementary construction and application principle. Sellers provide a 2-year satisfaction guarantee of flawless operation. Like in the previous case, you can apply it to a record spinning on a turntable. Also, a record can lie on a static surface. But then you should move the brush in the same way as with a turntable.
Dry brushing may be conducted daily, while cleaning solution, which is provided in the kit, is helpful when it is necessary to eliminate deep dirt. Also, you will get a stylus brush for free. Since a velvet brush collects dirt, after prolonged use, it should be soaked in soapy water and then dried with a towel.
Keep in mind that velvet can fall off from a cover, and you will need to use glue or a special grip to bring the parts together. It is much easier and less expensive to buy a regular microfiber cloth and a solution in the nearest music store.
Liquid leakage is a common problem. Instead of experiencing the pleasure of testing a new tool, customers had to clean the messy and sticky solution. It was necessary to tighten the top of the bottle in order to prevent leakage in the future.
Pros
Velvet is soft, so it would not scratch your records. The manufacturer claims you risk nothing when testing this tool on the best samples from your collection.
The cleaning solution has anti-static properties.
Cons
Some users report that their vinyl started to sound worse due to an aggressive formula of the cleaning solution. In addition, the bottle provided in a kit is not enough for processing many records.
The product has a weak construction.
Some customers report that they received their brushes poorly packed.
Best Record Cleaning Machines
Record Doctor V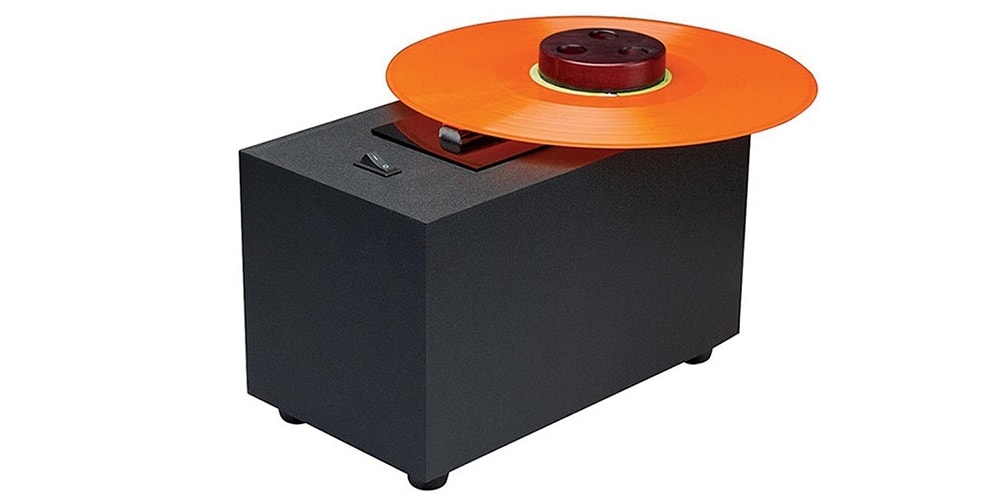 The manufacturer claims this device to be the best record cleaning machine in its price sector and provides the following in the kit: record turner, bonus roller bearing, a bottle with fluid, and applicator brush.
Even though vinyl lovers do not have to overpay for an expensive motor, their user experience becomes a bit worse. Those who value their time and energy and want to simplify the cleaning process as much as possible claim that this is not the best record cleaning machine.
Buyers report that mold emerges, and its spores fly out into the room every time a machine is used. Plus, their albums started to sound worse, even when meticulously adhering to the user instructions.
Pros
Record Doctor V includes units that are used for assembling more expensive models. You have a great opportunity to get a high-quality cleaner for a modest amount of money.
A soft brush and sweeper strips are expected to make vinyl cleaning safe.
Thorough processing allows eliminating dirt and dust from the deepest grooves.
Cons
Uncomfortable manual operation.
Performance decrease due to moisture trapping.
Since a case is made of wood, it starts to rot.
Kirmuss Audio's KA-RC-1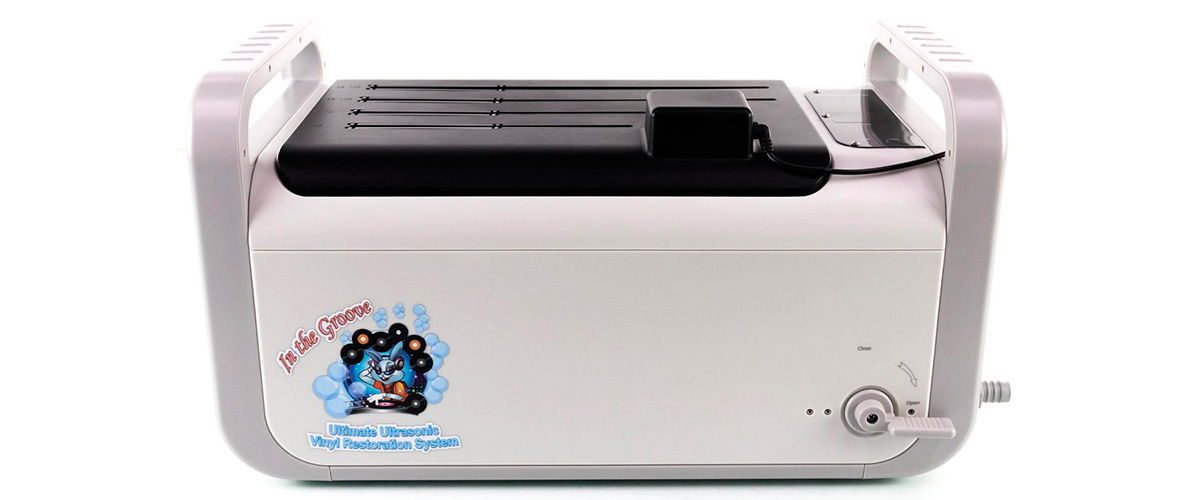 This excellent record cleaner consists of an ultrasonic cleaning unit, a patented record washer assembly and sonic-control process, a drain hose, and a sturdy AC power cord. The appliance's dimensions are approximately 21.3″ x 13.3″ x 10.9″. Plus, there is an IEC AC power inlet and a power switch on the rear. The machine can clean 12″, 10″, and 7″ records well. Compared to other methods I used to clean up my recordings, the KA-RC-1 gave results that ranged from no sound changes to more open sound.
It's great that when you start the record cleaning machine, you have a choice: change the cleanup time, or start with the five-minute default. This model has a timer that keeps track of the countdown during a selected process. Underneath the clock, you will find a set of lights indicating the process. On top of that, Kirmuss Audio's KA-RC-1 is easy to move thanks to the built-in handles on the chassis.
Pros
It comes with special instructions for shellac records
The manual is very detailed and clear
Equipped with a display that has a color-coded bar for temperature monitoring
Cons
The process of setting up the machine, cleaning the records, and maintenance afterward takes a lot of time
Every cleaning session requires two gallons of distilled water as well as isopropyl alcohol
Ultrasonic Vinyl Record Cleaner
This tool is an attachment for 6-liter cleaners. It can be connected to a power grid and function without manual manipulation. Adjustment for any standard model is possible. You can connect additional components to clean two records at once or enable fast drying. Records are mounted vertically in a magnet system. A 1-year warranty is provided.
This model is for those who know what they want rather than those who prefer ready solutions. That is why newbies often opt for easier to use and more common mechanisms.
This device is often featured among the best record cleaning machines. However, it also has some disadvantages.
Pros
The manufacturer offers custom design and can tailor the machine's features to your specific needs.
You will get a user-friendly automated tool.
The CleanerVinyl brand has responsive customer support, so you will not be left one-on-one with your problems if something goes wrong.
Cons
It doesn't firmly attach to the recommended tank.
It is tricky for some people to design and assemble the best vinyl record cleaner on their own.
Best Record Cleaning Fluids
Lasermedia VNC-8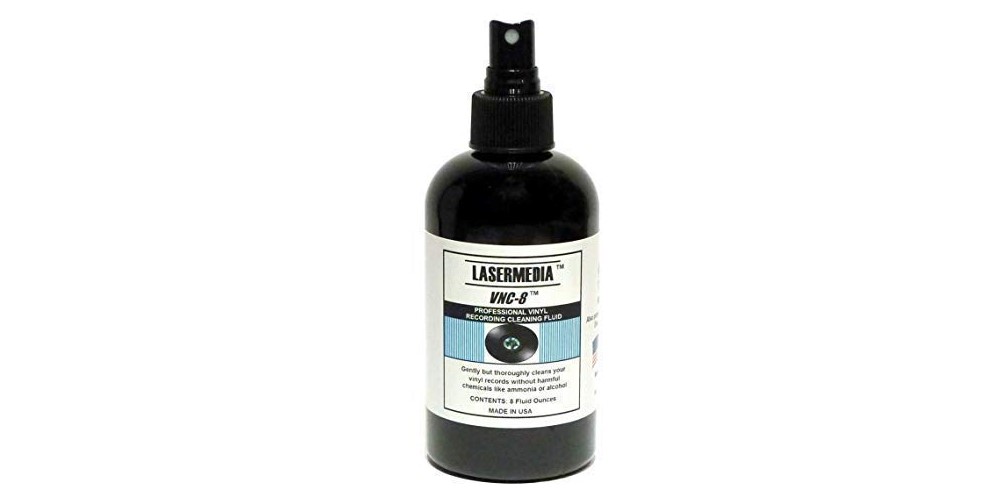 Instead of buying complex cleaning machines and kits, you can purchase special fluid and process your vinyl with a usual cloth or microfiber brush. Spray a solution on a record and gently process it to eliminate dirt. It is important to move in the direction of grooves and not across them. Make sure vinyl dries before playing.
Lasermedia VNC-8 is called one of the best cleaning liquids on the market. The manufacturer claims the leading US archives prefer their product due to natural and harmless solution without alcohol and ammonia, de-ionized and thoroughly filtered water base. However, some dissatisfied buyers claim that they just overpaid for a popular brand, while the same cleaning effect can be achieved with regular distilled water.
Pros
Chemicals would not spoil the quality of your albums.
Fast and easy application. There is no need for post-cleaning rinse since the fluid is properly blended and leaves no residue.
It is much cheaper to buy a liquid than a cleaning kit or a cleaning machine.
Cons
Dissatisfied buyers report that their records started to shine and look better but, in fact, dirt was not eliminated and the sound was as bad as before cleaning.
Consumers believe this product is too expensive in comparison with other liquids.
You should wait for long to dry a record after applying a solution. This is a downside of its natural formula.
Boundless Cleaner Fluid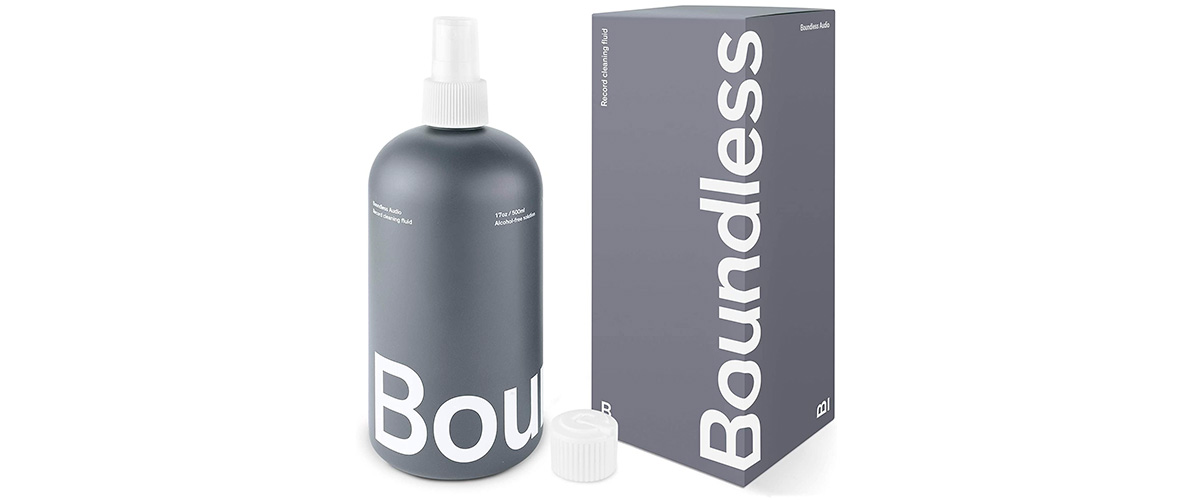 Every vinyl record player owner should know about this alcohol-free record cleaning fluid. It is completely safe to use on all types of vinyl, including shellac records. The special thing about this vinyl cleaner is that the fluid contains modern anti-static agents and leaves no residue. Apart from getting rid of the dust and fingerprints, I noticed less background hiss on some of the dirtier records. After cleaning my vinyl records with this solution, I could enjoy the highest-fidelity sound.
Pros
You get it in a large 6.75 oz/200 ml spray bottle to deep clean up to 1000 record sides
There's no trace of residue left after cleaning the vinyl
Cons
It comes with a low quality cloth that leaves tiny fiber on the records
LAST Factory Record Preservative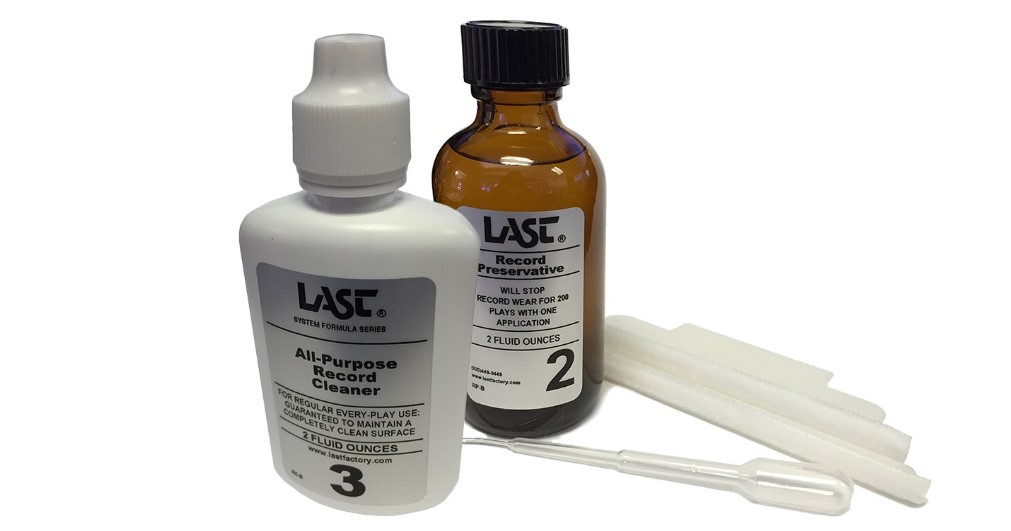 You will get 4 bottles with cleaning liquids that enhance connections between molecules and make vinyl more stable. After cleaning, records can be played a hundred times and sustain no damage from a stylus. Therefore, future generations will get your albums in perfect condition. You should wait only 30 seconds to let the solution get deep into the grooves and settle there, thus creating a protective cover.
The manufacturer LAST Factory assures that this kit is the best vinyl cleaner that was approved by picky reviewers and reputable vinyl album editors. It is worth noting that the price is relatively high. Those who are looking for an inexpensive fluid often opt for less popular brands.
Pros
LAST Factory not only cleans but also protects record surface.
Easy to use.
The product leaves no residue. So even if you accidentally overuse it, this would make no harm.
Cons
Despite the manufacturer's words about the harmlessness of the fluid, some customers claim it leaves lines on record surface.
Some users haven't noticed the difference in sound prior to and after cleaning.
Best Record Cleaning Sleeves
Mobile fidelity sound lab inner sleeves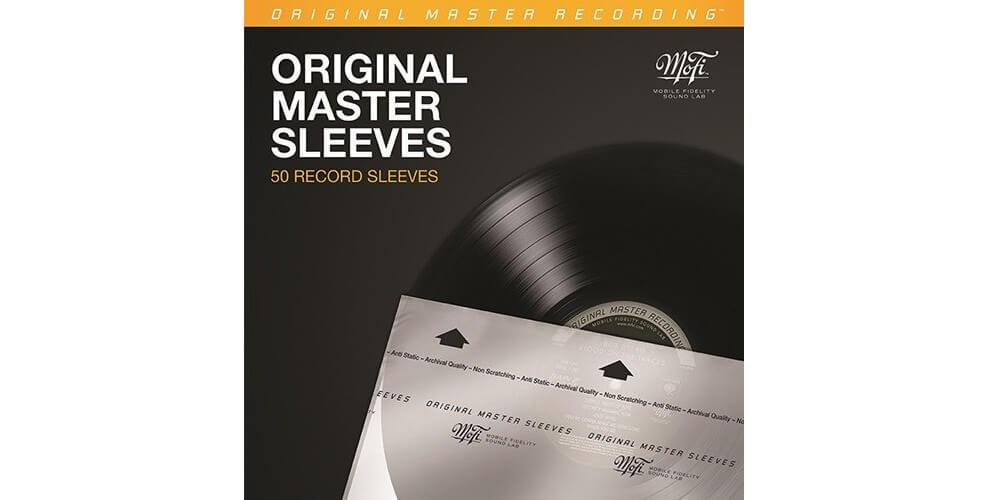 Sleeves are used to protect the vinyl from dust and dirt. If you put each record in a separate package, the effect from cleaning would last longer. The kit by Mobile Fidelity includes 50 sleeves. Each of them has three plies (1 paper layer sandwiched between 2 high-density polyethylene layers).
Mobile Fidelity has been on the market for over 35 years. Such reputable companies usually do not risk distributing low-quality products because they value their brand's good name.
Pros
Positive reviews from industry experts.
Anti-static properties.
Universality. The product can be applied to both laser discs and LPs.
Cons
Some buyers claim these sleeves do not fit standard record sizes.
There are no closures to keep out dust.
Some customers received less than 50 sleeves.
Buyer's Guide
As the last pep talk, we will answer some commonly asked questions.
What are the cleaning options for vinyl?
You can opt for dry brushing or wet cleaning. In the first case, a brush should be used prior to and after every playing. In the second case, a special fluid should be used to conduct thorough cleaning from time to time and get rid of dirt sitting deep in the groves.
Wet cleaning can be conducted manually or using special machines. Cleaning fluid can be bought or prepared single-handedly.
What are the things to avoid
Never apply household cleaning solutions to your albums. They can provoke detrimental chemical reactions.
If you do not conduct dry brushing before wet cleaning, you will only turn dust into the dirt and leave stains.
Do not use rough towels that can leave scratches or static.
What are the rules of thumb?
It is better to clean records before and after every playing.
Your fingers should be dry and clean. Limit contact with the record surface and touch edges only.
Keep a turntable's lid closed in order to prevent dust accumulation.
Store your records in sleeves and make sure packing is clean.
Apply soft and lint-free microfiber cloths and only those liquids that are approved for vinyl.
Regularly clean your stylus since it can transmit dirt to records.
Use turntable mats with anti-static properties.
Can alcohol be used for cleaning?
There is a heated controversy. Some collectors swear by iso alcohol, while others warn of potential damage. Opponents state that this element can remove plasticizers from the vinyl and make the groove brittle. So if you use it as part of your cleaning process, better rinse the record after with distilled water to wash away remnants.
We hope this guide proves useful and helps you choose the best record cleaner.