Although vinyl players appeared a long time ago, they have not lost their relevance among connoisseurs. But they often face the question – how to connect the best receiver for vinyl to other devices, and in this article, we will explain this in detail.
Apart from this, you'll have the ability to see the list of pretenders to be the best receiver for turntable. The goods are divided into groups, for ease of selection and navigation.
Our pick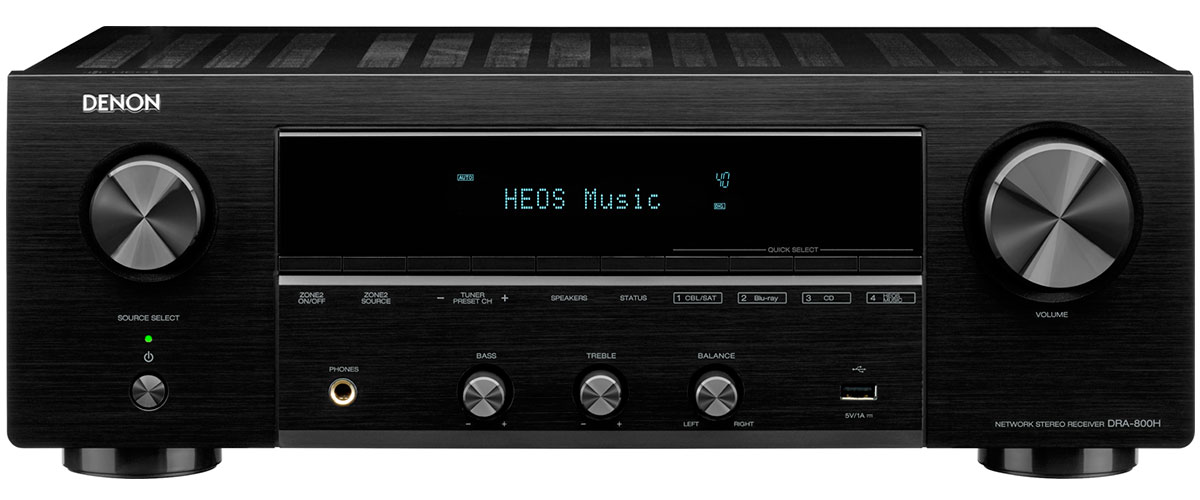 Denon DRA-800H
The best Receiver for Record Player
Amplifier vs. Receiver
There are several basic types of devices that turntable can be connected to enhance sound: Receiver and Amplifier.
The function of the best amplifier for turntable is, which is quite logical, the amplification of the audio signal received from any external source. The structure of this device usually includes a pre-amplifier and a power amplifier itself. The preamplifier plays a very important role – it is it who corrects and adjusts the preliminary signal before transmitting his amplifier. Alas, in matters of sound settings, amplifiers are not distinguished by anything special – the controls are very, very mediocre.
The receiver for record player is an amplifier equipped with additional equipment – such as, for example, a radio tuner. The receiver is the main link in any serious sound system, including home theaters. Often, receivers include other nice additions besides the tuner – say, decoders or modules. Accordingly, if you purchase a high-quality receiver, you will get very flexible control over the sound. In general, a good receiver is an expensive pleasure, but even models of the middle price segment are very attractive in terms of quality and capabilities.
In other words, receiver is a sophisticated modern device that, in addition to amplifying sound, has a lot of additional features, such as working with video, the presence of the Internet, etc. Receivers are a kind of media combine.
Whereas, amplifier is a simpler device whose main task is to amplify the sound without distorting it. It is appreciated by music lovers but has limited functionality in comparison with turntable receiver.
What about phono preamp
The article gives receivers as those that can be directly connected to a record player (with Phono Input), and those that need to be connected via phono preamp (without Phono Input).
That's why it is crucial to understand what is it.
A phono preamp is a sound transformer from vinyl because, on vinyl, the sound is not technically recorded as on a CD or other media. If you connect a turntable without a phono preamp directly to an amplifier or a music center, then the sound will be barely audible even at the extreme position of the sound control and almost without bass. Turning on the phono preamp immediately solves this problem.
Many budget players have a built-in phono preamp, but in reality, they lose the sound to their stationary counterparts. If the phono preamp in the turntable is switchable, that's good. So, you can eventually buy a good one and put it in the path between the turntable and the amplifier (receiver).
If there are a lot of tables, tonearms, and heads with a good sound level, including in the medium-budget segment, then in terms of correction everything is not so rosy.
There are plenty of correctors available, but, as practice shows, there are few really good-sounding devices, and especially devices that are uncompromising in sound.
It turns out that in today's reality, it is precisely the corrector that is often the "bottleneck" of the vinyl path. The general tendency in the production of preamps is to simplify the circuits, reduce the cost of the elemental base, save on everything and at the same time set high prices.
If we compare "by weight," then the preamp is a little more complicated than the same preamplifier. However, the "pound" of most modern correctors costs much more than the same weight of a decent preamp.
Each of the products in the best receiver for turntable Products list indicates the type of device (Receiver / Amplifier) and the presence of Phono Input. Based on this data, the Reviews section is divided into the following sections.
Receivers and Amplifiers for Record Player Comparison Table
Channels
Stereo power, W
Impedance, Ohm
Type
Denon DRA-800H

best stereo receiver

2.0
100
8
stereo receiver
Review
Sony STRDH190

budget stereo receiver

2.0
100
8
stereo receiver
Review
Denon AVR-X3700H

best multi-channel AV receiver

9.2
105, 135
8, 6
multi-channel AV receiver
Review
Rega Brio

best integrated amplifier

2.0
50
8
integrated amplifier
Review
Best Stereo Receivers for Turntables Review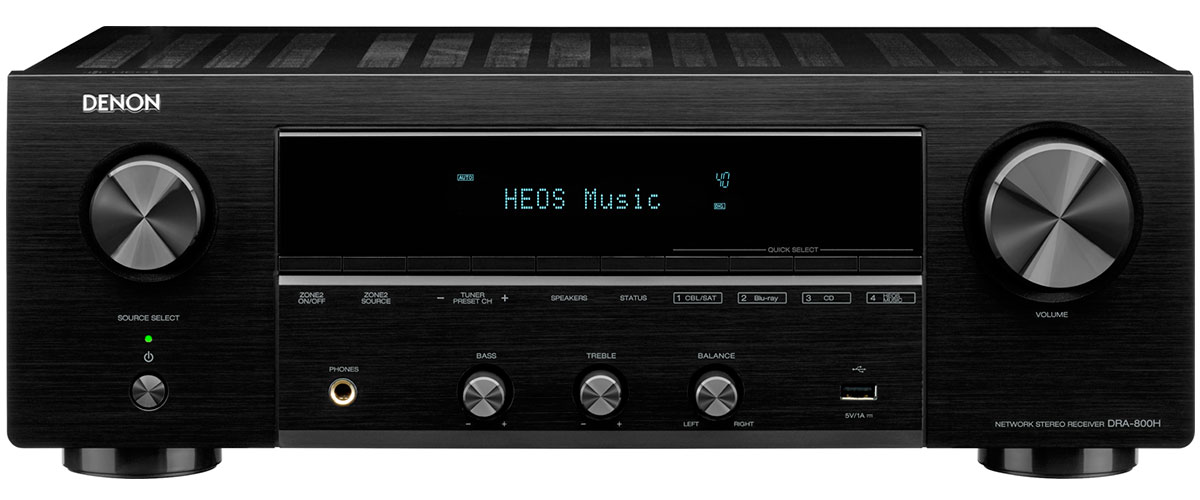 As for me, absolutely everything in this device is perfect. From old models to modern ones, Denon has been very good at modernizing their devices. Adding convenient HDMI ports has added convenience and makes it possible to delight yourself with good sound when listening to vinyl. Sound quality is quite powerful and sharp with the right amount of base. The DRA-800H ensures your speakers drive detailed, precise imaging and supreme quality sound.
Let's take a closer look at the specifications of this device and determine why it is so good. First, it should be said that this 2.0 channel device pleases with a good stereo power, which is 100/8 or 120/6. The Denon DRA-800H has a Class A / B amplifier rated for 100W RMS x 2 into 8 ohms. It can handle loads up to 4 ohms quite easily. Moreover, both channels are involved, the full bandwidth is from 20 to 20 kHz, the total harmonic distortion is only 0.08%. Moreover, it should also be said that output impedance also has a very solid indicator of 8, 6.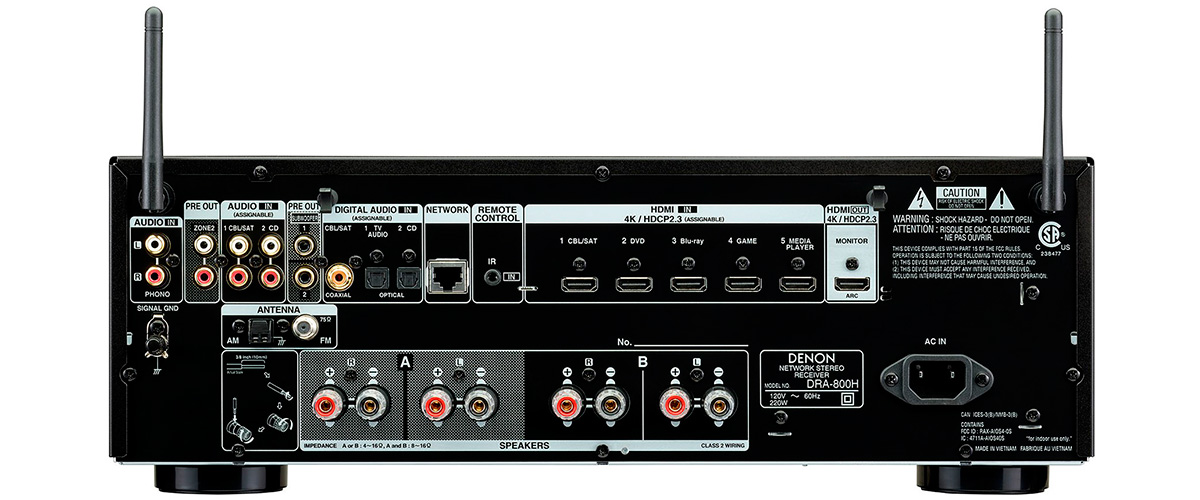 It should be noted that the composition of the device is very good. All buttons are very well set and help to make the necessary adjustments without unnecessary hassle. Speaking of ports, it's worth mentioning that the USB port accepts high-resolution audio files presented from flash memory or other storage devices, and there is also a headphone output for private listening.
Pros
Audiophile-quality is excellent because Denon did great work to reduce distortions
Boasts of easy access to internet-streamed music
Greatest connectivity ever includes 5 HDMI input ports
Cons
The front USB is not compatible with an iPhone direct input
Sony STRDH190 – best budget

Enjoy the sweet sound of vinyl or streaming from your digital music collection. The perfect combination for music lovers who need a stereo with classic sound from all your music sources.
Power Output 100 watts x 2 (8 ohms, 1 kHz).
The STR-DH190 has four analog audio inputs and one output, so you can easily connect your traditional audio components like a CD player or turntable, and recording devices.

Setup was pretty simple. Phono jack with grounding wire was obvious to the plugin, and the additional RCA inputs let you customize where to plug things in. The remote control lets you rename the inputs to label what goes in where. Speaker wires fit easily into the clamps on the back. Sound quality is very good.
Everything sounds well balanced through my bookshelf speakers. FM tuner works well as well. If I have any cons about it, there's a few. You can only pair Bluetooth to one device at a time like your computer or your iPhone, not both. You can access three presets on the remote for the radio. You can have up to 30, but then you need to hit the forward button on the remote or scroll with the onboard knob.
Pros
The phono doesn't have any buzz once the grounding wire is tightened well.
A nice feature that my old receiver didn't have is Bluetooth which I easily paired with my laptop and plays my iTunes library without any breakup.
Cons
The tuner has FM only, no AM but those stations are available online or my home clock/radio, not a big deal to me.
Also, the tuner scans very slowly to find stations. But if it's not that important to you, this makes for a very solid home receiver and very reasonably priced.
Yamaha R-N303

The Yamaha R-N303BL stereo receiver belongs to the budget line. One of the best receiver for vinyl is distinguished by its classic, recognizable retro design, "on board" AM / FM radio and the most powerful streamer module. Wi-Fi, Bluetooth, Airplay, and proprietary MusicCast multiroom are also all about our subject.
Two channels of 100 W high-power output. Minimum RMS Output Power : 100 W + 100 W (8 ohms, 40 Hz-20 kHz, 0.2 percentage THD).
Phono input terminals for Turntables voice control using your Alexa device like echo or echo dot. FM 50dB Quieting Sensitivity (IHF, 1 kHz, 100% Mod., Mono) – 3 µV (20.8 dBf). FM Signal-to-Noise Ratio (Mono/Stereo) – 65 dB / 64 dB.

Access to your music library, Pandora, Spotify, SiriusXM internet radio, Tidal and Deezer.
Installing a Yamaha R-N303BL will not cause any problems. The setup of the device is simple and obvious; the main thing here is to remember to connect the receiver to your router or Ethernet switch.
Music at your fingertips, intuitive controls – all in the spirit of the 21st century. It is worth noting that the Yamaha R-N303BL does not have auto-tuning and room calibration, but, in fact, in this price category (and for a stereo receiver) this would be an excess. Equalization is also absent; there is only balance adjustment. It's only a pity that "on board" the Yamaha R-N303BL did not have room for a dedicated output for the subwoofer – even in stereo it is sometimes useful.
Pros
Sound is very clear and powerful (worthy of 5 stars). In other words, just what you would expect & demand from Yamaha.
I expect setting up the remote speaker links would be equally futz-full.
Cons
The R-N303BL panel display is minimal, both in content, size, and brightness. I have 20/25 vision yet cannot read it sitting 15 feet away.
Front panel controls are also minimal. The remote has 37 small buttons, non-numeric, all labeled with even smaller print.
An additional 5-button bullseye directional control is centered among them. Managing the AM/FM tuners without a tuning knob on the panel, or numeric controls of any kind anywhere is a super pain.
Best AV Receivers for Record Player Review
Denon AVR-X3700H – best AV receiver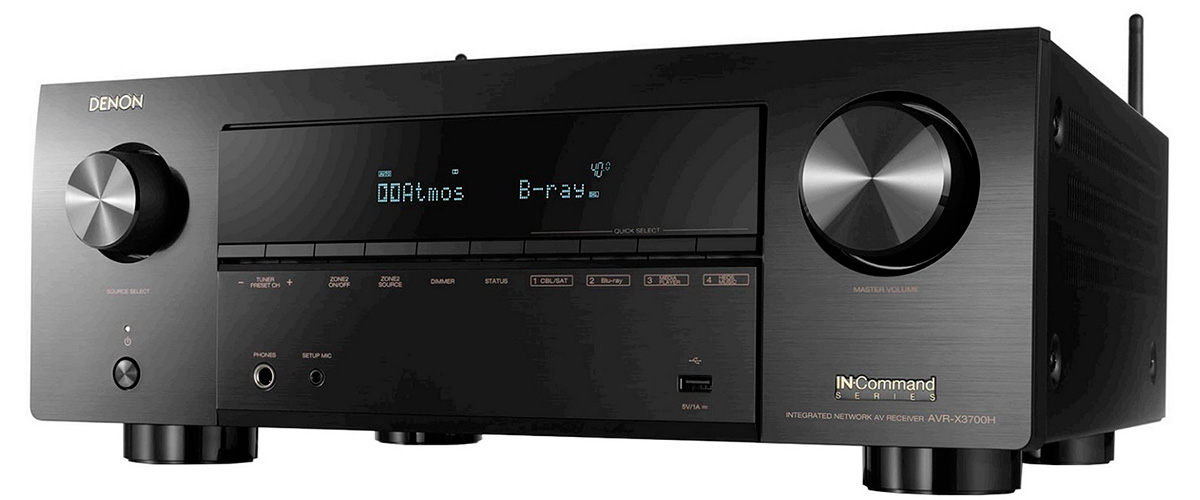 Denon AVR-X3700H is one of the finest examples of how a company works on its mistakes. Unlike the previous model, the AVR-X3700H boasts many advantages.
Firstly, the updated section with HDMI ports will not leave anyone indifferent. There are also 2 HDMI 2.1 connectors supporting 8K @ 60Hz and 4K @ 120Hz. All of its HDMI connections support HDR10 +, Dynamic HDR, and fast media switching. Moreover, the system supports 9.2 channels, which is more than a good indicator in our times. In addition, the stereo power ratings of 105/8 and 135/6 watts are also pretty good. Personally, I was quite pleased with the THD in stereo, which is 0.08%, as in the previous model. This model plays great sound with a 10Hz – 100KHz frequency response.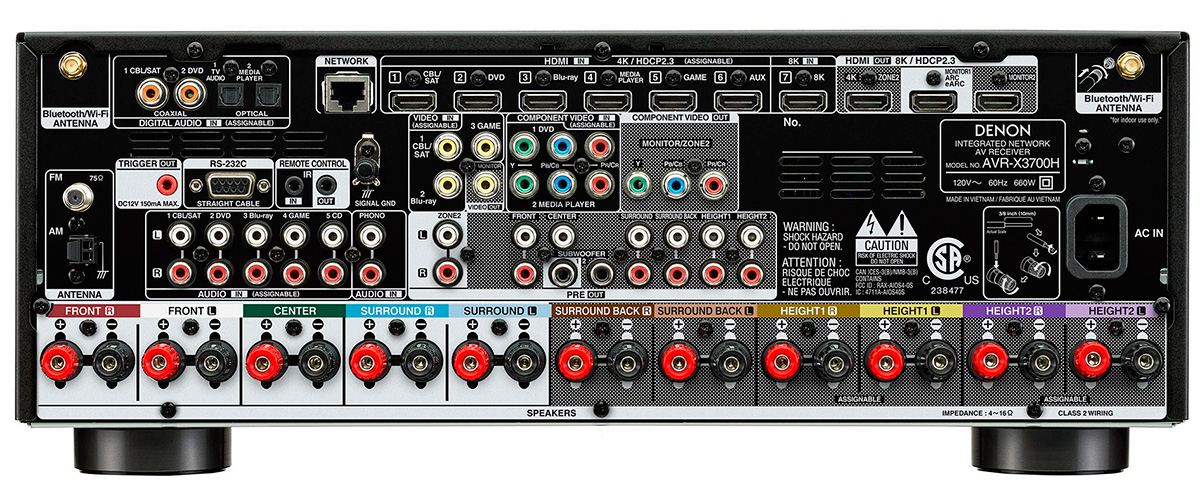 The Denon AVR-X3700H also has a lot to say about the sound. I think it's worth noting that Denon did a great job on sound detailing. Now there is an incredible sense of volume that allows you to pick up the slightest sounds, distinguish between different blows, knocks, and all that. In fact, it is a very good option for amplifying your home theater subwoofers.
Pros
Great connectivity options that provide a stable HDMI connection for your purposes
Wonderful crystal-clear sound that immerses you in things you listen to
Cons
Does not support Front Wide Channel
Onkyo TX-NR696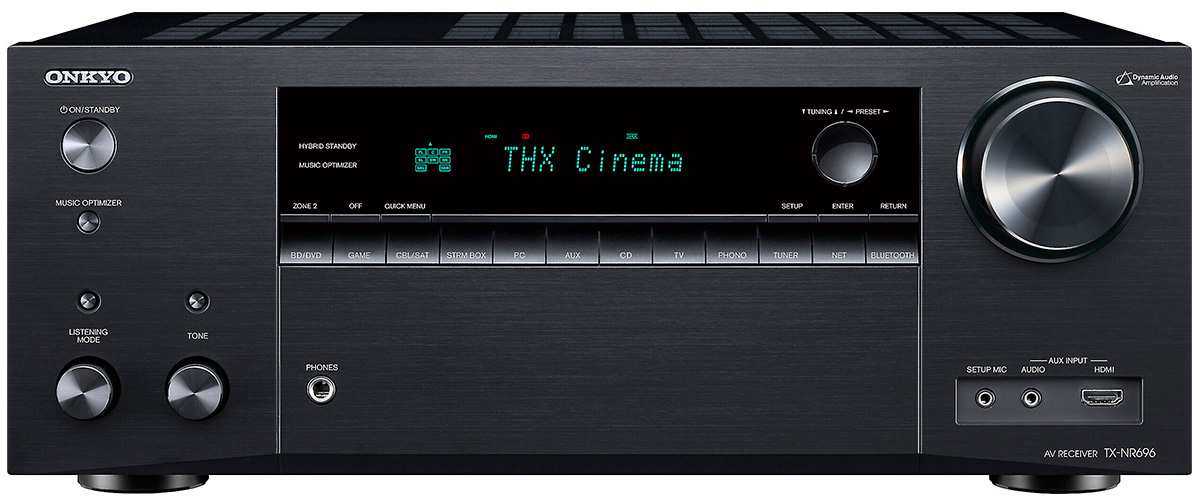 The Onkyo TX-NR696 is a stunning 7 x 100W receiver. Compared to competitors, this model has more connectivity options including 6 connectors for HDMI. These ports carry the latest 4K standards, including HDR10 and Dolby Vision. Other connections include a pair of component and composite video inputs, six analog audio inputs, three digital audio inputs (two optical and one coaxial), and a USB port.
As for me, a very good advantage of this device is that it is compatible with built-in Chromecast, DTS Play-Fi, Spotify Connect, AirPlay, and Bluetooth. What's more, this receiver uses FlareConnect technology. This allows you to "mirror" what is playing on one FlareConnect system to another, individually or throughout the home.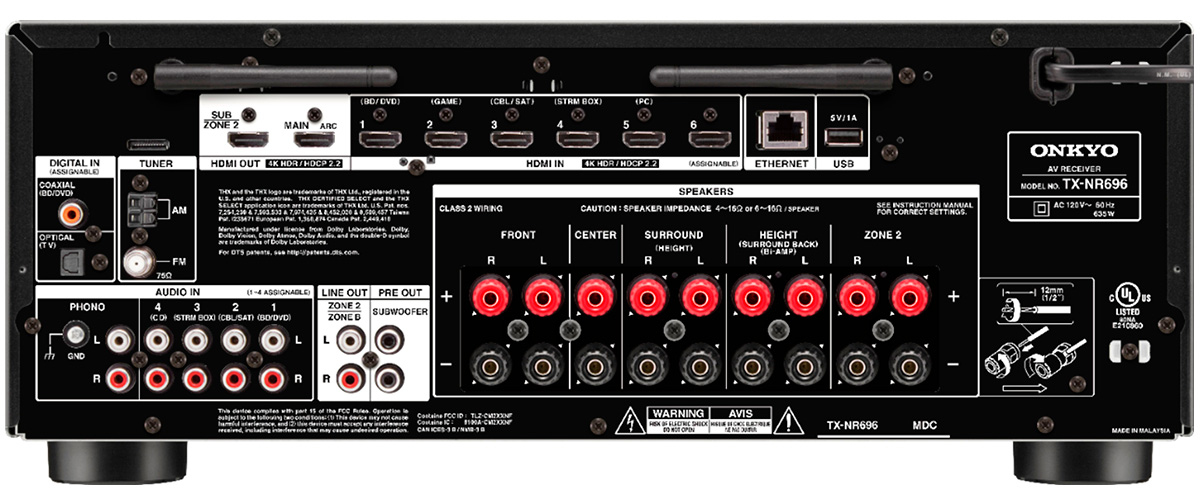 Speaking about the specifications of the Onkyo TX-NR696, it is worth highlighting a few important points. Firstly, this product can provide the perfect sharp sound for your cinema or home listening experience. With built-in 7.2 channels and 165/6 watt stereo power, you will forget about low-quality sound forever. What's more, Output impedance at 6 ohms and THD in stereo at 0.08% will provide the finest listening experience, rest assured! The device also supports frequency response from 10Hz to 100KHz. Moreover, it is worth mentioning that Onkyo has not forgotten about Phono Input, which is why it is present in the system.
Pros
Various connectivity options that fit every user
Great and quite sturdy design
Provides a setup assistant
Cons
Some complaints about unstable not qualitative remote
Denon AVR X4500H

Of course, not a single AV receiver can be compared with an integrated amplifier, but, given the support for Hi-Res-audio, the X4400H will expect perfection in both respects. "Baby Drive" is built around the soundtrack, and the musicality of the amplifier is more pronounced in stereo format.
9.2 channel AV Receiver with 125W per channel (8 ohm, 20Hz-20kHz with 0.05 percentage THD), 9 powerful amplifiers for an easy 3D audio setup to fill big rooms with Denon sound.
The latest audio formats Dolby Atmos, DTS:X and Auro-3D built-in. Most remarkably, the 9 channel amplification allows for setting up a 7.1.2 or 5.1.4 3D experience out of box. The AVR-X4500H even supports 7.1.4 speaker configuration by adding an external stereo amplifier thanks to its 11.2 channel processing capability.

It has a powerful and full-blooded sound with decent rhythm and a decent study of the dynamic range. Our reference set PMC Twenty is not the most suitable partner for a receiver of this price category, but Monitor Audio Silver 200 AV12, which I especially praised for the sound quality in stereo front speakers, is perfect for lovers of all types of home entertainment.
Pros
All Denon AVR series AV receivers feature family sound, and this model is no exception
Sound is bright and precise
Cons
If you're using CEC, you might encounter a problem where the receiver turns on your TV and the receiver randomly
There is no included owner's manual
Marantz SR8012
Although the SR8012 is a new model, it got a classic design, according to the traditions of Marantz. This means that you get a two-tone effect with matte curved sides and a polished metal center. On the left side there is a large control knob with a power button below it, and on the right is the same large volume control. In the middle is a traditional round display with blue backlighting around, which can be turned off, if desired. The information shown on display is minimal, but this is a stylish feature in the design of Marantz for many years.
Its symmetrical, monolithic amplifier design gives it 11 identical amplifier channels, each delivering 205W per channel, for seamless surround sound integration.

Immersive 3D sound with effects from overhead – Dolby Atmos (up to 7.1.4 or 9.1.2), DTS:X, and Auro-3D built-in.
The small round display is largely cosmetic because a more informative display is hidden behind a hinged lid.
Pros
The receiver sounded harsh, and all the channels were completely unbalanced. After a week of trying to get it to sound halfway decent.
The set up was pretty easy, and the speaker microphone was a nice touch.
Cons
On the Marantz, you can only connect to Airplay from an apple device, not to Airplay from the receiver.
For some people, the lack of a tuner can be a serious minus.
Onkyo TX-NR787

Onkyo announced the start of sales of 9.2-channel NR-787 AV receiver, which is a certified THX Certified Select for medium-sized rooms (up to 2,000 cubic feet or 57 cubic meters).
Now with 9 channels the receiver Supports 5.2.4-Channel speaker layout. 100 W/Ch. (8 ohms, 20 Hz-20 kHz, 0.08% THD, 2 channels Driven, FTC) or 220 W/Ch. (6 ohms, 1 kHz, 10% THD, 1 Channel Driven).

This model was the first equipped with AccuEQ Advance advanced room correction system. Developers call it the "premium multi-point calibration system that eliminates standing waves." The user can set microphones at three points in order to get the "optimum scene after automatic calibration".
Pros
The 4K picture is reproduced perfectly from my Xbox One X.
This receiver automatically adjusts the sound for the programming you are watching to provide the best surround experience.
Cons
Every time the receiver loses connection and then reconnects.
I had to turn off the network connection, which disables half the functionality of this device just so I can watch movies uninterrupted.
Denon AVR-X3500H

The AVR-X3500H, which will be discussed, represents the new generation of Denon AV receivers and, in a sense, is the flagship. Devices with a higher index fall into the category of installation, and the AVR-X3500H and its younger brothers are just those components that are designed for the mass market so that ordinary users can cope with their installation and configuration.
Returning to the main highlight of the Denon AVR-X3500H and the new generation of Denon receivers in general, it is worth noting the limits of the capabilities of the integrated multi-room module.

7.2 Channel AV receiver with 105W per Channel (8 ohms, 20Hz 20Khz with 0.08% THD) andgt; enough power to fill bigger rooms with unique Denon sound.
The latest audio formats including Dolby Atmos and DTS:X. The AVR-X3500H's 7 amplifier design means you can run two dedicated overhead speakers in a 5.1.2 configuration.
Pros
Combining such an AV receiver with the highly developed HEOS ecosystem, you can easily and quickly solve the issue of scoring of large houses and apartments.
Well, those for whom multiroom is not a goal will certainly appreciate the convenience and simplicity in terms of playing digital content, whether it be files stored on a computer or streaming services. With integrated HEOS, this has become much more convenient.
Cons
3D sound is available in a minimal configuration
Incomplete control integration in the HEOS application
Pioneer VSX-LX104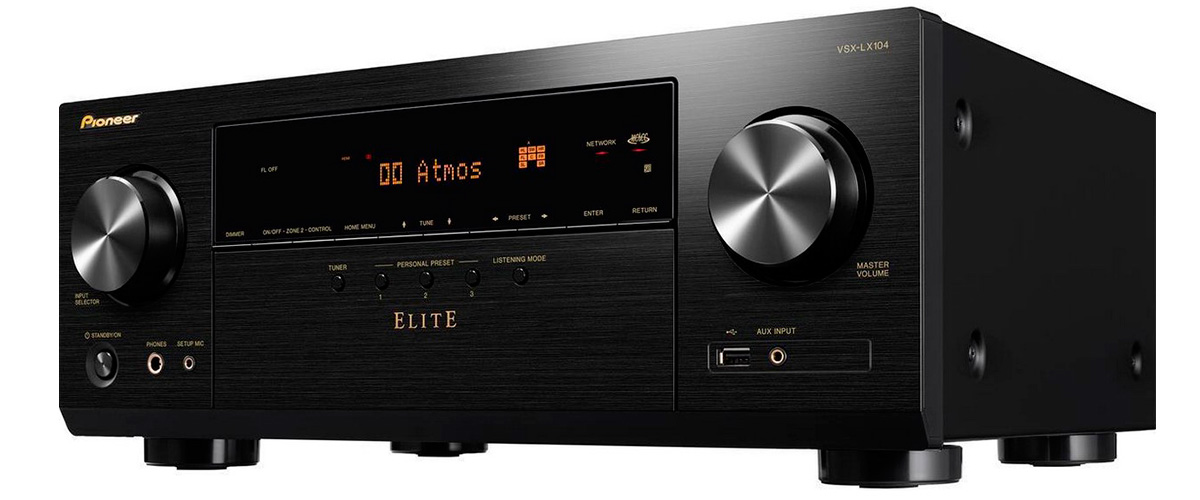 When the receiver is integrated into the home computer network, it becomes possible to use your smartphone or tablet as an advanced remote control. To do this, you just need to install the Pioneer Remote App on the mobile gadget, available for iOS and Android operating systems. Pioneer VSX-LX104 supports not only USB-connection of Apple mobile gadgets, but also wireless broadcast of music from them via Apple AirPlay protocol.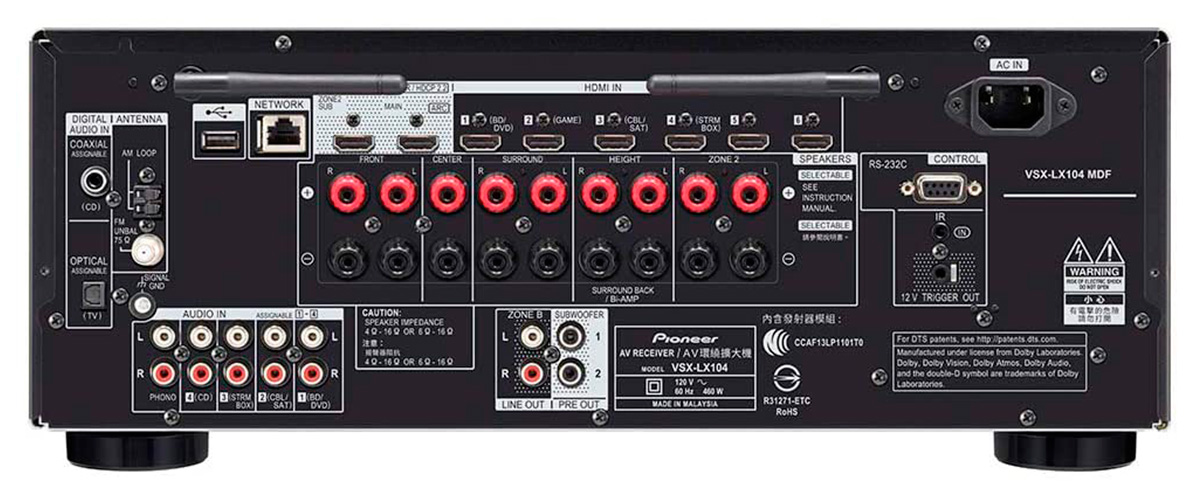 HDMI Input / Output : 6 In. / 2 Out. Wi-Fi Built-In : 5GHz/2.4GHz.
The VSX-LX104 is compatible with 7.2.2ch/5.2.2ch configuration of the latest home theater sound platform, Dolby Atmos.
Pros
The powerful digital platform of the receiver allows you to reproduce spatial effects with high accuracy, and the use of four ceiling channels adds sound to the effect, opening the sound picture in a vertical plane.
We note the high dynamic potential of the receiver – there is no mess, lack of energy and loss of intelligibility of the feed is not in sight.
Cons
Video switching is really slow. The TV even times out the connection sometimes since the receiver is slow to do anything.
Only 1 Optical input.
Best Integrated Amplifiers for Turntable Review
Rega Brio – best integrated amp

The updated Brio is made in an elegant aluminum case, consisting of massive metal sidewalls (in combination – cooling radiators), which are connected by lower and upper covers. On the front panel of "piano" black plastic, there is a power button, a headphone jack, an input switching button, and a volume knob.
50 Watts RMS both channels driven into the rated load of 8Ohm. Integrated Amplifier Includes MM Phono Preamp, Headphone Amp, and Remote.
The novelty sounds soft and sophisticated; the middle register resembles the sound of tube amplifiers – juicy and transparent, without losing any important musical detail. The top is clear, clean. Transistor notes do not appear. The lower case is worked out perfectly. The tonal balance as a whole is almost perfect, both from line inputs and through the corrector. Vinyl records sound lively and natural, most likely due to the natural deficit of the lowest frequencies. Therefore, the power source is not overloaded; the speaker does not suffer.
Pros
Works well with both digital audio and my Rega turntable.
Pushes a great deal of volume for such a small unit.
Cons
Unfortunately, three weeks after purchase, one speaker channel stopped working entirely.
NAD D3020 V2

In fairness, I admit that the case allows horizontal installation, but the location of the controls, indicators, and form factor as a whole eloquently suggests that this is not the main installation scenario.
On the other hand, if we ignore the well-established and long-obsolete principles of building Hi-Fi components and Hi-Fi systems in general, it becomes obvious that a small amplifier, and even in a vertical design takes up a minimum of space. This means that it can be easily placed in places where full-sized components are inappropriate or undesirable.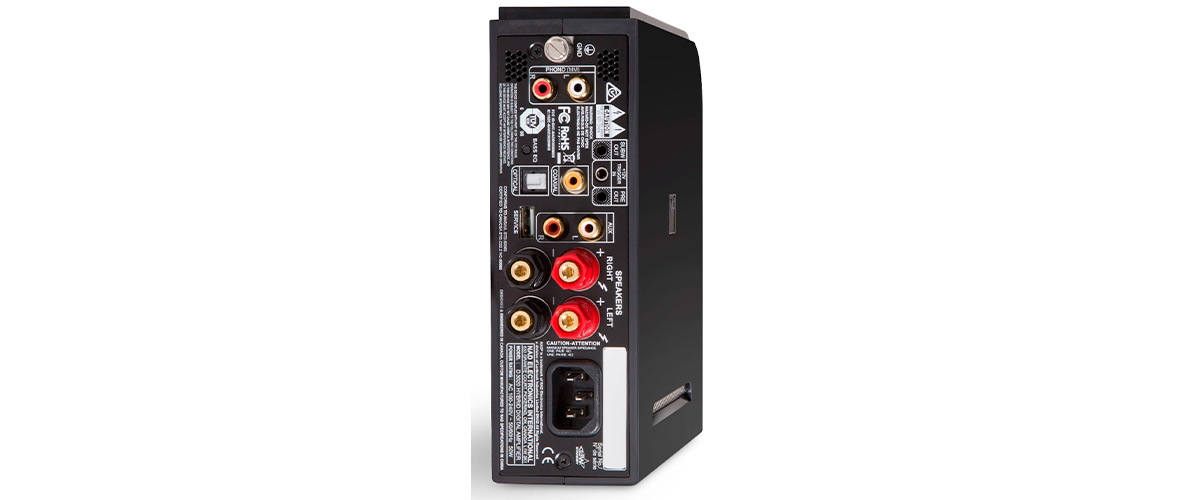 The most likely scenarios: on the table or on the cabinet in the study, in the living room next to the TV, when used for music, in the bedroom and, in principle, in any other place where you want to install a mini-Hi-Fi system with minimal impact on the overall appearance of the room.
Continuous output power into 4 and 8 ohms: 40 W (ref. 20 Hz-20 kHz at 0.1% THD, both channels driven).
Pros
It boasts bold and effective circuitry solutions, due to which it has an attractive ratio of price and sound quality.
This is a small amplifier with a lot of power and a great sound, even for a real audiophile.
Cons
Bluetooth mode has no authorization model. Anyone with a Bluetooth device can connect to it.
Onkyo A-9010

The amplifier has very wide functionality. On its front panel, where the large volume control knob occupies a central place, there are also tone controls in the areas of low and high frequencies, stereo balance, buttons for turning on loudness and direct input signal input.
Rated output: 44W + 44W (8Ω) (1KHz, 0.08% or less THD, when 2ch drive). Practical maximum output: 85W + 85W (4Ω, 1kHz, when 2ch drive), total harmonic distortion rate: 0.08% (at the time of rated output), requency characteristics: 10Hz ~ 100kHz / + 1dB, -3dB (LINE1), SN ratio: 92dB (LINE, IHF-A) / 78dB (PHONO MM, IHF-A).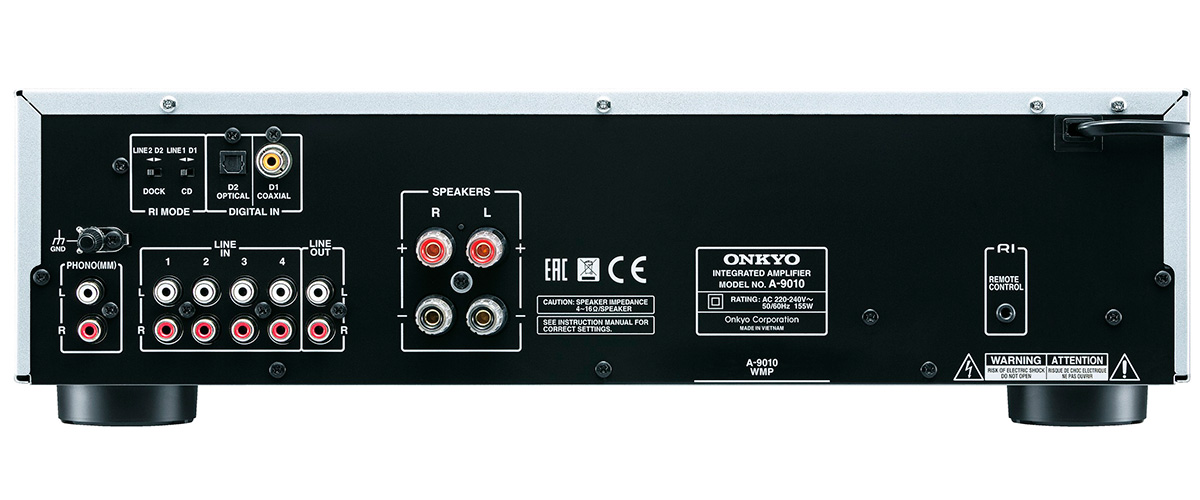 There is also an additional input for connecting portable players and an output for headphones, while the Onkyo A-9010 uses a separate amplifier circuit for the latter. Due to the considerable height of the case and well-located controls, the amplifier is convenient to use and looks much more expensive than its price.
Pros
Nice warm sounding amp used with definitive d9 speakers just a pleasure to listen to with a nice audiophile-grade turntable preamp built-in.
Excellent power volume dial never goes past 30 percent in my room.
Cons
The too complicated manual may be disappointing for rookie vinyl lovers.
Best Receivers Without Phono Input
Yamaha RX-V385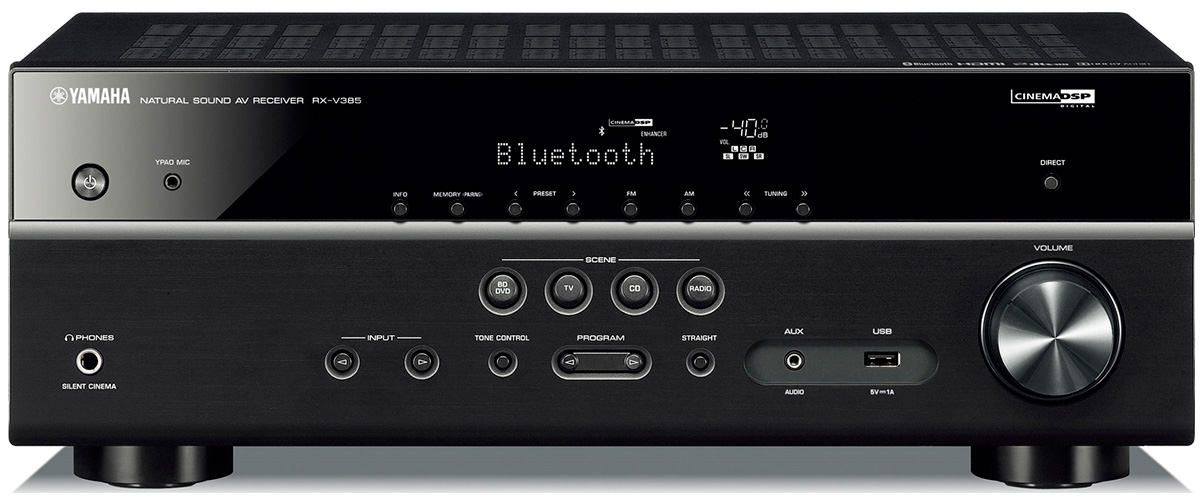 Yamaha's unique sound field generation technology is created by combining measured sound field data with digital signal processing.
Rated Output Power (1kHz, 1ch driven): 100 W (8 ohms, 0.9% THD).
The setup was a breeze and took a total of 30 minutes, including mapping everything to the Harmony and replacing the Onkyo with the Yamaha in all of the activities.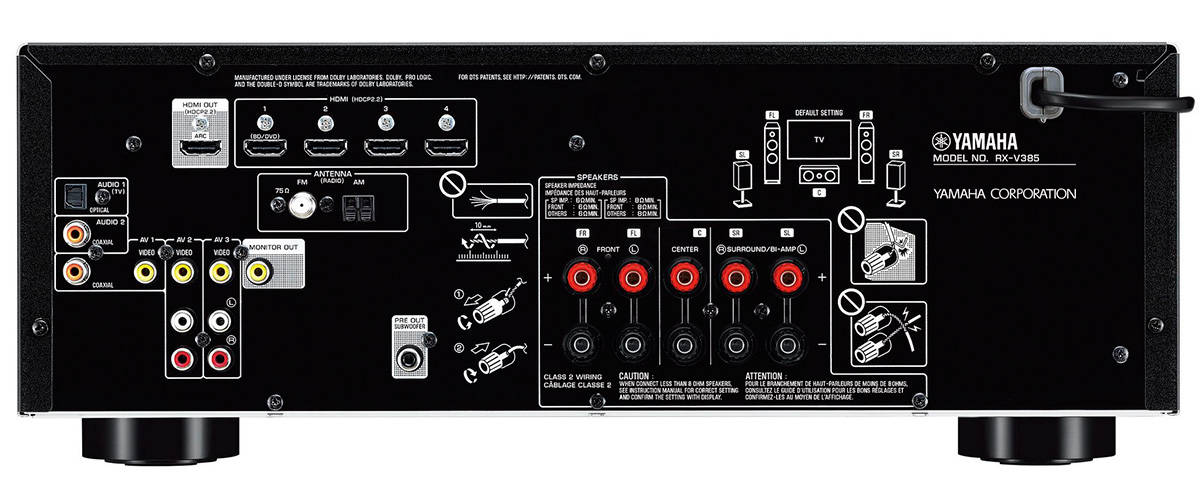 Other than "just plain working" – which is a big improvement – this unit runs considerably cooler, has amazing room-filling sound, and has a great interface with all of the connections, streaming services, and sound enhancements that I'll need — all for an incredible price.
Pros
The receiver sound quality is excellent for the price.
The unit offers many audio processing options and supports wireless rear speakers (MusicCast speakers)
Cons
Setup may be still challenging due to oversimplification of the User's Manual and to multiple setup devices
The Net Radio function proved to have serious flaws
Best Integrated Amplifiers without Phono input
ELAC EA101EQ-G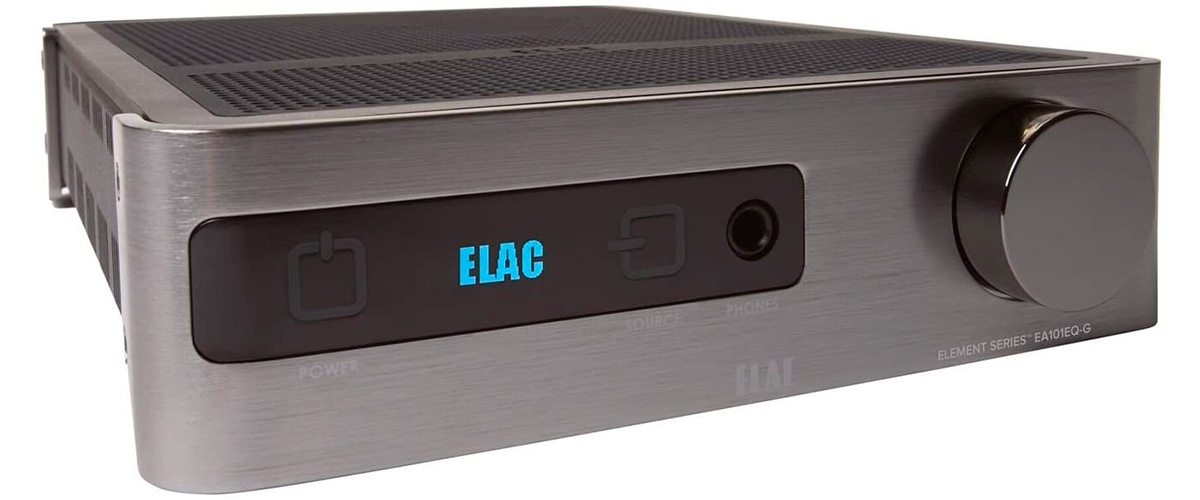 Stylish made in gray colors 2 channel ELAC EA101EQ-G one of the best offers on the market. This model offers more connectivity options than others. See for yourself: four wired digital inputs that can accept 192kHz / 24-bit signals, two analog (RCA) inputs, and one lossy streaming input (Bluetooth, with aptX on devices that support it). Moreover, EA101EQ-G even decodes Dolby Digital, for use with TVs or set-top boxes.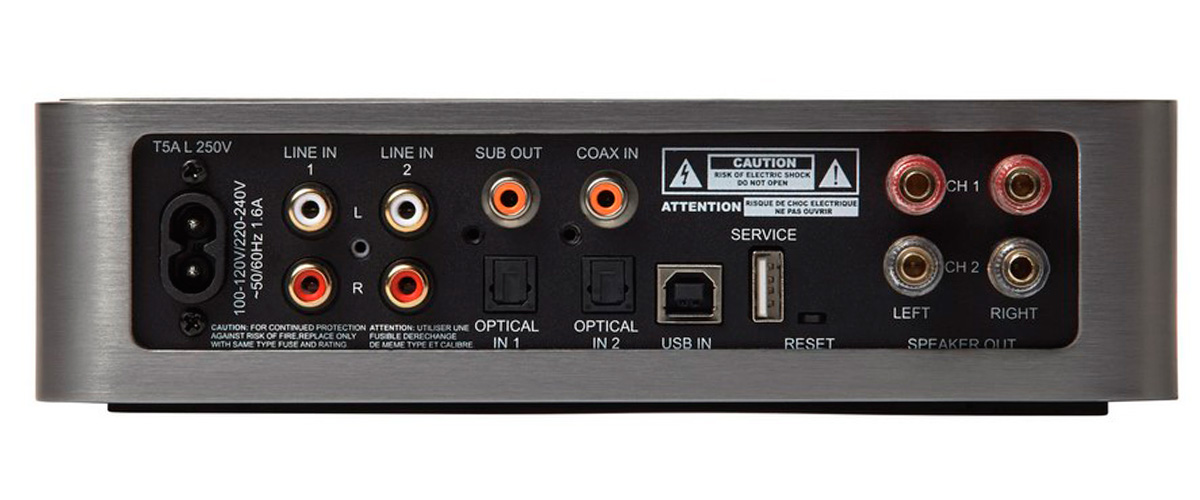 Also, there was one thing I really liked during use. The fact is that the device offers 3 ways to control it at once. First, the standard is built-in buttons on the case. The second is the remote control. By the way, it is made of incredibly high quality and beautiful. And finally, you can always use the IOS or Android application.
In fact, ELAC EA101EQ-G delivers 40W into 8 Ohms and 80W into 4 Ohms, with both channels driven, albeit measured only at 1kHz rather than from 20-20k Hz. The standard frequency response ranges from 20Hz to 40KHz. In addition, you can always enjoy a wonderful clear sound thanks to THD in stereo which is only 0.3% which is really very good.
Pros
Very stylish appearance in thanks to the smooth gray finish
Possibility of control using the application, remote control, or manually
Huge variety of connectivity options
Cons
In a matter of connectivity, lacks more RCA inputs
Buyers Guide
Do you need a receiver for a turntable
Why should a music lover not buy a receiver for turntable? It's all about the features of its design. At the same cost, we can buy either a simple amplifier or a more complex AV device. However, in the receiver, we have more functions, which means that somewhere we are waiting for a compromise.
From here you can make a logical conclusion that we will buy either two high-quality stereo channels or five slightly less good ones. Let's not forget that this price also includes a processor, a set of decoders and a lot of switching electronics.
The technique must be used strictly according to its main purpose. That is, if you like movies, then choose an AV receiver. However, if you are a music lover, then forget about all the additional features and multichannel sound. Anyway, you will not use them regularly. Better pay this money for higher sound quality.
Do I need an amplifier for my turntable
Not necessary if the best receiver for turntable has a phono stage and an input for a vinyl player. But the best amplifier for turntable will always give better sound compared to the receiver at the same price (if the amplifier has the same phono equalizer). It will be even better with a separate amplifier and a separate phono stage.
If you do not plan to learn all the intricacies of buying, configuring and connecting a vinyl player, purchase the necessary components for this, and become a collector of expensive and high-quality records, then choosing a budget CD player can be a good alternative for you.
What's a phono preamp
To explain what a preamplifier is, one can say this: it is a device designed to increase a weak signal to a certain predetermined level.
Based on the purpose, the preamp should be as close as possible to the signal source, which can be a microphone, musical instruments, high-quality player, radio tuner, and much more. Most often, the preamplifier is used with equipment of classes Hi-Fi (High Fidelity – that is, corresponding to certain high technical standards) and Hi-End (a purely subjective assessment, which can be defined as "all for the sake of sound quality").
How to connect a turntable to a receiver
Connecting a turntable to the best receiver for turntables does not have to be a complicated process. All you need to know is a few basic principles for connecting them, and then you can enjoy the "bewitching sounds" of vinyl records.
The key to connecting these two components begins with a phono stage (background preamp).
All you have to do is connect the audio signal of the vinyl player to the background input of the AV receiver.
Under the PHONO input, there is a metal terminal labeled GND for grounding. Connect the ground wire of your player (if any) to this terminal. This helps prevent any "buzz" or noise coming from the operation of your player on your system.
How to connect a turntable to a Receiver without a Phono Input
The player and the best receiver for turntables of this system do not have a built-in phono equalizer, so we need to add it. First, we connected the player's audio cable and ground wire to our separate device, the phono stage. Then we connect the phono stage to one of the analog audio inputs of our AV receiver.
Start by connecting the audio cable of the vinyl player to the phono input signal. Be sure to connect the player's ground wire (if equipped) to the ground terminal on the phono stage.
Now connect the Phono Preamp audio output to one of the analog audio inputs of your AV receiver, connect the phono stage to its power supply, and everything is set up.
What if your turntable and receiver both have built-in phono preamps
If it turns out that your stereo receiver for turntable and player have a built-in phono preamp, be sure to connect the player to one of the "Line In," (or auxiliary "AUX") inputs of your AV receiver, but not to the "Phono" input. We don't want two phono equalizers trying to work simultaneously.