Onkyo is one of the largest Japanese manufacturers of AV receivers. This brand has become popular due to its proficiency and quality.
In this Onkyo receivers review, you will learn more about this company and its devices. Nowadays, it has plenty of fans across the world. However, more than 50 years ago, it was a small company interested in developing electronics. It is still a pioneer, who impresses consumers with new devices.
Our pick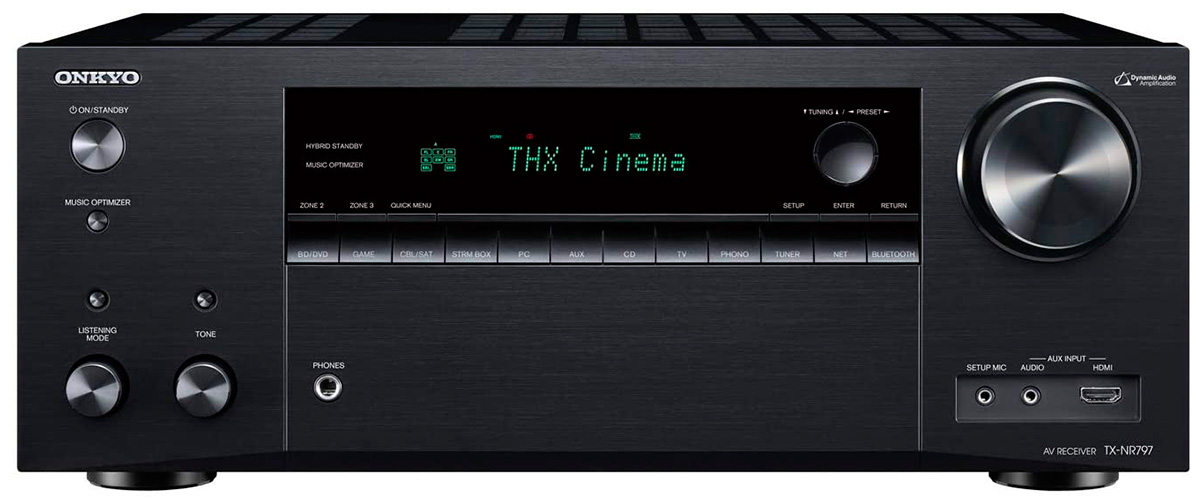 Onkyo TX-NR797
Best Onkyo Receiver
This 9.2-channel Onkyo SMART A/V Receiver™ works with Sonos, Chromecast built-in, AirPlay 2, and DTS Play-Fi® are enhanced by high-speed 802.11ac Wi-Fi® while speaker outputs with DACs can power D/A audio in three rooms.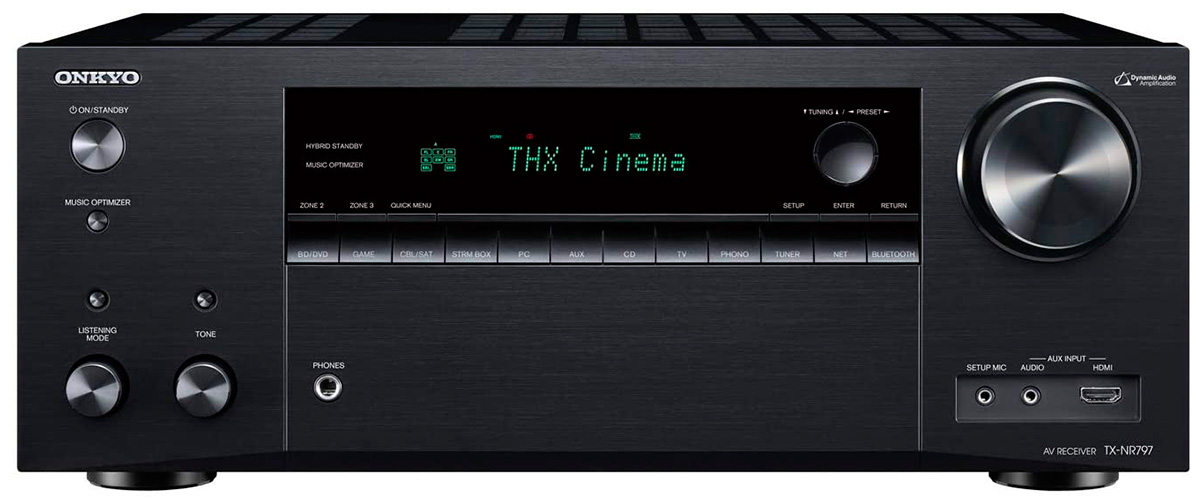 Onkyo continues to increase the number of AV receivers in its mid-range with new models that have their main asset in the updating of formats to conquer our rooms. On the market, you already can find TX-NR696, and now it is the turn of its older brother, the TX-NR797, with more channels and power to shine. TX-NR797 is the best Onkyo AV receiver due to its characteristics, price, and sound quality.
It is a 9.2 channel model with a maximum power that, according to the specifications, marks 220 watts (6 ohms) or a more realistic 100 W (8 Ohms, 20 Hz – 20 kHz, 0.08% THD, 2ch, FTC) with support for Dolby Atmos and DTS: X.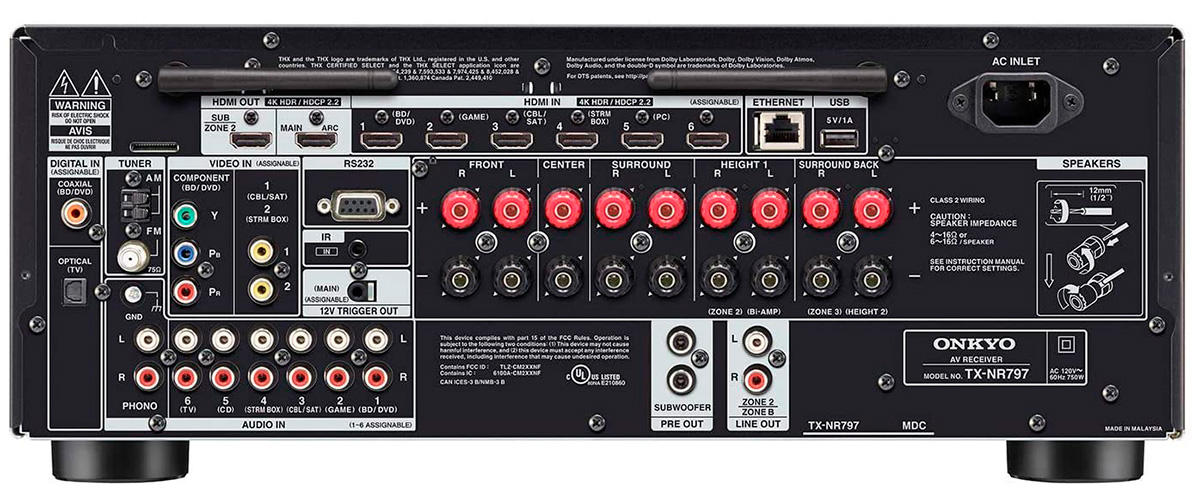 Its 384 kHz / 32-bit DACs allow the playback of the most popular files in high resolution and are capable of emulating surround sound and Dolby Atmos from stereo or conventional 5.1 sources thanks to the Dolby Atmos Height Virtualization and DTS Virtual technologies: X.
Onkyo AV receiver includes Bluetooth, WiFi AC connectivity, which is compatible with Chromecast, FlareConnect, and AirPlay 2. Its HDMI inputs and outputs are compatible with 4K, HDR10, and HLG videos. It also has IMAX Enhanced certification with an equalization mode specially designed for this type of Blu-ray.
Lastly, it should be noted that the receiver incorporates the AccuEQ acoustic correction system in its Advance version that uses nine measurement points to eliminate standing waves from the room.
Pros
The user interface and remote control are easy to use
Dolby Vision (HDR) passes through it fine, and the picture looks great
The ability to adjust tone and boost voice with the touch of a button is nice
Cons
The plastic front panel and knobs look good but feel cheap
Onkyo TX-SR494 – best budget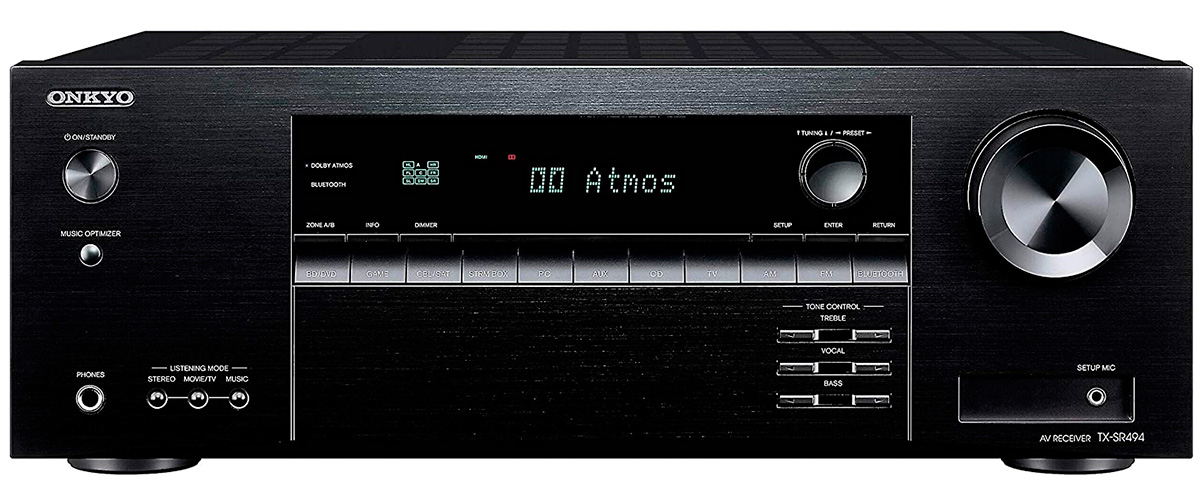 If you are looking for the best Onkyo receiver in the budget category, then you should consider TX-SR494. With its 7 channels and double subwoofer output, the Onkyo TXSR494 falls into the category of home cinema amplifiers. Given its configuration, it delivers a 7.2 sound. To top it off, this device is compatible with Dolby Atmos 5.2.2. Thanks to this technology, the management of multi-channel sound formats have become possible. The Dolby Atmos Height Virtualizer and DTS Virtual X system guarantee 3D sound rendering. Remember that they even work on 2.1 home cinema amplifiers.
Multifunctional, it supports videos in 4K, UHD, HDR format displaying more than 60 frames per second. Standards such as HDR10, HLG, and Dolby Vision will boost the display of content while offering a wide range of colors. The HDCP 2.2 anti-piracy system will give you access to all recent movies.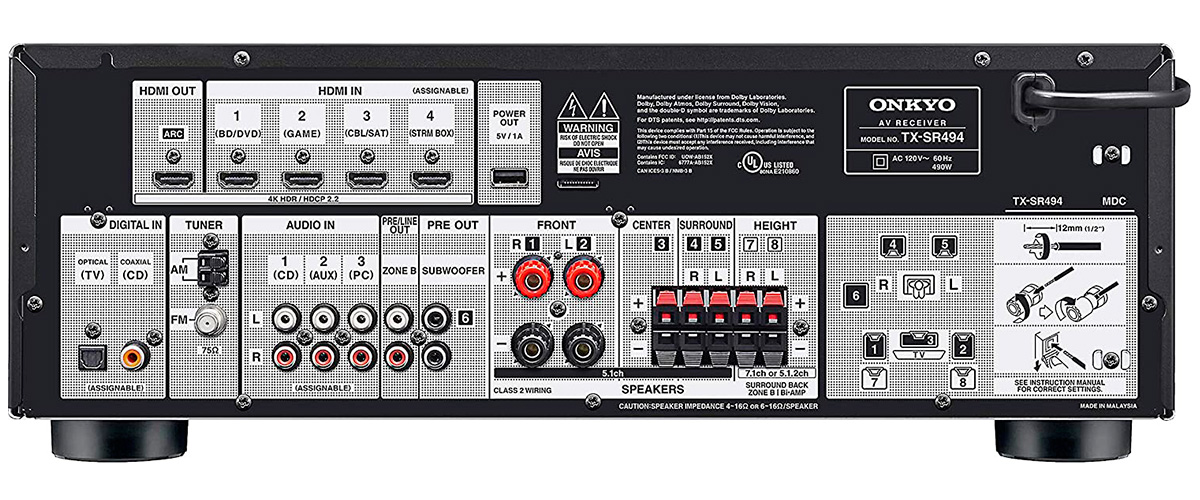 For information, this amplifier is recognized by Blu-ray players and home consoles. Hi-Res Audio certified, this model is equipped with a Premium AKM DAC. This tool will support 32-bit and 384 kHz digital signals as well as DSD. Depending on the room in which the subwoofers and speakers will be installed, AccuEQ auto calibration will optimize the settings.
In terms of connections, you will be entitled to 4 HDMI, UHD, 4K, and HDR inputs, an output for ARC technology, 3 RCA sockets, a digital and coaxial input. Onkyo has also thought of 2 outputs specially designed for Subwoofers and a stereo RCA. To establish the connection with your smartphone, tablet, or PC, you will only have to synchronize the Bluetooth.
Pros
With its rather vintage side, this amplifier will decorate your interior, and that, whatever its style
The fact that the front channels benefit from a double amplification improves the sound reproduction
It is a powerful amplifier for such a small size
Easy to install and start using
Cons
To broadcast sound and images on a television, you will have to manually select the source