An AV receiver works at two levels: audio and video. It acts as a central hub for all kinds of video devices: game consoles, Blu-ray players, digital TV decoders, video cameras, and much more. If you want to enjoy a good home cinema experience at home, the best 4K receiver is essential. You connect all the sources to the receiver and with an HDMI cable, which meanwhile is connected to the TV display.
The receiver also allows you to keep all the cables gathered in one place, which is useful if your TV set is installed on a raised cabinet or mounted on the wall. The difference between cheaper or more expensive AV receivers is mainly in the HDMI inputs, the number of compatible channels, some extras (such as additional video outputs), and the capacity. Be aware that high volume movies and games will strain the AV receiver. In this case, excess capacity is not a luxury.
In order to help you to find the most suitable device, here are some helpful 4K receiver reviews. By checking the weak and strong sides of the model, you will be able to select one according to your needs.
Our pick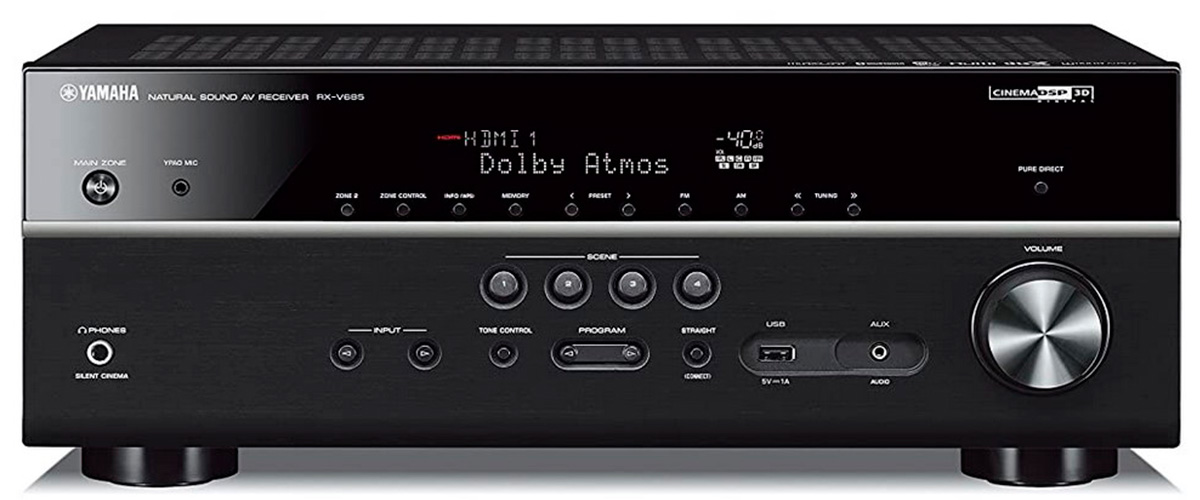 Yamaha RX-V685
Best 4K AV Receiver
Unrivaled Experiences. This 7.2-channel AV receiver boldly explores entertainment possibilities for an advanced home theater with the latest in video and audio including Dolby Atmos®, DTS:X™, wireless streaming, dual HDMI® outputs and more.
What does a 4K AV receiver do?
A lot of modern TV sets allow customers to enjoy movies in 4K quality. If you have such a device, you may want to get a 4K AV receiver to maximize the benefits that you can receive. Only receivers that have HDMI 2.0 are compatible with 4K Ultra HD quality, which will also allow you to enjoy Blue-ray movies with 60fps.
Moreover, 4K receivers have pass-through and upscaling technologies. They allow users to enjoy the high or low-resolution data in 4K without loss of quality. Therefore, it can be very important to get the best 4K AV receiver for home theatre.
What are 4K pass-through and 4K upscaling?
While buying the best receiver for 4K TV, you can notice that there are such parameters as upscaling and pass-through. They are specs that deal with the quality of the image you receive. The 4K pass-through is a technology that allows data to go through the system without losing the quality of the image. Thus, your 4K movie will remain the same on the TV display or projector.
As for 4K upscaling, it increases the resolution of the image. When you have the low-resolution data, it will go through the upscaling due to the receiver. As a result, you will receive video up to 4K quality.
Best 4K Receiver Reviews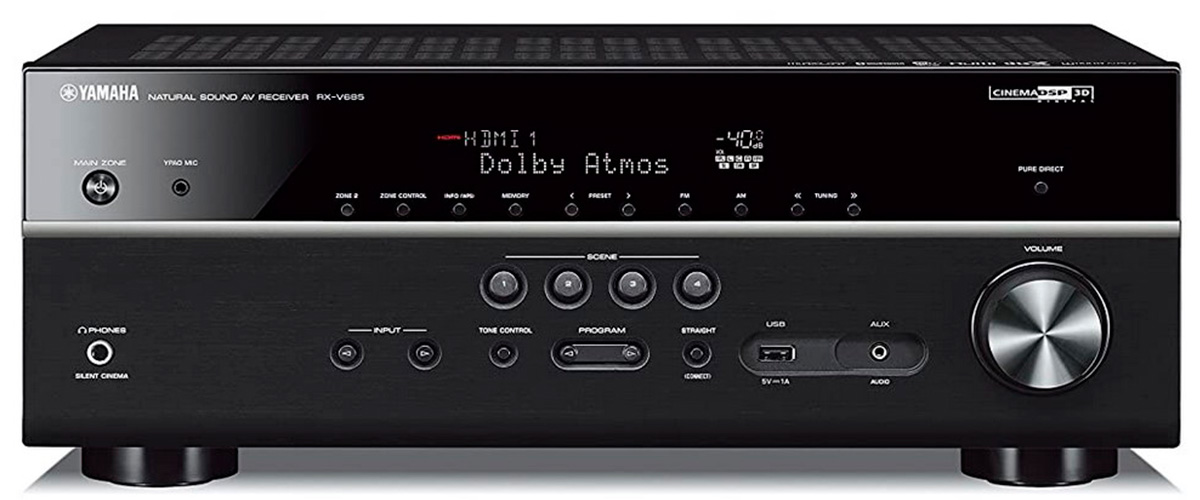 AV receiver Yamaha series takes your connected home entertainment to the next level. The 7.2 4K receiver Yamaha RX-V685 leaves little to be desired and, thanks to its intuitive, progressive operation, can be easily and quickly integrated into your home theater. That makes it a wonderful model due to its price and overall quality.
Yamaha does everything it can to meet the demands of consumers who are looking for high-performance equipment that complies with the latest advances in the field. It provides 90 watts per channel. This device takes advantage of the exclusive MusicCast multiroom technology. This is controlled by an app available on Android and iOS devices. This function provides access to many options, including wireless audio streaming to other equipment such as surround speakers, headphones, or subwoofers. Piloting can therefore be done individually or in groups through the application.
Another wonderful part of this model is HDR10, which provides a much greater dynamic range with brighter white colors and deeper dark shades. In performance, it sends data to the TV, which adjusts the contrasts and brightness of the picture. Moreover, HDR10 technology guarantees to receive more color shades of primary RGB colors.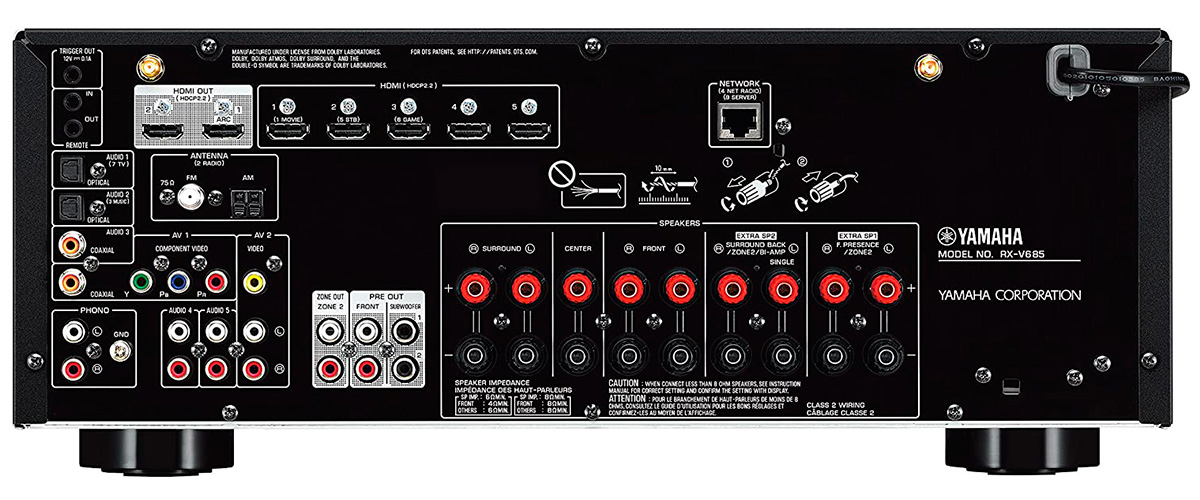 The HDMI sockets are standard 2.0 and HDCP2.2 compatible with displaying 4K images up to 60Hz. Still, you can enjoy movies in 8K quality due to the upscaling features. This 4K upscaling receiver is suitable when you have a large display or TV.
Speaking about the connectivity, in the front part, you can access a USB 2.0 port, a headphone output as well as a microphone jack. On the other hand, the rear part is much more enriched in connection, in particular with the five inputs and two outputs HDMI.
Other inputs for optics, coaxial, and RCA are also present. You will also find an Ethernet port, an IR relay, a Trigger socket, and FM / AM radio antennas. To benefit from all the configurations offered, you have nine pairs of terminal blocks at your disposal.
Pros
It has convenient tools to control the receiver with a mobile app
Due to YPAO RSC calibration, the devices adjusts automatically to cover the entire space
Multichannel mixes are reproduced correctly
Cons
It is not equipped with multichannel input
Denon AVR-X6700H – best premium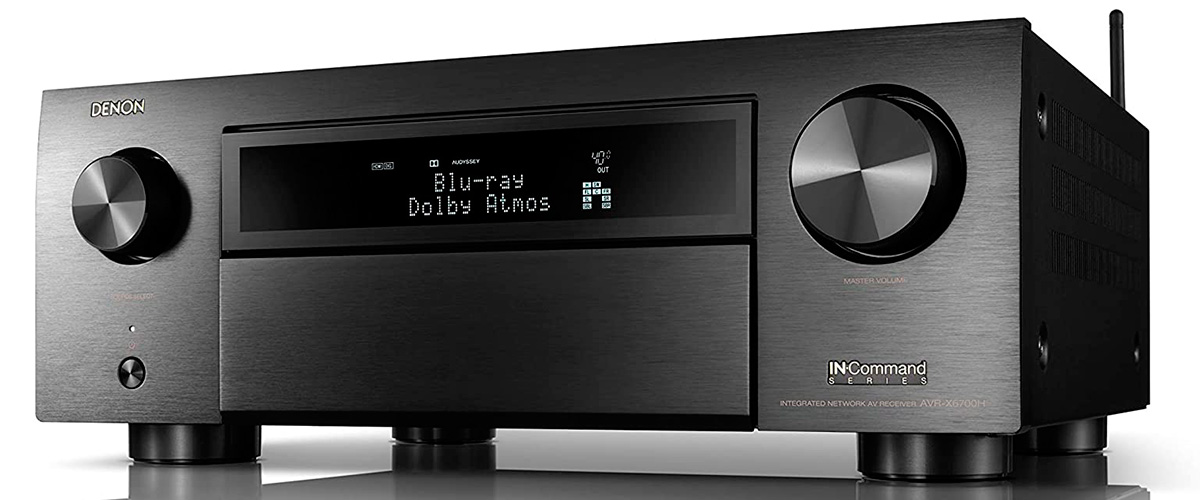 If you are looking for a premium quality 4K HDR AV receiver, then the AVR-X6700H from Denon can satisfy your needs and even more. It can deliver the quality of 8K resolution, which brings a new experience of a home movie theatre. It has 11 channels with 140-watts of output power per each.
With 8 HDMI inputs and three outputs, you can connect plenty of devices and enjoy your favorite computer and console games in high quality too. Due to the Next-Gen Gaming technology, your frame rate per second in 4K can reach up to 120HZ. You can be sure of receiving a large specter of color shades due to HDR10+.
The HDCP 2.3 supports all HDMI ports. It ensures that users can use the upscaling and pass-through feature to always enjoy the picture in the highest resolution and quality. It also has an Enhanced IMAX, which delivers a new experience of watching movies at the home theatre.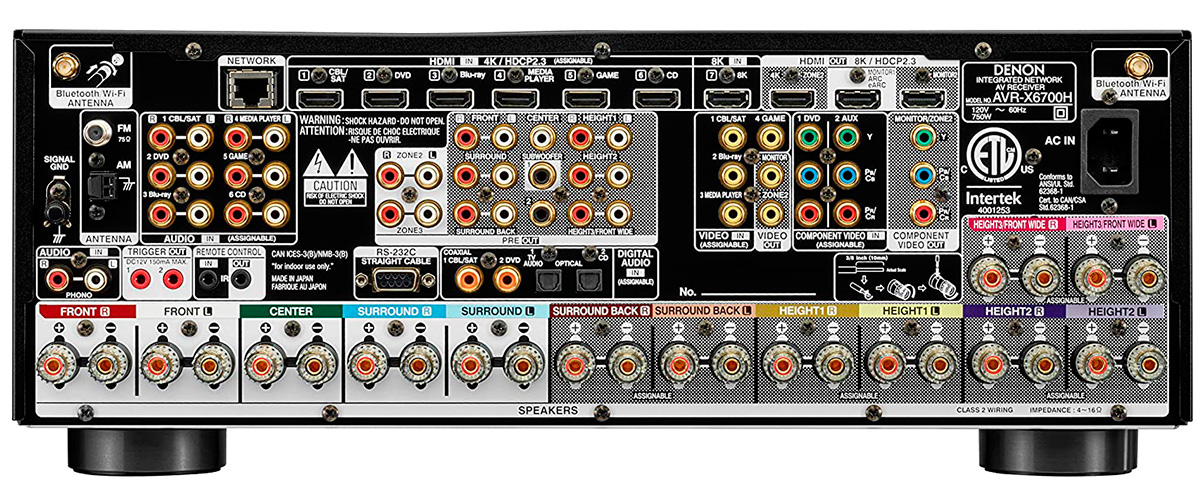 At first glance, AVR-X6700H reminds old VHS players. However, this AV receiver is way more powerful. On the front side, you have a convenient panel to plug-in headsets and microphones with one HDMI and USB port.
While connecting to other speakers in your house, you will not have to worry about cables. Due to wireless technologies like Bluetooth, Wi-Fi, and AirPlay2, you easily connect the AV receiver to speakers that have HEOS multi-room features.
Pros
You can easily switch between source signals of different frame rates with resolutions without delays
It is compatible with virtual assistants
Cons
After long working sessions, the receiver becomes hot
Denon AVR-S540BT – best budget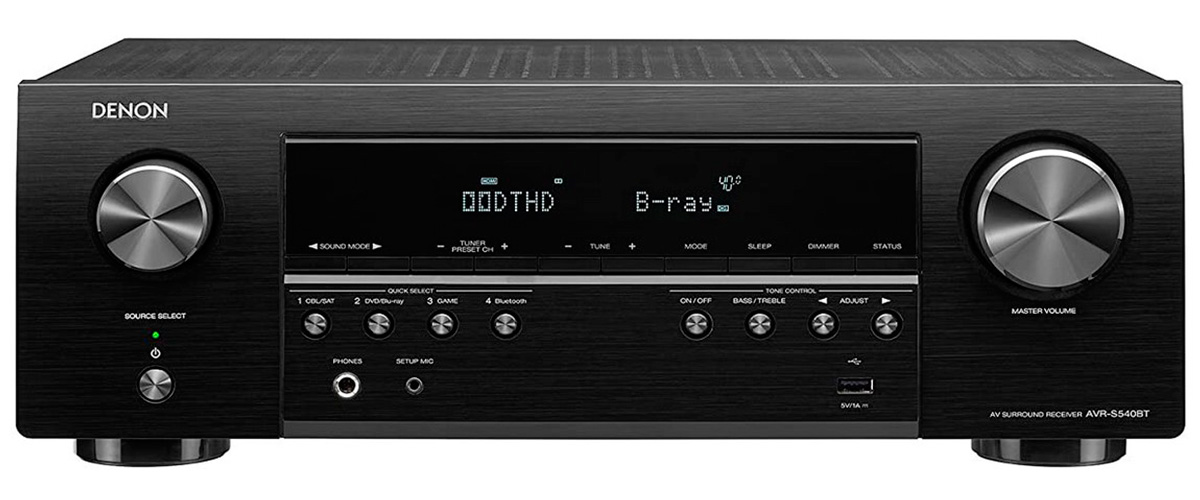 Among various AV receivers, it is not necessary to pay a lot to get a nice quality. Denon AVR-S540Bt is the best budget 4k receiver, and soon you will get to know why. It has a nice and convenient design. The front of the device shows the well-known Denon design. It sits accurately, with small gaps, and is made of high-quality plastic. The rotary control for the source selection is a bit stiff, and the volume control sits comfortably in hand and is smoother.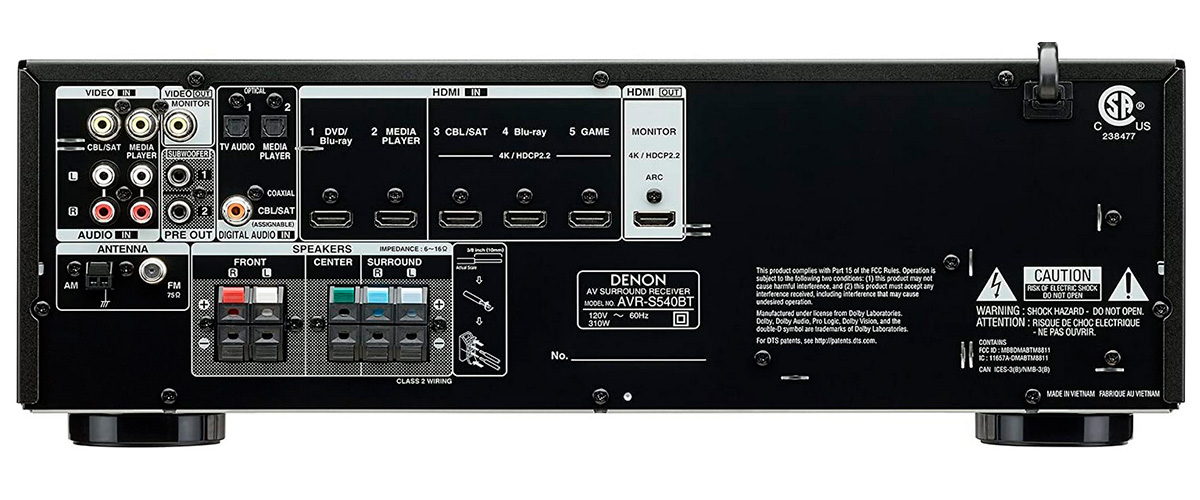 AVR-X540BT has all the equipment to be a 5.1 4K receiver. It has 185-watts per channel, which also allows you to upgrade it from 5channels to 5.2.2, 7.1, or 2.1 (zone 2) for a realistic sound experience. It is equipped with HDR10 together with HDCP 2.2 to ensure that users receive wonderful image quality. Additionally, it has a 4K/60HZ pass-through to maintain the same resolution on display.
Pros
The installation and adjusting is fast and simple
AV receiver has nice Bluetooth compatibility with speakers
There are enough HDMI inputs for several devices
Cons
It does not have upscaling feature
Denon AVR-X2700H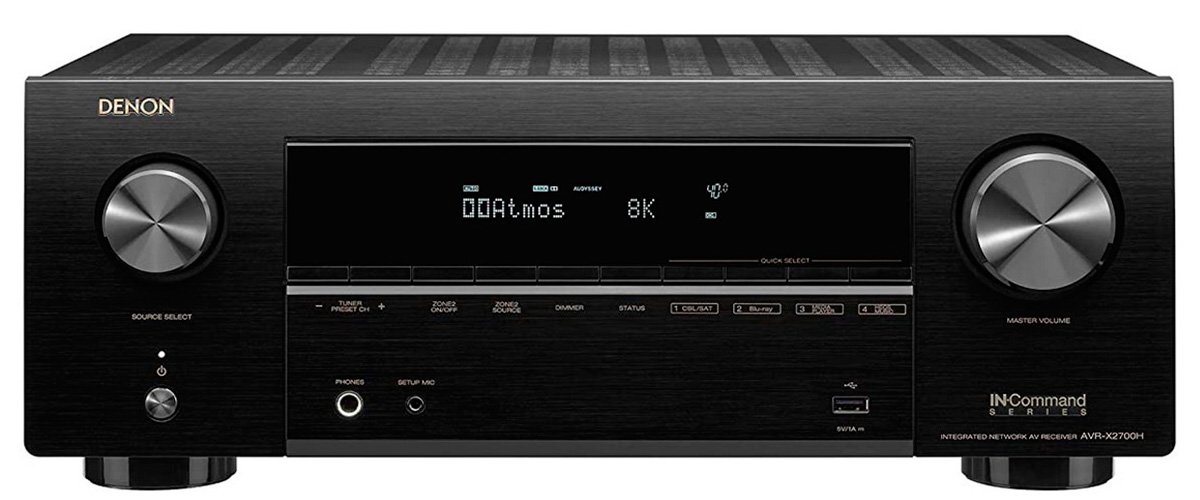 AVR-X2700H is a small and compact receiver from Denon with 4K/60HZ resolution. It is equipped with seven channels with 125-watts per each. In addition, the AV receiver with the proven Audyssey Multi EQ XT loudspeaker calibration system is equipped and presents itself completely DENON-like with high-quality workmanship. The pleasing appearance on the outside and the tidy interior ensure a high level in all matters.
TheAVC-XR2700H is also available with decoders for Dolby Atmos and DTS: X equipped. There are a total of six HDMI inputs and three HDMI outputs. All HDMI ports are equipped with HDCP 2.2. Furthermore, even that is upscaling lower-resolution Signals up to 8K possible.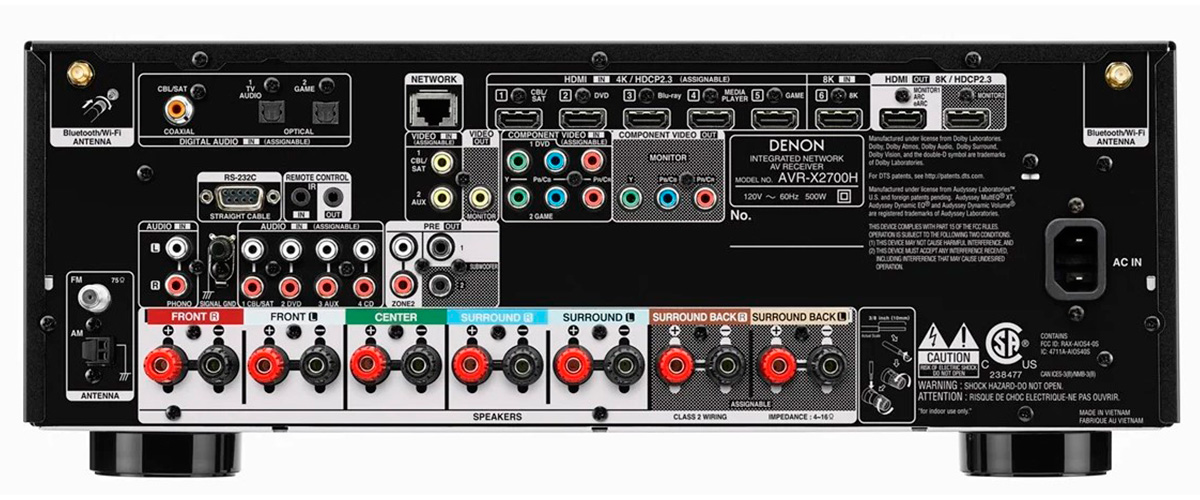 Numerous features for gamers, as well as eARC and multi HD-compatibility (HDR10, Dolby Vision, HLG), are also a matter of course for the HDMI section. These features make the AVR-X2700H a highly flexible AV control center. For comprehensive streaming options, it has a powerful HEOS module.
Pros
The UI is really good and helpful when setting up your speakers
You can also listen to your favorite FM radio
Very solid output and excellent handling of sound
Cons
The housing is made from plastic
Buyers Guide
Do I need a 4k HDMI cable?
If you wish to enjoy movies and other video data in 4K resolution, you need an HDMI 2.0 cable. If it is not included in the purchase of the receiver, you should consider AudioQuest Pearl of 4.9feets. It is long enough to match the needed distance in most home theatres. There are also shorter and longer variants of this cable.