If you want to create your small cinema at home, then you just need a multi-channel receiver. This device will become a switcher for video and audio signals to create the coolest movie watching experience. However, because of the many different models, it is quite difficult to choose the one that suits you. And we decided to help you with this by creating a selection of models, we can call each of which the best av receiver under $500.
Our pick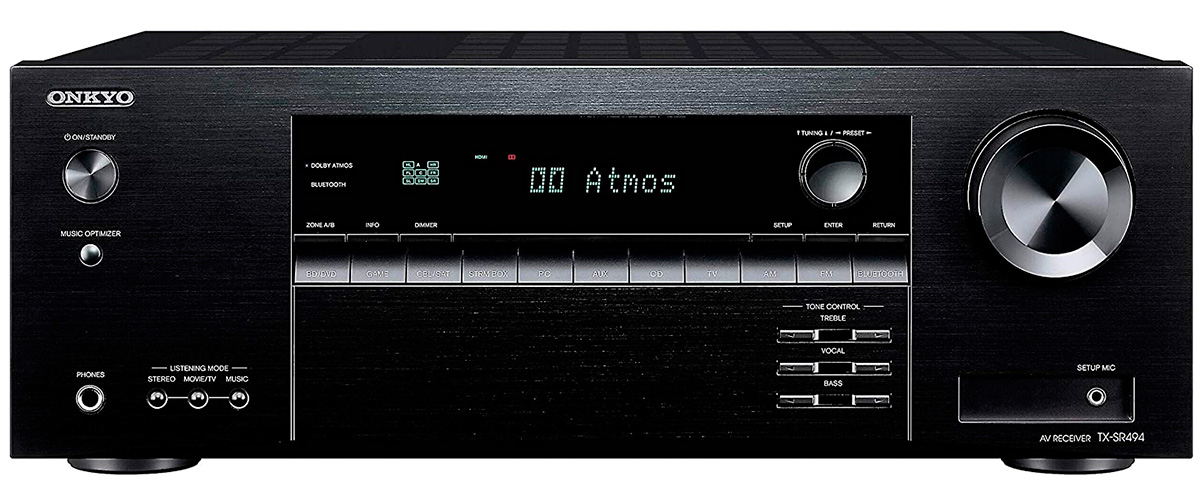 Onkyo TX-SR494
Best AV Receiver Under 500
As the heart of your home theater, the TX-SR494 has HDMI® terminals supporting HDR and 4K/60p video, while the GUI with OSD over HDMI, Zone B pre-/line-out, and Vocal Enhancer function make this receiver a joy to use as well as hear.
Best Home Theater Receiver Under $500 Reviews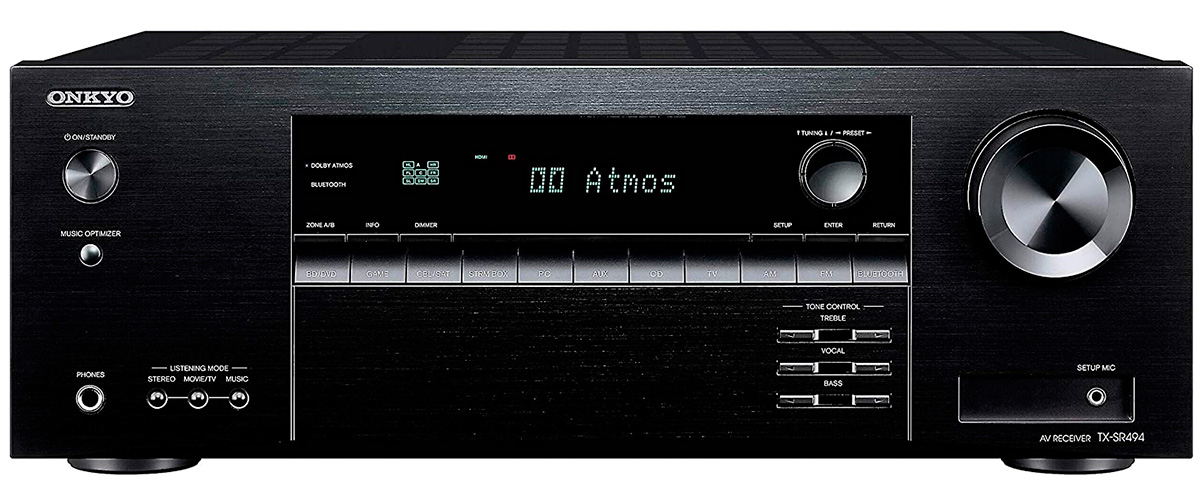 The Onkyo TX-SR494 is a high-performance 7.2 channel home theater receiver under 500. It fits and perfectly accompanies the latest generation television for high-quality visual and sound reproduction.
In terms of sound, this home theater amplifier has 7 channels and a dual subwoofer output, allowing it to amplify up to 85 Watts per channel. Multi-channel audio formats are fully supported, including Dolby Atmos and DTS-X. Earlier formats are also compatible, including Dolby True HD, DTS-HD Master Audio, etc.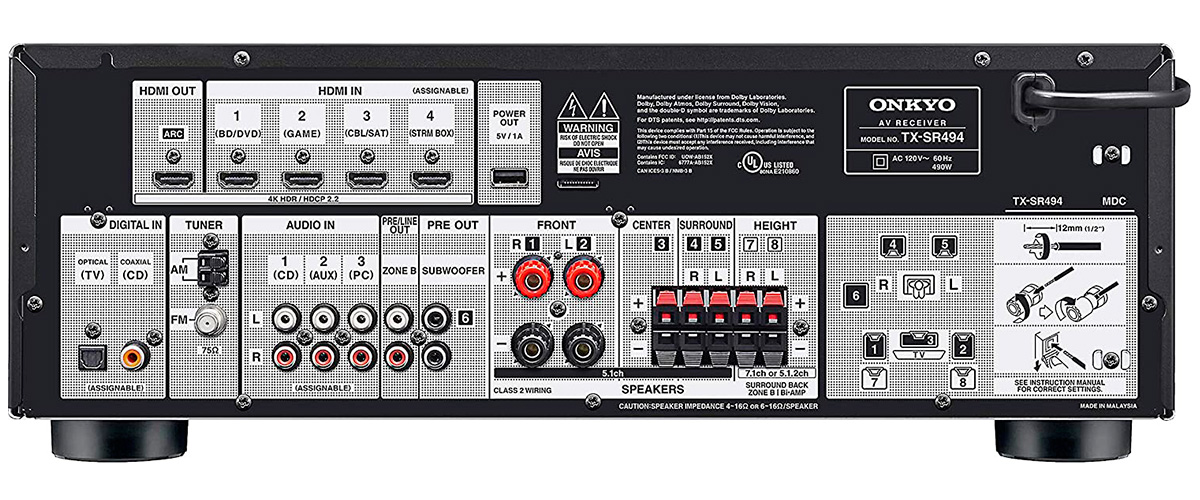 In terms of image, the Onkyo TX-SR494 is very generous, with support for UHD 4K HDR content up to 60 frames per second as well as HDR standards allowing to display contrasted scenes with strong dynamic and extended colors. The HDCP 2.2 anti-piracy standard is also part of the game to ensure full compatibility with the most recent films.
The TX-SR494 also features AccuEQ auto-calibration technology that optimally adjusts the subwoofer and speaker output thanks to the provided auto-calibrated microphone so that the latter is in perfect harmony with the listening room and its acoustics.
In terms of connectivity, the TX-SR494 features 4 UHD 4K HDR HDMI inputs and an ARC-compatible HDMI output to provide a sound return from a compatible TV or projector. There are also 3 analog inputs, two digital inputs (optical and coaxial), and a dual subwoofer output. The practical Onkyo TX-SR494 has a built-in Bluetooth receiver for easy music streaming from your smartphone, tablet, or computer.
Pros
Onkyo TX-SR494 is Hi-Res Audio certified and features an AKM Premium DAC providing support for digital signals up to 32 bits/384 kHz.
There is a stereo RCA line-out jack for powering the second listening area.
Cons
The CEC function does not work with most devices.
Speaker setting is only possible in automatic mode.
Denon AVR-S650H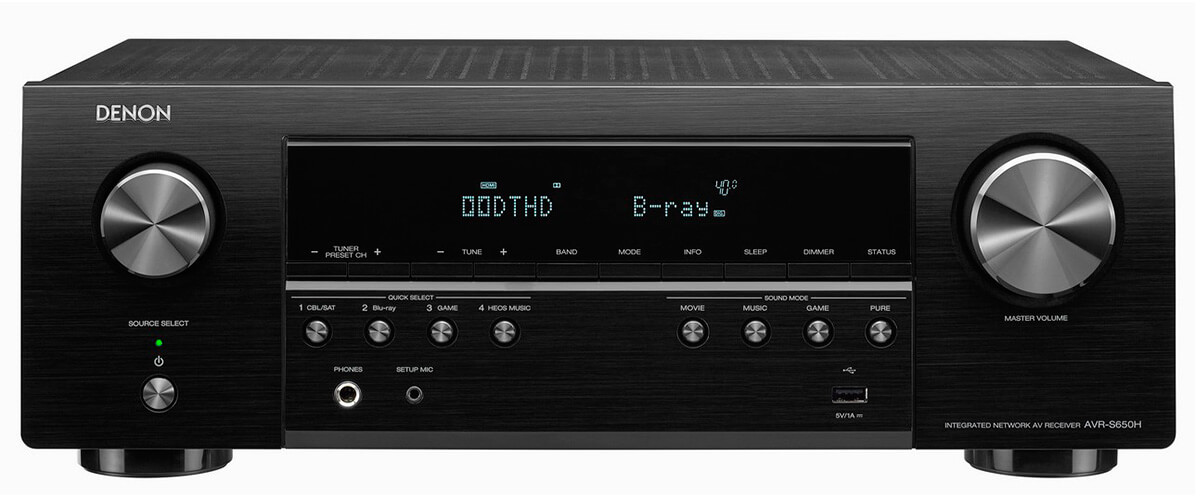 Denon AVR-S650H is based on architecture 5.2. This option is ideal for small living rooms where the AV installation needs to be relatively unobtrusive while still offering quality service.
The AVR‑S650H has only five amplification channels, they all benefit from high current management technology, which, in addition to the power they develop, guarantees excellent control of even the most demanding speakers' instantaneous currents of very high intensity.
This Denon has a remarkable hold when reproducing strong dynamics. For this, it does not lack a good reserve of power (135 watts per channel). This is the best AVR under $500 here to add sound to living rooms or to listen to particularly high levels.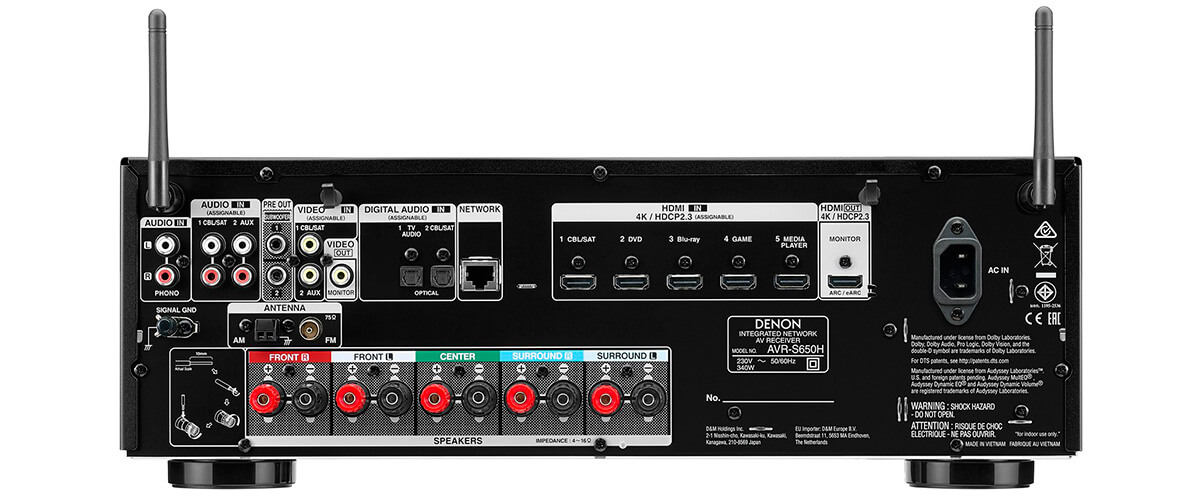 On the video side, the AVR‑S650H is equipped with the latest generation HDMI 2.0b ports with HDCP 2.3. Compatible with Ultra HD / 4K 60 Hz. Likewise, the HDMI port dedicated to the television connection benefits from eARC for the repatriation of high-quality 3D audio streams.
The Denon AVR‑S650H also has the network player function. Once connected to the home network, either by Wi-Fi or by wired Ethernet connection, it can therefore access the content of connected equipment as well as music streaming services, such as Spotify, Deezer, or Tidal.
Pros
It is Airplay and Bluetooth compatible.
AVR-S650H can be connected to any turntable without resorting to an external preamplifier.
Cons
It is very difficult to set up the receiver without an on-screen assistant.
Requires device registration to use all features.
Sony STR-DH790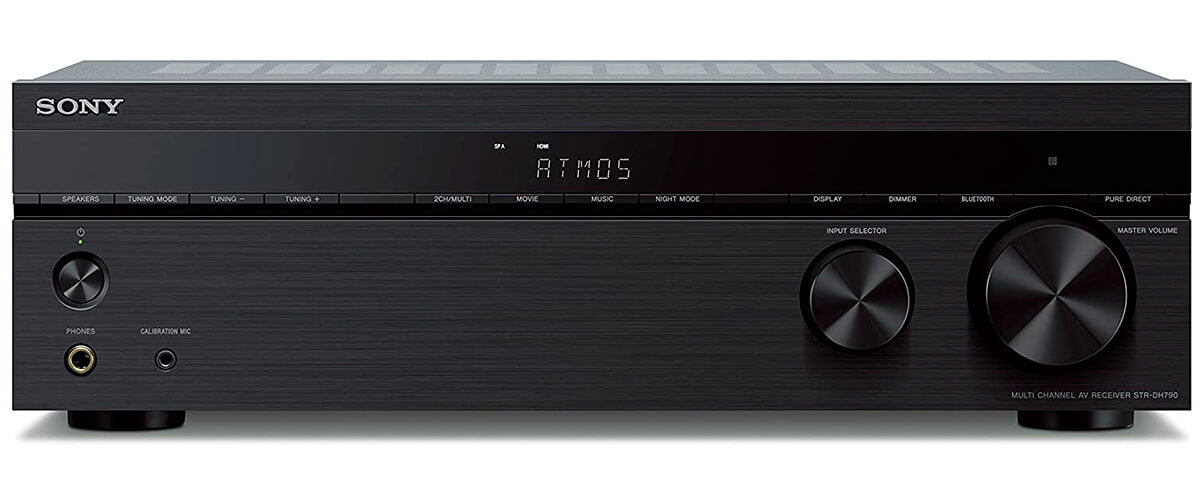 Sony STR-DH790 is a 7.2 channel receiver with a power of 145W per channel. Thus, it allows a configuration with two ceiling channels (5.1.2 or 5.2.2) since it is equipped with two pre-amplified subwoofer outputs. Sound reproduction in any configuration is optimized with S-Force Pro Front Surround Virtual Surround, which promises to create the illusion of true multi-channel sound with just two speakers.
It is also worth noting compatibility with Dolby Atmos and DTS: X immersive multi-channel audio formats in a 5.1.2 configuration. But Dolby Surround or DTS: X technologies are used to drive vertical speakers even without Dolby Atmos or DTS: X audio tracks.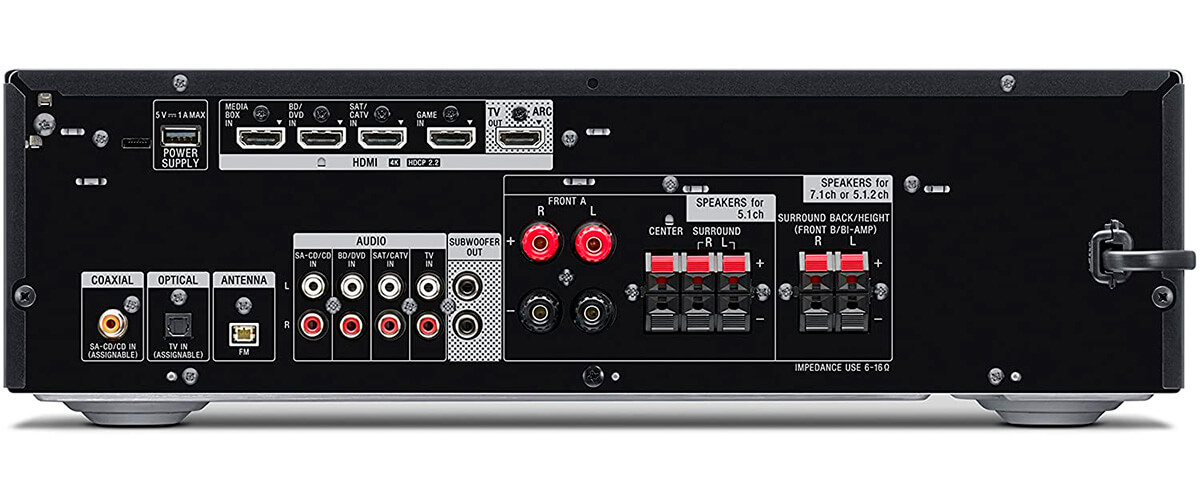 This audio receiver under $500 is also equipped with the "Digital Cinema Auto Calibration" or DCAC Ex automatic calibration system developed by Sony. In addition, the Sony STR DH790 is compatible with a Bluetooth-enabled system. Thus, wireless listening to music is possible. Indeed, the Sony DH790 can be connected to a computer or tablet from where you can send your music.
In terms of video, the STR DH790 has an HDCP 2.2 compliant HDMI input to transmit all existing streams to your TV. Thus, the amplifier can have a 4K image resolution at 60fps.
Pros
Easy to use thanks to a simple interface.
It has a built-in SongPal app for high-quality music streaming
Cons
Doesn't support Wi-Fi or Ethernet connector.
Yamaha RX-V4A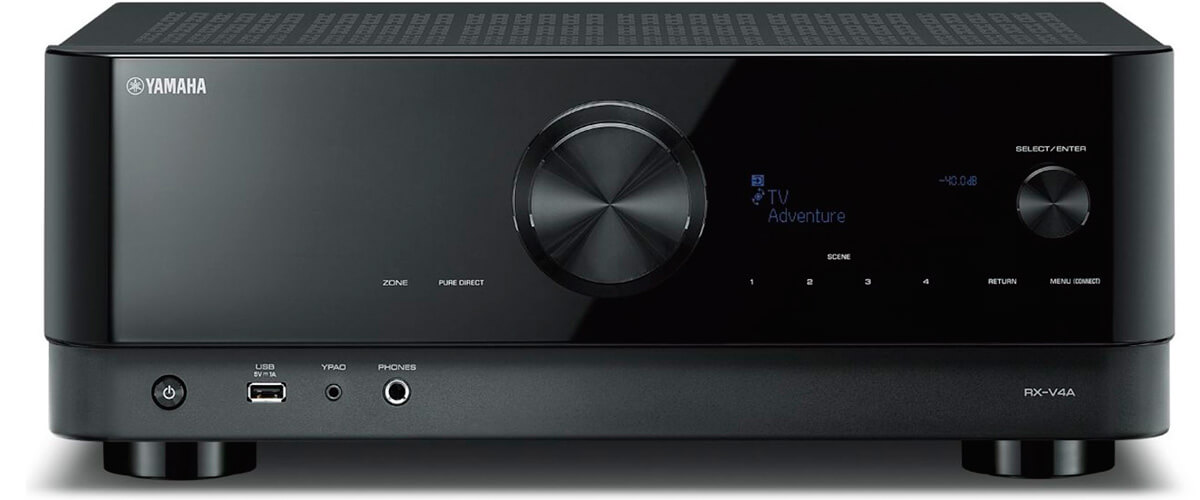 Yamaha RX-V4A surprises with its laconic and compact design. The declared power is 5×80 W. For a small system, this is more than enough. You can set the RX-V4A to 3.1, that is, front speakers only, and use the two remaining channels for another room (Zone B). There are two mono RCA subwoofer outputs available, but this is a simple doubler, the settings do not differ between the two.
Obviously, MusicCast technology is supported by the Yamaha RX-V4A. Besides, this receiver is equipped with an Ethernet port and a Wi-Fi controller. Thus, it can integrate the Yamaha MusicCast multi-room audio system.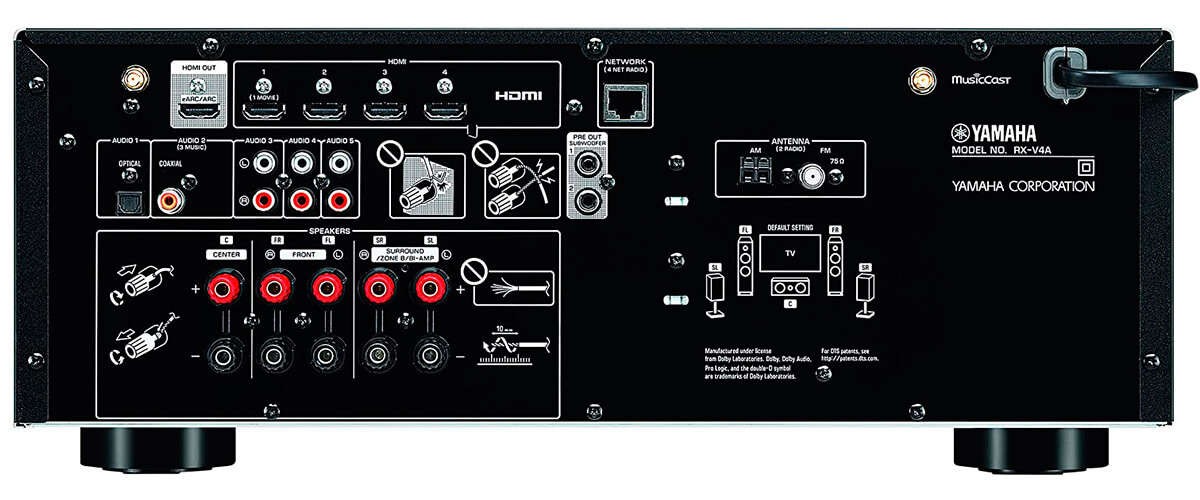 Finally, its bi-directional Bluetooth allows you to choose to send the sound played by the amplifier to a Bluetooth speaker or a Bluetooth headset, but also to receive wireless music on the amplifier from a smartphone or a computer.
This receiver is equipped with HDMI 4K (120Hz) and 8K (60Hz) connections to facilitate the distribution of the latest Ultra High Definition 4K and 8K images.
Pros
The RX-V4A delivers high-quality Dolby and DTS rendering. The sound stage is deep, the effects of shifting back and forth and left and right are well reproduced.
The Yamaha can be paired with a Bluetooth headset, and it supports SBC and AAC codecs.
Cons
The audio delay appears during the eARC operation.
Are expensive AV receivers worth it?
Now the receiver market is filled with offers from many manufacturers and in all price ranges. Therefore, potential buyers have a dilemma about which of the receivers to choose.
And in this case, it is important to highlight important selection criteria such as budget and purpose of the application. If everything is clear with the budget – there you need to lay down the price of the receiver and the speakers for it, then you need to dwell in more detail on the purpose of the application.
Expensive receivers are positioned as multimedia hubs or devices for studios. These receivers are equipped with the latest audio and video technology. And also assembled from expensive parts. All this is aimed at the highest quality content processing. But does everyone need such a high level? Receivers are often bought to comfortably spend time watching a movie or listening to music in your living room. And the receiver of the budget segment perfectly copes with such a task.
Key features to consider when buying an AV receiver for under $500
And if you have already decided to take a budget receiver, then you should familiarize yourself with the basic functions that such devices provide.
Audio
Since the standard configuration for receivers in this price range is 5.1, the receiver must support surround decoders. These are mainly Dolby Atmos, DTS: X, Dolby TrueHD, and DTS-HD Master Audio, DTS-HD Master Audio, and others.
Video
Now the standard for video transmission in home theaters is 4K / 60 Hz. And it's hard to find a receiver that doesn't have it. At the same time, the HDMI ports of the receiver must be compatible with the data protection protocol HDCP 2 or higher. This is required to view content on BlueRay. Besides, HDR 10 and Hybrid Log-Gamma will not be superfluous for an optimal visual experience.
Network
To fully integrate the receiver as a home media center, it must have network functions. Connecting to the Internet via Wi-Fi or Ethernet allows you to enjoy music streaming platforms (TIDAL, Sirius, Deezer, Spotify) or watch videos on services such as Netflix.
The presence of Bluetooth will also be useful. This will allow you to remotely control the receiver, stream music to it, as well as integrate it with smart speakers.