An AV receiver is the foundation of a home theater setup. Because of the wide variety of models from different manufacturers, buyers have a reasonable question "which device to choose for my setup." or "What is the best 9.2 receiver?" That is why I created this review of 9.2 channel models that will significantly improve an existing home theater or an excellent base for a new one.
Our pick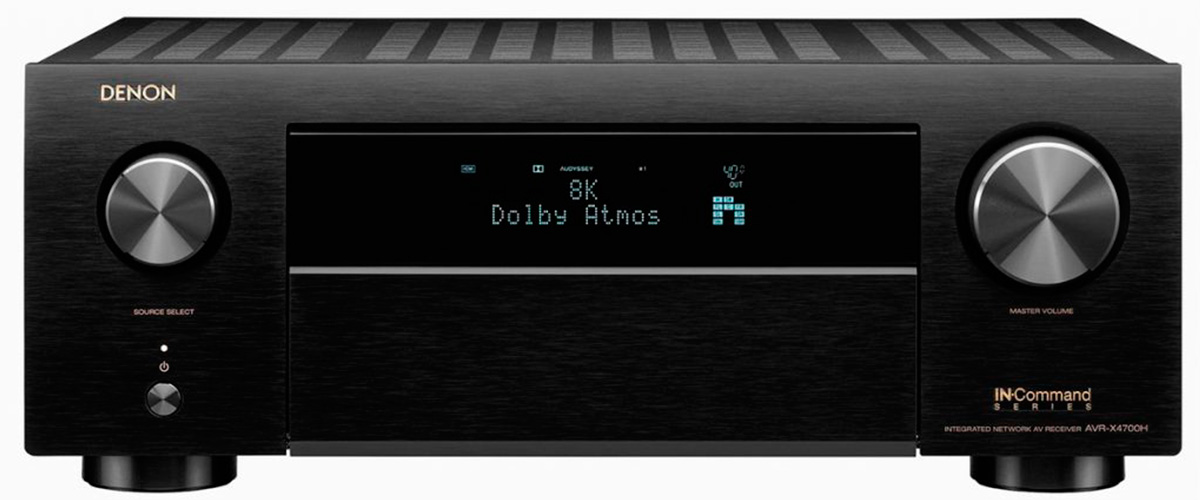 Denon AVR-X4700H
Best 9.2 receiver
The Denon AVR-X4700H 9.2 channel 8K AV receiver with 125W per channel fully supports 3D audio formats like Dolby Atmos®, Dolby Atmos Height Virtualization Technology, DTS:X®, DTS Virtual:X™, IMAX® Enhanced and Auro-3D®.
Best 9.2 AV Receiver Reviews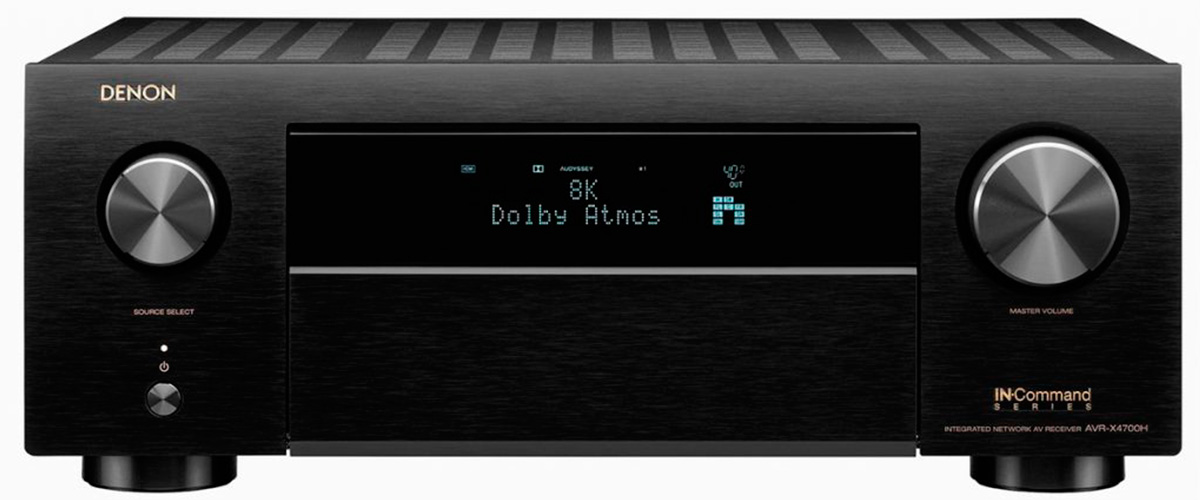 Denon AVC-X4700H does its best to give you a cinema-like sound. The receiver is equipped with 9 channels of 200 watts each. Due to that, you can enjoy the immersive 3D sound with a variety of sound sources such as Dolby Atmos or DTS: X.
This model is also suitable for gamers. Equipped with the latest HDMI connectors, it also features Quick Frame Transport technology and Low Auto Latency mode for smoother gaming.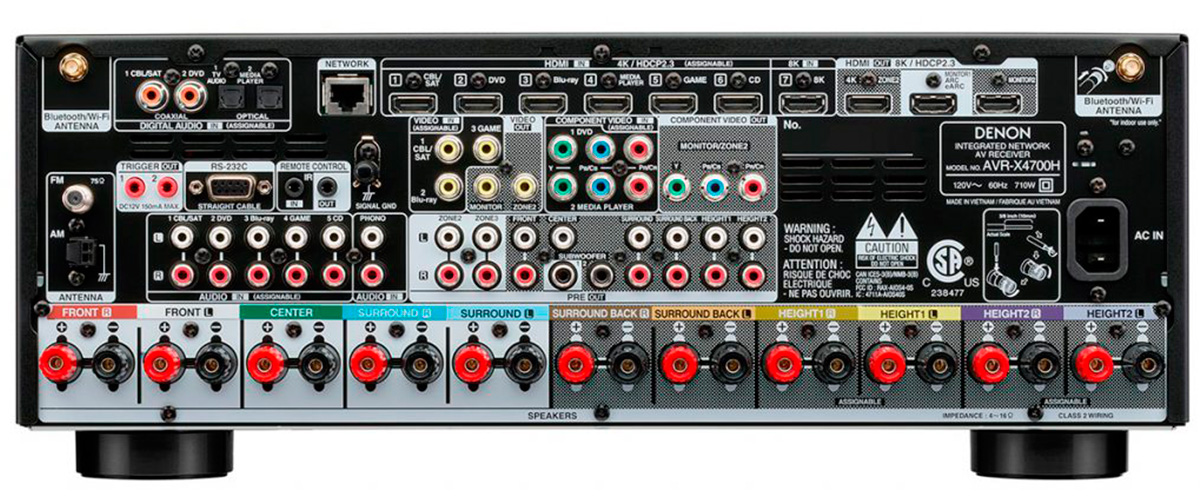 Besides, I can regard it as the best 9.2 receiver for many reasons. One of such reasons is good wireless Bluetooth and Wi-Fi interfaces. Moreover, that doesn't limit connectivity. Besides wireless interfaces, you can find here all actual hardware interfaces. This is enough for connecting various devices to enjoy high-quality sound. The AVR-X4700H allows you to watch movies in 8K / 60Hz and 4K / 120Hz, and also supports the latest formats such as HDR10 +, Dolby Vision, or Dynamic HDR. Everything to experience the sound, but also a powerful and unique visual experience.
Pros
Can be controlled by voice via Google Assistant
It decodes all actual sound formats: Dolby Digital, DTS, Dolby Atmos. The receiver can also make virtual Atmos and also play a simple vinyl in stereo with the active subwoofer
Good quality of video signal up-scaling without loss of color transmission and image dynamics
Cons
The printed documentation does not fully describe the tuning process, and complete information will be a big plus for those looking to get the most out of this amplifier
The remote control is not comfortable. There is no ergonomics. It is too massive, does not fit well in hand, and also has rough edges
Denon AVR-X3600H – best budget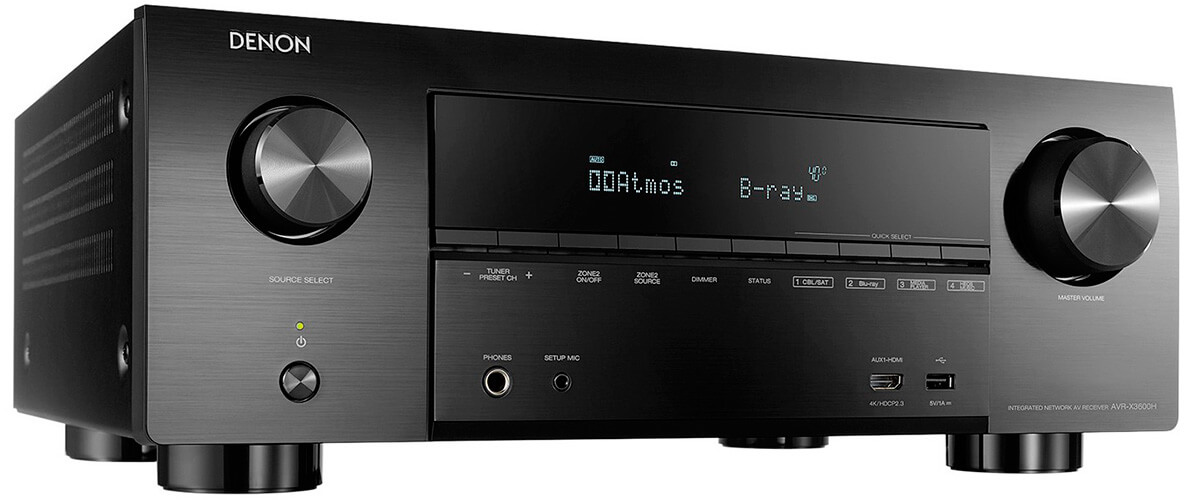 This 11.2-channel receiver from Denon can deliver up to 105 watts in stereo and 180 watts peak. It supports up to 5.2.4 or 7.2.2 channels. Besides, it is easy-to-use and can be controlled by remote, mobile app, or by even voice.
One of the most exciting features of this receiver is a sophisticated DSP (Digital Sound Processor) chip for exceptional processing power. With four DSP cores capable of processing over a billion calculations per second, the AVR-X3600H supports the latest surround formats by Dolby and DTS and the new IMAX Enhanced technology.
The Denon AVR-X3600H incorporates Audyssey auto-calibration technology, as it should be for the best 9.2 receiver. The device adjusts the sound reproduction so that it is optimized for the acoustic properties of the room. For late listening, Audyssey Dynamic Volume mode automatically limits dynamic deviations.
Pros
After connecting your TV to this receiver via HDMI, an exclusive Denon setup wizard will appear on your TV screen to guide you step by step
With HEOS technology support, you can create a wireless multi-room system. Listen to music anywhere in your home and share songs from storage, internet radio, or streaming audio
It has support for native applications (iOS and Android), with which you can adjust the volume, turn the sound on or off, select the source, etc.
Cons
Connecting a receiver is not so easy at first glance, far from plug & play. The printed instructions and PDF documentation must be followed closely
The receiver is large and heavy. It may require additional furniture to position it
Marantz SR7015 – best premium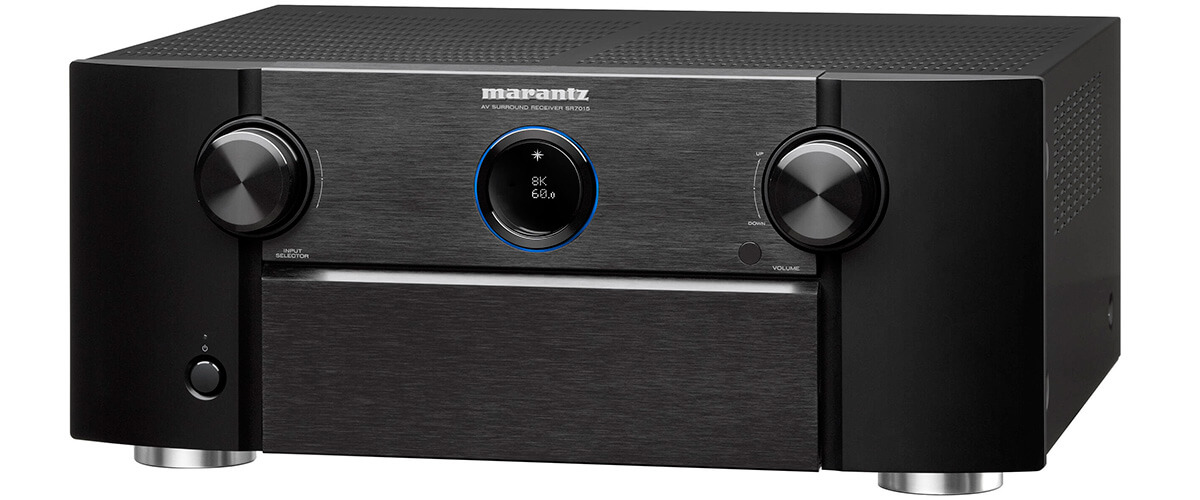 The Marantz SR-7015 is a 9.2-channel model with IMAX certification and true surround sound compatibility, which can be considered as the best 9.2 surround sound receiver.
This unit delivers 200W peak power and 125W into 8 ohms in stereo mode with very low distortion. The SR-7015 is equipped with the latest immersive multichannel audio decoders. It can broadcast Dolby Atmos and DTS: X audio streams as well as a sound with vertical surround effects from stereo signals.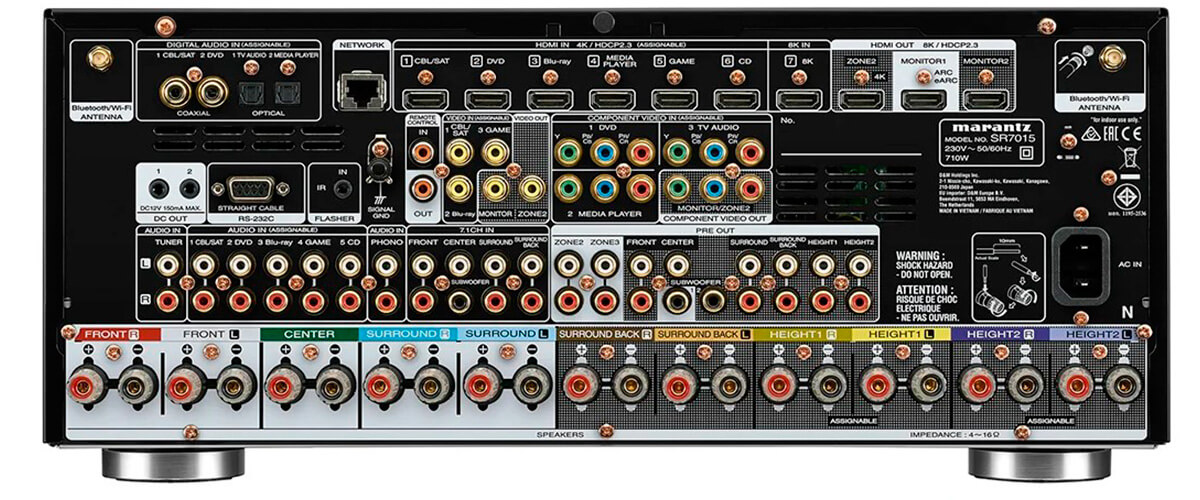 Here, HDMI 2.1 input supports UHD 8K video streams, making it ideal for connecting the latest generation game console. Moreover, it supports Dolby Vision, HLG, and HDR10 +. These technologies allow for a wide dynamic range and brilliant image. In the light: bright and dark areas of the image will be more readable with more detail, making the result closer to the human eye.
Pros
The receiver is capable of high-precision up-scaling of HD sources to UHD 8K, allowing you to enjoy your UHD 8K TV fully
It is possible to use Heos multi-room technology. The latter will enable you to create reading areas by grouping Heos-compatible hardware
Cons
When using the 2 Zone mode, you cannot assign different sources to each zone
Onkyo TX-NR797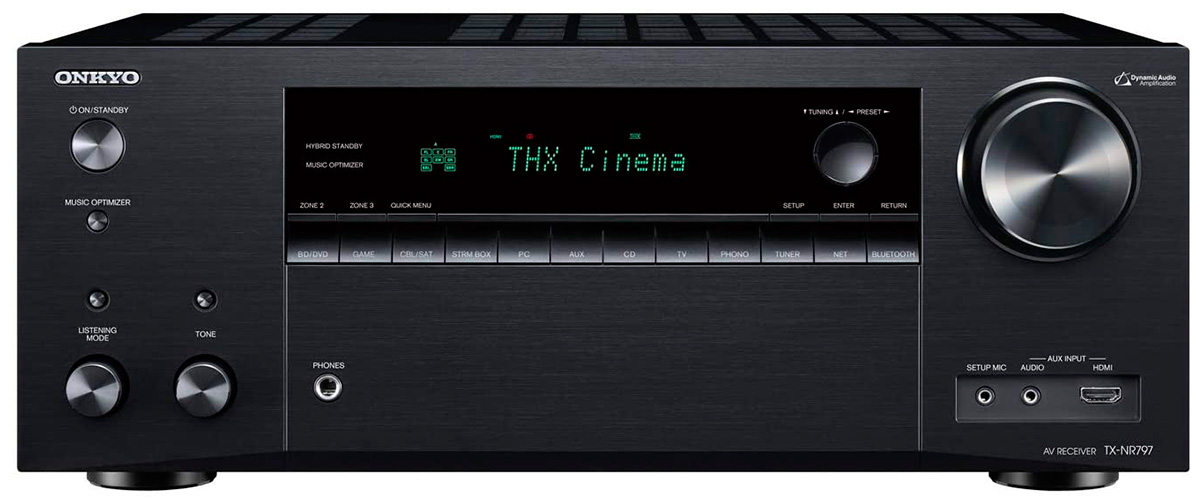 This 9.2-channel receiver with a nominal power of 100W per channel. In terms of wireless technology, the model works with Sonos, built-in Chromecast, AirPlay 2, and high-speed Wi-Fi. The audio capabilities are almost unlimited. It has DTS Play-Fi support, as well as the ability to output digital/analog audio in three rooms which can be confidently called the characteristics of the best 9.2 receiver under $1000.
With 9 high current channels, you can enjoy THX Certified sound to tell us about the decent sound of the device. Plus, you can surround your family with 5.2.4-channel Dolby Atmos or DTS: X sound, or you can experience the quality of IMAX Enhanced content just as the filmmakers intended.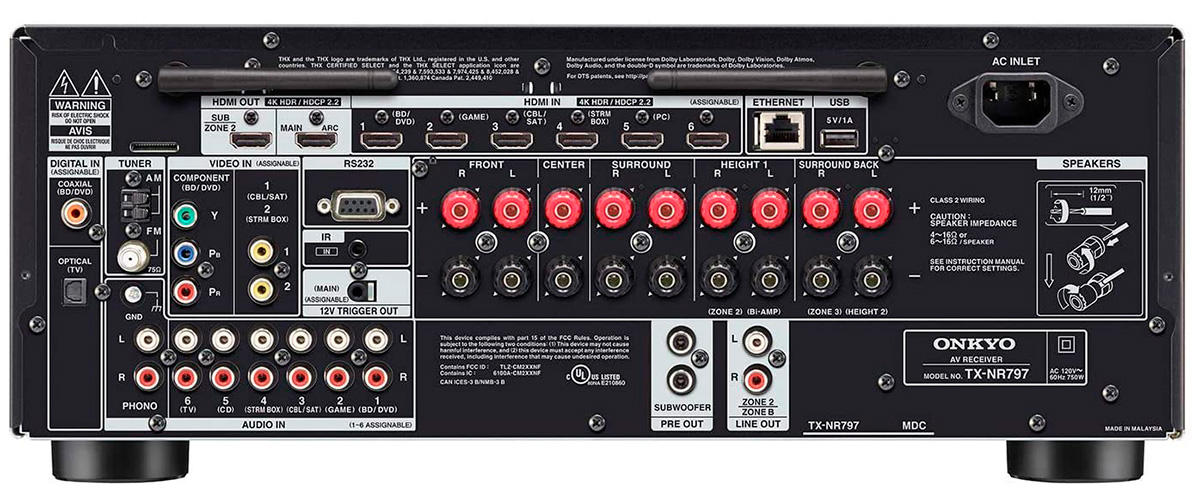 Having a Dolby Surround decoder, the unit supports ceiling speakers, while the Dolby Atmos Height Virtualizer creates a three-dimensional sound field using horizontal speakers. And all this impressive sound can be customized with AccuEQ Advance calibration, which eliminates standing waves, so the sound is reproduced naturally.
Pros
The 384 kHz/32-bit DAC allows you playback of the most popular files in high definition and can emulate surround sound and Dolby Atmos from stereo or conventional 5.1
It has a proprietary FlareConnect multi-room system. It allows you to play a signal from a source in one room to another, or all at the same time
Cons
Bluetooth's connection is unstable and takes a very long time to harness devices
What do 9.2 channels mean?
9.2 channel audio is, one might say, an accepted trend of multi-channel surround sound. This configuration expands the possibilities for multi-zone playback, as well as for new surround formats from Audyssey and Dolby, including front high and additional front wide channels. Besides, this configuration can allow users to create up to 3 active audio zones.