Founded in 1889 in Japan, this company has distinguished itself in various ways, including engines and two-wheeled vehicles. Many musical instruments also bear their badge as a sign of quality. That is why you may want to get the best Yamaha receiver.
Yamaha creates audio-video amplifiers. The newer generations have HD audio decodings, such as Dolby TrueHD or DTS-HD Master Audio. It is possible to connect them to a complementary device via Bluetooth to play files from your PC or other. One can also find HDMI connectors and USB ports. Here some helpful Yamaha receiver reviews.
Our pick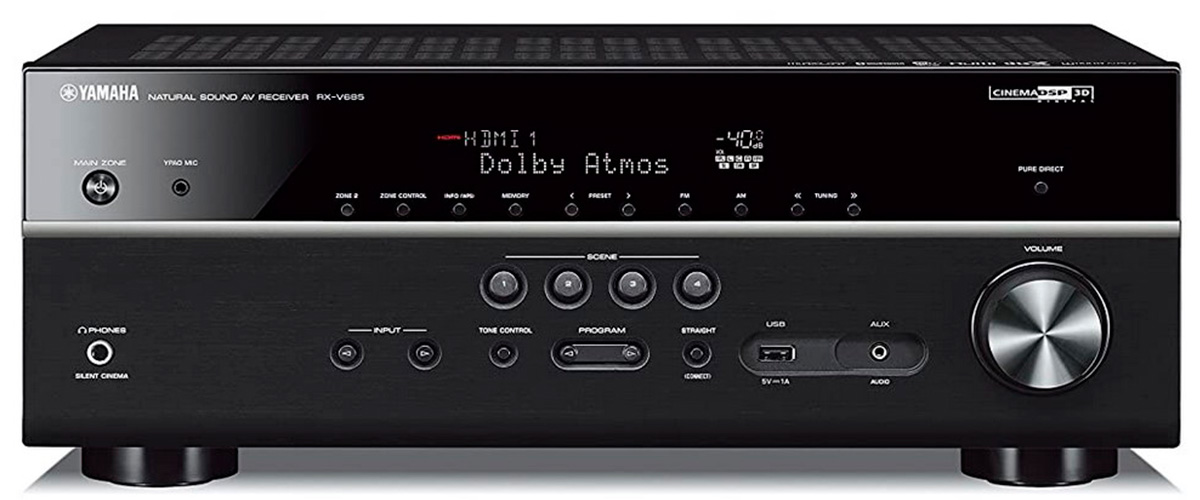 Yamaha RX-V685
Best Yamaha Receiver
This 7.2-channel AV receiver boldly explores entertainment possibilities for an advanced home theater with the latest in video and audio including Dolby Atmos®, DTS:X™, wireless streaming, dual HDMI® outputs and more.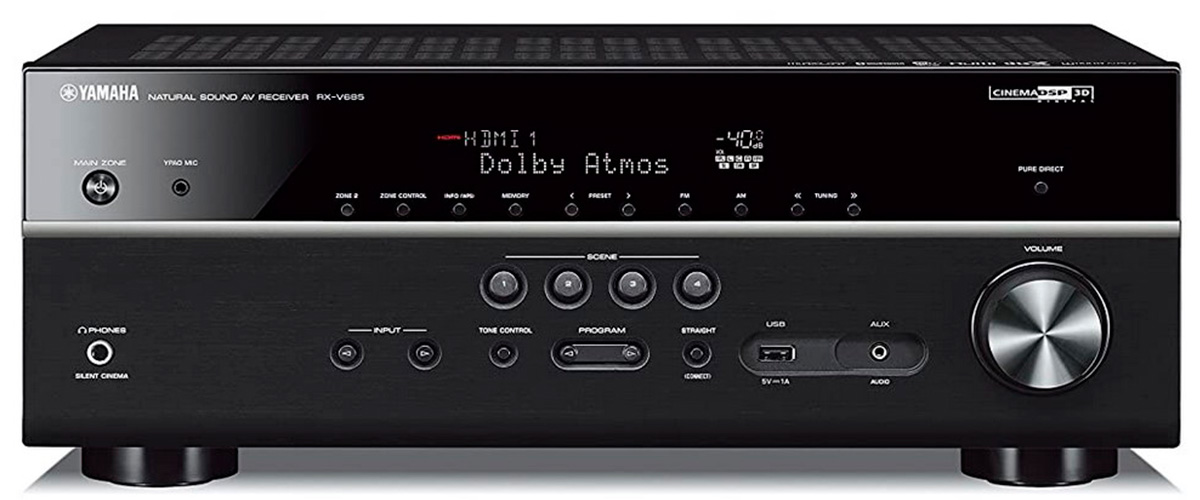 Still from YAMAHA, the oldest and most successful brand in its field, the RX-V685 has a power of 150 watts with 7.2 audio channels. Therefore, it becomes the best Yamaha AV receiver overall due to the high-quality sound you receive.
The appearance of the Yamaha RX-V685 does not really differ from that of the previous versions in order not to confuse users who are used to the brand. As before, the adopted design is both elegant and sober to remain discreet.
Made mainly of quality metal with a half-brushed and half-glossy front, it offers a very nice rendering. All the adjustment buttons are easily accessible. The integrated feet also promote the stability of the whole, and they serve as non-slip. This model only has a potentiometer knob intended for volume adjustment.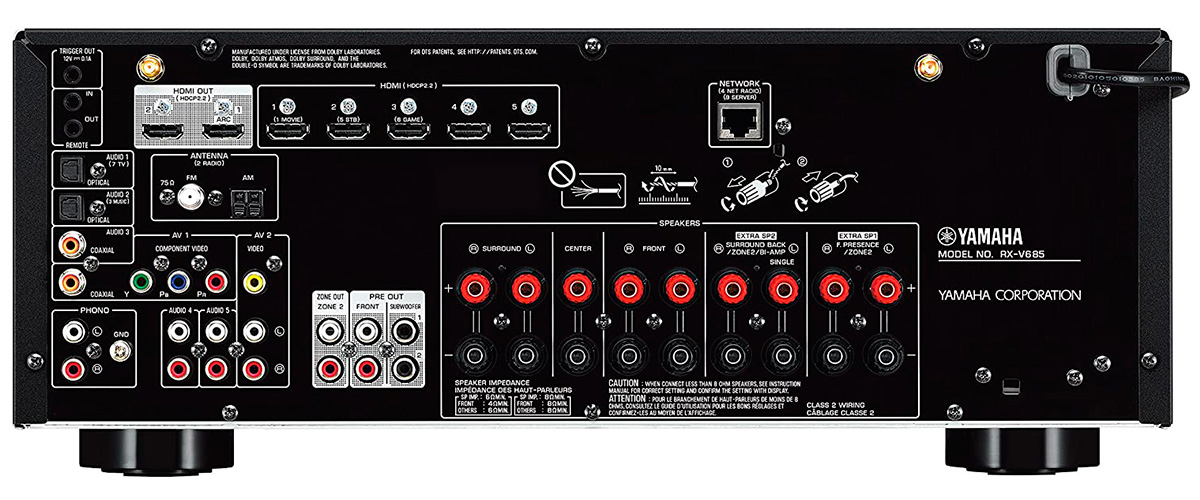 As far as sound quality is concerned, Dolby Atmos and DTS:X combine for sounds covering the entire room, whether in angles or height. If you are not good at adjusting parameters, then using this device is what you need, because thanks to the YPAO RSC calibration, everything is adjusted automatically.
Combined with this calibration, reflections are more balanced with Reflective Sound technology. Like all recent models of YAMAHA audio-video receivers, MusicCast and Alexa voice control are available on this device. In addition to Dolby Vision, an HDMI input, another for a USB, a Bluetooth connection, Wi-Fi, Ethernet, DTS, multicast, and DLNA are seen on the receiver.
Pros
The 3D DSP cinema effect is very immersive and thus widens the sound field more and more in the entire room
Multi-channel mixes are reproduced correctly, thanks to the composition of 7 channels +2 of this receiver
Highly efficient connectivity allows you to stream music without losing quality
Cons
It takes some time to install the unit, connect it and adjust all the settings
Yamaha CX-A5200 – best premium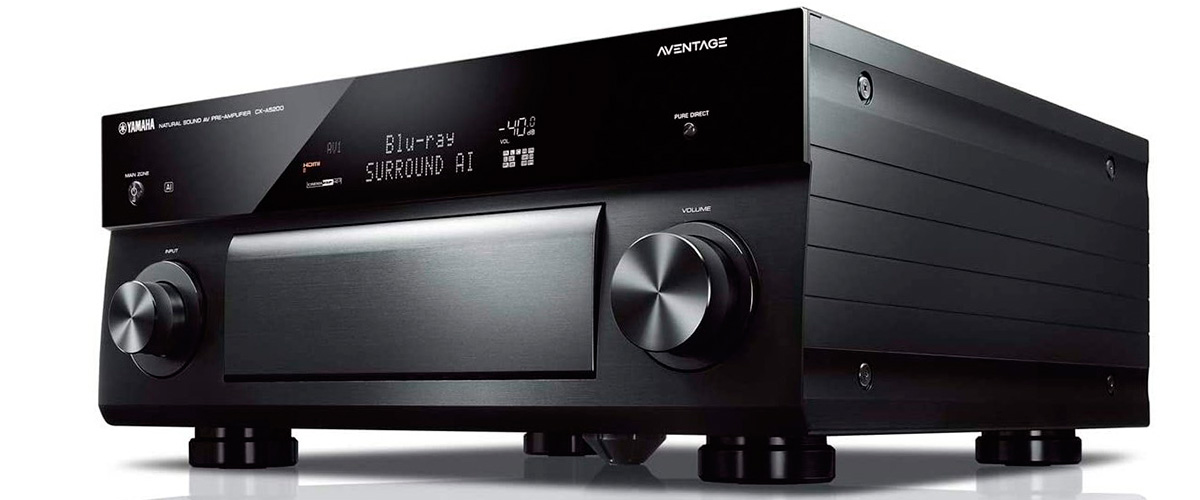 The CX-A5200 represents the epitome of Yamaha home cinema devices. A long line was initiated almost 30 years ago. Alongside the multiple multi-channel integrated amplifiers, the CX-A5200 allows the creation of an ambitious system in separate parts. Therefore, it becomes a wonderful premium audio receiver.
This model offers you 11.2 channels with a maximum output power 150 W (two channels driven). The preamplifier manages all the inputs/outputs as well as the sound processing. It has seven HDMI inputs and three outputs, as well as numerous audio and video sockets, both analog and digital. The phono input has not been forgotten, and there is even an analog stereo input on XLR sockets. It is, therefore, possible to connect between 15 and 20 different sources simultaneously.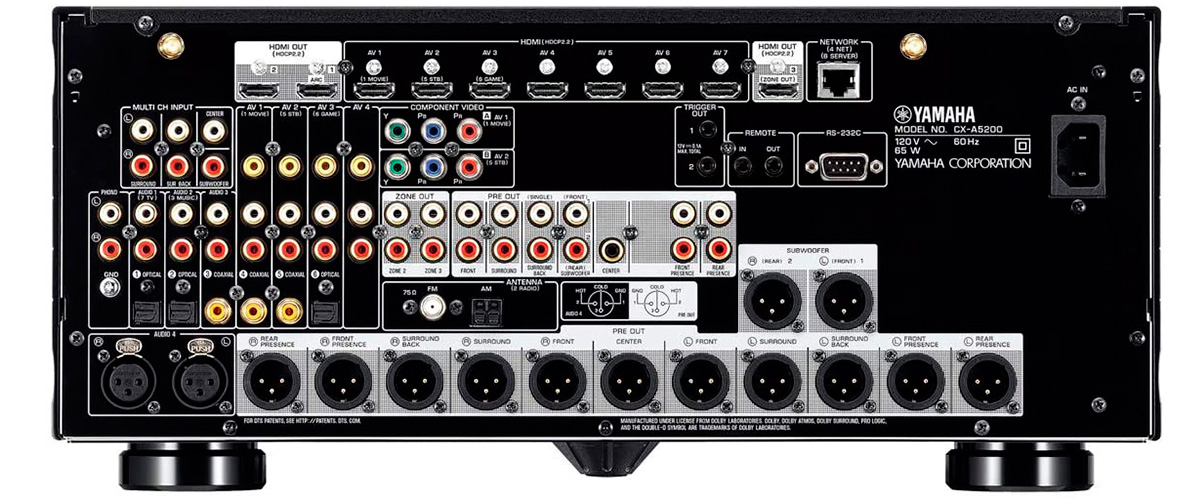 The audio outputs are thirteen in number, to make the 7.2.4 to ensure the Dolby Atmos and DTS:X. These outputs are available on RCA and XLR sockets. You will need as many amplifier channels as you have used outputs. You can, of course, add several mono, stereo, and multi-channel amplifiers.
Pros
It is compatible with virtual assistant technologies
This receiver has a multitude of input/output possibilities
It does not require a lot of space
Cons
Installation of this model is not simple to just plug in and play
Yamaha R-N303 – best stereo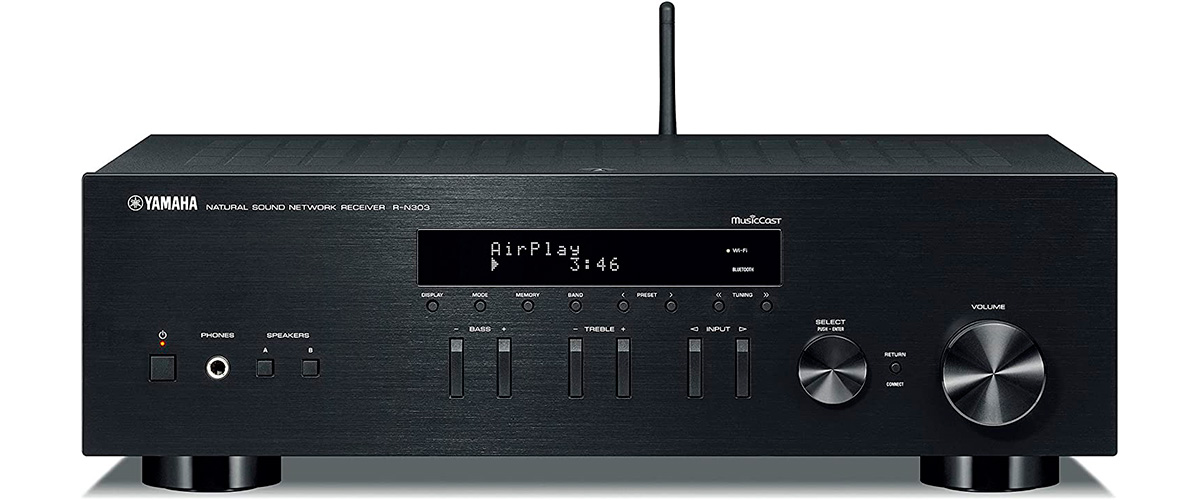 The R-N303 is a two channels 100 Watts amplifier built with a simple push-pull configuration, the power supply placed close to the amplifier, limiting energy losses and disturbances. A true music powerhouse, the R-N303 accepts many streaming services – Spotify, Qobuz, Tidal and Deezer, Napster, Juke, etc. It allows you to listen to Internet radio stations from around the world once the device is connected to the home network via Wi-Fi or wires. That makes it a wonderful Yamaha stereo receiver.
The R-N303 has Bluetooth and AirPlay for listening to music stored in smartphones and tablets. It is also integrated into the MusicCast multiroom system developed by the brand, offering all the ease of use and settings via the application downloadable MusicCast. The Burr-Brown DAC supports native 5.6 MHz DSD and 192 kHz / 24-bit FLAC / ALAC / WAV / AIFF files. Listening to music and content from hardware media is compatible with CDs, DVDs, Blu-ray, and even vinyl records.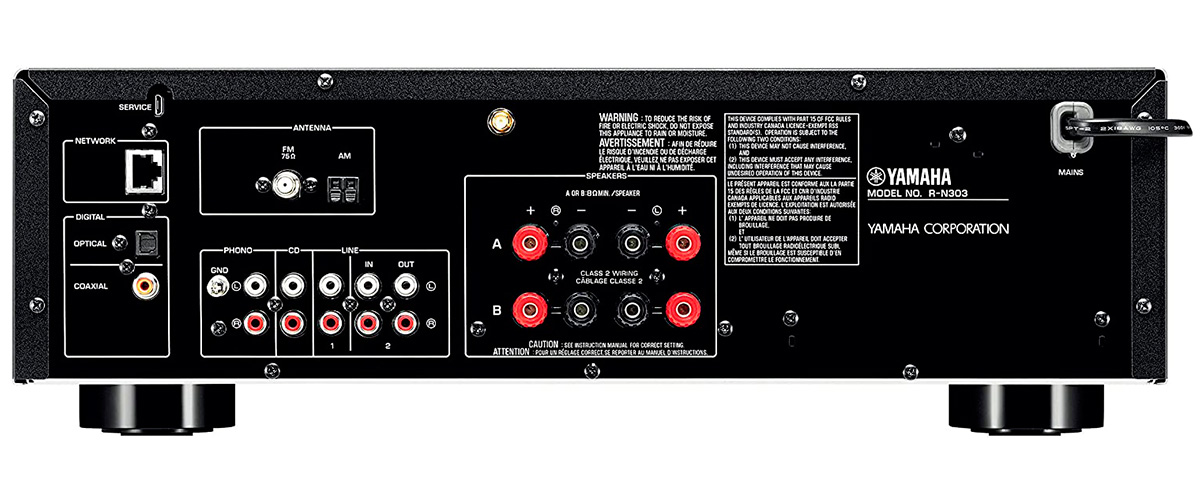 RCA connectors are installed on the back of the device. Three line inputs and one phono, as well as two digital inputs, one optical and one coaxial – The eight screw-type speaker terminals, accept banana plugs and large section cables, the front accommodates a 6.35 mm jack connector for headphones. Finally, for amateurs, the installed tuner allows the storage of 40 FM stations and 40 AM stations.
Pros
It does not require a lot of time to install and start using
Plenty of various connectivity options
You can enjoy your favorite radio stations with it
Cons
Wireless connectivity can be buggy