The Japanese company Denon delivers high quality digital audio technologies with hi-fi equipment. Thus, you may want to get the best Denon receiver.
It also has a lot of fans around the world due to the quality of its products. Audio-video amplifiers are available in various powers up to 500W. Recent productions are compatible with HDMI and 4k UltraHD technology. To select the right model, you should check this Denon receivers review.
Our pick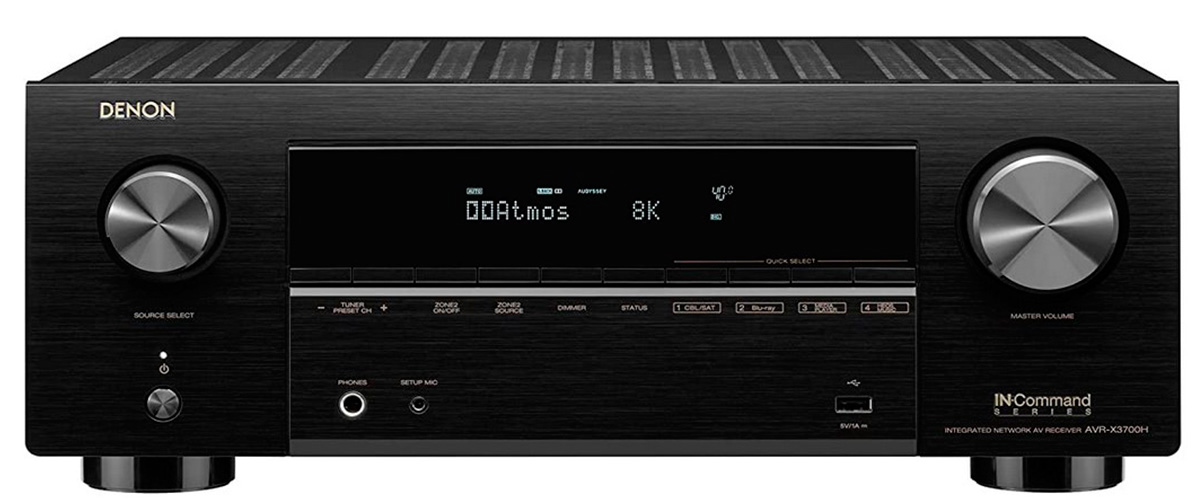 Denon AVR-X3700H
Best Denon Receiver
Denon AVR-X3700H 9.2 channel 8K AV receiver with 105W per channel that fully supports 3D audio formats like Dolby Atmos®, Dolby Atmos Height Virtualization Technology, DTS:X®, DTS Virtual:X™ and IMAX® Enhanced.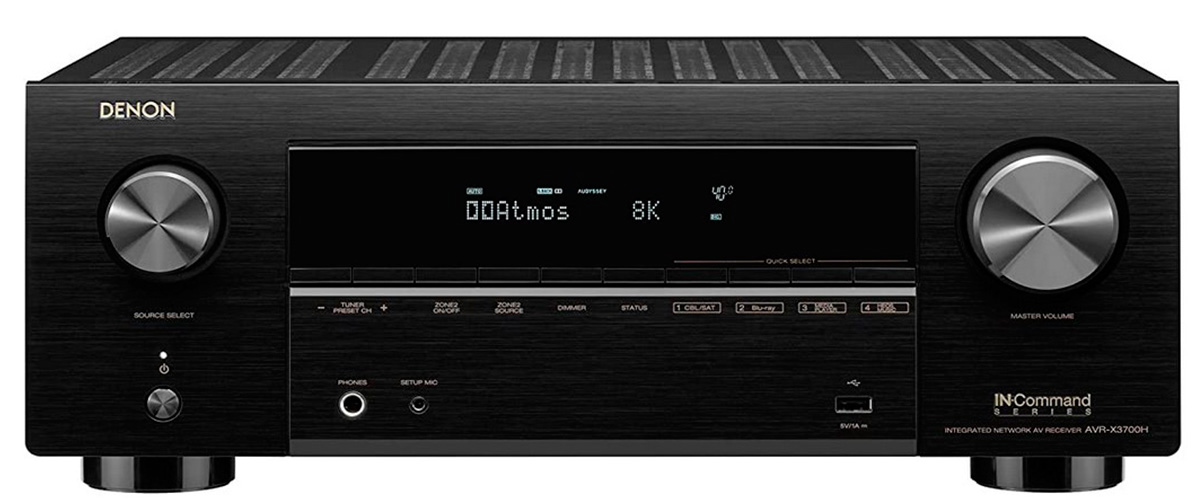 The AVR-X3700H develops 9×180 Watts. It retains the facade of the X2700H. It gains an additional HDMI input and output, but it loses the tuner. The Audyssey goes to the XT32 version, and the IMAX Enhanced makes its appearance. The pre-out outputs appear with the possibility of managing up to 11.2 channels. The preamplifier mode previously only available on the AVC-X8500H leaves the possibility of completely cutting off the internal amplification channels when using these pre-out outputs.
As with the other Denon AV receivers, there are classic analog power amplifiers with 180 watts per channel in the tidy interior of the AVR-X3700H. The pre-stage can even process a maximum of 11.2 channels. That means: together with an additional stereo power amplifier, even 7.2.4 setups, for example, can be operated.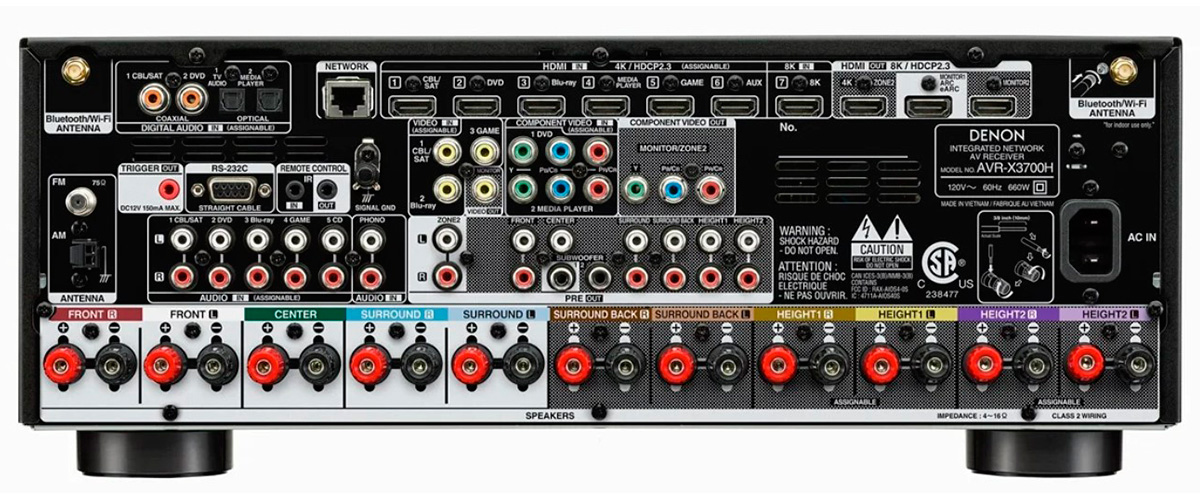 The flagship of the nine-channel model with its classic Denon design is the HDMI section, which is fully 8K compatible. This also includes a dedicated 8K HDMI terminal. The "8K all-round carefree package" is comprehensive: This includes support for 8K / 60 Hz as well as 4K / 120 Hz (high frame rate).
Besides, all relevant HDR formats are supported: HDR10, including HDR10 +, HLG, and Dolby Vision. There are also other HDMI features such as QMS (Quick media switching. This feature ensures that you can switch between different resolutions and refresh rates without seeing a black screen in between. These features make the X3700H an ultra-flexible AV control center. For comprehensive streaming-options, it has a powerful HEOS module. As a result, it becomes a wonderful model overall due to its quality and price.
Pros
Advanced sound processing to ensure superior sound quality
High compatibility with latest voice assistants
Admirable ease of use and installation
Cons
For some speaker types, the Audyssey setup always gives phase errors
Denon DRA-800H – best stereo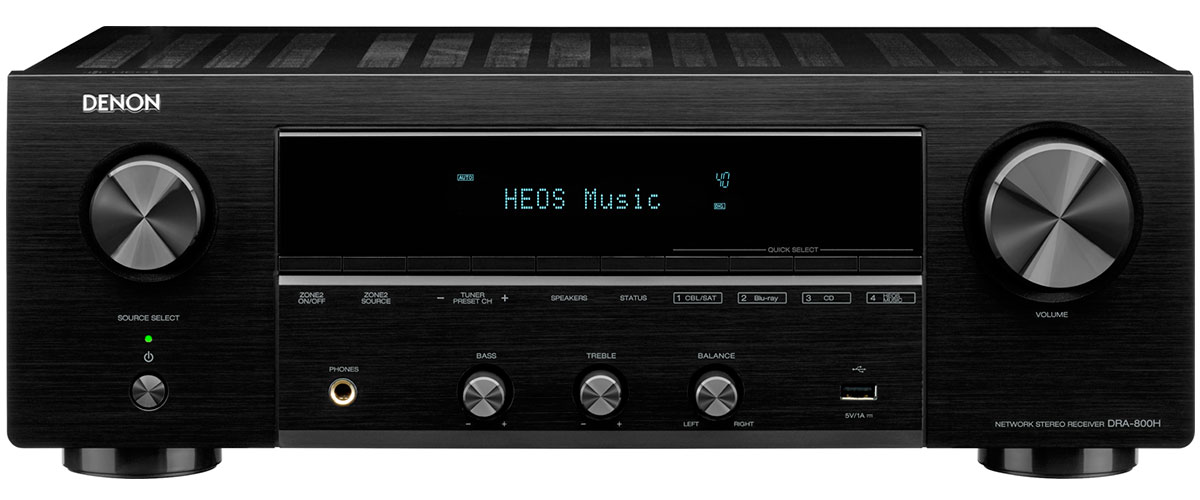 The Denon DRA-800H looks like a home theater amplifier, like older models. It takes the exact design with two large potentiometers surrounding a large display. The only difference is just below: tone and balance settings, characteristic of the stereo amp. They simply replace the Audyssey-type home cinema audio calibration system absent from the DRA-800H.
The rear side is also very close to that of a receiver. It has audio inputs, including one for vinyl, the aerial socket of the DAB tuner, the network, and especially the HDMI. The DRA-800H supports five HDMI inputs and one output, all in HDCP2.3, with eARC.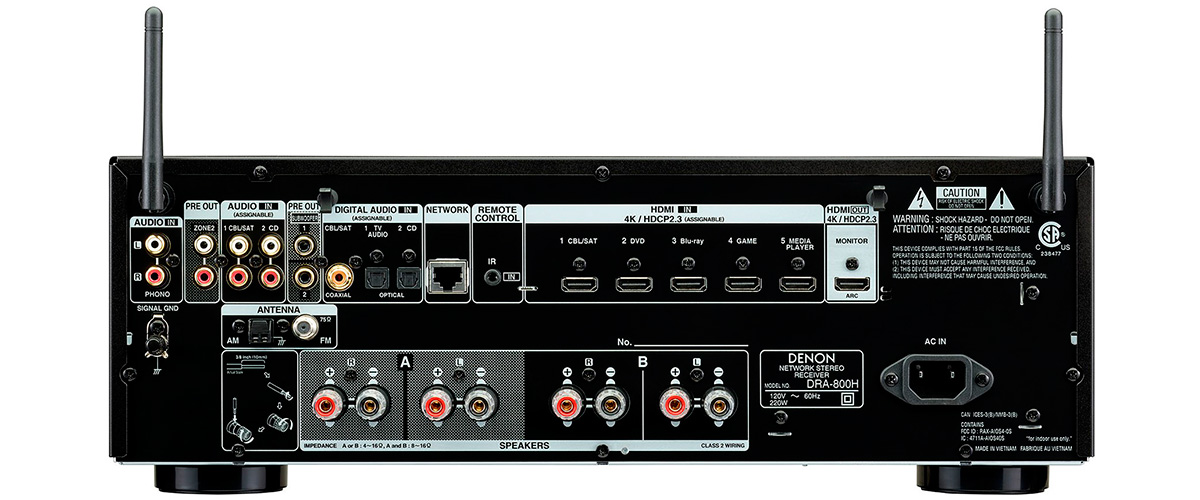 Like almost all Denon receivers, the DRA-800H is equipped with the HEOS function. The H, which appears in its reference, confirms this. This allows him to access streaming audio services, Internet radios, and music shared on his home network.
This amplifier has two channels with 100 watts on each, with a Hi-Res 24/192 compatible DAC, and is intended to bring together all the sources in the house.
Pros
It allows users to play music from a CD, USB, or listen to the radio via
You can connect two subwoofers with the receiver to provide deep bass with a large room
With the internal WiFi receiver, you can stream files wirelessly from your computer network
Cons
When you stream music via Bluetooth, the music is of lesser quality than receivers that have the aptX Bluetooth profile
Denon AVR-X6700H – best premium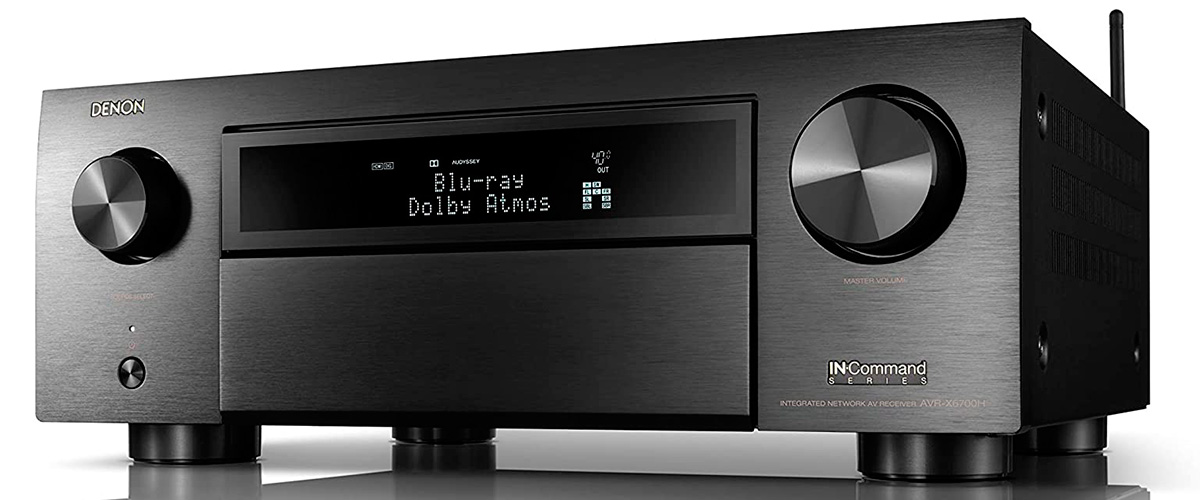 The AVR-X6700H sits just below Denon's top-of-the-line model. It has 11 amplification channels of 205 Watts. Its pre-out outputs manage 13.2 to constitute a 9.2.4 or 7.2.6 system with the addition of an external stereo block. It is the first consumer integrated to have DTS: X Pro, decoding reserved until now for very high-end processors Trinnov, StormAudio, and Lyngdorf.
Since the last generation, the output stages of the respective channel strip have been completely electrically decoupled in "Pre" mode. The connection of external power amplifiers or active loudspeakers allows for tonal improvements compared to the integrated power amplifiers.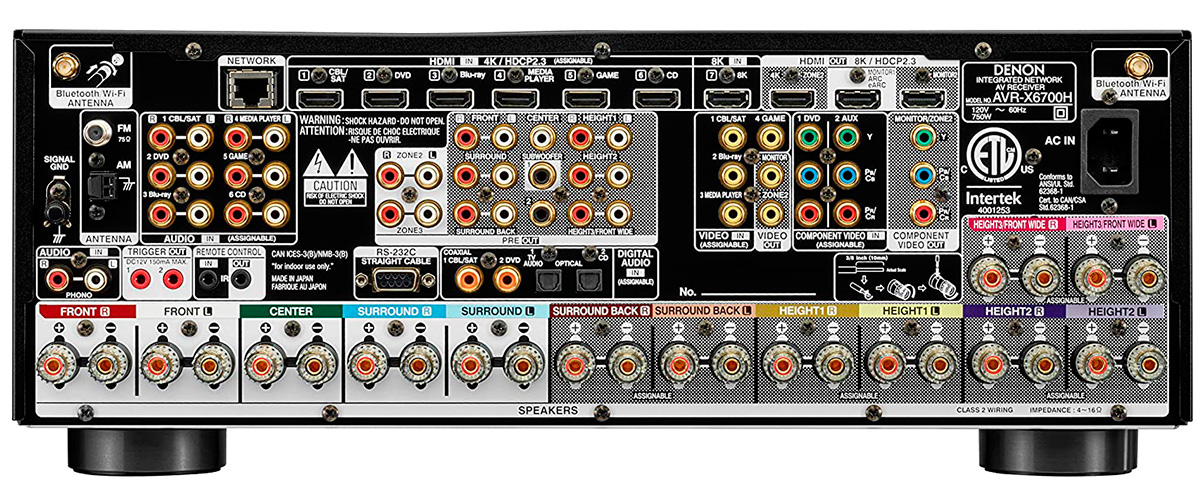 The possibilities here are extremely diverse. In this way, channel groups can be configured and, if necessary, wired as pre-amplifier outputs to only control the front speakers with external high-end power amplifiers. In this way, the 11 integrated power amplifiers can be used most economically.
This AV receiver also has HEOS integrated, like all models whose type designation ends with "H". HEOS seamlessly integrates the Denon AVC-X6700H into a multi-room network with other devices. The most popular streaming services and Internet radio can be used with the Group's platform, but HEOS also enables voice control of the home theater via Alexa, Google Assistant, or Apple's Siri.
Pros
Compatible with all surround sound formats
Excellent sound quality at various volume levels
Installation does not require a lot of time
Cons
It does not have a Multi-Channel Input