Dolby Atmos is the latest surround sound method specialized in creating a real-like sound environment due to multichannel audio formats. Almost everyone is familiar with the analog format Dolby Surround, which can be played with four channels in the home theater.
To enjoy the surround sound at home, you can consider getting the best Atmos receiver. You can connect this device to speakers and various sound sources to always receive real-like sounds around you while watching your favorite movies or playing video games.
Our pick
Denon AVR-X4700H
Best Atmos Receiver
The Denon AVR-X4700H 9.2 channel 8K AV receiver with 125W per channel fully supports 3D audio formats like Dolby Atmos®, Dolby Atmos Height Virtualization Technology, DTS:X®, DTS Virtual:X™, IMAX® Enhanced and Auro-3D®.
What is needed for Dolby Atmos?
Dolby Atmos allows spectators to enjoy movies in Blu-ray quality with the surround sound like in cinemas. To make the sound system work properly, you need appropriate equipment and its proper installation. In the beginning, you need to get any of the Atmos ready receivers. They need to have enough channels to be used for sound surround. In this review of receivers, we present only those models that are fully compatible with this technology, without the need to use any virtual speakers. Dolby Atmos is capable of processing up to 128 channels of sound, which can be routed to up to 64 individual speakers.
It is necessary to mention that there are AV receivers that support different numbers of channels. At specifications, you can find such parameters as 7.1, 7.2, 9.1, 9.2, or even 7.1.2, 9.1.2, etc. The first digit indicates the number of channels the AV receiver has for speakers, the second is for a subwoofer, and the third one stands for ceiling speakers. In most cases, when you buy an AV receiver that supports Dolby Atmos, it has instructions on how you need to install all the speakers to get a wonderful sound quality. To get the most authentic Dolby Atmos experience, you need at least a conventional 7.1 or 9.1 surround sound speaker setup where two or four channels are overhead.
Therefore, while thinking of getting a Dolby Atmos receiver, you should pay attention to their amount of channels. Models with 7.1/7.2 are the minimum required configuration to enjoy the surround sound. Devices with 9.1/9.2 are optimal to receive wonderful sound in a budget range. 11.2 Atmos receivers or 13.2 models are amazing devices to receive real-like surround sound in a home theatre.
Mid-price Receiver for Dolby Atmos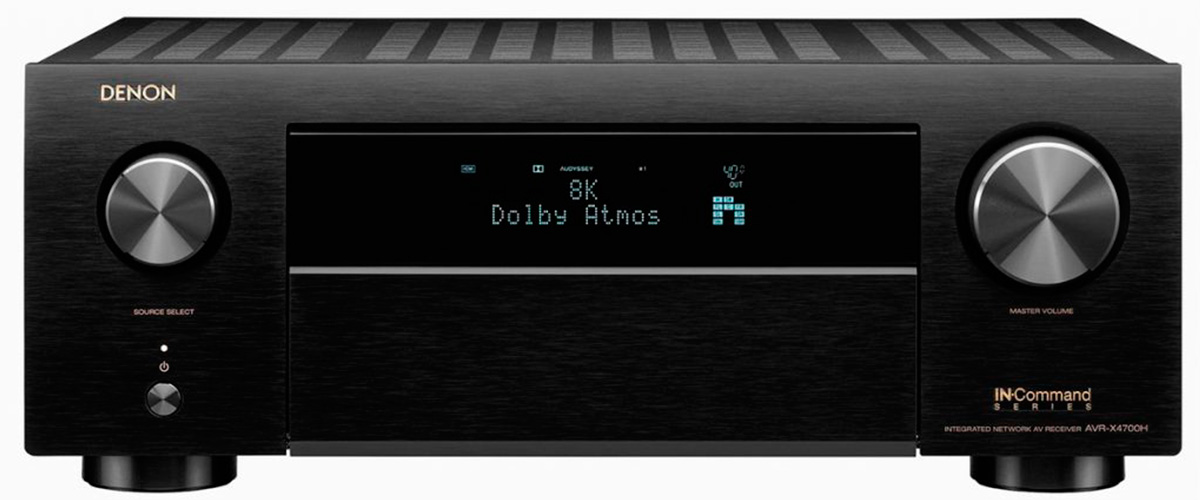 The AVR-X4700H is placed in the best receiver for Dolby Atmos in mid-range, where you get what you pay for because the product is good in overall price and quality. This 4700H has a high-end design with its hatch hiding buttons and sockets on the front. It supports 11.2 channel processing with 9-channel amplification, where 125 watts per channel. It means that this device is a good 9.2 Atmos receiver to use in a home theatre.
Additionally, the AVR-X4700H supports Auro-3D, another format for realizing a three-dimensional cinema sound. However, Auro-3D is the least common standard on discs. It is particularly popular for concert recordings. Besides, most 5.1 or 7.1 soundtracks can be expanded into impressive 3D soundscapes with the Auro-Matic Upmixer.
On the audio calibration side, the Audyssey MultEQ XT32 is present, with its procedure going through eight measurement points. The novelty of this generation of audio/video amplifiers consists in offering two distinct memories, which can be recalled from the menus. It is thus possible to create presets for films and another for music.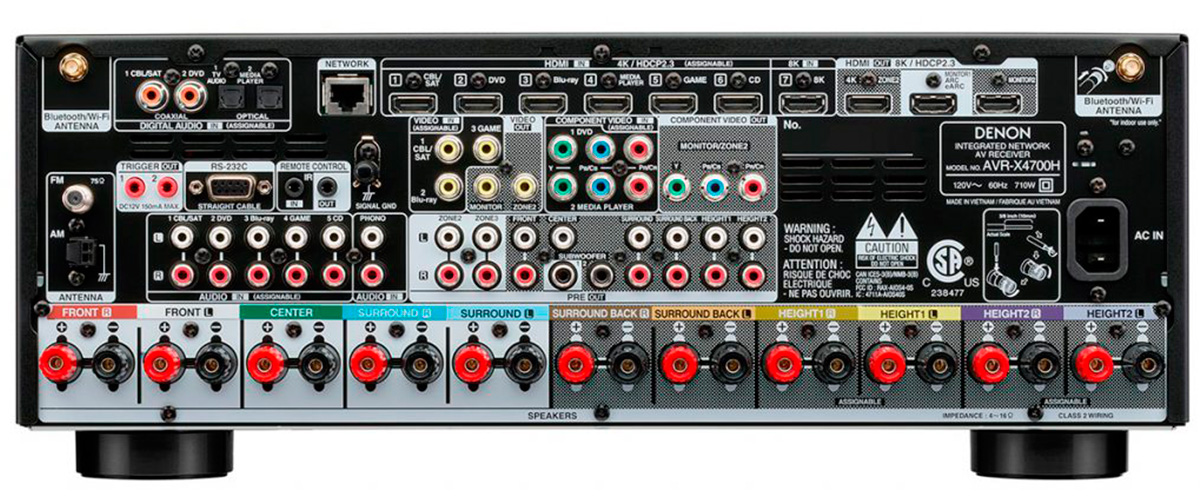 In addition to the physical analog and digital inputs and Bluetooth, the HEOS protocol is, of course, present. It opens the device to network music to enjoy the main subscription music services. It can also access the music in shared folders on the network as well as that stored on a USB key connected to the front port. All of this is easily controlled from the HEOS mobile app.
Pros
The AV receiver is compatible with various voice assistants
You can easily control the device with your smartphone
Thanks to the Dolby Atmos technology, the surround sound is reflected off the ceiling
Denon AVR-X3700H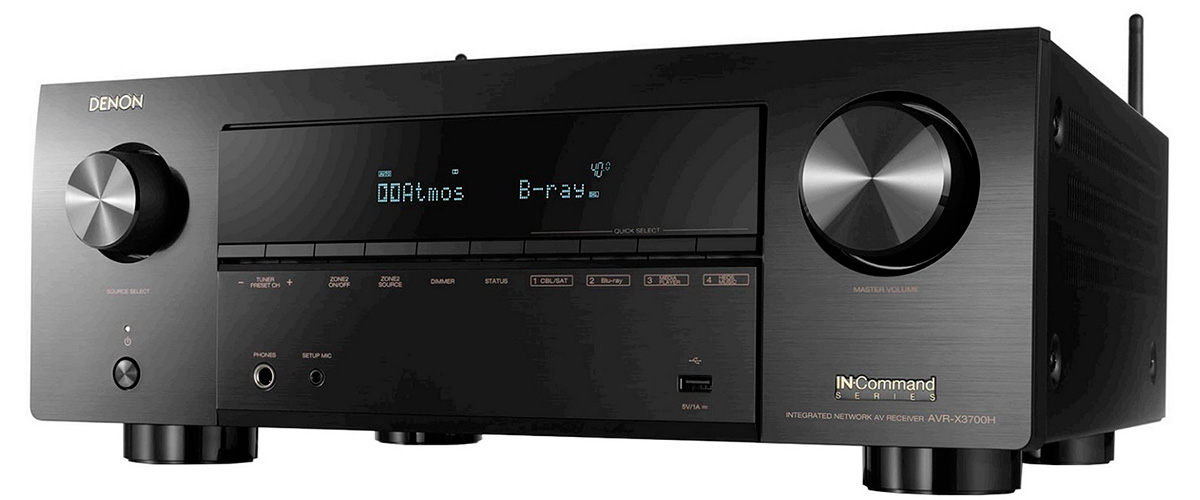 Another wonderful model from the Denon brand that you can get for your home theatre is AVR-X3700H. It is equipped with 9.2 channels, and that is enough to use the Dolby Atmos optimal surround sound setup. The receiver has a power output of 105 watts per channel, which results in nice sound quality.
This model offers the versatility of connection. It has 7 HDMI on the rear and three on the front side. The device supports Dolby Vision with 4K pass-through technology. It allows users to always have the same resolution of an image without losing its quality.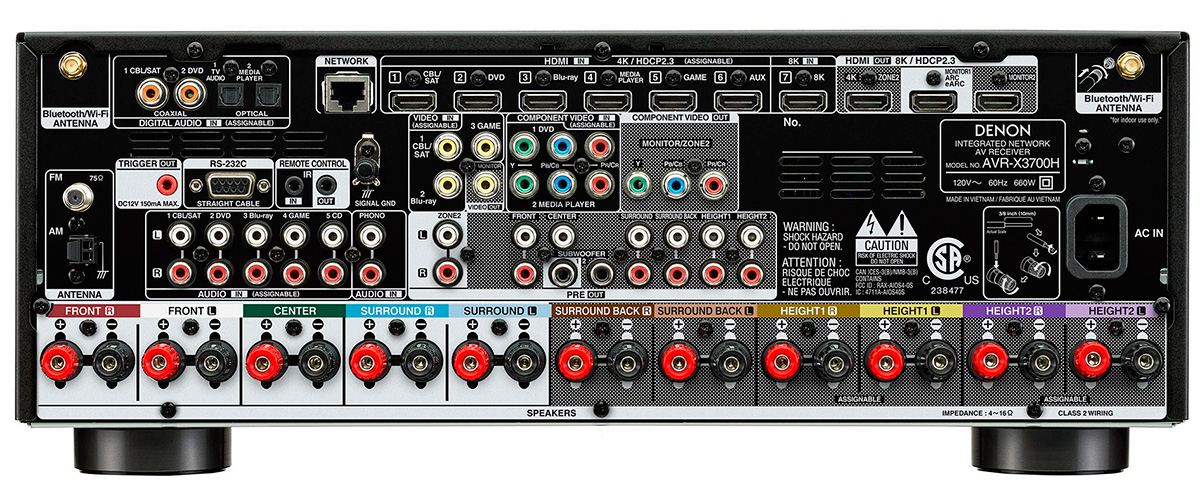 If you like to play games, you will be pleased to know that with this receiver, you can get a refresh rate of 120Hz with 4K and 60Hz with 8K. Due to the latest HDMI, the upscaling works efficiently to always enjoy a nice resolution and high-quality image.
Pros
It is compatible with various voice assistants
Due to the HEOS technology, you easily connect the receiver to wireless amplifiers in any room of your home
With the help of setup wizards, you will not spend much time installing the receiver
Cons
It has only one HDMI 2.1 input
Budget Dolby Atmos Receivers
Yamaha RX-V685 – best budget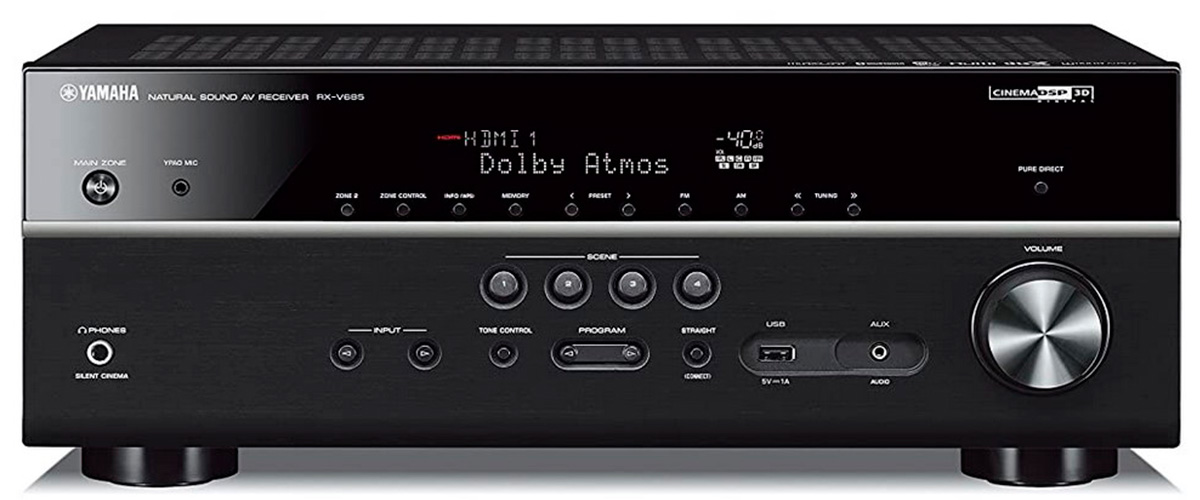 Yamaha RX-V685 makes it clear from the start that it is the best budget Atmos receiver. There is no front flap, which elegantly hides most of the controls and protects them from dust. Nevertheless, the front with the manageable controls looks pretty tidy, which also applies to the back with the connections. The AV receiver offers 7.2channels with 150-watt of power output per each.
Of course, the RX-V685 also has an HDMI section that is compatible with Dolby Vision, HDR10, and HLG. There are five HDMI inputs on the rear and two HDMI outputs. At the rear, there are also pre-outs for connecting two active subwoofers for zone 2 and for connecting a stereo power amplifier for the front channels. The RX-V685 also has a dedicated phono input. By the way: The Yamaha Compressed Music Enhancer can be used for all input sources and thus even for the phono input.
Yamaha is known for its legendary DSP modes: there are programs for cinema sound, music, entertainment, and games. The RX-V685 is also equipped with Yamaha's Cinema DSP 3D processor. The integrated virtual surround mode, which creates a 9.2 virtual experience from 5.1, is interesting for users who do not own and/or do not want to set up so many speakers.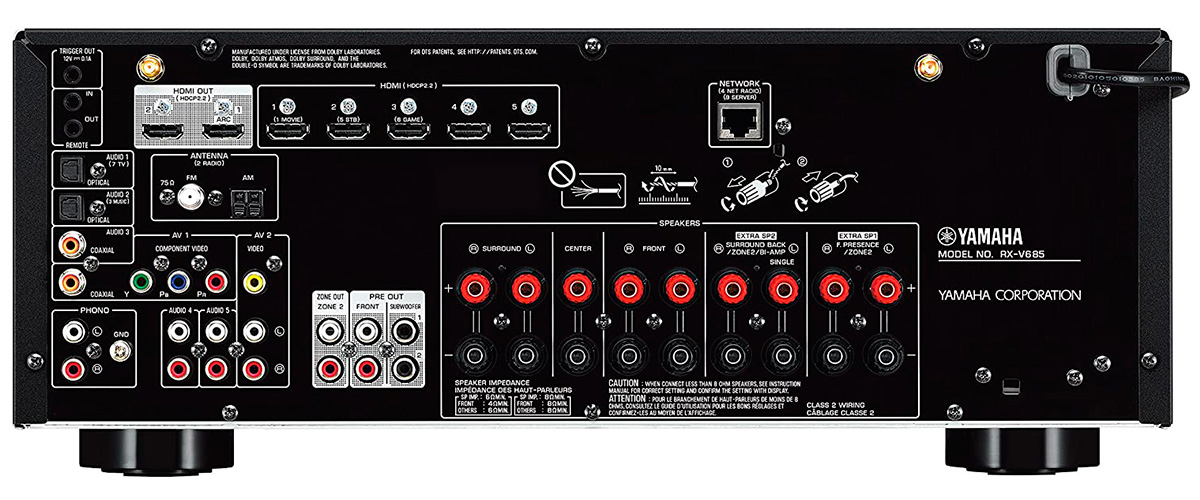 The RX-V685 can be controlled using the AV controller app and the MusicCast app. Of course, a clear remote control is also included in the scope of delivery.
It is typical for Yamaha that you not only select the desired DSP via the app but also can even edit it accordingly. The post-processing options vary depending on the DSP mode. These are traditionally particularly extensive in the cinema modes.
The RX-X685 also has an ECO mode, which according to Yamaha measurements, reduces power consumption by up to 20 percent. The function can be activated via the menu.
Pros
It has convenient tools to control the receiver with a mobile app
Due to YPAO RSC calibration, the devices adjusts automatically to cover the entire space
Multichannel mixes are reproduced correctly
Cons
It is not equipped with multichannel input
Denon AVR-X2700H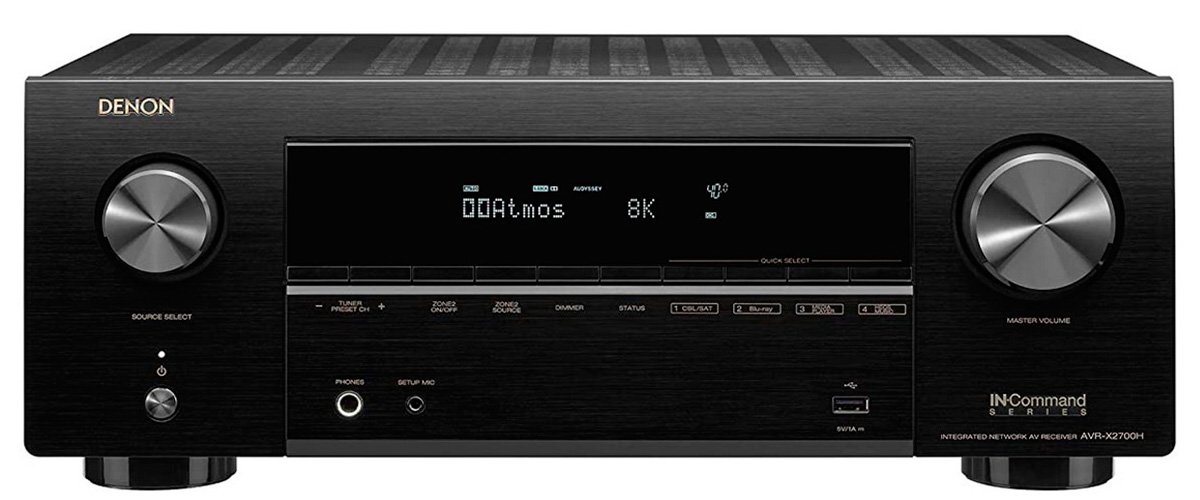 In case you prefer the Denon brand, and you want a receiver of the mid-range category, you should consider AVR-X2700. It is a nice model that also supports Dolby Atmos surround sound. It offers seven channels with 125-watts per each. The design is very similar to other devices of this series. On the front side, you have an LED display with output for headphones, while the rear offers a great variety of connectivity options.
If you like to use virtual voice assistants, X2700H is compatible with most of them. It allows you to control the device even without your smartphone. Due to the HEOS multi-room, you can adjust the settings in your home theatre room and use speakers in others to enjoy music. This AV receiver can also stream your favorite soundtracks to your headphones via Bluetooth.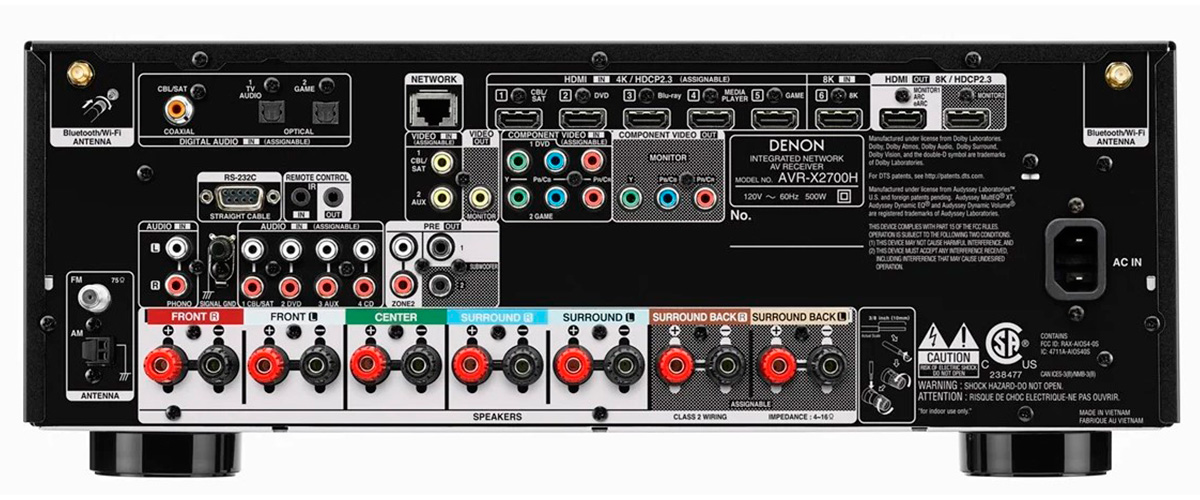 The device is compatible with various HDR video formats, such as HLG, which are intended to bring HDR to live broadcasts. HDR10+ adds dynamic metadata frame by frame.
Pros
The UI is really good and helpful when setting up your speakers
You can also listen to your favorite FM radio
Very solid output and excellent handling of sound
Cons
The housing is made from plastic
Premium Dolby Atmos Receivers
Denon AVR-X8500H – best premium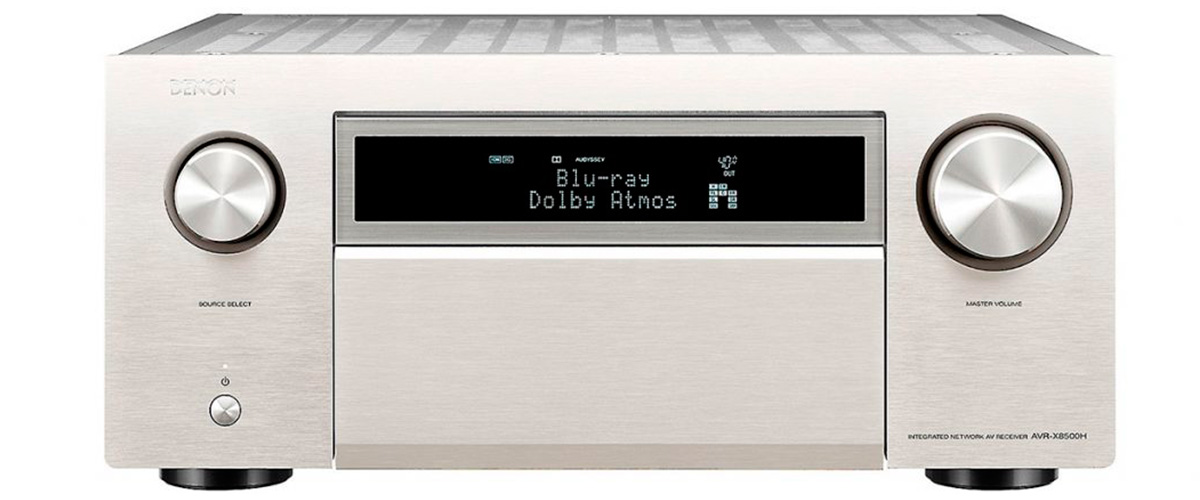 The AVR-X8500H is an AV receiver that comes with the latest in audio and video technologies, some extra features, and above all, a huge number of different sound channels. Compatible with object-based surround audio formats such as Dolby Atmos, DTS: X, and Auro 3D, Denon's new receiver promises to be capable of handling up to 13.2 different channels. That makes it the best Dolby Atmos receiver in the premium category.
It has a fairly high amplification power of 150 watts RMS per channel. The device loads and supports direct playback of multiple digital formats such as DSD, WAV, ALAC, or FLAC. They can be used both from a USB memory and from the local network using multiple WiFi connections, Ethernet, Bluetooth, and Airplay. Moreover, X8500H is compatible with the multiroom system of the HEOS brand. It allows you to use speakers in other rooms to listen to music. It is also possible to control the receiver using the AVR app. This works hand in hand with the HEOS app, which grants access to numerous music services as well as to music from HDD / Net server systems, PCs, and notebooks from the same network. Of course, you can also play music from your smartphone or tablet.
As for the video, it supports 4K sources of up to 60 Hz with HDR10, HLG, and Dolby Vision in its HDMI inputs that will be 2.0 from the factory, but that seems to be updated later, adding some compatibility with HDMI 2.1 to support signals to 8K.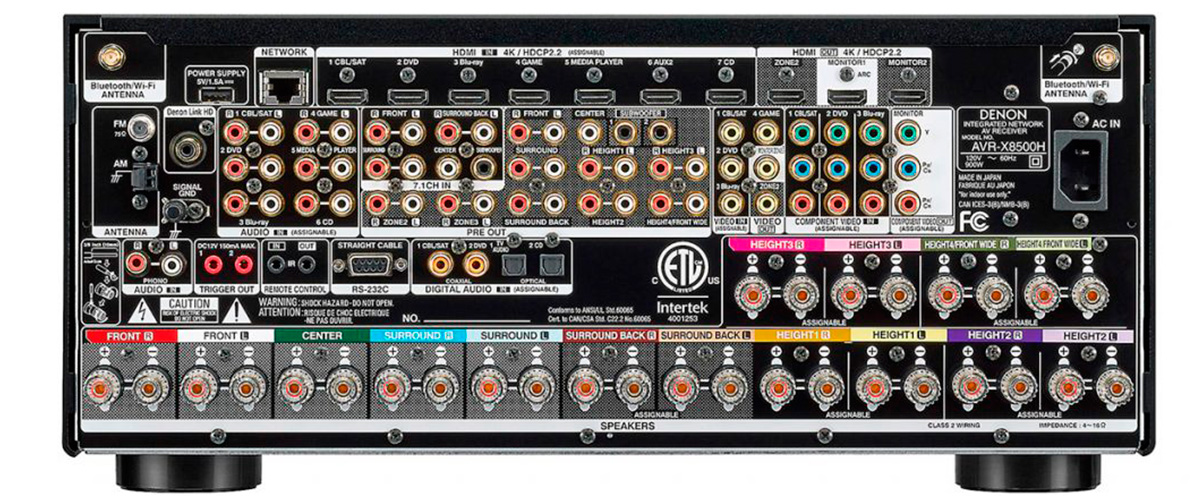 The Denon AL32 processing ensures high acoustic performance for all 13 channels, which also polishes lower-resolution sources to 32-bit accuracy, as well as 32-bit D / A converters and extremely powerful DSP chips: Two ADI Griffin DSPs (Dual-Core) provide a complete 32-bit signal processing and a lot of computing power.
Pros
You can adjust room acoustics for every room dimensions
It has enough HDMI ports to connect several devices simultaneously
Intelligent eco mode with three energy-saving features without sacrificing performance
Cons
It lacks native Roon support
The pros and cons of a Dolby Atmos home theater
The surround sound is a wonderful way to enhance the quality of experience while watching movies. However, there are always positive and negative sides to making a home theatre with Dolby Atmos. Therefore, here you will learn about what advantages and disadvantages you will face.
Pros
It is not necessary to spend a lot of money. On the market, you can find a large variety of budget AV receivers that can deliver you the Dolby Atmos experience. It allows customers to get a nice model without overpaying
Plenty of content to enjoy. The Blu-ray format of movies and TV shows have become very popular. Nowadays, you can easily buy enough of various films to watch or rewatch in higher quality with the new sound experience
Plenty of equipment is compatible with Dolby Atmos. If you have an AV receiver with enough channels, all you may need is the appropriate number of speakers. Thus, by reviewing all the devices you have, there is a chance that you already can set up Dolby Atmos
Cons
Compatibility. Not every modern piece of equipment can be used together with any speakers. Therefore, you should always check this while getting an AV receiver
Installation. Dolby Atmos is not plug-in and go. It takes time to place every speaker in the proper spot. Hopefully, there are installation wizards and instructions