The AV receiver will be at the center of your whole home theater system, linking each unit to full control and ease of use. Many TVs and soundbars are attempting to replace receivers by providing multiple input ports. Along with various ports, receivers also feature the power and control to create an immersive surround sound for video streams to your TV. Besides, every modern receiver supports advanced networking capabilities. And, in this review, we have selected only the best 7.1 receivers. You will find these features and much more here.
Our pick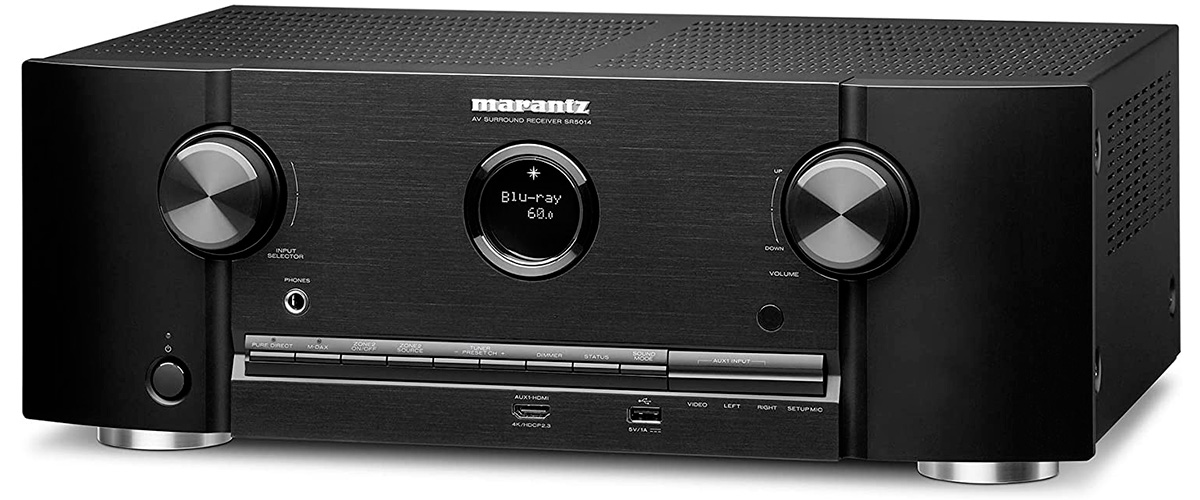 Marantz SR5014
Best 7.2 receiver
The Marantz SR5014 produces the most musical sound, no matter the source, from vinyl to digital streaming.
Best 7.2 AV Receiver Reviews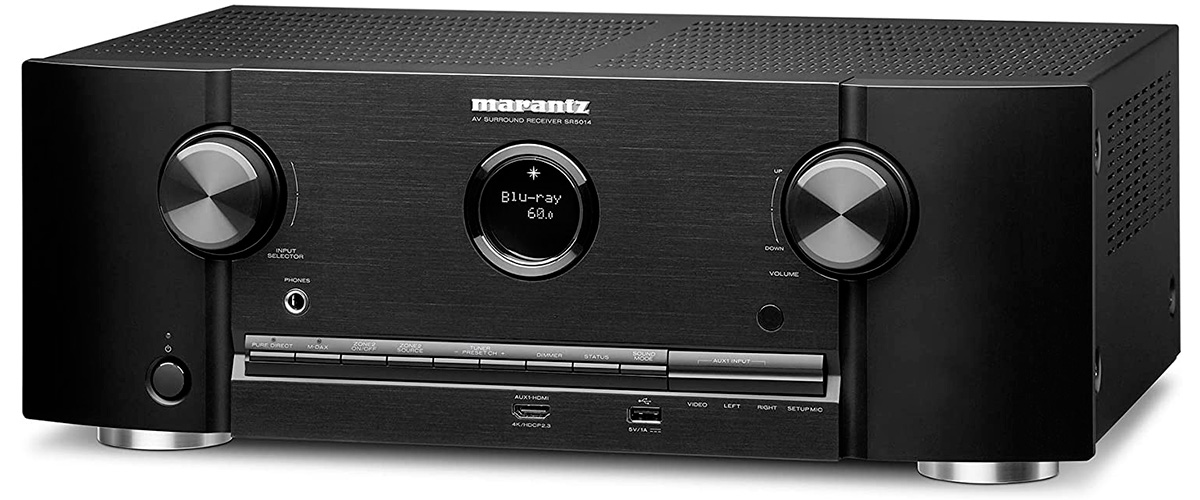 The Marantz SR5014 delivers glorious sound from any source, from vinyl to digital streaming. This unit is equipped with discrete amplifiers. Maximum power is 100 watts per channel. With advanced Dolby Atmos technology and DTS high-definition surround sound formats, you will immerse yourself in film and TV scenarios. Stream music from significant music services and control the SR5014 with voice commands compatible with Apple Siri.
We should also mention the receiver's sound quality as we will consider it as the best 7.2 receiver. The Marantz Sound Master technology uses state-of-the-art depth controls to deliver the perfect cult sound. The balance is smooth – a minor cut of high frequencies – Marantz engineers tried to ensure that the receiver could smooth out any roughness. The entire sound stage is complemented by rich bass and low mids.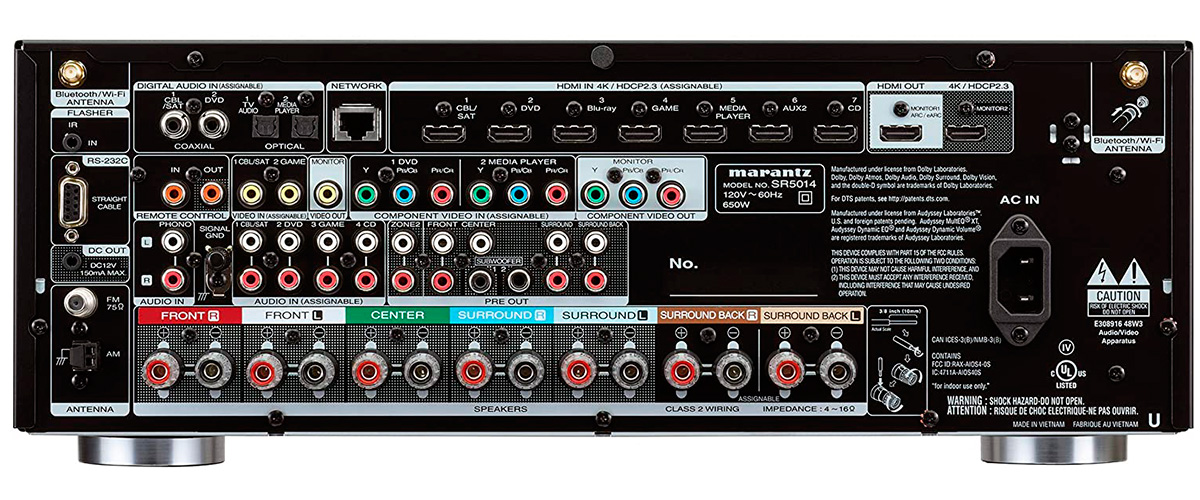 Moreover, the SR5014 offers audio return support – eARC, which allows you to transfer all audio information without the slightest loss through a single HDMI cable. This applies to the object-oriented formats – Dolby TrueHD and Dolby Atmos, which means the user can enjoy surround sound in all its glory while keeping other HDMI ports free.
And even for gamers, useful features are provided. The receiver implements a special game mode – ALLM, which creates conditions for more convenient and accurate gameplay, which is very important in modern games rich in dynamic scenes. However, this mode only works with XBOX consoles.
Pros
You can use the receiver as a multi-room hub with high-definition audio streaming, and so it can be used in conjunction with a voice assistant
The user-friendly interface is convenient and intuitive, new users will not have any problems with adaptation
Cons
Firmware updates often cause device malfunction
In case of malfunctions, it is challenging to get feedback from the company to solve the problem
Onkyo TX-SR494 – best budget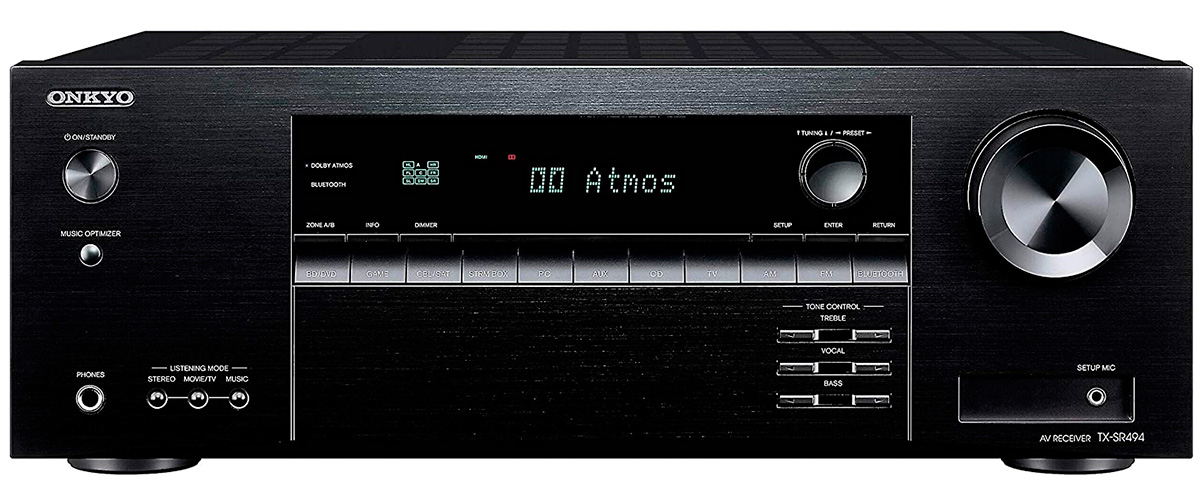 This receiver works with nine channels of audio, seven of which, according to the manufacturer, are equipped with discrete amplifiers with high output currents, delivering 160 watts per channel. And thanks to its powerful hardware, this best budget 7.2 home theater receiver can feed Zone B or drive bi-amped front speakers while maintaining a 5.2-channel system in the premier room. There is no doubt that the receiver will be able to fill with excellent and detailed sound. And besides, another weighty fact in favor of the superb sounding of the receiver will be the presence of AKM DAC with a resolution of 32 bit / 384 kHz.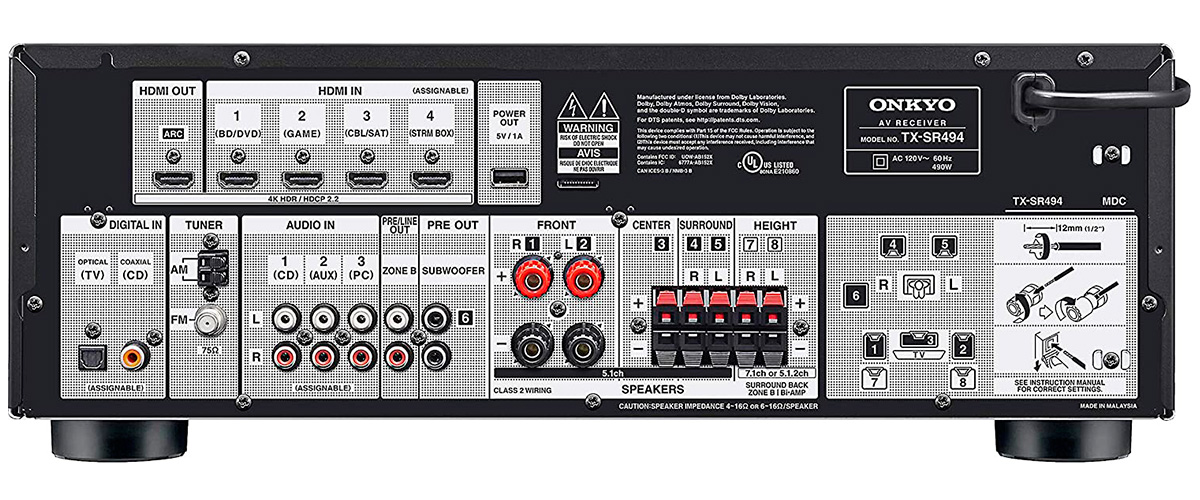 In terms of wireless technologies, the standard set for devices of this class is Bluetooth and Wi-Fi. It is only worth noting that Bluetooth audio loses a little in quality compared to analog or digital sources connected by wire.
If we talk about video, the Onkyo TX-SR494 is ready for HDCP 2.2, 4K/60p, and even HDR with all its inherent technologies. Onboard the receiver has four HDMI inputs and one output with ARC (Audio Return Channel).
Pros
Includes AccuReflex technology that eliminates phase shift due to path differences between forward and reflected sounds
When upscaled from 1080p to 4K, it remains as clear as possible and has no distortion
Cons
Since the receiver is equipped with an early version of AccuEQ, the automatic calibration does not always give a good result, and the sound may vary from calibration to calibration
The balance between voice (dialogues in films) and musical accompaniment is biased towards music, which sometimes makes it difficult to hear voices clearly
Denon AVR-X2700H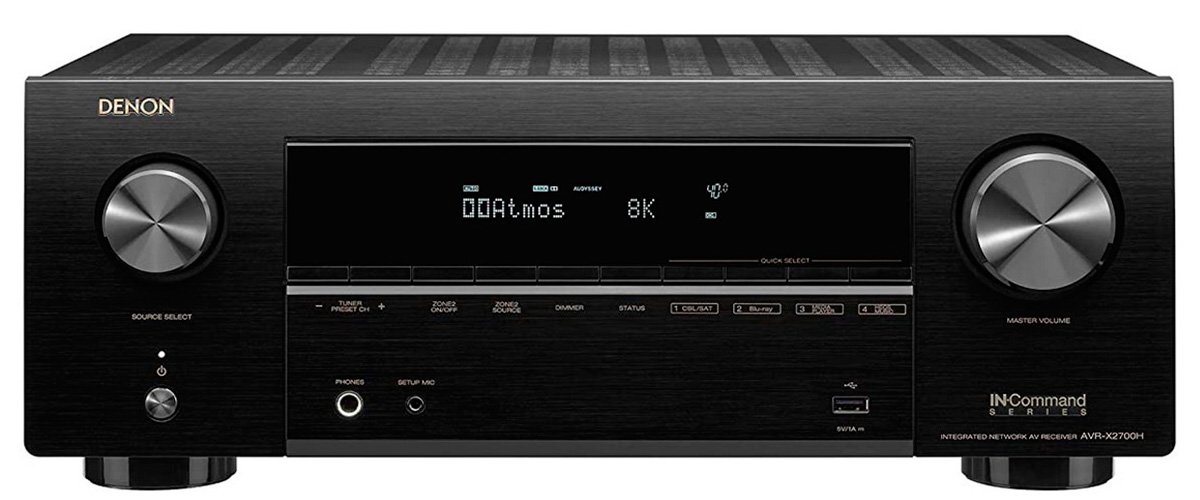 It is the only Denon X-Series equipped with seven amplification channels. The amplifiers of this best 7 channel receiver develop up to 150 watts per channel, and the maximum surround speaker configuration here will be 7.2 or 5.2.2 with two ceiling speakers to take advantage of Dolby Atmos and DTS: X formats.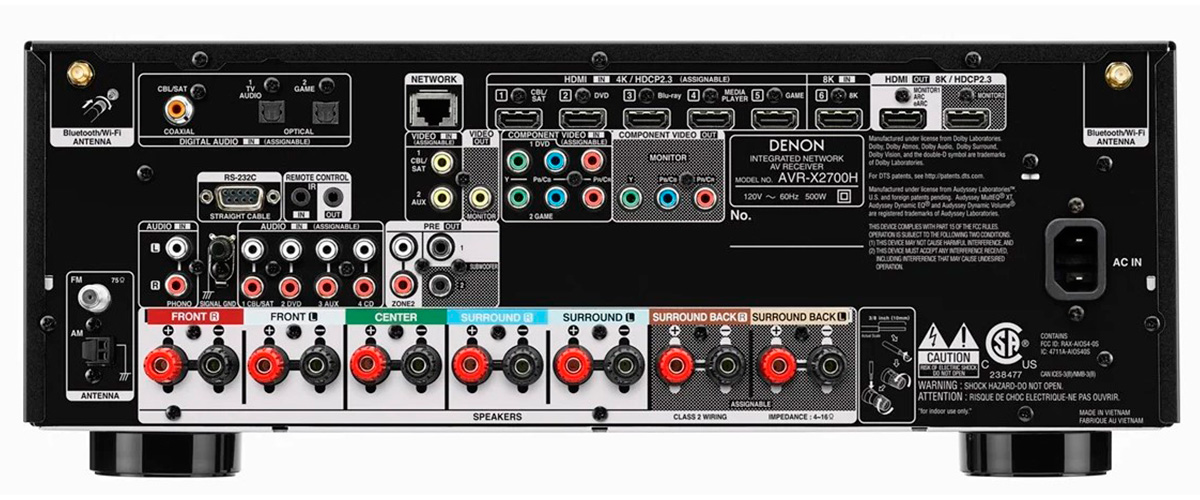 The video specs provide full support for 4K/120Hz. A separate HDMI input and two outputs are allocated for the 8K signal. At the same time, upscaling of image resolution up to 8K is available on all six HDMI inputs. Extended eARC is also supported over HDMI, with audio in object formats such as Dolby Atmos and DTS: X. Fans of dynamic games will benefit from a high refresh rate of 4K/120 Hz with a variable refresh rate.
Pros
Supports full voice control from devices equipped with Alexa, Google Assistant, and Siri
It is possible to create a multi-room system based on this receiver using HEOS or Denon Home speakers
Cons
There are no additional front panel controls, and the user is limited to only adjusting the volume, switching sources, and controlling the second listening area
The device does not have a multichannel analog output, so it will not work with external amplification
Yamaha RX-V685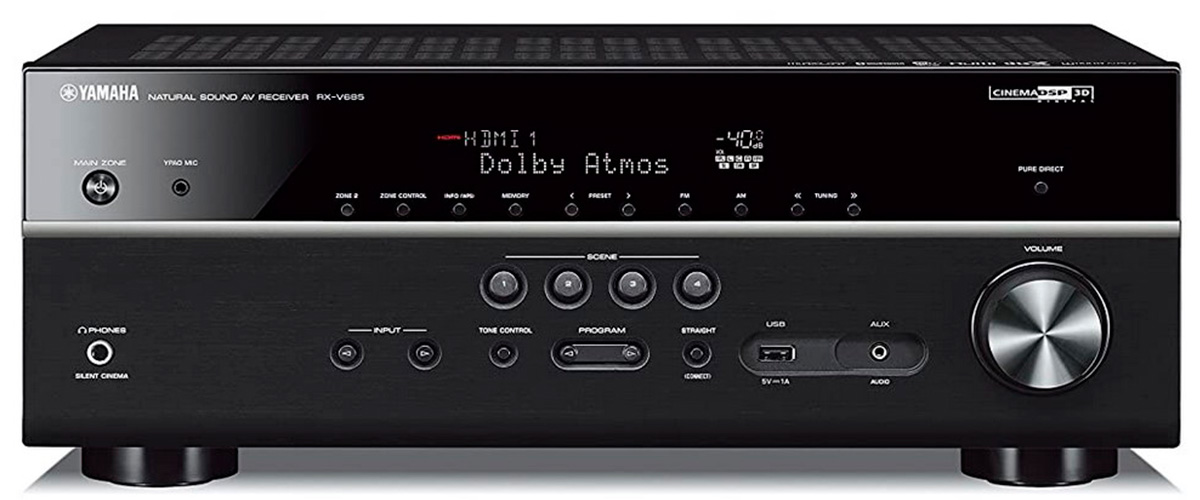 The Yamaha RX-V685 is a 7.2 model capable of delivering up to 90 watts in stereo. Although RX-V685 offers the benefits of discrete amplification using Total Purity Concept technology and a power supply designed to handle bass-reflex speakers and multiple woofers.
Besides, the engineers here have implemented a new integrated circuit with excellent acoustic quality that allows you to control the volume of the sound stage accurately, and large radiators provide suppression of vibration effects. The receiver is designed to achieve the highest possible sound quality, down to the smallest detail.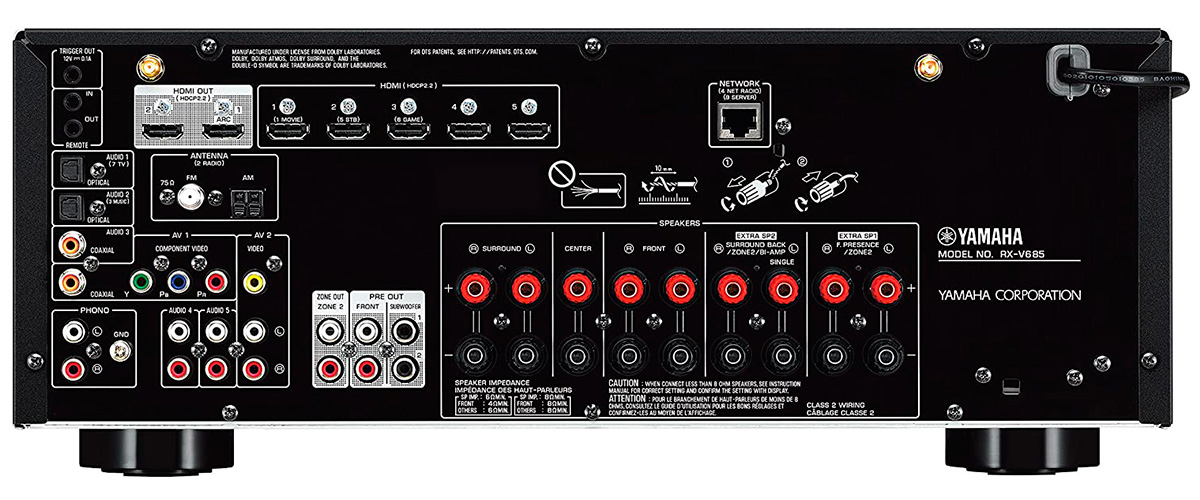 It is an excellent solution for networked audio streaming. It has built-in Wi-Fi, Airplay, DLNA, and Bluetooth technologies and supports music streaming services on the global web – Spotify, Deezer, and others, as well as hundreds of Internet radio stations.
Yamaha RX-V685 is the only model in the budget RX-V line equipped with two HDMI outputs, and they can work in parallel. This capability, usually only found in top-of-the-line receivers, will be useful when building complex AV systems with two display devices.
Pros
It is possible to use Yamaha MusicCast 20 and MusicCast 50 speakers for surround channels, as well as a Yamaha MusiCast SUB 100 subwoofer
The unit has the Yamaha Virtual CINEMA DSP technology, which allows you to create surround sound using only the front speakers
Cons
The sound of the receiver is fully revealed only at a volume level above 60%, which can cause some discomfort to the listener
What do 7.2 channels mean?
7.2 configuration is the ability of the 7.1 receiver to additionally support the sound reproduction of two rear speakers, creating a fully immersive sound stage that encompasses the audience. Many movies, Blu-ray disc music concerts, and Internet streaming services now have 7.2-channel soundtracks, so the 7-channel AV receiver can reproduce the enhanced sound with which a movie or show was recorded.
Can I use a 7.2 receiver with 5.1 speakers?
Any modern AV receiver offers at least 5.1 surround sound with six channels. Such a configuration can certainly provide outstanding sound quality, but to get an experience comparable to the 7.2 configurations, you can use software solutions like Dolby Atmos Height Virtualization, but it's better to add speakers.
Does Netflix support 7.1 surround sound?
Netflix now fully supports 7.1 surround sound. This is because of integrating Dolby Atmos' surround format technology. Every new movie or series released on the platform already has support for the 7.1 configurations. And if you use Netflix on the Xbox console, then the surround sound will be available in the native headset.