If you like the cinematic experience but want to enjoy it at home, turn your living room into a home theater. You just need the kit, including the best 5.1 receiver.
Indeed, buying a good TV or projector can bring a good image, but not a pleasant sound. This means that if you want high-quality audio to maximize the capabilities of your 4K TV, you should also choose an AV receiver and not ordinary, but the best 5.1 receiver. And to provide a full cinema experience, at least 5.1 or 5.2 configurations are needed to create a surround sound experience no worse than in a movie theater.
Our pick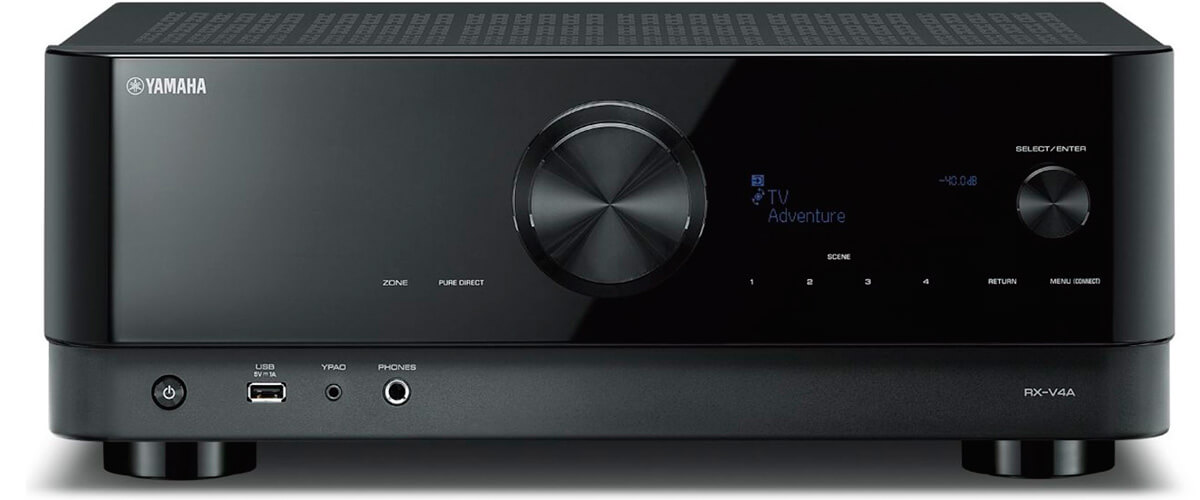 Yamaha RX-V4A
Best 5.1 Receiver
This 5.2-channel 80 Watt AV receiver creates a powerful and advanced home theater experience with the latest in video processing and Dolby TrueHD, DTS-HD Master Audio, app control, wireless streaming and more.
Best 5.1 AV Receiver Reviews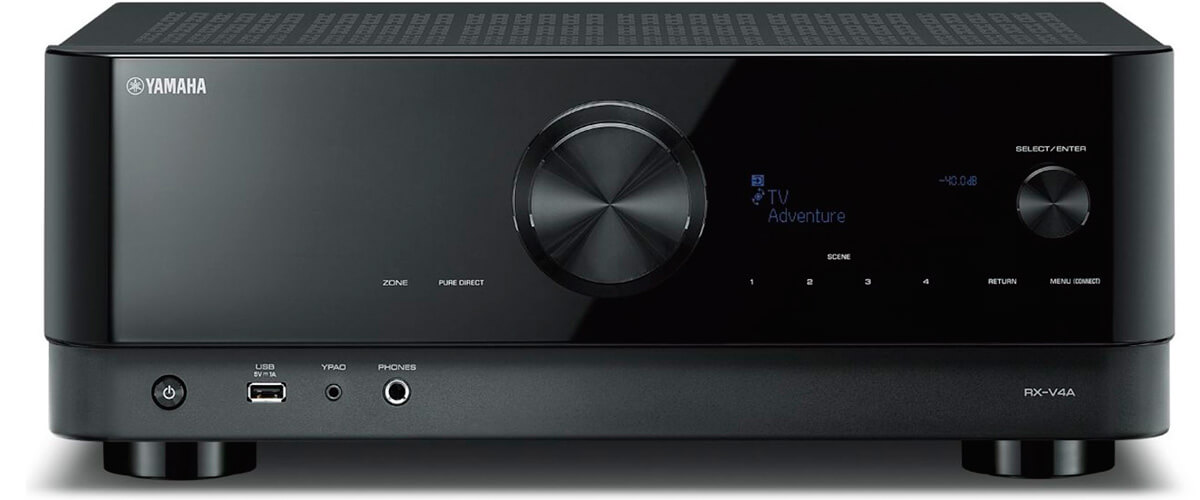 RX-V4A is a 5.2 channel model with 80 watts per channel to reproduce the sound field best suited for your entertainment.
And immediately, we draw your attention to the design. It is radically different from all previously released Yamaha receivers. You can see a large glossy plastic surface that covers three-quarters of the bezel and even extends beyond the edges with a rounded bump. And already, for such an unusual design, it can be called the best 5.1 av receiver overall. The volume knob has become outweighed and stands right in the middle. The keys are responsive, and the second smaller knob on the right is used to select the source and make adjustments. Between these two round buttons is a new display with a smaller character size than previous generations to display more information at the same time.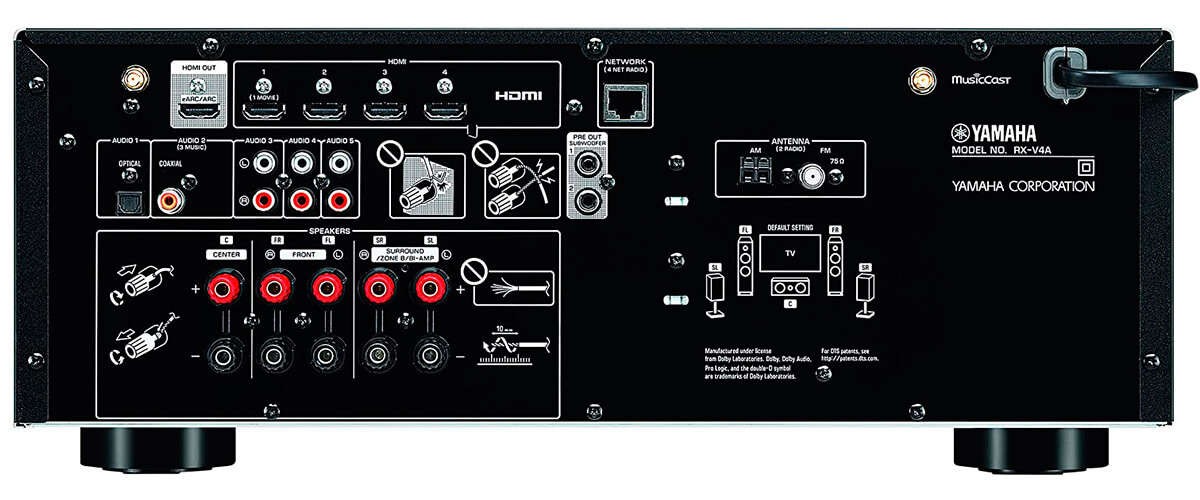 The RX-V4A offers two digital audio inputs, three analog, and four HDMI inputs. And all connectors are compatible with 8K and 4K/120Hz, and Dolby Vision, and HDR10 +. And for better dynamics compliance, it uses high sweep speed amplification technology from the brand's taller devices. Its converter uses a Burr-Brown PCM5101A chip. In addition to digital inputs, the RX-V4A is equipped with MusicCast network audio playback.
Bypassing all treatments, the result is rather dull, devoid of life in Pure Direct mode. This is acceptable for background music, slightly less for HIFI listening. When switched to Enhanced mode, the amplifier focuses on the bass, but this does not spoil the overall sound stage. With classic Dolby TrueHD decoding, we get a proper audio immersion with good front/rear consistency.
Pros
You can use the device immediately after connecting the source (s), speakers, and screen with no additional setup
The receiver creates a clean, immersive atmosphere, without frills and aggressive sound
Cons
There is no phono stage for connecting a turntable
It doesn't handle HIFI music well enough
Sony STR-DH590 – best budget
The Sony STR-DH590 is an entry-level model dedicated to delivering high-quality 5.1 multi-channel sound. This small receiver is only 5-inch high and is a rather discrete model in the Sony style, the STR-H590 is compact and fits easily into any cabinet.
This model is designed to power up to 5 compact speakers or column speakers. At peak power, this device can deliver up to 145W, making it suitable for medium to large living rooms. It is also worth noting that Sony has equipped its amplifier with the Sony DCAC auto-calibration system with the microphone to optimize playback. And thanks to such a calibration system, the surround rendering is amazing, and the receiver can sound in a fairly large room without trouble. Such indicators for such a small device, even when compared with classmates, allow us to call it the best budget 5.1 receiver.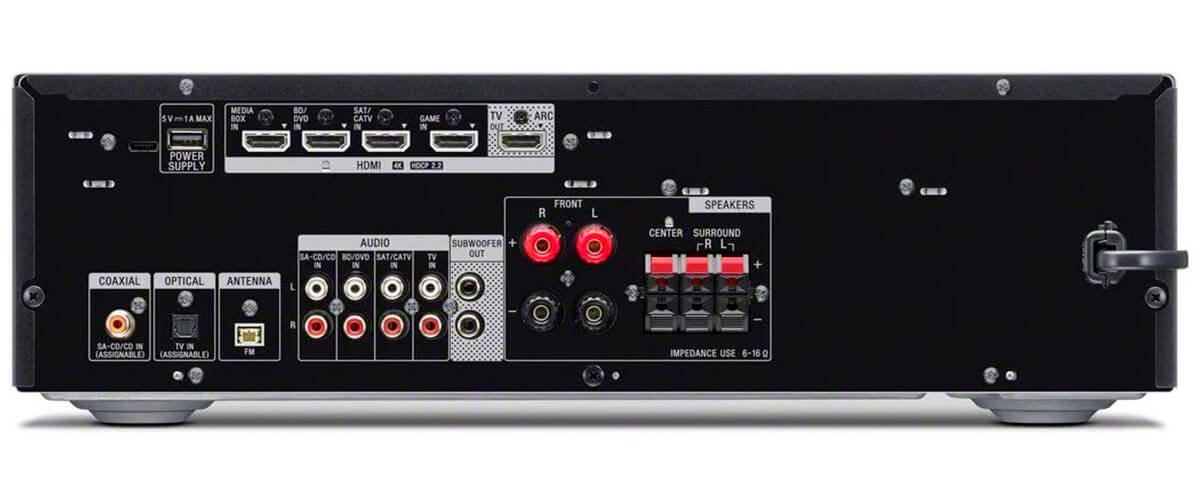 In terms of sound, the receiver is not bad and can be considered as the 5.1 receiver under $300. All current multi-channel audio formats are supported, as well as the DSD format is also decoded from the HDMI inputs of the receiver. Sony STR-DH590 has HDMI 2.0 inputs, compatible with HDCP 2.2, for transmitting all existing video streams to your TV. STR-DH590 supports 4K/60Hz per second with dynamic metadata HDR10, HLG, or Dolby Vision.
Pros
The most simple and convenient user interface
The Pure Direct mode does not need to be selected via the menu, for this, there is a separate button on the front panel
It has a full range of Dolby and DTS surround decoders
Cons
When you wake up the receiver from sleep mode, you must select the source each time
Push-in speaker terminals are not as convenient as screw terminals.
Full CEC compatibility with Sony devices only
Denon AVR-S650H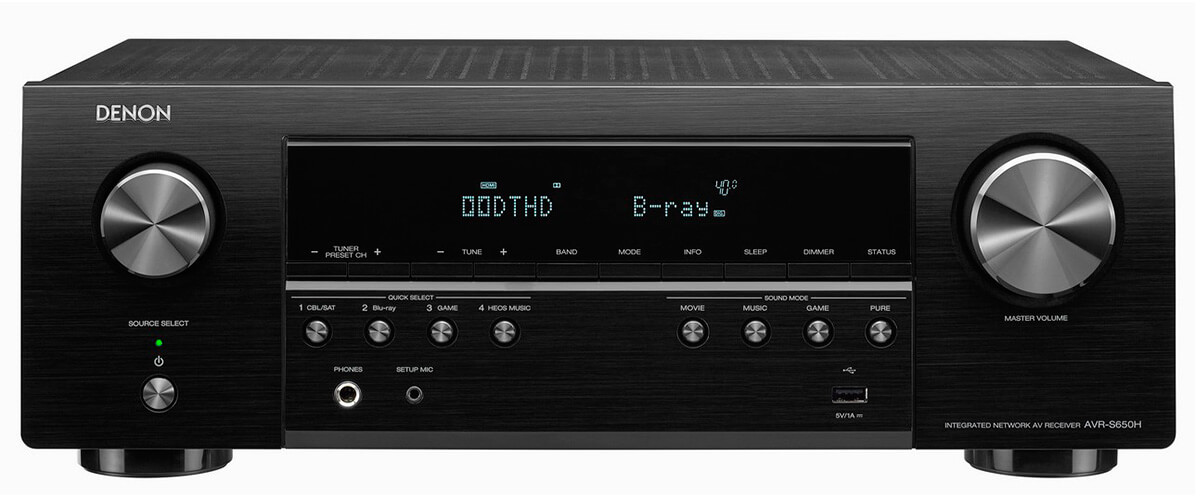 The Denon AVR-S650H is a 5.1 unit with five 75 watts power channels and dual subwoofer outputs. The receiver has a distinctive brand look with a curved top front bezel and a center multi-pixel screen surrounded by two large potentiometers for source and volume selection.
However, the device has a filled back panel. There are five HDMI inputs and one output. They support 4K and HDCP 2.3. The pure audio inputs are divided into three analog inputs, including one phono stage and two digital optical ones.
The AVR-S650H creates a beautiful ambiance with a flat sound stage, complete with accurate and realistic side effects as the true best 5.2 receiver. The virtual mode works pretty well with Dolby and DTS decoding.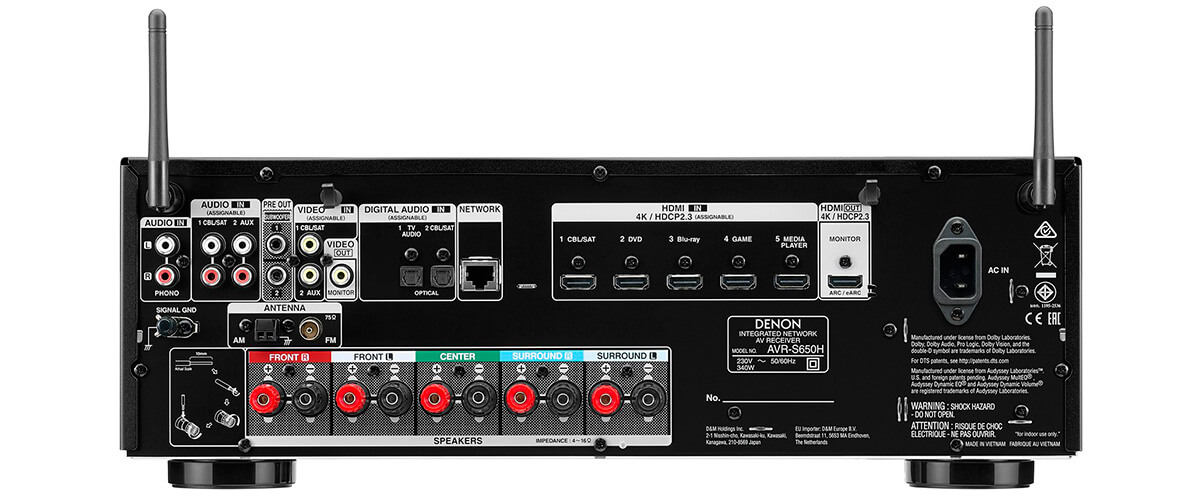 The main feature of the receiver is the powerful HEOS network decoder, which makes it versatile for all popular audio/video functions today. It gives you access to the main online music services like Deezer, Spotify, or Tidal, as well as Internet radio and your music stored on your network hard drive. Everything is controlled from the mobile application, including turning the amplifier on and off. HEOS is also used to create a multi-room audio network with other compatible devices throughout your home. Plus, AirPlay 2 lets you send music to your amplifier from any Apple device.
Pros
The device has two Wi-Fi antennas and the latest generation Bluetooth module
The receiver firmware allows you to completely disable all software sound enhancements and adjust the equalizer manually
Cons
When playing stereo sources, artifacts can appear, and a slightly too pronounced middle range
A complete user manual and a microphone for setup are often not included in the package
Yamaha RX-V385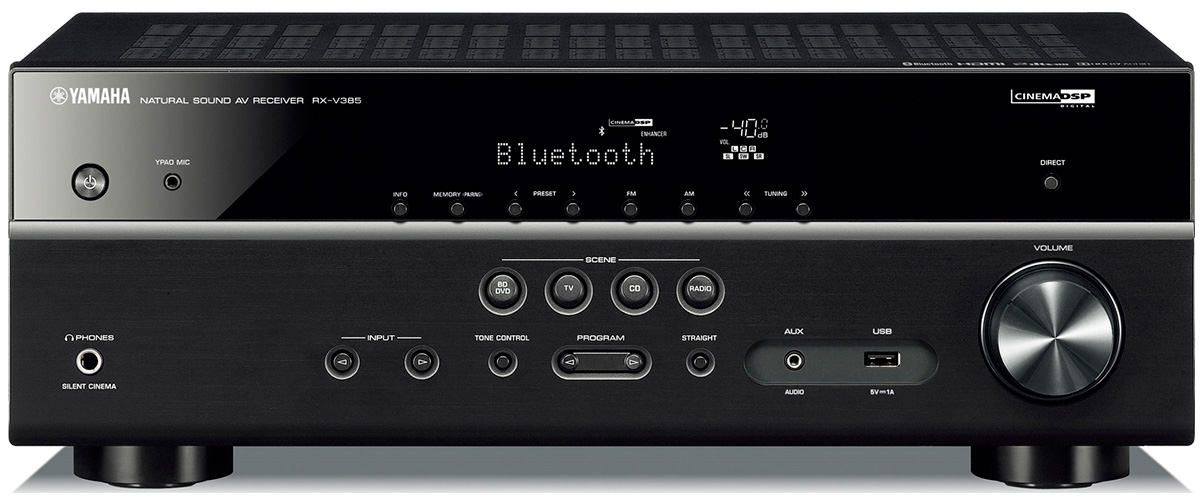 Yamaha RX-V385 is a 5.1 4k receiver capable of delivering up to 70 watts in stereo. It was designed as an entry-level model of the Yamaha range, and it benefits from discrete amplification with Total Purity Concept technology.
This 5-channel receiver has relied on Dolby processors. Dolby Audio technology offers an enhanced loudness mode, which achieves balanced sound at low volume, as well as an automatic volume mode, which intelligently reduces the dynamic deviations of Dolby audio tracks.
The receiver has Bluetooth to play music directly from mobile devices, and this sound can be optimized with Compressed Music Enhancer technology. Moreover, it is capable of decoding Dolby TrueHD, DTS-HD Master Audio audio formats, and 17 sound presets are available to choose the one that best matches the content being watched.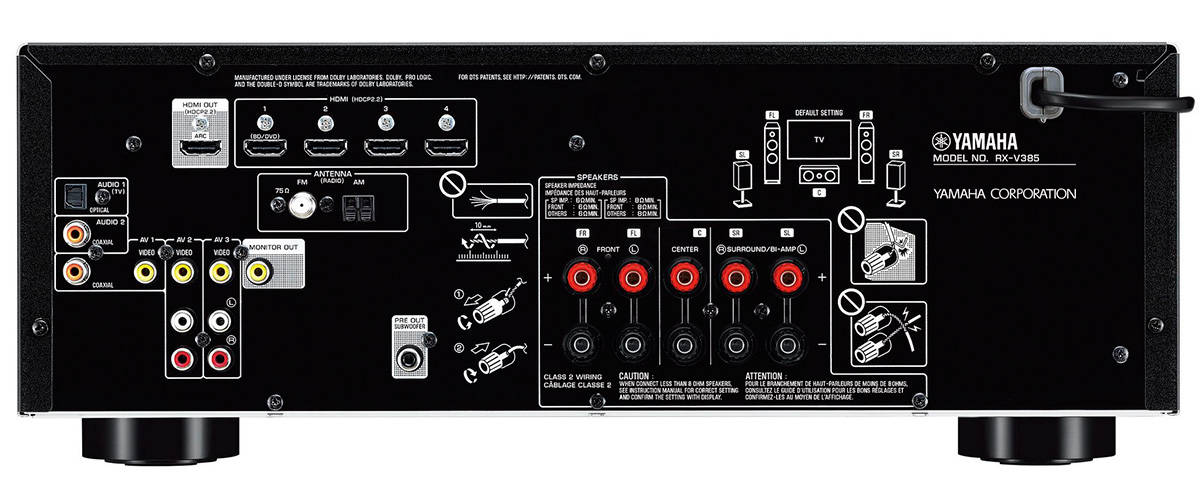 A system for analyzing the acoustics of the room and the system makes it possible to adjust the audio parameters for optimal reproduction, and the YPAO RSC technology allows, according to the manufacturer, to ensure an improvement of the sound thanks to a control of the reverberation generated by the room.
Yamaha RX-V385 is supplied with a Y.P.A.O calibration microphone to adjust the sound reproduction of the speakers to the characteristics of the listening room. This fully automated process affects the frequency response, as well as the phase and any acoustic delays.
Pros
The receiver has support for linear PCM, so 5.1 sound is perfectly reproduced when playing game consoles
Lots of settings to fine-tune your equipment, such as individual speaker volume levels
Cons
It lacks the Dolby Atmos format
The sync between TV and receiver is poor when HDMI ARC is connected
When you turn off the receiver, the source settings get lost, and when you turn it on again, only the image can be sent to the TV, but there is no sound or vice versa
Is stereo or 5.1 better?
It is worth immediately determining that 5.1 systems are better suited for home theater and 2.1 – for stereo HIFI. This difference lies in the fact that 5.1 sound creates Dolby Atmos with a stream of 384 kbps, while the standard bit-rate for stereo is 1411 kbps. In other words, in Dolby Digital, each channel is encoded using ten times fewer bits than when recorded on a regular CD. As a result of the loss of such a significant amount of information, Dolby Digital sound quality is inferior to HIFI stereo.
What is the difference between a 5.1 and 5.2 receiver?
The 5.1 acoustics format is most often used for home theaters. This system uses one large subwoofer and five satellites. They mainly use speakers, each of which is equipped with a midrange speaker and a tweeter. Also, the role of satellites can be played by small speakers of equal power. There are also combined options: the main sound stream, located opposite the viewer, a pair of front floor-standing speakers, and three bookshelf loudspeakers that act as rear satellites. Configuration 5.2 has an additional subwoofer.
How do I arrange my 5.1 home theater?
So, we have five columns. Two of them are called frontal. They are placed in front, mainly in front of the home theater screen. Rear speakers are installed at equal distances behind the user's back. The general picture is: speakers are placed in the corners of the room, which, when playback starts, create a full-fledged effect of presence. An important point in connecting a 5.1 speaker system is not to mix up the speakers. Each must stand in its place, otherwise, it will disturb the musical picture.