Marantz is a Japanese company that has developed high-end sound equipment since 1952. Nowadays, this brand has become popular due to its quality.
A lot of fans wish to get the best Marantz receiver to enjoy high-quality sounds.
This company develops different series of AV receivers. They are good at mid-range frequencies and deliver wonderful listening experiences to common users and audiophiles.
Our pick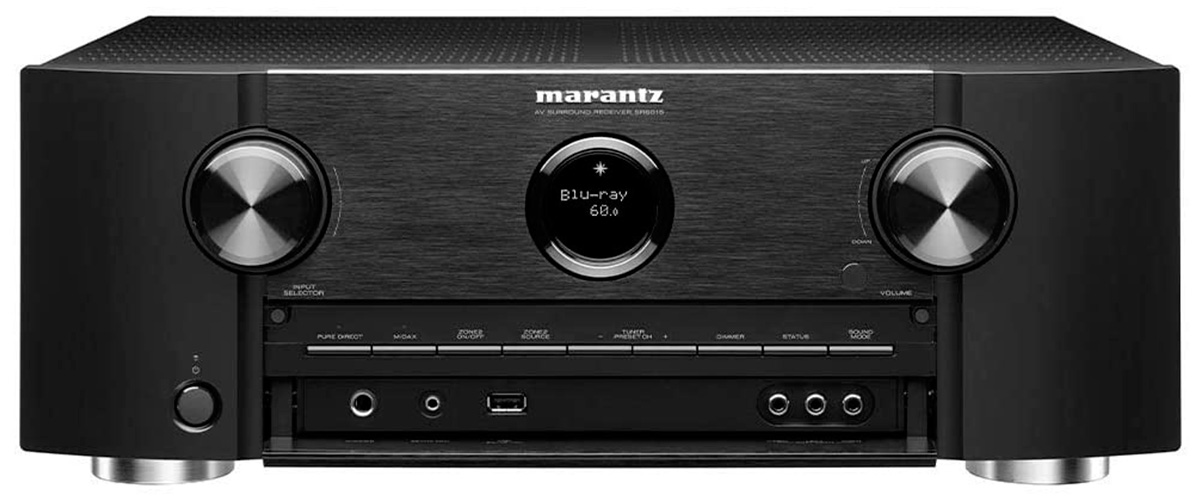 Marantz SR6015
Best Marantz Receiver
9.2 Channel 8K AV Receiver with HEOS® Built-in and Voice Control. Drive exquisitely detailed home cinema with the Marantz SR6015 9.2 channel 8K AV receiver. Enjoy the most musical sound in all your entertainment.
Best Marantz Receiver Reviews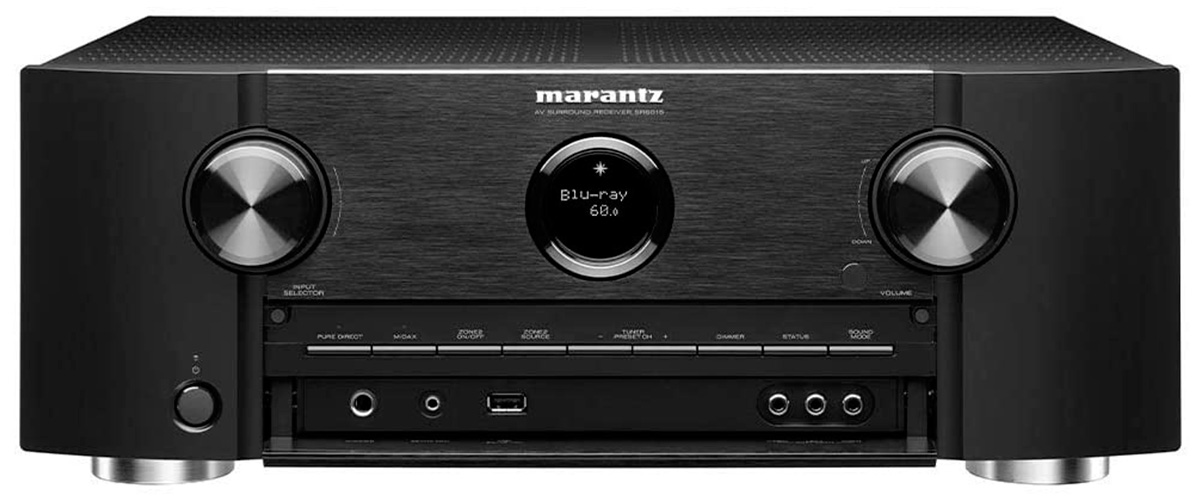 Among the best Marantz receivers, SR6015 is a wonderful option when you consider overall price and quality. It has a classy appearance and has decoders for Dolby Atmos, DTS: X, and IMAX. It has 11 channels that are powered with 185 watts per channel. If you use an additional stereo power amplifier, you can also use larger loudspeaker configurations.
The Marantz visual signature is there; there is no doubt. The facade is refined with its lateral curves and its two large potentiometers surrounding an always round display. Only the activation key is visible because everything else is hidden behind a tilting hatch.
Nine keys are used to display information on the television, to change sound mode, or to control the second audio zone. Just below are a headphone jack, the input for the Audyssey calibration measurement microphone, a USB port, and some somewhat anachronistic analog audio/video inputs.
There is a dedicated 8K terminal at the back. All HDMI-Connectors are with HDCP 2.3 fitted. A total of eight HDMI inputs (all withHDCP2.3) and three HDMI outputs ensure large reserves.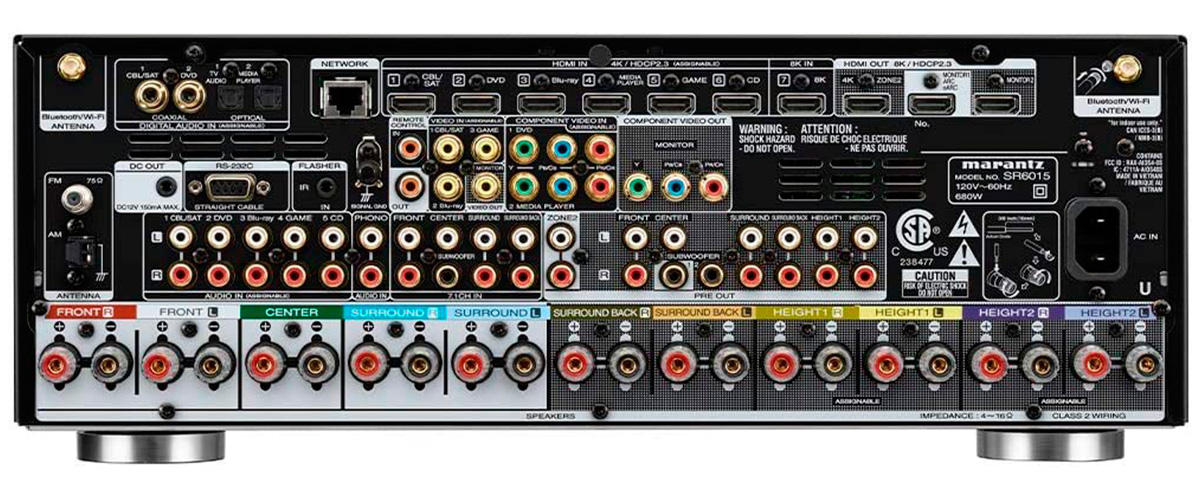 Furthermore, this is upscaling lower-resolution signals up to 8K possible, a real-world first in AV amplifiers /Receivers. Most modern features especially for gamers as well as eARC and multi HD-Compatibility (HDR10, Dolby Vision, HLG) are further features. The range of equipment is therefore extremely diverse. Regardless of whether you are a music fan, a film fan, or a passionate gamer: the SR6015 optimally serves every requirement.
The SR6015 impresses with its first-class setup wizard, which effectively supports the user during commissioning. Loudspeaker calibration is also included in the initial setup using Audyssey MultEQ XT integrated. You can measure in up to 8 positions. For streaming fans, the proven HEOS module is integrated.
Pros
The Dolby Atmos technology reflects the surround sound off the ceiling
The receiver transmits the 4K images from your AV source to your TV
Integrate the receiver with the HEOS multi-room system to stream music throughout your entire home
Cons
You cannot listen to digital radio via a DAB+ signal
Marantz SR7013 – best premium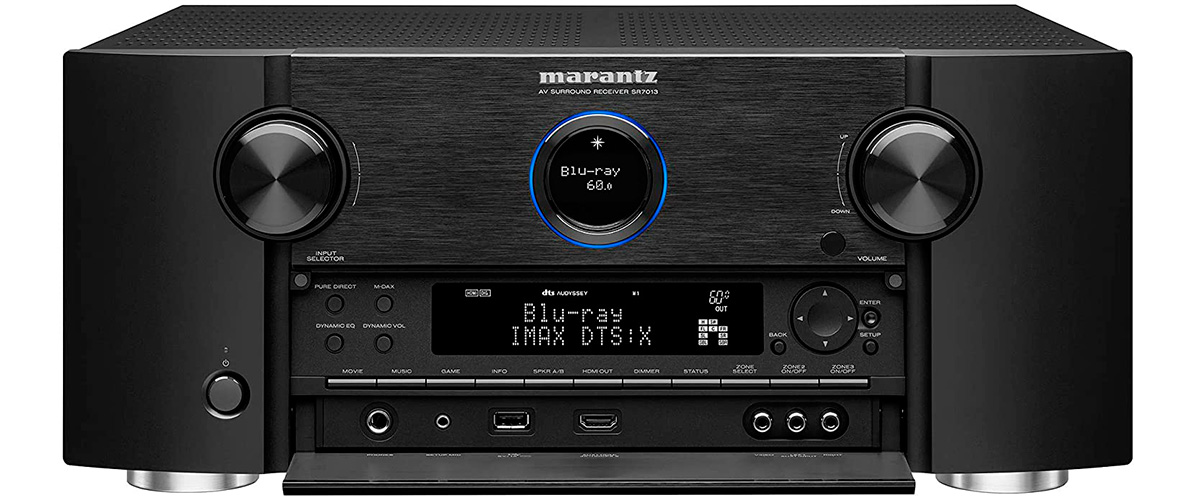 The best sounding Marantz receiver reward belongs to SR7013 due to its premium quality. The 9.2-channel AV receiver is equipped with Apple AirPlay 2, IMAX Enhanced certification (via update), and HEOS module. It is compatible with Apple Siri and Amazon Alexa. You can choose to purchase it in a silver-gold or black version. Black is perhaps better for the dedicated home theater because it is less conspicuous, while silver gold looks really good in the chic living room. Due to the 11.2 preamplifier section, the SR7013 can also supply an even larger speaker setup if you take an additional two-channel output stage.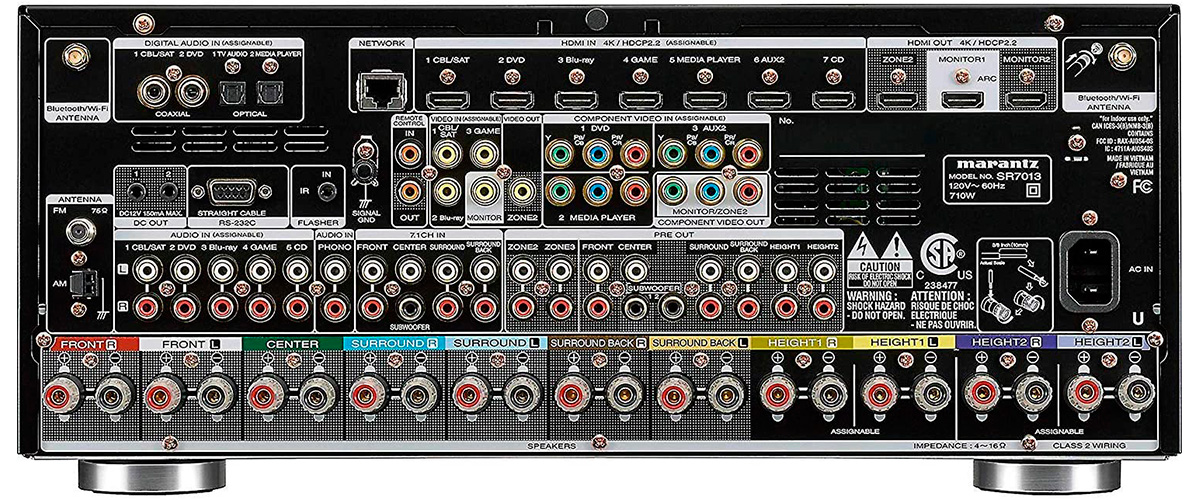 The connecting section holds eight, among other things HDMI-inputs and three HDMI outputs ready. HDR10, Dolby Vision, and HLGare supported. The SR7013 also has a powerful Video-Processing. Incoming video signals in 480 /576i (p), 720p and 1080i (p) are up to 4K extrapolated.
This model also has so-called audio upscale Dolby Surround, DTS Neural: X, and Auro-Maticinstalled. In this way, conventional material can be upscaled so that the height channels for 3D audio also run.
Pros
It has a great number of various in/outputs to connect multiple devices
The amplifier supports eARC technology to support 3D sound in full resolution via HDMI
It supports various voice assistants
Cons
Only the middle part of the front panel is made of aluminum the side parts are made of plastic
Marantz SR5014 – best budget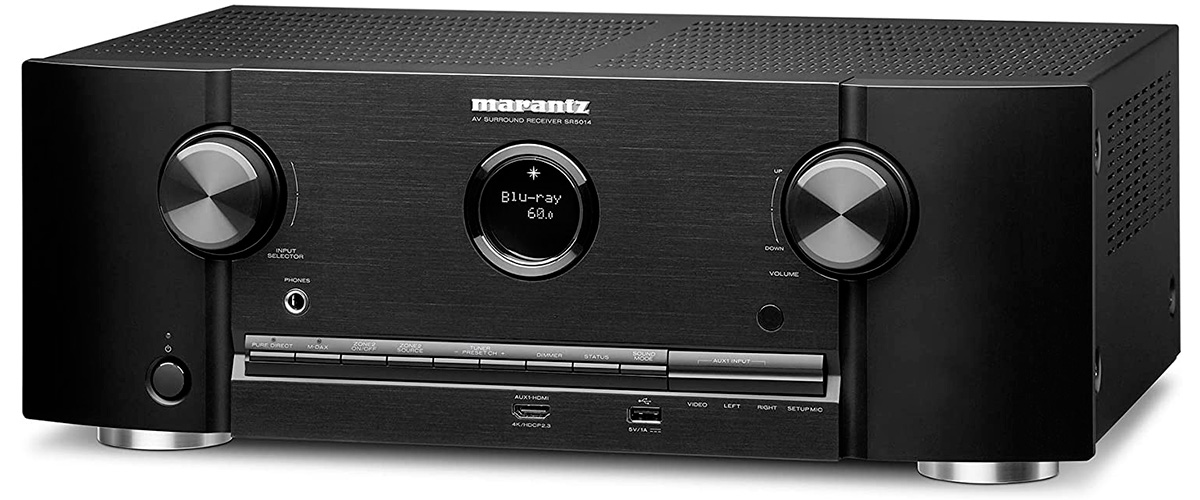 Marantz has announced the launch of the new members of its SR-Series, mid-range AV receivers designed for multifunctional use that tries to please both lovers of stereo audio and those of home cinema. If you want to receive nice sound quality without overpaying, you should consider the SR5014. This unit is a wonderful option among budget models.
It is equipped with 7.2 channels and 100 watts per channel. It is compatible with Atmos and DTS: X tracks as well as Dolby Atmos Height Virtualization technology that allows immersive audio effects to be simulated from the front of the room. Moreover, this model supports direct playback of music files in the most popular formats, has the integrated HEOS multi room system and voice control via Alexa, Google Assistant, or Siri.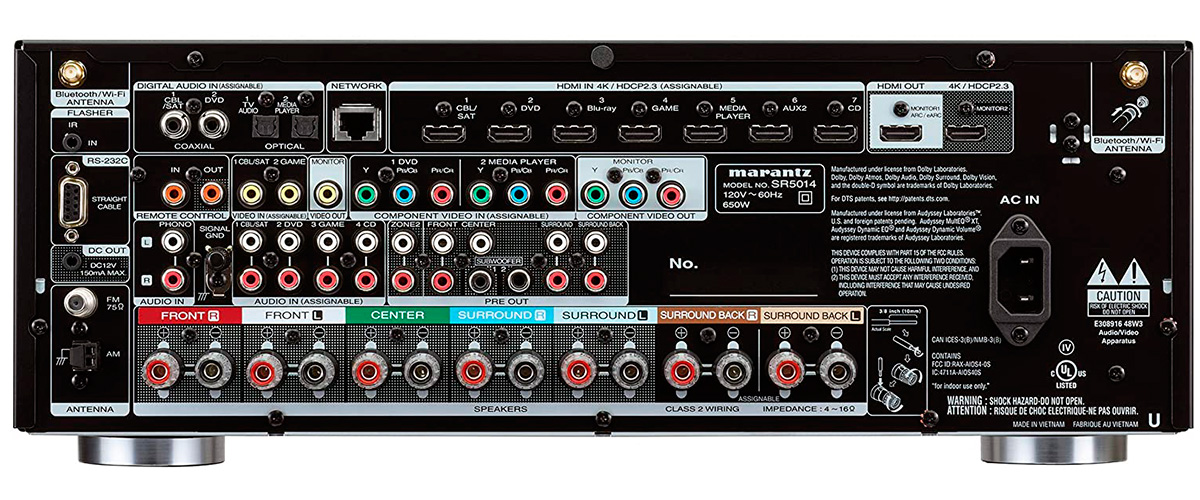 Its HDMI inputs and outputs are compatible with 4K videos with HDR at 60 Hz, Dolby Vision, HLG, BT.2020 color space, and the HDCP 2.3 copy protection system. Besides, this year the brand has also included eARC (Enhanced Audio Return Channel) technologies to bring multichannel audio from TV to the receiver and Auto Low Latency Mode (ALLM) for video game lovers.
Finally, via a subsequent update, Marantz provided for the activation of two-way Bluetooth. It will therefore be possible to connect any wireless headphones.
Pros
Built-in HEOS technology allows you to receive music from a wide variety of service
It has an A/B switch for the front speakers
Great quality and very customizable
Cons
The sound stage lacks precision and dynamic expression