A lot of people want to enhance the sound experience they receive. However, not every model fits rooms depending on their size. Therefore, it is essential to get the best slim AV receiver. Quite often, smaller models are not powerful enough or affordable. Therefore, you would like to find AV receivers that provide excellent sound quality and not too large to fit your house.
To solve such a dilemma, here you will find reviews of small stereo receivers and units with high-quality surround sound. Each of them is suitable for a certain purpose. Thus, it is also recommended to know what kind of receiver you need.
Our pick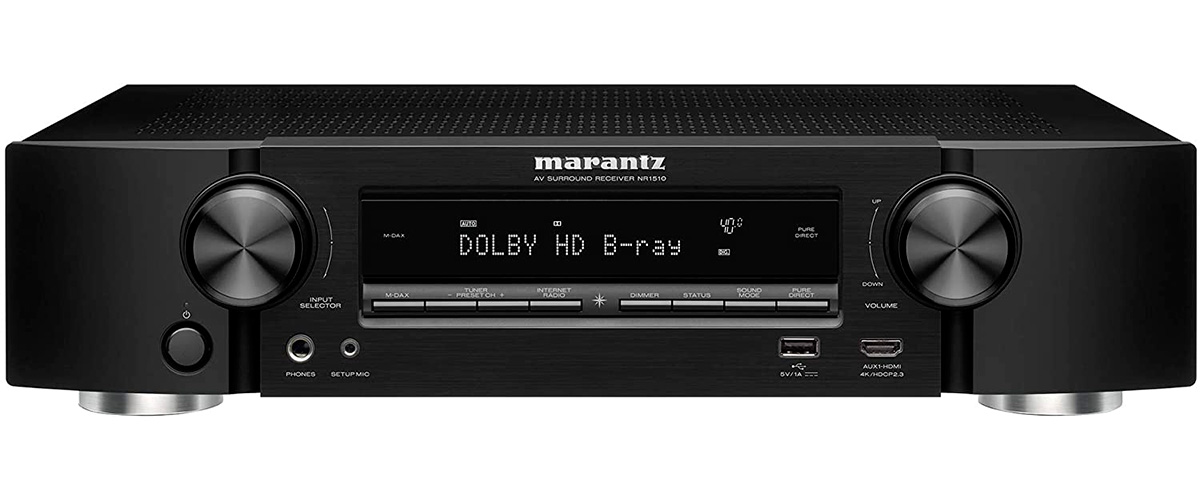 Marantz NR1510
Best Slim AV Receiver
Slim 5.2 Channel 4K Ultra HD AV Receiver with HEOS Built-in. The Marantz NR1510 5.2ch 4K Ultra HD AV receiver drives elevated, high-fidelity audio from a compact chassis.
Best Compact Surround Sound Receiver Reviews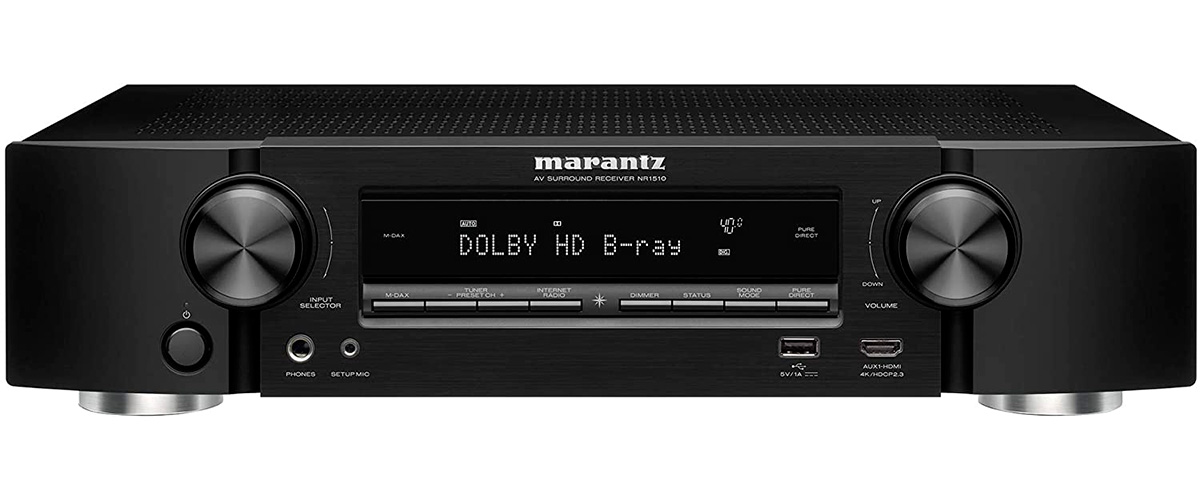 The NR1510 is the best small receiver due to its overall quality and price. It is able to support already substantial systems. It has the DTS Virtual: X and the Dolby Atmos Height Virtualization, which reproduce the surround and ceiling channels in a virtual way so as to be able to do without real speakers. All this is possible from a system consisting of at least three front speakers, with or without a subwoofer.
Speaking about the size, you will not have difficulties in placing this AV receiver. Its dimensions are 14.5×17.3×4.1 inches or 36.83×43.9×10.4 cm. You need a bit more space in height when you put up the antenna.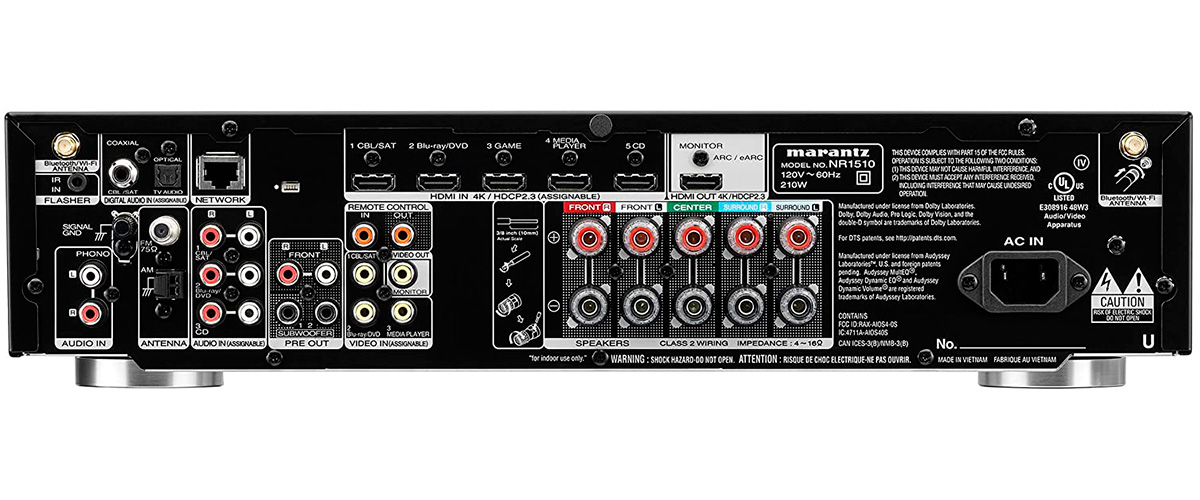 NR1510 is a small 5.1 channel receiver with 85-watt per channel. Manufacturers like Marantz are pushing HDMI 2.0b to its limits. On this integrated amplifier was added the HDCP2.3 and RCAS. The latter makes it possible to recover 3D multi-channel soundtracks such as Dolby Atmos via the HDMI ARC connection with the television. VOD and SVOD systems such as Netflix and Apple iTunes already offer movies in immersive audio. Other than that, the HDMI sockets are, of course, 4K, 60Hz, 4: 4: 4 with support for HDR10 and Dolby Vision. The NR1510 offers six HDMI inputs, the NR1710 upgrades to eight inputs.
Audyssey MultEQ has been providing reliable and precise automatic speaker calibration for generations. Constantly refined and optimized, this easy-to-use system is integrated into the ingenious setup assistant at Marantz. A sensitive microphone is always included.
Thanks to their network connectivity, Marantz NR1510 is compatible with the three main voice assistants, Alexa, Google Assistant, and Siri. The HEOS multi room is present for shared broadcasting with other rooms in the house. HEOS also gives access to online music services such as Spotify, Deezer, Tidal, etc. Finally, AirPlay 2 is an interesting alternative for users already equipped with devices compatible with Apple's multiroom.
Pros
Great sound with setup features that made the sound much better
For a medium-size home theater and 5.1 surround setup, this receiver has plenty of power
You will not spend a lot of time to install and start using the AV receiver
Cons
It needs a lot of tweaking to be optimized on a high-end system
Marantz NR1711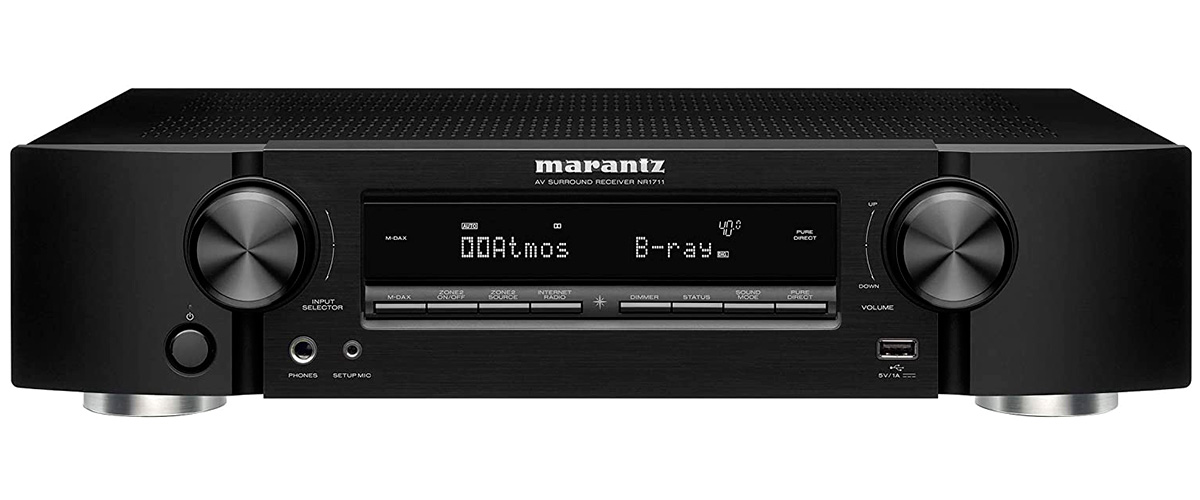 If you are looking for a small surround sound receiver AV receiver, then you should consider Marantz NR1711. It is the best small receiver, which is going to deliver you a wonderful experience of high-quality sound. The low impedance of the seven channels of 90 W each does not shy away from complex loads, which promises you a lot of musical emotion when listening to your favorite tracks and a lot of spectacle during your movie nights. Seasoned technicians who know how to sound an amplifier make sure that you as a music lover can enjoy warm and detailed sound reproduction.
With the Marantz NR-1711 amplifier, the manufacturer continues the tradition of the ultra-compact home cinema amplifier. It measures only 7.87×2.16×3.35 inches or 19.9×5.4×8.5cm, which allows it to be easily integrated into any piece of furniture or living room.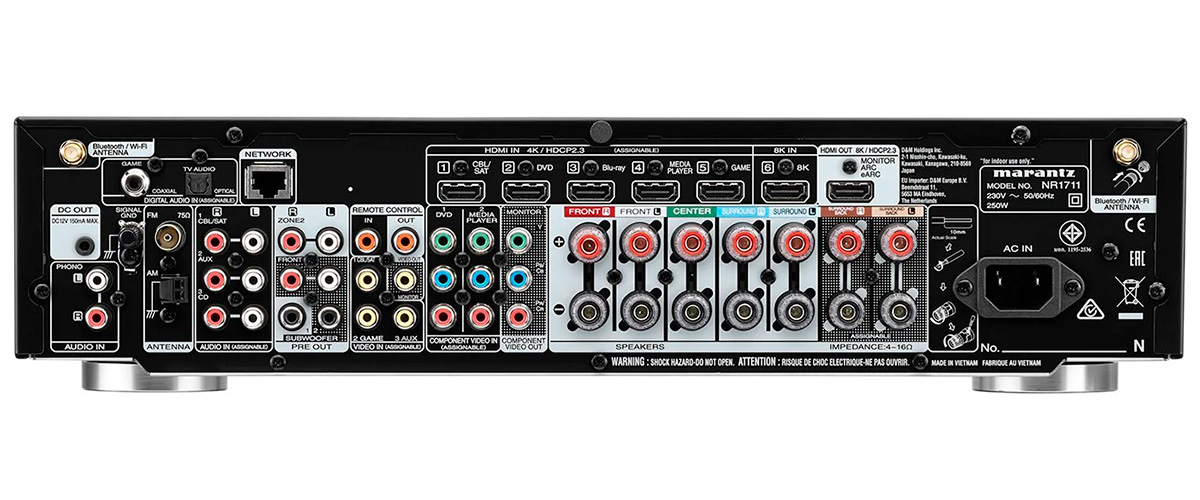 It is capable of developing high-quality sound with very low distortion. It is, therefore, ideal for efficiently powering many speakers and fully exploiting the latest audio formats, including DTS HD Master, DTS: X, Dolby TrueHD, Dolby Atmos, etc.
The HiFi receiver offers a lot of important interfaces for the home theater system and, thanks to 8K support, also a little future-proof. Thanks to these current HDMI connections, one input and one output, it is also possible, for example, to transmit 4K content at 120 Hertz. This allows very ambitious gaming. Thanks to HEOS, the sound can be distributed wirelessly throughout the network.
Almost everything is also available as playback devices. From the phono input for the turntable to USB and Bluetooth, there are no limits. The surround sound with seven loudspeakers with 90 watts maximum power each and two channels for the subwoofer is more than sufficient for private use. The available equipment is probably too modest for a particularly large and powerful system.
Pros
It has an A/B switch for the front speakers
You can easily connect this model via Bluetooth
Cons
It does not have a front HDMI input
Best Small Stereo Receiver Reviews
Yamaha R-S202 – best stereo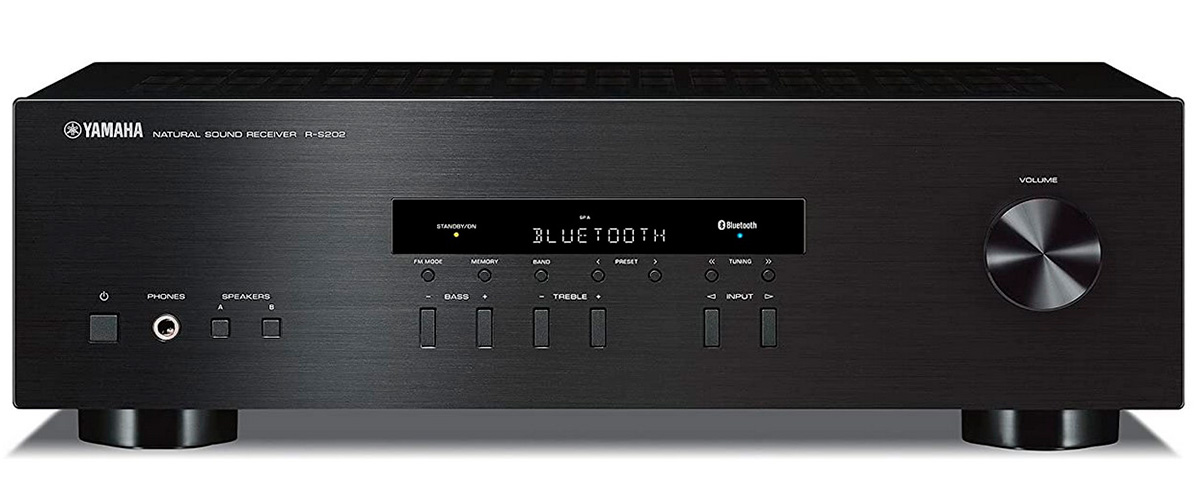 Yamaha is known for its expertise in Hi-Fi and has invested its experience in the sound quality of the R-S202D. The stereo receiver not only impresses with functions such as DAB / DAB + and Bluetooth. It also makes a good visual impression: The brushed front looks elegant and fits perfectly with other high-quality Hi-Fi devices. The linear design is a sign of clarity and exudes elegance.
Indeed, if your model presents a look that is both sleek and modern, like the Yamaha R-S202D, you will be proud to display it in your living room. R-S202D has dimensions of 12.63×17.13 x5.5 inches or 32×43.5×13.9 cm that makes it the best small stereo receiver.
However, the brand does not only do in the visual, the performances are also at the rendezvous. The manufacturer has been in the field for sixty years and demonstrates its expertise in the design of this specimen. It reproduces excellent sound quality when broadcast.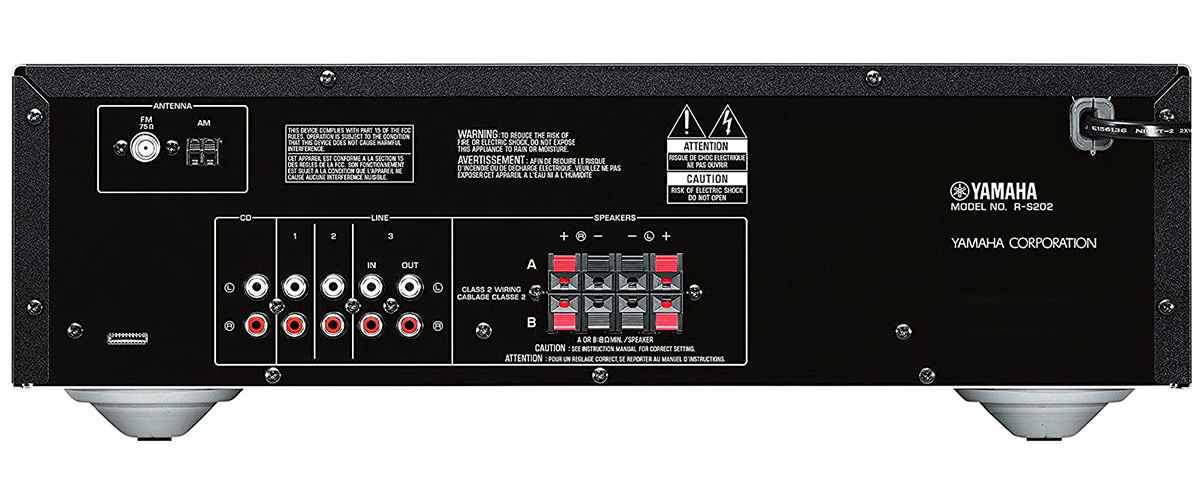 More and more people want to get into the acoustically high-class world of hi-fi devices. The Japanese manufacturer Yamaha is helping this target group by developing the R-S202D stereo receiver cost-conscious consumers do not have to do without sound quality with this device. Thanks to the short signal paths, interference is kept to a minimum. The power of 2 channels with 100 watts per each (8 ohms) is sufficient to shake the hi-fi room vigorously and to inspire hi-fi newbies and veterans alike.
This device is able to receive and record about forty FM / AM stations. All you have to do is navigate the airwaves. Following the advancement of modern techniques, Yamaha has provided it with Bluetooth functionality. In addition to the remote control, this option will allow you to manage your music playlist via your smartphone or tablet.
Pros
The receiver has electronic controls for tone and channel balance
It is equipped with a memory for storing fixed settings of radio stations
Cons
The monitor is quite small, which makes it difficult to read information over a certain distance
Marantz NR1200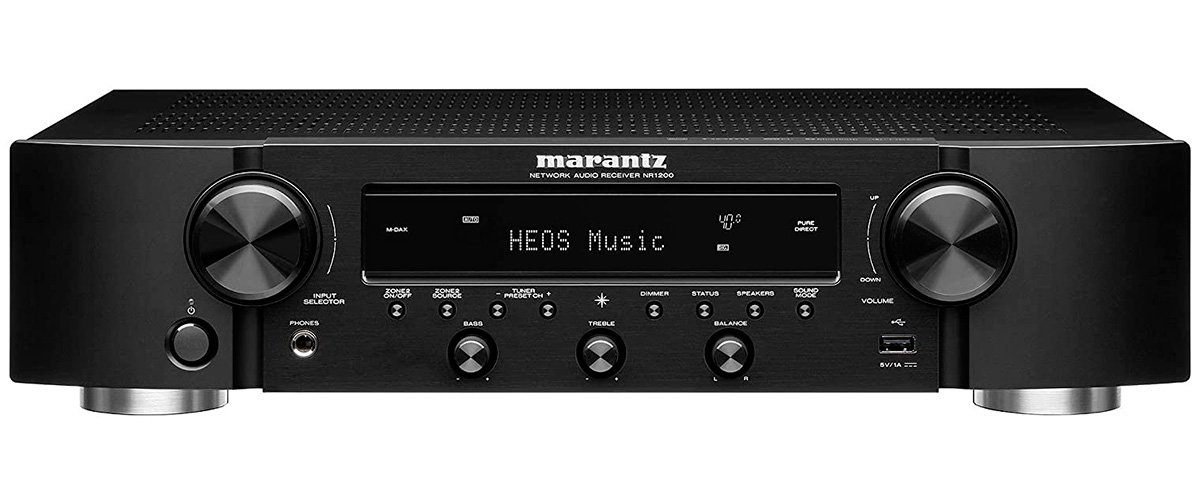 Another wonderful AV receiver from Marantz is NR1200. This amplifier has two channels with a power of 75 watts in each, to deliver you a very good sound quality. Feel all the Marantz expertise in this amplifier that will give you detailed sound with high fidelity.
This compact stereo receiver has dimensions of 14.5×17.38 x4.25 inches or 36.83×44.1×10.7 cm. With its compact design, you can install it wherever you want and take full advantage of its performance. The components are less upscale, as is the fare placement. However, the connection is more important since it consists of a double speaker terminal, preamplified outputs for the main zone, zone 2, and two subwoofers. For radio enthusiasts, you can take advantage of the FM / DAB + tuner to listen to your favorite shows.
Moreover, it has five HDMI inputs and one HDMI output, compatible with HDCP2.3, HDR10, HLG, and Dolby Vision. HDMI-ARC for one-cable connection between Marantz components and TV set.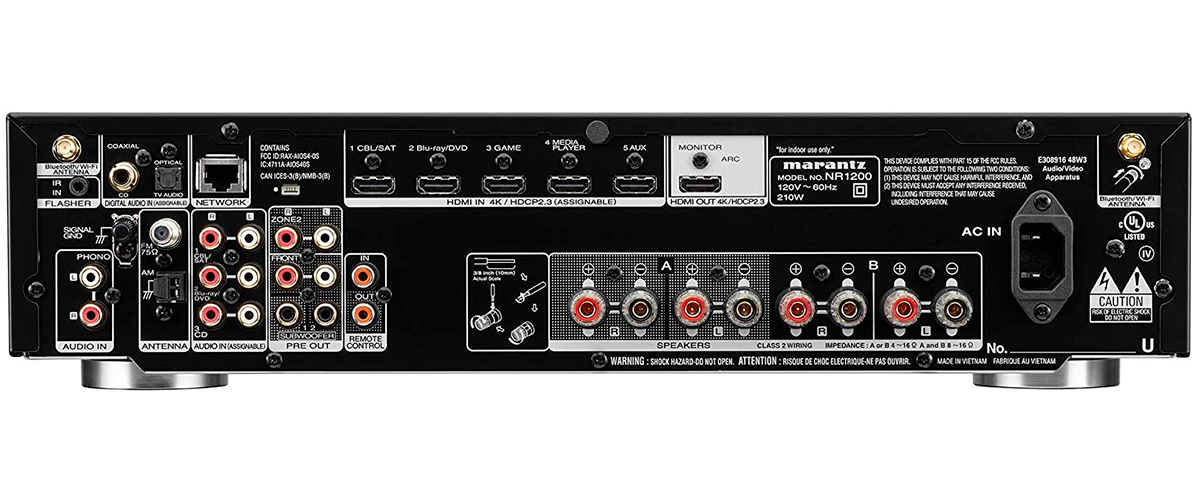 It has four analog inputs, including an MM phono, three digital inputs, and a USB port. It also sports a mono output for a subwoofer. Wi-Fi / Bluetooth wireless connectivity comes with an Ethernet jack. The high-end speaker sockets are Marantz SPKT-1+. The HEOS section can be conveniently controlled via the app, and an assistant helps with the initial setup of the device. The remote control is clear and easy to use.
Pros
It has a large LED display to adjust settings from a distance
Versatility in working with video and audio
The simplicity of settings and ease of use
Cons
MQA (Master Quality Audio) is not supported