The AV receiver is your home theater motor. Around it, all sources, speakers, and what you see on the screen are combined into a single whole. He brings the magic of the endless world of cinema to the house, enveloping the listener in a soundscape in which there is humor, drama, and action of all kinds. And naturally, users want to choose the best receiver for their budget. That is why we have made a comparison of outstanding models in the middle segment so that you can choose the best av receiver under $1000
Our pick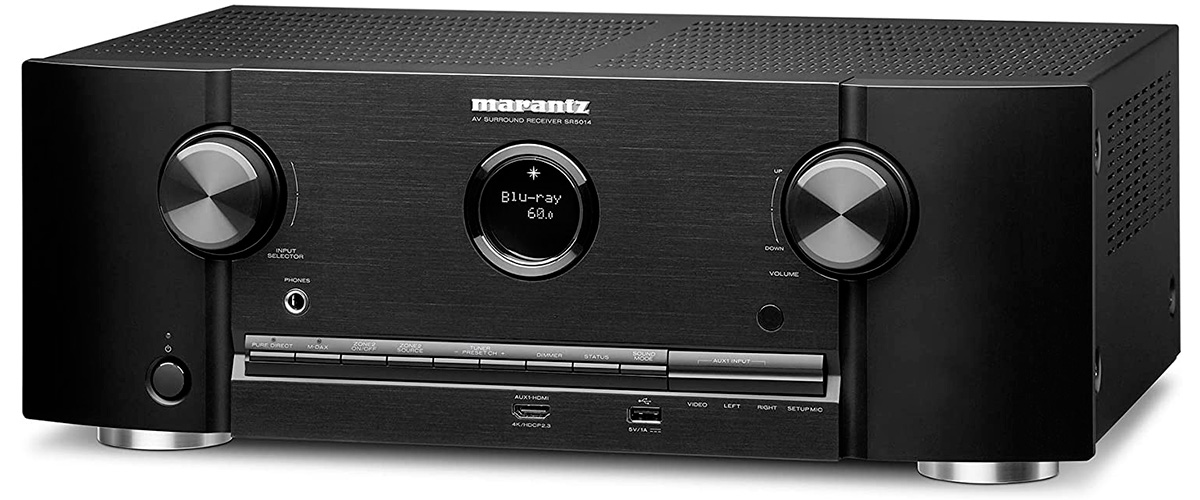 Marantz SR5014
Best AV receiver under 1000
Extensively tuned by world-renowned acousticians at the most state of the art facilities, the Marantz SR5014 produces the most musical sound, no matter the source, from vinyl to digital streaming.
Best Home Theater Receiver Under $1000 Reviews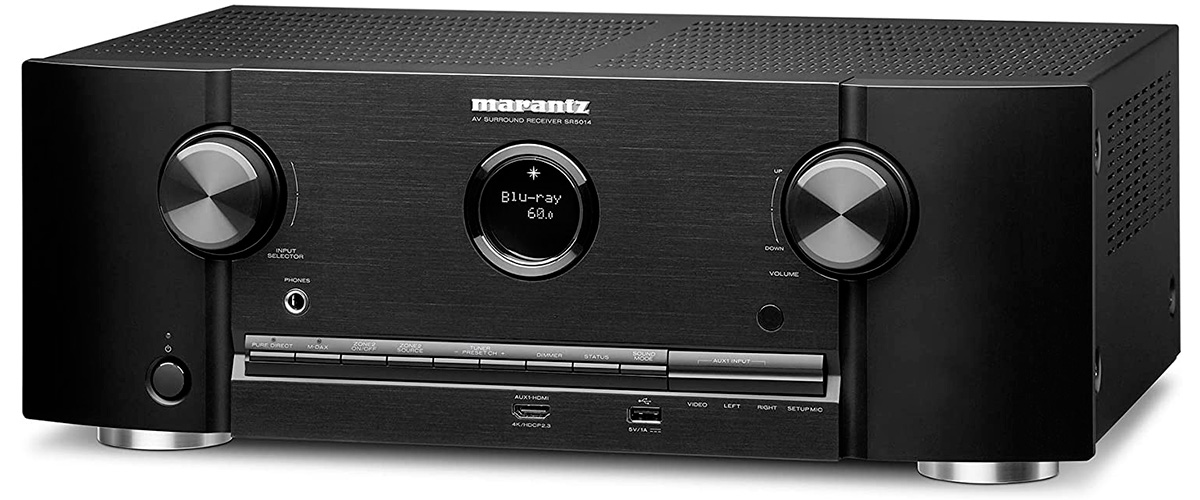 The first thing to say about the Marantz SR5014 as about as the true best receiver under $1000, is an audio system based on the classic Marantz Current Feedback topology, made with exclusive enhancements from the Japanese firm, such as the famous HDAM modules. The receiver has 7 built-in power amplifiers of 180W each. The power amplifiers are made up entirely of discrete components, giving Marantz a clearer, more accurate, and powerful sound.
When we talk about a multichannel sound, the SR5014 supports a wide spectrum of formats, including Dolby Atmos, DTS: X, and DTS Virtual: X, to which is added the practical Dolby Atmos Height Virtualization system for that the user can enjoy a three-dimensional sound experience with no tall speakers or dedicated effects.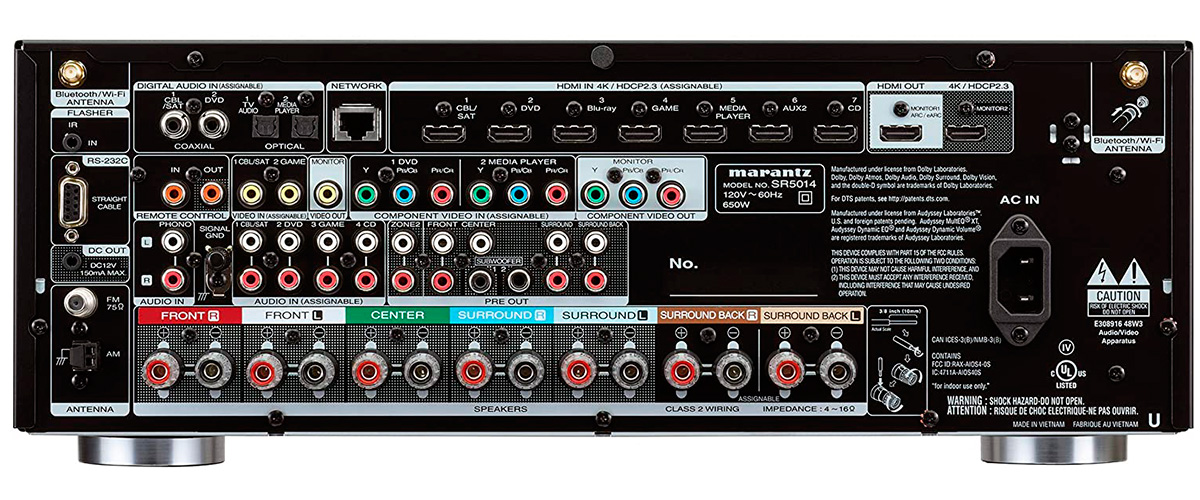 In connectivity, we should note the presence of eight HDMI inputs and 2 outputs with HDCP 2.3 copy protection compatible with the latest in video and image technology and therefore capable of routing 4K Ultra HD signals at 60 Hz.
Besides external players such as game consoles, Blu-ray players, Apple TV, etc., you can also use many of the popular music services included with the HEOS app such as Spotify, Tidal, Amazon Music, Deezer. Moreover, the receiver also supports HDMI eARC, which makes it easy to connect devices.
Pros
The receiver has a unique HDMI Multiple Input Assign function that allows the user to listen to multiple audio sources while maintaining the same video content.
The presence of a Bluetooth Out function will allow the user to connect their Bluetooth headphones.
Cons
The firmware of the receiver cannot be called stable because of the interface friezes and frequent losses of user settings.
Denon AVR-X3600H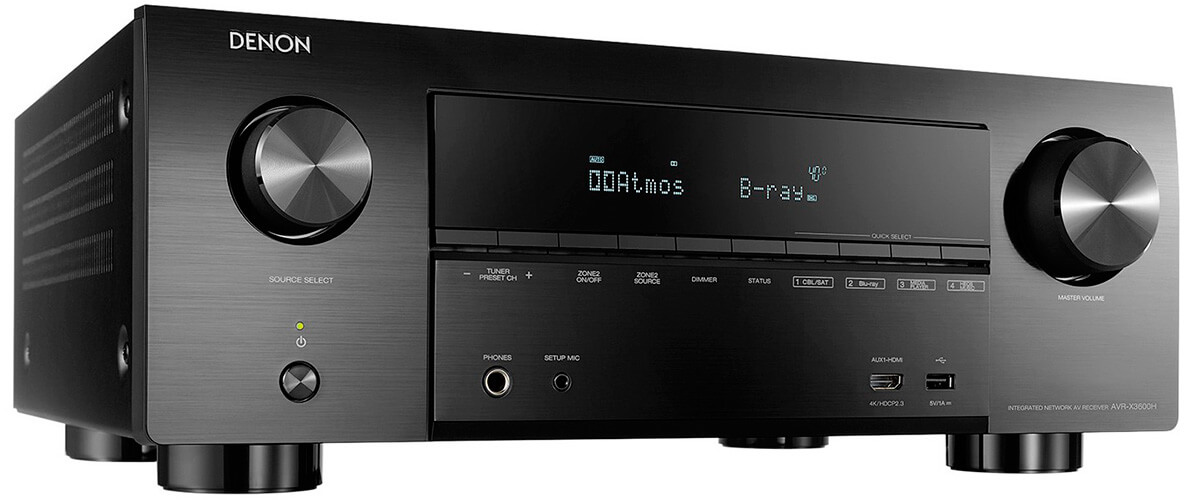 The Denon AVR-X3600H features 11 amplified channels (105W) with stable operation into 4 ohms. With this channel addition, it allows us to customize the speakers in Dolby Atmos 5.2.4 or 7.2.2 settings. However, it is also interesting to be able to assign 2 amplifiers to create stereo sound, for example, in another room. This way you can fill 2 different rooms with music. Few audio receivers under $1000 can boast of such a package at this price.
Inspecting the specs of the device, you can see that the AVR-X3600H is an entertainment center, as it already has Alexa and Apple AirPlay. Alternatively, the receiver can be part of your Denon HEOS network. The HEOS module allows integration into a multi-room configuration. The user also will be able to wirelessly stream music to multiple rooms and devices and control everything from the HEOS app.
It also provides compatibility with HDR10, Dolby Vision, and HLG formats. This receiver now manages HDCP 2.3 and very low latency ALLM for Xbox One users. The function of up-scaling 4K up to 60 Hz is also implemented, as well as a manually adjustable section for video post-processing.
Setting up your Denon receiver is quick and easy, thanks to the Audyssey MultEQ XT calibration system. Once tuned, the Denon AVR-X3600H delivers a dynamic, accurate, and clear sound with a 3D realistic effect. The dialogues in the films and the vocals of the songs were clear and understandable. The receiver did an excellent job of creating a spacious sound. It should also be noted that the receiver was pleased with its detailed low frequencies.
Pros
Dolby Atmos Height virtualization algorithm is available.
The receiver is based on the Cirrus-Logic SHARC DSP processor for processing and decoding audio and video streams.
Cons
Wi-Fi connection is very unstable.
Sony STRZA1100ES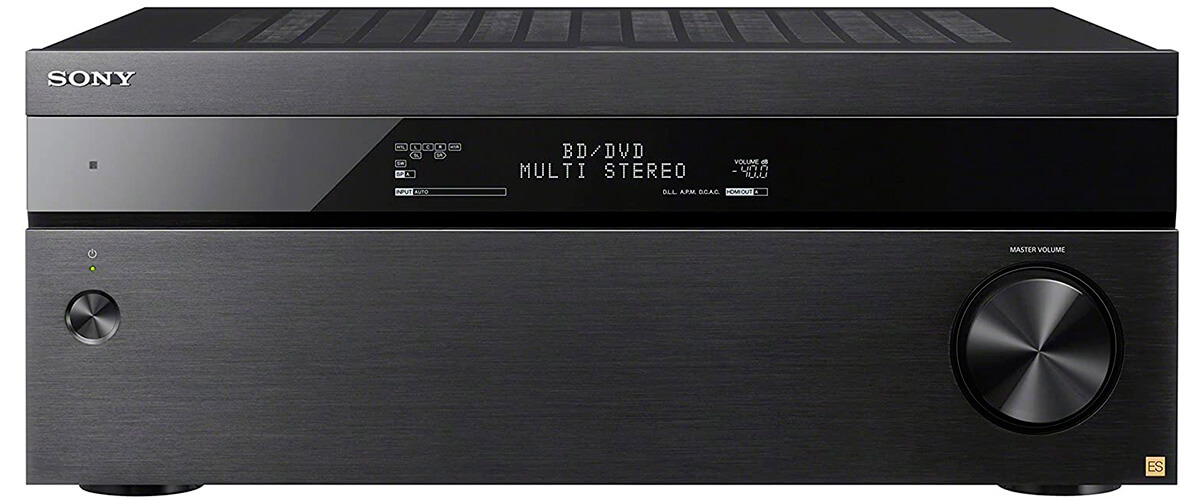 The Sony STRZA1100ES is a complete home media center with tremendous potential to enjoy 5.1 surround sound with Dolby Atmos.
The 1100ES provides users with many features that reflect Sony's many years of audio experience. For example, a large power transformer and heat sink are not like anything you'd expect in a device in this price range.
The output section is also very well thought out. You have so many ways to use the 7 built-in 100W channels. You will also find not one but two subwoofer outputs. In terms of additional zones, the 1100ES has pre-outs for Zone 2 and Zone 3. You will even find a second HDMI output that will allow you to stream video to Zone 2.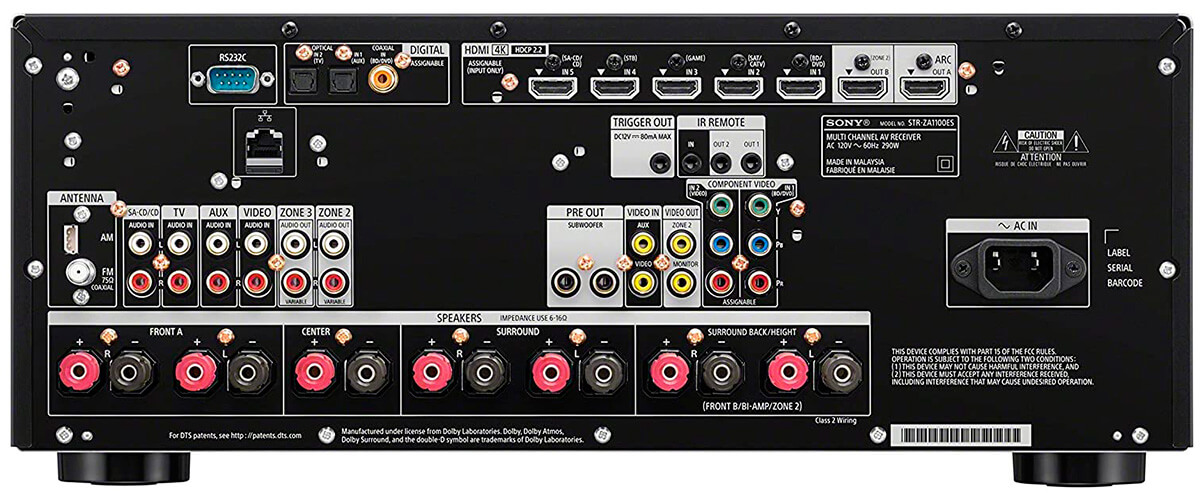 The number of connectors is also worth mentioning as it is the home theater receiver under 1000. This is quite impressive at this price point. The receiver has 5 HDMI connectors. There are also 4 analog inputs, a connector for an FM tuner antenna.
As we all know, Sony is now leading the way in 4K adoption. In the case of this receiver, any video signal other than 4K can be up-converted to create 4K. Full 4K HDR over HDMI 2.2 is also supported.
The Sony STRZA1100ES has a pretty handy auto-tuning feature. With the help of graphic prompts and the supplied stereo microphone, you can quickly adjust the speaker's distance and speaker levels. While these auto-tuning features are great, they're not perfect.
Pros
The user can access the receiver over the network by entering its IP.
The receiver has an infrared receiver on the front panel to receive the signal from the remote controls and then send it to the rear panel via 2 infrared ports.
Cons
Bad network possibilities because of the absence of Wi-Fi and Bluetooth.
Yamaha RX-V6A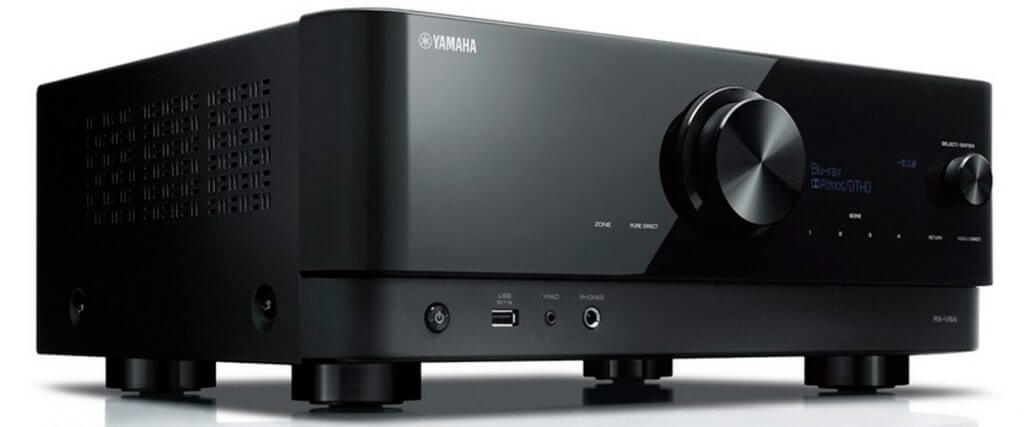 Yamaha RX‑V6A allows an extremely versatile piece of equipment that should delight home cinema enthusiasts who are always looking for alternative solutions for an immersive sound environment.
Indeed, although it has 7 power stages (100W), its versatility is great: RX‑V6A offers up to 9 possible configurations ranging from simple stereo to 5.1.2 through a 7.1.
Finally, as is tradition with Yamaha, the RX‑V6A has network functions and is part of the brand's MusicCast ecosystem. In addition to the traditional streaming playback offered by its DLNA and AirPlay 2 compatibility, it, therefore, finds its place in a multi-room installation, both as a source and as a streaming device. Note that two solutions are proposed for its connection to the network.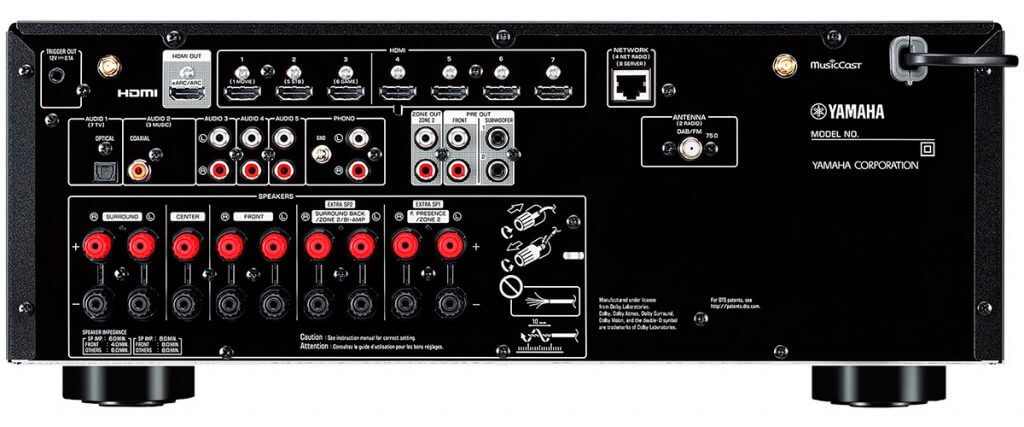 First, it's the traditional RJ45 Ethernet socket for a wired connection. The second is a built-in Wi-Fi transmitter that offers a wireless link. Many streaming audio content services are also accessible. This is, for example, the case with Spotify. Finally, to finish with cloud media, the RX‑V6A has a Bluetooth transmitter.
On the video side, the RX‑V6A has internal ultra high definition up-scaling with three HDMI 2.1 inputs / one HDMI 2.1 output. The 8K/60 Hz also supports. A specificity that will not leave fans of the latest generation video games indifferent.
Pros
You can use the 8K pass-through.
Has full compatibility with Bluetooth headphones.
Cons
Low-resolution UI on TV.
No remote control.
Denon AVR-X2700H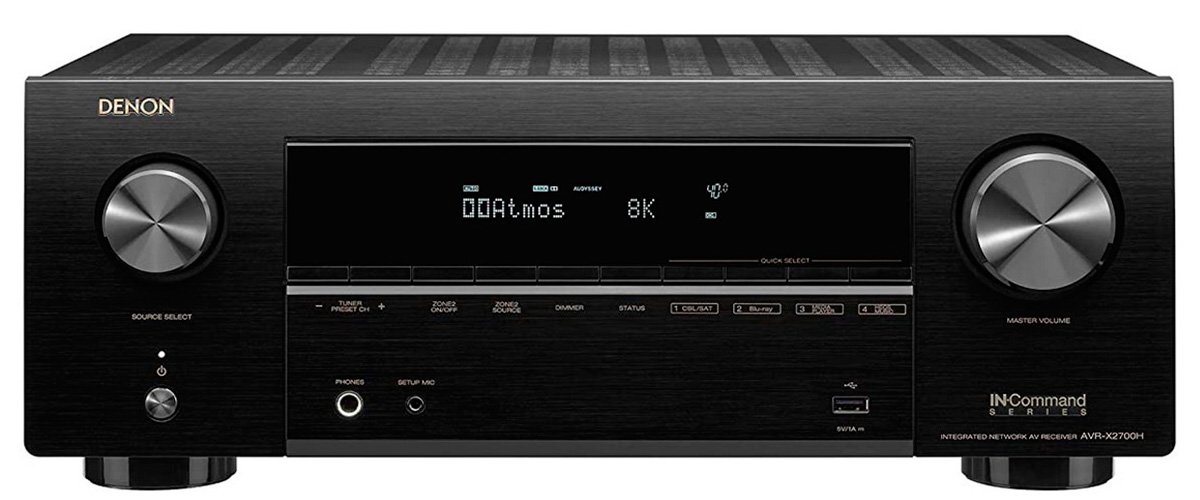 This 150W per channel receiver delivers truly immersive 3D sound with Dolby Atmos or DTS: X. And even if you don't have dedicated ceiling speakers, Dolby Atmos Height Virtualization technology can enhance your movie experience.
The Denon AVR-X2700H DAB is one of the company's first 8K compatible receivers. And since there is very little 8K video right now, the Denon AVR-X2700H DAB even offers to upscale of any 8K HDMI source.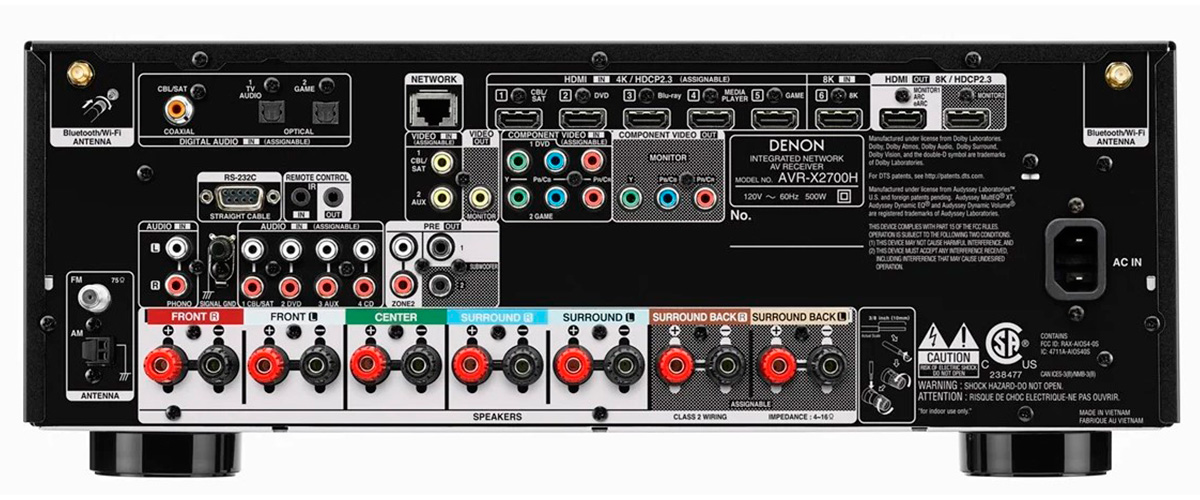 Naturally, the Denon AVR-X2700H DAB is optimized for the full enjoyment of video games. It's HDMI connectors are compatible with 4K / 120Hz and variable refresh rate, supporting QFT to reduce latency. All of these features reduce or eliminate image lag and tearing for smoother gameplay with consistently optimal frame rates.
It is also worth mentioning that this model is compatible with Denon HEOS and Apple AirPlay 2, which makes it possible to integrate it into a multi-room broadcasting system. And this integration allows you to control the receiver with the help of voice assistants. You just need to ask the speaker to start playing from your regular online music service, place your favorite playlist, change the title, or even change the volume so that your assistant automatically controls the sound.
Pros
The receiver does not heat up even after prolonged use.
It can play high-definition files from home NAS storage.
Cons
The user manual does not provide the necessary information about the operation and setup of the receiver.
How many watts do I need from my AV receiver?
Choosing a receiver is integral to choosing your speakers. Everything must match. The choice of receiver power depends on the speakers you need. It delivers constant power within the recommended speaker power. For example, if a speaker needs 25-100 W, then you should choose a receiver that can deliver from 45W to 100W per channel. However, please note, power should be no more than the extreme value on the speaker since excess power can ruin your speakers. It is also worth considering what speaker configuration you would use – absolutely different powers are needed for stereo and full surround sound.
What kinds of inputs and outputs do you need?
Since now any receiver is not only an image and sound transmitter but a whole multimedia hub, then the number of inputs/outputs should be significant. The receiver should cover all spheres of multimedia leisure: watching movies, listening to music, gaming, additional zones, streaming from online services, and much more.
Absolutely Necessary Inputs/Outputs:
HDMI with 4K
Speaker Terminals
Digital sound connectors (coaxial and optical)
Analog connectors (RCA)
Wi-Fi
Ethernet (RJ45)
Bluetooth
AirPlay
AM/FM antenna connector
Zone 2: what does it mean in-home theater?
With the advent of home theater receivers that can power five or more channels simultaneously, the idea of A/B speaker switching has been refined to a feature called Zone 2.
The Zone 2 feature on your home theater receiver sends a second source to speakers or a separate audio system in another room. This is more flexible than connecting additional speakers and placing them in another room, like with a speaker A/B selector. Unlike the speaker A/B setup, Zone 2 lets you control the same or separate source from the one you're listening to in the main room.
Automatic speaker calibration explained
Each receiver manufacturer equips its devices with an automatic calibration system. This is done so that users do not waste time manually configuring each speaker. The automatic calibration is more simple.
The receivers come with a microphone for setup. Connect it and start the auto-calibration procedure; it will measure speaker characteristics and room parameters, adjust speaker distances and volume levels, and optimize the sound for your environment.
Besides, the sound of the system will not be optimal without calibration. After connecting the microphone, follow all the on-screen instructions exactly and go all the way from start to finish.
Make sure your AV receiver is ready for your TV
New receivers are now being manufactured with all the required connectors, so they will work with TVs made in recent years and TVs coming soon. The most important factor for the proper operation was support for 4K resolution, which has now become commonplace, but still, it can be considered the best video format for home viewing.
Besides, there is now a downward trend in the cost of televisions. Which makes better tech available, and which is why your AV receiver must be capable of supporting and passing 4K signals.
Another feature worth paying attention to support for data encryption protocol – HDCP 2.2. Without it, you won't be able to watch movies on BlueRay. Manufacturers always respect this prerequisite. All TVs and receivers have at least one HDCP2.2 input.