A good home theater system is a combination of good video and pleasant sound. The major component for obtaining both is an AV receiver. However, not everyone will spend money on an expensive receiver for their first configuration. Or not everyone needs the features offered by expensive models.
One way or another, the choice falls on the budget segment. And just in this article, we will consider representatives of the best budget av receiver class.
Our pick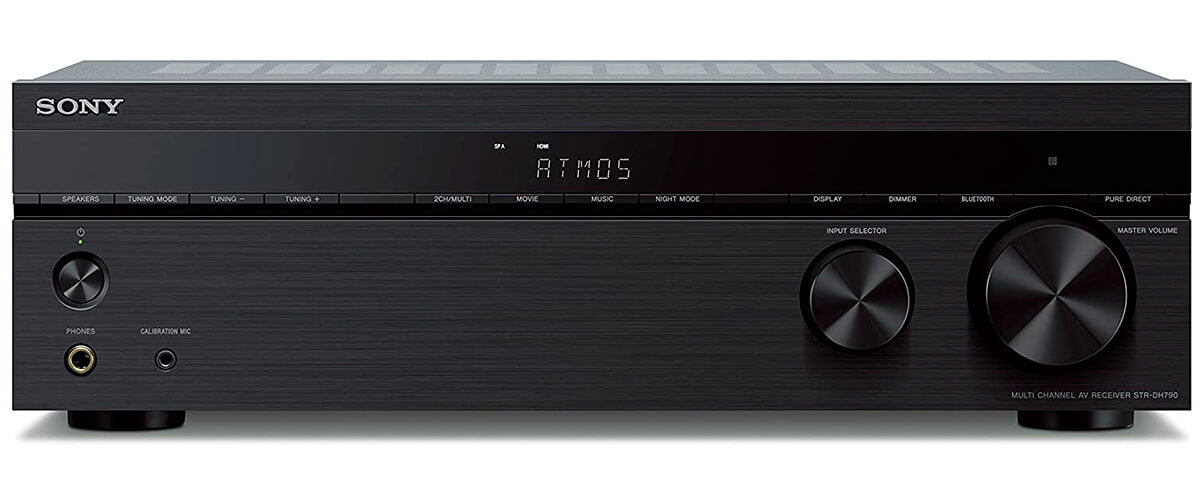 Sony STR-DH790
Best Budget AV Receiver
Give your home entertainment system a cinematic upgrade with the STR-DH790 7.2ch AV receiver. Experience the same all-encompassing surround sound you get in movie theaters at home with Dolby Atmos and DTS:X support.
Best Budget AV Receiver Reviews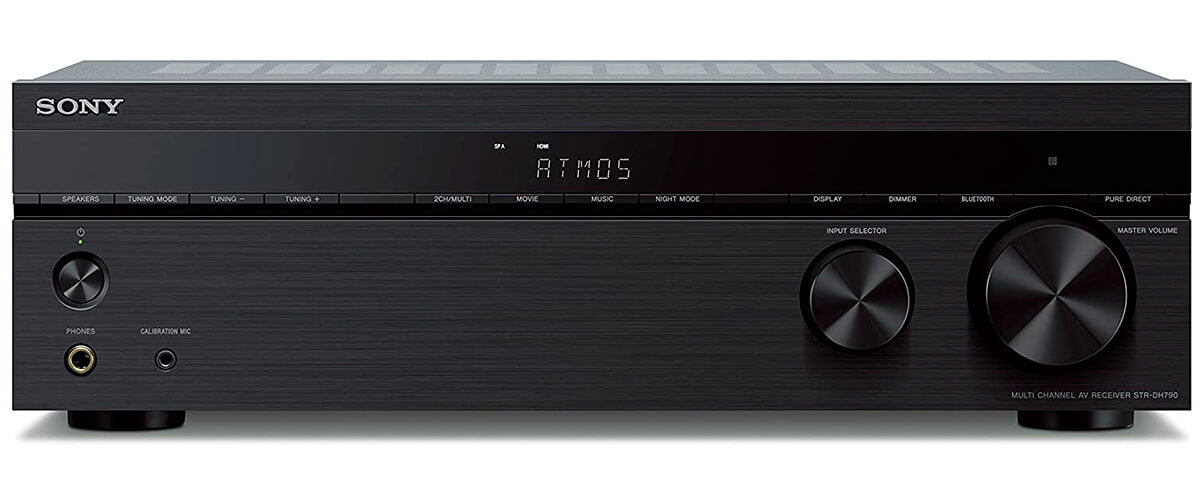 This model has 7 channels at 145W and allows you to bi-amp a front pair of stereo speakers or get surround sound from a pair of rear/height speakers in Dolby Atmos and DTS: X format.
The STR-DH790 requires speakers with a nominal impedance of at least 6 ohms. 4-ohm speakers are not supported. And even with such speakers, users will be able to fully appreciate the deep sound of films or appreciate everything in songs that tells us about a "first-class" device that can be regarded as the best budget home theater receiver.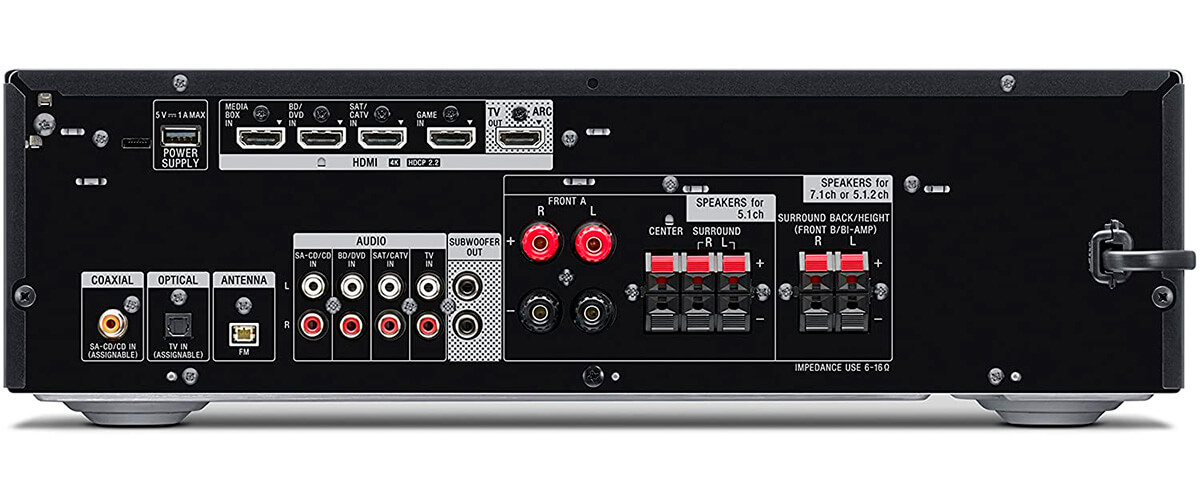 Besides, for better sound, the receiver provides auto-calibration, which determines the size of the speakers and the distance to them from the listening position, sets their level, and adjusts the equalizer. This process is quick and easy, you just need to place the supplied microphone in the desired place and start it.
About the network functions, there is only Bluetooth, which is important for those who wish to purchase an affordable model.
Pros
The Sound-Effect function allows you to make important adjustments such as selecting the sound field such as Dolby Surround, Neural-X, Front Surround, Stereo
All channels except the front left and right use spring-loaded terminals rather than screw terminals, which require cables up to 14 AWG
Cons
There is no support for the second zone
Media files cannot be read through the USB port
Denon AVR-S540BT – best under $300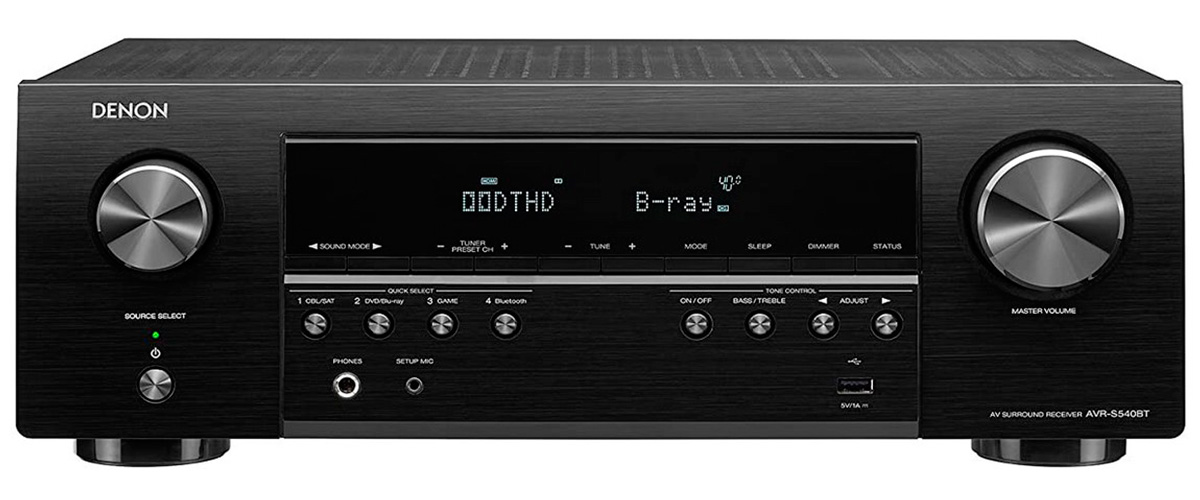 The next unit in our entry-level av receivers comparison is Denon AVR-S540BT.
It is a receiver with an integrated Bluetooth function developing power of 5 x 140 W. And besides, the AVR-X540`s block can cope with 4-16 ohm loudspeakers for increased compatibility and stability with any speaker model.
This gives users great flexibility when setting up their first home theater. It also gives them the confidence to sound good which already makes this receiver one of the best candidates to choose from others. However, it is not only the design that the receiver can boast.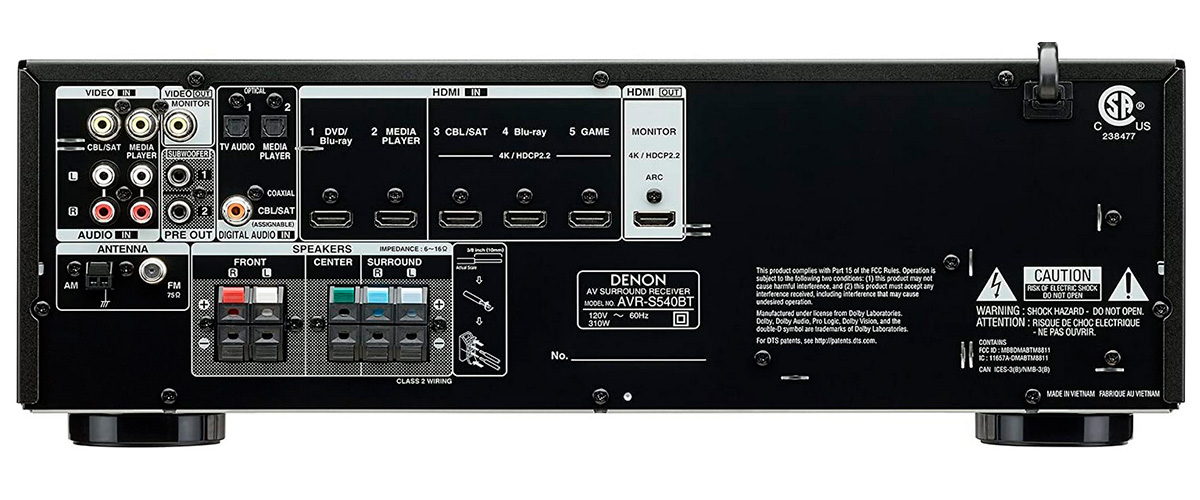 The AVR-S540BT is equipped with Dolby Vision and 4K video conversion functions for an amazing home theater experience. Whether you want to listen wirelessly, the Denon Heos Link is compatible. You can connect this best av receiver under $300 to one or more Denon HEOS Link for wireless music streaming, creating a multi-room system, or expanding the configuration of a home theater, but in any case – you will get the highest quality sound.
Pros
It is compatible with a wide range of portable USB devices and supports audio playback
You can control your HEOS using the HEOS APP
Cons
There is no Amazon Alexa support
The receiver is loud and painstaking sound tuning is necessary in order not to get distortion
Onkyo TX-SR494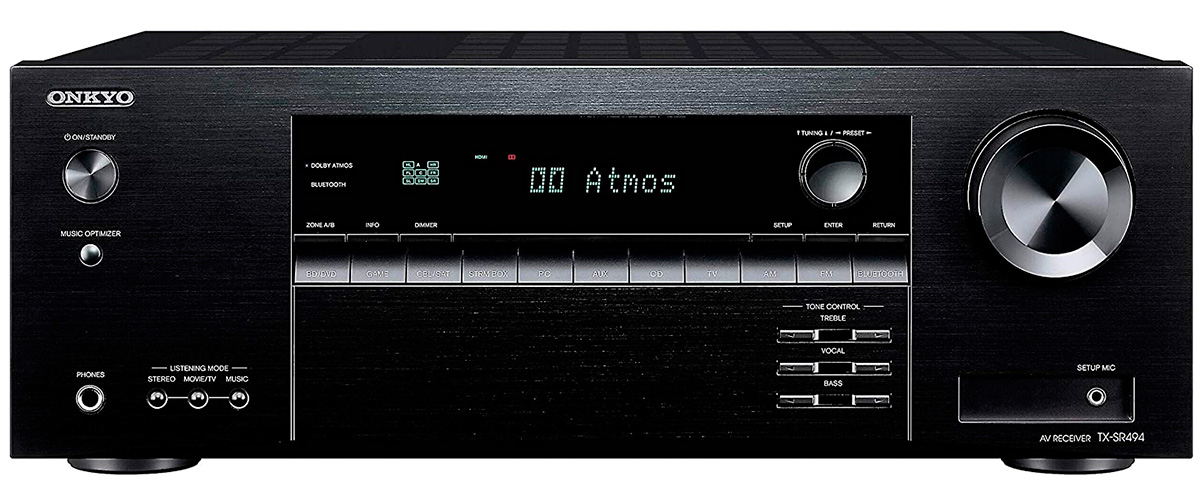 The Onkyo TX-SR494 has a seven-channel configuration. However, remarkably, the amplifier design provides low impedance, which ensures stable operation with speakers impedance of 4 ohms, which makes this receiver stand out from its competitors.
The TX-SR494 is equipped with decoders for all popular surround sound formats, including Dolby Atmos and DTS: X. Thanks to seven built-in amplifiers, this model can be used to create systems in a 5.2.2 configuration and this is already a weighty argument to call this device the best av receiver under $400. Besides, the SR494 provides Dolby Atmos Height Virtualizer and DTS Virtual: X modes, which allow you to simulate the operation of ceiling speakers.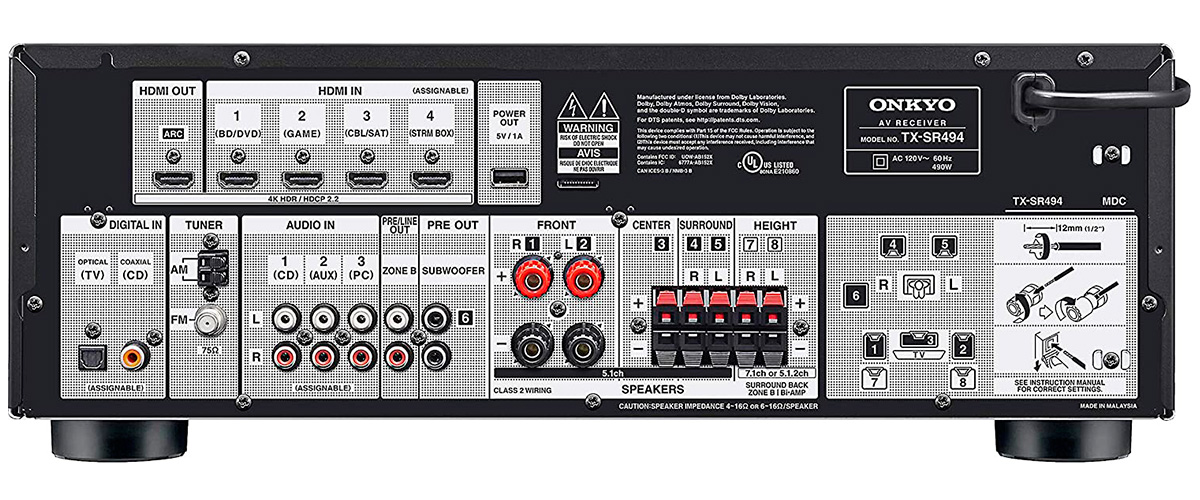 Despite its quite affordable cost, Onkyo TX-SR494 is perfect for creating a modern home theater in a small room of an average city apartment. The device is easy to set up and use and will provide high-quality sound when playing computer games, watching movies, or listening to music.
Pros
It has an amplifier based on discrete components using proprietary WRAT technology and can cope even with complex speaker systems
There is a flexible crossover setting for the subwoofer
Cons
The emphasis of the sound is made on music, dialogues, and voices are heard worse
Receiver bandwidth is not enough for 4K gaming
Denon AVR-S650H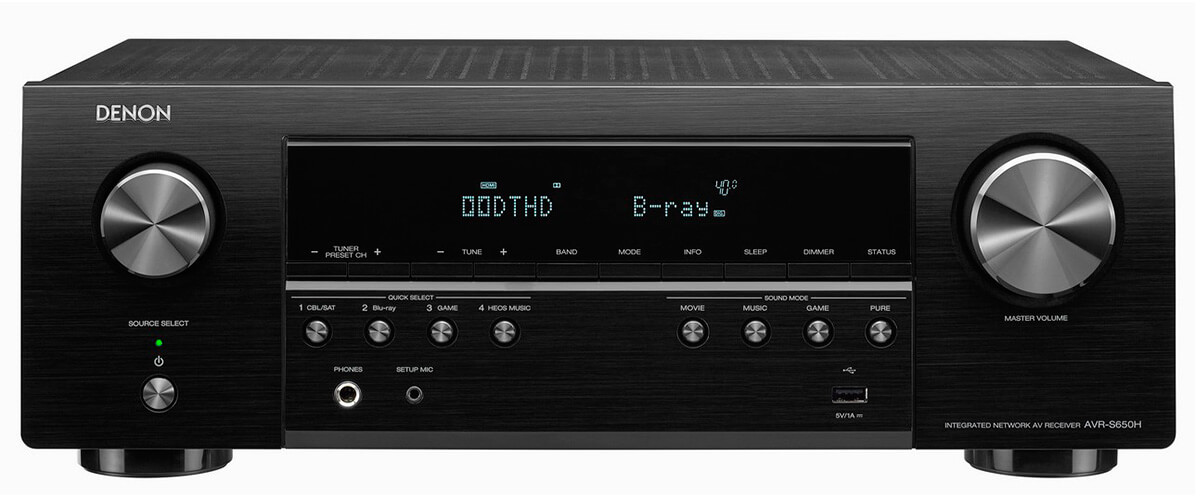 The AVR-S650H can be characterized as the best cheap av receiver and there are reasons for this. The first is the audio capabilities of the device. The declared maximum power is 135W per channel (6 ohms).
Moreover, in the audio path, AKM converters with high characteristics for Hi-Res Audio are used. In front of them are powerful DSPs, which, in addition to basic multichannel formats, support more advanced Dolby TrueHD and DTS HD Master, and at the same time provide a fairly wide filter and equalizer settings for your speaker configuration.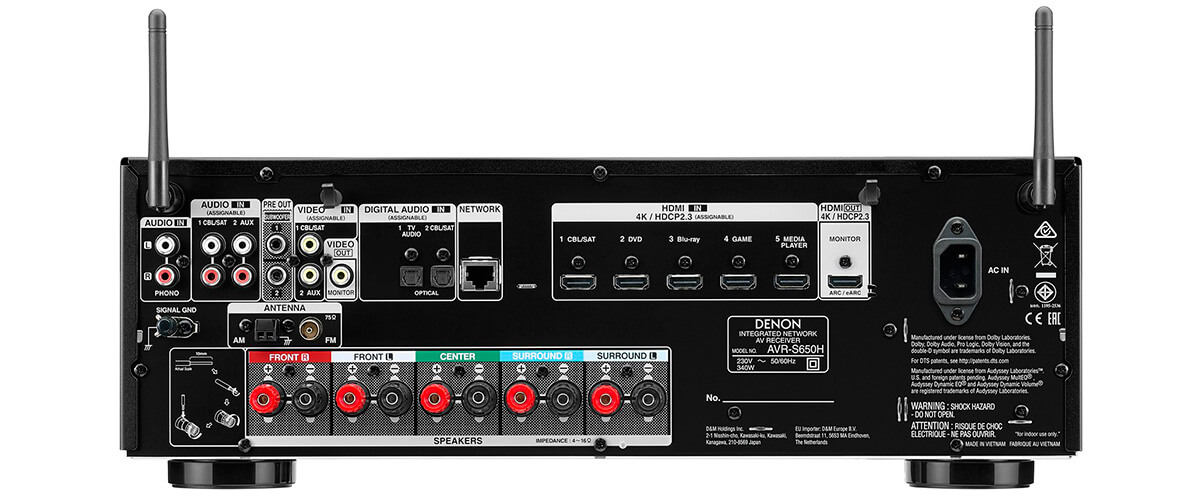 The second is the video capabilities of the receiver. The S650H's five-source HDMI switcher complies with all modern video standards and, importantly, is suitable for the most modern game consoles that require the fastest possible response.
For communication with external devices, the receiver has onboard Bluetooth and 2-band Wi-Fi, which improves the quality of reception.
Pros
The AirPlay 2 protocol is supported to build a wireless multi-room system based on iOS devices
The ability to control the receiver through most of the existing voice assistants
Cons
The auto calibration is far from perfect
Sound software features do not give the desired sound enhancement
What to look for in a budget-friendly receiver
Choosing a receiver is an important consideration when setting up a home theater system. We have identified 5 main criteria for you that will help you when choosing and protect you from buying an unsuitable device.
The first thing to pay attention to is the power output of the device. In the future, the purity, clarity, and volume of the sound will depend on it.
In second place in terms of importance is the largest number of channels that can be reproduced by the device.
Connectivity also plays an important role, as it shows the ability to connect more external devices and the versatility of the receiver.
You should also pay attention to the price/quality ratio. Now on the market, there are many interesting offers in every price category from many manufacturers. No need to rush to buy, check out, compare, and then choose.