Japanese multinational Sony was founded on May 7, 1946. The current name was chosen in 1955, it produces devices in various activities, such as telephony, electronics, video games, or in the field of cinema and audiovisual. Thus, you may want to get the best Sony receiver for ultimate satisfaction.
Today it sells a whole range of audio-video amplifiers. The models allow automatic calibration to improve the sound. Some also use a versatile solution to use different sources, such as HDMI, Spotify center, USB, or others. It is then possible to watch videos in 4K with individual specimens.
Best Sony Receiver Reviews
Sony STR-DN1080 – best multichannel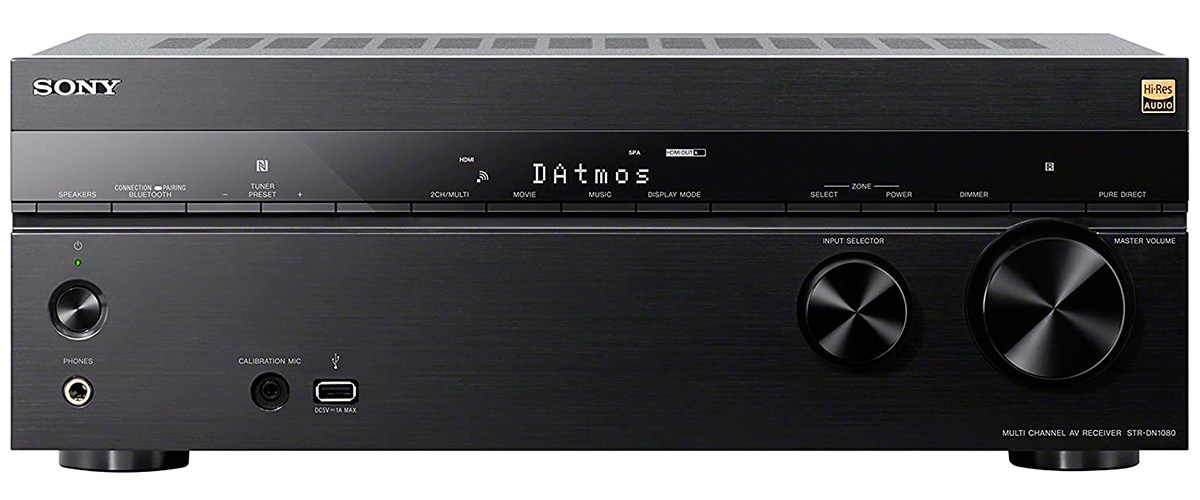 The STR family already includes several generations of amplifiers, which almost every year add such and such decoders or new functions. The STR-DN1080 takes place in this lineage and replaces DN1060. It takes the general design, the significant black amp aspect, and adds Dolby Atmos and DTS: X as main new features. Like its predecessor, the power is 165 Watts on seven channels and at 6 ohms.
The onscreen user interface is very self-explanatory, with animated and colorful modules and informative texts. It is both prominent and very comprehensive. You can go very far in the sound and video settings while not feeling lost in a maze of abstruse menus and submenus. Shortcuts also help with quick use. By using presets, you can quickly switch to the needed settings between music and movies. Thus, it becomes the best multichannel Sony home theater system.
One of the strengths of this amplifier is its auto-calibration system. It is based on the DCAC EX (Digital Auto Calibration EX), which ensures high accuracy of sound reproduction. It takes into account room acoustics, supports 3D sound, and adjusts sound effects to 31 bands via a graphic equalizer (GEQ). A stereo microphone is placed at the optimal listening point, and you just have to start the automatic calibration procedure.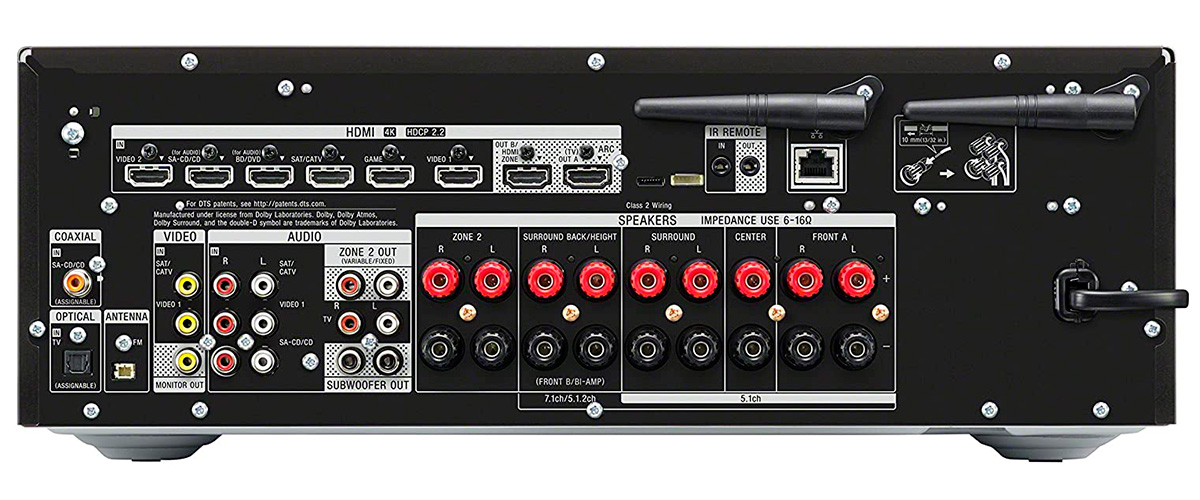 This model has extensive connectivity, the rear panel has six HDMI inputs and two HDMI outputs. One of the two HDMI sockets can be used to transmit the audio and video signal to another room. Multiroom is also possible via an RCA audio output and the connection of two speakers using the dedicated surround back terminals. Otherwise, you can find the usual optical and coaxial digital audio jacks, analog stereo RCAs, and an Ethernet port. A USB is present on the front face, next to the socket for the calibration microphone, and a few centimeters from the headphone socket.
Pros
The device is able to open almost all kinds of modern audio formats
Its USB port can charge mobile devices
Excellent power-per-channel rating for louder sound
Cons
It cannot be controlled remotely by a smartphone
Sony STR-DH190 – best stereo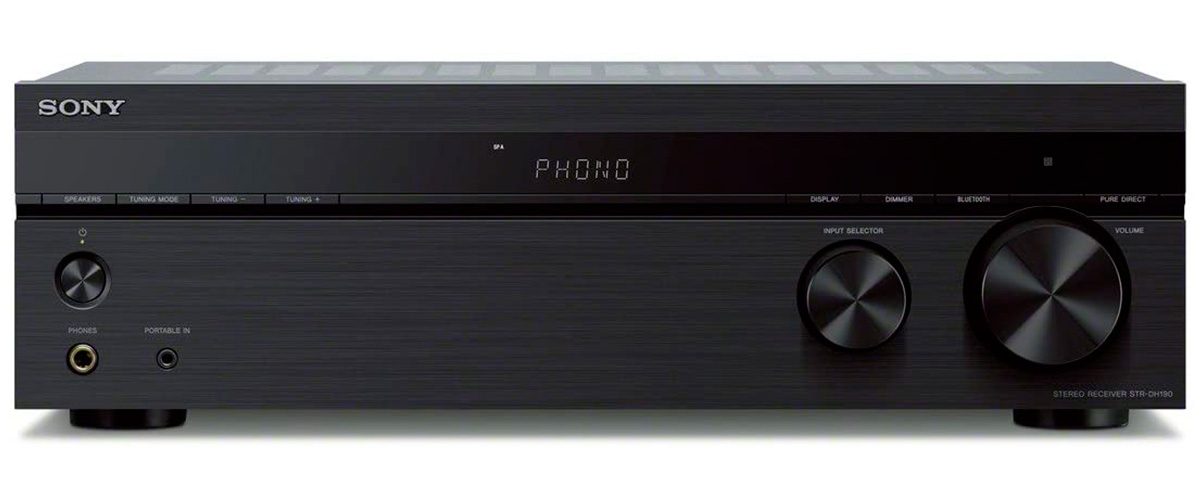 The equipment of the Sony STR-DH190 Hi-Fi receiver leaves no doubt that a turntable should be connected because the appropriate connection with an integrated preamplifier is available. In combination with passive loudspeakers, this ultimately results in a simple but well-networked music system. It has two channels (supporting speaker A+B) with power output 100 W + 100 W, while speaker impedance is 6–16 ohms. This reference is capable of receiving two speakers simultaneously.
The A + B function allows you to change the broadcast device or use them at the same time. Its four analog inputs will give you this option. That is why Sony STR-DH190 is the best Sony AV receiver in terms of high-quality stereo sound.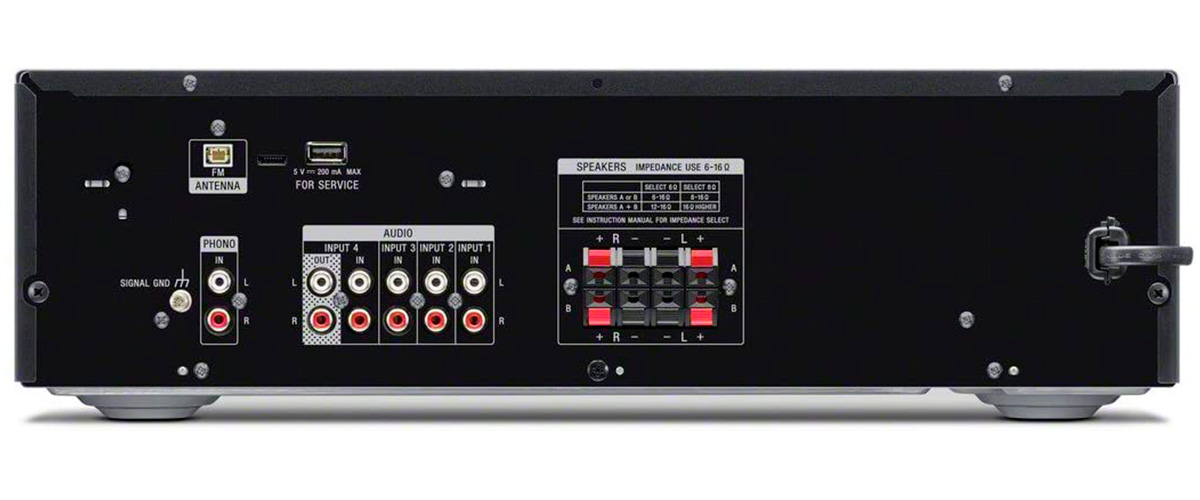 For starters, the designer has put practicality to the fore with Bluetooth technology. It is compatible with all equipment provided with this option. All you need to do is pair your amp with your accessory, and you are ready to go.
Pros
Once connected to your smartphone or tablet, you can share audio content from them without worry
With Hi-Res Audio, this model is able to restore sound quality worthy of recording studios
The input ports do not produce any buzzing or humming sound
Cons
Users feel that the rotary volume key should be handled delicately