Vinyl was unfairly forgotten for so long! But today, it's made a real comeback and continues to win hearts. That's because turntables provide a more natural feel and feature a better authentic analog sound than compressed digital representations.
However, without the best speakers for vinyl, a vintage record player isn't that functional; it won't deliver that pristine, quality audio. Conversely, by adding decent speakers, you'll create a robust sound system.
Now, the biggest question – what are the best speakers for a record player? How to choose the right set?
To make your life easier and narrow down your search, I've handpicked and tested top-rated speakers for vinyl. You'll also find here an in-depth buyer's guide. So, even if you are new to turntables and speakers, after reading my review, you'll be able to make an informed choice. Scroll down!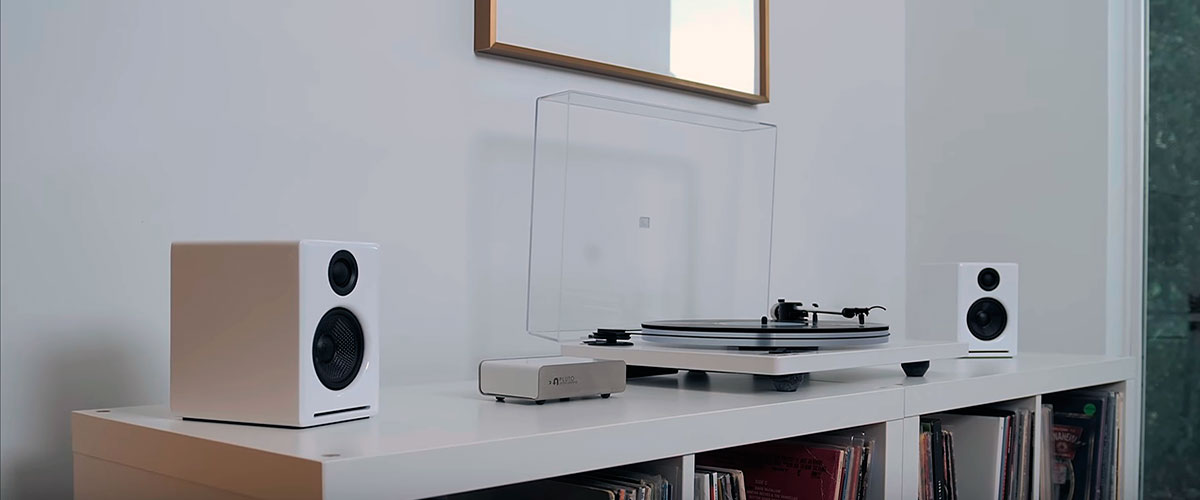 Passive, active, or floor standing speakers
When we are shopping for speakers, there are dozens of factors we should consider and evaluate. One of such factors is a type of speakers: active vs. passive. Let's take a closer look at both of these types to understand which one is more suitable for you.
Active speakers feature their own built-in amplifier. Here are some benefits of active speakers:
Some of the high-end models allow for wireless application
Crossover does its job better since the signal goes through it prior to the amplifier
Passive speakers are driven by the external amplifier and connected to the amp through a wire. The benefits of such speakers are:
It's easier to upgrade or replace an amplifier.
There are more connections, and you'll need to plug the speakers into an amplifier.
Passive speakers are lighter, hence easier to wall-mount.
Audiophiles consider passive speakers better for listening to vinyl since this type delivers better sound, and I totally agree with them.
Floorstanding speakers, also known as tower speakers, are commonly a passive type. They produce a big and surround audio that is difficult to match. If you dream of building a stereo system at home, these workhorses will be the right choice for you.
How I picked and tested speakers
I consider myself an audiophile, plus, I love technology and various modern gadgets. I try to explore every new musical device that appears on the market.
Today I'm here to help you choose the best speakers for vinyl records. Before writing this review, I analyzed dozens of speakers of various types, sizes, and shapes. When I narrowed down the choice, I aimed to design equipment for a casual vinyl listener. I used high-quality yet budget-friendly components. When testing speakers, I paying attention to the following parameters:
Build quality – what materials are speakers made of?
The size, material, and overall quality of the drivers
Power output
Signal-to-noise ratio
Inputs for convenient vinyl connectivity
Pure performance, quality, and well-balanced sound for different music genres.
To test and estimate various speakers, I used my favorite record player Pro-Ject Debut Carbon Evo with Stylus Ortofon 2M Red and 65Db signal-to-noise ratio. My turntable comes without a preamp, so the Emotiva XPS-1 phono preamplifier was the right option for me. When I need to hook up passive speakers, I used AV receiver Denon AVR-X4700H with a built-in phono preamplifier.
I really enjoyed the process of the sound quality testing since I was listening to my favorite recordings; they allowed me to assess the clarity of highs, mids, and lows. Here are my tracks:
Lubomyr Melnyk – Pockets of Light
Burial U – Hurt Me
Now, let me show you the result of my hard work – a list of the best speakers for a turntable.
Speakers For Vinyl Comparison Table
Speakers for vinyl
Total power, W
Impedance, Ohm
Sensitivity, dBA
Type
Edifier S1000DB

best active bookshelf

120
6
85
active bookshelf
Review
Klipsch RP-600M

best passive bookshelf

200
8
96
passive bookshelf
Review
Dali Oberon 5

best floor standing

300
6
88
passive floor standing
Review
Best Speakers For Turntable Review
Bookshelf Speakers for Turntable
Bookshelf speakers are designed to rest on any elevated surface but the floor. They maximize sound in medium-sized or small rooms. Bookshelf speakers can work as stand-alone gear or as a part of a home stereo system. They sometimes require the use of additional components like a separate AVR.
If you have a turntable and want to upgrade your audio game, the market offers a wide range of bookshelf speakers for a vinyl player. Such a setup will definitely take your music listening experience to the next level.
Best powered bookshelf speakers for vinyl
Edifier S1000DB – best powered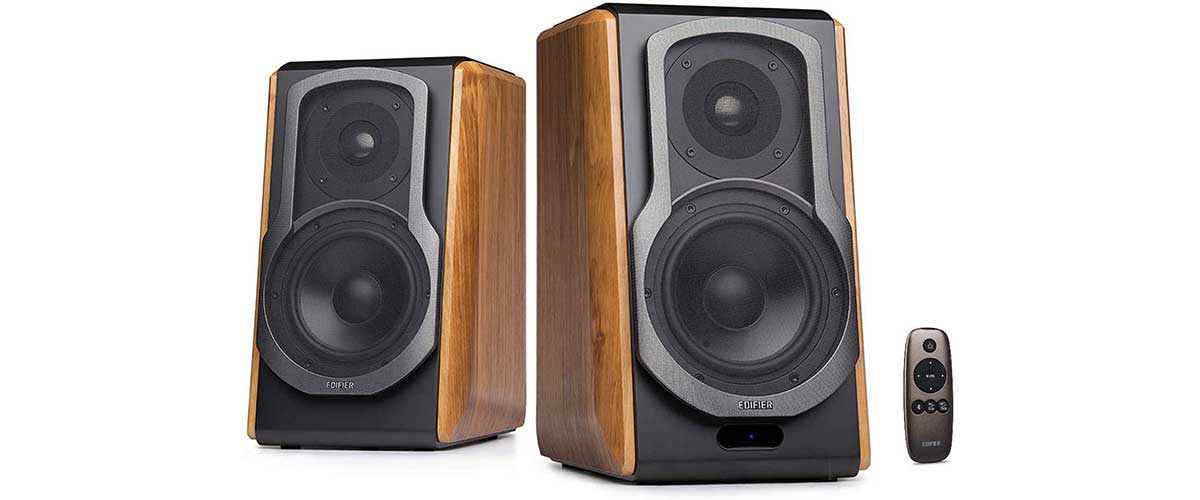 If you are looking for the best powered speakers for vinyl, your search may end here. I have compared Edifier S1000DB to similar models, e.g., Klipsch RF-82's, Edifier 1700s and can assure you that this product represents terrific value for those who have a pretty good ear for quality.
Let's begin with its technical characteristics. What I love the most about this model is that I can join it to any type of input. S1000DB is equipped with PC, coaxial, optical, auxiliary inputs, plus it features Bluetooth aptX, thus, can connect wirelessly. I love its versatility!
Edifier S1000DB acoustic package is just excellent! The speakers deliver a hefty 120 watts and feature a great signal-to-noise ratio – 85dBA. On top of that, they can boast 5.5-inch aluminum bass drivers and premium-class titanium dome tweeters. The speakers do exceptionally well together, producing flawless sound. The speakers get pretty loud, so if you love throwing parties, this set might be the right choice for you.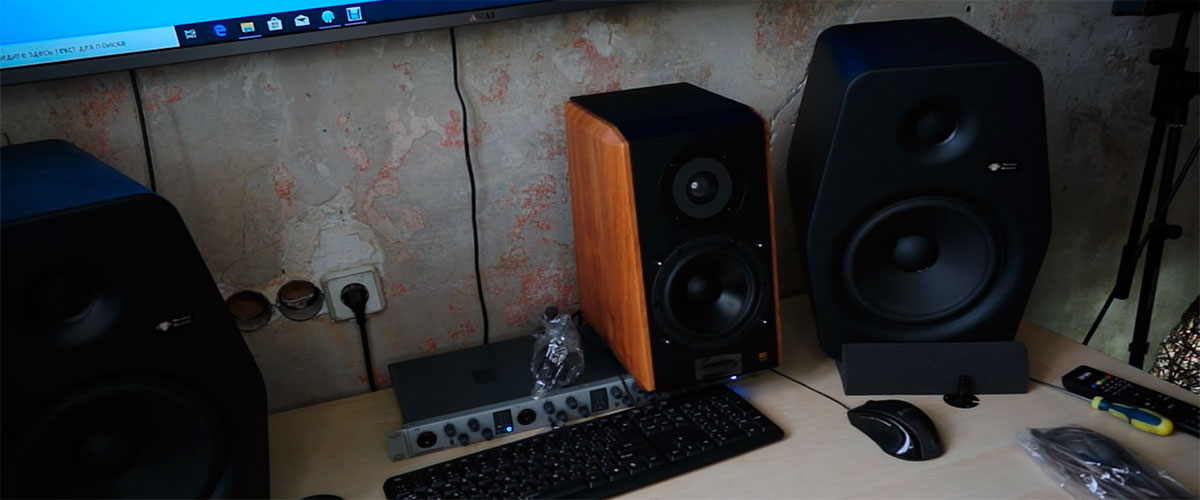 The next thing that has impressed me is S1000DB's build quality. I'd say it's on par or even above the Audiogene's or Klipsch's. The design is robust, which looks great and decreases resonance, hence delivering the full strength of the sound signal.
To sum up, these vintage-looking speakers represent terrific value for audiophiles. The sound and build quality are incredible and won't disappoint even the most demanding users!
Key specs
Total power output, W: 120
Driver size, inch: 2 x 5.5″, 2 x 1″
Impedance, Ohm: 6
Sensitivity: 85
Bluetooth: yes
Dimensions (W x H x D), inch/cm: 8 x 13.5 x 10.5 / 20.3 x 33 x 25.4
Weight, lb/kg: 18 / 8.1
Type: active bookshelf
Pros
The speakers are versatile
Premium-quality audio, e.g., piano music sounds just like someone is playing right there in my room
Great design – wooden side pannels & black matte finish
Convenient wireless remote control
Cons
There aren't grill tabs around tweeters, making them look flimsy.
Micca PB42X – best budget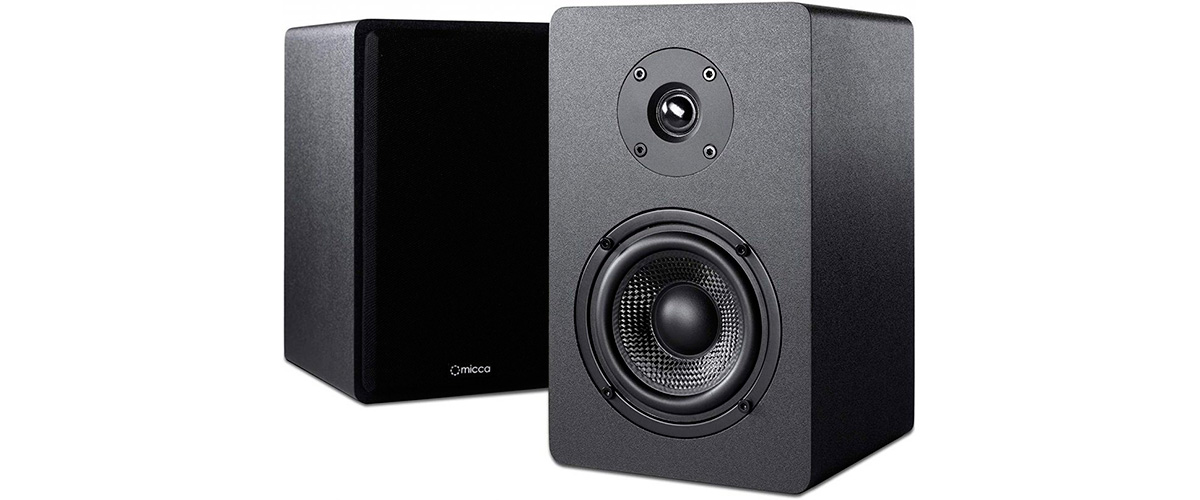 Micca PB42X is the best budget speakers for vinyl. The price-quality ratio pleasantly surprised me!
I naturally compared the current model with the MB42X, and I must admit that PB42X is a far more powerful version. Besides, the latter features an internal Class-D amp with 15Wx2 of clean power, while the former doesn't have an amplifier, and you'll need to buy it to listen to your vinyl.
Another thing I appreciate in Micca PB42X is its simplicity and versatility – due to RCA and 3.5mm stereo mini-jacks, you can easily connect it to your record player, TV, computer, smartphone, or tablet.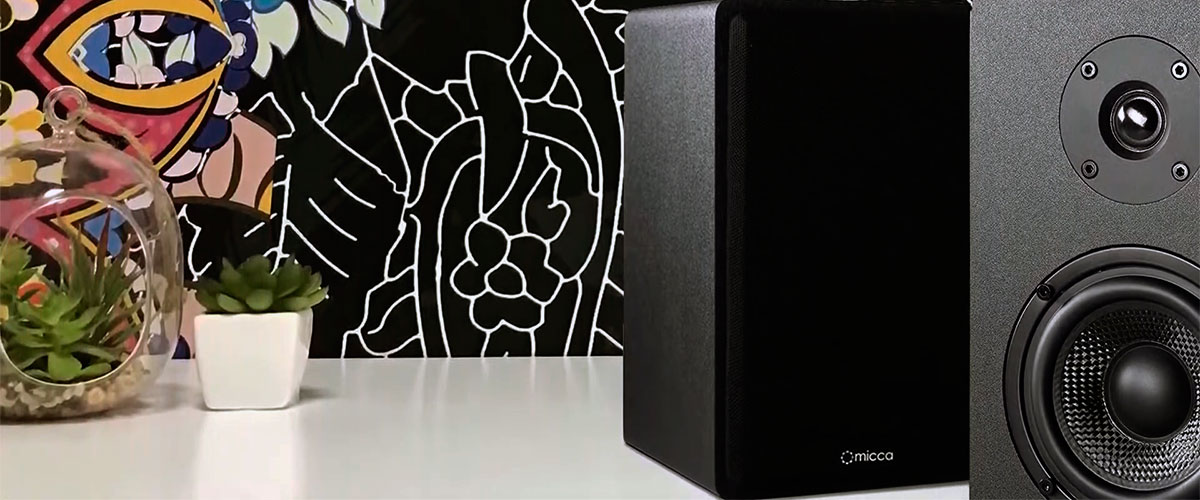 The speakers produce pretty good sound quality thanks to high-performance drivers made of soft textiles (silk dome tweeters and woven carbon fiber woofer). However, you'll need a little practice to get the perfect sound. For instance, if I want bass, I raise the low frequencies on the equalizer. So, just play around with the setup, and PB42X will get shrill and bright.
To sum up, these small speakers will provide excellent clarity and won't ruin your family budget. That's why they have won second place on my list!
Key specs
Total power output, W: 30
Driver size, inch: 2 x 4″, 2 x 0.7″
Sensitivity: 85
Bluetooth: no
Dimensions (W x H x D), inch/cm: 5.8 x 9.5 x 6.5 / 12.7 x 22.8 x 15.2
Weight, lb/kg: 4 / 1.8
Type: active bookshelf
Pros
Compact and uncluttered speakers, great for restricted spaces
Feature well-balanced sound, especially for jazz, rock, melodic deep house, Americana
Easy to remove and put back grills
Cons
Is not suitable for larger spaces
Audioengine HD6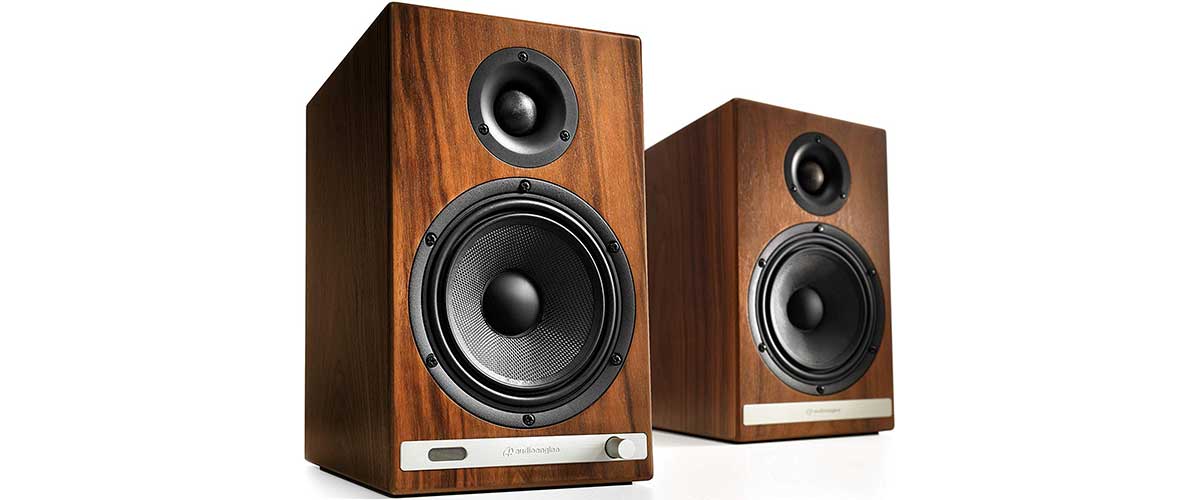 I'm familiar with the Audioengine brand for about seven years, and I love their products. However, HD6 has impressed me the most! It's a beautiful and powerful beast locked in a relatively small body. The speakers are super versatile and efficient due to the built-in amplifier, full-range variable output, dual audio inputs, and Bluetooth with extended range. It means you can connect all your gadgets, including a turntable, wirelessly or wired. I tested all inputs and found no problems dealing with them.
Next, this decent sound equipment includes an AKM AK4396A DAC, amplifier helps achieve a higher signal-to-noise ratio (95dBA) and lower noise floor, this results in superb sound.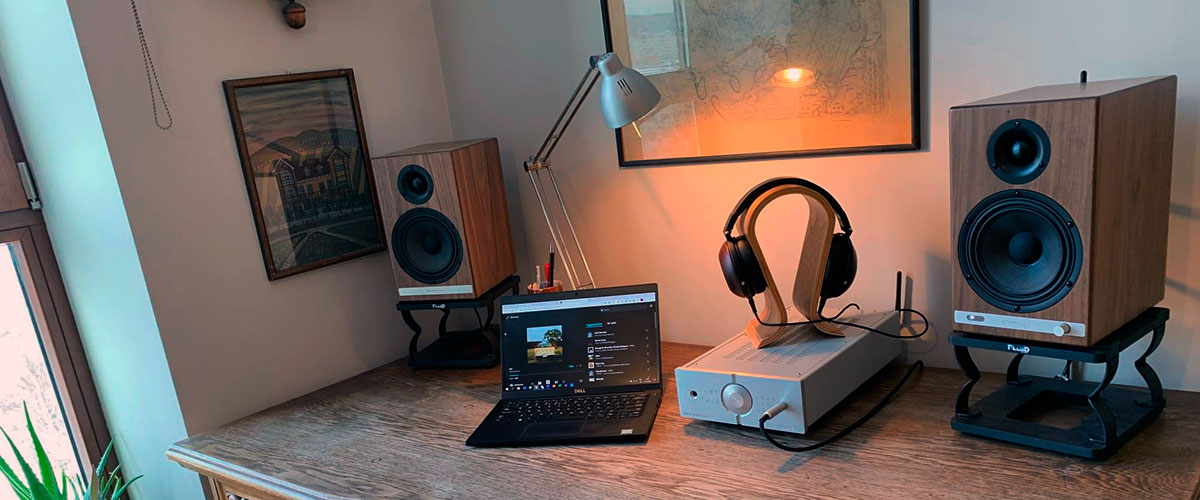 And last but not least, drivers feature just perfect design – silk tweeters and fiber woven glass woofers. Such a design provides neutral, natural sound with a wide dynamic range.
To sum up, if you are looking for attractive, user-friendly, and flexible speakers with RCA input and Bluetooth connectivity, consider Audioengine HD6. You'll buy the quality!
Key specs
Total power output, W: 100
Driver size, inch: 2 x 5.5″, 2 x 1″
Sensitivity: 95
Bluetooth: yes
Dimensions (W x H x D), inch/cm: 11.7 x 7.2 x 10 / 30 x 18.5 x 25
Weight, lb/kg: 28.6 / 13.5
Type: active bookshelf
Pros
Great build and design
Incredible acoustic package
Exceptional connectivity and advanced Bluetooth
Cons
Is not suitable for enormous rooms
EQ settings are not present on the HD6
Edifier R1280T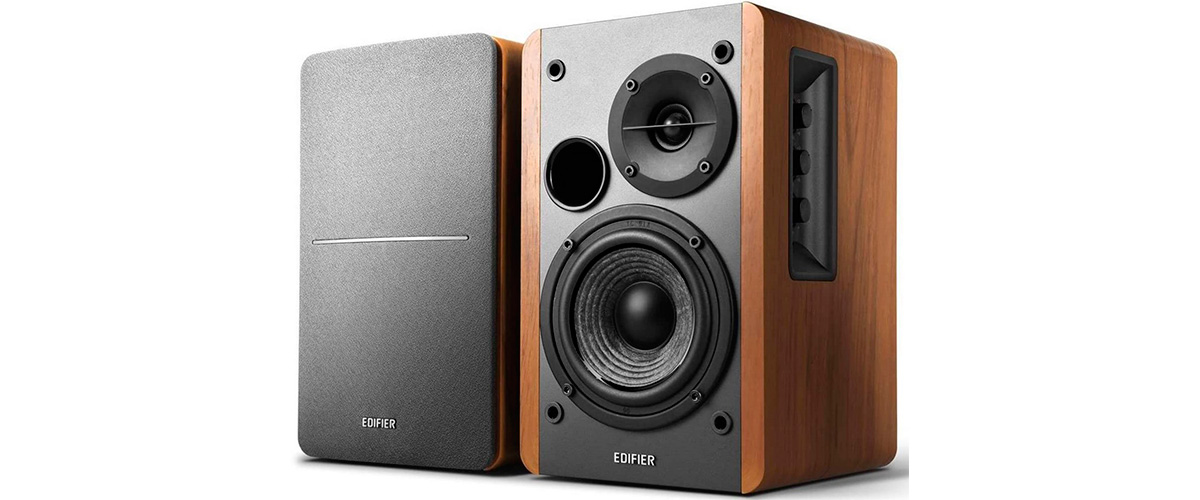 These analog speakers have great specs for the money. The total power output is 21W; on the back of the active speaker, you'll find 2 inputs suitable for RCA to AUX and RCA to RCA connections. The manufacturer took care and included a variety of cables so that we can wire the speakers to most devices, including a turntable.
I previously had Edifier R1700BT – great speakers with more power and Bluetooth. And to tell the truth, I didn't expect much from R1280T. However, I am pleasantly surprised by the full and rich sound it produces.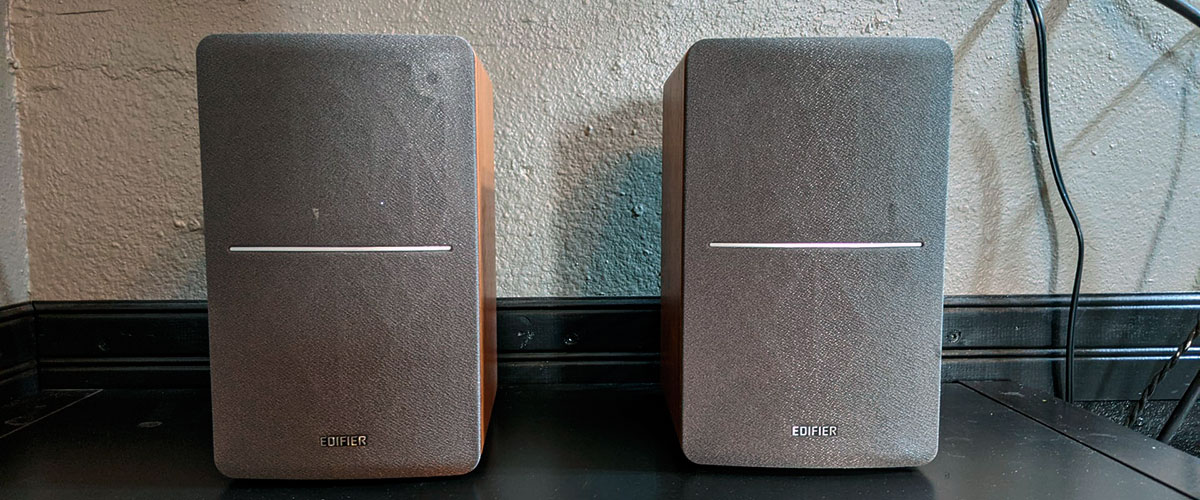 The signal-to-noise ratio is not too high but efficient – 85dBA. As for me, R1280T features a warmer and more natural tweeter than its big brother R1700BT does; bass response is also just excellent.
To sum up, if you are looking for a deal, it's exactly what you need! This pair of speakers produce good sound quality – it won't pierce your ears with the highs and won't shake your room with bass, but it's clear and mellow on the ears. That's the reason I love R1280T and highly recommend it to average users.
Key specs
Total power output, W: 42
Driver size, inch: 2 x 4″, 2 x 0.5″
Impedance, Ohm: 6
Sensitivity: 85
Bluetooth: no
Dimensions (W x H x D), inch/cm: 5.7 x 9.5 x 7 / 14.6 x 23.4 x 19.6
Weight, lb/kg: 8.8 / 4.9
Type: active bookshelf
Pros
Can get very loud
Great build – durable wooden cabinets
User-friendly
Budget-friendly
Cons
May not be powerful enough for audiophiles
Best passive bookshelf speakers for vinyl
Klipsch RP-600M – best passive
RP-600M speakers are highly valued among audiophiles and for a good reason. Their superb sound quality and solid construction are major ingredients that separate them from equally priced or even more expensive models.
Let's take a closer look at its impressive technical specs. You can customize the speakers to enhance performance due to dual input terminals. The drivers are built to deliver just incredible acoustic.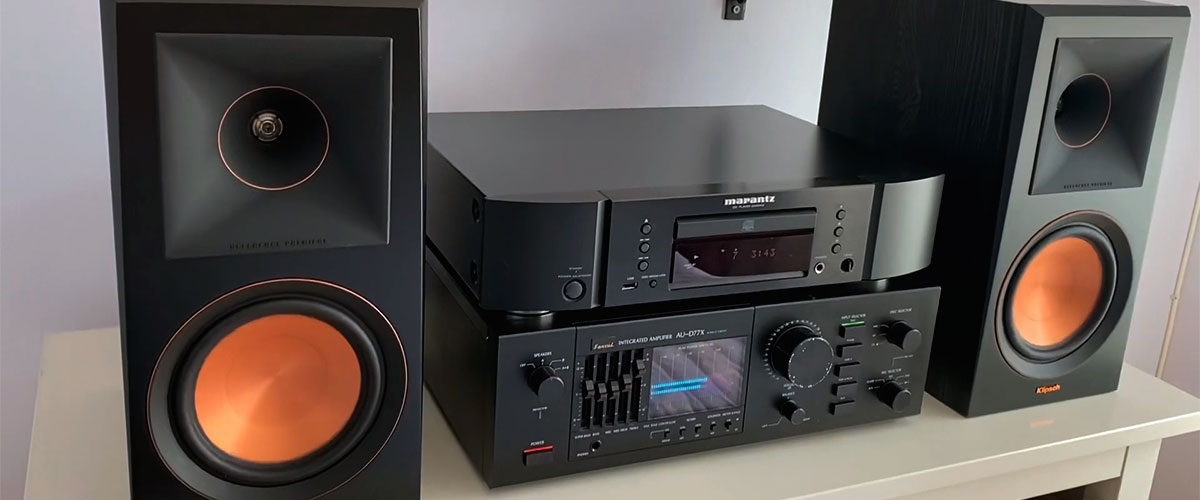 Tweeter, made of titanium, and rear Tractrix port matched to woofers and cabinet reduce distortion and produce real-life sound. The speakers are fantastic with classical, jazz, blues, rock, and live acoustic recordings. RP-600M is balanced, efficient, dynamic and is excellent with digital, but in my humble opinion, they are the best passive speakers for vinyl records.
To sum up, if you are dreaming about cost-effective yet high-quality speakers that will fill your home with amazing acoustic, this model is for you!
Key specs
Total power output, W: 200
Driver size, inch: 2 x 6.5″, 2 x 1″
Impedance, Ohm: 8
Sensitivity: 96
Dimensions (W x H x D), inch/cm: 7.9 x 15.6 x 11.8 / 17.7 x 38.1 x 28
Weight, lb/kg: 16 / 7.3
Type: passive bookshelf
Pros
Solid and well-constructed
Delivers rich, full, and clear sound
Can get extremely loud
Comes with tiny rubber feet to reduce vibrating
Cons
May not work well with a lower power tube amplifier
Require a decent amount of power
Klipsch R-14M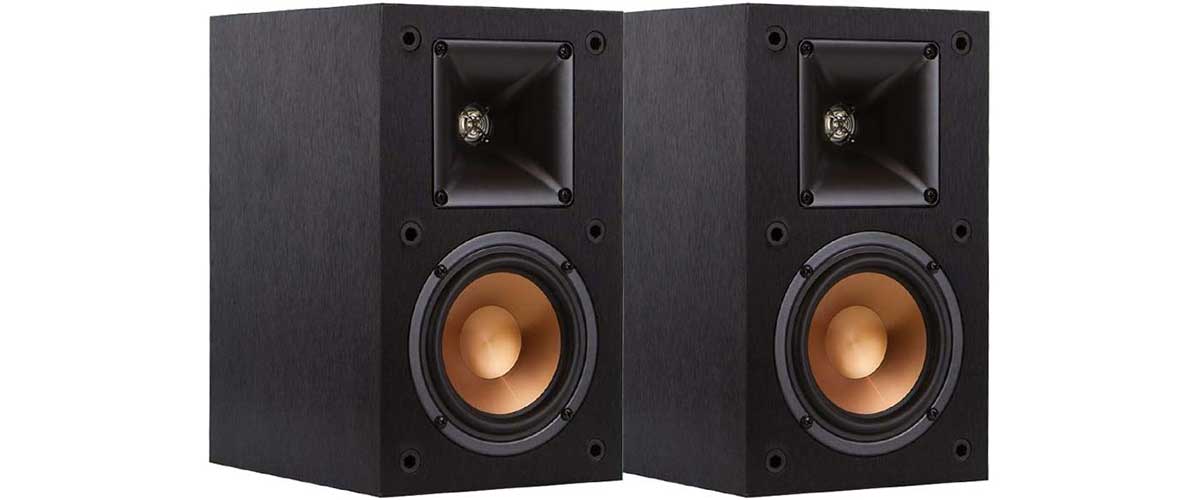 Klipsch R-14M features a killer combination for those who are looking for budget-friendly, small speakers with big sound and clarity. I've decided to compare this model with my old Klipsch HDT500 and heard the difference as soon as the music started playing. I just got a kind of "Wow" moment! The sound was so clear and crisp!
R-14M is packed with great technology. The maximum cont power is 50W. There are rear posts that provide good connection flexibility and a firing post for minimal turbulence at lower frequencies.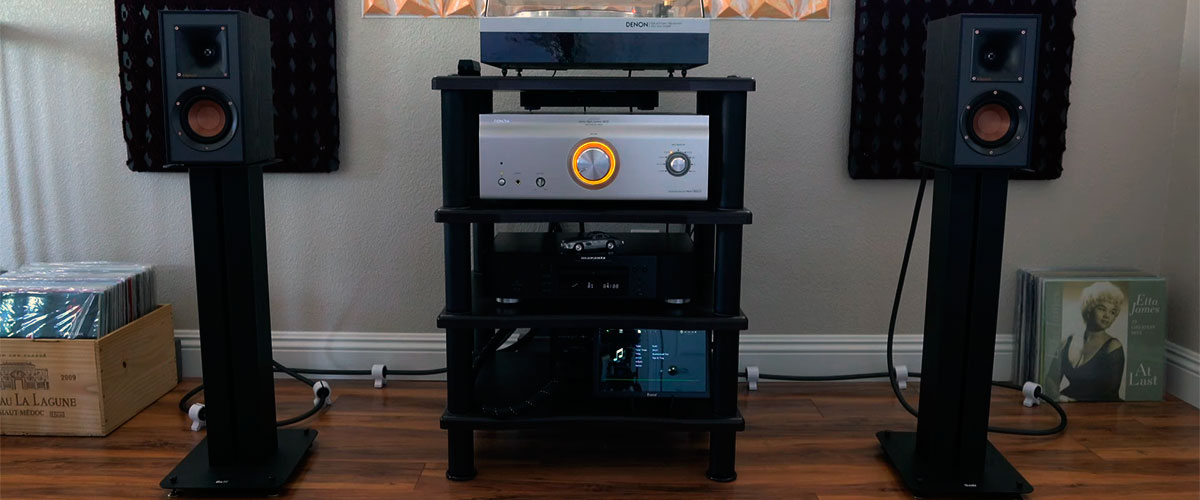 But the thing I really appreciate is the combination of high-class aluminum tweeters and copper-spun shielded woofers that make the speakers super-efficient and powerful. It delivers clean, real-life audio.
To sum up, Klipsch R-14M speakers are nice and little, yet mighty. I count them among the best speakers for a turntable in terms of value-quality ratio.
Key specs
Total power output, W: 100
Driver size, inch: 2 x 4″, 2 x 1″
Impedance, Ohm: 8
Sensitivity: 90
Dimensions (W x H x D), inch/cm: 5.8 x 9.7 x 7.5 / 12.7 x 22.8 x 17.7
Weight, lb/kg: 7.1 / 3.2
Type: passive bookshelf
Pros
The speakers do excellent with classical, acoustic, jazz, and ambient music
Stereo separation is incredible
Pair perfectly with any Klipsch speakers, whether they are an older design, lower quality, or bigger
Outstanding construction – durable MDF cabinet
Cons
Need a subwoofer, not strong on bass
Best Floorstanding Speakers for Vinyl
Dali Oberon 5 – best floor standing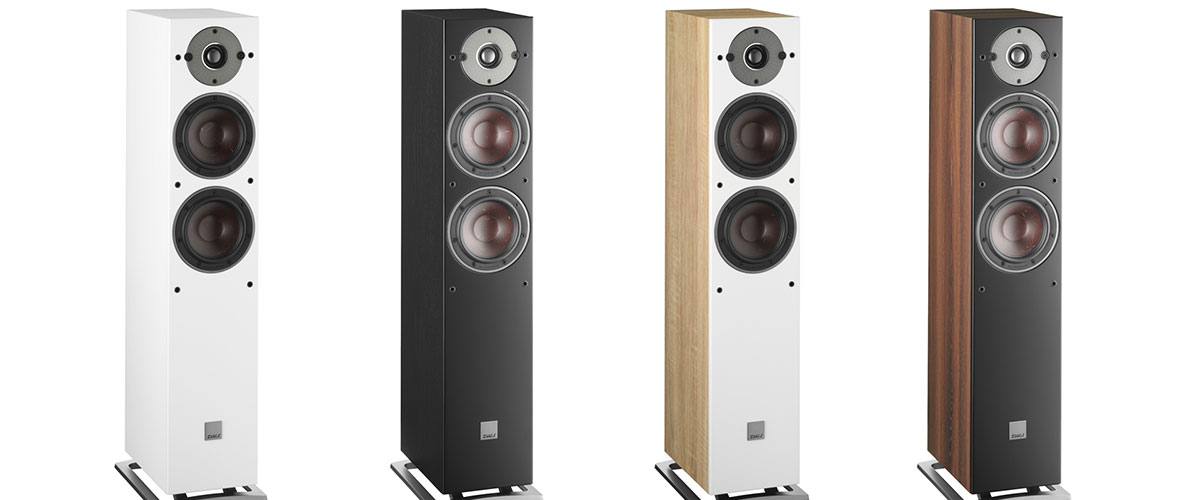 I genuinely consider Dali Oberon 5 the best floor-standing speakers. This slim model looks not only elegant and compliments any home design but also houses impressive technical characteristics.
Oberon 5 has a single-wire connection input, making it straightforward to use. The speakers' sensitivity is 88dB; they feature a 1×29'' lightweight, soft textile dome tweeter and 2×5.25'' wood fiber woofers. It allows the system to deliver well-balanced sound – clear high frequencies, well-defined mids, and deep bass.
I've compared this model with the Q Acoustic 3050i and found that Oberon 5 is much more articulate, especially in the mid and low range.
Another thing that impressed me is that Dali sounds excellent right out of the box. A rear model can boast such a characteristic!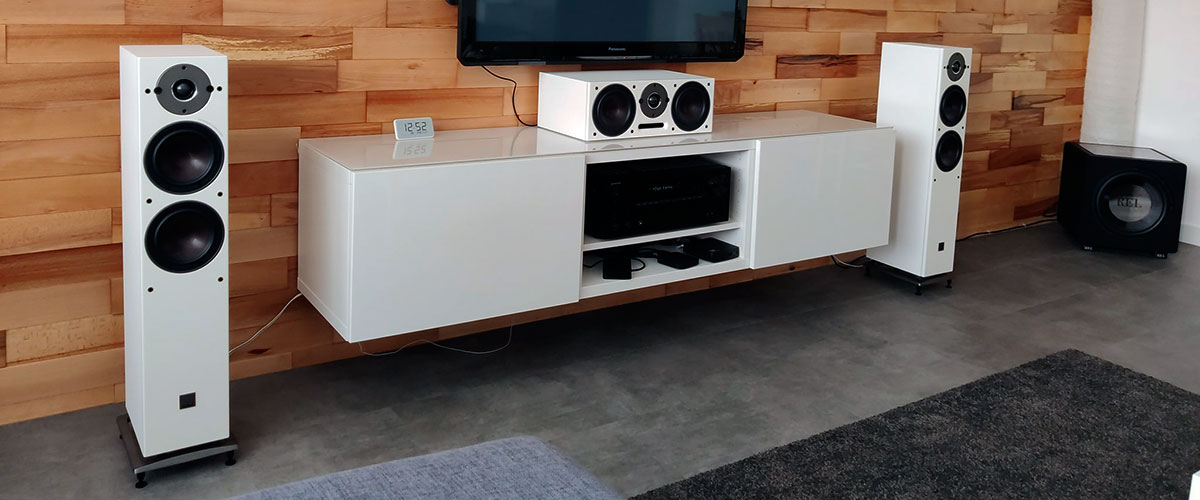 Finally, all speakers from the Oberon series boast great contemporary design. But the current model looks even more stylish with an elegant aluminum base.
To sum up, for those who appreciate the appearance and want to add a big sound, Dali Oberon 5 will be the right choice!
Key specs
Total power output, W: 300
Driver size, inch: 4 x 5,2", 2 x 1.1″
Impedance, Ohm: 6
Sensitivity: 88
Dimensions (W x H x D), inch/cm: 17.9 x 37 x 13.7 / 43.1 x 93 x 33
Weight, lb/kg: 32.3 / 14.5
Type: passive floor standing
Pros
Vocals are superb, they flawlessly convey emotions
Features unique SMC disk above the woofer magnet, which dramatically reduces distortion
Easy to position even in a small room due to discrete design
Cons
I was really amazed, but I haven't discovered any drawbacks to these speakers, that's extremely rare
Polk Audio TSi500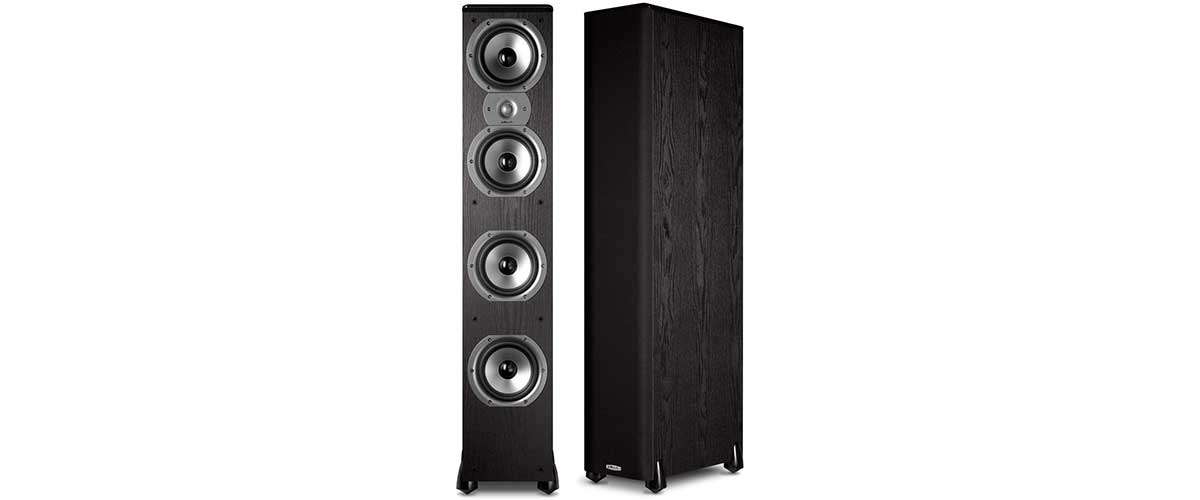 For such audio-holics like me, Polk Audio TSi500 is an absolute godsend. To speak the truth, I didn't expect much from these speakers; however, I was a bit more than impressed when I got them!
Compared to other tower speakers in the same price range, the TSi500 model offers much better performance, it provides room-filling audio. The sensitivity is high – 91dB, the power handling is 20W per channel. Silk dome tweeter produces clear and crisp highs, which doesn't hurt the ear.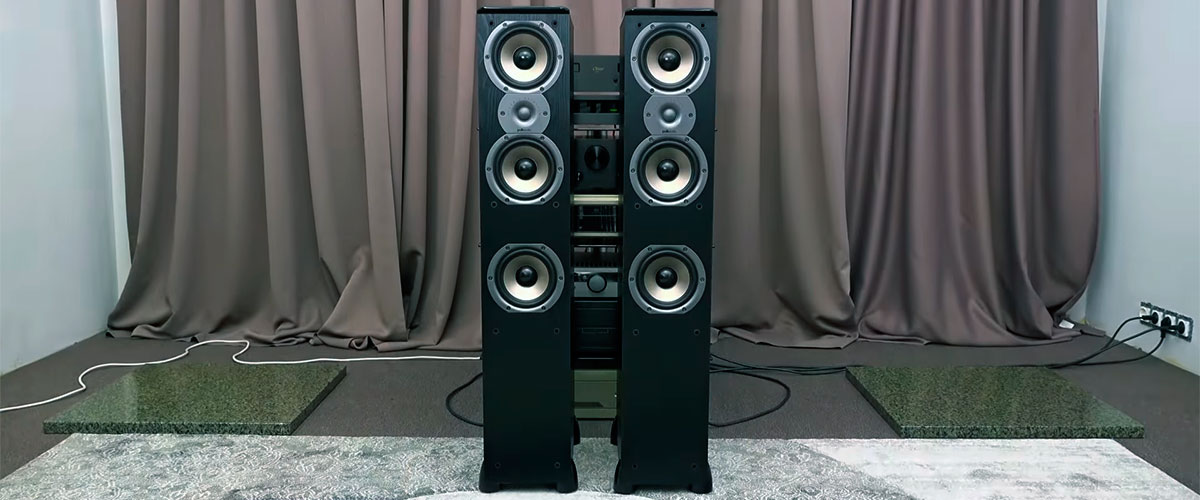 The bass response is perfect, and the mids are very smooth due to the Bi-laminate natural textile cone. Highs, mids, and lows sound incredibly well-balanced. I tested my TSi500 on "Nardis" and "Elsa" by Scott LaFaros, bass is so deep and mind-blowing with these speakers.
To sum up, if you're searching for the best speakers for a vinyl record player with superb sound quality at a reasonable price, Polk Audio TSi500 will serve you perfectly for lots of years to come.
Key specs
Total power output, W: 250
Driver size, inch: 8 x 6,5″, 2 x 1″
Impedance, Ohm: 8
Sensitivity: 91
Dimensions (W x H x D), inch/cm: 8.2 x 44.3 x 14.7 / 20.9 x 112.7 x 37.4
Weight, lb/kg: 45 / 20.4
Type: passive floor standing
Pros
Sounds great even in a small room with highly reflective walls
Vocal parts sound terrific
Bass is capable of shaking the house if you crank them up
Great design with a beautiful finish
Cons
There may be a "harsh" tone to opera and Broadway musical recordings
Buyer's guide
How do I connect my record player to my speakers?
When I bought my first speakers for listening to vinyl, I just couldn't wait to hook them up and finally hear sweet sounds soaring through my home. It's the same with you, right? I've prepared this short guide so that you connect everything in no time and enjoy your favorite audio list.
Record player with internal amp and active speakers
If you are new to vinyl, such a set is the right pick for you since it's more than easy to make it work, just plug and play!
All you need to do is hook up your record player to the speakers through an RCA. Easy-peasy! Enjoy the music!
Record player without an internal preamplifier and active speakers
Before you start, make sure you have two kits of RCA and a grounding wire.
The task isn't very challenging, but you'll have to make sure that you correctly connect cables prior to powering up, and you'll succeed!
Hook up speakers to the preamplifier via RCA.
Use the second kit of RCA to connect the turntable to the preamp.
Join a ground wire from the record and another one from the speakers to the preamplifier to get rid of feedback noise and buzzing.
Record payer with an internal preamplifier, receiver, and passive speakers
This combo is straightforward to set up! You'll need just one kit of RCA cables to connect speakers to the turntable with a preamp. So, how to hook up?
Connect your record player to the receiver via RCA cables.
Hook up a receiver to the speakers via the speaker cable.
Record player with a preamplifier, receiver, and passive speakers
Although this luxurious setup may take up more space, I think it's worth investments and a bit of extra room. Why? Because it'll allow you to upgrade your gear at any time you want higher quality sound.
So, let's join this "complicated" setup (lol), just make sure you have two sets of RCA cables.
Connect the receiver to the preamplifier through the RCA.
Hook up the preamplifier to the record player via the RCA cables.
Connect the receiver to the speakers using the speaker cable.
Join a grounding cable from the record player and another cable from the receiver to the preamp to get rid of feedback noise and buzzing.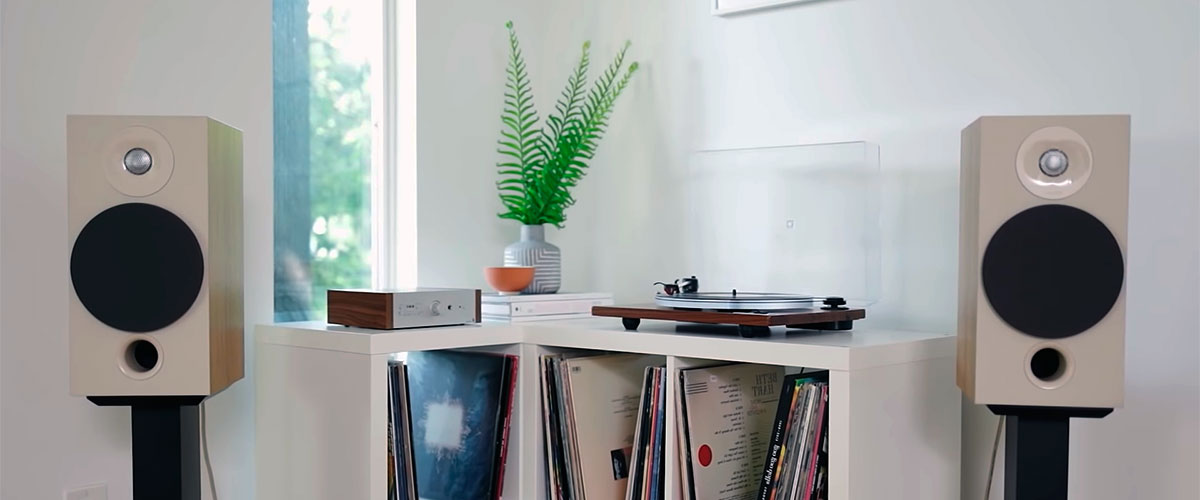 What is the right way to place speakers for sound?
The first rule of thumb – the speakers must be far enough from each other. Next, if they are not wall mount, place them at least several feet away from the front wall and a couple of feet from the side walls, the distance should be similar but not identical. This way, the speakers produce better sound.
Do you need speakers for a record player?
The market does offer record players with built-in speakers. So, there is a fair question – why do we need to buy external speakers?
The thing is, internal speakers are tiny and may experience too much pressure if you listen to louder music. This damages the sound and the speakers. So, if you use quality, separate speakers for a turntable setup, you'll significantly improve your music listening experience.
Can you use computer speakers for the record player
If you are new to vinyl, want to try it but don't have good, separate speakers, feel free to use your computer speakers. Of course, they aren't scaled in terms of power and can't produce perfect sound quality; but after all, nothing will replace a home stereo.
On the other hand, even if you listen to vinyl through the computer speakers, it still can leave you vinyl-addicted.