Audiophiles are familiar with record clamps that are used for "lifting" the sound, thus tightening frequencies throughout the spectrum and subduing any resonance. Such accessories started to be popular a long time ago, so nowadays those who want to get audio with the greatest quality have a huge choice. It is hard to say which of all the models presented in different shops is the best record clamp.

The effect offered by this tool is incredibly useful when you are playing records where significant high-frequency resonances and some bass vibrations are a problem. Adding a clamp can help considerably reduce sound flutter, improving speed stability due to extra mass. Here I am going to provide you with the info about such tools that you may not find in other record clamp reviews.
After reading my review you will know more about the products manufactured by such brands as Audio-Technica, Clearaudio, etc. I have tried each of the accessories mentioned here in order to find out how big is the difference between them and what are the reasons to buy the clamps made by famous companies. I am going to share with you all the info that is needed to select the record clamp for you.
Our pick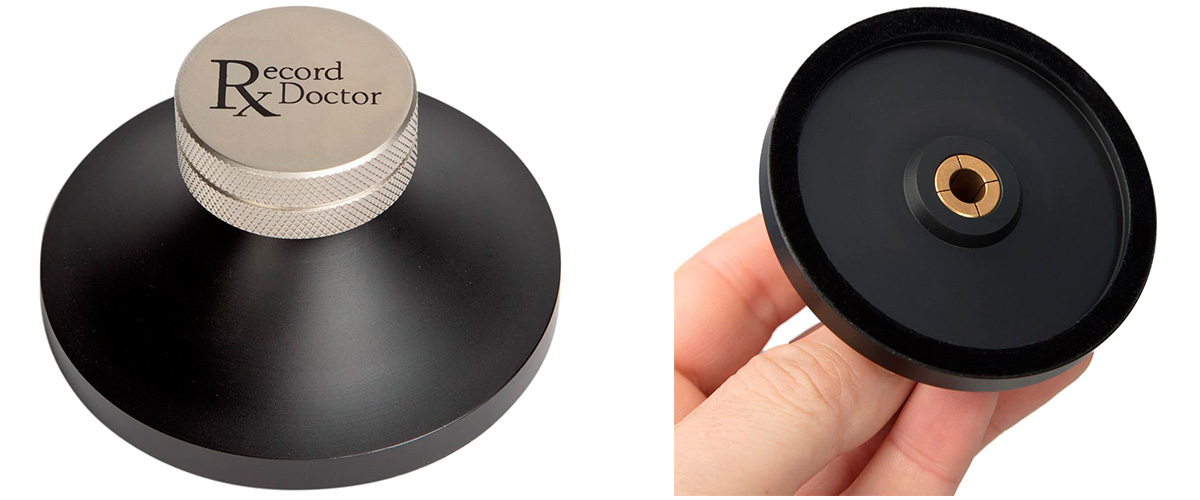 Record Doctor
The Best Record Clamp
Best Record Clamp Reviews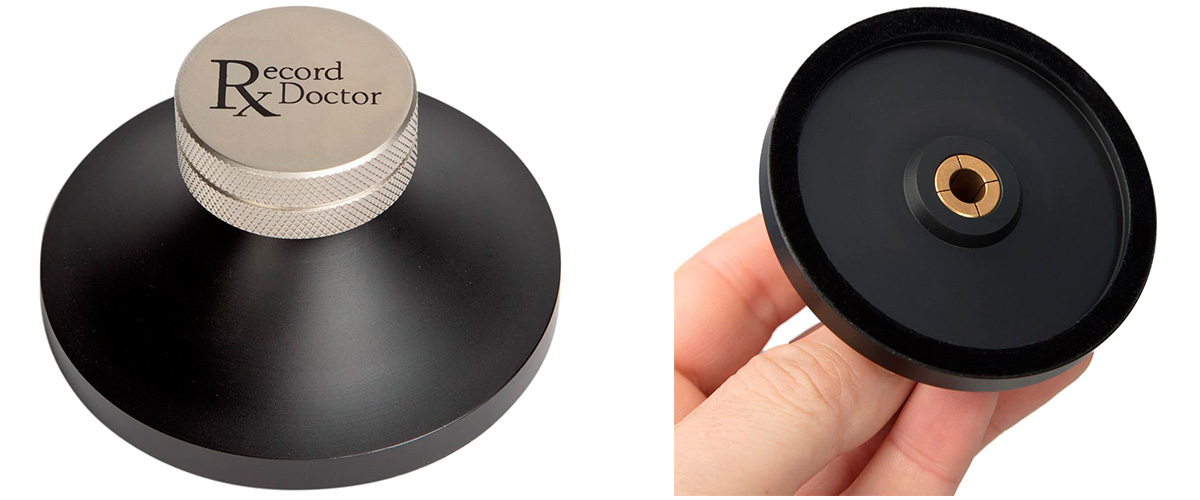 Let's start with this item that weighs 220 g/7.9 oz, which means it does not exert excessive stress to turntable bearings. Some say that this is the best record weight. Speaking of size, its height is 44mm which makes it fit for most popular turntables quite comfortably. This clamp has a textured aluminum knob that provides precise clamping pressure. An important thing to mention is that there is a velvet ring located in the place where the clamp connects with the record. It is very helpful in protecting records from scratches.
This nicely designed and engineered product can be used to improve the performance provided by most modern players, from entry-level to high-end audiophile models. With this clamp, songs with a lot of bass sound more defined. Moreover, it helps flatten warped records, despite the fact this is not the main function of Doctor Record Clamp.
Pros
It bonds the vinyl record to the platter quite tightly, which helps hold the record firmly in place
You are given a choice between a clear non-resonant acrylic design and black non-resonant phenolic body
As it increases LP stability, it reduces not only record wear but also stylus
Cons
For some, it can seem to be a bit extra tall
Pro-Ject Clamp It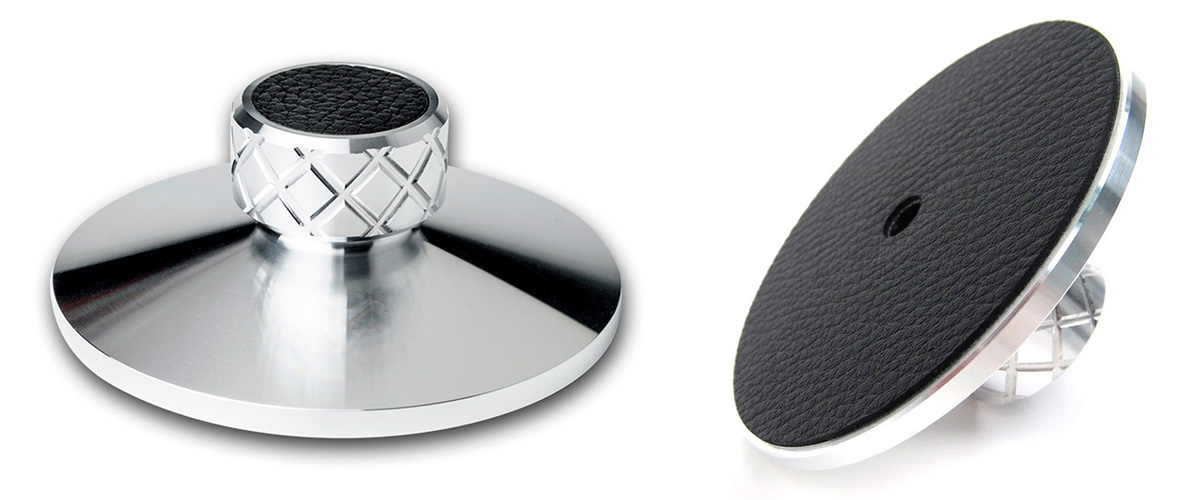 With this full metal clamp that has a leather coating, you can easily adjust the pressure depending on your record's condition. The manufacturer made it really simple, so just in a few seconds, you can significantly change the quality of the sound. The mission of the company Pro-Ject Audio Systems is to make great turntable clamps at the most competitive prices possible.
The considered accessory is 3.1″ in diameter and it is pretty lightweight — only 120 g/4.2 oz. It has a diamond-cut finish. You will be surprised how quick and easy mounting of this clamp is. Its height is 33mm. It doesn't add much weight to the platter, so the clamp will not have any effect on the bearing. This clamp, unlike lots of others, doesn't require a threaded spindle, since it is more of a grip mechanism inside.
Pros
Offers sound improvement for all turntables
Nicely machined diamond-cut edges look really beautiful on any turntable
Cons
It is not going to flatten a warped record completely
Clearaudio Clever Clamp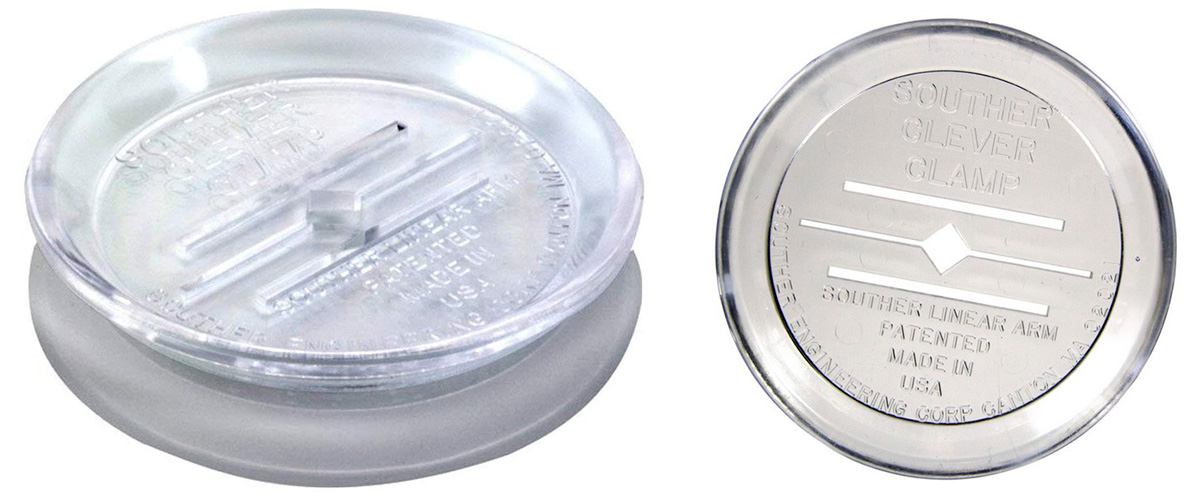 Let me show you this clamp that slides over and grips the spindle, thus locking and clamping records into place. Basically, this is a 65mm diameter plastic disc with a quite lightweight design. The mentioned accessory pushes onto your spindle, holds your vinyl very flat, and can be removed easily. This clamp has a low profile and can work even in case you leave the lid on a player.
Pros
Upturned edge makes mounting and handling and surprisingly easy
Couples the LP pretty tightly to the platter, which means that internal resonances will be removed from the stylus
Holds LPs securely to the platter but does not add any additional strain on the construction
Cons
Not the most durable record clamp on the market
Audio-Technica AT618a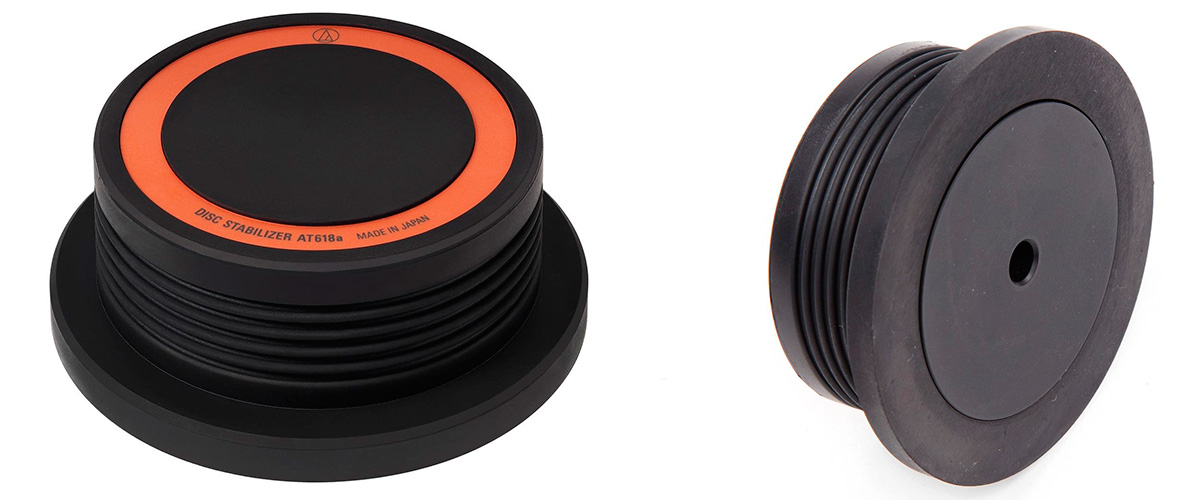 Take a look at this item with machined brass housing that weighs 600 g/21.2 oz. The considered accessory mounts over the turntable spindle and keeps the record from lifting. I would suggest using it for high torque turntables that have firm platter suspension.
This tool is utilized by DJs and audiophiles who want to get higher fidelity audio quality and extractive performance from their records. You can use Audio-Technica AT618a when recording your vinyl into a computer and want to get maximum clean audio.
Pros
The high-density metal used in the stabilizer does a great job reducing the overtone resonances
The profile has a perfect height, that lets you close the turntable lid without removing the stabilizer from the spindle
Has a good protective rubber cover
Cons
Not recommended for budget turntables due to its weight
If your tracks were not engineered with quality low end, consider that the record clamp to add bass
Record Clamp Buyers Guide
Record clamp vs weight
Record clamps and turntable weights are not the only method to make the sound of vinyl records better, however, they are the most common ones. They both are necessary for warped records and helpful for resonance control. The mentioned tools are made to minimize the vibrations that harm the sound and make the record considerably easier to track. But which one should you choose?
All vinyl enthusiasts have different opinions about it since both options have some benefits. The thing is that it is better to avoid using record weights on many cheaper record players or turntables. But these accessories are great for those who do not want to take a risk of damage in case of over-tightening of the clamp. If you are not sure about your choice, it makes sense to get a recommendation from the manufacturer.
The main advantage of the clamps is that they secure the record without a lot of extra weight. If you worry about the strain on your turntable components, then such an accessory would be perfect for you. Speaking of its disadvantages compared to weights, they require additional time to physically clamp the disc. An important thing to consider is that screw-down vinyl record clamps require a threaded spindle. Anyway, the efficiency of the work of the mentioned tools mostly depends on the company that makes them.
How heavy should a record weight be?
One of the purposes of using a record weight is to distribute the weight of the record. In case you chose a too heavy tool the record can easily lift from the mat. The reason is that the mat depression edge is acting as a fulcrum. The average weight of the best record clamp is 226 – 340 g/8 – 12 oz.
Things to consider when buying a record clamp
It is better if the clamp is protected from harm by a felt ring on the bottom. The vinyl record clamp must have a weight that is appropriate for your turntable. Keep in mind to make sure that the clamp you are going to buy will fit properly in the clearance between the LP record and turntable dust cover.