Prior to starting our review, you should be aware of the fact that the best headphone amp under 100 at this price is a budget device with an initial level of sound quality. However, even such units will allow you to feel the difference in the use of headphone amp.
It is recommended for purchase by those who are just going to plunge into the world of high-quality sound and want to spend a minimum of money. Remember that you can always upgrade your sound device, but at the initial level, I advise you to have a look at the models presented below.
Our pick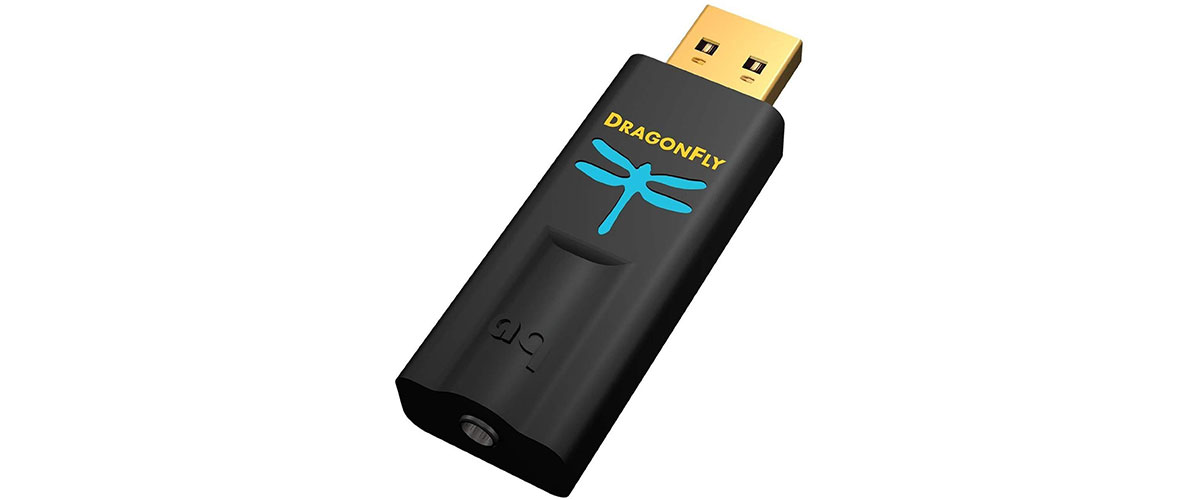 AudioQuest DragonFly Black
The Best Budget Headphone Amplifier
With DragonFly Black, any computer, laptop, tablet, or smartphone can be used as a true high-fidelity music player, allowing music lovers to enjoy beautiful sound.
Best Cheap Headphone AMP Reviews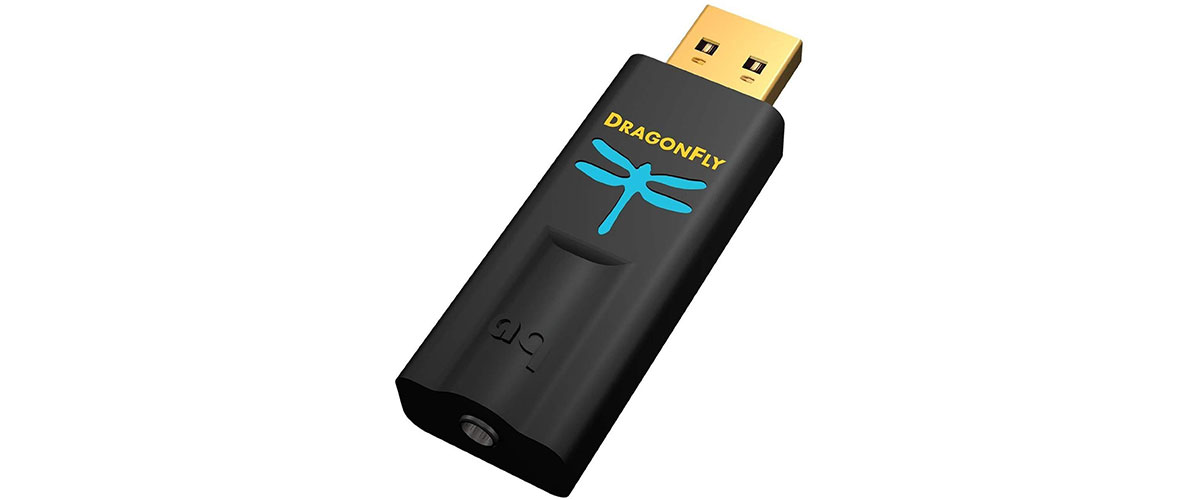 The best headphone amp under 100 in this list, Audioquest Dragonfly DAC Black, is an affordable and easy-to-use device for great sound, bypassing the low-quality computer sound card built-in.
DragonFly is a spectacular flash-sized digital audio converter plugged into the USB port of your Mac or Windows PC, which turns any computer into a full-fledged Hi-Fi music source.
Are you on the go or at home? Are you listening to headphones or connecting a computer to a stereo system?
DragonFly will fully reveal the emotional expression and shades that make your favorite music or movie so enjoyable. Immediately after connecting DragonFly easily and simply improves the sound of any computer.
The heart of Audioquest Dragonfly DAC Black is the 32-bit ESS 9010 32-Bit Converter, a high-performance solution often used in high-quality CD and Blu-ray disc players. DragonFly supports audio and music files from MP3 and standard 16-bit / 44 kHz CDs to high-definition 24-bit / 96 kHz, regardless of file format. If your computer software plays the music file format, DragonFly makes it sound especially unique.
Pros
The fact that they designed it to accommodate firmware updates is great
The attention they put into the booklet + add-ins are pleasant surprises
Cons
The overall effect is not a massive night/day difference that bowls you over
Cambridge Audio DacMagic XS – best portable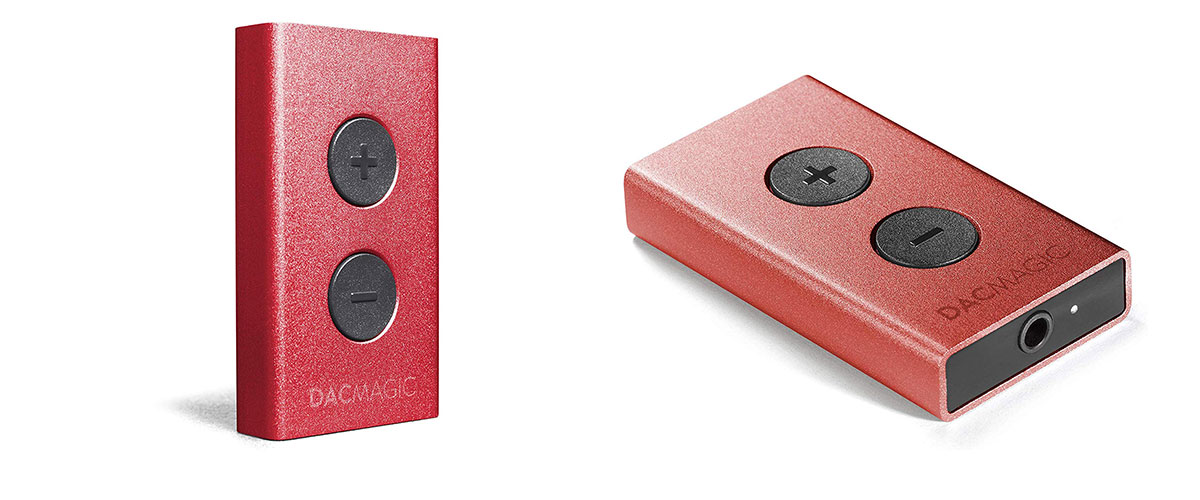 Talking about such a characteristic like portability, this device is the best headphone amplifier under 100.
The unit is very compact (30x10x53.5 mm) and weighs about 40 grams. At the top are two round volume buttons, which also allow you to switch modes between USB 1.0 and 2.0 (more on that later). At one end there is a Micro-USB connector for connecting to a laptop, and at the other end there is a standard 3.5 mm headphone output and a small LED informing about the current sampling frequency of the input signal: at 44.1 / 48 kHz it glows blue, at 88.2 / 96 kHz – green, and at 176.4 / 192 kHz – pink.
DacMagic XS can operate in USB 1.0 and 2.0 modes, which are switched by simultaneously pressing the "+" and "-" buttons. In the first case, the maximum sampling frequency of the input signal is up to 96 kHz, and in the second – up to 192 kHz.
To support USB 2.0 mode in Windows, you must install a particular USB driver from the developer's site. After that, in the properties of the sound device, you can select the maximum value of the sampling frequency.
Pros
The DACMagic can rescue peaks and valleys from compressed garbage Mp3 files, which is impressive
The sound is quite clear, and the small additional power is just enough to really enjoy my over the ear headphones
Cons
There is no help getting a driver (which is required)
It is not plug and play
Creative Sound BlasterX G5 – best for gaming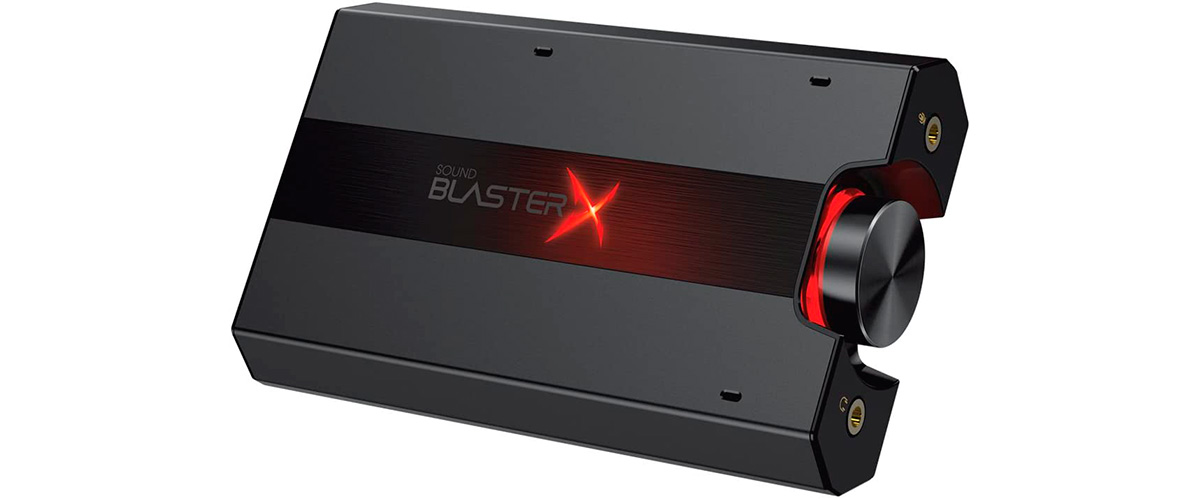 The model Creative Sound BlasterX G5 is a headphone amp under 100 based on a Texas Instruments TPA6120A2. This device is widely used for gaming. Its declared output impedance is 2.2 Ohm, and headphones up to 600 Ohm are supported. You can use the L-H lever to change the audio gain level for different headphones (L – low gain for low impedance headphones (32-150 ohms, gain up to 5 dB), and H – high gain for high impedance headphones (150-600 ohms), gain up to 15 dB).
On the back of the unit, you will find the line/optical input, a line/optical output, USB-Device port, and USB-PC port. In fact, the appliance can work with almost any modern headphones: plug-in, on-ear, and headsets. The model G5 uses a Cirrus Logic CS4398 DAC, which has a signal-to-noise ratio of 120 dB and a frequency response of 24 bit/192 kHz.
When connected to a computer, an "X" sign lights up on the top panel to indicate a successful connection. The sound control knob is backlit, the brightness of which varies with the volume level – the higher the volume, the brighter it lights up. Although in most cases, the headphones start playing loudly at 10-20 percent of the total volume, the backlit allows you to see it even at night.
Pros
The bottom of the unit has a rubberized grip to prevent sliding around on your desk
If something is wrong with the card (for example, lack of power, or the wire is damaged), the "X" sign starts flashing
It comes with two cables: micro-USB – USB, and optical digital audio cable with MiniToslink connector
Cons
The front panel is made of glossy plastic, which is easy to leave fingerprints on
LOXJIE P20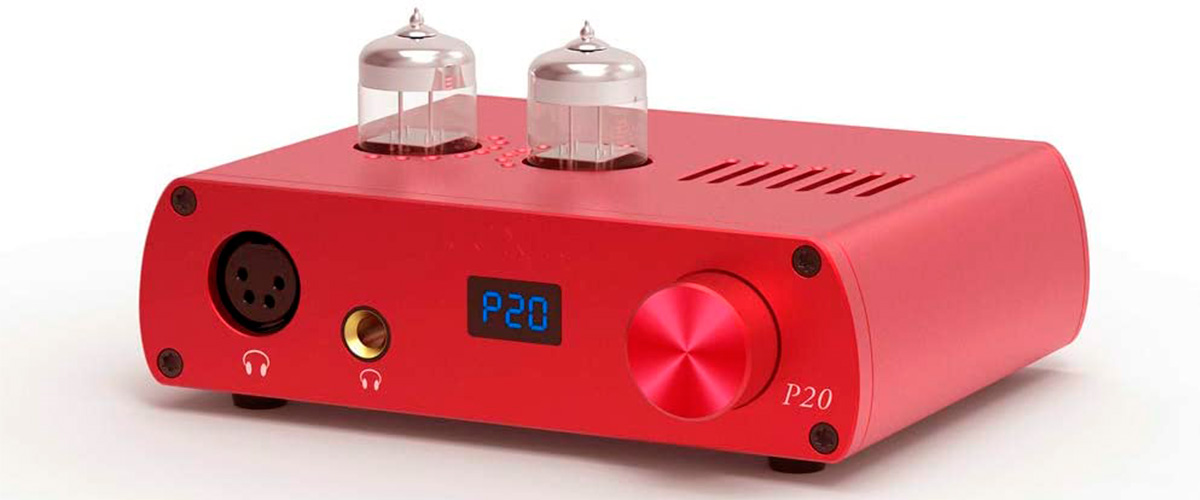 LOXJIE P20 is a small balanced tube headphone amplifier. It contains a pair of premium-quality 6N3 tubes mounted on a perfectly calibrated amplification circuit to achieve minimum distortion. The appliance impresses with its well-thought optimized design. The potentiometer lets a user both volume control and menu navigation while remarkably reducing the noise generated.
When it comes to technical features, the powerful drive circuit of the amp is up to 600mW at 64 Ohm. All components of the amplifier LOXJIE P20 are hidden in a robust black CNC machined aluminum housing. If you see a balanced amplifier that has both unbalanced output and input, you can be sure that the design has clearly focused on balanced circuitry to provide its benefits at its best. The P20 model isn't an exception.
Pros
Two-color schemes available: black and red
The sound provided by the device is open and airy with wider soundstage and with the tube warmth on top of it
The small display on the front panel shows the volume level, and when changing the outputs, inputs
Cons
The display could be designed better
FiiO E10K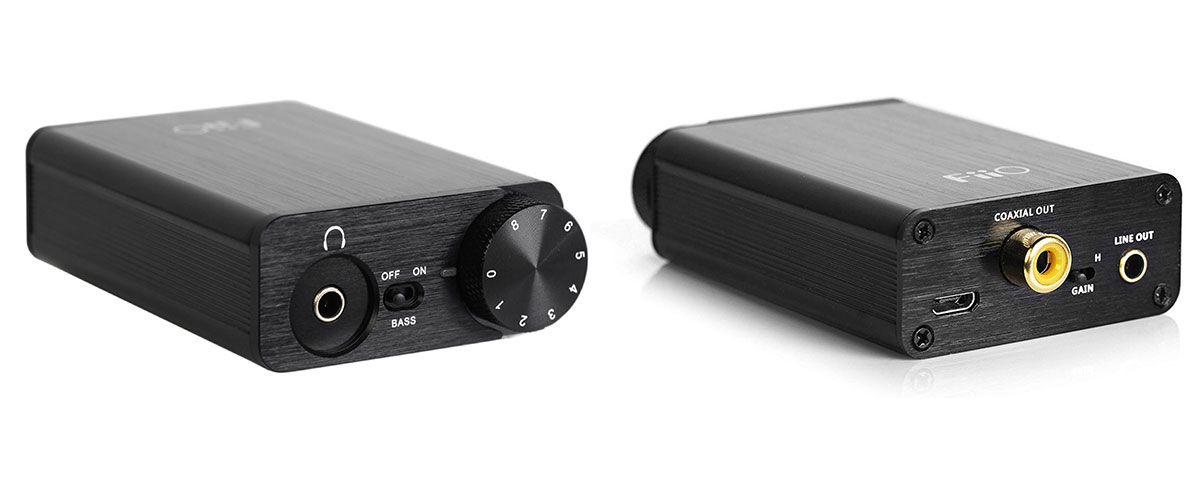 The compact FiiO E10K is a USB DAC with a built-in headphone amplifier.
On the front panel of the FiiO E10K, there is a considerable volume control with control digits printed on it, a headphone jack, and a bass boost system switch. The latter allows you to enhance the emotional impact of the sound of some models of headphones. The digital-to-analog converter is based on the Texas Instruments PCM5102 chip, capable of receiving a digital stream with 24-bit / 96 kHz parameters.
FiiO E10K is equipped with digital coaxial and line outputs, so the converter can be used in a stationary audio system.
A micro-USB connector is used to connect to a PC, through which a supply voltage is also supplied to the converter. The headphone amplifier circuit in the FiiO E10K is based on the LMH6643 chip, which has excellent dynamic characteristics. The recommended headphone impedance for use with the FiiO E10K is 16 to 150 ohms.
Pros
The sound quality is warm and detail after a few hours of breaking-in
Very nicely made with no sharp corner that can cut you
Cons
I'm slightly disappointed with the bass performance
The manual is poorly written
Monoprice 111567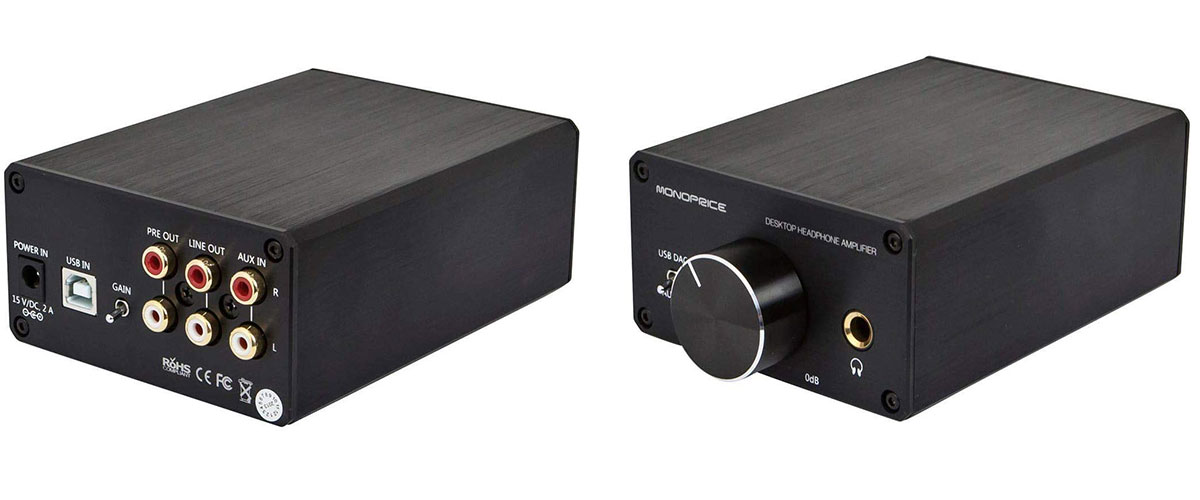 This headphone amplifier highlights a USB input and a professional level Texas Instruments DAC, completely reinstating your sound card without asking you to open your PC and placing a new card. The high-current output enables it to drive headphones with a broad range of impedances, from 16 ohms to 600 ohms. The RCA line outputs enable you to give the output to a stereo amplifier or powered speakers for those times when you don't need to use headphones. A set of RCA line inputs lets you connect an outer audio source, such as a CD player, so you can possess the advantages of the high-current headphone output with additional sound sources. The frequency response is 10Hz-20kHz and Impedance – 60 Ohms.
Pros
The audio quality is noticeably better than my onboard sound, and it can go a lot louder
The build quality feels sturdy, and I like that it has a switch to switch between the built-in DAC and an auxiliary RCA input
Cons
The turn knob is poorly finished and feels as if it might slice your fingers open every time that you go to turn to change the volume
Budget Tube Headphone AMP Reviews
Pros of tube amps:
High reliability and resistance to short circuits under load
Non-critical equipment to temperature overloads
The absence of "white noise" (hissing), characteristic of semiconductor models of equipment
Stylish appearance that is able to successfully and harmoniously complement a wide range of interior styles
Cons of tube amps:
Less linear in comparison with semiconductor devices
High heat dissipation and power consumption
Low efficiency (within 10%)
The susceptibility of the amplifier on the RF, UHF and UHF lamps
Nobsound NS-08E – best tube headphone AMP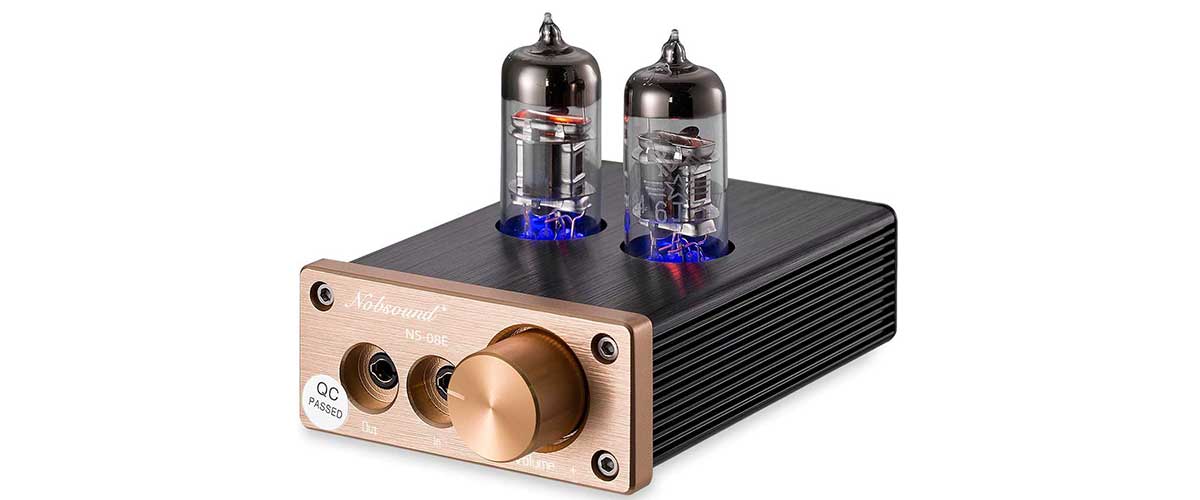 NS-08E is the best cheap headphone amp. It can offer 1100 mW at 32Ω and can drive 18~600 ohm headphones & headsets. The new version adopts a 6J3 vacuum & valve tube, which has warmer tube sound and more replaceable tubes. Upgrade circuit can ensure lower background noise, more powerful bass, and more brilliant treble. The best budget headphone amp can also be used as a stereo preamplifier for other amplifiers and active speakers.
Pushing out 1100mW at 32 ohms, the NS-08E headphone amp under 50 had no difficulties driving the 600 Ohm T1 Pro with plenty of capacity left on the volume knob. With delicate IEMs, you can sometimes catch a little background noise, but it's not obvious while music is playing and doesn't detract from the experience.
Replacement vacuum tubes include E180F, 6ж9П, EF861, and 6688. For the goal of this article, I stuck with the original 6J9s.
Pros
I didn't tube roll it or modify it because it sounds great as is
Fits normal headphone jacks
Aesthetically it looks great, the blue lighting from below the tubes complements and offsets the orange tube glow nicely, and the gold-colored front panel and volume knob are very sharp looking
Cons
Started producing moderate to severe distortion after eight months of use
There is a scratch or hum in the ears when you change volume or move around causing the plugin to hum
Douk Audio P1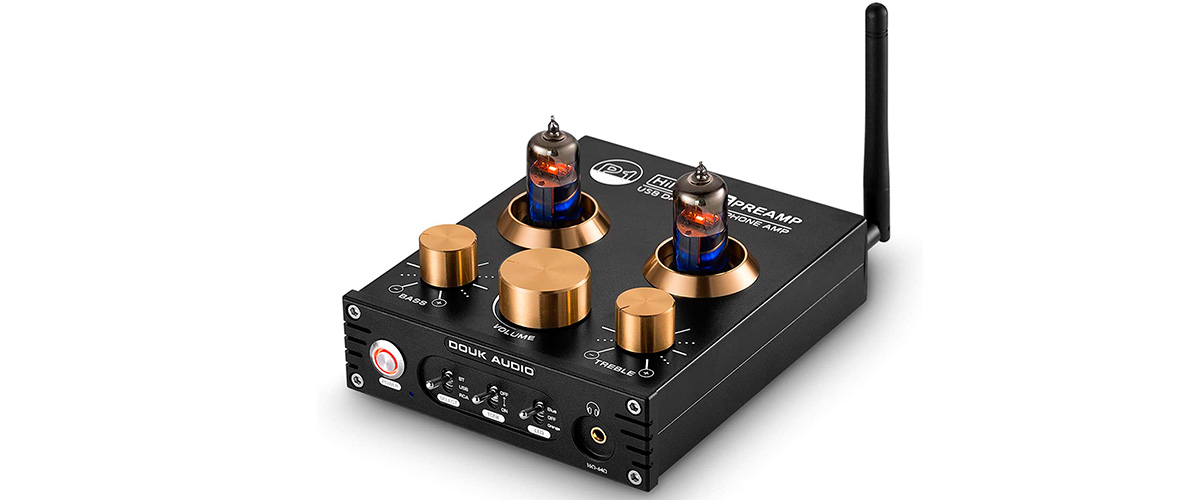 Douk Audio P1 is a stylish and compact budget headphone amp with a wide range of functions. The use of radio tubes in the amplifier increases the signal level and adds a unique distortion, called "warm tube sound", which cannot be obtained in any other way.
The amplifier has three options for connecting a sound source – Bluetooth, USB, RCA (tulips), and two outputs – for headphones, 3.5mm jack, and linear RCA. Wireless connection is provided via an external antenna for more stable reception. The amplifier uses Bluetooth version 5.0 on the Qualcomm QCC3008 chip, which supports the APT-X and APT-X LL protocols.
The model has a built-in DAC on the CM6642 chip, which supports 24 bit 192 kHz. This makes the P1 compatible with the popular Windows/Mac/Linux operating systems, which are widely used in devices such as phones, computers, MP3 players, iPod, Blu-ray players, CD players, TVs, etc.
Pros
The front panel has separate volume control and high and low-frequency control for fine-tuning of optimal sound without distortion
Attractive appearance with blue or orange illumination of the radio tubes to choose from contributes to aesthetic pleasure
Cons
When I connected my iPod with this unit's Bluetooth, the sound was distorted and muddy