Whether you are looking for the best keyboard amplification for an affordable price or want to get a premium device, the review below will be helpful.
As the main task of a keyboard amp is amplifying the wide range of sounds and frequencies, this appliance must be quite versatile. This means it can be used for amplifying acoustic instruments, vocals, and electronic drums without adding any color to music. My task is to show you what is different between various amps from famous brands and how to choose the right one for you.

The models mentioned here are the best keyboard amplifiers. Each of them has a feature that makes the device worth getting. You will find reliable and durable amplifiers in my review. These are perfect devices for a keyboard player with multiple keyboards.
Our pick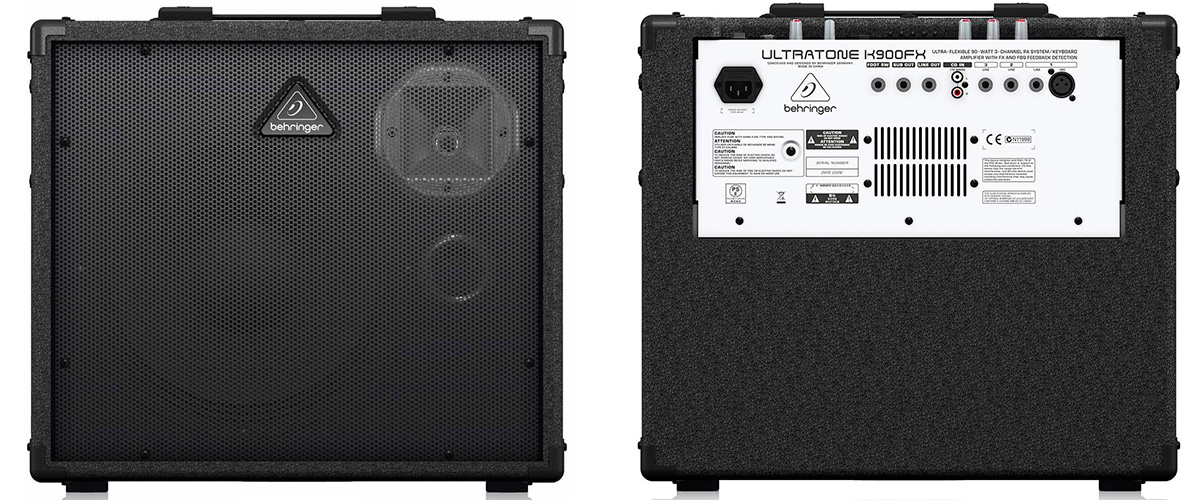 Behringer Ultratone K900fx
The Best Keyboard Amplifier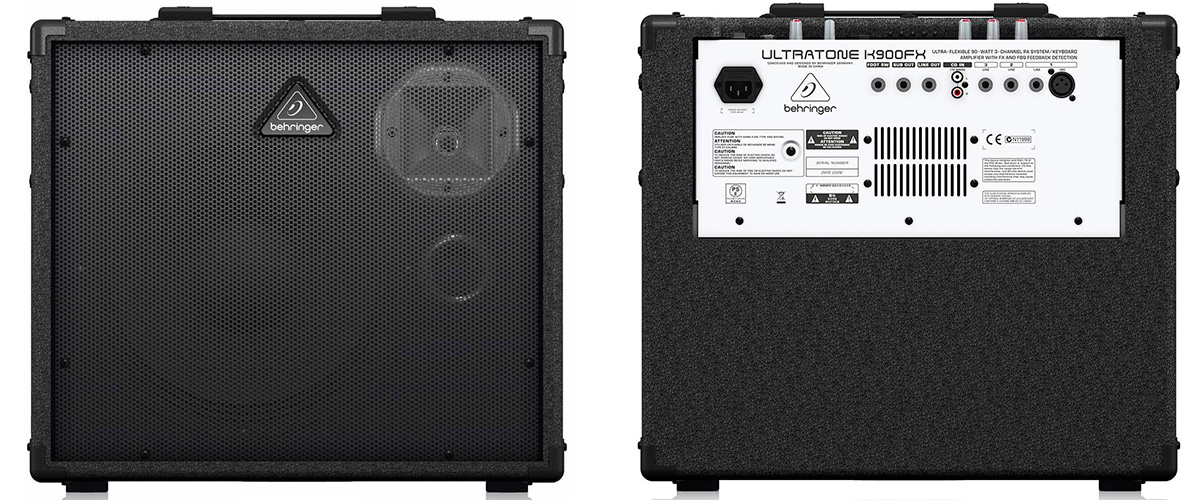 Let me start with the best keyboard amplification that has 90 W of output power. It is made in Germany which means that the quality of the unit is excellent. The Ultratone K900FX is the most compact and inexpensive of Behringer's keyboard combo amplifiers.
One of the reasons why this device is in this keyboard amplifier review is the fact that it has a full 3-channel operation with separate Volume and FX Send per channel. There is a dedicated microphone channel with an XLR jack for connecting a live vocal microphone. Ultratone K900FX allows the simultaneous connection of up to three musical instruments, or two instruments and one dynamic microphone. The device has a CD input that lets you play along to your favorite tracks. Actually, the amp has three 1/4″ inputs, one XLR, and one RCA input for Stereo. The handy aux input, via RCA jacks, lets you hook up MP3 players, CD players, etc. Powerful 12" Bugera woofer and custom-made 1" driver provides ultimate sound reproduction. Speaking of the outputs, there are two 1/4″ ones.
With this amp, you can sculpt your sound with the 5-band EQ and onboard effects. The amplifier weighs 18.8 kg/41 lb which is still pretty light. It provides a very clear sound when turned up to the max volume. With its full-range performance, Behringer Ultratone K900fx is a wonderful solution for a self-contained PA system.
The Behringer Ultratone K900fx offers the great power, tone, and extended frequency response that your instrument needs. The digital FX processor of the amplifier has 100 fantastic presets that include flanger, pitch shifter, chorus, and lots of others.
The FBQ detection system helps you find the critical frequency with the click of a button. The system reveals critical frequencies, plus it automatically clears the feedback which helps concentrate on the performance.
Pros
Equipped with a line output, which makes it possible to connect directly to your mixing console
It is light enough to be carried in a bag or backpack
You can connect a considerable number of additional devices to the Ultratone K900FX, from headphones for which there is a 1/4 "TRS jack on the main panel to an external audio system
Cons
It is not very big on volume
Roland KC-600 – best premium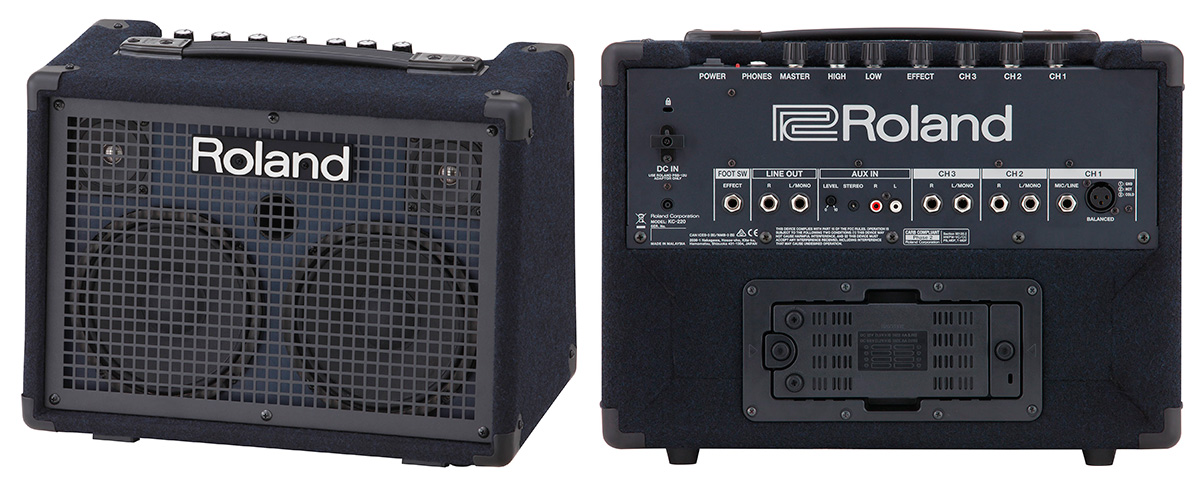 The next in the review is the best keyboard amps with premium quality. It has a pretty high level of output power which is 200 W. For tone control, you will have 3-band EQ.
Since the KC-600 has a built-in mixer, it is possible to connect it with different stereo keyboards and instruments, and with XLR vocal mic as well. An added benefit of the efficient new power section is reduced weight compared to the previous model. The device weighs approximately 28kg/63 lb.
The amp has an onboard mixer with 4 stereo input channels. It includes 8 x 1/4″ (L/mono, R), 1 x XLR, 1 x 1/4″ (stereo link), 2 x RCA, 1 x 1/8″ TRS (aux), 1 x 1/4″ (headphones). If you will need to expand your inputs or monitor in stereo, this model has a Stereo Link function that makes it very simple. Let's speak about the outputs this amp has. There are 2 x 1/4″ (L/mono, R), 2 x XLR, 1 x 1/4″ (stereo link), 1 x 1/4″ (sub out).
When it comes to speakers, there is one 15″ woofer and 1″ horn tweeters. The device has Roland's unique twin bass-reflex design, that offers extended low-frequency range with no distortion at all. Vibrant bass, middle range, and treble all sound incredibly crisp and clear.
Roland KC-600 is one of the largest of Roland's KC line and one of the best-selling keyboard amps. One more feature you have to know about is a stereo link I/O that gives you an opportunity to connect two amplifiers of this model together to get a full stereo sound.
Pros
Has metal jacks that raise its durability
Perfect for amplifying such electronic instruments as organs, rhythm machines, pianos, and lots of others
Plugging into a phone jack across the top of the unit will automatically mute the onboard speakers
Peavey KB 1 – best budget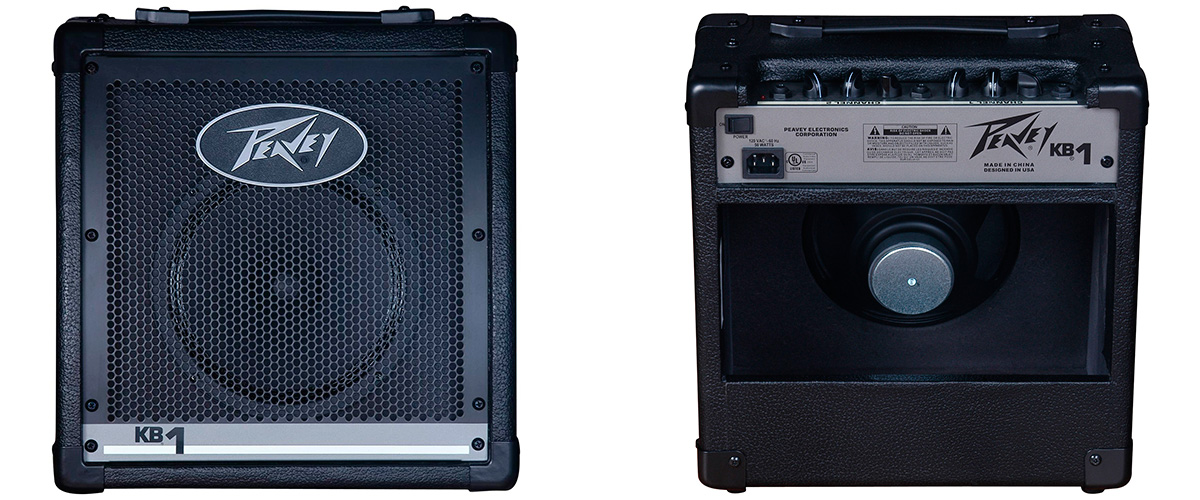 Here I would like to tell you about a small and portable keyboard amplifier that is being sold for an affordable price. You can take it just about anywhere with you and it can fit easily in the trunk of a smaller car. It comes with a convenient built-in handle, so carrying is not a problem.
Great range, the bass is as deep as you could expect for a speaker of such a small size, and there is absolutely zero buzz/fuzz background hiss. The considered amp is great for beginners that want to achieve their musical goals. Two channels are provided, featuring 1/4″ inputs, level controls, and two-band active equalization. Note that there are 3 inputs but only 1 mic input. When it comes to outputs, there is one 1/4″ for headphones. The output power is 20 W. Peavey KB 1 can be used for various purposes: use it for keyboards, acoustics, drum machines, or backing machines.
This is a very solid amp for drums and has decent power for its size. The headphone jack on the front panel automatically turns off the internal speaker when connected. Peavey KB 1 does much more than just amplify keyboards, it completes sound systems for your band rehearsals and great live performances. It is also worth to be mentioned that the quality of its built is very solid – even the knobs on Peavey KB 1 feel nice and heavy.
Pros
The volume output is pretty impressive
Perfect for practice, pre-gig warm-ups, songwriting
Simple and straight forward controls
Cons
Does not sound very good with the lower frequencies at 100 Hz range
Has two channels instead of four
No input for your laptop or iPod
Roland KC-220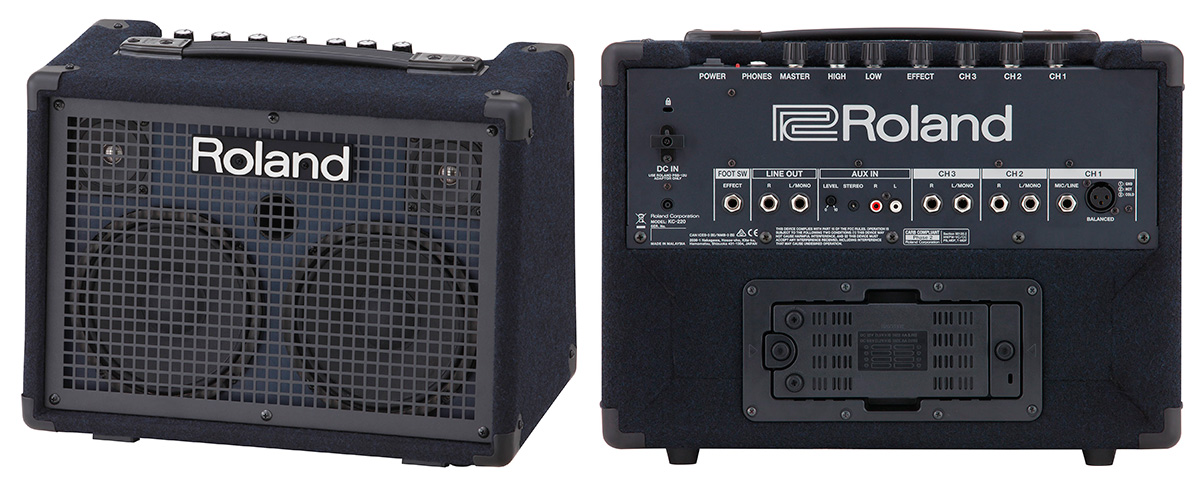 This is a keyboard amp with 3 channels and a full-range stereo sound. With regard to its output power, the device has 30 (15 x 2) W. This amplifier is used for enhanced detail and depth. Synth bass patches thump with authority. Roland seems to have gone for delicacy and natural sound. The KC-220 has great balance, power, and presence. The line-level audio signal for working on the board is as quiet and clean as possible without any white noise. Overall, there is a decent sound for such a compact amp.
Roland KC-220 features a pair of custom-designed 6.5″ speakers for great fidelity. This amp is also battery powered so it can be taken anywhere you want without having to be concerned with an AC supply being needed. It runs on 8 AA batteries or via AC power. An adapter comes with the appliance. The manufacturer also offers to buy an optional footswitch for using the amp for hands-free operation.
The device weighs about 7 kg/16 lb. The KC-220 is built with mono/stereo line outputs. It features two 1/4″ (L/mono, R) outputs. There is a high number of inputs: 4 x 1/4″ (L/mono, R), 1 x 1/4″ (mic/line), 1 x XLR, 1 x 1/4″ (headphones), 2 x RCA, 1 x 1/8″ (aux). This is a keyboard practice amp that is fully suitable for checking sounds on the stage with headphones.
This amp offers solid lows, prominent mids, and detailed highs. You will get plenty of stereo effects such as reverb, chorus, and "wide" chorus. In addition, you will have a 2-band equalizer: high and low to form a common sound according to the venue.
Pros
Has built-in chorus and reverb effects
Deep bass and fantastic sonic balance
It is equipped with metal jacks that increase durability
Cons
Reveals little power or volume
Roland Mobile Cube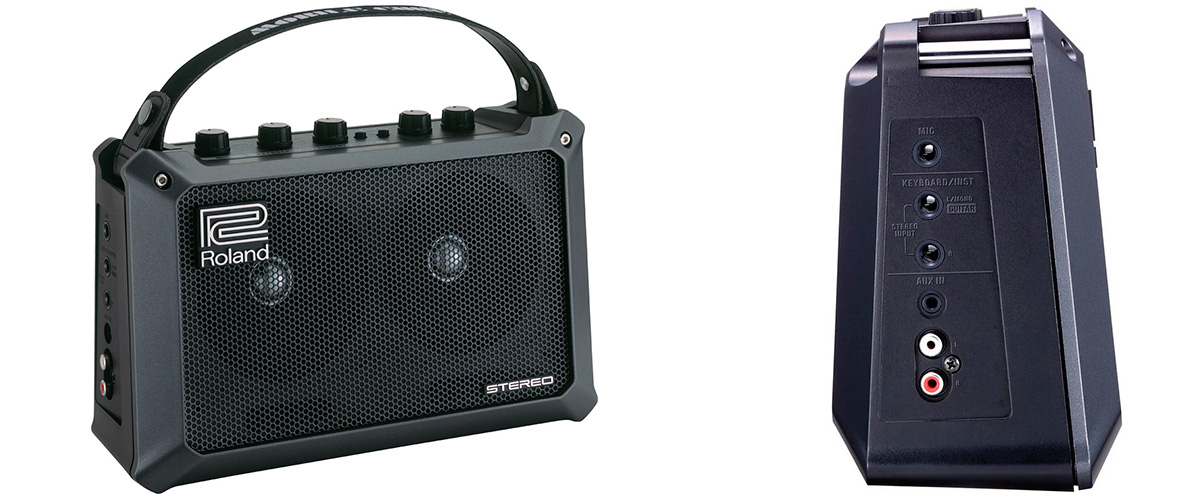 Let me show you this amp that has 5 (2.5 W + 2.5 W) of output power. The mentioned device does not take much space as its dimensions are 27.9 x 17.7 x 10.1/11 x 7 x 4.2 cm/inch. This makes the amplifier pretty portable and comfortable to use. An important thing to consider is that the appliance is battery powered. This means no problem with trying to find a source of electricity. Roland Mobile Cube has two speakers, each of which is 4″. In terms of sound, pianos, and organs sound plenty full.
Let's discuss the inputs of this battery powered keyboard amp. There is one 1/4″ input for microphone, one 1/8″ for headphones, and two for the instrument. The device also has one 1/8″ auxiliary port. Two high-performance 4″ speakers offer a stereo sound that defies Mobile Cube's physical size.
In essence, the Roland Mobile Cube is a combined stereo guitar amp for instant sound enjoyment. The reverb and chorus will make your music experience unforgettable. You can connect it to a microphone stand in order to use the amp as a monitor speaker or micro PA.
Pros
You can use it not only for keyboards but also for microphones, guitars, and even drum machines
Great choice for karaoke and play-along performance
Dedicated strap for making it easy to carry around comes with the amp
Cons
The larger space where you are playing and the more effects you need, the more likely you might press up the some limitations of this amp
Behringer KXD15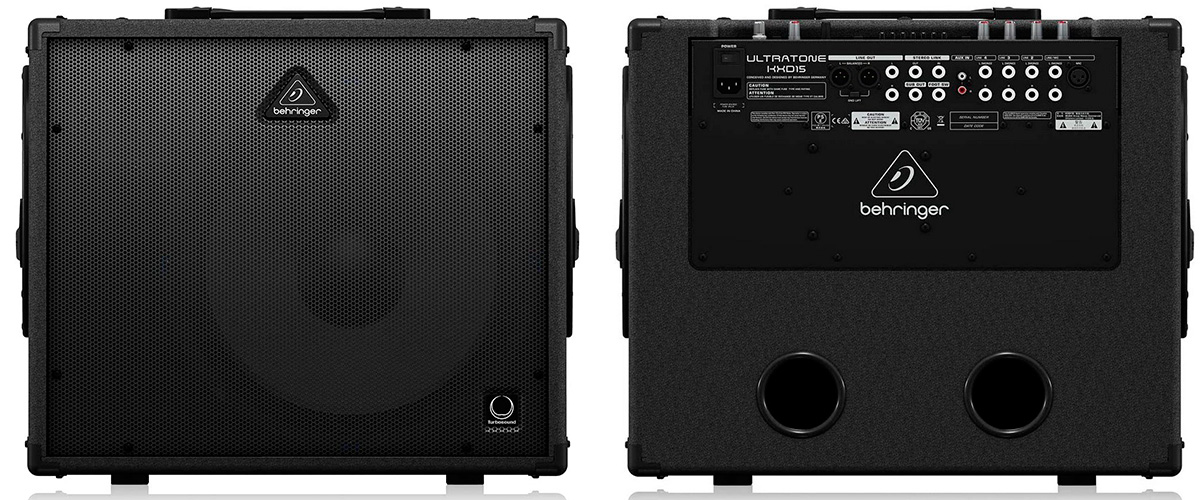 This 4-channel device comes with 600 watts of output power, a single 15" Turbosound woofer, and 1" compression driver. If you don't like the lower frequency outcome, you have the possibility to connect a subwoofer using the dedicated output.
You also have the freedom to experiment thanks to the built-in multi-effects processor. Let me tell you about equalizing the sound in more detail. You have an opportunity to change between reverb, chorus, delay, and pitch shifter. Try them all out to define which one is the best option for your instrument.
The keyboard amplification made by Behringer features a FBQ Feedback Detection system that is paired with a 7-band graphic equalizer. When the amplifier finds the frequency that is causing the feedback, it lights up the LED, which lets you clean up your audio easily.
Let's discuss inputs and outputs of the appliance. The first channel of the KXD15 has two standard inputs for a keyboard and a dedicated balanced input for a microphone. Other channels come with dual ¼" TS jacks. In addition, the device is equipped with two auxiliary inputs, Stereo Link jacks, Line Out with two 1/4" and two XLR inputs, subwoofer output, footswitch input, and a headphone output.
Pros
Equipped with an LCD display where you can see all available functions, choose presets, etc
It has a 4-channel configuration, which means you can connect multiple appliances simultaneously and layer in order to create exciting compositions
Capable of discerning a wide range of frequencies and reproducing them without any distortion
100 presets including reverb, chorus, delay, flanger, etc
Cons
The cone speaker doesn't have enough excursion to handle the kick drum effectively
Peavey KB 2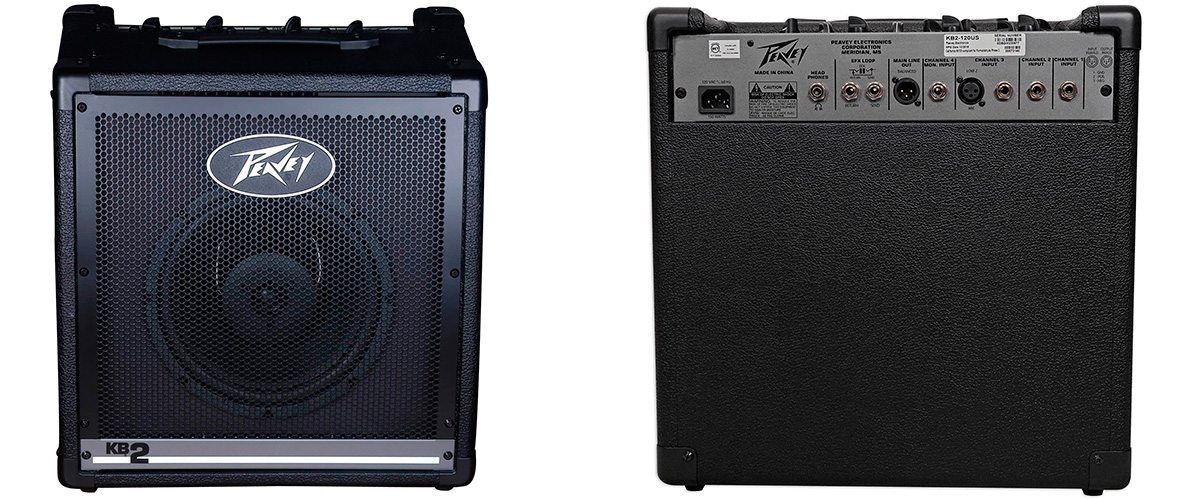 Peavey KB 2 has four separate channels. Two of them have 1/4 inputs, channel number 3 features XLR and 1/4 inputs, and the 4th one comes with a 1/4 monitor input with level control. The KB 2 has power of 50 Watts. Three of these channels have dedicated EQs that simplify tone shaping and more accurately eliminate unpleasant sounds. This device is great for voice, keyboards, acoustic and electric guitar, and drum machines. In fact, such an appliance is a complete sound system for your band rehearsals or live performances.
The Peavey KB 2 keyboard amp is solid, the knobs feel robust, and there is no distortion, even turned all the way up. This is due to the bi-amped design that enhances the output without adding any additional Watts. The biggest benefit of this device for me is being able to individually adjust the volume and tone options for each input itself, instead of having to adjust them separately with pedals or mixers.
Now, let's talk about the audio quality you can get with this amp. I really liked the great range provided by the device. And the bass it produces is as deep as you could expect from a speaker of this size. Moreover, there is no buzz/fuzz background hiss.
Pros
Its output power is bi-amped and offers 45 and 12 watts
Features an XLR balanced input for low-impedance microphones
Sturdy chassis and knobs, built-to-last
Sound can be tweaked interminably through individual EQs on the channels
Buyers Guide
Things to consider when buying a keyboard amplifier
An amplifier is incredibly important for those who want to focus on playing music or singing instead of trying to get as loud as possible. If you are looking for a good stereo keyboard amplification, my review may help you make a choice as it includes all the info you need to know about devices made by famous companies.
Sound quality
The first thing to consider when buying an amp is the sound quality. You have to pay attention to the EQ to boost or cut various frequencies and stereo effects. It can be a chorus, flanger, pitch shifter, and many others. The more effects it has, the more versatile it is. These additional opportunities are very useful if you are plugging in a microphone along with your keyboard.
A popular boombox setup is a 12" woofer combined with a smaller tweeter (usually 1"). Such a combination is great for a perfectly balanced response across a wide frequency range. There are also some unique features like voicing and modeling controls. With them, you can adjust the overall tone of a channel.
Input/output
When you are trying to choose a keyboard amplifier, you need to make sure that it has all kinds of inputs that you may need to connect equipment, and there are enough of them. Therefore, a number of inputs and outputs is something you have to consider in the first place.
Portability
Most keyboard amps are pretty portable. However, if maximum portability is a concern, there are lots of models designed especially to fit that bill. I have put a few of them on my list. So, take a look and choose the one which is the most suitable for your needs.
Keyboard amp vs PA
Some features of an amp for keyboard, such as a wide frequency range, are also common to PA systems. So, of course, what you are wondering is what is better to choose: a keyboard amplifier or PA?
The main difference is that if you have your own amplifier, this means that you have complete control over what you hear and not at all dependent on what you can get through stage monitors/wedges. At the same time, with PA, the sound depends on the number of signals and wedges sent by the monitor, which you can access to set your own mix.
In addition, the keyboard amplifier eliminates the need for separate monitoring and provides more stable sound from concert to concert and from stage to stage. Another advantage of amplifiers is that they are usually much more portable and they are often easier to dial in on the fly. To conclude, I find amps a much better solution for working with a keyboard as it has plenty of advantages over PA.
Can you use a guitar amp for a keyboard
A fairly common question: "Can I just use my guitar amp for the keyboard?" Well, that would be very convenient, since you would kill two birds with one stone. The fact is that the sound that you can get from a guitar amplifier does not match what you can get from an amplifier created specifically for keyboards.
The guitar device is designed to improve the sound in the frequency range in which the guitar operates. A keyboard player needs a much wider range of frequencies.