If you already have a good set of audiophile headphones and now want the best headphone amp, you are precisely at the right place. Make sure you are getting every bit of performance out of headphones – invest in a good headphone amplifier.
These little devices will drive the signal from your music player and increase both its volume and detail. The great news is that you don't ought to spend big to get one; whatever you're looking for, we can help.
Headphone AMP Reviews
We divided all the headphone amps in our article into categories. I hope this will ease your struggles when choosing the best headphone amplifier. Here you can find groups by price, terms of use, or characteristics (tube, DAC).
Best Headphone AMPs Under $100
Amps presented here are budget devices with an initial level of sound quality, but even they will allow you to feel the difference in the use of the best headphone amp. Recommended for purchase by those who are just going to plunge into the world of high-quality sound and want to spend a minimum of money.
AudioQuest DragonFly Black – best under $100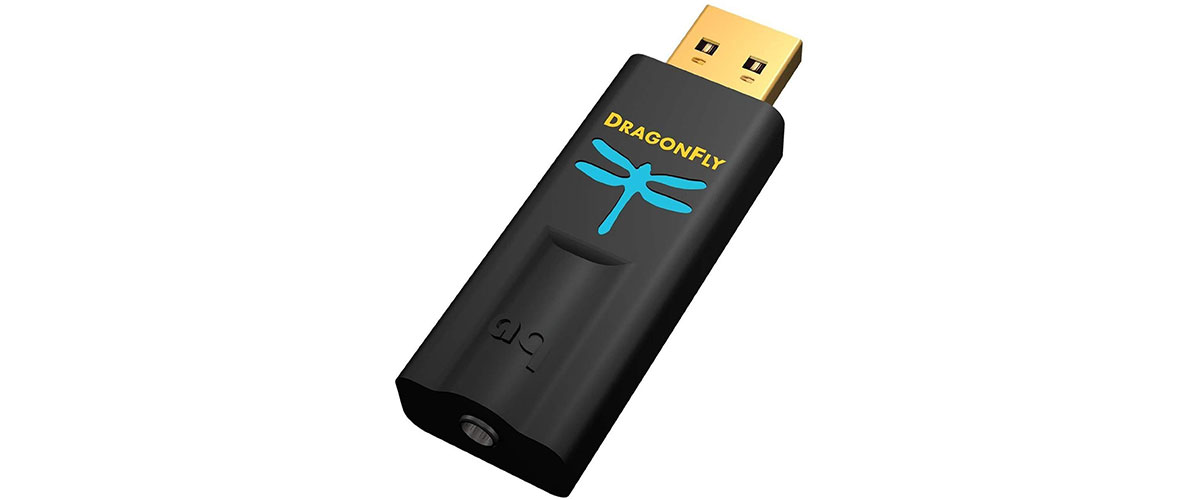 This budget headphone amp now runs a 32-bit chip from ESS Technology. It didn't reach the support of the DSD format, but the sound improved a lot. The device reads the "high digit" to 96 kHz / 24 bits. It will play files with high accuracy down to 96K. The silhouette of a dragonfly cut in the device's body, in addition to its aesthetic function, serves as an indicator. The LED backlight changes color depending on the sampling frequency of the file being played. A green glow indicates that the source is 44.1 kHz, blue – 48, amber – 88.2, purple – maximum 96 kHz or higher. DAK DragonFly 1.5 added dynamics and meticulousness in the transfer of details.
In order to reduce consumption, the USB microcontroller was replaced from Texas Instruments TAS1020B with Microchip PIC32MX. For the same purpose, the output voltage is reduced from 1.8 to 1.2 volts. As further practice has shown, for the vast majority of headphones, this value is enough.
Pros
It delivers clean, clear, naturally beautiful sound to headphones
It can play any file type notwithstanding of resolution
Cons
There are compatibility issues with specific phones
LOXJIE P20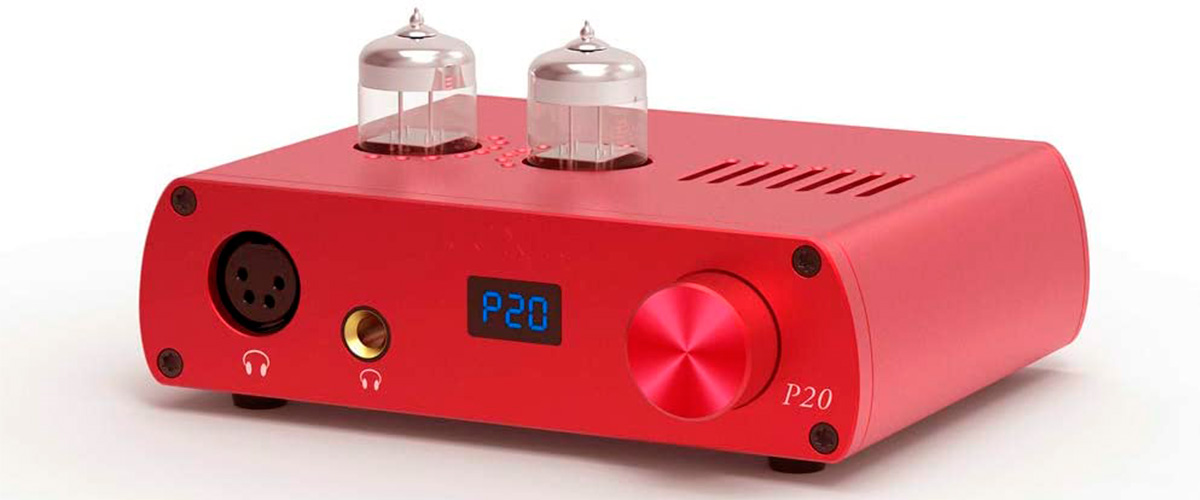 Let me introduce you to the headphone amp with two tubes presumably acting as buffers for its balanced amplifier circuit. The device is made of quite sturdy metal chassis with a machined-aluminum knob and rubberized feet. There are models in different color schemes available: black, silver, and red.
The Loxjie P20 headphone amp is super easy to operate. The amplifier comes with a digital display, which shows input and output selection when you press the volume knob. The appliance is equipped with balanced inputs (R/L, 3-pin XLR) and outputs (full-sized, 4-pin XLR) and unbalanced inputs (R/L, RCA) and outputs (1/4-inch headphone jack). You can choose one of them by turning the knob in each digital mode.
When it comes to power, 325mW in 300 ohms in balanced inputs and outputs is enough power for most other common headphones on the market. Speaking of sound delivered by the amp, it is rich and warm. You will enjoy deep lows and buttery mids with sharp but very smooth highs.
Pros
Fully balanced headphone amplifier, including balanced input interface
You can use relay for mute control
The 60 step volume control requires about three full turns from lowest to the highest level, which means you can achieve exactly the volume you want
Cons
The unbalanced output produces a buzz on both sensitive IEM's and low impedance headphone cans
I don't like the blue color of the display, and I think the classic white display is better
Cambridge Audio DacMagic XS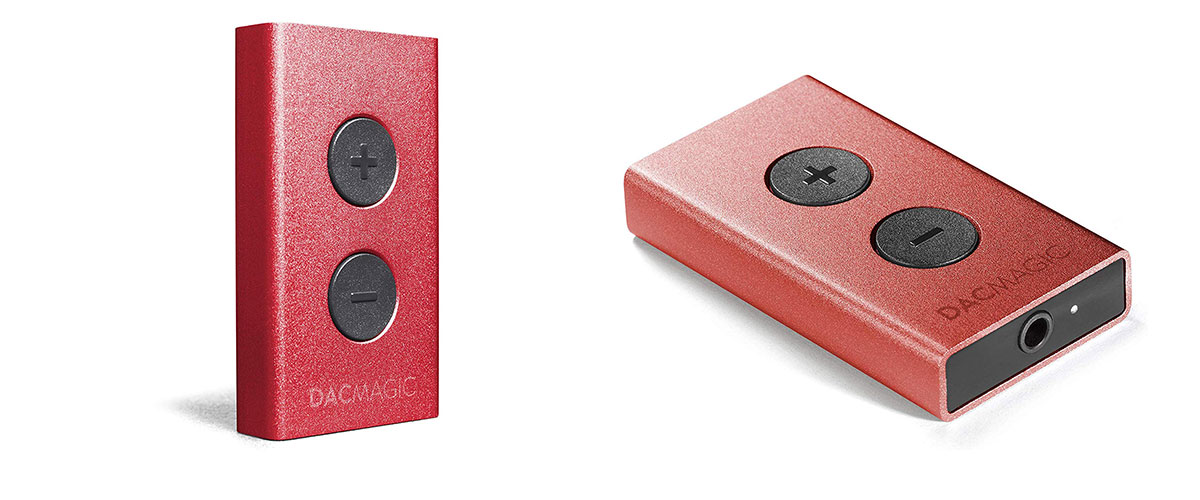 The headphone amp under 100, called the DacMagic XS, thanks to the anodized case made of aluminum profile, looks solid, and at the same time, it turns out to be very light and compact – its dimensions are smaller, for comparison than a standard matchbox.
The digital receiver in the device with a MicroUSB jack supports standard USB 1.0 and 2.0 audio protocols. In the first case, it accepts streams from 16 bit / 44.1 kHz to 24 bit / 96 kHz, and in the second – with a sampling frequency of up to 192 kHz.
Further conversion to analog is carried out by the modern 24-bit chip ESS9023. Cambridge Audio does not report on how the output part is implemented in the attached documentation, but I note that the "telephone" link has convincing parameters (support for 12-ohm load, the output impedance of only 0.5 Ohm, considerable output power). And in addition, it can work as a regular line output with a standard voltage of 2 V for home audio equipment.
Pros
It can rescue peaks and valleys from compressed garbage Mp3 files
This is a no brainer entry-level DAC that works very well with headphones and receivers alike
Cons
The sound on the dynamics always seems a little squeezed
Best Headphone AMPs Under $200
Models presented in this price segment of our headphone amplifier review are optimal in terms of price/quality combination. It is with such models those audiophiles need to start who want to achieve high-quality sound from headphones.
Audioengine D1 – best under $200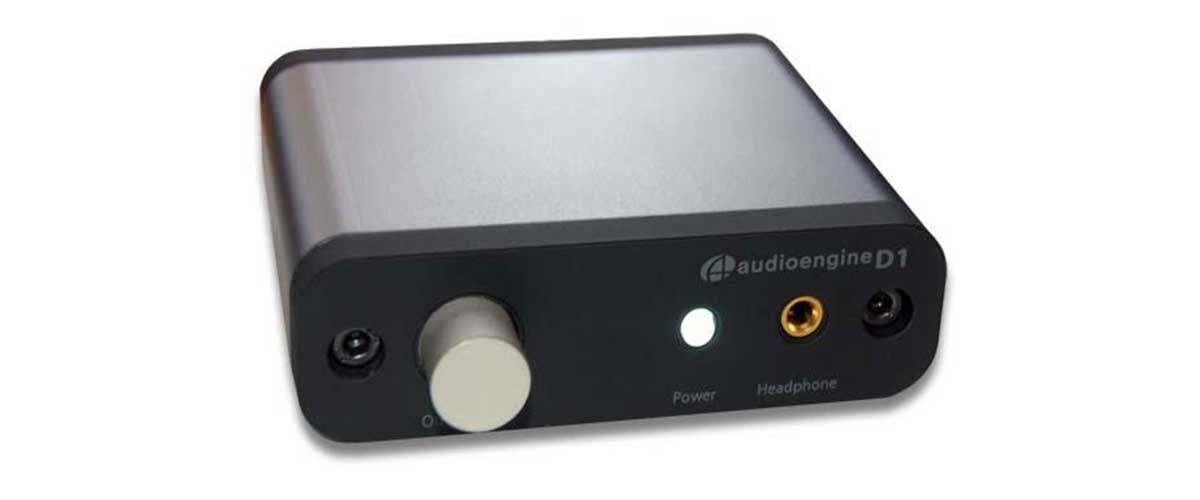 The headphone amp under 200 has a very high-quality electronic filling, which allows it to reproduce the music of any genre accurately. The USB interface is implemented on the TI1020B chip, and the AKM4396 chip with 24-bit / 192 kHz parameters is used as the DAC (similar DACs are used, for example, in high-end Razer Barracuda sound cards).
When connecting to a computer via USB, an additional power source is not required. However, Audioengine D1 has a dual voltage stabilization circuit obtained through this interface. Also, the installation of additional drivers is not needed, and it is only necessary to make a standard setting for choosing an audio device in the Control Panel. Since the DAC USB receiver operates in asynchronous mode, the digital stream jitter level can be significantly reduced. The analog outputs of this model are adjustable, and the knob on the front panel changes the signal level both on them and on the headphone output (when connected to the latter, the audio outputs on the rear panel are disabled). This allows you to connect active speakers to the AKM4396 without your own volume controls, or set the AC controls to maximum, changing the volume only on the DAC.
Pros
The reason, I am using this one is because of the volume control and the L+R RCA output
Amazing housing quality
Cons
Every once in awhile it spews forth a burst of digital noise at full volume (regardless of volume setting) that frankly will scare the crap out of you the first few times it happens
I wish there was a power switch on it
Little Dot MK2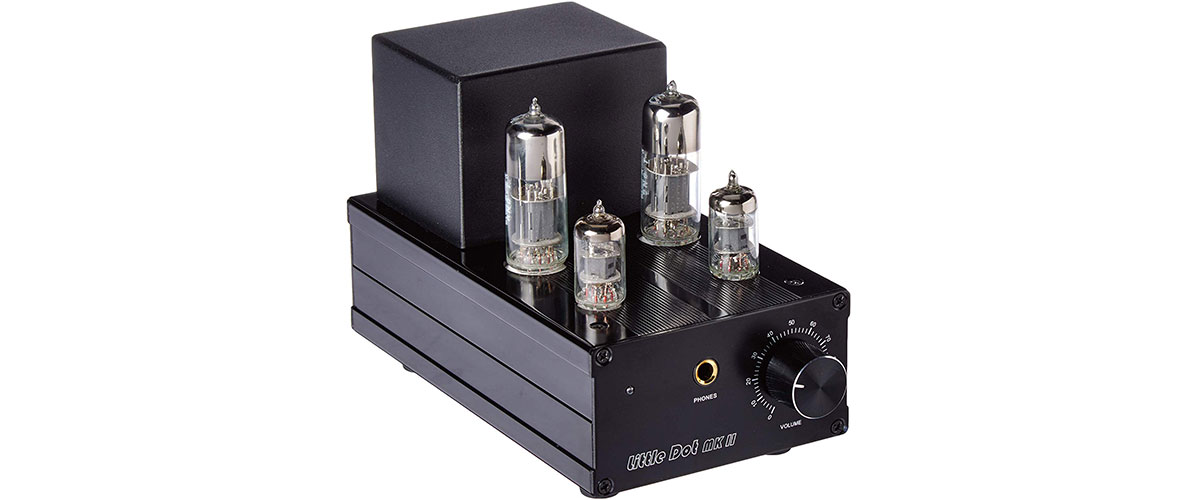 Like most available amplifiers on the market, even cheap ones, this desktop headphone amp comes inbuilt with a power switch and volume control. The power switch is really convenient. It is also placed in the right site, at the back of the amp. This is because sometimes I tap switches when they're at the front.
To mention one of the best headphone amps under 200 has 3.5mm into RCA's into input and PC. RCA cable into out of the reviewed device and then into a power amp.
It uses a single-ended push-pull OTL circuit operating in Class A. While its high voltage swing is best suited for high-impedance headphones, the MKII can be fine-tuned to any cans you have—from 32 ohms all the way up to 600 ohms—using its multiple gain settings.
This amp can roll 6JI, WE403A/B, GE5654, M8100, CV4010, EF95, and other tubes. With its jumper pins shortened, you can roll EF92, CV131, and all equivalents and drop-in replacements.
Pros
Clear mids and smooth treble
Amazingly noticeable sound improvement over stock interface headphone amps
Cons
Volume knob feels cheap and isn't smooth
Some noise at times
Best Headphone AMPs Under $500
In this price segment of the headphone amp review, you can find models that audiophiles with experience or those who are immediately going to buy a decent device should pay attention to.
Little Dot MK III – best under $500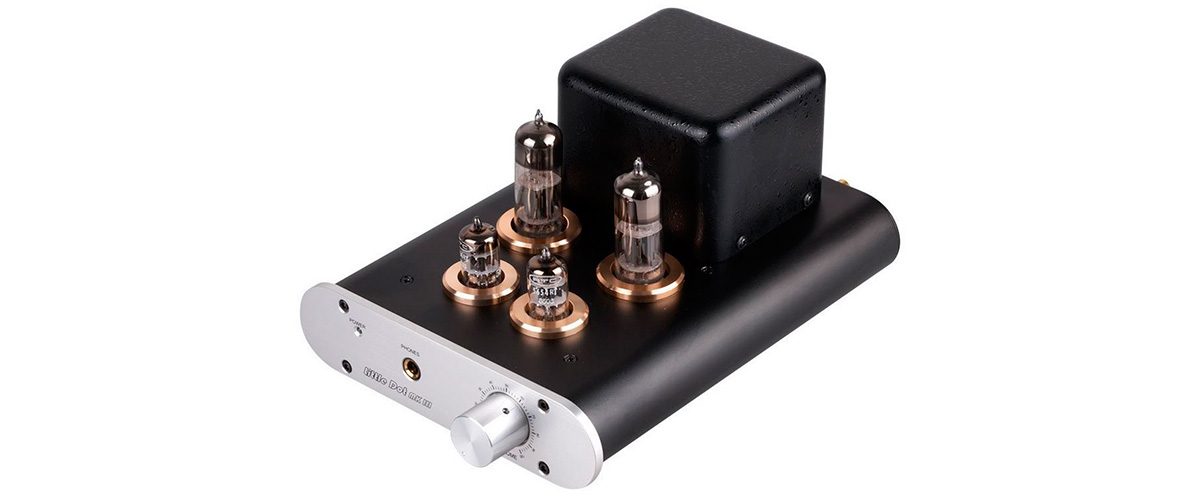 If you want to get considerable warmth and alteration of sound toward the darker side, then the Little Dot MK III headphone amplifier model can give you that. Nevertheless, this device is not all about warmth but also detail. It is able to make the mids more smooth, and the bass hit just slightly deeper. The device offers 2500 mW in 32 Ohms and 800 mW in 300 Ohms, which should be enough for low-sensitivity headphones.
Build quality of Little Dot MK III is perfect, the device is quite heavy, and you don't hear any rattles or weird noises. On the front panel of the appliance, you will find a 6.35 mm (1/4") headphone jack, another 4-pin XLR balanced headphone out, a big volume knob, and a small LED that indicates its working status. On the rear panel, you can find an RCA input, an XLR balanced input, an AC inlet, and an On/Off switch.
Pros
Power is enough to push basically any headphones you connect to it
Wider range of driver tube-rolling, including the EF92, CV131, WE403A/B, 5654, M8100, CV4010, etc
Very adaptable to every taste of music and is certainly not limited to standard classical or jazz
Cons
The entire device runs quite warm
AudioQuest Dragonfly Cobalt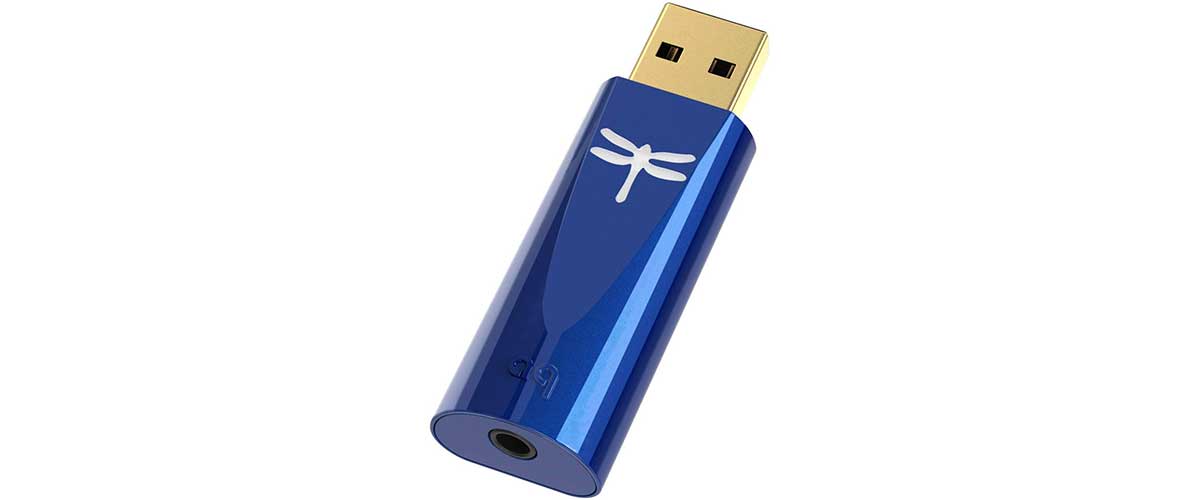 Like DragonFly Red, the Cobalt model is equipped with a reliable 2.1 V output for working with almost any headphone. It uses a high-end digital volume control that provides a high signal to noise ratio. It is fully compatible with Apple and Android gadgets, as well as high-quality and affordable MQA record decoders.
For a more natural sound, one of the best DAC amp combo has modern advanced ECC ES9038Q2M DAC chips with a minimum-phase filter, although they are noticeably more expensive than those used in the Red and Black models.
The new high-end microprocessor PIC32MX274, which is used in the flagship model, consumes less current and increases the speed of command processing by 33%. To improve protection against Wi-Fi, Bluetooth interference, as well as noise from cellular networks, power filtering has been improved.
The Cobalt DAC is equipped with an ESS Saber 9601 headphone amplifier and digital volume control with bit-wise accuracy, which guarantees maximum tuning clarity, wide dynamic range, and excellent signal to noise ratio. The 2.1 V output voltage allows DragonFly Cobalt, like the Red models, to work confidently with many headphones, including models with low sensitivity.
Pros
Convenience is top-notch. The fact that it is pretty future-proof is excellent (they designed it to accommodate firmware updates)
The care they put into the booklet, as well as add-ins, are pleasant surprises
Cons
I noticed that the bass guitar disappears into the drums
CHORD Electronics Mojo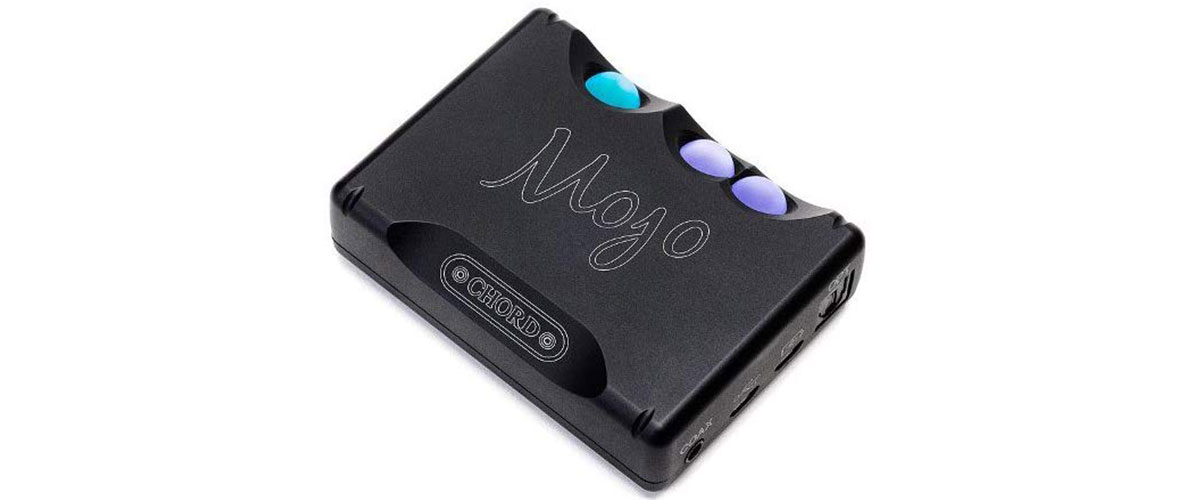 Mojo, as an amplifier, can be used with any headphone models from 4 ohms to 800 ohms. At the same time, the device, for all its miniature size, has two headphone outputs.
Headphone amp under 500 is able to brilliantly cope with any audio files with a resolution of 44.1 kHz to 768 kHz and DSD files: DSD 64, DSD 128, and DSD 256. As well as PCM, WAV, AAC, AIFF, MP3, and FLAC files. It is ideal for working with any smartphones and music players. Active input selection is fully automated; if several inputs are active, then the priorities are as follows: USB, coaxial, optical.
The sampling rate of the playback file is reflected – already traditionally for Chord – with the help of color indicators: 44.1 kHz – red, 48 kHz – orange, and so on, until the shining white DSD. The volume level – high-precision and with a minimum level of distortion – is adjusted using two buttons with color backlight.
Pros
It fits in my pants pocket easily along with my iPhone and has already provided many hours of musical bliss
Although the industrial design is polarizing, I really like it
Cons
This product appears to be high build quality, with a metallic body and some heft to it, but mine just quit after one year of very very light usage
Best Portable Headphone AMP
Here you should be aware of the specifics of using portable amplifiers: it should be lightweight and with sufficient battery, convenient controls, ergonomic design, and robust casing. The device is primarily used with phones and players, less often with laptops.
EarStudio ES100-24bit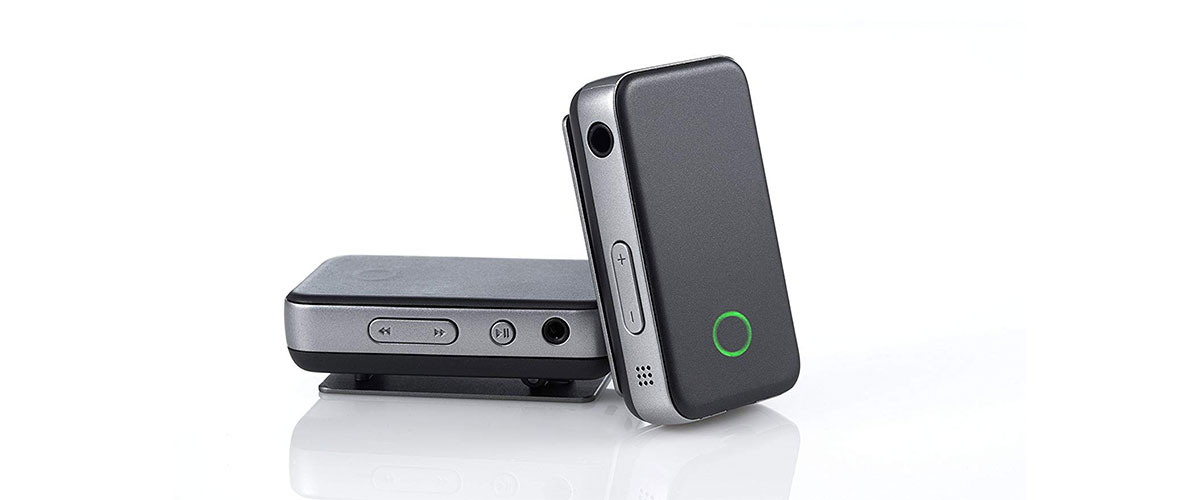 The EarStudio ES100 is a portable headphone amp. It is a tiny little thing, smaller in size than an average matchbox. The chassis is constructed from lightweight plastic. It doesn't feel particularly premium, but it doesn't seem cheap either.
The front of the unit has a matte finish, and below its surface lies a single circular LED that flashes in different colors indicating various states of operation.
On the left side of the Bluetooth headphone amp are the 3.5mm single-ended headphone jack, the built-in microphone and volume plus and minus buttons. The right side owns the 2.5mm balanced headphone jack, the forward and back buttons, and a multi-function button.
The ES100 has an estimated battery life of 14 hours. It is better than what most Bluetooth earphones and a lot of the current DAPs offer. Considering its size, weight, and power output, this is really impressive.
It's dimensions are 1 x 2 x 0.5 inch, weight is 20g.
Pros
Very customizable, i.e., has loads of configurable options in the app
Has additional 2.5mm balanced output
Cons
The clip doesn't have much clamping force
Button placement not ideal
Best Tube Headphone AMP
Advantages of tube amps:
Tubes are voltage amplifiers as opposed to transistors which are current amplification devices
Tubes are a more linear amplification technology, requiring less overall negative feedback to make the circuit linear
The higher working voltages present in tube amplifiers generally allow for broader voltage swings
Dared MP-5BTHIFI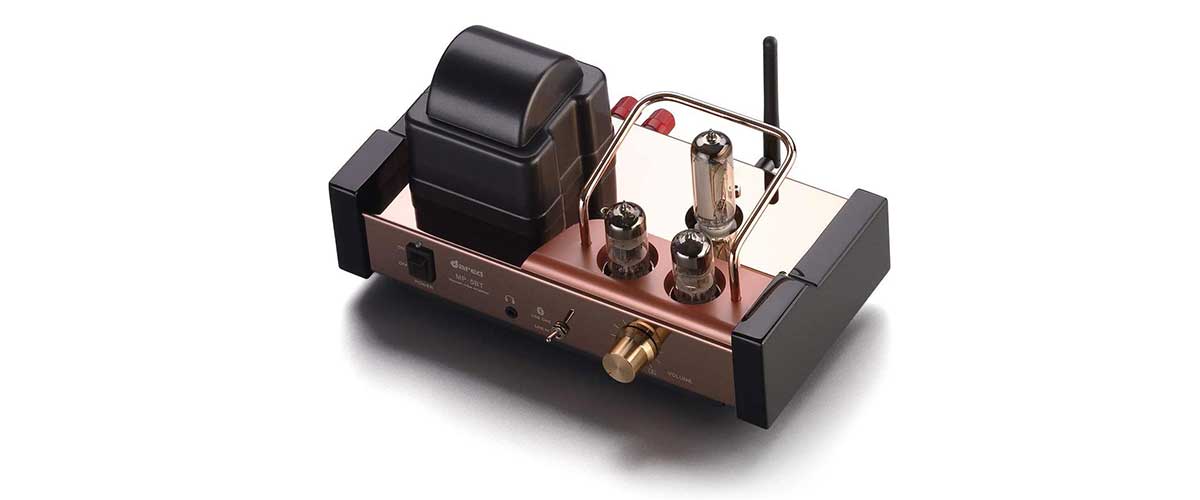 Using this tube headphone amp, there's no risk of getting confused with the controls since there's just an on-off switch, an input switch (to choose between USB, Bluetooth, and analog options), a volume button made of chrome, and a standard 3.5mm headphone jack.
The rear of the unit features an analogue input and a pre-amp output, both on gold RCA jacks, the Bluetooth antenna, a USB B input to connect a computer, two pairs of speaker terminals (which take banana plugs or wires but which are a bit close together, which isn't great if you've got big fingers), a 110/220V voltage selector and the mains input with its own fuse (beautiful and safe).
Pros
When I turned it on and saw the amber glow of the tubes I was literally blown away
Quality item. Excellent performance
Cons
Would have liked more than one input
I wish it had a 32bit DAC and a Bluetooth five capabilities
Best Headphone AMP & DAC combo
Have you ever wondered why the sound from the headphone jack of your laptop is very different from the sound that comes out of a good stereo system, here is a short answer because your computer does not have one of the critical devices to make sound from numbers: a digital-to-analog converter.
A DAC takes your digital content and converts it to analog. Then the system can amplify it and play it through the speakers (amplifier + acoustics or active acoustics). If you think that you already have a DAC in your system, then you will be right. Everything that can receive a digital signal and produces sound output should include a DAC. Phone, MP3 player, receiver, audio processor, computer, laptop, CD / DVD / Blu-ray player with analog outputs, and much more.
iFi Micro iDSD Black Label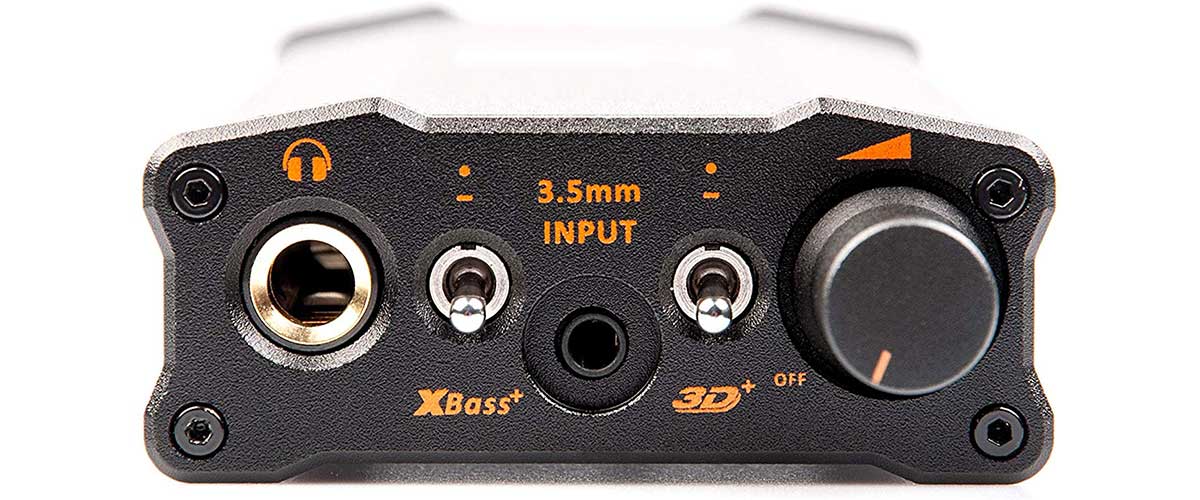 To connect the source, you can use a USB input or a coaxial-optical RCA connector. Both interfaces are located on the rear panel; the 3.5 mm linear input is also located there. There is an additional USB input on the side panel. The outputs are standard: classic linear RCA and headphone output 6.3 mm.
A vital element of the headphone amp DAC is a pair of Burr-Brown True Native DAC chipsets.
The amplifier part is capable of delivering up to 4 watts into 16 ohms and 1650 mW into 64 ohms. Given the portable class of the device, the performance is impressive. The bass headphone amp can make even the tightest ears sing, up to 600 Ohms.
The iFi micro iDSD black label is a DAC that supports the crazy resolution, up to DSD 512, PCM, and DXD – 768 kHz.
Pros
Support for virtually any conceivable and some inconceivable digitization formats
Confident control and adaptability to complex loads
The ability to reveal the most delicate nuances of high and ultra-high resolution recordings
Cons
The dimensions, which are very impressive in terms of portable equipment
The switches of the filtering modes and gain parameters, by the quality factor of manufacturing, lose to the rest of the structural elements
Buyers Guide
Why do I need a headphone amp?
Do I need a separate headphone amplifier? This question is tormenting many novice high-end sound enthusiasts, and probably you. If you go to the forums dedicated to headphones, many regulars will insist that a headphone amplifier is vital, that the sound with it always gets better, and moreover, you need not only an amplifier but also a separate DAC to achieve the best sound quality.
But in practice, when it comes to household headphones, albeit expensive ones, you most likely will not need an amplifier.
An amplifier is needed if, and only when, the outgoing power of the sound source is less than prescribed for a particular headphone model.
What speaker impedance means and why it matters?
The classical definition of a concept does not interest us. Its essence is important. If you look at the resistance from the side of the amplifier, then this is the load on which almost all the power developed by it is dissipated. In other words, this is some kind of resistor, on which almost everything that the amplifier produces turns into heat.
It is not electricity that is converted into sound, but into heat. Only a small fraction turns into the energy of sound waves, less than a tenth of a percent. Everything else – just heats the coil. This is a significant point. All kilowatts that you submit to your sub are simply processed into heat.
This is the norm, objective reality. In order for the speaker diffuser to oscillate (that is, sound), it is necessary that a current flows through a cylindrical coil attached to the differential and placed in the magnetic field of the permanent magnet, which interacts with this magnetic field. Obviously, the coil resistance here is a negative factor, which simply leads to losses. Ideally, it should not be at all. Then the energy of the electric signal would not be spent on heating the coil and would be wholly converted into sound energy. But of course, this is not possible. The coil has some resistance, so there are always losses, and they are huge.
Portable vs. Desktop headphone amps
Deciding whether to make your headphone amp portable, or whether to stick to a desktop version, is actually surprisingly complicated. Each has its individual benefits and drawbacks, and it's worth taking a minute to think about what you want from a headphone amp.
The most significant advantage of portable headphone amps is that they are portable – obviously. You can take them with you and use them to augment your phone or your DAP. They are usually lightweight – the average is under 7 oz.
A desktop headphone amp sacrifices portability for functionality. You get a wealth of inputs, increased power, and a much more robust frame. You'll also almost never see portable tube amps, which means desktop amps are the ones you need to go for if you like swapping out tubes. There are some exceptions. But you'll pay dearly for the privilege. Ironically, portable headphone amps almost always include a DAC, while desktop amps sometimes don't. Either way, you'll need to think about what you want from an amp before making a call on desktop or portable.
Do more powerful amplifiers sound better?
Watts is whereby powerful an amp, or the amp piece of a receiver, is. Technically, it's how loud your speakers will be, though the fact is far more complex. For one, 100 watts from one company aren't the same 100 watts from another. A modest 100-watt receiver may produce 100 watts driving one speaker at one rate but only succeed to put out a portion of that when running various speakers playing real music.
The other portion of honesty is that you need to double the wattage to hear an appreciable difference in volume. If items aren't identical, like you're comparing an expensive amp and a cheap receiver, then all bets are off.
When it gets to receivers, the fact is that almost all will drive your speakers with a small obstacle. If you require added volume, or you feel clipping/distortion, then a more robust amp may be necessitated.
What is the difference between a DAC and an amp?
If the sound source is not powerful enough to swing the headphones, the first thing that comes to mind is buying an external amplifier.
Amplifiers built into smartphones or portable players are often not of high quality. On the one hand, in order to increase the overall performance of the gadget, engineers are forced to choose more energy-efficient, but less powerful amplifiers. On the other hand, embedded solutions cannot always provide a stable sound without introduced distortion.
Digital-to-analog converter is a device that transforms a digital signal into a stream of electrical pulses for reproduction in acoustic instruments.
With DACs built into user devices, the situation is similar to amplifiers. Energy efficiency and optimization of dimensions force manufacturers to put compact components that do not meet the tasks of outputting detailed sound. In addition, not all users need the phone (or laptop) to "play".