Some devices combine a high-quality external DAC and headphone amplifier. The amplifying part of these devices is a logical continuation of the analog part of the DAC, and in this case, the placement of two functional blocks inside one housing is more a plus than a minus. The path is shortened since there is no need to use additional wires (inter-unit between the headphone amplifier and an external DAC).
Typically, the best headphone amp DAC is equipped with various digital inputs, including USB, and therefore is a high-level ready-made mobile path for headphones.
Our pick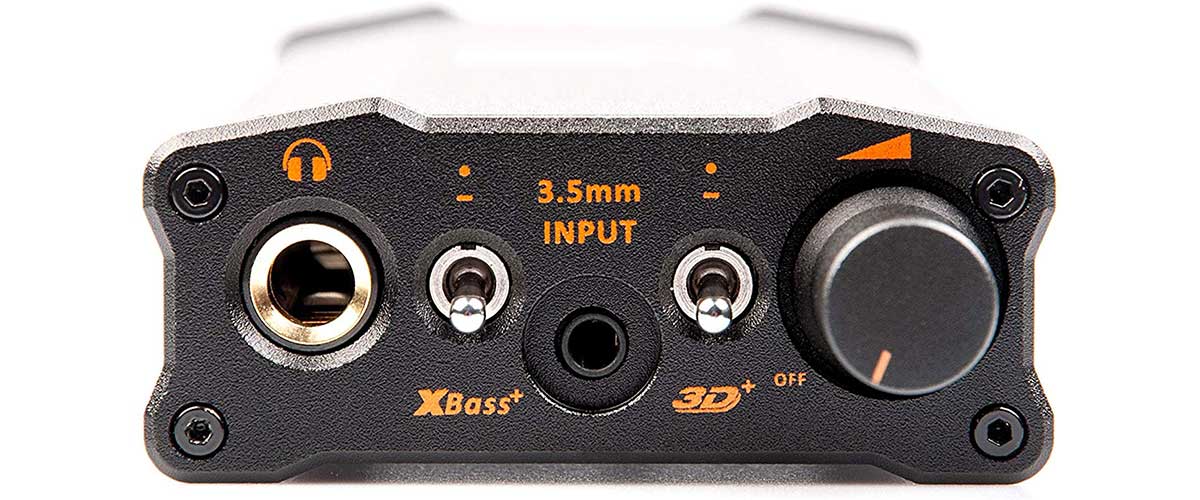 iFi Micro iDSD Black Label
The best headphone amplifier with DAC
The micro iDSD Black Label is the world's most powerful, battery-powered DAC and headphone amplifier, capable of unrivalled native playback in DSD, PCM and DXD file formats.
Why do we need external digital-to-analog converters
First of all, we will understand what DAC is. The DAC is a digital-to-analog converter, that is, a device that converts a digital signal into an analog one.
On a computer, in the players' memory and on discs, audio is stored digitally, and speakers and headphones reproduce sound from an analog signal. Therefore, somewhere between the storage medium and the target playback device, the digital-to-analog conversion must occur.
The quality of the analog audio signal received at the output depends both on the DAC chip used, and on other components involved in the process, as well as on many different factors, including high-quality electric power and the device circuit itself.
External digital-to-analog converters, as a rule, sound better than sound cards, budget receivers, and players, because they are specialized devices. In particular, they are devoid of all of the above problems. External DACs are convenient in that they can be connected to any device with a digital output, and most DACs can also be connected via USB. Acquiring a high-quality external DAC can significantly improve the sound of your music channel.
Best desktop headphone amps with DAC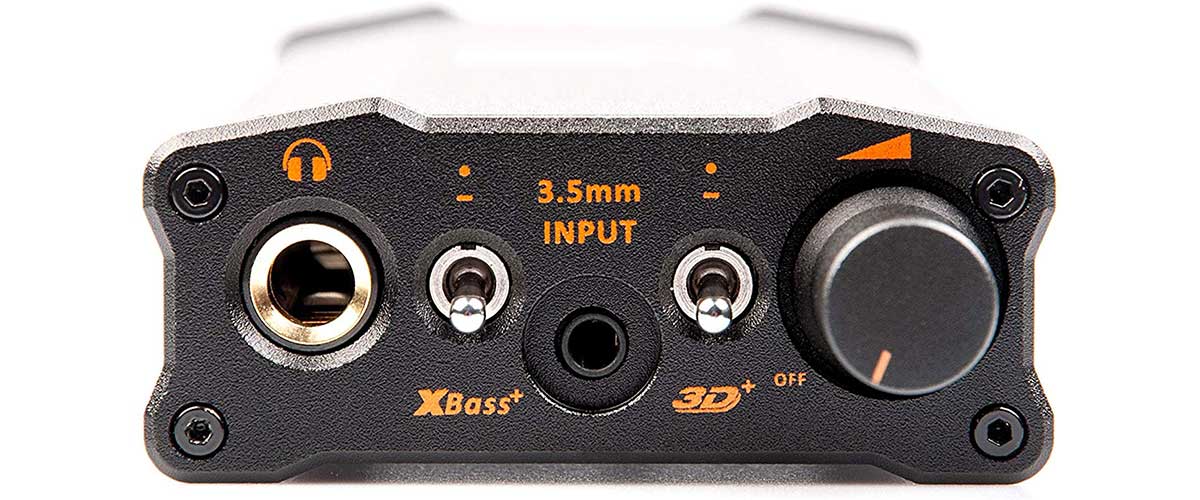 iFi micro iDSD is the best headphone amp DAC presented on our list. This is a digital-to-analog coder that can hardware-play the Octa-DSD512 / PCM768 / Double DXD. Micro iDSD can be configured to fit any headphone: from tiny IEM (in-ear headphones) to full-length professional headphones. Micro iDSD's output level is 8v / 4000mW, making it one of the most powerful headphone amplifiers. Thanks to this power, it can work with the most demanding headphones.
Now supports native PCM 384, quad DSD 256, and MQA (rendered) straight out of the box or choose high-resolution audio up to PCM 768kHz and Bit Perfect Octa Speed Octa DSD 512 with a quick firmware update. A Rechargeable lithium polymer battery with up to 12 hours of playback, depending on usage, and a 5V/1.5A SmartPower USB that can be used as a power source to charge another device when not in use. At home, use the included USB 3.0 cable to connect your PC or Mac, and the RCA line out to connect with active speakers or an amp. More inputs include SPDIF Coaxial + Optical, 3.5mm aux line-in plus a digital coax output.
Pros
Support for virtually any conceivable and some inconceivable digitization formats
Confident control and adaptability to complex loads
The ability to reveal the most delicate nuances of high and ultra-high resolution recordings
Cons
The dimensions, which are very impressive in terms of portable equipment
The switches of the filtering modes and gain parameters, by the quality factor of manufacturing, lose to the rest of the structural elements
Audioengine D1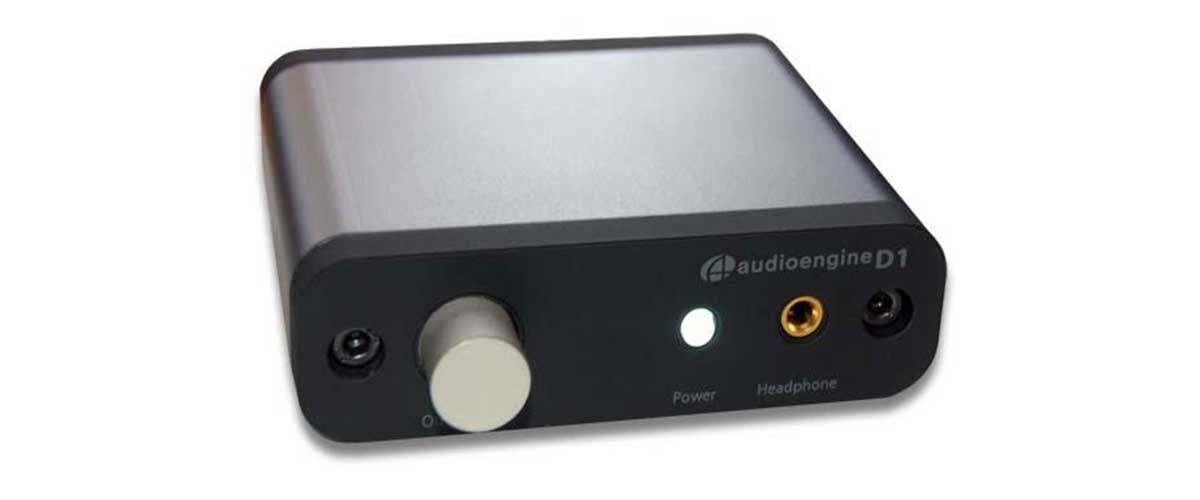 This pretender to be the best DAC amp is enclosed in a round case made of anodized aluminum with a width of 9 cm and a height of 2.6 cm. The D1 is a premium 24-bit DAC and headphone amplifier.
The device is equipped with two USB inputs and one optical. From the outputs, there is a stereo pair RCA and a mini-jack for headphones (based on the operational amplifier Burr-Brown / TI OPA2134).
In Audioengine D1, there is a chip AKM4396. The DAC receives a signal with a resolution of up to 24 bits and a sampling frequency of 96 kHz (USB) or 192 kHz (optical input).
According to the passport data, the signal-to-noise ratio exceeds 110 dB, the nonlinear distortion is less than 0.002%, and the reproducible frequency range of 10 Hz is 25 kHz. The novelty receives power through the USB port. A two-stage circuit is used to stabilize it.
Pros
The reason, I am using this one is because of the volume control and the L+R RCA output
Amazing housing quality
Cons
Every once in awhile it spews forth a burst of digital noise at full volume (regardless of volume setting) that frankly will scare the crap out of you the first few times it happens
I wish there was a power switch on it
Best portable headphone amp with DAC
AudioQuest Dragonfly Cobalt – best portable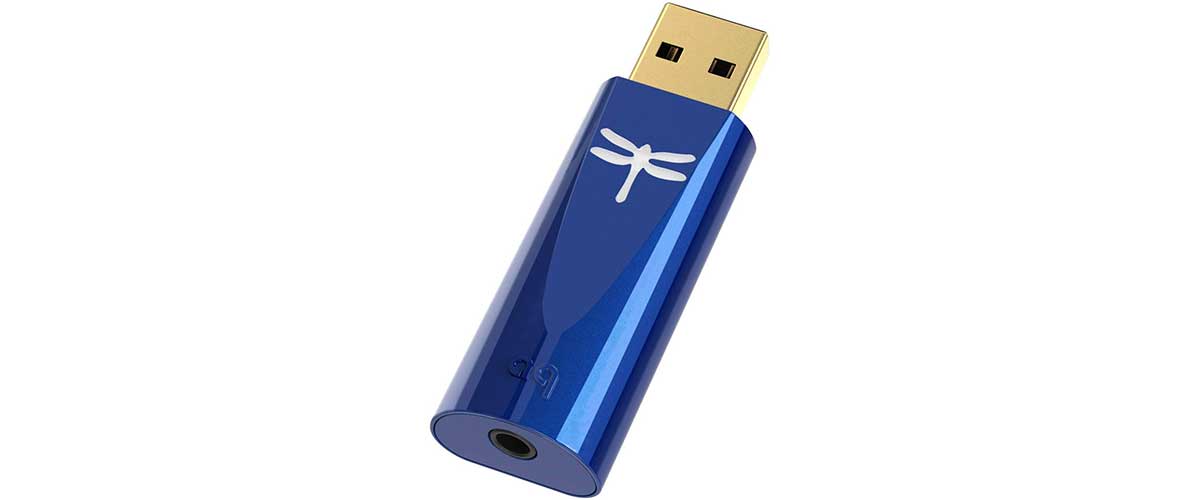 Now let's see the best USB DAC amp. Inside, it has an ESS ES9038Q2M chip with a minimum-phase filter, which allows for a more natural sound. According to the company, the device removes from the sound "all flaws and interference, the existence of which the listener had no idea before using Cobalt." The PIC32MX274 microprocessor requires less current and works 33% faster than previous dragonflies.
Cobalt delivers 2.1 V output, which is enough for almost any headphone and even supports MQA. The developers paid special attention to filtering the power supply, first of all, improving protection against Wi-Fi, Bluetooth, and cellular towers. The kit comes with an adapter from USB-A to USB-C, so you can connect the DAC not only to a PC but also to modern smartphones.
As in previous models, Cobalt uses the patented principle of asynchronous signal transfer via USB StreamLength and a single clock generator monoClock.
Pros
Convenience is top-notch. The fact that it is pretty future-proof is great (they designed it to accommodate firmware updates)
The care they put into the booklet, as well as add-ins, are pleasant surprises
Cons
I noticed that the bass guitar disappears into the drums
Audioengine D3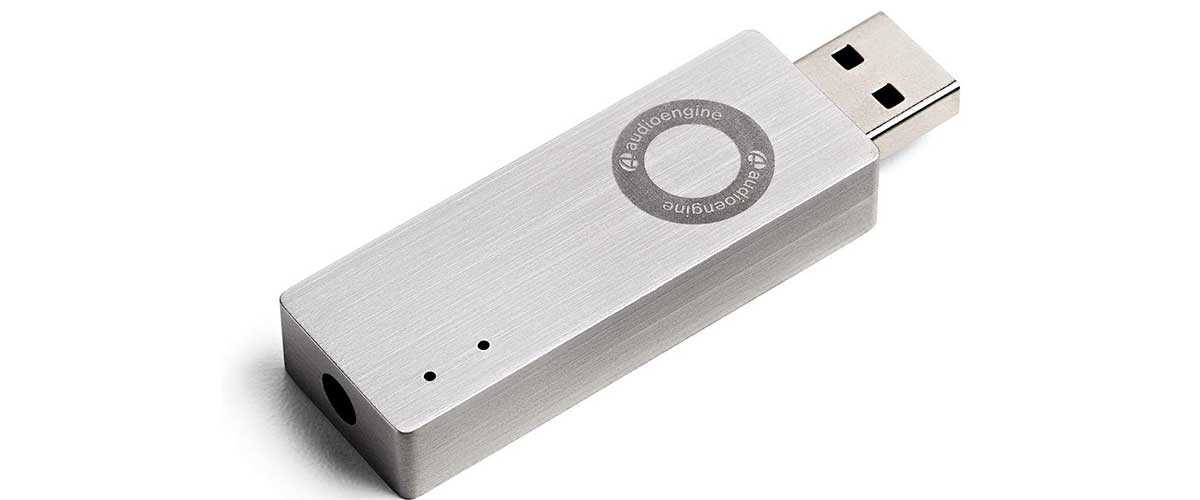 Despite the miniaturization of the device, Audioengine D3 uses severe components that guarantee high-quality music playback.
The digital stream from the computer is processed here by the Texas Instruments TI1020B asynchronous dual-frequency USB controller, which has earned popularity among developers of serious audio equipment.
Asahi-Kasei's dual-channel AK4396 chip, which supports audio signals with parameters up to 24 bit / 192 kHz, converts digital data into an analog signal. But the device itself perceives a stream with 24-bit / 96 kHz characteristics at the input, after which it upsambles to a frequency of 192 kHz.
The DAC amp combo is based on the Texas Instruments LME49726 micro-assembly, which features high dynamic performance and low noise and distortion. Headphones with a nominal impedance of 12 ohms to 10 kOhm are supported.
A USB port powers the Audioengine D3, and a two-stage stabilizer is used to clear the supply voltage from interference.
Pros
Easy to connect and use
Expressive, dynamic sound is incredible for USB DAC amps of this price tag
Cons
Does not support digital input stream with sampling frequency above 96 kHz
I didn't like genre selectivity
Best USB headphone amps with DAC
EarStudio ES100-24bit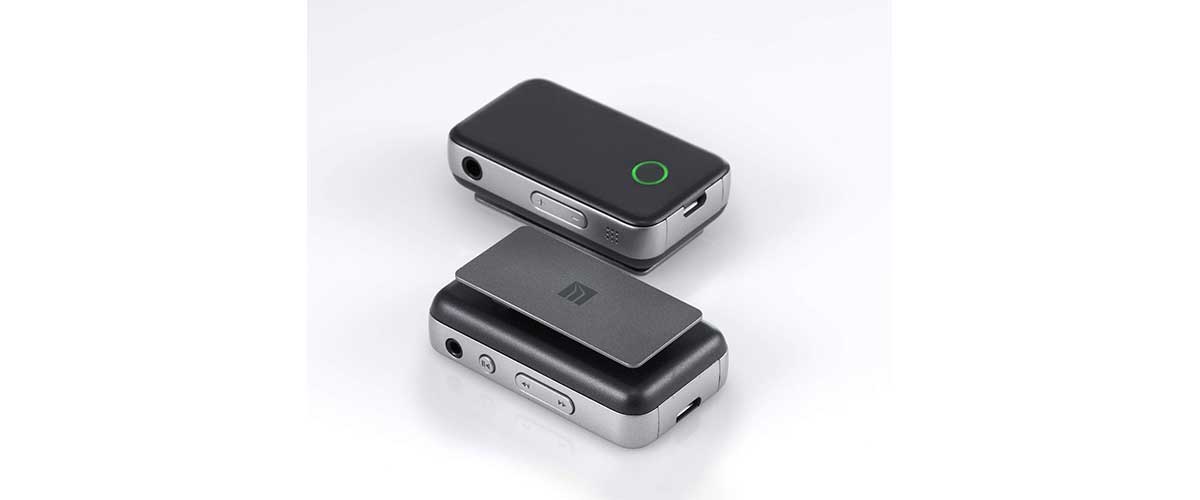 This unit also may be the best headphone DAC, but some features should be developed in it.
However, still, this amp is a decent product. EarStudio is the world's first and only 24-bit Bluetooth receiver from Radsone, designed to deliver studio-quality sound through your wireless headphones using existing wired headphones or even speakers.
EarStudio supports the Qualcomm aptX HD codec, which allows you to stream 24-bit wireless music. Unfortunately for iPhone users, the aptX HD codec has never been supported on iOS, but don't be upset. EarStudio automatically improves 16-bit music to 24-bit sound. Regardless of the device used (iPhone or Android), regardless of the source (from Spotify streaming to hi-res music files), you can enjoy 24-bit audio through EarStudio. EarStudio focuses on sound quality as well as usability. The company uses the CSR 8675 Qualcomm Chip and 2x DACs AK4375a.
I especially liked a fully balanced and one-pin output. EarStudio has two outputs: a single/dual channel 3.5 mm jack and a fully balanced / dual 2.5 mm jack.
Pros
EarStudio offers analog volume control to maintain optimal sound performance even at low volume levels with a programmable gain amplifier (PGA), which is the best way to control volume
The manufacturer quickly responds to comments and wishes of the owners and stably updates software and firmware
Cons
Digital volume control reduces the sampling of the PCM audio signal to D / A conversion, resulting in a sharp sound and loss of sound, SNR, as well as THD