Models in this price segment, are optimal in terms of price/quality combination and are widely represented on the market. It is with such models those audiophiles who want to achieve high-quality sound from headphones need to start.
For more convenient selecting of the most appropriate unit for you, I have set a list of sections. It means that all products are divided into categories depending on the conditions of use and design: desktop, tube, and portable. However, remember that prior to choosing the best headphone amp under 200, you should first determine the conditions of use.
Our pick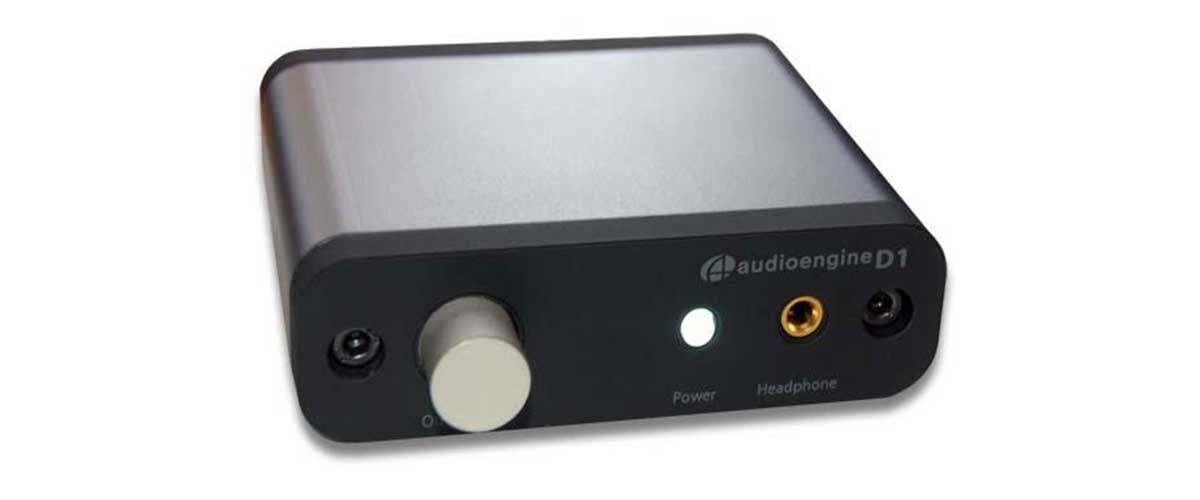 Audioengine D1
The Best Headphone Amplifier Under $200
The D1 is a premium 24-bit DAC and headphone amplifier for your computer, TV, and more.
Best Headphone AMP Under $200 Reviews
Best Desktop Headphone Amps
This type is suitable for those music lovers who prefer to listen to high-quality music in their home environment, without the frequent need for amp transfer.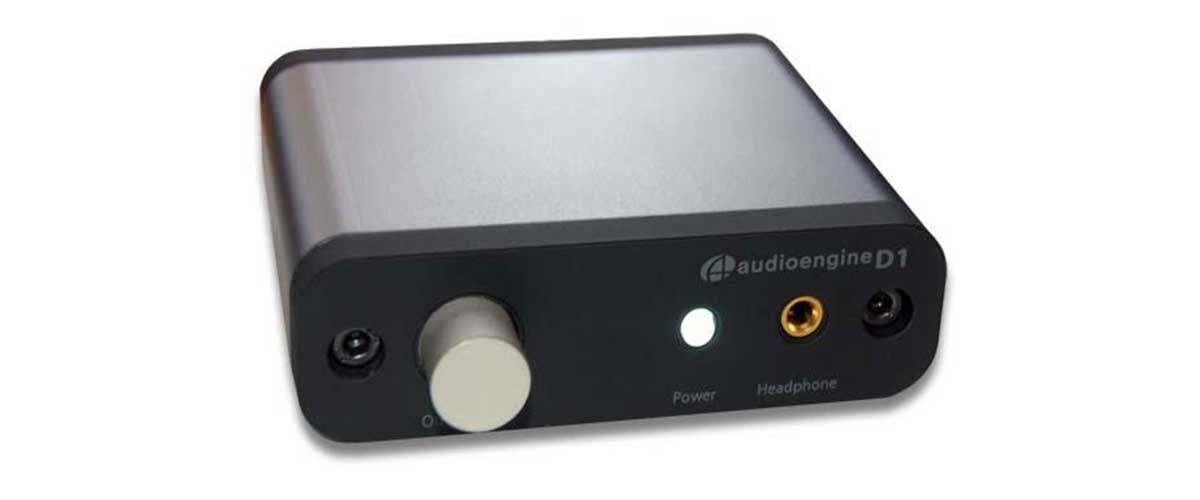 The best headphone amp under 200, Audioengine D1, has an optical digital input for connecting to other audio sources, such as media players or BD / DVD players.
The device has a very high-quality electronic filling, which allows it to reproduce the music of any genre accurately. The USB interface is implemented on the TI1020B chip, and the AKM4396 chip with 24-bit / 192 kHz parameters is used as the DAC.
When connecting to a computer via USB, an additional power source is not required. However, Audioengine D1 has a dual voltage stabilization circuit obtained through this interface. Also, the installation of additional drivers is not needed, and it is only necessary to make a standard setting for choosing an audio device in the Control Panel. Since the DAC USB receiver operates in asynchronous mode, the digital stream jitter level can be significantly reduced. The analog outputs of this model are adjustable, and the knob on the front panel changes the signal level both on them and on the headphone output (when connecting the latest audio outputs on the rear panel are disabled).
The built-in headphone amplifier in Audioengine D1 is made on the OPA2134 operational amplifier and is compatible with almost any stereo phone model. Thus, for a very modest price, the user gets at their disposal three devices at once (USB / TosLink-DAC, preamplifier, and headphone amplifier), and this proposal cannot be denied as very profitable.
Pros
The reason, I am using this one is because of the volume control and the L+R RCA output
The construction is also very solid. I really like the design, the front of the DAC is very smooth and feels pleasant to the touch
Cons
Every once in awhile it spews forth a burst of digital noise at full volume (regardless of volume setting)
FiiO K5 Pro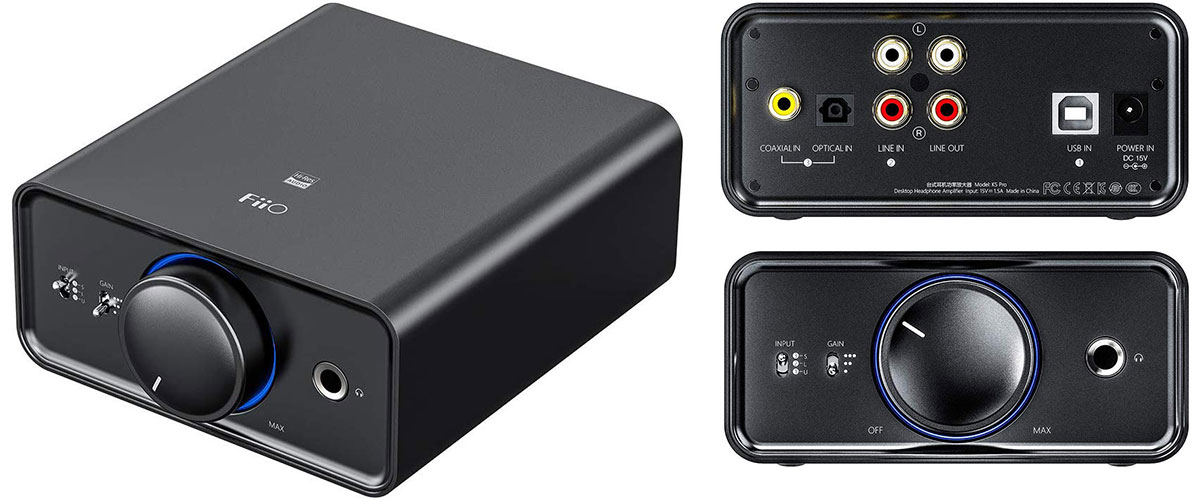 This amp under 200 is made of aluminum and weighs quite a lot – 15 oz/430 g. The model is equipped with a XMOS XUF208 USB decoding chip with an updated clock matching management system. That's why the appliance supports decoding up to a sample rate of 768 kHz and hardware native DSD decoding.
FiiO K5 Pro is equipped with coaxial, optical, and RCA line inputs and 1/4″ headphone and RCA line outputs. By the way, the RCA and the 6.3mm outputs can work simultaneously. The USB driver is quite versatile, and depending on your current configuration, it may work even driverless.
Speaking of the sound quality provided by the amp, the audio is very clean, crisp, and tonally neutral, so no coloration towards either end. The left and right channels of the appliance are independently handled with full differential audio output.
Pros
It comes with a proper large-sized power adapter, a 6.3 mm adapter, and a USB cable
The volume wheel is backlit, which makes it comfortable to use the device in darkness
Provides a 4-level audio circuit: second-order LPF + analog volume control + voltage amplification + current drive
Cons
It does not sound as good through the RCA outs
Schiit Magni 3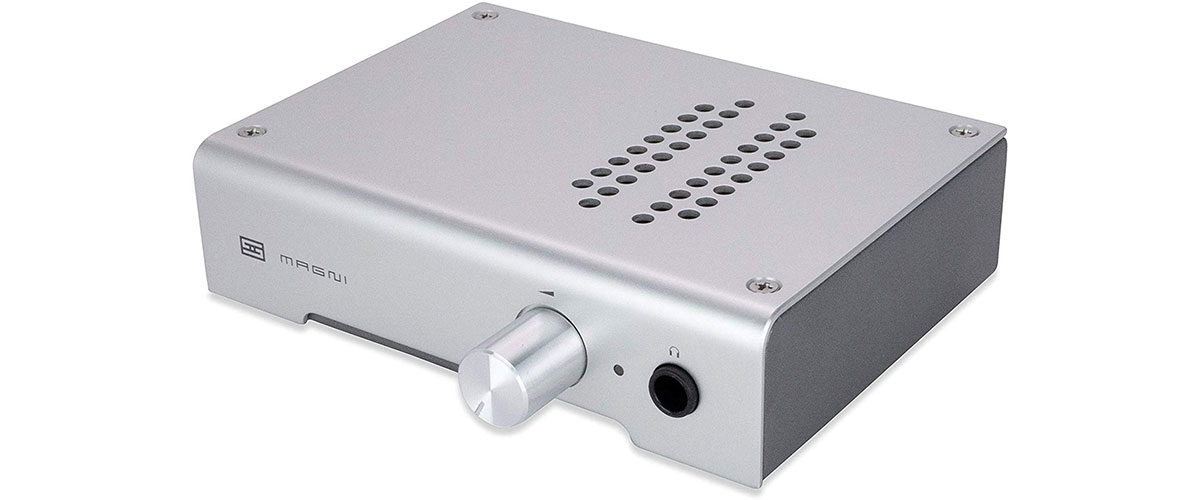 Magni 3 is ready to work with any headphone, from the earbuds to the planar designs demanding on the amplifier. Providing 2000 mW to a load of 32 ohms (power measured honestly: constant RMS when both channels are working), Magni has a considerable margin in this parameter. Combining low distortion with a deficient noise level, as well as the ability to change the gain, Magni is able to unleash the potential of any headphone.
As a rule, the owner of Magni 3 does not need to twist to the extreme right position the knob of the analog volume control, the only control on the front panel of Magni-3. There is also a 6.3 mm headphone jack. With loudness, Magni 3 is more than excellent, because it is difficult to predict a situation where honest 2 watts at the output may not be enough (at 32 ohms of load). On the rear panel, in addition to the already mentioned analog output and gain toggle switch, there is a stereo input for a "tulip" type plug. Simplicity and reliability are some of the advantages of Magni 3.
Pros
Compactness, versatility in terms of impedance and tonal balance of the headphones
Infrequent sound for that kind of money
Cons
Large headphone plug may interfere with the adjacent volume control
Best Tube Headphone AMP
The most significant advantages of choosing a tube include the following points:
Unique sound, due to a number of features and effects. Among them – a considerable dynamic range, high smoothness of the transition to the amplitude limit, a very lovely overdrive, and others
Significant tube life (from 10,000 hours) of the device
High reliability and resistance to short circuits under load
The weaknesses of the device include:
Higher noise level during operation of the device
The need for time for a preliminary heating of the lamps before reaching the optimal operating mode of the amplifier
High output impedance
Little Dot MK2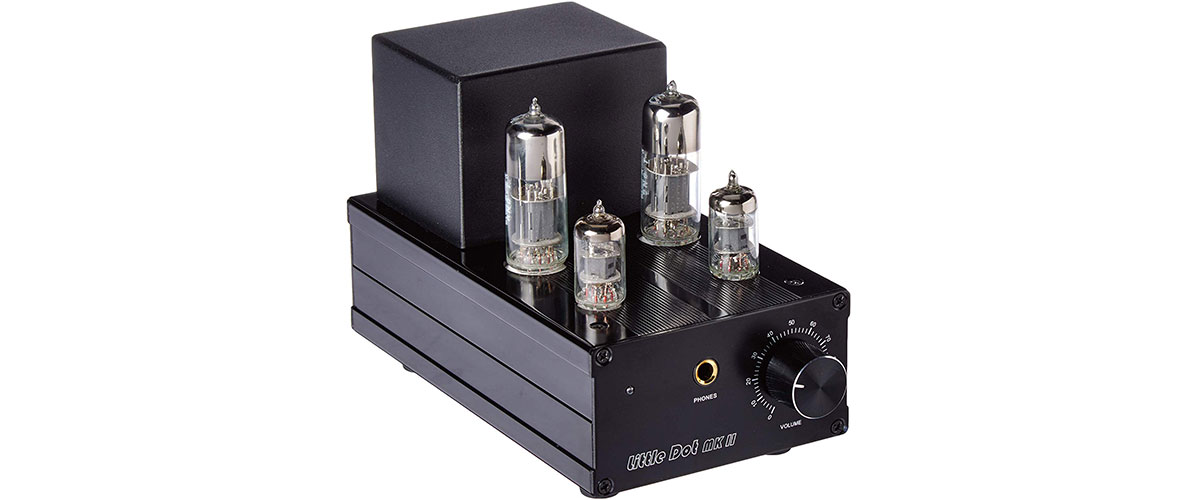 Like most available amplifiers on the market, even cheap ones, this amp comes inbuilt with a power switch and volume control. The power switch is really convenient. It is also placed in the right site, at the back of the amp. This is because sometimes I tap switches when they're at the front.
To mention one of the best headphone amps under 200 has 3.5mm into RCA's into input and PC. RCA cable into out of the reviewed device and then into a power amp.
It uses a single-ended push-pull OTL circuit operating in Class A. While its high voltage swing is best suited for high-impedance headphones, the MKII can be fine-tuned to any cans you have—from 32 ohms all the way up to 600 ohms—using its multiple gain settings.
This amp can roll 6JI, WE403A/B, GE5654, M8100, CV4010, EF95, and other tubes. With its jumper pins shortened, you can roll EF92, CV131, and all equivalents and drop-in replacements.
Pros
Clear mids and smooth treble
Amazingly noticeable sound improvement over stock interface headphone amps
Cons
Volume knob feels cheap and isn't smooth
Some noise at times
Best Portable Headphone AMP
EarStudio ES100-24bit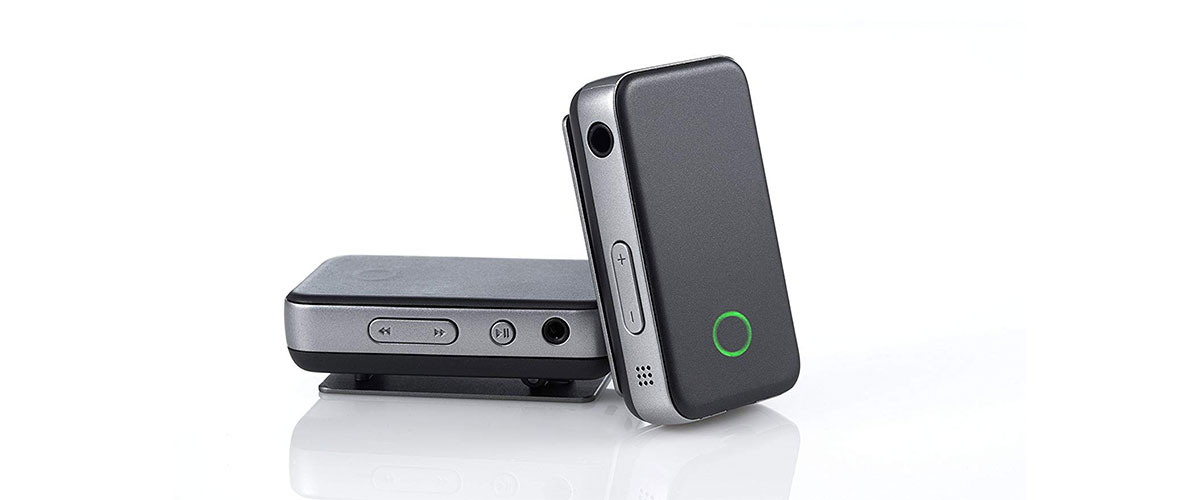 The EarStudio is a tiny device, but it's got an unimaginable amount of features. It has 3.5mm & 2.5mm (balanced) headphone jacks and 14-hour battery life.
It features 2 External DAC's (AK4375a), Noise Free, Jitter Free using patented DCT technology, and can stream up to 48kHz/24-bit audio.
The device supports SBC, aptX, and aptX HD audio codecs. It weighs only 20 grams, and its dimensions are 2,54 cm.
In both instances, the output power was excellent. I find that many Bluetooth devices have trouble getting ample volume. However, the Radsone EarStudio kicked out the severe volume. The EarStudio Bluetooth Receiver can confidently power most headphones up to 300 Ohms.
Pros
Separate channel gains
Undoubtable sound improvement
Low THD and background noise
Cons
Incredibly tiny hard to use buttons
Frequent BT disconnects after several weeks