Among various devices, DACs have become very popular and many consumers want to get the best DAC under 200 for themselves. However, there are still questions from not tech-savvy fans of music whether these devices can make the difference in listening to music or not.
Our pick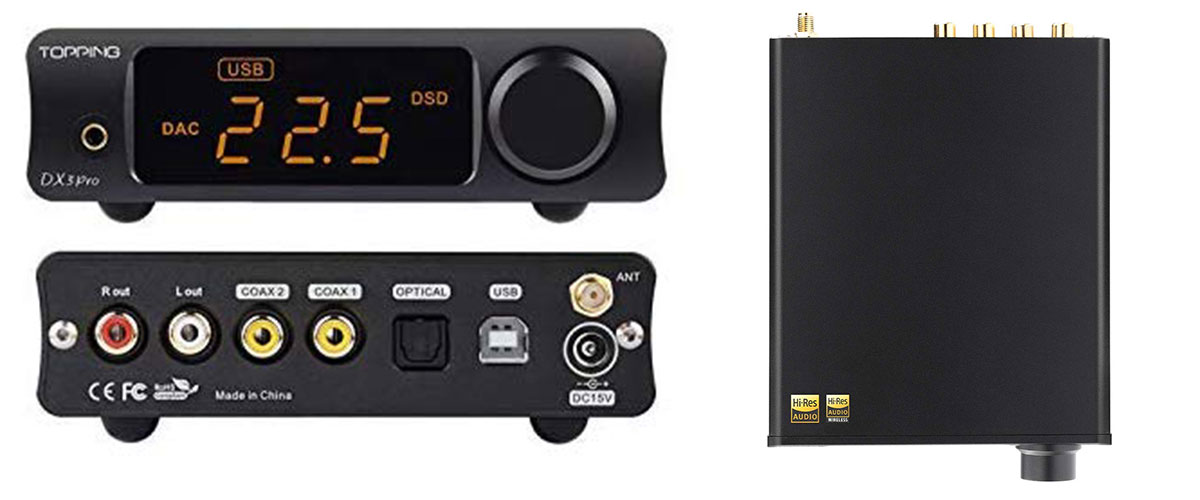 Topping DX3 Pro
The best DAC under $200
Dx3 Pro is Hi-Res Audio Wireless and LDAC, built-in DAC of CSR8675 is used to transfer digital signal.
Chip
Max. sampling rate
Topping DX3 Pro

best overall

2 AK4493
32bit/768 kHz
Sound BlasterX G6

for gaming

yes
32bit/384 kHz
Cambridge Audio DacMagic 100
Wolfson
24bit/96kHz
DAC means Digital to Analog converter. Nowadays most of the music or other audio files are saved in digital formats as it allows us to store an unlimited amount of files without occupying physical free space. However, human ears can perceive only analog sound waves. Therefore, DACs have become an essential part of every modern device that you have.
Most of the electronics like TV sets, mobile phones, computers and other devices that can produce sound, have internal DACs. It is where consumers wonder why they need to buy an additional external converter? Even with a good internal DAC, it cannot get rid of other noises. Jitter, vibrations, hissing, fan work, and many other sounds are produced by computers inside of them. They influence the quality of the music you hear from the device. In case, you want to enjoy the high-quality sound you may be interested in getting the best DAC under 200 for yourself.
Reviews of DACs under 200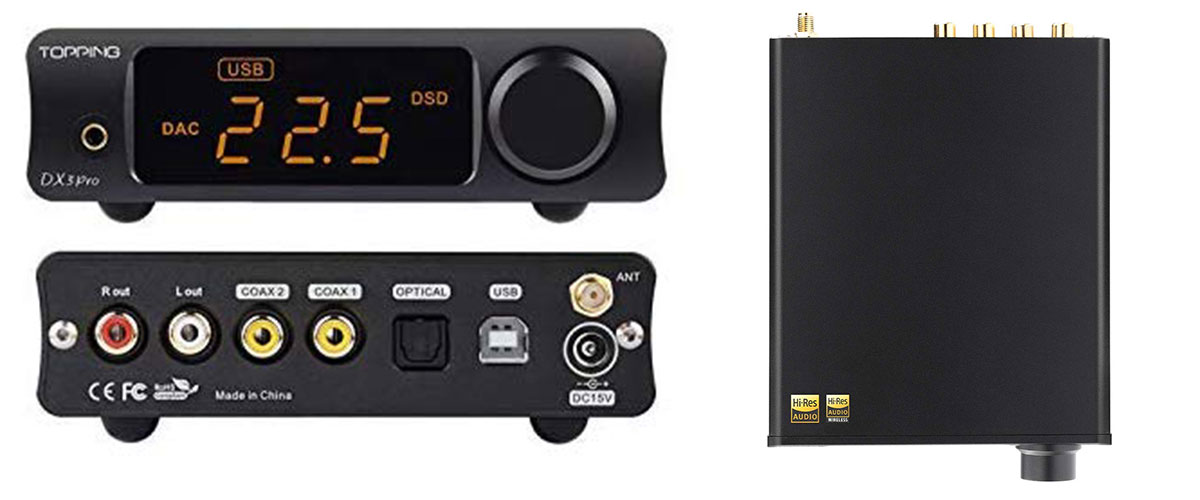 It is always difficult to choose only one best DAC under 200 among a great number of other devices, but you definitely need to consider Topping DX3 Pro. It does not occupy too much space and a nice desktop unit with metal housing and a sturdy 3.5mm jack. With a comfortable volume switcher, you can also control the device what can be a not very easy task. However, you receive a remote controller. The display has amber colors which make it easy to use even in the darkness. Moreover, it has Bluetooth that is compatible with AptX at 16/44.1khz.
For inputs, Topping DX3 Pro offers you USB with drivers that are able to support PCM 32/768khz and alternatively DSD512. Two coaxial inputs and one optical that follows S/PDIF. While checking outputs you will find RCA lines at the backside and 3.5mm output for headphones at the front side. For more convenient use it has an idle mode that makes this device wait until some signal will be received, but this DAC never turns completely off.
Pros
You will not spend a lot of time to assemble it properly in order to start it
This device can support numerous different formats
While switching to high volumes the quality does not descend
Cons
In case of driver problems, you will need to remove it and install on the device again
You cannot switch off the display light completely
The sound nod is not so accurate and has uneven clicking at different positions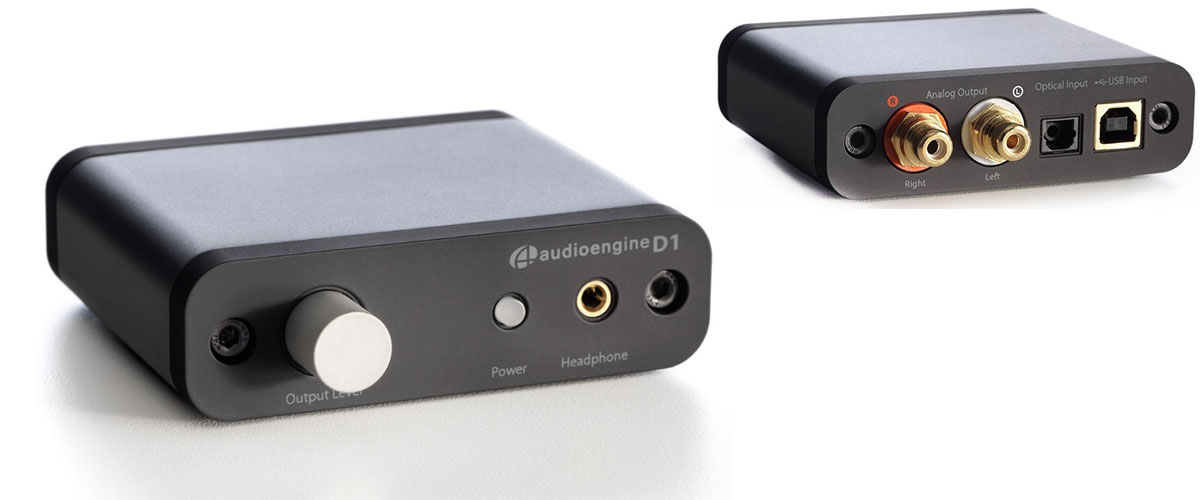 Buying a DAC may be a tough decision, especially when you need to choose one device among the best DACs under 200. In the beginning, it is better to figure out for what purposes you are going to use it. In case you are just a person who loves to listen to music every day and everywhere, then you need something more portable. Audioengine D1 is a compact DAC that requires the only USB to power it. With a Plug and Play system, you do not need to worry about problems with installing drivers. Simply by attaching all the necessary cables, you may start using it.
It has RCA and 3.5mm outputs that support up to 24-bit/96kHz. As for inputs, you have S/PDIF TosLink that is suitable for 24-bit/192kHz and Mini-USB. In addition, there is a convenient volume knob that allows to set an appropriate level without using the connected device. It is necessary to mention that its metal housing can guarantee better durability.
Pros
It is compatible with powered speakers, TV sets, stereo receivers, CD/DVD players and all other operating systems of computers and consoles
It is able to produce high-quality sound at high volume
Nice and gold plated design gives a serious look to this digital to analog converter
Cons
In case you are using USB 2.0 ports on your device, you will need to install drivers
For desktop computers, it is not very useful if to compare with other DACs for such price
While setting volume knob near the minimum you get annoying hiss that interrupts the music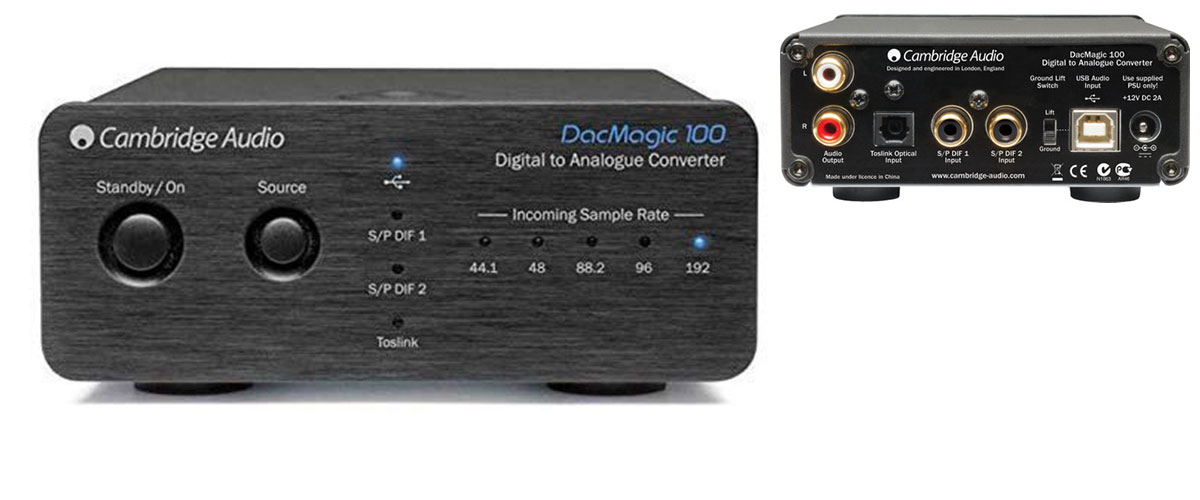 When you need something to boost sound at home you will try to find something that has a great number of features to use DAC in various ways. It is difficult to find one, which is the best DAC below 200 and not too low quality. In such a case you may need to consider Cambridge Audio DacMagic 100. It is filled with Wolfson WM8742 that supports all formats up to 24-bit/192kHz that are protected with fine metal housing.
In order to make it work this DAC has 12V DC 2A input. Among other inputs, it provides you with a great variety of choices like one Toslink optical, two S/p DIF coaxial and one USB audio input. There is an external Source button which allows you to switch between devices that are connected to Cambridge Audio DacMagic 100. As for output, you have only RCA what makes this DAC a little bit limited.
Pros
Asynchronous and synchronous USB audio input decrease jitter during the performance
It is compatible with most common digital devices including old and new operating systems
It is possible to connect several devices simultaneously
Cons
To power this device you need only PSU what is not very convenient
You may face troubles while installing drivers for USB 2.0
It does not have 3.5mm output jet what makes it impossible to use for a great number of different headsets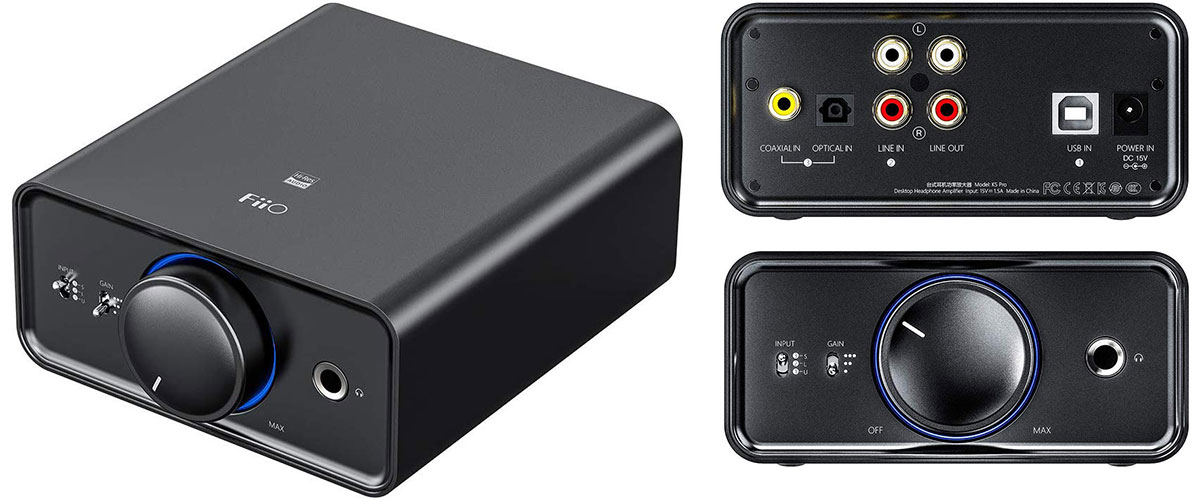 Buying a DAC means that you receive a device that has everything to work well from the very beginning. While purchasing FiiO K5 Pro together with a unit you receive:
6.3 mm jack adapter
S/PDIF dust cover plugs
power adaptor
power cable that comes with an appropriate jack for outlet type
additional rubber legs
Mini-USB
The design of FiiO K5 Pro is not so attractive but simple. The housing is made with black aluminum and rubber legs provide good stability on different surfaces. At the front side, you have 6.3 mm headphone output, volume colored knob, 3-way Gain switcher and input switcher. At the backside, you will find USB input, coaxial and optical S/PDIF inputs and line in and out 2 RCA.
To provide you with high-quality sound FiiO K5 Pro has AK4493 DAC that can handle up to 768kHz/32bit together with native DSD. In addition, it has XMOS XUF208 for the USB receiver and OPA1642 for the amplifier.
Pros
It supports most headphone sets and provides loud sound
There are no problems with connecting to different devices regardless of operating systems
It does not require a lot of space
Cons
There is a noticeable trembling sound while listening with a headphone set
Volume knob works in small steps with clicking sound
Due to low gain, you receive too loud sound while using it with IEMs.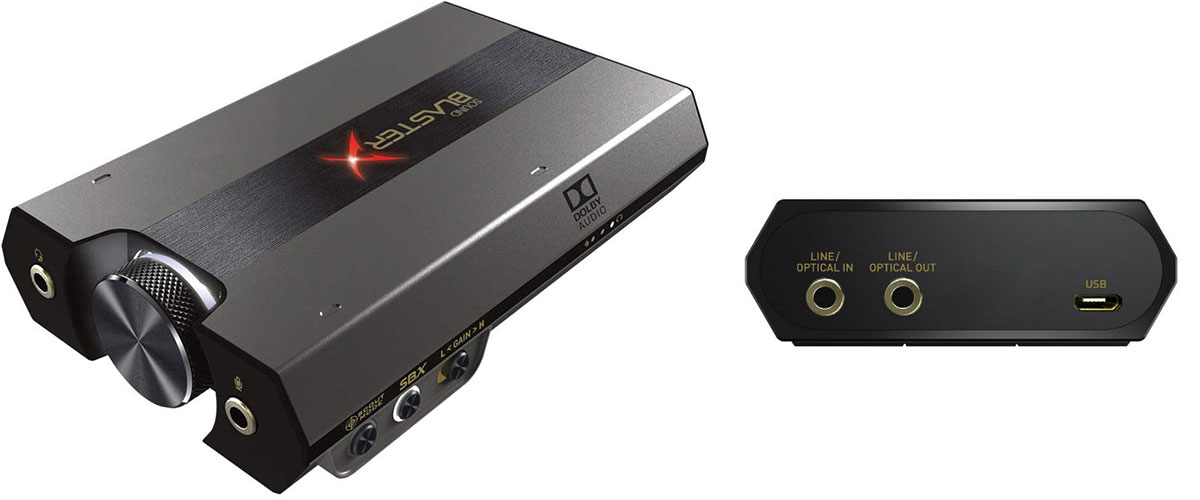 Video games are full of wonderful soundtracks that allow to dive into the fantastic worlds. If you are the person who needs a DAC for gaming purposes then you need to consider Sound BlasterX G6. At the very beginning, you can see its uncommon design with a silver metal housing. It is compatible with the latest consoles and operating systems. It is a small amplifier that is also can be used with smartphones. Getting this device means that you receive a 32-bit/384kHz DAC that can reach 130dB and Dolby Digital decoding systems 5.1 and 7.1 for better virtual sound surroundings.
It can be powered through via USB input connected to the device or with a help of power adapter to an outlet. There is only one line optical input and output which means that you cannot connect several devices simultaneously.
Pros
You can connect your headphones and microphone separately and adjust them the way you need
Scout mode for more precise sounds in video games
Possibility to switch between low and high gain
Cons
It has poor ASIO support what makes it difficult to install appropriate drivers
Cables are too short to connect the DAC properly
You do not receive an adapter for a wall outlet