The market can offer you a great amount of cheap and expensive devices. When it comes to making an actual purchase of the best desktop DAC most of the customers just look at the numbers of specs. If they are very high then it is a good digital to analog converter. However, it is not always like that. Therefore, in order to make the right choice you need to know what you are looking for. Whether you need a portable DAC to carry everywhere with you or multifunctional for desktop. Only after that, you will know what to look for and which device specs are important to you.
Most desktop digital to analog converters cannot be powered via USB. It means that while assembling it in your house, you will connect DAC to an outlet and will not move it very often. Their main advantage is the possibility to connect several other devices simultaneously. Some models can even provide better sound quality if to compare with portable DAC of the same price. Here you can find reviews of several models for your consideration. These DACs belong to different price categories that allow to find one that suits your budget.
Our pick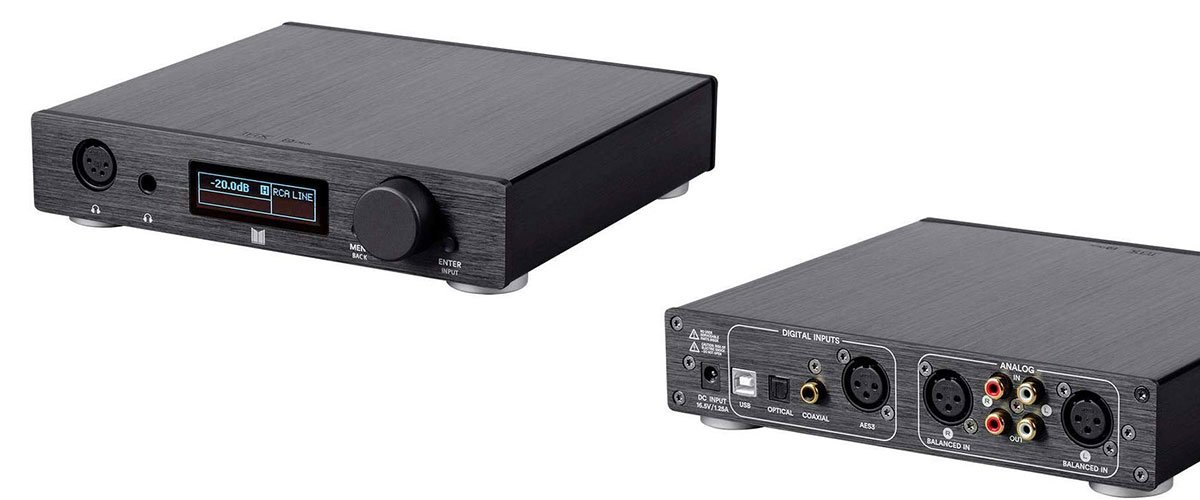 Monolith THX 788
The best desktop DAC
The Monoprice Monolith THX Amplifier is a THX certified DAC featuring dual AK4493 and up to 2W of power.
Best Desktop Digital to Analog Converters – Reviews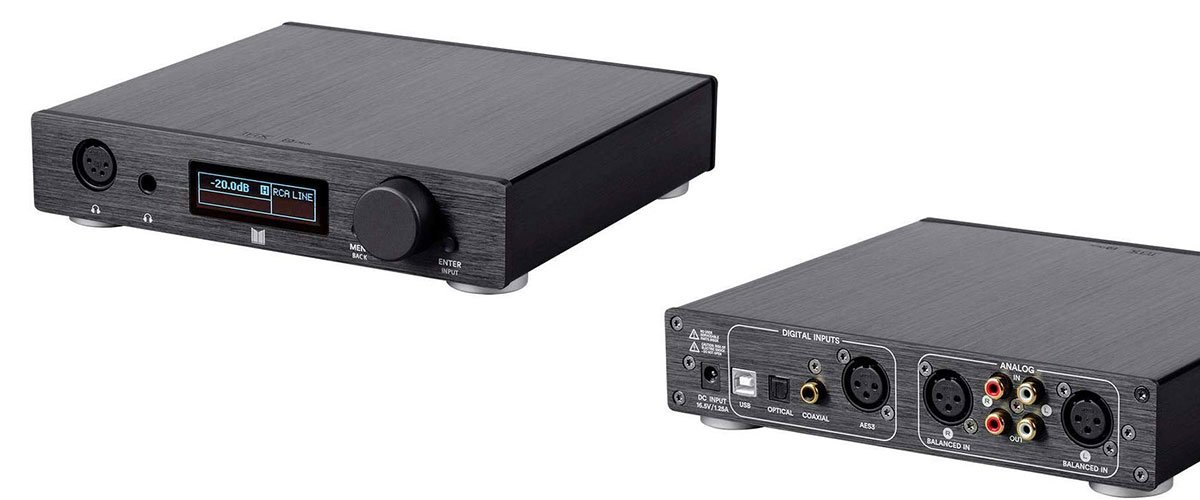 While getting a DAC you expect that there will be some sound distortion at different sound levels. However, with THX achromatic audio technology you will be surprised by its quality. Monolith1244590 has become the best desktop DAC for many users because of that. Due to Dual AKM4493 and Dual AA sound distortion rates are very low at different volumes. In addition, this device most common sample rate of 32bit/768 kHz. To power this device you will need only 16.5V/1.25A.
It has a simple design with an LED display and volume knob to manage all the settings and switch source signals. As for inputs you receive digital USB, optical Toslink, AES3 and coaxial. Among analog, it has balanced RCA with unbalanced XLR. While for outputs XLR and 1/4 inch jack are placed at the front and RCA outputs at the backside of the device. All of that is inside of metal black-grey housing what makes this model a little bit heavy.
Pros
Metal chassis protects the internal parts of the unit from damage.
At high and low volume levels, you do not hear strong volume distortion
It is easy to manage the settings with LED display while the light is off
Cons
All actions that you are doing with a volume knob lag behind
Because of brushed metal covering of the device you need to clean it very often from fingerprint stains
It lacks in tremble and bass control
Cambridge Audio DacMagic 100 – best budget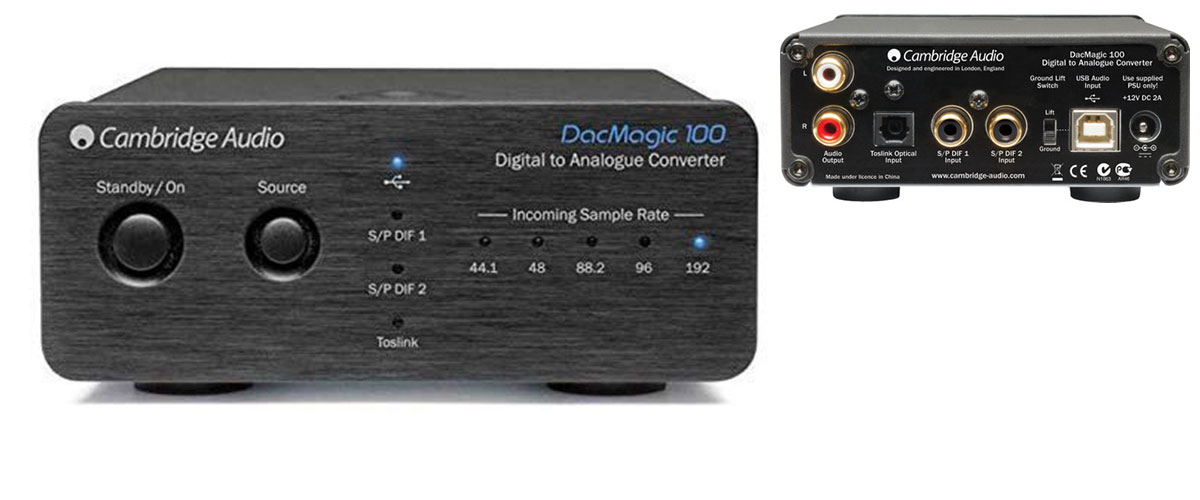 To join the world of high-quality sounds does not always mean to spend a lot of money. Even among budget models, you can find something worth starting with. In the searches of the best DAC for pc, you may pay your attention to Cambridge Audio DacMagic 100. It is a very compact digital to analogue converter. It does not have a display bit with LED lights you can always know which source and incoming sample rate are currently in use. Inside of the metal housing, it has Wolfson WM8742 that covers all formats up to 24 bit/192 kHz.
Cambridge Audio DacMagic 100 has only RCA audio output but for inputs, you have more options. It can be USB, optical TosLink and a pair of coaxial S/P DIF inputs. On the backside, you will also find a ground lift switch. It allows you to eliminate annoying buzz and hum sounds that may appear between two connected devices. To power this DAC you need a standard +12V DC 2A.
Pros
USB guarantees synchronous and asynchronous audio that reduces jitter sounds
This model is compatible with old OS versions of computers and consoles
Cons
While Using USB 2.0 port you may experience troubles with installing drivers
As it does not have 3.5mm jack for headphones you will need to get an adapter
Sony UDA1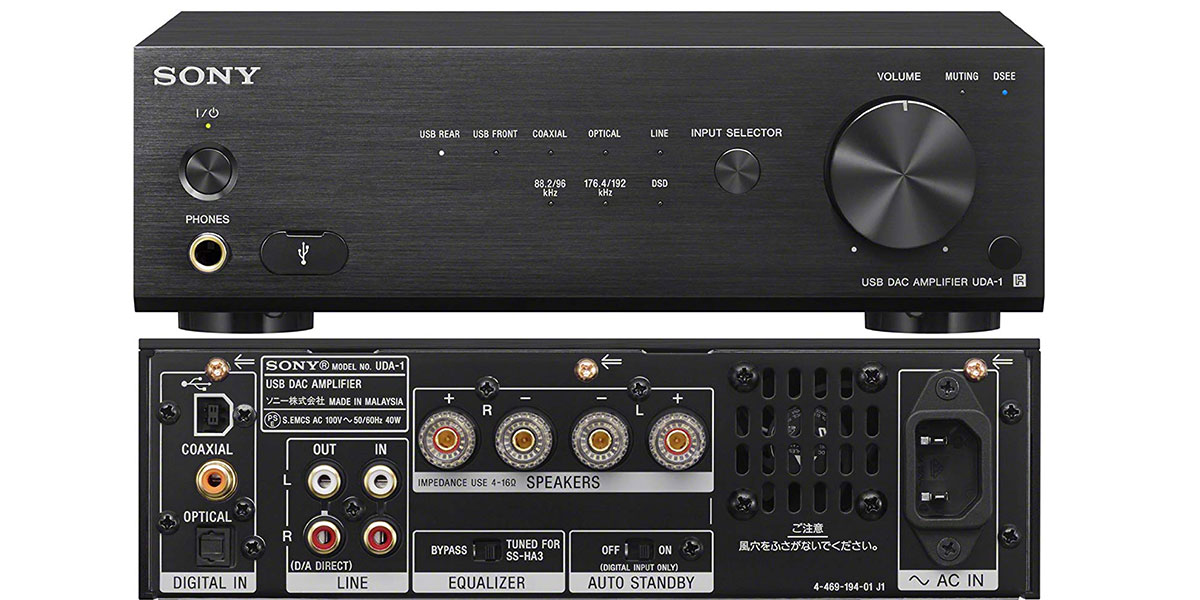 While getting something more expensive you can increase your chances of getting the best desktop Digital to Analogue Converter and Amplifier. With power also comes greater electrical power consumption. That is what you need to expect from Sony UDA1/B as it requires up to 65 Watt for operating. This DAC is suitable for amateur and even pro purposes. It can be in black or silver covering.
On the front side, you have separate buttons for turning on/off, changing inputs, sample rates, and muting. What is more important is that you will find there 3.5mm jack for headphones sets and a USB port. On the backside, you will be pleased by the variate of options. Digital coaxial, optical, USB and RCA. Among outputs, Sony UDA1/B has line RCA and the possibility to connect two speakers. This converter covers sample rates up to 32 bit/192 kHz AB amplifiers. In addition, you receive Bypass Equalizer with auto standby options for digital input.
Pros
As it uses DSEE technology you receive better sound quality from music files that are highly compressed
The volume knob works very accurately at low and high volumes
Cons
While being connected to Mac computers you may experience problems with stability and compatibility
It may take more time to buffer the song before playing it