What are Digital to Analogue Converters, and why there are plenty of them on the market? These are the most common questions of people who are interested in better sound quality. By finding the best DAC for yourself, you can have a totally new experience of listening to music. Originally, every soundtrack is a digital data on your device. As the human ear perceives only analogue waves, you need to convert this data. Every device like computer, TV set, console, mobile phone, and even CD player has an internal Digital to Analogue Converter or simply DAC.
You may wonder if there is an actual need for external DAC? The truth that interval converters are not always of good quality and often are influenced by other internal parts of the device. External DACs can cope with these common issues.
Background hiss sounds that are noticeable at quite or silent parts of the music.
Jitter that appears due to errors in digital timing.
Not enough loudness of headphone sets.
Unclear sounds of poor quality can be improved.
Unsupported file formats for internal digital to analogue converters.
Sound distortions and noise that appears at different volume levels.
In this article, you can find reviews on models where every device is the best DAC in a specific category. You can choose the most suitable DAC for you according to its price and application. If you are not sure about what exactly the device you need and budget is limited it is better to review category under 200. In case you need something that will keep providing you with wonderful sound quality, then you may be interested in devices starting from category under 500. DACs in these categories have a good combination of price and quality. Therefore, if you need only one device for many years with the newest technologies you need to consider the category under 1000 and 2000.
DACs Comparison Table
DAC
AMP
Chip
Sample rate
SMSL Sanskrit 10th

budget

no
AK4490EQ
32bit/384KHz
Review
Topping DX3 Pro

under $200

yes
AK4493EQ
32bit/768KHz
Review
Cambridge Audio Azur DacMagic Plus

under $500/Combo

yes
Dual Wolfson WM8740
24bit/192KHz
Review
Marantz HD-DAC1

under $1000

yes
CS4398
24bit/192KHz
Review
Chord Hugo 2

premium

yes
Xilinx Artix 7
32bit/768KHz
Review
EarStudio ES100-24bit

portable/for IPhone

yes
Dual AK4375a
24bit/192KHz
Review
Sound BlasterX G6

for gamers

yes
Cirrus Logic CS43131
32bit/384KHz
Review
Best DAC Under $100
SMSL Sanskrit 10th

It is always difficult to start with something that you are not very familiar with. When you do not know actually what do you need and for what purposes you are going to use DAC it is better to get something not very expensive. SMSL Sanskrit 10th can be a good decision. This model can become the best DAC for your desktop purposes. It has two USB inputs. The first one is only for data transmission and the second one only to power the unit. You can easily power it with a smartphone charger inserted into the outlet or with a computer. It is totally enough to enhance the quality of sounds.
Inside of this DAC, you will find two Japanese NDK noise clocks. Their main task is to reduce jitter. With DSD256, this unit supports sample rates up to 32bit/384 kHz. As for inputs you can choose between coaxial, USB, and fiber TosLink options. To receive wonderful sounds from this device you can use only standard RCA. What is more important is that you can control it remotely with a handy controller.
Key specs
Headphone amp: no
DAC chip: AK4490EQ
Max. sample rate support: 32bit/384 kHz
Bluetooth: no
Inputs: optical, coaxial, micro USB
Outputs: RCA phono
Pros
It can be used as a preamplifier for your stereo system
This DAC is compatible with various modern and old operating systems and devices
With several inputs, you can connect several devices and not lose performance
Cons
You may notice a slight imbalance of the right channel
It lacks portability when you need to quickly move it to a different place
The design and colors of the unit are not very attractive
Best DAC Under $200
Topping DX3 Pro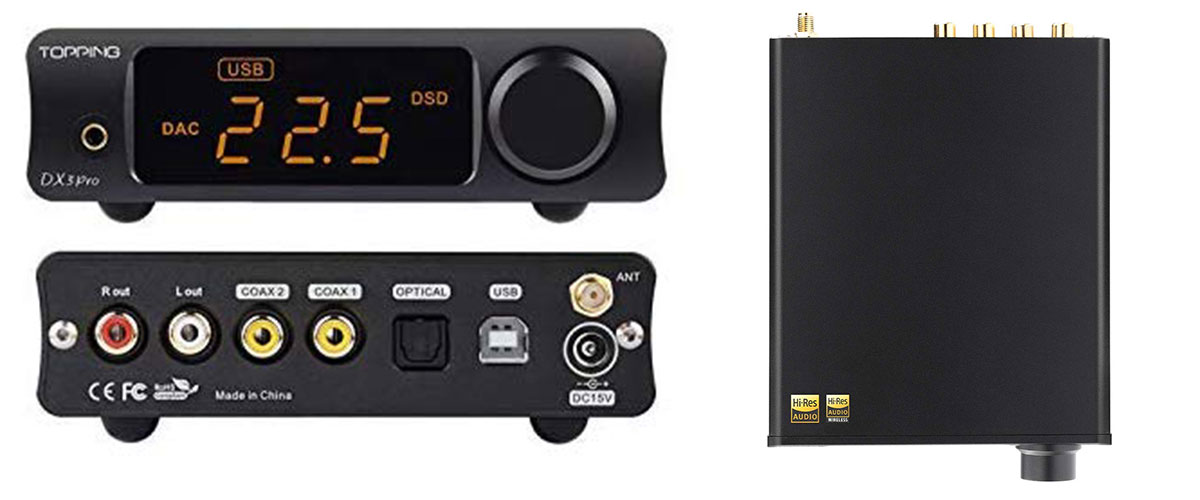 When getting a DAC for your home convenience of use plays an important role. Such features like the remote controller is a common thing. However, if you want to have more comfort, you may be interested in Bluetooth DAC. That is what you can receive with Topping DX3 Pro. You can transmit your music files directly from your phone or laptop via Bluetooth. Moreover, you may forget about wires and cables that you need to connect with other DACs. It is also an amplifier to headphone sets. To power this model you need only 15V. The unit is housed in sturdy metal chassis that has better durability.
On the front side, it has 3.5mm jack, a volume knob and an LED display that can be easily visible in the darkness. On the rear side of the DAC, you will find a pair of coaxial inputs, optical TosLink, USB and input for AptX at 16/44.1khz Bluetooth accessory. In addition, there is an RCA output. Topping DX3 Pro supports sample rates up to 32bit/768kHz due to AK4493 and AK4118 PCM chipsets.
Key specs
Headphone amp: yes
DAC chip: AK4493EQ
Max. sample rate support: 32bit/768 kHz
Bluetooth: yes
Inputs: optical, 2x coaxial
Outputs: RCA phono, 3.5mm
Pros
With a remote control, you can adjust all the settings from a comfortable range
The brightness of the LED display can be changed due to your needs
It does not require a lot of time to assemble and start using it
Cons
There is no option to turn off the display light completely
An idle mode does not always work correctly and you need to turn on the device manually
Best DAC Under $500 and DAC/Amp Combo
Cambridge Audio Azur DacMagic Plus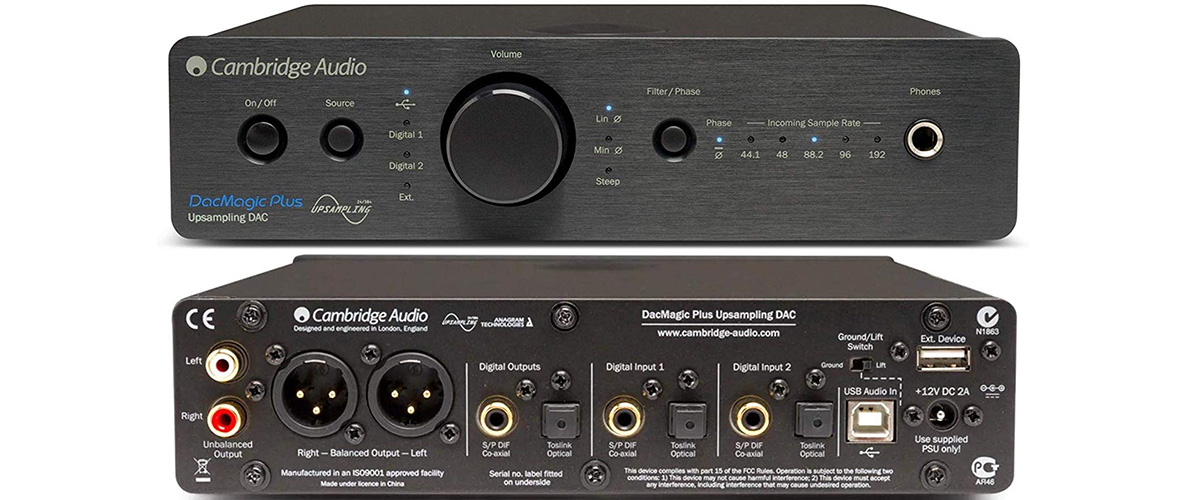 Getting high-quality sounds are important for every person who loves to listen to music. While at the beginning it may be difficult to understand your purposes, you can start with Cambridge Audio Azur DacMagic Plus. This model is a wonderful model DAC and Amplifier combo for its money. To power this unit you receive several PSU adapter to match your outlet type. Moreover, you can attach a Bluetooth accessory to control it remotely.
With this DAC you receive various options for inputs and outputs. As for Inputs, it has Mini USB, coaxial RCA and a pair of TosLink S/P DIF inputs. For outputs, you receive digital pass-through RCA, TosLink, and analog balanced XLR and unbalanced RCA. It has Dual Wolfson WM8740 24bit that supports sampling rates up to 24bit/384 kHz.
Key specs
Headphone amp: yes
DAC chip: Dual Wolfson WM8740
Max. sample rate support: 24bit/192kHz
Bluetooth: yes
Inputs: 2x optical, 2x coaxial, USB Type-B
Outputs: RCA phono, balanced XLR, 3.5mm, optical, coaxial
Pros
Bluetooth allows to transmit data and control setting of the DAC remotely
Drives support the newest operating systems of different devices
Cons
The volume settings reset each time you turn off the unit
This DAC can be powered only with an adapter to an outlet
Best DAC Under $1000
Marantz HD-DAC1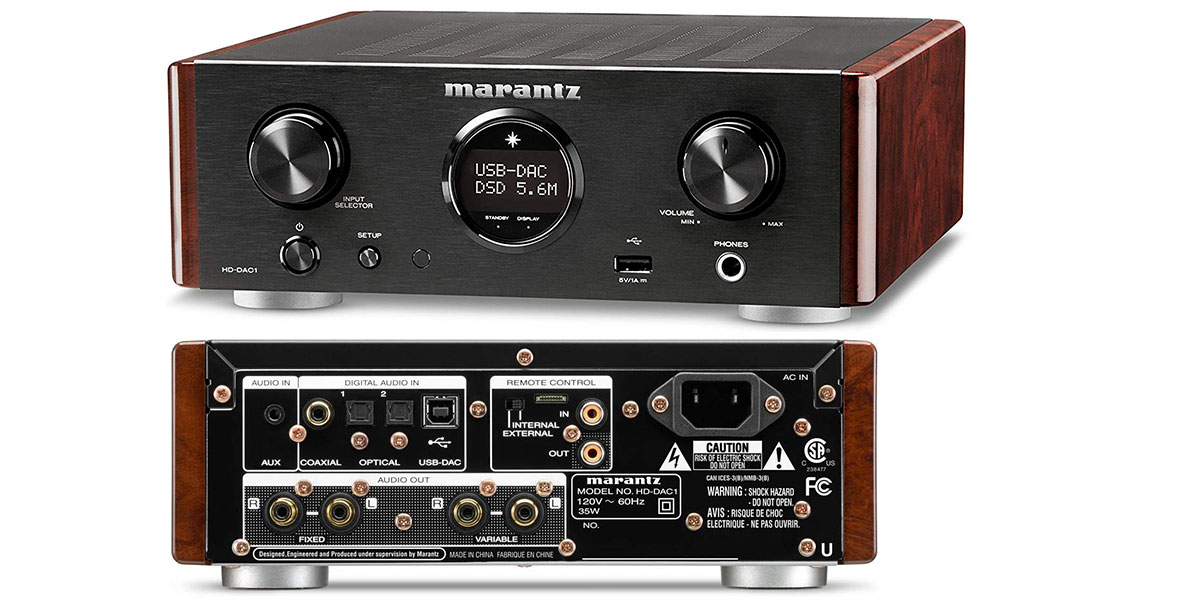 If you are looking for the best DAC for the money, you need to look at Marantz HD-DAC1. This model is a wonderful combination of digital to analogue converter, an amplifier for headphones and a preamplifier for stereo systems. All these functions you can use simply with a remote controller. Alternatively, there are two knobs that you can use to adjust all the settings manually. The first one is the input selector to switch between source signals while the second one is for volume. Moreover, there is a white LED display that easy to use even in the complete darkness. On the front, you can attach your headphone set with 1/4 inch jack and connect the smartphone via USB.
On the back of the unit, you will find a great variety of choices. There are coaxial digital inputs, a pair of optical, USB type B and AUX inputs. Among outputs, you can use variable and fixed RCAs. In addition, you can switch between internal and external remote control. Marantz HD-DAC1 has Native DSD2.8 and CS4398 chipsets that cover sample rates up to 24bit/192kHz. Due to HDAM-SA2 modules, you can use a three-level gain control. To power all of that you need 120V.
Key specs
Headphone amp: yes
DAC chip: CS4398
Max. sample rate support: 24bit/192kHz
Bluetooth: no
Inputs: 2x optical, coaxial, USB Type-B
Outputs: 2x RCA phono, 3.5mm
Pros
There is a mute button on the remote control to immediately turn off the sound
Digital inputs have noise isolation
This model produces distinct and clear sounds on different volume levels
Cons
Fake wood on the sidings of the DAC make it look rather cheap
On quiet pieces of music, you can hear hiss sound
Best DAC Under $2000
Chord Hugo 2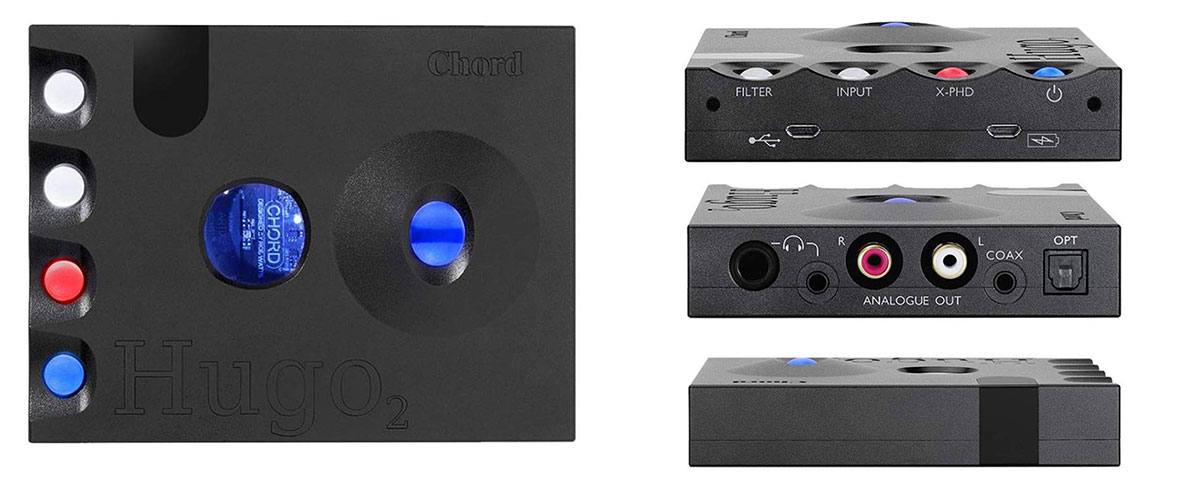 While getting a digital to analogue converter and amplifier you always worry about the power source. With Chord Hugo you can forget about this issue. With an inbuilt battery that can last up to seven hours, it has become the best audiophile DAC. It is very convenient when you do not need to power it from your smartphone or other devices while traveling. It does not require drivers to run on Mac and Linux operating system but requires it for Windows.
This unit supports DSD64 (Single) to DSD512 (Octa-DSD) with PCM sample rates up to 24bit/384 kHz. It has tow optical TosLink, coaxial and HD USB inputs. Alternatively, you can transmit your data via Bluetooth. For outputs, it has a pair of RCA, 1/4 inch and 3.5mm jacks.
Key specs
Headphone amp: yes
DAC chip: Xilinx Artix 7
Max. sample rate support: 32bit/768 kHz
Bluetooth: yes
Inputs: coaxial, optical, micro USB
Outputs: RCA phono, 3.5mm, 6.3mm
Pros
Due to the internal battery, it saves the charge of your main device
It does not require a lot of space to carry it with you
Cons
USB ports are fragile
The controls are difficult and not intuitive
Best Portable DAC and DAC For iPhone
EarStudio ES100-24bit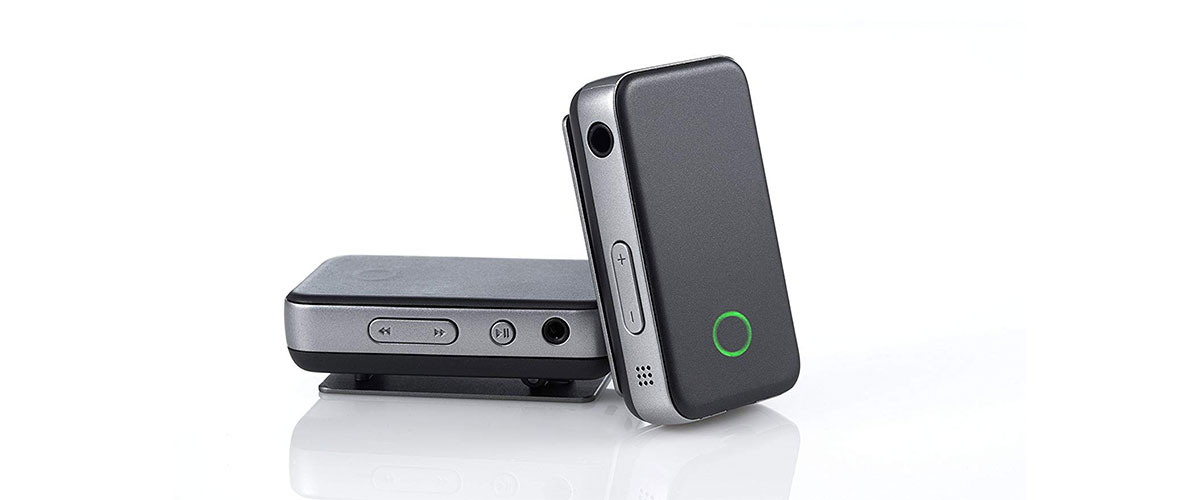 If you are looking for something compact that will suit your smartphone, then you need EarStudio ES100-24bit. It is a very popular DAC for iPhone users. To connect it you will need a lightning connector or On The Go cable for Android devices. The sound control is represented by external buttons that allow to adjust the volume level without looking at your smartphone or computer. In addition, it has the same switcher for soundtracks.
To connect your headphones you may use either unbalanced 3.5mm or balanced 2.5mm jacks. Inside of this tiny box, you will find two AK4375a chipsets that are responsible for each channel. They support sample rates up to 32bit/192 kHz what allows to deliver you high-quality sound.
Key specs
Headphone amp: yes
DAC chip: Dual AK4375a
Max. sample rate support: 24bit/96kHz
Bluetooth: yes
Inputs: micro USB
Outputs: 3.5mm, 2.5mm
Pros
With a Bluetooth chipset, you can send digital audio data without any wires
Mobile Equalizer that easy to use from any phone
Cons
Cables for smartphones you need to buy separately
From time to time, it may turn off
The housing of the DAC is not solid and can be easily damaged
Best DAC for Gaming
Sound BlasterX G6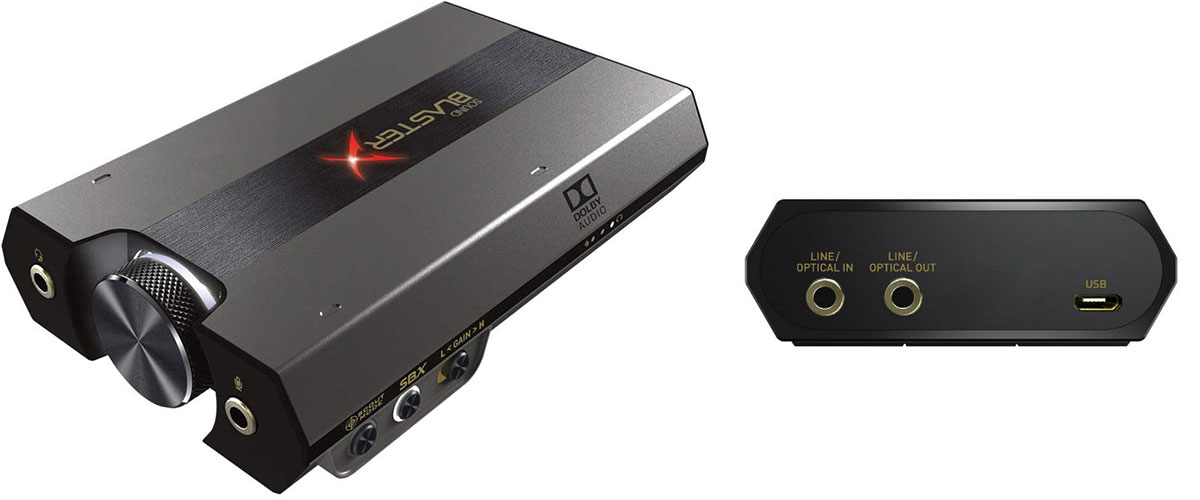 Video games have become an important part of everyday life for many people. They know it is how important to have good sound quality. It improves navigation in combats and helps to feel the epic moments of the games. In order to enjoy them at full may consumers try to find the best DAC for gaming and one of them can satisfy their needs. Sound BlasterX G6 is focused on enhancing your game experience. Even its design of silver metal housing reminds some kind of a spaceship. This model does not have compatibility problems with the lasts operating computer systems and consoles.
Sound BlasterX G6 can be powered either with a power adapter to an outlet or via USB. Inside of this DAC, you will find Cirrus Logic CS43131 DAC chipset that supports sample rates up to 32bit/384 kHz. In addition, there is a scout mode that creates realistic sound surroundings. On the front side, you can attach your headphone set with a microphone and regulate volume with a knob. While on the back, it has an only optical line in and out. In addition, you can switch between the high and low gain at the side of the DAC.
Key specs
Headphone amp: yes
DAC chip: Cirrus Logic CS43131
Max. sample rate support: 32bit/384 kHz
Bluetooth: no
Inputs: optical, micro USB, microphone
Outputs: 3.5mm, optical line out
Pros
It does not take a lot of space at the desktop
It is easy to disconnect and move to another place
Cons
It takes some time to install it properly and find all necessary drivers
Due to short cables, it is difficult to assemble it conveniently
Wall outlet adapter you need to buy separately
Buyers Guide
Can DAC really improve sound quality?
A lot of people wonder if there is an actual need to improve sound quality as you can simply get good speakers or headphones. The truth is that it is not enough. They definitely can produce better and louder sounds, but not in terms of decoding. In order to hear recorded sounds for humans, they have to be properly converter. An external DAC that also serves as an amplifier for speakers performs conversion more accurately. With higher sample rates, you can receive much more beautiful music. You will not hear so a lot of unwanted noises and sound distortions. DACs can also reduce or even remove jitter, hiss, and buzz sounds that may appear at very low and high volume levels.
Types of DACs
While getting a digital to analogue converter you can find various several types of them. In order to make the right decision, it is important to evaluate your needs and purposes for everyday use. A great number of DACs are combinations of several types.
Standalone DACs. These models may occupy more space and usually are placed on desktops near computers or next to TV sets, consoles and stereo speakers. They have several outputs and inputs for connecting several devices. To power them it can be USB to your device or directly to an outlet.
DAC as a headphone amplifier. This type is focused on providing better sound to your headphone sets and speakers. They can be smaller in size and have 3.5mm or 1/4 inch jacks.
Portable DACs. Nowadays, more and more people try to find the best portable DAC. You can simply power it with USB type C with any device you have. Due to the small size, it is possible to carry some models with you even in pockets. They often serve as an amplifier for headphones that has only one output jack.
How to setup a DAC?
Depending on the DAC, you may have different installation experience. Before buying a specific model, you need to check its compatibility. Some cheap and old DACs may have trouble with the newest operating system and even do not support them at all. Most of them have a possibility to be connected via USB with the device. Some models have a Plug & Play system. It means that your devices will automatically find appropriate drivers and make the DAC work. Alternatively, you may need to find and install them manually. Some models have LED displays and remote control systems that are very convenient for adjusting all the settings and managing the unit further.
After connecting, you will find your DAC model in sound settings for playback. Do not forget to unplug the actual speakers or headphones if they are connected as you will connect them to the DAC directly. To manage the settings of the converter you will have to use both buttons and volume knob on the unit or digital interface on the device. Alternatively, your digital to analog converter can be connected via other digital coaxial and optical inputs. Moreover, some to some models you can attach Bluetooth accessories. It allows you to send data directly from your smartphone or laptop to the DAC.
What PCM does mean?
Pulse Code Mutation or simply PCM is responsible for the representation of analogue signals in digital formats without performing any compressions. This method is in use even in your everyday life. As it allows to encode signals that humans can produce with musical instruments or simply by talking and transmit it as 1s and 0s to another device or simply record it. However, converting music from a digital format into analogue is not so simple. To reproduce it correctly there is a sampling process. It makes samples of music sound thousands of times per second. Depending on the bit rate and depth, you can receive a more or less accurate record of the sound. When you want to listen to this digital sound this process goes again intro reverse way. All samples that have been made are decoded into analogue waves that the human ear can perceive.
What is DSD?
With great technological progress, the digital sound has become more complex but with better quality. Direct Stream Digital or simply DSD is a high-resolution type of format that can produce signals of higher quality differently than PCM. When other methods sample the audio signal, several hundreds of thousands DSD performs the same more than two million times in a second. It allows to convert the encoded sounds with very high accuracy what guarantees you a better experience of hearing the music of higher resolution. Still, DSD is not a very popular system of recreating audio signals despite its quality.
Should I care about sampling rate and bit depth?
If you want to greatly improve your experience of listening to high-quality music, then you need to pay attention to these specs of the DAC. The bit depth is responsible for the proper concertation of music. The higher the number of bits is the more precise sounds you will receive. It directly influences the quality of soundtracks. In addition, it reduces the distortion of the sound that may appear at low bit depth. Bit rate is the number of bits that are transmitted per second. When the rate is high, you can convert sounds from digital to analog without losing any sounds that are recorded on every second of the soundtrack. In case of a low bit rate, you may notice unwanted noises in the music. Both of these parameters are responsible for the quality of music that you receive. Therefore, you need to pay attention to them if you want to get the best DAC for yourself.
Will a DAC make my headphones louder?
Most DACs have an inbuilt amplifier for headphones. It means that you need just to plug it in and start listening to music on a totally different level. You receive many more opportunities to adjust the volume according to your preferences and needs. The headphone input in every DAC is different. In general, it can be either 3.5mm or 1/4 inch jack. You do not need to worry if your favorite headphone set has a different connector. You can simply get an appropriate adapter. They are not expensive and you can find them online or at some local stores connected with DACs or music instruments.