You may find very different reasons to get the best DAC under 500 for yourself. Every day we hear multiple sounds from different devices and the most popular among them have become mobile phones and computers. In fact, data with sounds on these devices is encoded into digital, while the human ear perceives analog sound waves. In order to hear all those songs and music, we use internal DACs. Here comes the question "Is there a point of abying another but external DAC?"
In most cases, inbuilt digital to analog converters cannot produce a sound of high quality. The reason for that is they are part of the whole device. All sounds that computer produces like vibrating, fan spanning, even the presence of electrical power in other constituent parts may influence sound quality. Therefore, and external converter can cope with this task more efficient. However, it is always difficult to choose one of the best DACs under 500. To help with this task here are several reviews of models that you may be interested in. Each of them has its own strong and weak sides. It is better to consider every DAC before making the final decision.
Our pick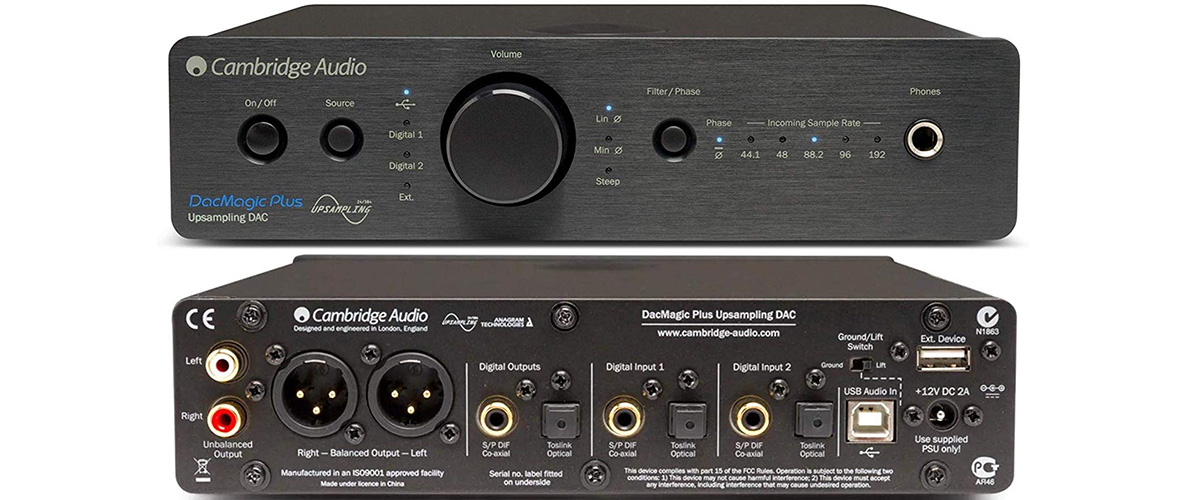 Cambridge Audio Azur DacMagic Plus
The best DAC under $500
The DacMagic Plus has fantastic new features including wireless device connectivity and stunning audio performance from music of all formats.
DACs under $500 Comparison Table
Chip
Max. sampling rate
Cambridge Audio Azur DacMagic Plus

best overall

ESS 9016
24bit/96kHz
Review
Dragonfly Cobalt
ESS ES9038Q2M
24bit/96kHz
Review
Monolith 124459
2 AKM 4493
32bit/768 kHz
Review
Reviews of DACs Under 500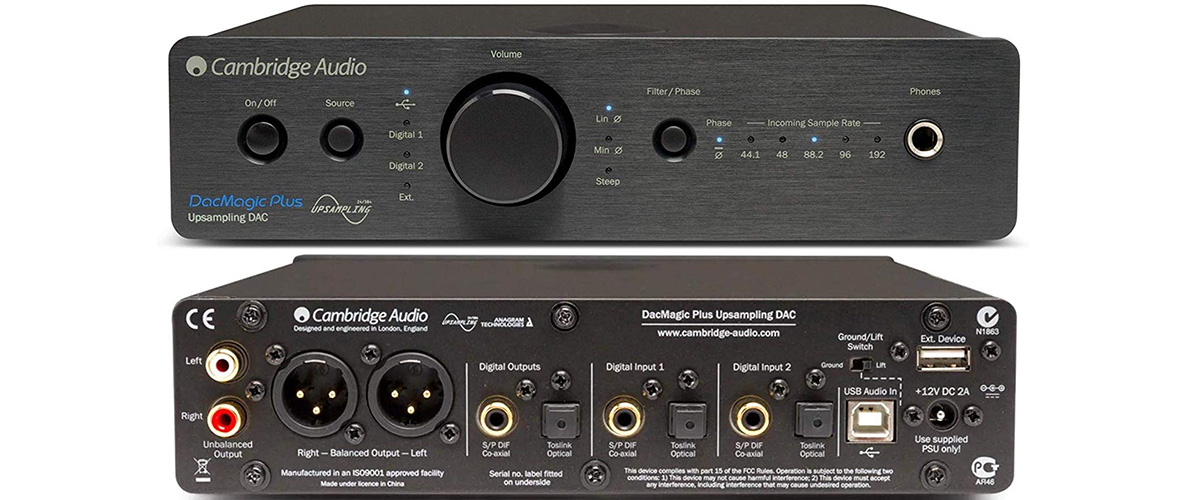 When you have decided to find the best DAC under 500 you expect that it will be an ultimate converter for various purposes. In such case, you need to review Cambridge Audio Azur DacMagic Plus. It has a metal-aluminum housing of black color that protects all internal parts and just looks nice. On the front side, you may find buttons for power, source, and filter with a pause. There is also a large knob that allows to adjust volume according to your needs. In addition, you have a 1/4-inch jack to connect your headphone set. What is more important is that on the front panel you can see what is connected to this DAC and chosen sample rate.
From the backside, this device has various digital inputs like Mini USB, coaxial RCA and a pair of TosLink S/P DIF inputs. What is more, is that you can connect optional Bluetooth receive to control this unit remotely. For outputs, you receive digital RCA that is only pass through and TosLink. While for analog outputs it is balanced XLR and unbalanced RCA. To power this unit you receive different types of PSU to match your outlet. To produce high quality sounds it has Dual Wolfson WM8740 24bit DAC and supports up to Up-sampling to 24-bit/384kHz.
Pros
Possibility to control the DAC and play music via Bluetooth
You can easily select and switch between three different digital filters
Drivers for installment support old and new operating systems of computers, TV sets, consoles, etc.
Cons
When you turn off the DAC, its volume setting resets by itself. Otherwise, you always need to keep it on
It cannot be powered by other devices via USB what makes you always care about the distance to an outlet
On the low volume very noticeable hiss sound in headphone sets
Dragonfly Cobalt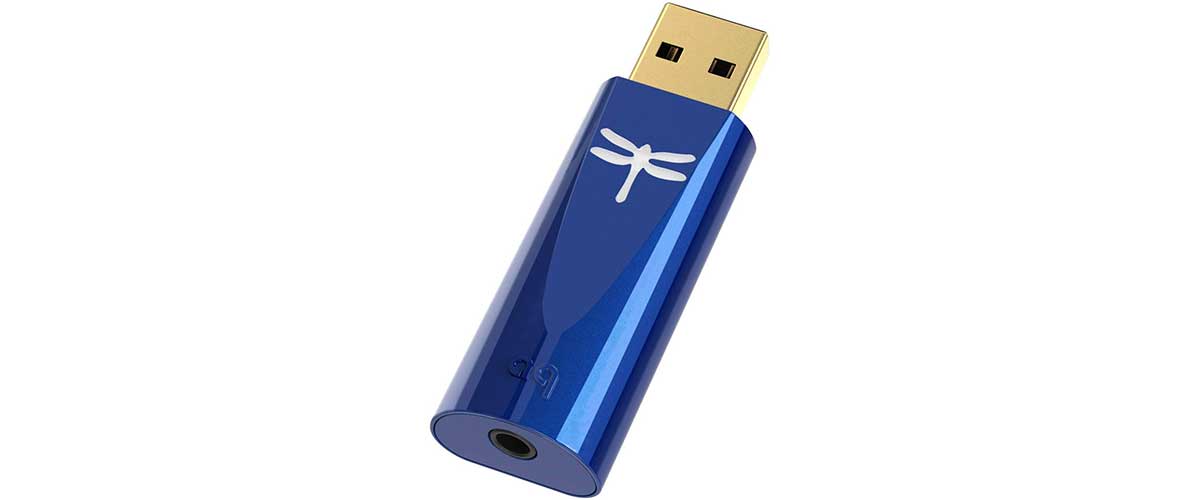 In general, all DACs can be divided into two categories. With models for home use, you will just connect all necessary cables and will not move the unit very often. The rest are portable DACs that you may carry in your pocket or backpack every day. If you prefer to listen to music all the time while being outside your house, then you may be interested in Dragonfly Cobalt. This model can become the best DAC under 500 for you. It works as an ordinary amplifier for headphones and also a preamplifier. While changing sample rates the LED indicator, also change its colors what looks very nice.
This gadget has an ESS ES9038Q2M DAC chipset and supports resolutions up to 24-bit / 96kHz. You will not have to worry about formats of your files as this DAC is compatible with most types of music files from Hi-Res and MP3 to MQA. Its chipset can provide you with a more natural sound with the help of a slow roll-off filter of the minimum phase. Dragonfly Cobalt can be powered directly from your smartphone, laptop or other devices via USB. It is compatible with the newest iOS computers and smartphones, but it has to be connected via Apple Lightning-to-USB adaptor and Android devices and Windows operating systems. As for output, it has a standard 3.5mm jet.
Pros
Very compact design for everyday use outside
It does not require installing drivers to computers and is compatible with various consoles
It renders high-resolution clean sounds without buzzing
Cons
While connected to most Android smartphones there is a noticeable hiss sound on low volumes
You need to buy Apple Lightning USB cable separately
DAC can be powered only by the host device and this greatly reduces the duration of the battery charge
SMSL SU-9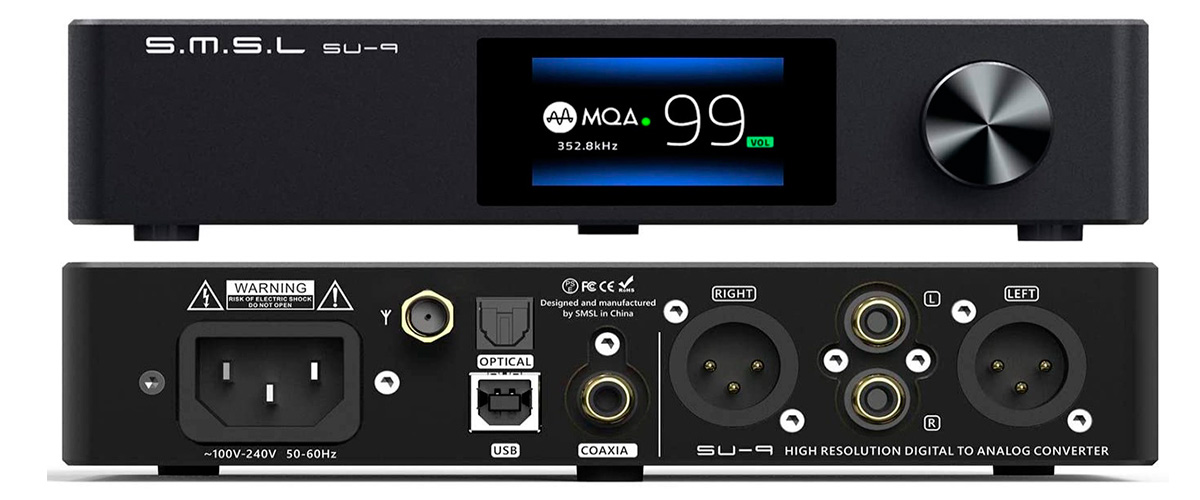 This appliance works with PCM up to 32 bit/768 kHz and supports native DSD up to DSD512. The SMSL SU-9 is based on the ESS SABER9038Pro chip. On the rear panel, I found three digital inputs like USB, coaxial and optical. Plus, there is a Bluetooth antenna socket, an AC inlet, and of course, a balanced XLR and a single-ended RCA output. The SU-9 model is equipped with an ES9311 low-noise power regulator. The body of the appliance has a thickness of about 3.5 mm, so wireless interference shouldn't be a problem at all.
The control is carried out by one handwheel on the front panel — with it, you can switch inputs, change the screen operation modes, and switch the DAC to pre-mode with a 99-step digital output level control. Something I really like about this model is the impeccable bass control — low end is impactful but wholly without bloat.
Pros
There is Bluetooth, supporting all most popular audio codecs, including LDAC, aptX, aptX HD, AAC, SBC
It comes with seven filters
The DPLL option allows you to change the degree of jitter filtering when working via USB
Cons
No single-ended outputs
It has only three rubber feet, which can cause wobbling when stacked
Monolith 124459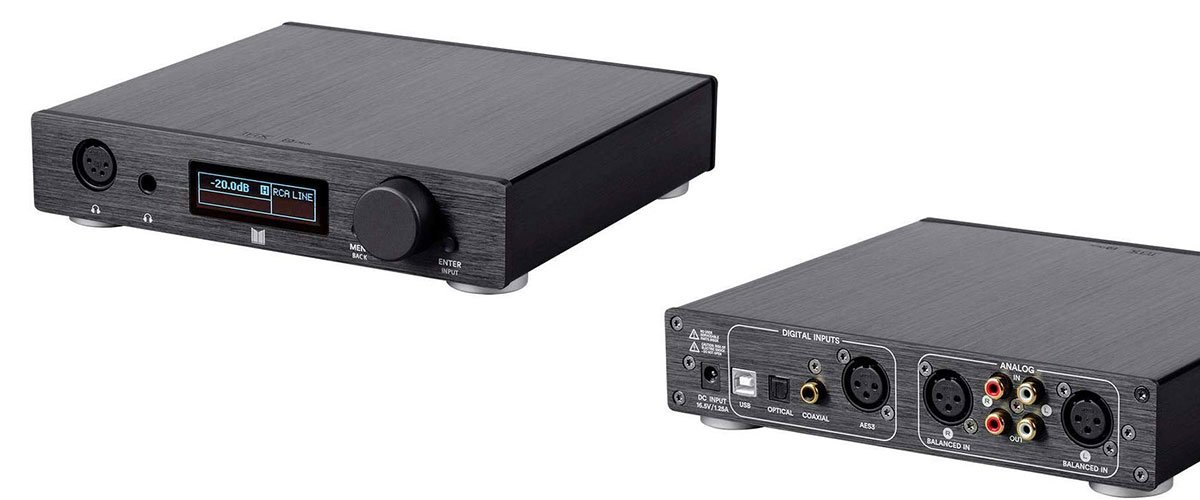 A powerful amplifier that supports a great number of sample rates is what you expect from the best DAC below 500. When arranging a house with different devices like computers, TV sets, consoles, and stereo systems, installing digital to analog converter is essential. For such a purpose, it is better to review Monolith 124459. This model is equipped with the technology of the THX achromatic audio amplifier that could be possible only with Dual AA and Dual AKM 4493. Therefore, this DAC can maintain a high-quality sound on different volume levels. It supports sample rates up to 32/768 kHz.
At the very first glance at this device, you can notice a display. It is very convenient when you need to choose the needed sample rating, set the volume level, switch between inputs and signals. With a volume knob, you can manage all those parameters. To make it work, this device has a standard DC input of 16.5V/1.25A. As for inputs, you have analog balanced RCA and unbalanced XLR and digital AES3, coaxial, optical TosLink and USB. To receive sound from this device you have 1/4 inch, XLR, and RCA outputs.
Pros
With a digital display, it is very simple to adjust all the settings
It has a sturdy metal housing that protects the unit from damage
The sound is very clear without side noises
Cons
The changes after turning the volume knob take their effect only after several seconds
It is easy to leave fingerprint stains on the device due to brushed metal
There is not enough control of bass and tremble sounds
Schiit Modi Multibit DAC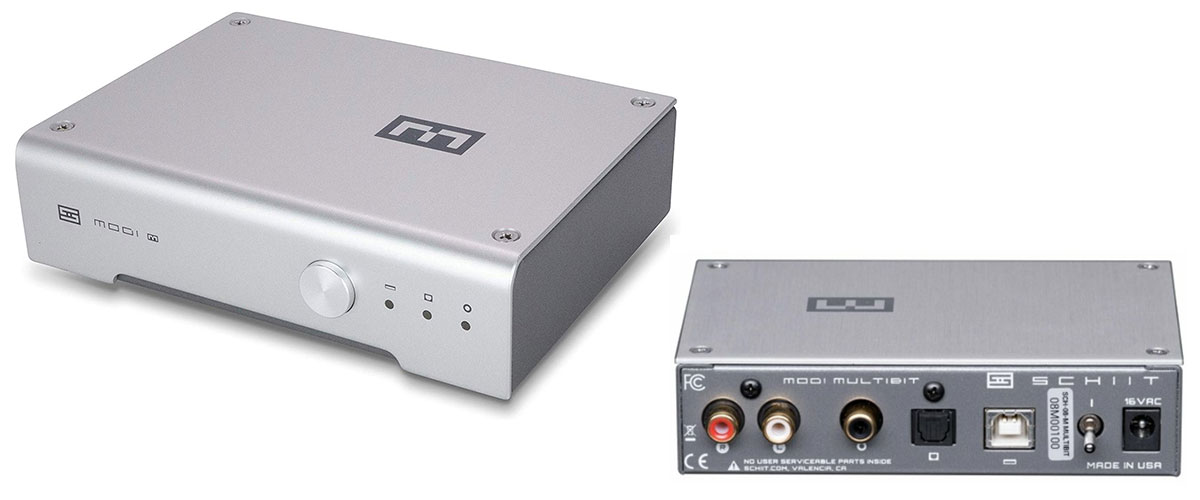 While checking different DACs you may be interested in something compact for your desktop. Schiit Modi Multibit DAC may be a solution for you. It has a metal housing of silver housing with LED indicators of inputs. It using AD5547 multibit DAC that supports all sample rates up to 24/192 kHz to provide a high-quality sound. To change the volume there is a silver nob that works smoothly.
For inputs, you can use TosLink and coaxial S/P DIFs and USB. You may not worry about compatibility with other devices. This DAC can be easily connected via USB and supports the newest operating system of iOS, Windows and modern consoles. As for output, it has only single-ended RCA.
Pros
Together with a unit, you receive a 16 VAC cable that it is compatible with US outlets
With a unique digital filter of closed-form, you can receive a high-quality sound
On low volumes, you do not receive so much hiss sounds
Cons
In case of long continuous work, it heats up and may overheat
It may take several minutes for the DAC to synchronize with a device
Due to a multi-bit DAC architecture you may hear some saturation and jitter
Topping D50s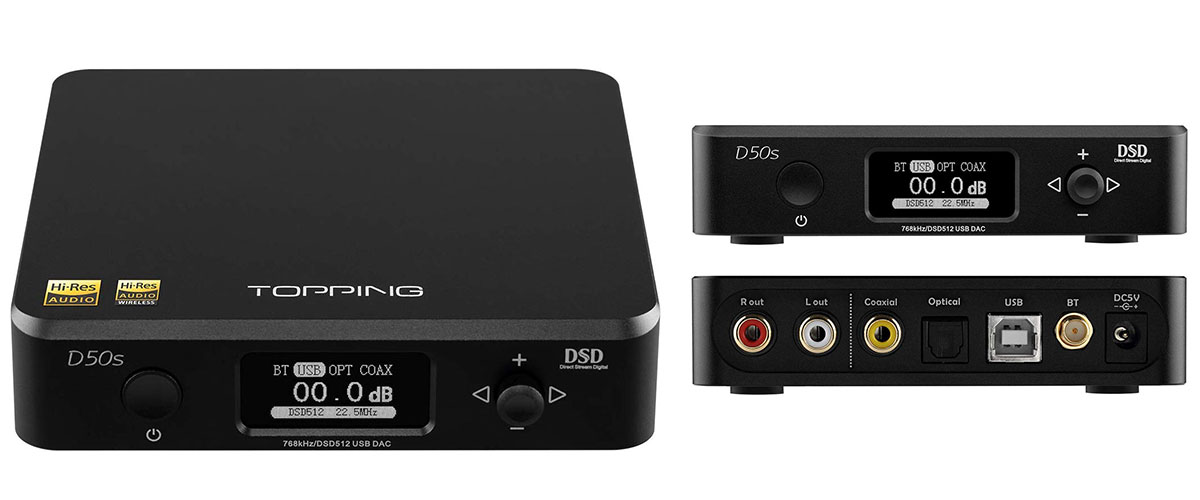 Modern DACs have possibilities to be controlled remotely what is very convenient. If you are looking for one of them but do not want to overpay, then you need to consider Topping D50s. TO this small DAC you can simply attach Bluetooth receiver and transmit all data with your smartphone or laptop. Alternatively, you can use USB, coaxial and optical inputs. As for output it has only RCA. However, one of the most outstanding features is a display. It allows to distinctly see which source and volume are set. For navigation, you have handy stick. With this DAC you may forget about inconvenient volume knobs for navigating.
With a powerful chipset, Topping D50s supports the highest sample rates of PCM32bit/768KHz together with the highest DSD512. As for drivers you receive the second generation of XMOS XU208 for USB interface. You can power this unit with a USB power supply for phones or with ordinary DC of 5V.
Pros
It is compatible with old and new models of smartphones, computers, and consoles
You receive a nice and clear sound of high quality
Cons
On very low volumes you may hear noticeable hiss and buzz sounds
You do not receive a wall wart together with a DAC
It becomes hot because of continuous work and may require time to cool down