It is difficult to imagine our world without music. It has become a part of our everyday life. Therefore, it is important to find the best DAC Amp combo to enjoy music in the highest quality. However, there are always question about the differences between Digital to Analog converters, Digital amplifiers, and a combination of them.
DAC stands for Digital to Analog Converter and this is a device that allows you to hear music that is encoded on your devices. For transmission, you need to connect your source to a DAC with the help of USB, FIbre-SP/DIF or Coaxial-SP/Dif. After that, you need to connect the output of the DAC with any kind of speaker or headphones via RCA connections. They produce low voltage analog signals that allow you to hear sounds.
Amp stands for Amplifier and its main task is to improve the quality of the sound. It has to be connected to a DAC to amplify low voltage analog signals. Amplifiers are suitable for headphone sets that can be easily powered by your smartphone and for speakers that require an outlet.
A combo of DAC and Amp means that you do not need two different devices to make it work. In these devices, the amplifier part is more focused on headphones. It means that if you need to have a better sound of your speakers you should consider AV receivers.
Further, in this article, you may find several great DAC/AMP combo models for consideration. In case you are not, sure about the costs that you want to spend on such a device it is better to check Under 200 category. It can be a great start for you to begin listening to the music of good quality. Alternatively, if you have enough funds you may get a reliable device for many years. Devices from category Under 500 and further is what you need to start with. Each of the proposed models is a great combination of price and quality that can become the best DAC Amp combo for you.
Our pick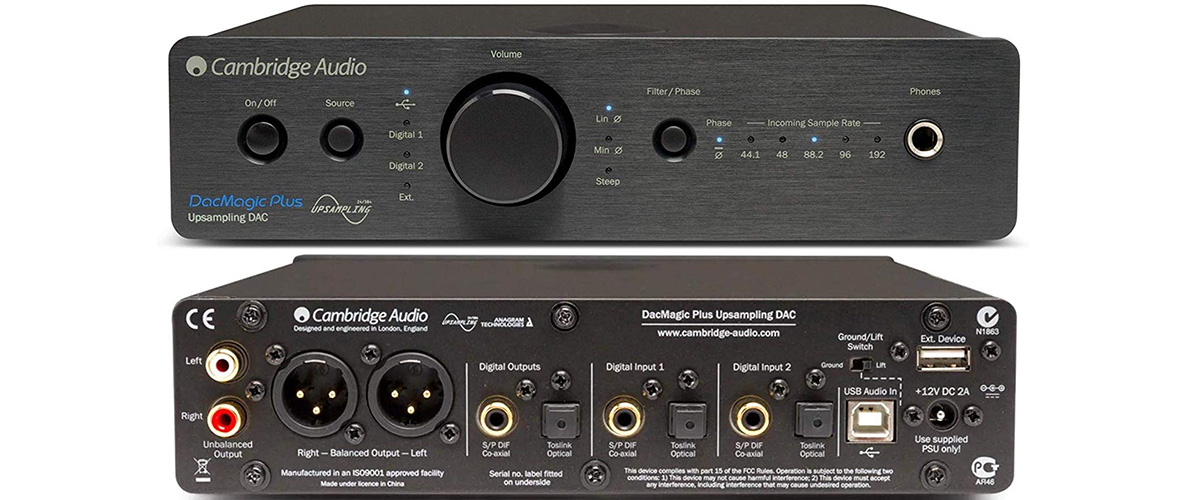 Cambridge Audio Azur DacMagic Plus
The best DAC Amp combo
The DacMagic Plus has fantastic new features including wireless device connectivity and stunning audio performance from music of all formats.
DAC Amp Combos Comparison Table
DAC Amp combo
Chip
Max. sampling rate
Category
Cambridge Audio Azur DacMagic Plus

best overall

ESS 9016
24bit/96kHz
under $500
Review
FX Audio DAC-X6
CS4398
24bit/96kHz
under $100
Review
Topping DX3 Pro
2 AK4493
32bit/768 kHz
under $200
Review
Marantz HD-DAC1
CS4398
24bit/192kHz
under $1000
Review
DAC Amp combos under $100
FX Audio DAC-X6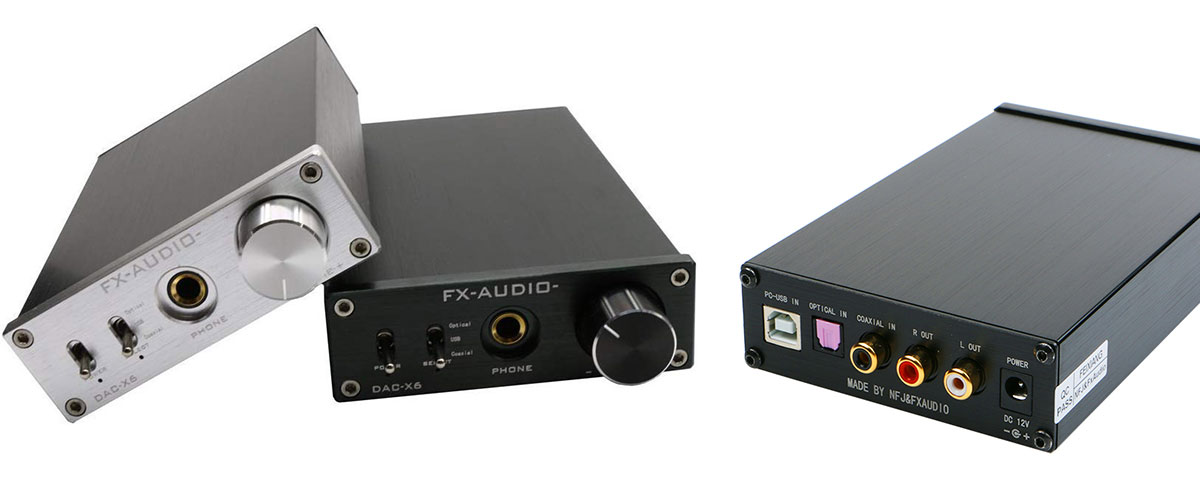 When you are a totally new person in choosing DACs and amplifiers everything can be confusing to you. There are a great number of budget devices that make it difficult to choose only one the best DAC Amp under 100. That is why you need to consider FX Audio DAC-X6. It is a small model that can be powered by 12V DC. With it, you will not find troubles in connecting your smartphone or computer via USB for data transmission. The housing is made with aluminum for better durability and silicon legs provide good stability on different surfaces.
This unit supports a great number of different headphones as its output power ranges from 90mw to 1000mw. Moreover, it supports sample rates up to 24bit/192KHz what is all due to five chipsets. SA9023, OPA2134PA, OP275G, 6120A2 and CS4398 chips perfectly fit for pro purposes also. For outputs, you will find RCA with 6.35mm jack while for inputs it has USB, coaxial and optical.
Pros
Right after connecting all cables, you can immediately start using it
There is no distortion of sound on high levels of volume
Cons
While connecting to Windows 10 driver may not be installed automatically
The volume knob does not work smoothly
DAC Amp under $200
Topping DX3 Pro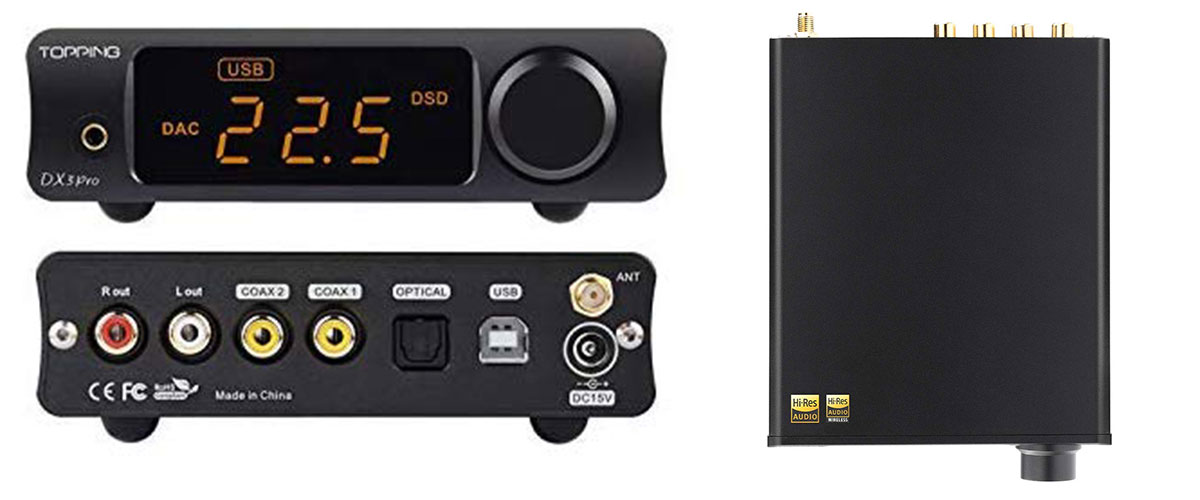 Among digital to analog converters and amplifiers, you always make a decision. Instead of buying two devices, you might be interested in the DAC/Amp combo model. Topping DX3 Pro is a wonderful device for consideration. You will not need a lot of space for it and with metal housing, you can be sure of its durability. On the front, you will find a convenient amber LED display that is visible when lights are off and 3.5mm jack. You cannot manage settings with a volume knob, but you do not need to worry. Topping DX3 Pro has a convenient remote controller and you can also attach Bluetooth with AptX at 16/44.1khz.
This model uses DSD512 and supports various sample rates due to PCM 32/768khz. It has an optical input that follows S/PDIF, two coaxial and USB input. As for output on the back side you will find only RCA. In addition, Topping DX3 Pro has an idle mode. It puts the device into sleep until you turn on some music.
Pros
At high levels of volume, the sound does not lose quality
The model does not require a lot of space and can be easily placed at the desktop
Cons
The volume knob is not accurate
There is no option to completely turn off the display light
DAC Amps under $500
Cambridge Audio Azur DacMagic Plus – best overall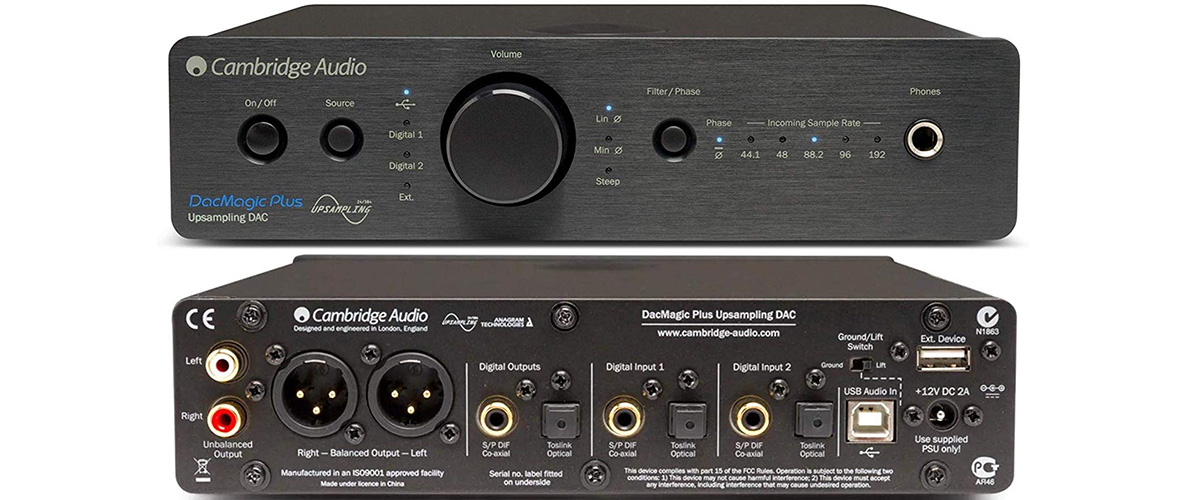 Buying a device that can enhance your music listening experience is not a simple task, especially when you need to find the best DAC Amp with USB audio for an external device. If this issue sounds familiar to use, then you will be interested in Cambridge Audio Azur DacMagic Plus. You can easily connect different accessories like BT100 Bluetooth adaptor to this device and have remote control of it. It has a metal housing that increases the life span of this model. On the front, you can connect your headphone set via the 1/4-inch jack.
Form the back side you will find more options for inputs and outputs. Among digital inputs, it has Mini USB, coaxial RCA and a pair of TosLink S/P DIF inputs. For outputs you will get digital RCA that is only pass through and TosLink and for analog unbalanced RCA and balanced XLR. This device produces high-quality sounds because of Dual Wolfson WM8740 24bit DAC which is suitable for sampling rates up to 24-bit/384kHz.
Pros
It is possible to transmit music data via Bluetooth
It has three digital filters that can be easily switched
Cons
Noticeable hiss sound on low and high volumes while using headphones
Volume resets when you turn off the unit
SMSL M500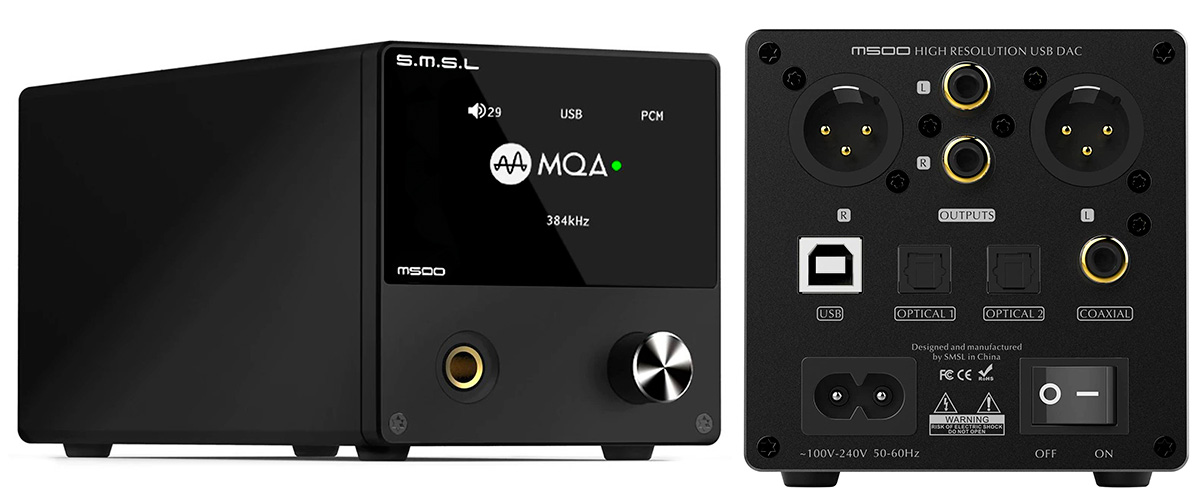 The body of this device is made of durable anodized aluminum, which looks nice and creates a pleasant tactile sensation. The information about the currently playing type of audio is displayed on a high-quality 2.19-inch display from LG, which is protected by tempered glass with excellent light transmission. After about an hour of use, the enclosure temperature was slightly above room temperature, so no issues there.
The amplifier supports up to 32-bit PCM digital audio playback with seven switchable filters to customize the sound for every taste. In addition, there is the support for native playback of DSD512 without conversion and sampling of digital audio up to 32bit/768kHz when there is no need to downsample.
The M500 supports MQA, which is an award-winning British technology that delivers the sound of the original master recording. Consider that MQA decoding is only supported via USB input. The rear panel of the amp is full of inputs and outputs: there is one coaxial input, two optical inputs, and an MQA-enabled USB input. Plus, you will find single-ended and balanced outputs on the back via RCA and XLR.
Headphone and preamp volume levels are set separately and do not interfere with each other. When using headphone amp and preamp at the same time, the conversion output no longer needs to be switched. All M500 inputs support DSD transmission, coaxial and optical ports support DoP64.
Pros
Up to 7 filter modes to make the sound meet your audio preferences: included fast linear, slow linear, apodizing, fast minimum, slow minimum, fast hybrid, and Brickwall
Features ultra-low phase noise and optimized clock processing circuit to achieve ultra-low clock jitter
Holds a JAS Hi-Res certificate
Cons
There are some pops in headphones when the unit switching sample rates with tidal
Remote does not work very well
DAC Amp under $1000
Marantz HD-DAC1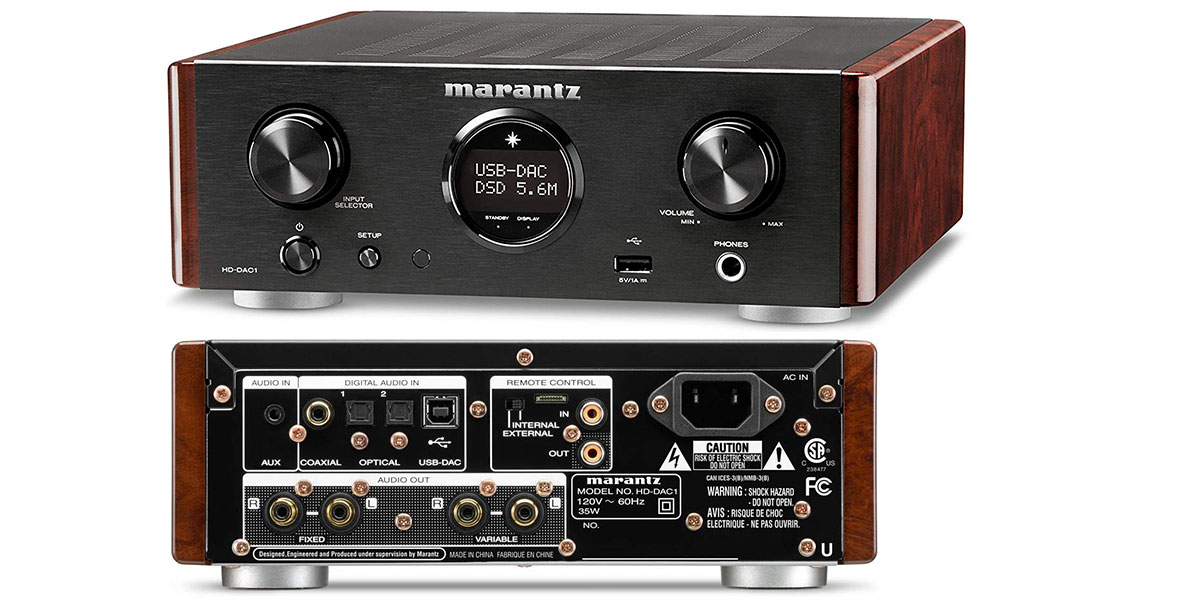 It is always difficult when you need to find the best Amp DAC combo among various models. In the beginning, it is always better to understand your needs. Buying a Marantz HD-DAC1 can help you with this task. It easily performs duties of Digital to Analog converter and Amplifier. It supports a great number of TV sets, computers, consoles, and headphone sets. It is a little bit heavy but is because of the wonderful parts inside and outside. It has two switchers to regulate the volume level and change source type. With an LED display you will always know about your current settings. In addition, the remote control makes this device even more convenient.
This device can handle sample rates up to 192 kHz/24bit due to Native DSD2.8 with 5.6 support together with CS4398 a high-quality Digital to Analog converter chipset. It has AUX, digital coaxial and USB inputs. You will also find variable and fixed RCA outputs with 3.5mm jack on the front side of the device. It cannot be powered with a USB as it requires 120V to provide you with the best quality of sounds.
Pros
The remote control has a Mute button to turn off sound immediately
It has noise isolation for most of the digital inputs
Cons
High levels of volume have significant sound distortions
The sounds are not enough definite and clear