You may find various articles about how important to find DAC to get high-quality sound. However, not all of them actually explain what Digital to Analog converter can do. In order to get the best DAC under 1000, you may need to spend many hours checking numerous devices. To help you with a difficult task in this article you will find several DACs for your consideration and valuable information about Digital to Analog converter.
All devices that you use every day have internal DACs as the sound is encoded in digital format, which is just 0 and 1. As the human ear cannot hear such sounds, they need to be converted into an analog type. Therefore, you may wonder about the actual reasons for getting an external DAC. While listening to connected headphones without music you will definitely hear some hiss, tremble and other sounds. External DAC can improve sound quality by reducing such disturbing sounds and even serve as an amplifier. That is why getting the best DAC below 1000 for yourself can greatly improve your listening to the music experience. Each DAC has its own strong and weak sides and can be more or less portable. In order to make the right choice, it is recommended to understand your purposes and compare different models.
Our pick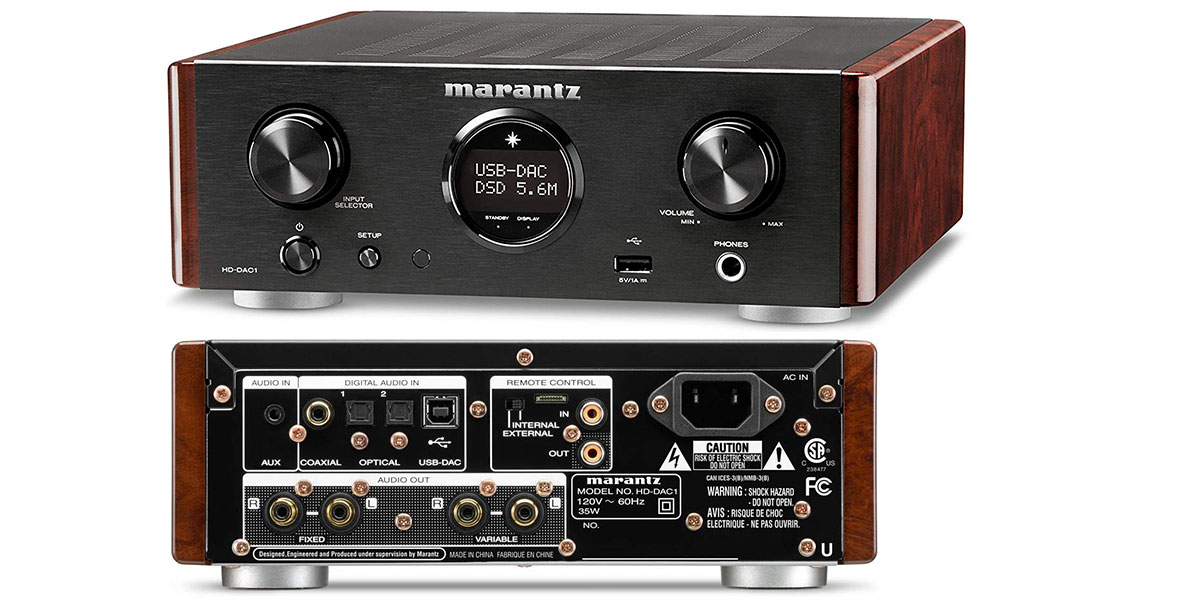 Marantz HD-DAC1
The best DAC under $1000
Marantz HD-DAC1 Headphone Amplifier with The powerful HD-DAC1 can drive audiophile high-impedance headphones up to 600 ohm – with complete MODE ease.
DACs under $1000 Comparison Table
Chip
Max. sampling rate
Marantz HD-DAC1

best overall

CS4398
24bit/192kHz
Review
Sony UDA1/B
yes
24bit/192kHz
Review
PS Audio Sprout100
ESS Sabre 9016
24bit/384 kHz kHz
Review
Best DACs Under $1000 Reviews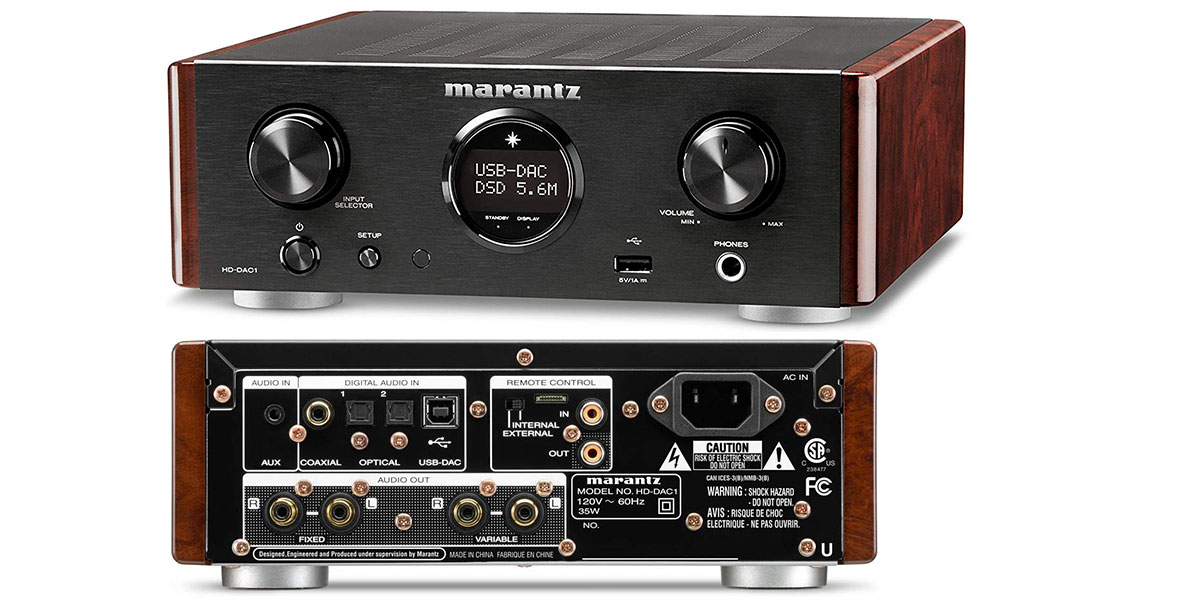 When it comes to choosing only one device from the best DACs under 1000, you normally need to decide what actually you need. There are simple Digital to Analog converters that has to be used for large electronics like computers, consoles, and TV sets. Headphone amplifiers that you may use every day and stereo preamplifiers. In order not to waste money on buying three different devices you can simply get Marantz HD-DAC1. It covers up all functions of several devices and can deliver you sounds of high quality. In addition, you have two switch knobs for volume and input selection. On the front side, you can connect your devices via a USB jet of 5V/1A. or use a 3.5mm jet for headphones. Moreover, an LED display you can always know from what source sound is and check the volume.
On the back of this DAC, you have a pair of optical inputs, USB type B, that supports sample rates up to 192 kHz/24bit, and coaxial digital inputs. Moreover, there is an audio AUX input and the possibility to switch between internal and external remote control. As for outputs, Marantz HD-DAC1 can offer you fixed and variable RCAs. Inside of this DAC, you may find a Native DSD2.8 with 5.6 support together with CS4398 a high-quality Digital to Analog converter chipset. Because of Marantz HDAM-SA2 modules, it has a three-level gain control which allows to support headphones up to 600 ohms of audiophile high-impedance without problems. To power this DAC you will need up to 120V what cannot be reached via USB.
Pros
You can immediately mute sound with a Mute button on the remote control
All digital inputs like USB type A, Coaxial, USB type B, and Optical have noise isolation
This DAC produces sounds that are more natural and lifelike with real presence effect
Cons
It has a significant distortion at high levels of volume
It lacks definition and clarity of different sounds
The siding is made of fake wood that does not look nice
Sony UDA1/B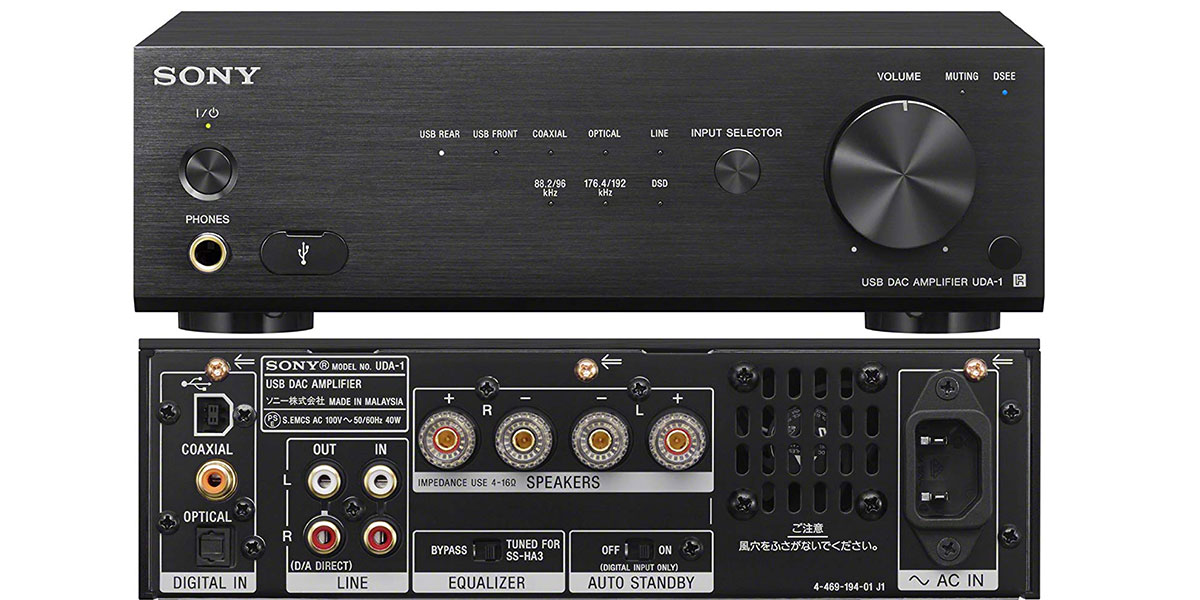 Choosing a DAC is always a problem especially when you do not know what brands are good and what are not. Therefore, you may be more interested in checking some devices from world-known companies. One of them is Sony. It has created wonderful electronics of different types. If you want to find the best DAC under 1000, you definitely need to consider Sony UDA1/B. It can have silver or black design of housing that is made of aluminum. It does not require a lot of space and can be easily placed on the desktop.
It is a stereo amplifier and two-channel DAC that supports sample rates up to 192KHz/32bit and covers from the oldest to the newest formats of files. On the front side, you can connect your headphones via 3.5mm jet or connect a smartphone with USB. With an LED indicator you can always know which source and sample rate are chosen. On the back side of the device you can use optical, coaxial, USB type 1&2 digital inputs and a pair of analog coaxial inputs. As for output, you will find two for speakers and a stereo coaxial analog output.
Pros
It has a handy remote control to quickly adjust all the settings
There is a standby mode to decrease
DSEE technology guarantees a high quality of compressed music files
Cons
It has problems with stability and usability while connected to Mac computers
On the low and high volumes, there is a distortion of sound
PS Audio Sprout100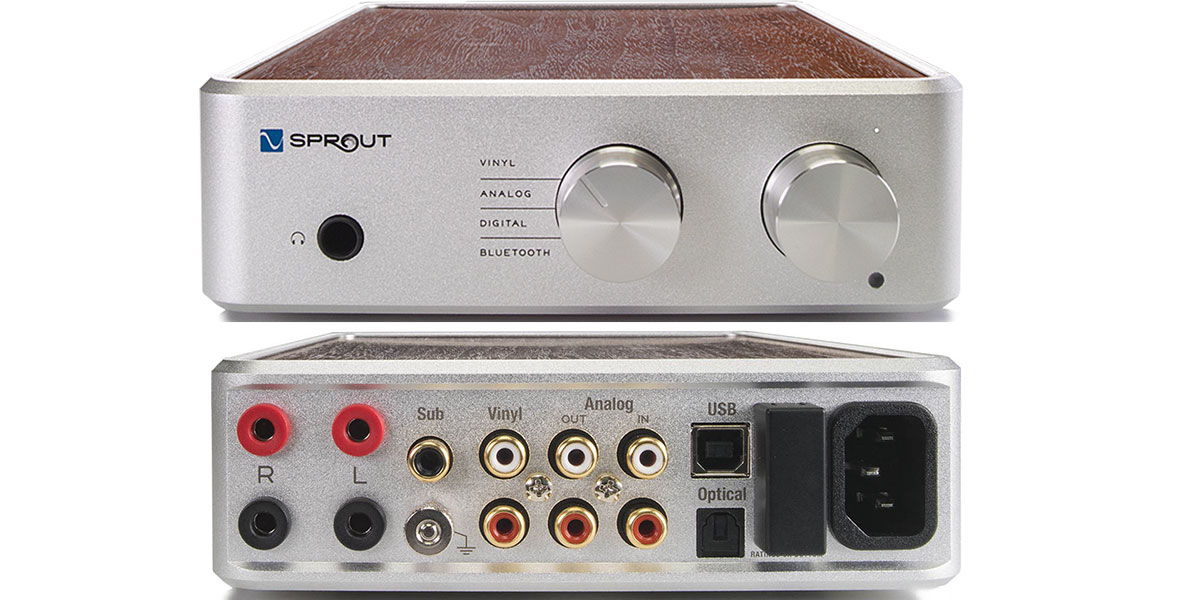 If you are looking for something that is easy to use then you may be interested in PS Audio Sprout100. This is a compact DAC. Despite its size, it supports sample rates up to 384KHz/24bit and DSD64/128 (DoP). It will not be difficult for you to control it as you receive a remote controller together with a device. To transmit music data you can simply use Bluetooth on any device without loss of quality.
On the front side of the DAC, you will find two knob switchers to control the volume and choose source type. From the back side you will have analog RCA, USB, optical and subwoofer inputs and outputs. This allows you to connect several devices and greatly improve the quality of music. To power this you will need 100 – 240VAC. With a 100 watt-per-channel, this DAC supports most of the headphones and loudspeakers.
Pros
It does not require additional software for smartphones to use Bluetooth option
This DAC has a low pass filter that activates automatically when the subwoofer is plugged into
Cons
It does not have a display on the front
There is a noticeable hiss sound at high and low volumes
The switching knobs have a loud noise while turning