To enhance your experience of getting high quality sounds there are different digital to analogue converters. Therefore, you need to think about how you are going to use it in your everyday life. If you need something comfortable than you may want to get the best USB DAC. These devices are small and easy to carry with you. They have an inbuilt USB that allows you to connect it to the devices without attaching any cables. You may find not a single USB DAC review about their convenience.
You can get the following benefits:
While traveling with a laptop you can also listen to soundtracks of high quality.
If you have several devices at home, you can easily reattach the USB digital to analogue converter to any of them.
They do not require a lot of space and can be simply carried in the pocket.
Most of them have a Plug & Play system that does not require a lot of time to assemble the DAC.
In this review of USB DACs, you can find several models that are worth your consideration. Do not rush over and compare them in order to find the best device for you.
Our pick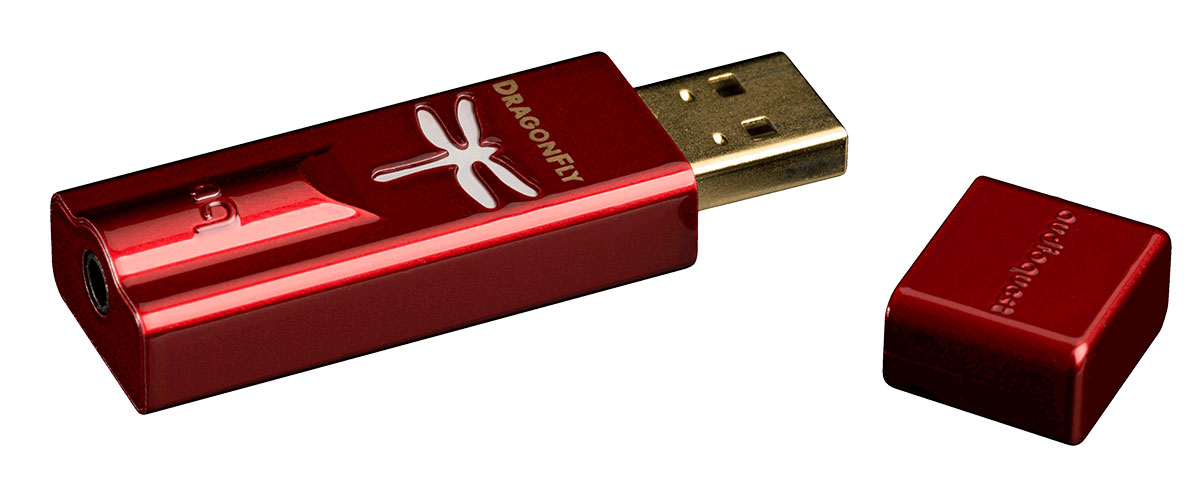 DragonFly Red
The best USB DAC
DragonFly Red is a portable, plug-and-play USB DAC (digital-to-analog converter), preamp, and headphone amp that connects to laptops, tablets, and smartphones to deliver clean, clear, naturally beautiful sound.
USB DAC – Reviews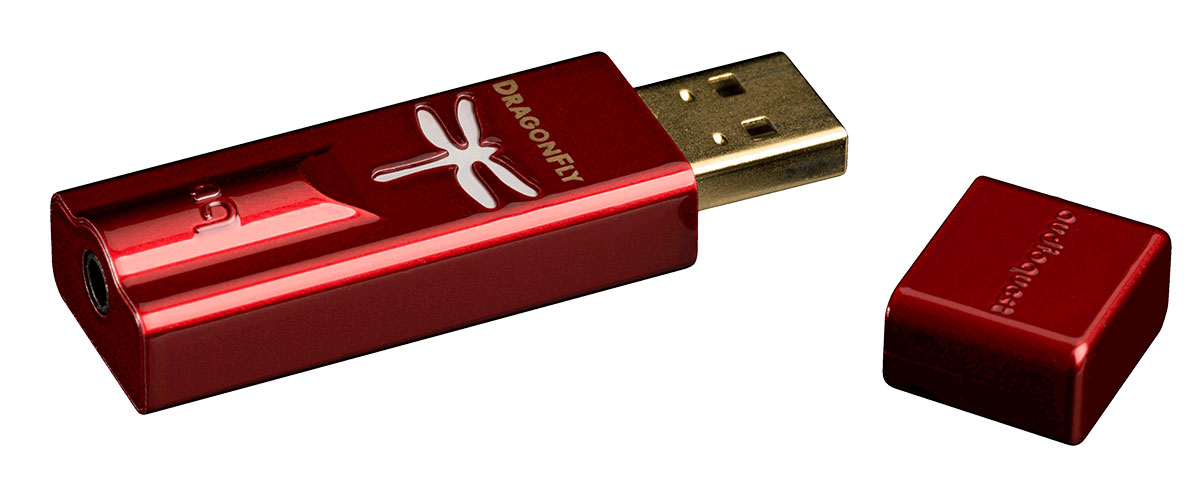 AudioQuest has created something new on the market of USB digital to analog converters. It could enclose in a tiny housing a useful amplifier for headphone sets. Therefore, many customers consider it the best USB DAC. This DragonFly Red model can be easily confused with an ordinary USB drive. It is a DAC, headphone amplifier and preamplifier. You can always know about sample rates of the soundtrack due to an LED dragonfly that changes its colors.
Getting this USB DAC means that you receive the wonderful sound of 24bit/96 kHz sample rates. This model supports most of the formats starting from MP3 and Hi-Res as inside of it is inbuilt 32 bit Sabre DAC with ESS ES9016. It has a fast filter roll-off filter of the minimum phase that greatly enhances sounds while playing tracks regardless of their format. You can easily power DragonFly Red with 2.1 volts from your device. It can be easily connected to different operating systems of computers and console. Moreover, it is compatible with smartphones. To connect it to the Android or Apple devices you will need to have a proper adapter.
Pros
You can easily pull it out from your computer or other device and bring this DAC to your workplace
It is compatible with the most high impedance headphones
The sounds of every instrument in music are clearer and distinct
Cons
You cannot use the microphone of the headphones and for incoming calls, you need to pull it out
It has a large battery consumption that is not very suitable for long trips without power banks
The lowest volumes levels while being connected to computers are still quite loud
DragonFly Black – best budget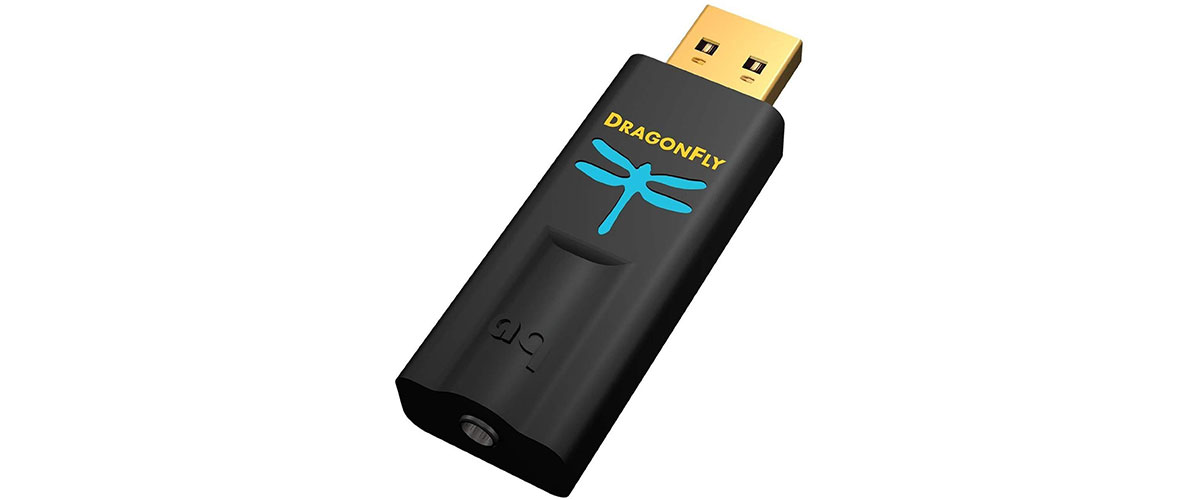 If you are looking for something cheap to start your experience of USB DACs then you need to check out DragonFly Black. It is a less expensive model that includes DAC, preamplifier and headphone amplifier. Some consumers consider it a suitable candidate for the best budget USB DAC. This model is not greedy when it comes to the power charge of your device. To provide you with high quality sounds it needs only 1.2 volts that can be easily delivered with any USB port.
DragonFly Black supports sample rates up to 24bit/96 kHz due to an ESS ES9010 DAC chip. One of the reasons why it can handle distinct and clear sounds is a minimum-phase fast roll-off filter of the chipset. Moreover, you receive less sound distortion at low and high volume levels due to an analog volume controller.
Pros
It consumes less power what allows to run your device without charges much longer
You will not face problems in connecting this model with the newest Mac and Windows operating systems
Cons
In case you have a 3/4 headphone connector you will need an adapter what makes the connection longer and inconvenient in design
This DAC does not work with Linux operating systems
NextDrive Spectra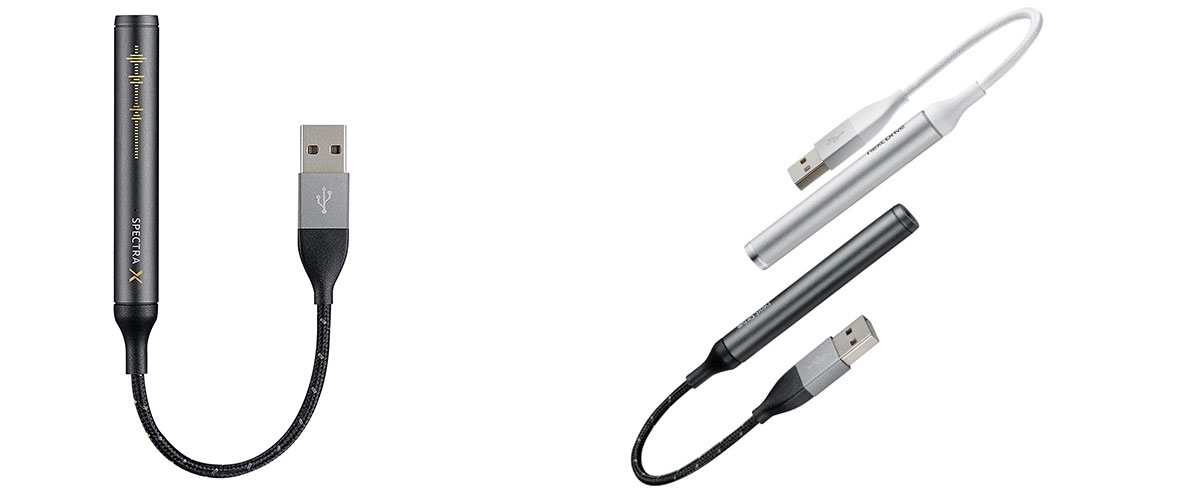 While searching for some cheap USB DAC you may be interested in NextDrive Spectra. It is a digital to analog converter and amplifier for headphones in one unit. The housing is made with metal that enhances its durability. To the main body, you have a USB connector that allows to attach the DAC to devices via USB type A, B or C.
Inside of this model, you will find ESS SABRE 9018Q2C that supports various audio files up to 32bits/384kHz and 11.2 MHz quad-rate of DSD. It means that sounds are clear and you may not worry about different formats. You can connect your headphones via 3.5mm jack. Alternatively, you may need to get a separately 3/4 adapter. While connecting to the computers you might need to install drivers. They are free and it is not difficult to find them.
Pros
You can choose a model depending on the USB type that will suits your needs the most
It is compatible with the newest consoles without problems
Cons
It is incompatible with iOS devices that have the newest versions starting from 12.1
To make it work on the smartphones you will have to download additional mobile applications
This device does not support the MQA format of audio files
Dragonfly Cobalt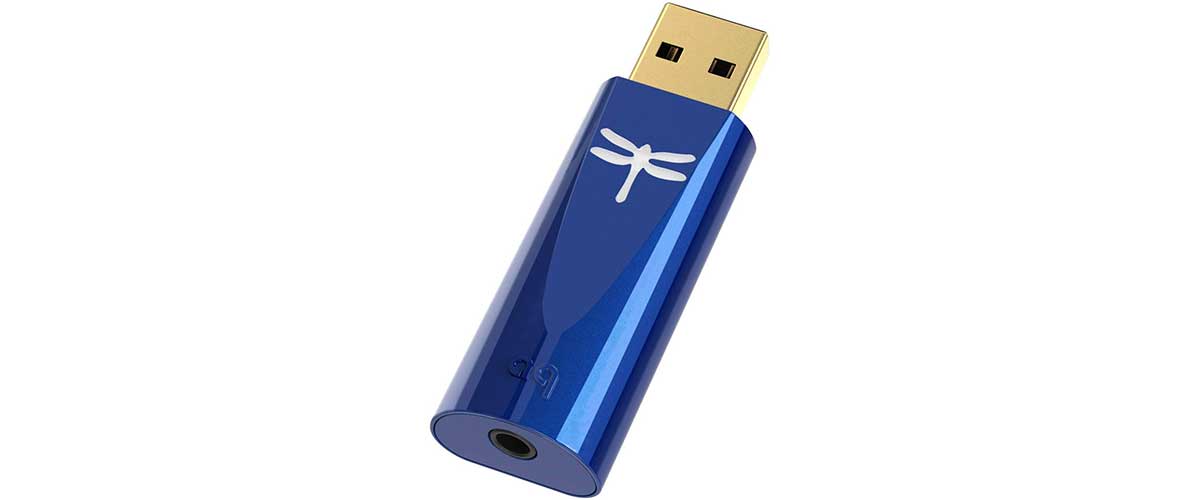 It is always difficult to find a USB DAC under 100 that can offer you high quality. In case you have a better budget and ready to spend a little more for an external digital to analog converter then you need to review DragonFly Cobalt. It is not only a simple amplifier for your headphone set but also a preamplifier. It has a simple design of a blue color that reminds an ordinary USB drive. The dragonfly is not a simple print. It is an LED indicator of sample rates. This smart combination makes this DAC even more attractive.
Inside of it, you will find an ESS ES9038Q2M DAC. This chipset covers sample rates up to 24bit/96 kHz and copes with various formats of Hi-Res music from MP3 to MQA. In addition, this DAC has a slow roll-off filter of the minimum phase that is focused on making more natural sounds. As it has to be powered via USB you can connect it to your smartphone. In order to do that you will need an OTG adapter for Android and Lightning-to-USB adaptor for iPhones. As for connecting your headphone set, it has only a 3.5mm jack.
Pros
You receive clear sounds without distortions while listening to tracks of high resolution
Assembling and connecting of this DAC to computer and consoles does not require installing additional drivers
It has a convenient digital volume control that allows to precisely adjust the loudness
Cons
With the purchase of the unit, you do not receive any additional cables for Android or Apple smartphones
While using this DAC with Android phones you may experience hiss sounds on low levels of volume
As it powers by the device you can expect that the battery charge will be reduced faster, especially at high volumes