What's so special about party speakers? Party speakers have been specially designed to support your party, add noisy, loud bass and create room-filling volumes.

So here in this review, you'll see answers to all questions – and even more – the best party speakers rating and buying guide.
Wired vs wireless party speakers
Don't try to convince audiophiles that wireless party speakers can somehow match the sound of wired speakers and performance.
However, when it comes to parties for music, a lot depends on your preferences and needs:
Wired speakers are known for their reliable, clutter-free performance and convenience without worrying about battery life. If you are using your speakers for indoor parties, wired communication is the best choice.
In the world of party speakers, wire speakers are the definition of "big and responsible."
Wireless speakers, on the other hand, add the convenience of Bluetooth connectivity, allowing you and your guests to connect to speakers, access your digital music library, and stream music wirelessly.
Plus, they are much more portable and less aggressive because they are slightly more compact and powered by an internal battery rather than a wired connection or wall outlet.
Having these two types of speakers in mind, we separated products into two sections to simplify your choice.
Party Speakers Comparison Table
Output power, W
Sensitivity, dB
Driver size, inch.
Bluetooth
Weight (pound/kilos)
Soundboks 3

best for outdoor party

200
126
2×10″, 1×1″
yes
34/15.4
Review
JBL PartyBox 1000

best for house party

1100
100
2×7″, 1×12″
yes
76.5/35
Review
Sony XB72

best portable

140
80
2×6.3″, 3×2″
yes
26.1/11.7
Review
ION Audio Tailgater Plus

best budget

180
80
2×7″, 3×2.3″
yes
31/14
Review
Best Party Speakers Reviews
Best Wireless Party Speakers Reviews
Soundboks 3 – best for outdoor party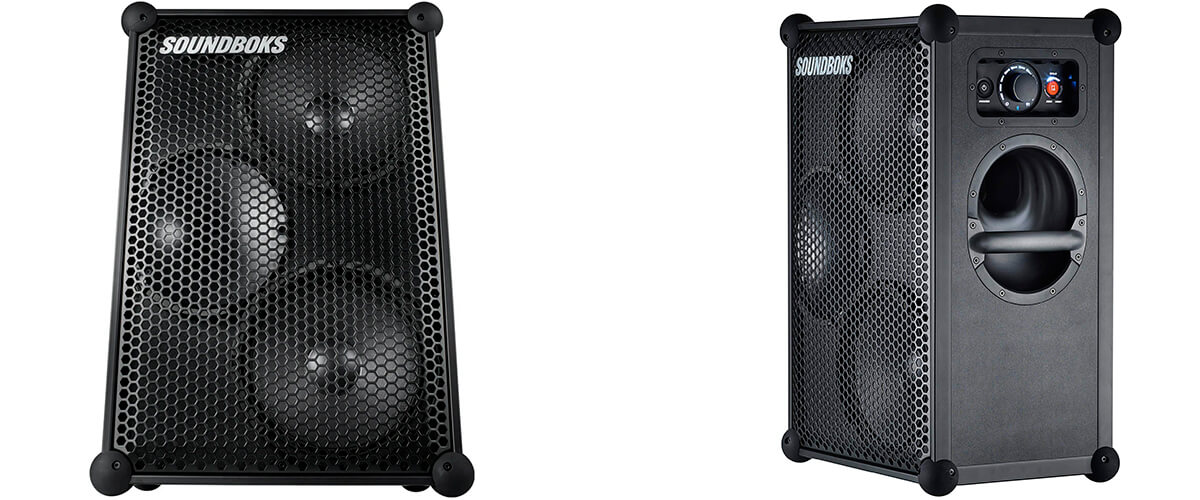 Soundboks 3 is a powerful portable speaker that will shake any party. The shock-resistant housing allows the Soundboks 3 to be taken with you to outdoor parties, and thanks to a 40-hour battery, it is the perfect companion on a country trip. Soundboks 3 can be connected both wired and via Bluetooth.
Portable speaker system Soundboks 3 has impressive dimensions and brutal design. The 66 x 43 x 32 cm speaker weighs a whopping 15.4 kilograms, but it replaces an entire stereo system. You won't carry the Soundboks 3 in a backpack, but the speaker fits in a car trunk. The rectangular enclosure of the Soundboks 3 is made from several types of materials: poplar plywood was used for the walls, and the frame was made of aluminum. The corners are additionally reinforced with aluminum so that the speaker is not afraid of accidental fall. The unit is splash-proof and dirt resistant.
Connecting Soundboks 3 is very simple, this can be done in two ways: via Bluetooth and a standard AUX audio cable (not included in the package). The speaker is equipped with Plug-n-Play technology. This means that the speaker does not require additional settings for its operation; it is instantly detected by the audio devices to which it is connected.
The Soundboks 3 is the best Bluetooth speaker for outdoor party and one of the most powerful premium speaker systems with bass. The speaker is equipped with three 72-watt class D amplifiers, two 10-inch 96 dB speakers for low frequencies, and one one 104dB compression driver tweeter. Thanks to this set of acoustics, Soundboks 3 reproduces sound at a volume of 126 dB. This is enough to make any party brighter and louder.
Soundboks 3 does not require a power outlet. The speaker is powered by a 7800mAh, replaceable battery that lasts 40 hours of playback on a single charge. The charging time is 3.5 hours. This approach allows you to listen to music without interruption as much as you want.
Key specs
Output power, W: 200
Sensitivity, dB: 126
Driver size, inch: 2×10″, 1×1″
Bluetooth: yes
Weight (pound/kilos): 34/15.4
Pros
Input availability are various and work well
Secure Bluetooth with no one being able to kick you off. Once you're locked in and playing, it becomes invisible
Cons
Bass levels start to peak out at higher volumes
JBL PartyBox 1000 – best for house party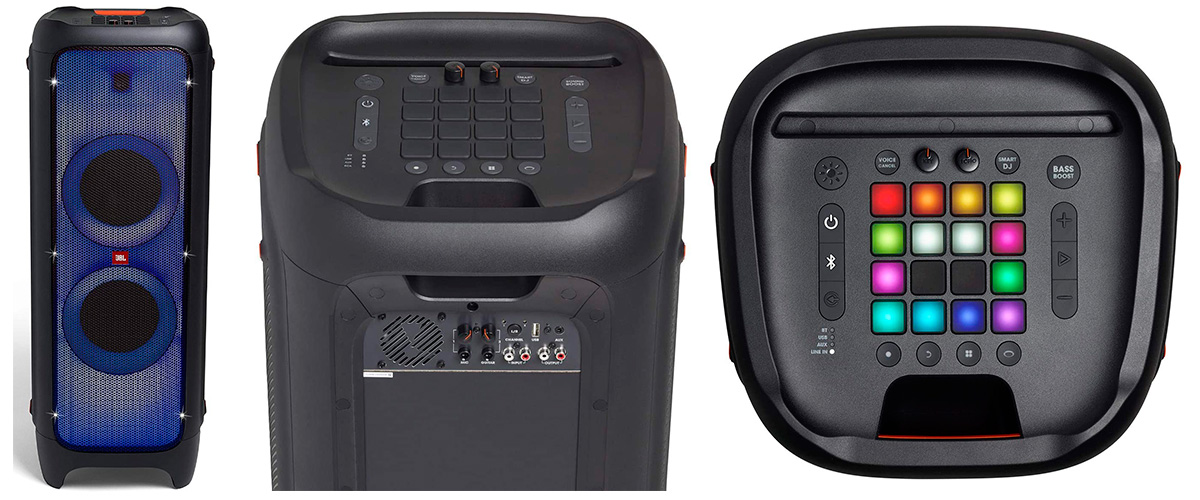 The first thing you pay attention to is the dimensions and weight of the device. The total height of the JBL PartyBox 1000 is about one meter and a weight of almost 35 kg. Such parameters immediately make it clear that the device is rather stationary than mobile.
The main material of JBL PartyBox 1000 is hard plastic.
Like all portable JBL speakers, the product supports a wireless Bluetooth connection with a sound source, but the system can be connected with a "classic" connection, using connectors: AUX 3.5 mm, 2RCA, USB.
At the very bottom of the case, there is a plug for connecting the power cord and wheels for transportation.
JBL PartyBox 1000 can be used not only vertically, but also horizontally, for this there are rubberized feet on the sides.
The best speakers for house party also feature 1,1 kW of output power, patented speakers, and a 12-inch subwoofer aimed at the floor. Also, there are enhanced lighting effects with strobe option, separate vocal effects module, and a full Dj tablet.
The JBL PartyBox 1000 can connect a guitar and microphone (via the appropriate jack), significantly increasing the range of use of the device.
Channel switch button (L / R) – when pressed, you can change the type of pairing: there will be a stereo effect or the right, and left channels will be highlighted when the speaker for loud house party is paired with another JBL speaker.
You can connect another speaker via RCA, or via Bluetooth using True Wireless Stereo technology.
The middle part of the body is occupied by a bass reflex to enhance low frequencies.
Key specs
Output power, W: 1100
Sensitivity, dB: 100
Driver size, inch: 2×7″, 1×12″
Bluetooth: yes
Weight (pound/kilos): 76.5/35
Pros
The full panel lighting effect creates a captivating light show to astound your crowd with a lasting visual experience
DJ launchpad allows you to play drums, keyboard, and piano, record, and loop on the fly
Cons
I don't like the wrist DJ thing it comes with. It is too big and heavy
Sony XB72 – best portable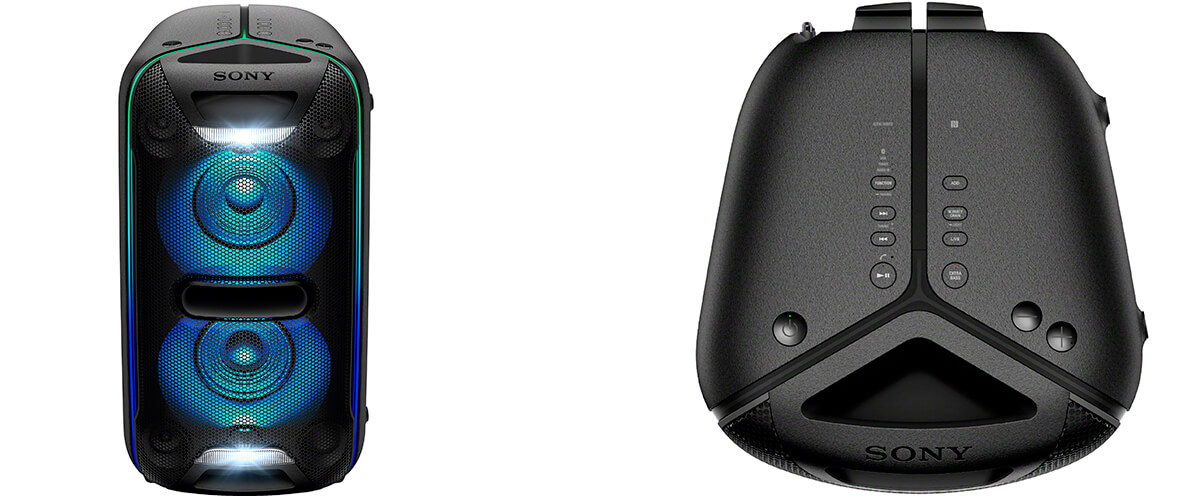 The XB72 sound system fills the space with EXTRA BASS energy and club lighting. Line, strobe, and speaker lights provide an unforgettable experience and, thanks to the rechargeable battery, parties can be held anywhere.
Can't use mains power? The built-in rechargeable battery will power the device for 14 hours. At full volume using the Extra BASS function and with the lights on, your party can last for 3 hours. If there is not enough power, simply turn on Stamina mode to let the device work battery life longer (up to 4.5 hours).
The best portable speakers on the market have carrying handles, which make it easy to move the GTKXB90 audio system from one party location to another.
This model has an output power of 140W. The weight is 11.7 kg.
Sony's unique ClearAudio+ technology automatically adjusts sound settings to maximize your listening experience. The result of combining years of experience in digital audio processing technology. ClearAudio+ optimizes sound for consistently high quality and clarity of sound – be it music, video games, or movies.
LDAC is an audio technology from Sony that enables high quality wireless audio streaming over Bluetooth. This format allows you to transfer 3 times more data, which takes wireless music streaming to a new level.
Add power to your audio system. Connect multiple stereos with an audio cable for even more powerful sound. Make one of the devices in the chain the master and synchronize the music playback on this device with other devices.
Also, you can connect AV equipment using audio input and output. Connect a TV or additional speakers and turn any home entertainment into a true sonic adventure.
If the original music file is compressed, it loses high-frequency elements that give your favorite songs rich detail and richness. The Digital Sound Enhancement Engine (DSEE) precisely restores detail to deliver high-quality sound that is close to the original CD recording.
Adjust EQ settings and speaker illumination colors, and enable DJ effects control with Fiestable for iOS. Thanks to the intuitive gesture control function, all this can be easily done with the movements of the palm.
Key specs
Output power, W: 140
Sensitivity, dB: 80
Driver size, inch: 2×6.3″, 3×2″
Bluetooth: yes
Weight (pound/kilos): 26.1/11.7
Pros
It does charge up quickly. It feels like it only takes a couple of hours and it's at 100%
It's pretty light in weight
With strobe flashes and colored speaker illumination, it flashes to the beat of the music, creating a club atmosphere instantly
Cons
The battery doesn't hold a charge. I charged it fully and left it overnight. In the morning It was down to 70%
You have to connect to the app to control the lights and Equalizer
ION Audio Tailgater Plus – best budget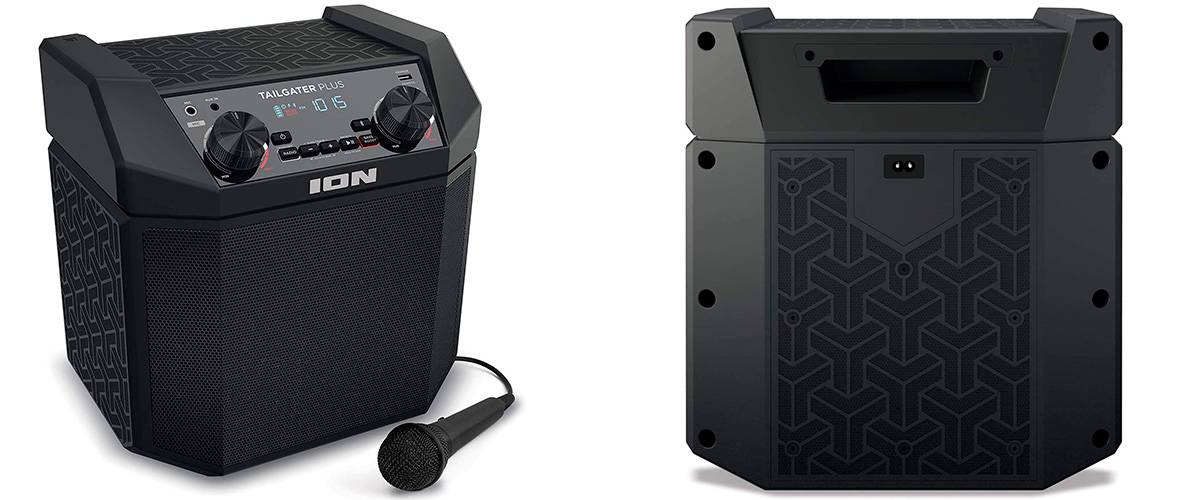 The ION delivers superior sound in a compact, well-designed portable speaker that's perfect for outdoor activities and sound on the move. Without the box, this Bluetooth speaker is just over a foot high and is about half the length of your regular beverage cooler. It's covered in a durable matte black material that's great for outdoor use. The Tailgater Plus is a modern men's boombox offering a range of play and sound enhancement options. Its front control panel features seven buttons and two knobs for audio and microphone control.
Tailgater Plus makes it easy to connect music via Bluetooth or older devices with its built-in ⅛ "audio input. It works with any standard device you can connect via aux and with any Bluetooth streaming feature on your phone or tablet.
Although the Tailgater Plus is relatively small, it delivers amazing sound thanks to its 50W amplifier and two-way speaker with a built-in 6.5-inch subwoofer. Press the Bass Boost button during any half-time to really kick-start the bass, or mute and unmute your mic for announcements during games.
Although Tailgater Plus is relatively small, it delivers amazing sound, which makes them the best party speakers in the budget segment.
Connect your Bluetooth device to this speaker and enjoy crystal clear sound up to 100 feet away from your device. We recently tested this model in our apartment and got excellent sound quality all around the room. The best part about this speaker is that you can control your audio remotely or plug your device into a USB port to stay charged and adjust your music settings from the front control panel.
Setting up the ION Tailgater Plus is easy and only takes a few minutes. Inside the box, you'll find a simple instruction manual, a charging cable, Tailgater Plus, and a wired microphone. Plug-in outdoor speakers to start charging your battery, then plug in your microphone, adjust the volume, and you're ready to go.
Its minimal, rugged design, Bluetooth connectivity, hours of battery life, and superior sound quality make it a must-have for any sports fan or outdoor enthusiast.
Key specs
Output power, W: 50
Sensitivity, dB: 80
Driver size, inch: 1×6.5″, 1×1″
Bluetooth: yes
Weight (pound/kilos): 12/5.4
Pros
50 hours of battery life make it a great value proposition and a great investment in any party, game or outdoor activity
High-quality microphone included, perfect for making announcements and professional-sounding karaoke
JBL Partybox 310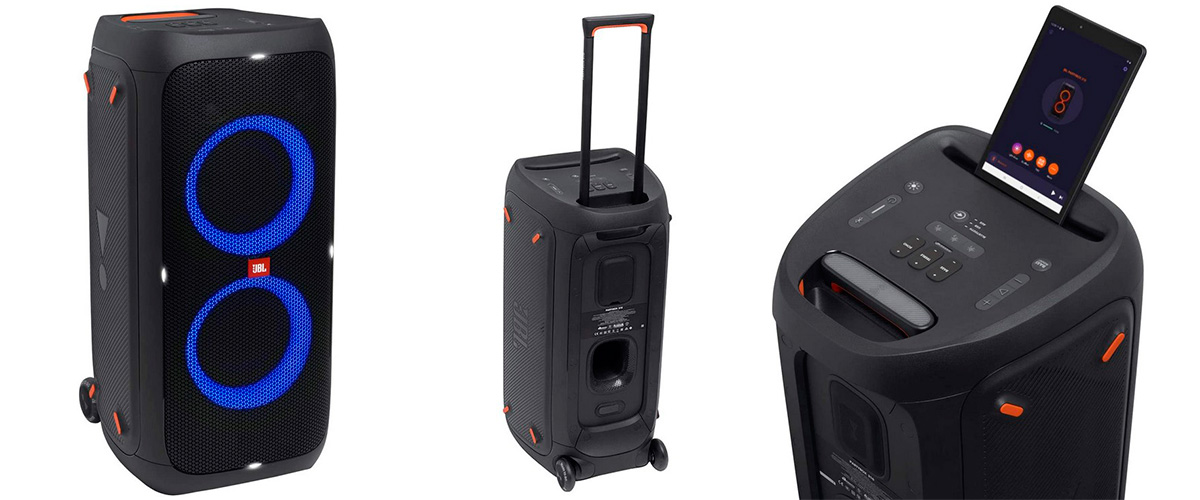 Next, I want to tell you about this awesome party speaker. The case of the PartyBox 310 is made of durable plastic and has a streamlined shape. It comes with convenient carrying handles at the top and bottom of the case. Rubberized feet are mounted on both sides of each speaker. This allows you to put the audio system on any side without fear of damage to the case and sound vibration.
The device has power of 240 Watt, and it offers a frequency response of 45 Hz to 20 KHz. Speaking of the weight of the appliance, it is 17.42 kg/38.4 lbs. It was a pleasant surprise for me that the JBL PartyBox 310 can be used at home. That is, even at low volumes, it works great. It turns out that buying such a speaker, you get not only music for outings to a picnic, but also for a home party.
The PartyBox 310 speaker system is equipped with four speakers, an amplifier, a wireless Bluetooth module, and a battery. To charge the battery, you need only 3.5 hours. Additionally, you can connect a microphone (the JBL PMB 100 model could be a good choice) and a musical instrument and synchronize several speakers via wires or wirelessly (supports Bluetooth 5.1).
Both of the speakers can be connected to two Bluetooth devices simultaneously. In addition, they both have an easy-to-reach 3.5-millimeter audio jack and a USB A port, which you can plug in a USB Drive and play music off of it. To make it easier to switch modes and control your music, the PartyBox 310 has backlit buttons. And so as not to worry about the beginning of rain or splashing from the pool, IPX4 splash protection is provided.
Key specs
Output power, W: 240
Sensitivity, dB: 85
Driver size, inch: 2×6.5″, 2×2.5″
Bluetooth: yes
Weight (pound/kilos): 38.4/17.4
Pros
To make your party even brighter, the PartyBox 310 has several lighting modes
The battery will provide up to 18 hours of offline music, and you can charge your smartphone, tablet, or other gadget from it via USB
There are three buttons for adding different sound effects to your tracks
Two levels of bass boost
Cons
The 310 model has done away with the RCA inputs, which can be found on the 300
SAMSUNG MX-T50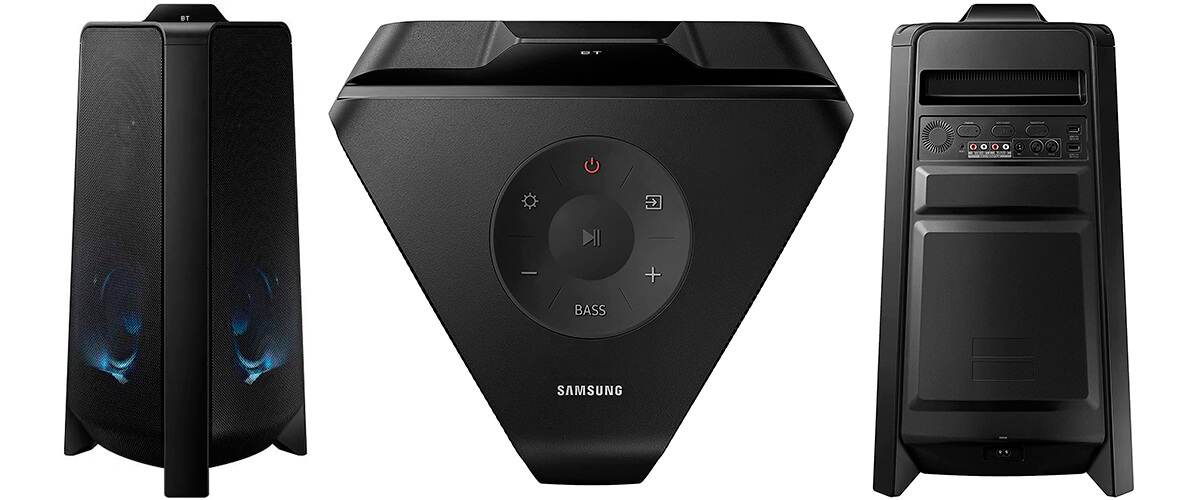 The first thing that caught my eye was the size. The audio system is quite large, with dimensions of 13.8″ W x 25.6″ H x 12.7″ D. The weight is also far from what we call small – 24 lbs. But the declared power is impressive – 500 watts.
The device is equipped with 4 speakers: two tweeters with a diameter of 2.5 inches and two woofers with a diameter of 6.5 inches. The pairs of speakers are placed on two angled panels, which provide wider sound coverage of the space. I really appreciate such a design because when it comes to powerful party speakers, we want to reach as much space as possible, and with MX-T50 it will be easy.
The MX-T50 has several options for connecting to the source. The most popular variant is Bluetooth, which is a common practice for party speakers. There is also support for multipoint, and that worked flawlessly during the test. When I started playback on one of the devices, the signal was automatically transferred with a minimum delay. I also checked the Bluetooth Tweaker utility to see the list of supported codecs and their modes. As for the wired connection, everything is standard. The controls are arranged on the top panel. Alternatively, you can use a remote control to change compositions, adjust volume, etc., without approaching the device. Since the speaker is protected from water, you may not be afraid of light rain or spilled drinks while enjoying your party.
It was disappointing to learn that there is no rechargeable battery, so using it in the fresh air isn't an option. It is more suitable for parties in a country house or something like that. The backlighting isn't impressive; only the bottom speaker is backlit. But it is bright and in the dynamic mode matches the rhythm of the sounding melody.
By the way, there are five modes: Party, Ambient, Dance, Thunderbolt, Star. The names, I must say, are somewhat arbitrary. But there is plenty to choose from. The built-in player can play music files from USB drives formatted in FAT and FAT32 file systems. All major audio formats are supported.
The sound from the speakers is quite "rich", which is a rarity for portable speakers. The bass, though boomy, is deep – the dance tracks sound right. Mid and high frequencies are quite neutral, which is also nice. It is difficult to talk about sound detail, and it is not even necessary – this product was created for dancing, not for audiophile quality.
SAMSUNG MX-T50 is a good party speaker with many cool features for memorable parties. It doesn't have a built-in battery, which dramatically limits the ways you can use it, but everything else is available – from a good volume range and sound to backlighting and karaoke capabilities.
Key specs
Output power, W: 500
Volume level, dB: N/A
Driver size, inch: 2×6.5″, 2×2.5″
Bluetooth: yes
Weight (pound/kilos): 25.6/11.3
Pros
Lights are synched to the sound for more dramatic effect
Plug-and-play setup
Bass boost with a touch of a button
Can be wirelessly paired with another speaker for a louder sound
Cons
Lacks Wi-Fi connectivity
You get a quarter of the advertised 500 W
Best Wired Party Speakers Review
Rockville RPG122K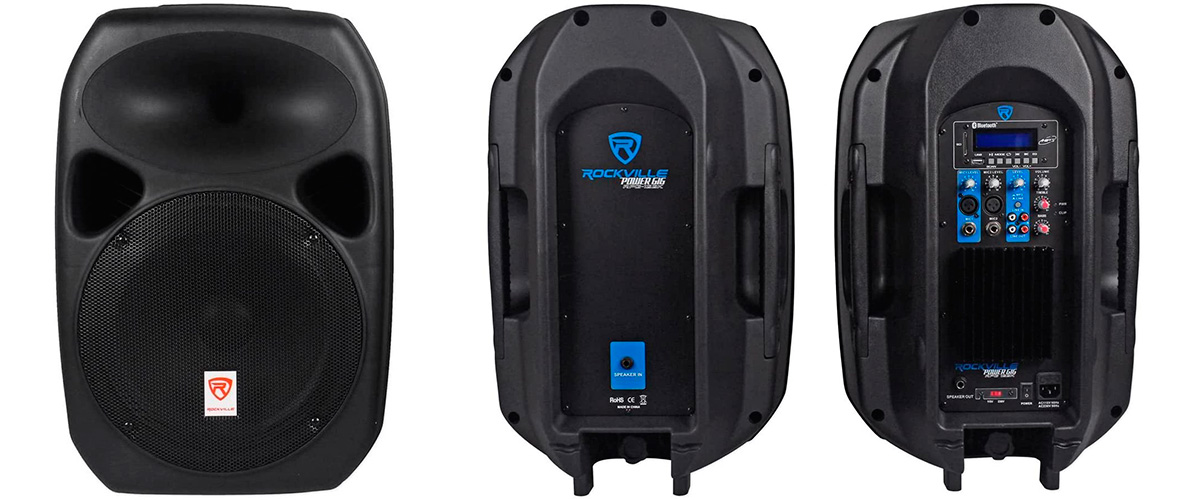 Talking about wired products, these are the best speakers for parties, and here is why. You get two 12" pro audio speakers that boast 1000 Watts peak power, 250 Watts RMS and 500 Watts of program power.
The system includes a main active speaker with a built-in amplifier and a second passive 12" speaker that is powered by the main speaker/amplifier. This system comes with speaker stands, so you can install your speakers, microphone, and all the connecting cables you need to start your party right out of the box. The RPG-122K is ideal for DJ applications, karaoke, parties, or live music concerts. The RPG122K has great Bluetooth integration, USB input, SD card, digital graphic equalizer preset effects, and wireless remote control. The woofers are 30 ounces magnet and powerful aluminum voice coils, while the tweeters feature 25mm piezo crystal compression horns for crisp, loud sounds. The ABS and polymer enclosure is time-tested, so the system is optimized to deliver a tremendous amount of bass, clear environments, and clear highs. The main active unit is equipped with a Clip LED that lets you know when you start to distort the sound so you can keep track of your music.
Separate Bass and Treble controls are also included so you can customize your soundstage. There is also a built-in equalizer that lets you customize the sound to suit the type of music you are listening to. Built-in USB and SD input is great for playing any stored music on USB or SD cards. Bluetooth integration includes the latest advances in the BT protocol from the world leader in Bluetooth technology; CSR. Bluetooth is a great feature for powerful professional audio speakers as it lets you stream music easily and wirelessly from any Bluetooth-enabled MP3 player or phone. Also, in the MP3 section of the device, there is a built-in FM radio.
The weight of the device is 60 kg.
Key specs
Output power, W: 1000
Sensitivity, dB: 94
Driver size, inch: 2×12″
Bluetooth: yes
Weight (pound/kilos): 132/60
Pros
The stands are aluminum and seem to be well built
The speakers sit snugly onto the post once the collar is tightened and the pin is in place
Cons
Bluetooth doesn't reach more than 5 feet
Buyers guide
What to pay attention to when choosing party speakers
Party size and location
First of all, before buying, you need to decide on the location of the parties, since not every speaker will be able to provide a sufficient sound level under various conditions. Outdoor parties require more powerful speakers than in-home. A small room doesn't need such power.
The larger the area of the room and the number of people, the more powerful the speaker should be.
The speaker's power for the outdoor party should be approximately 1.5 – 2 times more (with the same number of people and area) than indoors.
Obviously, you need a much more powerful system to ensure that your music reaches 150 people outdoors correctly than 25 people in the same room indoors.
Also, for outdoor speakers, water-resistance and high-quality materials, a strong case, etc. will not hurt.
Please keep in mind that there is no real "science" behind this, just years of experience and a lot of conversations with DJs and event planners. You know your place and your sound requirements better than we do, so apply your own criteria and choose the speakers you want.
Power output and volume matters
When building your own home audio system, you need to clearly understand how powerful speakers you want. The power output is measured in watts, and this parameter is usually indicated on the box. Of course, powerful speakers can deliver louder sound without degrading its quality. So, no wonder many people are looking for more watts.
However, getting 1000W speakers may be a waste of money in some situations. For example, if you aren't a party person and want to organize get-togethers just from time to time, there is no point in getting such powerful speakers. On the other hand, if you are all about throwing atmospheric parties and want to blow the doors off, then getting models with insanely high power output is totally justified.
Portability
How often do you plan to organize parties? Are you going to change places or want to stick to one venue? If you like exploring new spots and want to take your speakers with you every time, you should treat the portability factor very seriously.
Relocating speakers once in several weeks may become a real challenge if you have to deal with bulky models. Such speakers occupy a lot of space, and you'll need to ask somebody for help every time you want to throw a party. Besides, they may be too cumbersome for your car, so you'll have to make several trips to bring all components to one place. That doesn't sound very cool, does it?
Fortunately, the manufacturers offer many excellent speakers with small dimensions that don't lag behind larger counterparts in terms of sound quality. Actually, some of them can output 1000 watts of power, which means you'll get great sound without cluttering your space. To play it safe, it is always better to have portable speakers that are easy to carry and arrange. Besides, such units leave more dance floor room.
Battery Life
Roughly speaking, we can divide all speakers into 2 categories – those supplied with a battery and those relying on physical power sources. If you opt for the first group, you need to be very attentive to the battery life. First off, check whether a battery is of a rechargeable type. Of course, chances of bumping into a speaker with a non-rechargeable battery are very low, it won't hurt to clear things out.
Batteries differ in terms of size and capacity. Some last amazingly long with speakers working at maximum volume, while others can't boast of such capabilities. Keep in mind that the volume level directly affects the battery life of your speakers. Another important consideration is that modern speakers are fitted with all types of features and accessories, and all of them can severely drain your battery.
For example, you may own a speaker with a backlight. When the backlight is turned off, the speaker works for 50 hours without recharging, but when you turn it on, the battery life is reduced to 7-8 hours. Sounds shocking, but that is the "price" you have to pay for frills.
Are 500 watts loud enough for a party?
In short, no. A watt is a unit of power, and if your speakers don't have built-in power amplifiers, they don't have power.
A loudspeaker's ability to handle power is one of the factors that determines how loud it can be. Efficiency, sensitivity, and dispersion characteristics will contribute to its apparent loudness. In addition, a speaker that reproduces only a narrow frequency range can get much louder than trying to reproduce the full frequency range. It is definitely not safe to say that a 500W speaker will get louder than a 200W speaker (although this is often the case).
On top of that, you should also remember that every time you double the power, you only get 3 dB more volume (all other things being equal), which is not much overall. All these issues need to be addressed immediately when choosing speakers.
For example, all other things being equal, a speaker with a sensitivity of 98dB (usually rated as dB SPL at 1W, measured at 1m) that processes 500W will actually be as loud as a speaker rated at 95dB processing sensitivity 1000 W. This is the perfect way to show how dangerous specifications can end up in the hands of someone who doesn't really understand them.
Can you damage speakers by playing them too loud?
The answer is yes. You can play your music too loudly and damage even the best party speakers with bass. There are several reasons why this misfortune can happen on your part, and you should become familiar with it.
When you overload subwoofers or low-frequency speakers, it's either electrical or mechanical in nature. A power outage occurs when you apply too much power to the subwoofers and burn out the voice coils. This is why you should always check the gain settings and wiring of your subwoofers before a session.