If your favorite music accompanies you on the road, then any journey can turn into an unforgettable adventure.

The key is to make the right choice, especially when looking for the best motorcycle speakers. A modern portable audio system for a motorcycle that you can buy on the Internet will provide a high-quality sound. Sound equipment of various price categories is on sale, which will allow you to easily choose for yourself the most optimal variant in terms of parameters and cost.
For the motorcycle sound system to work for several seasons, pay attention to the important parameters. Firstly, look at compact dimensions. It can be easily installed on the bike without the need to equip additional mounts and clamps. Then, power. The sound quality directly depends on it, therefore it is worth giving preference to products with a high index for a really powerful sound. Also, the mount type – elements of modern audio systems can be easily installed on the steering wheel or you can choose a more optimal option for yourself (side, rear).
I divided the products in the review into categories: handlebar, helmet speakers, fairing speakers so that you can choose the most suitable product.
Best Motorcycle Speakers Reviews
Handlebar speakers are considered the best motorcycle speakers for those who strive for a voluminous sound and don't want to hassle with installation. These compact devices will be also a great accessory for your two-wheel vehicle. Such speakers usually are simply mounted with clamps on the handlebars. They allow you to listen to favorite tracks more freely than ever since they can be easily connected through a Bluetooth receiver to a Bluetooth-enabled music player. This will provide you with a much more enjoyable experience than earbuds. And still, you can try them with a wire – simply use the 3.5 mm audio jack.
This type of motorcycle speakers with built in amp usually provide high loudness – so don't worry for your engine to be louder than them. I prepared the list of some top picks in this category in terms of functionality, ease of installment, and design.
Best Motorcycle Handlebar Speakers Reviews
Boss MC470B – best handlebar speakers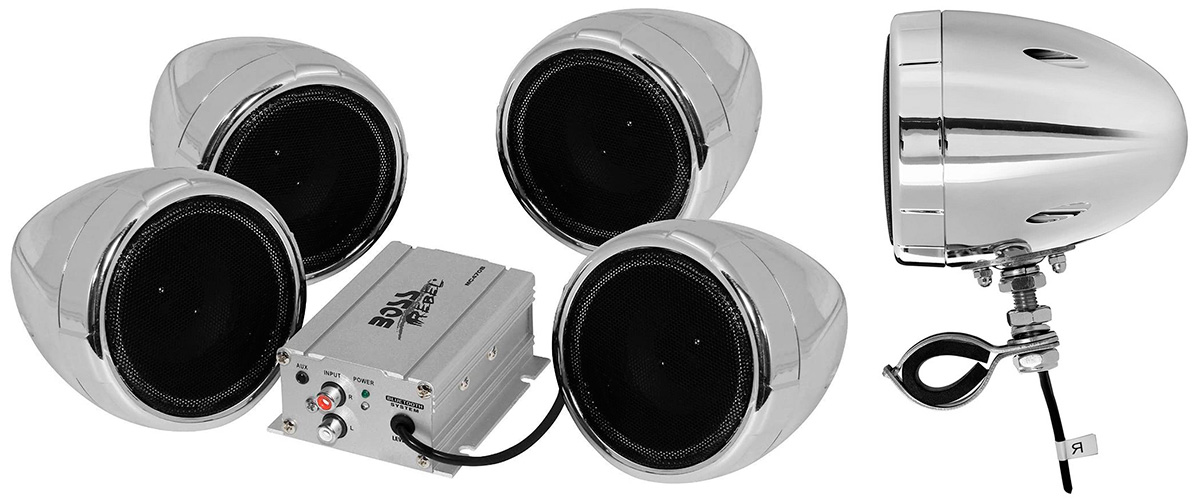 Boss Audio is an American company that is known worldwide for the high quality of its acoustic devices. Boss MC470B are two pairs of compact chrome-plated full-range 3" speakers + a 1000W of peak power, class A / B miniature amplifier is a great choice for motorcycle, scooter, and ATV owners with a 12V power supply. The MC470B audio system is compatible with the audio output of an iPod device, can be connected to a smartphone or MP3 player via a standard 3.5 mm Aux-in or wireless Bluetooth, and also connects to a radio tape recorder via an RCA jack.
The speakers are securely attached to vehicles using durable brackets with adjustable mounting brackets. The system is controlled by a waterproof remote control, which allows you to concentrate on the road and control as much as possible.
The audio system is designed to work in open modes of transport and is reliably protected from adverse environmental influences. High-tech and high-quality materials and methods of their processing are used for manufacturing, which gives a high level of stability and durability. On the whole, this is an incredible sound system for motorcycles and ATVs with Bluetooth audio streaming. It also features a built-in 1000W amplifier with wired remote volume control, a pair of RCA inputs along with external 3.5mm input and frequency response 80Hz – 15KHz, S / N> 85dB, THD: <0.01%. The package includes an amplifier, 4 speakers, a wired remote control, accessories for mounting, a warranty. If you decide to improve your transport with music, I highly recommend buying these speakers. With them, you will rock and don't worry about safety during the trip. They supply cool weatherproof elements so don't be afraid to use them on the open and dirt trails.
Pros
The amp can be easily mounted in any area
They are loud enough even at high speed
Work fine after rain
Fits good and secure between the downtubes
Cons
There's no on/off switch on the amp
Bass is boosted very badly
Kuryakyn 2720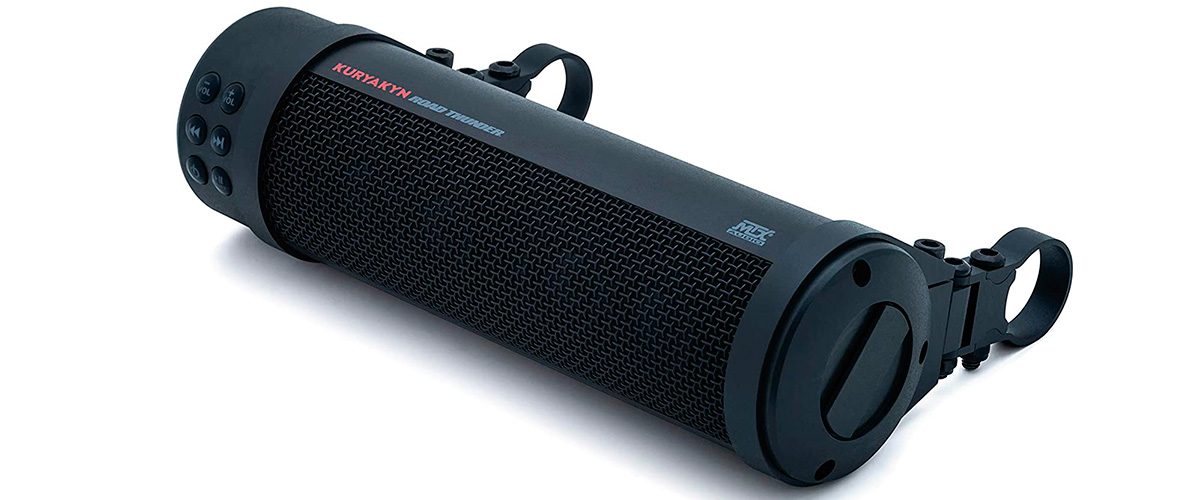 These are truly the best bluetooth motorcycle speakers I've ever tried. They are absolutely loud at city speeds, with a windshield, and with a stock sounding exhaust. In terms of characteristics, it provides you with a total power of 300 watts, a 4-channel built-in amp with two 2″ x 3″ full-range speakers with double voice reels along with four high-frequency 1″ silk-covered tweeters with N42 grade magnets for clear spacious sound at any volume. This model is all about top functionality thanks to a built-in USB charging port.
The output continuous power of the amplifier is measured by 19W RMS, a maximum of 23W on 4 channels. An internal 4.1 Bluetooth receiver lets it be connected wirelessly to any modern smartphone or music device. However, you can use a wire through the 3.5 mm hook up, especially if you notice some output issues and a decrease of sound quality during Bluetooth playback. Its housing is also waterproof, which is good if you get caught in the rain, made of high-quality materials according to the IP66 rating.
With an integrated heat sink and self-protection scheme, it will always deal with exceeding heat. It also takes control over the voltage level. Additionally, the system has auxiliary input and output ports to pair with standard devices via a 3.5 mm cable. A built-in weather-resistant 1.0 Amp USB charging port can be found in the last cap. Includes power, ground, and lighting conductors for quick disconnect. Universal mounting clamps come with the set. To sum up, I was very delighted with the Kuryakyn 2720 Road Thunder Sound Bar Plus.
Pros
Satin black design with an expensive look
Universal fitment will suit any bike
Straightforward install
Even at high speed, it's audible
Cons
A volume booster needed if you're going to use it with phone
Boss MC420B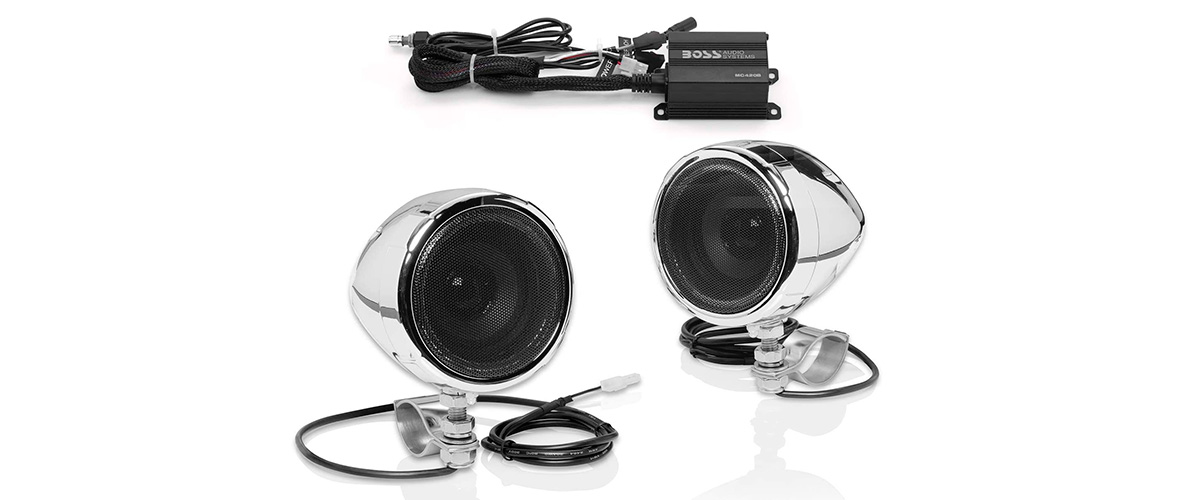 Let's take a look at the best motorcycle handlebar speakers you can find on the market. They are Boss MC420B – representing a full-range 600-watt music system with a pair of 3" driver speakers and a built-in amplifier, which has an external volume remote control, too.
This model is designed for installation on an open type of transport: motorcycles, ATVs, scooters. A convenient mounting system is offered – robust mounting brackets with a coverage range from 0.75 to 1.25". The external volume control is small and compact in shape and does not require a large installation site – you can tie it in the most convenient place for you, and restrict the amplifier working unit from direct access.
The Boss Audio MC420B is waterproof motorbike speakers that allow them to be used outdoors even in adverse weather conditions. All boards, connections, and connectors are insulated against moisture and dust penetration, preventing the formation of corrosive processes. The plastic parts of the structure are treated with a special protective UV coating. Equipping with a Bluetooth module allows the user to use a wireless connection to shared devices, listen to streaming audio, manage applications and services. Wired connection to music carriers is carried out using a standard 3.5 mm jack, compatible with external MP3 players, smartphones, tablets, etc.
Clean and spacious sound, stylish and attractive appearance, ease of installation and operation, as well as high quality of assembly and use of materials – just a small list of advantages, because we recommend buying an MC420B audio system for your motorcycle or ATV.
Pros
Comes with everything you need for install in the set
Instant Bluetooth connecting
USB charge works excellent
The sound quality is amazing, especially with a windshield
Cons
The mounts are a bit slippy and flimsy
No power toggle provided
Best Motorcycle Helmet Speakers Reviews
Helmet speakers are another type of motorcycle speaker which is a good alternative for earbuds. Many helmets are sold with built-in speakers, however, they can be bought and worn independently from your helmet. These speakers are efficient both in terms of listening to music, as well as talking on the phone without the necessity of taking a stop. Some of them even have intercommunication options for several riders. A great advantage is that most modern models can block road noise so that you can hear distinctly what's in your speakers. They are also very tiny and can be mounted without special knowledge.
On the other hand, you need to pay more attention to the surroundings when using such speakers. Picking the best motorcycle helmet speakers can be a sophisticated process. And if you want the Bluetooth-enabled and weather-resistant model they probably would be pricey.
Cardo Packtalk Bold – best helmet speakers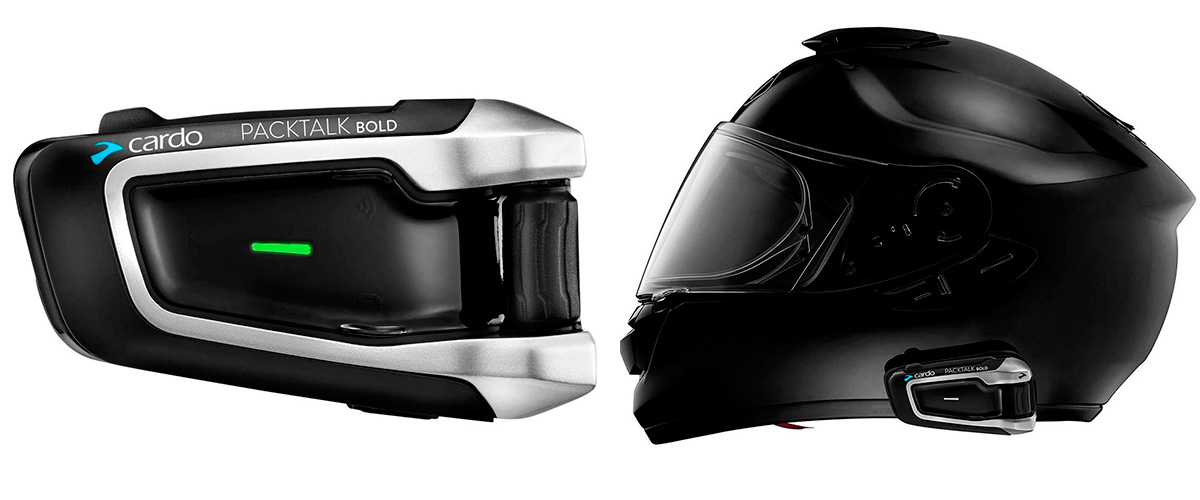 Scala Rider Packtalk Bold Dual Pack is a set of Bluetooth headsets of 2 flagship models with DMC technology, which allows 15 users to communicate at a distance of up to 8 km. DMC (Dynamic Meshwork Communication) is a new intercom communication standard developed by Cardo Systems specifically for Packtalk headsets. Unlike Bluetooth, DMC automatically creates the strongest and strongest signal connection to the intercom participant. While classic systems operate in a daisy chain, each DMC device connects to all available interlocutors in a star pattern, eliminating dropouts and minimizing communication interference. Besides being fast and easy to connect, compared to traditional Bluetooth technology, DMC provides excellent sound quality.
As for the specs, Packtalk Bold features 1.56'' driver size, Bluetooth 4.1 version, intercom modes to conference up to 4 people in Bluetooth mode or up to 15 people in DMC mode with distance up to 1600 m (1 mile) between participants or up to 8 km between the extreme participants of the "chain". New ergonomics and controls is another thing worth mentioning – these one are equipped with a multifunctional roller and buttons tested with winter gloves and 2 Interchangeable microphones: hybrid and wired.
Time of continuous work is measured by 13 hours of talk/music, and 7 days of standby which is quite impressive. The model has improved voice recognition for control, dialing and answering, multilingual interface, A2DP stereo music playback, and FM support with 6 stations memory. An interesting feature is the ability to connect to a GPS navigator and MP3 player, and also Music Sharing – distribution of music to the driver and passenger from one source. Additionally, Packtalk Bold has dust-moisture-shock protection according to the IP-67 standard, so they are dustproof and waterproof.
I'm sure that these tiny speakers (their weight is only 1.1 pounds) will make a difference in how you listen to music on the road. I can call them the best motorcycle helmet speakers from my experience.
Pros
Wireless support with great sound quality even on long distances
Automatic dialing to the phone when the intercom range is exceeded
Durable housing that protects from moisture and dust
Pretty plain setup
Cons
Many buyers admit that at the highway speeds the sound was quiet
The Cardo app doesn't connect on Android phones
Sena 20S EVO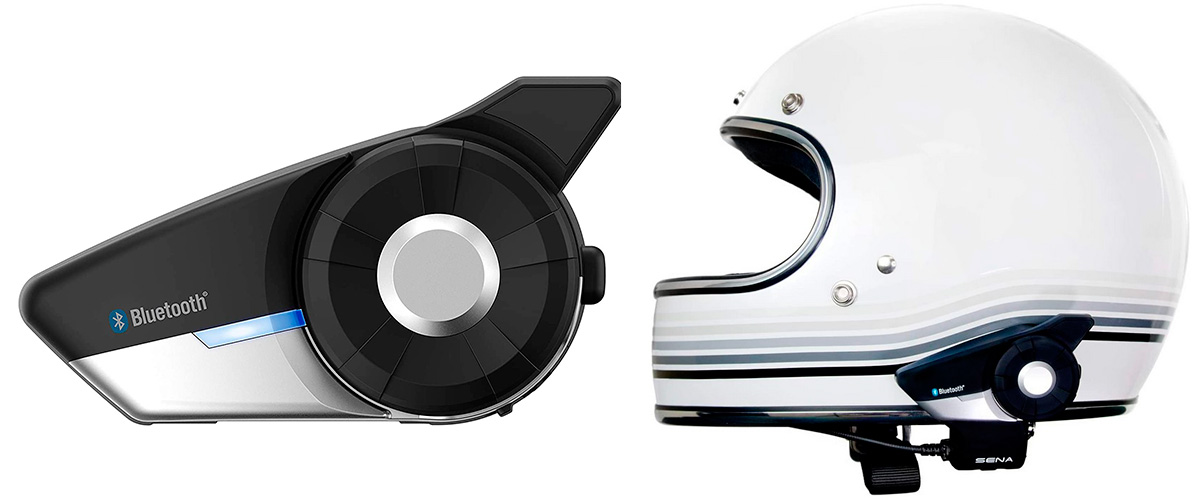 Sena 20S EVO is an improved version of the original 20S, with an updated design, new electronic components, and firmware. Unlike its predecessor, the 20S EVO headset is designed with a fixed antenna. At the same time, the functionality and capabilities of the 20S EVO are in no way inferior to the 20S and surpass the original headset in the stability of the intercom and the audio quality.
Several innovations have been introduced into the Sena 20S moto Bluetooth headset, which radically distinguishes it from other moto Bluetooth headsets on the market. Sena Technologies, Inc. was the first in the world to use Bluetooth 4.1 technology with two communication modules in its device to create the best Bluetooth headset on the market.
The 20S EVO delivers high-quality audio, allowing drivers to comfortably listen to music and GPS prompts and make or receive calls. Improved noise suppressor dampens wind noise and extraneous sounds. The built-in intercom allows you to simultaneously talk to 7 other drivers at a distance of up to 2 km. The new Bluetooth technology increases the reliability and performance of the headset while increasing crystal clear and crisp sound.
What I loved about these speakers is their multi-tasking ability. With the Sena 20S, users can simultaneously talk on a mobile phone via Bluetooth, listen to music or voice instructions from a GPS navigator, and have two-way conversations with a passenger or other motorcyclists. Audio functions will not interrupt each other but simply overlap for maximum comfort. They are also very compact – the weight of the set is only 60 g (2.11 oz)
Pros
Quick charge time
Improved media controls for smooth interaction with motorcycle gloves
Basic installment
Nice call quality even at high speeds
Cons
Volume intensity isn't balanced between devices
Diapason of communication is smaller than stated in the product description
Best Motorcycle Fairing Speakers Reviews
If you are a connoisseur of the high-definition audio that surrounds you from all sides – then fairing speakers is what you need for your bike. Let me tell you about the best motorcycle fairing speakers. They will literally turn your vehicle into a personal sound system and deliver memorable experiences even if you need to drive for a long time, for example, when camping. So once again their benefits include high-quality sound – far away from that in other types of speakers, weatherproof construction, flexibility in terms of connection (Bluetooth, CD, or USB can be used as music sources), and distinguishing style. They will for sure boost your motorcycle, adding value to its appearance and functionality.
Fairing speakers nowadays come in two possible configurations – in the speaker kit, which is lightweight and includes special housing to change the factory speakers, and batwing speakers that are usually mounted on the front fairing of large touring bikes. The last type will also protect your engine from wind damage.
The only con which can be named here is their price. It's remarkably higher than in other types of moto speakers but hence this is a justified investment in your two-wheel friend.
Rockford Fosgate TMS65 – best fairing speakers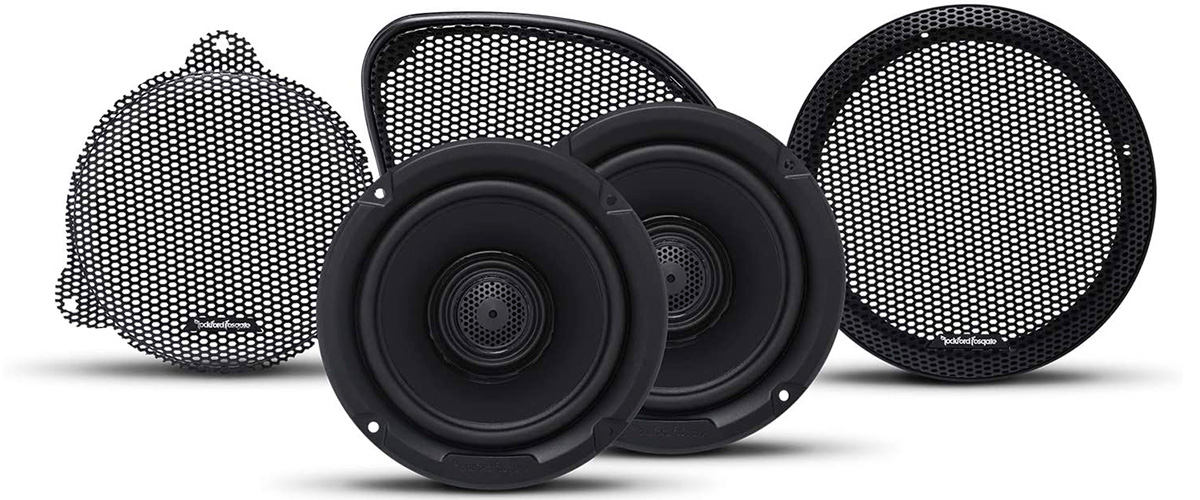 In this review, I want to take a look at coaxial 2-lane 6.5'' wide speakers from Rockford, which is the top company in producing fairing speakers. You buy them in the complete kit with a 400W amp and all hardware harnesses needed for installment, which is super convenient.
I installed them in the bags – for that you need to cut off bags' lids. But don't worry – the kit also provides templates of cutting so everything is made for effortless mounting. Also, if you own a Harley-Davidson Street Glide/Road Glide motorcycle, you're a lucky one, as these speakers were designed to fit perfectly bikes of this brand. They can be built in fairings directly or in the Tour-Park area.
What I should emphasize about these speakers are their sleek design and high-quality build. You don't have to modify anything because they directly replace the existing factory speakers as the factory mounting hardware and speaker connecting pipes come with new grille fittings in the set. These speakers are extremely reliable as they are Element Ready, water and dustproof, have protection from UV rays, temperature, oxidation, and vibration.
As for important specs, the Fosgate TMS65 features the frequency range of 56 – 20,000 Hz, power of 75 W (nominal) and 150 W (maximum), the sensitivity of 91 dB (W / m), and impedance of 4 ohms per speaker. Also, a super-efficient 25mm dome tweeter with included phase peg produces live clear highs even at cruising speed.
If you want to invest in superior sound quality and long-term service, then take these ones into consideration. Rockford is the global leader which was the first to bring innovation in music on the motorcycles. Their speakers are produced by fanatics for fanatics with full power and performance which is definitely worth its money.
Pros
High-strength build which is super comfortable for long rides on harsh roads
You won't hear road hum even at 70 mph
Attached grills are of amazing quality
Easy install with instructions and video from the manufacturers
Cons
The installation process on most bike models won't be plug-n-play
The sound can get too high-pitched
Polk DB652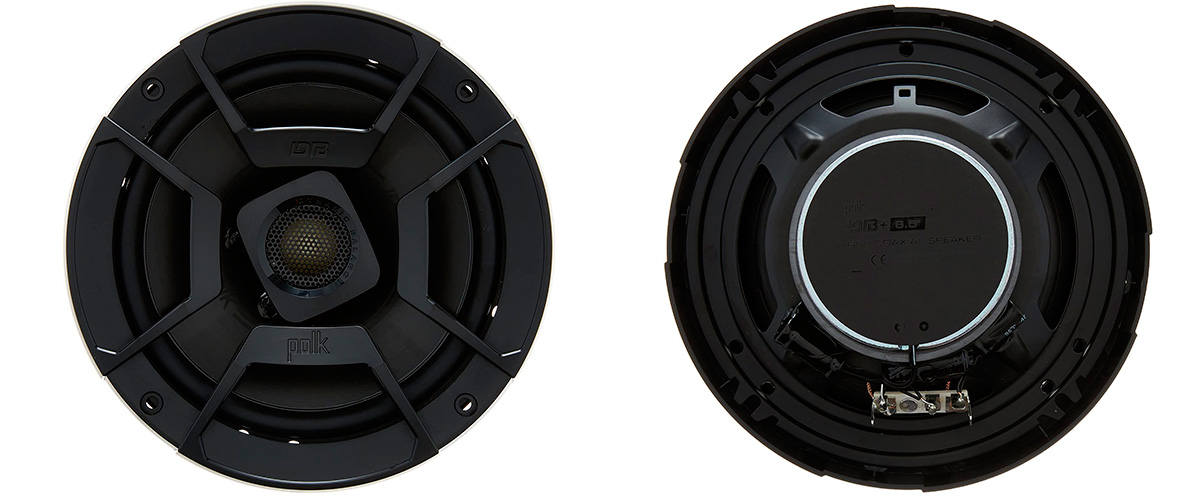 This model will prove to you that an ideal way to upgrade your factory speakers upfront is to use a component system like DB652. These bulk speakers kill multiple birds with one stone.
At the affordable price, you will get two 6.5'' woofers, two ¾ inch silk dome tweeters plus external crossovers. 6.5'' speakers are one of the most common on the market today as they suit practically all applications. They also come with the speaker adapter mounting plates to help fit even bigger applications and ensure that you'll have no issues during the installation.
Also, the box includes flush mount tweeter cups, service mount tweeter cups, speaker grilles, flush metal grilles, wires of 6 different lengths, wiretaps, and hardware.
This 4-ohm system handles up to 100W RMS power and 300W peak power, so you can get most out of them when using an aftermarket amplifier. The speakers back up the talk and perform fine. The laser image design ensures minimum distortion, smooth response, and incredible sonic detail. The frequency range of this sound system is outstanding – from 32 to 20000 Hz and 92 dB sensitivity, allowing you to enjoy any genre with clear sound. One more peculiarity is its IP-66 marine certification, which means they are water and dirt resistant.
I would definitely recommend these ones for customers who appreciate dynamic balance when listening to music and also want their speakers to be value for money.
Pros
Clear sound even in high volume
The speakers don't require many actions to be installed
Decent bass as for the speakers with no built-in amp
Proved water and dust resistance
Cons
The sound is harsh out of the box, so EQ setting is needed
You need to buy an amplifier to enhance its bass and loudness
Buyers Guide
Is it safe to use motorcycle speakers while driving?
The answer is yes. Speakers for motorcycle keep aware of what's going on the road so that you can notice when a big truck or small car is going to come over. Signals and sirens also can be heard from afar. With modern models, you can use thumb control to ensure full control when driving. Many bikers also admit that music helps them to focus on the long drive while driving without music is much more distracting.
How to install speakers on a motorcycle?
The installation of music on a motorcycle for some models is carried out on the assembly line of the manufacturer. Indeed, during a trip, the acoustic system of a motorcycle, in contrast to the acoustic system of a car, sounds the entire surrounding space. Accordingly, the sound quality should be as high as possible.
For a motorcycle audio system, it is necessary to make acoustic podiums for good speakers and boxes for subwoofers. Choosing the right place for installing speakers on a motorcycle is no easy task. Indeed, in all the variety of components, a specialist is required to understand and handle the installation process. However, wireless motorcycle speakers, such as helmet models usually have very basic installs.
At the same time, most of the necessary elements are already included in the complete set of acoustics for a motorcycle, which you can buy together with a subwoofer. The standard set consists of: speakers (1-4 speakers of the same size), bases, a set of tools required for high-quality installation and connection of the entire system, USB cable, AUX cable; power cable, a set of clamps, fastening rings, and user manuals.
When you get things done with all the details mounting is just a piece of cake. Mount the speakers to the handlebars using the clamps. Use the pucks on the top and bottom of the clamps to fix the position of the speakers. Then run the cable beneath the tank right to your amp. The amp can be placed in different locations depending on your bike. Usually, it's installed in a tank bag, saddlebag, under headlamp toolkit, or if there is space – under the seat. Finish with connecting the amp to the music source. You can use an mp3 player, AM/FM radio, CD, etc.