Let's imagine a situation when you are actually in a deep web surfing to find the best powered pa speakers. You spend hours to find a suitable product, to read millions of powered pa speaker reviews where recommendations vary from user to user, every single person recommends totally different products and finally you realise that you are stuck. Do you feel familiar with this situation?

Then welcome to this review. Here, all visible products are smartly divided by price and every speaker is properly described to help you make the right choice. Moreover, I personally recommend you to pay attention to midrange prices that are under $1000. In my honest opinion, it's the best combination of price and quality where you won't feel uncertain in materials, quality and sound specs.
PA stands for public address. It's used to produce sound to a large group of people louder than you speak or play on instrument. Many people, due to their non-acquaintance, think that PA speakers are only used at concerts or sports stadiums, but there are so many other applications for a PA system that one day you might have to buy the best active PA speakers yourself.
Nowadays, there are so many different products that vary by lots of unique features. Many good brands are unfortunately hidden and oppressed by giants of this area. However, there are literally thousands of brands and this review includes most popular PA active speakers to help readers make their choice visely.
Now, I'd like to tell you about active pa speakers. They usually have an inbuilt power amplifier and they just need a power source to work properly. They are mostly all-in-one systems that work with your speakers. In addition, active speakers are more compact and comfortable to carry and to use. If you want to make changes, most products have an ability to perform the sound how you want it on the back of the speaker.
Our pick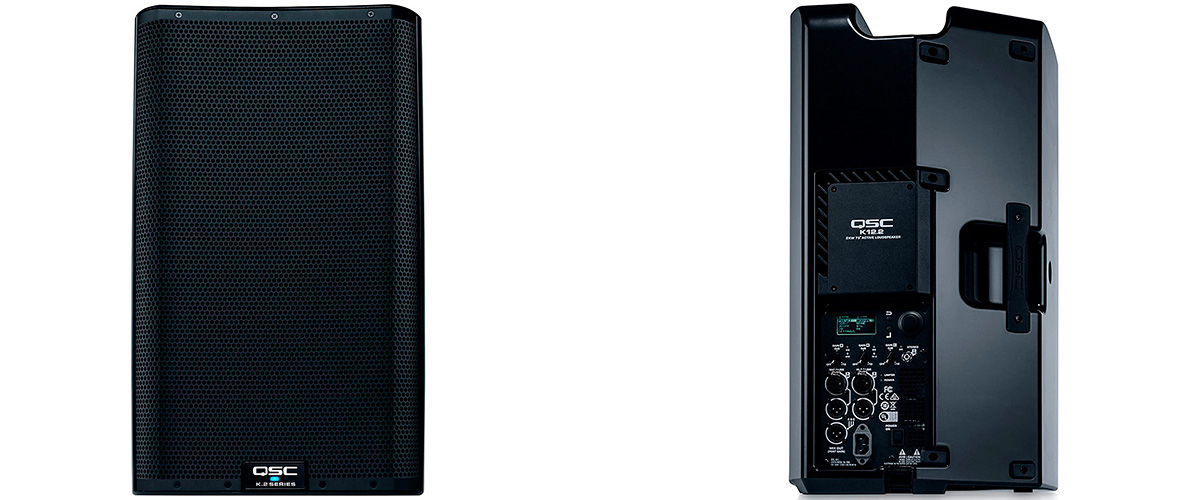 QSC K12.2
Best Powered PA Speaker
The QSC K.2 Series™ represents the best-inclass loudspeaker for today's demanding audio professionals.
Best Powered PA Speakers Reviews
Best Powered PA Speakers Under $1000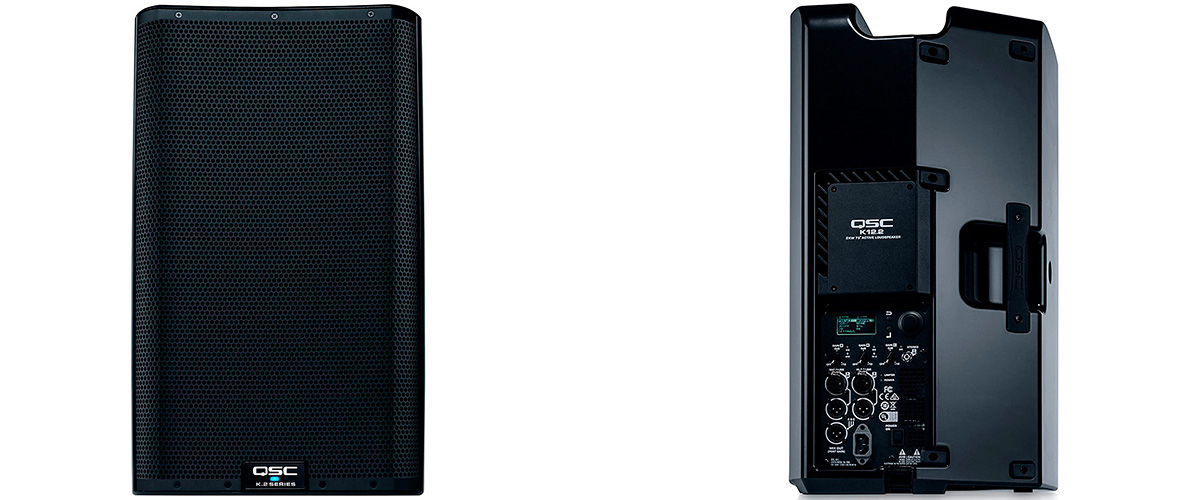 QSC K12.2 is quite simply, the next standard in powered loudspeakers. It's aim is to give the professional musician or DJ a robust and lightweight speaker. To my mind, these are the best powered PA speakers for the money under $1000 and now I'm going to prove it.
Firstly, this active PA speaker with a ton of low and high-end frequency responses, can function as either the Main PA or as a Floor Monitor. Each model can also be placed however you want. It can be wall- or truss-mounted or placed on a speaker stand as well. This flexibility makes QSC K12.2 a really confident choice for a huge range of live sound performances.
Secondly, I'd like to highlight my favorite thing. QSC K12.2 has a multi-functional digital display for control and selection of loudspeaker functions. It includes cross-over, EQ, delay and frequency contour.
Whole system comes with a steel mounting pole and a floor wedge design so it can be turned upward towards listeners in the finest way possible. Even more, It covers a 75 degree sound field horizontally so you can adjust your sound flow for most convenient sound.
Now, let's talk about specifications. QSC created 12 inch powered PA speakers that have frequency response from 45Hz to 20kHz. Weight is also pretty suitable because it's only 39 lbs/17.7 kg. Another important thing is about dimensions which are 14 x 23.7 x 13.8 inches, thereafter it's 35.6 x 60.2 x 35 in cms. Moreover, I should underline that QSC 12.2 has a 2000 watt Class-D amplifier module with 12-inch low-frequency transducer. In addition, these PA speakers are equipped with 1.4-inch titanium diaphragm compression drivers if you are interested in high frequencies. All these features are going to provide you with maximum convenience and comfort.
What about bluetooth connectors, QSC K12.2 has 2 x locking XLR/F ¼" combo (Mic/Line Input and Hi-Z/Line Input; 1 x 3.5 mm TRS (Stereo Input); 2 x XLR/M (Loop-thru Output); 1 x XLR/M (Mix Output) and 1 x locking IEC power connector.
QSC K12.2 output power continuous is 1000W (500W LF, 500W HF)
Pros
Clear sound that suits for every kind of played music
Universal product suitable for any activity
Great connectivity options
Multi-functional digital display
Cons
No cons found for this price
Bose S1 Pro – best small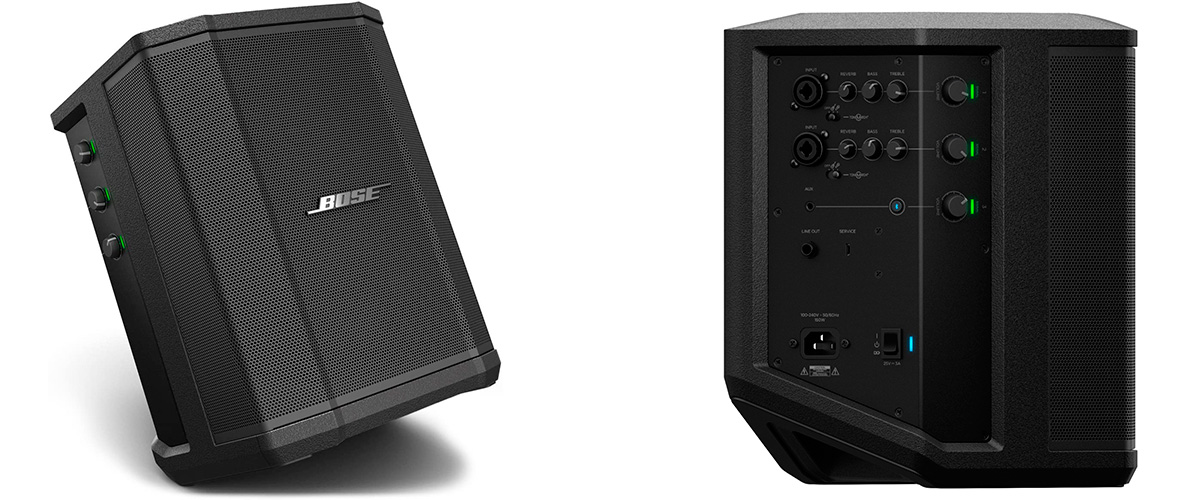 If you are looking for a worthy PA speaker, you definitely should take this one into account. Bose S1 Pro is an amazing choice for those who look for portable all‑in‑one small powered pa speakers. Aesthetics has always been one of Bose's strengths and the S1 Pro is not an exception. Neat design, portability, smart buttons placement, it is all about Bose. Thanks to a built-in handle which can be used to take speakers wherever you want. Moreover, rechargeable batteries can work for about 11 hours with no interruption. I'm definitely sure that this device is one of the best powered PA speakers because it combines different types of usage. It's a Bluetooth speaker, a PA system and it just suits for every outdoor activity or party that requires clear and live sound. Moreover, Bose S1 Pro can be used to stream your music wirelessly from any device or you can plug in a microphone or any musical instrument. Besides it's important to know that the wireless range is up to 30 ft or 9 m.
Now, let's slightly pass to Bose S1 Pro specs and features. What about dimensions, I find them really comfortable and not so huge. They are 13" H x 9.5" W x 11.2" D (33 x 24 x 28.4cm), 15.7 lbs. It's total power is 150W. The S1 Pro has a three‑channel mixer with two identical inputs for microphone or line‑level sources, and a third channel for line‑only or Bluetooth input. As I previously said, S1 Pro supports bluetooth connection type, so the speaker has 2 combo XLR – ¼" inputs, 3.5 mm input, Bluetooth input, ¼" TRS line output.
Pros
Very compact and light
Durable battery provides with 11 hours playtime
Has a downloadable app to control speaker from your phone
Comfortable and neat design
Yamaha DXR10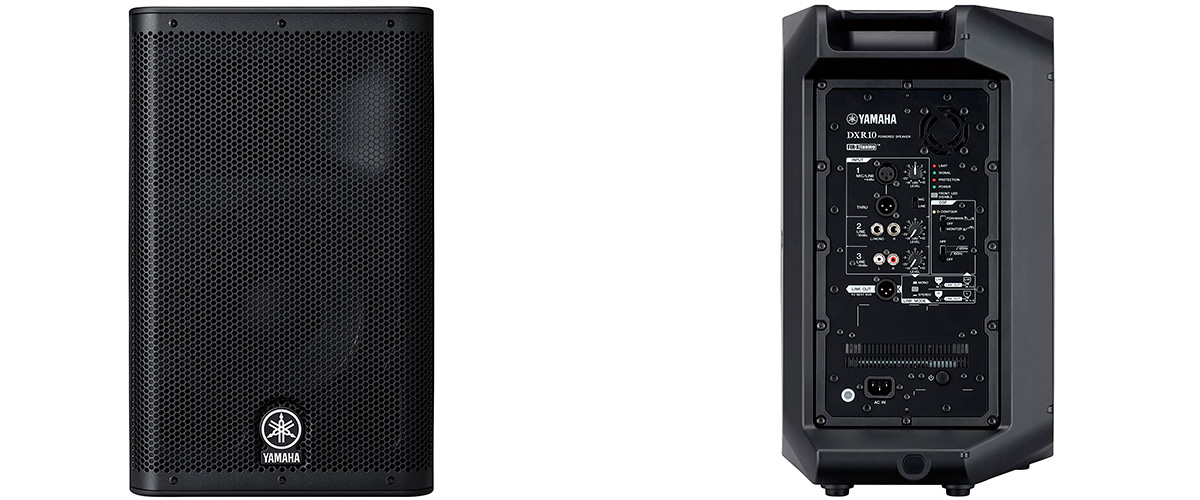 Yamaha DXR10 can definitely become a pretty good choice if you look for affordable speakers. Many users noted that highs are really good for live speakers but not for home studios. DXR10s compact, functional design makes it ideal for a wide range of applications. It can be great as a main speaker or as a floor monitor. In use, the speakers sound fantastic with the perfect balance of frequencies and plenty of clear undistorted headroom. According to the name, DXR 10 has two-way active design based around a 10"/25.4 cm woofer and a 2"/5cm treble driver. The DXR10 features a flexible onboard mixer with a variety of inputs, making it ideal for simple vocal/instrumental performance. With its flexible IN/OUT, the DXR Series can comprise a full sound reinforcement system. Speaker is equipped with 1100W of class D power. It is DSP controlled for maximum output and protection.
Delving into specs, it's important to say that dimensions are 15.43 x 15.24 x 25.28 inches (39.12 x 38.70 x 64.21 cm) while weight is 34 pounds/32.2 lbs. It's nominal output power is 700 watt and max output power is about 1100 watt. Another thing is about output level 131 dB while frequency response starts from 56 to 20000 Hz. All DXR models including DXR10 have the same amount of inputs: one XLR input labeled INPUT 1, one stereo ¼" input labeled INPUT 2, and one stereo RCA input labeled INPUT 3. Each input has its own gain control. Moreover, two speakers can be linked via a single XLR cable for either mono or stereo operation. Each channel has an individual volume control, so lets you mix three discrete audio sources. The flexibility of all inputs means they are pretty easy to use and offer comfortable compatibility with a wide variety of sources.
Pros
Perfect decision for outside and live play
Very high sound pressure level
3-channel on board mixer
Cons
High price comparatively to similar speakers
Little bit worse on quality among analogous devices
Best Powered PA Speaker Under $300
JBL EON610 – best budget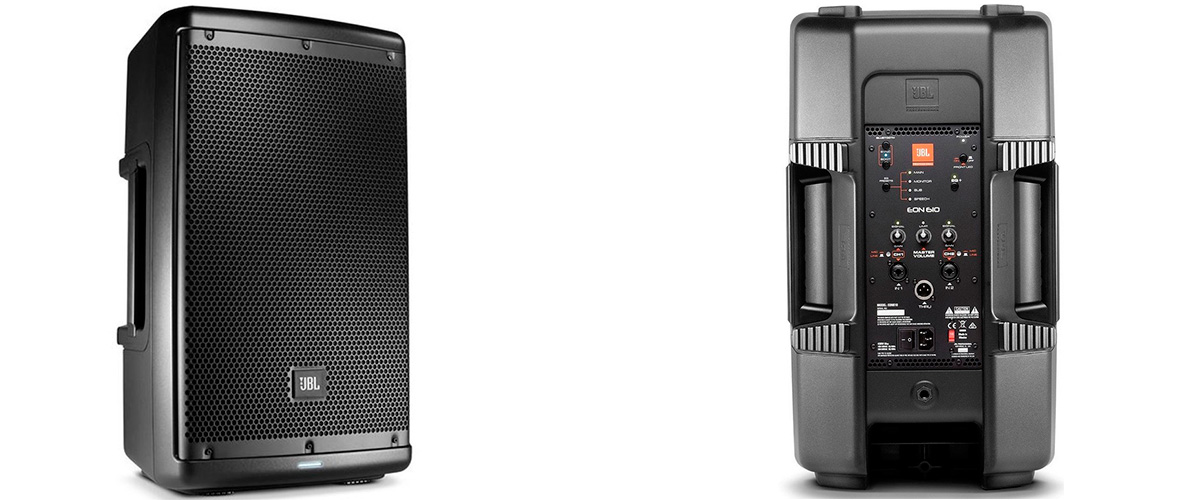 JBL EON610 is a very popular active loudspeaker that is deservedly named the best budget powered PA speakers. First of all, it has a really comfortable shape and due to this, you can lay EON610 on the floor and it will become a high headroom active monitor speaker that will be more than enough for even big stages and loud music performances. Although mounting includes pole and speaker can be flown as well, so with weight about 26 lbs it won't be a problem at all. Despite it's made with plastic which is not so popular because it's unreliable, the whole system is well-constructed and sturdy as well. However, smart handles and rubber placement shows the desire to create a comfortable speaker that is perfect for musicians.
What about the sound, lots of users replied that this loudspeaker transmits very clear and detailed sound so it perfectly fits for vocals and instruments. Highs are also clear. They produce exquisite sound without any supernormal harshness that sometimes occur with other speakers for this price.
Device also supports Bluetooth connection and has both IOS and Android apps. Applications have smart and simple design to help you adjust master volume. Once you have set up your sound, you can save settings and copy them to use among up to four similar speakers.
Now, let's move on to details. The JBL EON610 is a two-way 1000 Watt class D amplified speaker. It has 10″/25.4 cm LF Driver and 1″/2.54 cm HF Driver. Device is Bi-amplified: 700W LF and 300W HF. It's frequency Range is 52Hz-20kHz. JBL EON610s Maximum Peak SPL is 124dB. Generally, it has 2 inputs: 2 x XLR-1/4″ combo and only one output: XLR (thru).
Pros
Extremely lightweight
Excellent mix of price and quality
Best Powered PA Speaker Under $500
Mackie THUMP15A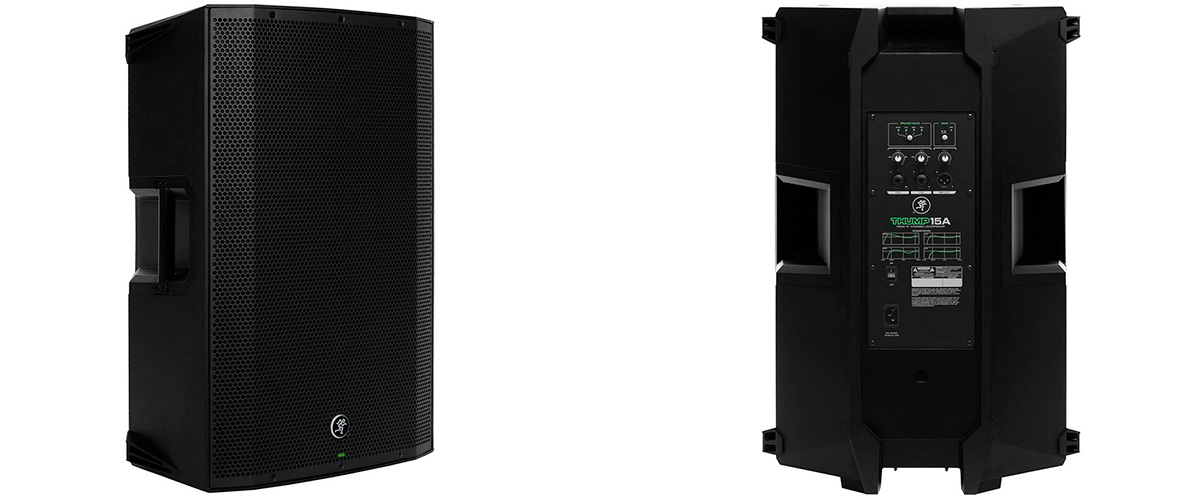 Let me show you the powered PA speakers that you can find for less than 500 dollars. The model includes a high-performance Class D amplifier with dynamic bass response that provides detailed midrange and abundant bass. Equipped with a 15-inch subwoofer, the 15A is easy to use thanks to four operating modes that will allow you to adapt to specific conditions as quickly as possible. In addition, the THUMP15A portable design simplifies installation and transportation, saving time and making life easier.
The 1300W THUMP15A 15" Powered loudspeaker has been redesigned to sound better than ever. It comes with a 15-inch low-noise driver and 1.4-inch titanium driver. In addition, four operating modes for specific programs provide excellent sound quality in every situation.
The Thump15A's mixer is equipped with two combo XLR-1/4″ mic/line/Hi-Z channels with dedicated gain controls, while an XLR output is provided for additional daisy-chaining speakers. The built-in 2-channel mixer features Vita preamplifiers with Wide-Z technology, which processes microphone, instrumental, and linear level signals. The device has an XLR output for wired connection to other Thump speakers. Reliable system protection and temperature limits guarantee the safety of the THUMP15A system. Flexible mounting options allow you to put it on a tripod and use the device as a vertical stand or as a stage monitor.
Pros
Professional enclosure designed for heavy use
Application-specific speaker modes allow the user to dial in the system at the push of a button
Thanks to the power factor correction, the device keeps the power in check, ensuring a consistent performance
Cons
There is no such thing as a flat EQ in this model
The bass boost is too much sometimes
Electro-Voice ZLX-12P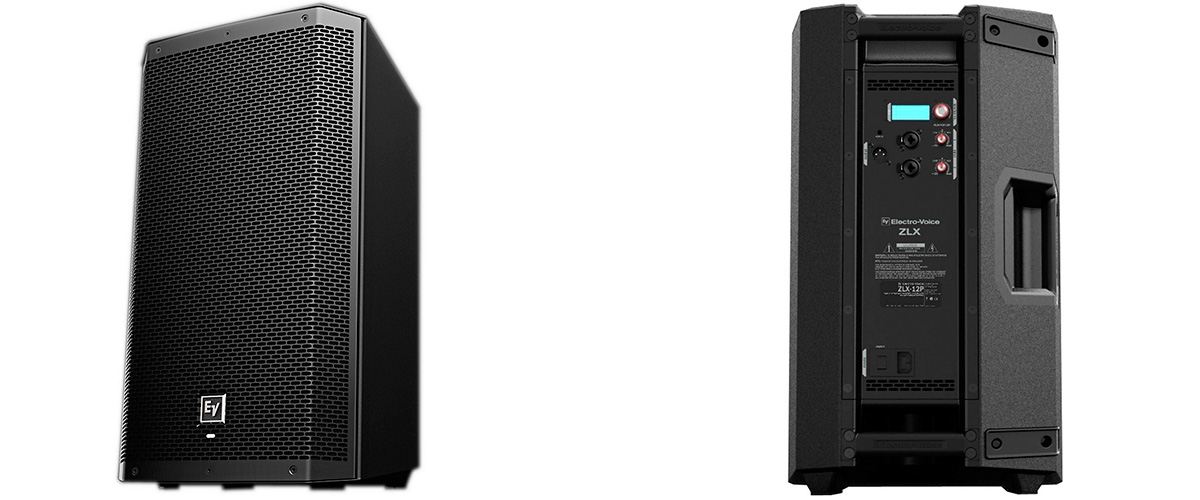 Nowadays, people used to pay a lot of money for the finest and very popular products from leading brands, but Electro-Voice ZLX-12P breaks all records due to the combination of features and price. It may not be very popular among similar brands, but Electro-Voice has built its reputation in thanks to well-made reliable speakers. Concert speakers play a vital role and give you a possibility to control your performance because they allow you to hear yourself without delays. Every musician has to listen to himself properly to avoid distortion and to fit every note during the performance. ZLX-12P delivers superior audio quality and powerful performance in it's class. Mids and highs are well-balanced and clear. It's suitable for singers as well because of excellent and pure vocals. However, many users highlight the only problem about low-end. Bass response is not really tight like highs and mids.
Electro-Voice ZLX-12Ps build is pretty solid and sturdy. Despite it's made with firm plastic, the whole construction is pretty durable and gives a feeling of endurance. Moreover, it's really lightweight so you won't be fatigued while carrying it. Smartly integrated in-built handles are also a huge bonus. So that makes speakers a pretty portable and practical device.
Now, let's stick to the specs. Electro-Voice ZLX-12P is equipped with a 12"/30.4 cm woofer with 1.5"/3.8 cm titanium compression driver for the high frequencies.
Moreover, 126 dB max SPL, is pretty loud and can fit for small venues with ease. ZLX-12P is also equipped with 1000 Watts and employs standard Class-D amplifiers. Frequency response starts from 50 Hz up to 20 kHz. Nevertheless, it's forbidden to avoid basic information so here it is. ZLX-12Ps weight is 34 lbs/15.6 kg. Dimensions are also a very important thing so they are 14 x 24 x 14 inches or 35.6 x 61 x 35.6 cms. What about connections, Electro-Voice ZLX-12P offers two line-in options. Important to know, that they both support TRS or XLR connections.
Pros
Reliable and sturdy construction
Lightweight and compact
Affordable price among similar products
Cons
Low-end is not really qualitative
Best Premium Powered PA Speaker
JBL SRX835P – best premium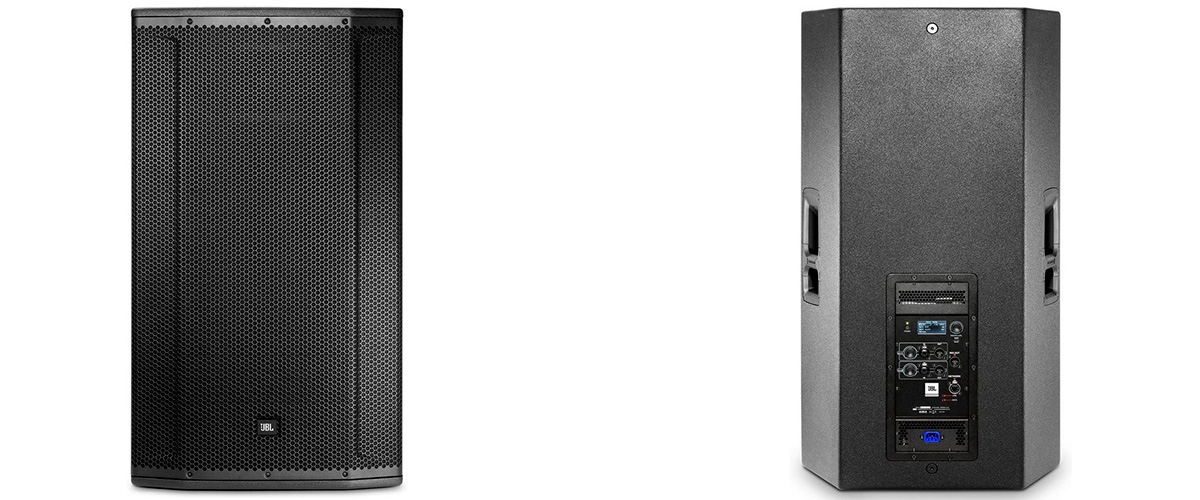 JBL has made a name for itself by producing great headphones to speakers. But in this review, we will closely look at JBLs PA system. In fact, JBL SRX835P is not a very small powered pa speaker, but a three-way 15″/38 cm model which is ideal for most common sound reinforcement applications. Sturdily built JBL SRX835P is not for nothing known as a reliable premium product. This best powered pa speaker system contains literally everything – incredible sound quality, comfort in use, quality assembly and most importantly -reliability. Every detail is carefully designed to fit a perfectly tuned, reliable, durable and powerful system. Personally, I find it really amazing that a huge amount of satisfied customers say that this speaker is intuitive to use and easy to carry. Everyone knows that this feature tends to be an integral part of any speaker and here JBL did it in the finest possible way. SRX835P is equipped with light grips for streamlined handling. Another thing in which the price is justified is JBL's patented Differential Drive® Technology ferrite drivers incorporate 3″ voice coils with lower mass ferrite magnets. They are specially created to reduce the whole system's weight, increase speakers power handling. This technology guarantees extremely low distortion and extended low frequency response and is actually unique among similar devices.
SRX835P features 1500 Watt continuous and 2000 Watt at its peak, of Crown tri-amped power. This speaker has a frequency range from 33 Hz to 21 kHz, a maximum SPL of 137 dB and comprehensive I/O including Ethercon with HiQnet iOS and Android OS control options with the range's intuitive DSP functionality. This speaker's dimensions are: 38.74" x 21.4" x 18.74" or 98.39 x 54.3 x 47.59 cms. Weight is about 85 lbs/38.6 kg. System has Neutrik ¼ – XLR input, Neutrik XLR Output and two XLR Outputs.
Pros
3 way speaker for mixed sound spreading
Wide sound tunability versions
The system is filled with cutting edge technologies for the best sound
Cons
Not affordable for a wide range of buyers
QSC KW153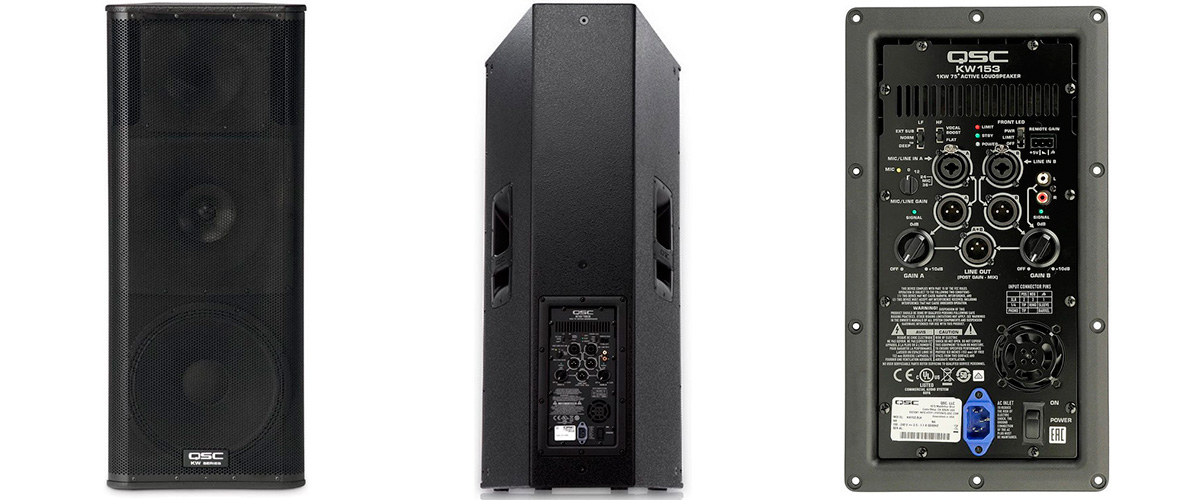 KW153 is a professional active three-way concert loudspeaker of the KW series from QSC. The versatile and easy-to-use active PA speakers in this series deliver exceptional sound quality. The built-in class D power amplifier with 134 dB SPL is ideal for a variety of audio applications. Signature tweeter, midrange, and woofer speakers provide 1000W continuous power with minimal distortion across the entire frequency range.
The cabinet houses a 15″ woofer, a 6.5″ cone midrange, and a 1.75″ tweeter with a compression driver. In addition, a proprietary GuardRail protection system is integrated, which provides full output power, preventing overloads that could affect circuits. During signal clipping or extreme overheating, GuardRail lowers the audio level enough to protect both the music and the speakers – without mute or distortion of the sound. A bi-amp circuit is used: both amplifiers have a power of 500 watts each. The rear panel contains preset EQ switches for each specific application.
The QSC KW153 contains a built-in mixer that controls two XLR/TRS combo inputs and one pair of RCA inputs on the second channel. The inputs and outputs provide the ability to connect microphones and line-level sources, as well as the ability to adjust them using the knobs below the inputs.
Pros
Built-in DSP with proprietary DMT, DEEP, and Intrinsic Correction technologies
Remote control of multiple KW Series speakers with an optional potentiometer plugged into the Phoenix 3-pin connector
You can mix up to three audio sources internally and send sum to balanced output for daisy-chaining
Buyers Guide
Do I need a subwoofer for my PA system?
If you are a happy and satisfied owner of a perfect PA system it's time to take into account buying a subwoofer as worthy, as your PA system. The most common question I heard is on topic now: "Do i really need a subwoofer?" Well, my answer is definitely "Yes" and let me tell you why.
Imagine the situation when you provide yourself with all the sound you need, buy any speaker, monitor stands and so on. You spent a fortune for this equipment but sometimes people cannot fully enjoy your music. Sounds bad? I totally agree, it's awful and has to be fixed. More than that, the majority of PA systems can't get to low frequencies below 30Hz and that's confusing. Basically, a subwoofer helps to fill the gap between the minimum frequency of your system and frequency under 30 Hz your music requires. To my mind, you essentially need a qualitative subwoofer if you want to fully supervise your sound, get control over bass frequencies and just enjoy your own music without any distortions.