Whether you are a weekend warrior with a rare DJ performance, a wedding DJ responsible for creating unforgettable dance parties, starting with a dream of DJing in front of tens of thousands of fans in one day, or anything in between, there is one device here that will give you freedom and flexibility, will let you go out and be heard – your speakers. Buying the best DJ speakers for your budget and needs can be a little tricky; you will need to sort through some confusing specs and browse the many brands that offer speakers at a wide range of prices, some of which can leave a big hole in your wallet. That's why we gathered the most useful tips to ease your choice.

Let's start with the basics – are DJ speakers specially made for DJs? Well, not quite. People use the definition "DJ speaker" to refer to any speaker that is suitable for delivering music loudly to multiple people in a given location. A wedding venue, a school dance hall, and a small dance club are examples of locations where one or more DJs are required to hear and feel the music played by the DJ. There is nothing special about them that makes them DJ speakers.
Our pick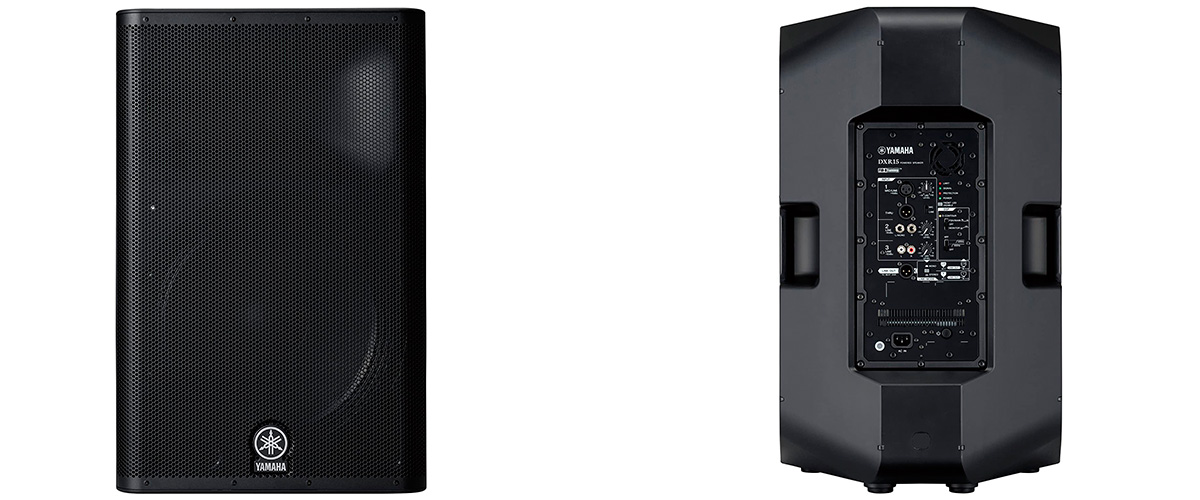 Yamaha DXR15
Best DJ Speakers
This high-power 15-inch powered speaker packs the technology of touring class speakers into a compact size.
Powered vs passive DJ speakers
Active speakers have a built-in power amplifier and simply require power (or battery) to operate, while passive speakers require an external power amplifier to operate.
In short, you need an amplifier for passive speakers. You don't deal with active speakers.
Passive loudspeakers are slightly different as they require separate amplifiers or mixers to power them, and loudspeaker cables to carry sound from the amplifier to the loudspeakers. Since passive loudspeakers are not an all-in-one system, you need to ensure that your loudspeakers and amplifier are compatible with the appropriate impedance and power rating. If you're wrong, you risk blowing up your speakers or not getting the best sound out of them.
Pros and Cons of active PA speakers
Pros
Powered speakers are usually installed as a complete solution, which means all you have to do is plug in the audio at line level, and you're done
In most cases, the amplifier is already fully tuned to the speakers. This means you get the best sound right out of the box
Cons
If your active PA system fails, you cannot simply replace the broken item. The entire speaker will need to be sent in for repair
Pros and Cons of passive PA speakers
You can upgrade your amplifier or speakers separately without replacing the entire PA system
Passive speakers are lightweight due to the fact that they do not have amplifiers. This means they are easier to lift and install. Especially handy if you are taking PA on the road or elsewhere
Cons
If there are many speakers in the room, there is a high chance of signal loss. Signal loss starts to occur as soon as the distance between the amplifier and the speaker exceeds 18.5 feet, so if you are using a large setup with standard speaker wire, it can sometimes have a negative effect on the sound. Just make sure you buy quality speaker cables
Best DJ Speakers Reviews
Active DJ speakers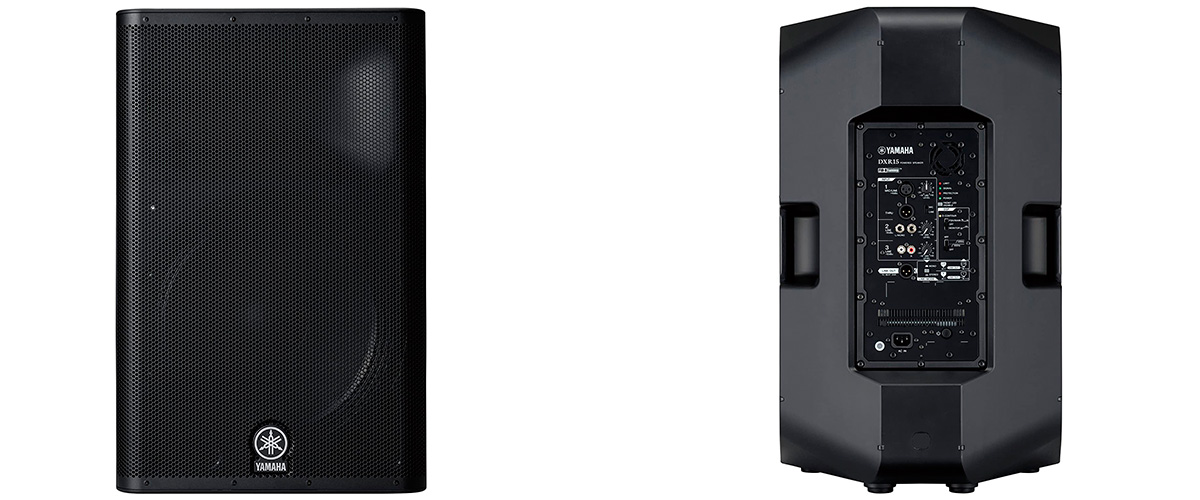 The YAMAHA DXR15 delivers class-leading sound pressure levels, combining a powerful Class D amplifier with a powerful woofer utilizing advanced Yamaha technology. This makes the unit to be the best DJ speakers on the market.
The system is equipped with a powerful class D amplifier, 15" woofer, and 1" compression high-frequency driver with ferrite magnets. In addition, the dedicated D-Contour compressor mode allows the speaker to reproduce some of the sounds of the subwoofer.
For signal processing, the DXR15 speaker system is equipped with a high-precision 48-bit processor, which is responsible for high-quality sound. FIR-X crossover algorithms optimize frequency and phase response so that optimum frequency response is achieved and the highest fidelity is achieved.
The discrete 24-bit ADCs and DACs provide excellent signal-to-noise ratio and excellent dynamic range. The DXR15 is an important feature of a perfectly optimized combination of amplifiers and signal emitters that has been rigorously tested in various conditions.
The DXR15 is equipped with a 100-240W universal power supply with switchable modes, which allows the speaker system to work with different mains voltages. It should be noted the high quality of the drivers used in the DXR15, which were specially developed for the DXR series speakers and are characterized by extremely low distortion, deep low frequencies, and crisp, superbly readable mids/highs.
The power of this speaker model is 1100 watts, and the sound pressure level is up to 133 decibels. These characteristics are complemented by minimum signal rise times. The DXR15's built-in mixer can handle three input signals simultaneously, from the mic and line inputs. Thus, multiple sources can be connected at once (musical instruments, microphones, portable playback devices).
Talking about inputs, these speakers have XLR-3-31, two RCA PIN, XLR3-32, and XLR.
The DXR15 housing is made of a specially developed polymer material that dampens vibrations. The cabinet has a symmetrical design that allows the system to be used as a monitor by mirroring the DRX models to each other. The system can also be mounted on a rack. The DXR15 is equipped with comfortable carrying handles. The speakers are protected by a sturdy metal grille.
Pros
A flexible set of connectors (IN / OUT) allows you to create a complete sound reinforcement system with the DXR mkII or flexibly integrate it with loudspeakers consisting of the DZR or DXS series models
The weight of the active speakers for DJ (22.5 kg) is quite available for an average listener
Cons
Depending on the venue, the soundscape can be affected by low ceilings or other factors that prevent a clear, balanced mix and significantly interfere with the viewer's perception
Mackie Thump12A – best budget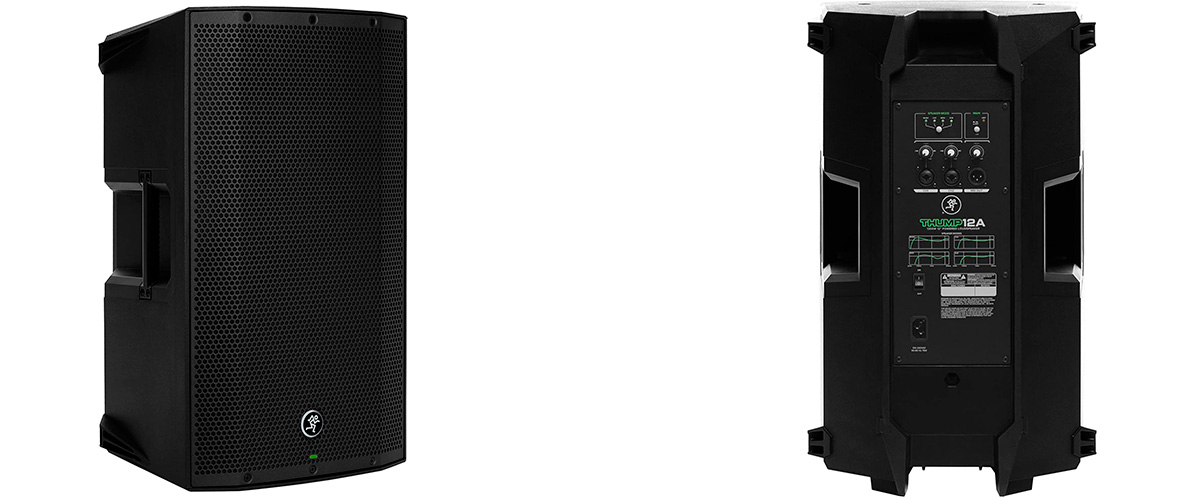 The Mackie Thump12A is a powered loudspeaker featuring a 1300W Class D amplifier, a powerful 12″ Thump Boosted woofer, a 1.4″ titanium dome compression tweeter, and an integrated dual-channel mixer.
Four Sound Modes (Music, Live, MONitor, Sub) are provided to optimize the parameters for your application and achieve great sound at the touch of a button. The system also features a digital crossover and an automatic woofer-driver synchronization function (Transducer Time Alignment) for optimum sound.
The system can be used alone, as a floor monitor, or with an optional subwoofer. To meet the modern musical demands of performers and DJs, the system is equipped with the latest 1300 W (LF: 1000 W, HF: 300 W) Class D amplifier, featuring an ultra-efficient design with Dynamic Bass Response technology.
Using a higher voltage supply to the amplifier circuitry allows it to respond incredibly quickly to transients and bass-heavy music. The two-channel mixer features Vita preamps with Wide-Z technology that can easily process mic, instrument or line-level signals, allowing you to connect your guitar and mic (or two other signal sources) directly to your system without the need for an external mixer.
The best DJ speakers in the budget segment have two inputs with combined XLR / 6.3 mm jacks and an XLR output for daisy-chaining an additional speaker system. Gain adjustment is carried out by separate knobs for each channel and one common (Main).
To protect against overloads, the Mackie Thump 12A is equipped with a limiter with LED indicator, which by frequent flashing or constant light signals about overload and the need to reduce the gain level. Overheating protection is also provided. The use of Power Factor Correction Technology allows the system to operate normally even when the mains supply is unstable.
The system features a rugged, completely redesigned professional enclosure designed for long-term continuous use. Carrying and installing the system on a stand or tripod is easy using the four built-in handles. The system weighs 13.2 kg.
Pros
I was able to use a pair of 12″ subs instead of 18″ because the bass in them sounds very good
The mid lows, mids, and highs are perfectly balanced on the "music" EQ mode
Cons
They are simple to use, do a good job, especially for the price point, but don't expect the sound quality of "high end" speakers
JBL EON 615 – best bluetooth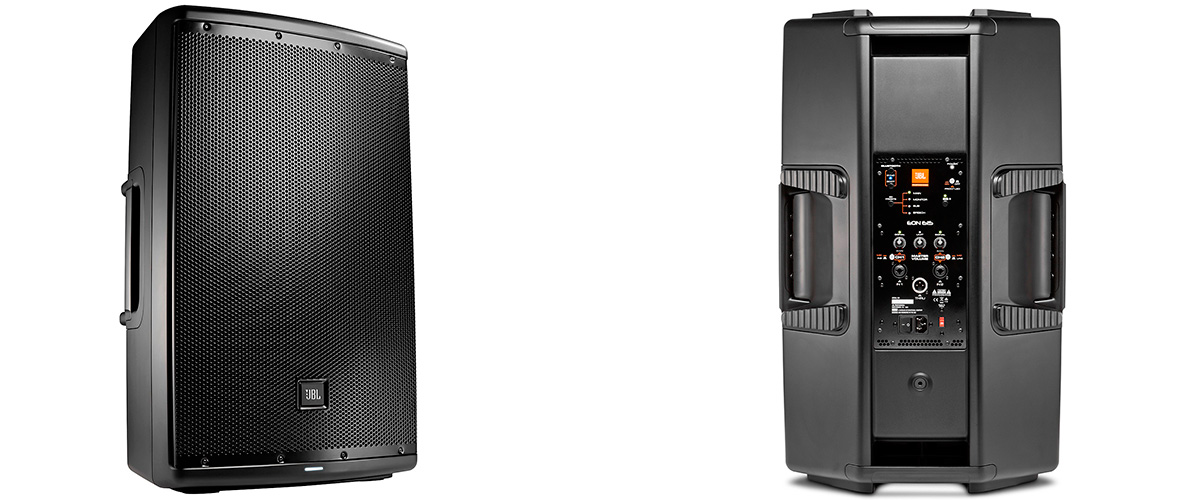 The first in the series EON 600 is the EON 615, a two-way loudspeaker with a built-in 1000W power amplifier, ideal for a variety of audio applications. Signature tweeters and woofers deliver 127 dB SPL with minimal distortion across the entire frequency range. The high performance of the EON615 is based on the latest waveguide design, which provides a uniform sound coverage area and smooth frequency response along the vertical and horizontal axes.
JBL engineers tested the sound wave characteristics of the EON615 speakers at 36 different locations using state-of-the-art measurement technology.
The heart of this system is a best-in-class 32-bit DSP processor with 130 MHz clock speed and ultra-low power consumption.
The EON615 DJ speakers with built in amplifiers are housed in a robust and stylish cabinet that is the hallmark of all JBL products. Features four symmetrically positioned handles for easy movement of the cabinet, and rubber feet for secure stacking, transport, and storage.
These bluetooth speakers have a 15″ woofer, two XLR-1/4″ combo inputs and one XLR (thru) output.
The weight of the device is 17,6 kg.
The EON615 uses advanced waveguide technology in conjunction with JBL's state-of-the-art drivers to solve the problem of the on-axis and off-axis frequency response. JBL drivers provide significant SPL and low distortion across the entire frequency range. The specially shaped waveguides of the EON600 ensure uniform sound coverage and high intelligibility across a 90-degree horizontal angle for a soft, transparent sound that is the same for all listeners. These characteristics are indicative of high-quality studio monitors and are the first to be available for low-cost mobile systems.
Pros
Bluetooth and your phone app allows you to raise the volume up and down
Rigid mounting elements are integrated into the body for precise fit or suspension of the speakers. Improved legs make it easy to store and transport, as well as column installation, stage monitor position, and other configurations
Cons
You will need a subwoofer for larger events or for the added thump
These are heavier than the older EONS (515xt's)
QSC K10.2 – best portable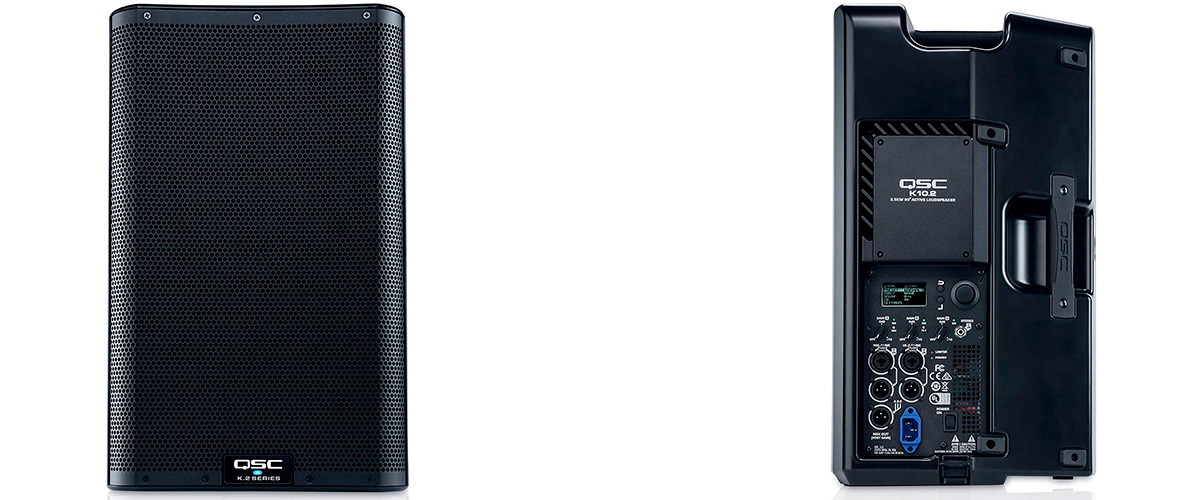 The American company QSC has presented a new line of one of the best powered speakers for DJ – K.2 Series. Released to replace the hugely popular K series, this line, according to the manufacturer, sets new standards for functionality and quality in the active speaker market.
The K.2 Series family includes three two-way models that differ from each other only in the diameter of the woofer: K8.2 (8 "and 1.4" speakers), K10.2 (10 "and 1.4" speakers), and K12.2 (speakers 12 "and 1.4").
The K10.2 has a built-in universal power supply, a 2000-watt Class D amplifier, a 3-channel mixer, and a DSP with Intrinsic Correction technology. For easy control of DSP parameters and sound tuning, a small monochrome LCD display is provided on the back of each speaker.
Using an encoder and a pair of buttons, users can quickly switch between factory presets ("Live," "Dance," "Bass Amp," "Hand Mic," etc.), as well as save and recall "Scenes" (Scenes) containing various combinations of settings.
The speakers have two XLR-1/4″ combo (mic/line), 1/8″ (aux stereo in), two XLR (thru), and XLR (mix out).
The weight of the unit is 14,5 kg.
As a meticulously designed instrument, the QSC K.2 series provides an excellent musical experience for both the performer and the audience. With their unique design and advanced electronics, all three models can act as the main power amplifier or stage monitor, making them incredibly versatile across a wide range of settings. In addition, the QSC K.2 series features easy-to-use presets and user settings that provide even more flexibility, including the ability to amplify musical instruments for several different types of instruments.
Pros
The sound is super clean, clear and transparent
Also, many adjustable EQ settings are hidden in the menus. I prefer to set and forget, so that works well for me
Robust ABS housing for long-term durability and increased durability
Cons
I wish the cases had more cushion for better protection and I wish they fit more snug
Passive DJ speakers
JBL JRX215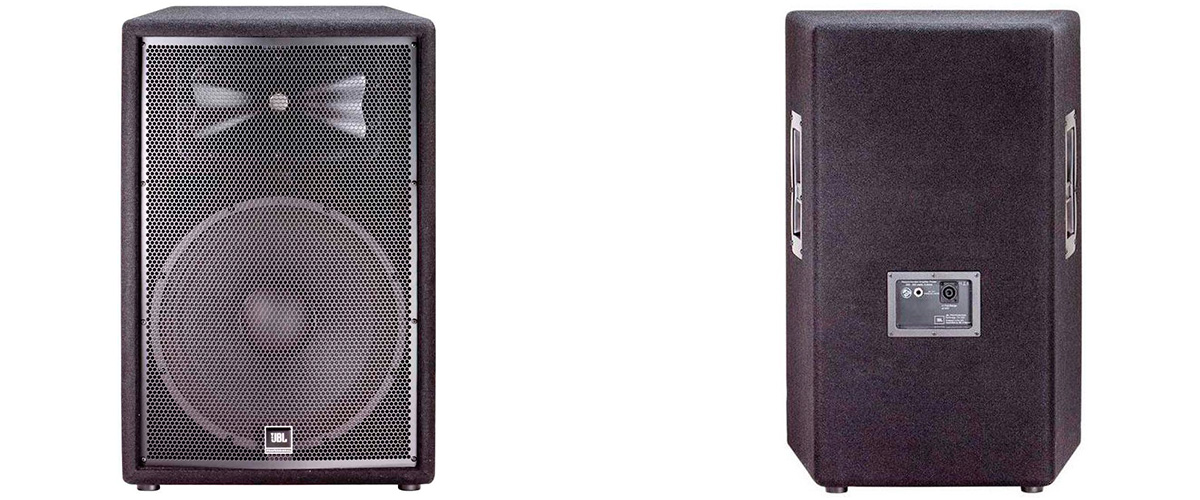 The 2-way JBL JRX215 passive speakers with 15 "woofer and 1" (25 mm) HF compression driver. Designed for live concerts of small groups. IEC 1000W peak power assumes that the device can be operated in this mode for 100 hours without physical damage.
LF speaker JBL М115-8А – 15 "driver with a coil made of flat wire with a cross-sectional area in the gap larger than that of round wires, which increases damping (fast stroke response) and increases power.
1 "(25 mm) JBL 2414H-C compression driver with polymer diaphragm, fixed to the Progressive Transition waveguide with a coverage of 50 ° (vertical) by 90 °, and the SonicGuard system, protects the driver from overload and guarantees low distortion with a linear high-frequency response even at extreme loudness.
The built-in crossover ensures coherent summation of sound in the LF-HF transition region.
The robust, acoustically enhanced trapezoidal enclosure is made of 19mm MDF (Medium Density Fiberboard), using advanced adhesives and panel bonding technology ("buckle") for extreme durability and improved low-frequency performance. The front of the JBL JRX215 is protected by an 18 gauge steel grill, perforated to match the black powder-coated honeycomb.
Steel, anti-resonant handles are located on the side panels. The panel for switching, consisting of two connectors connected in parallel: Speakon NL4 – 1 pc and a jack (1/4 "), is located on the rear side.
The weight of the device is 27.4 kg.
Pros
LF radiator, despite its low weight and dimensions, provides a tight and even sound without distortion
Thanks to high-voltage capacitors and inductors with massive cores and large wires, processes a high-power signal without going into saturation mode
Cons
The only downside for me is the weight
Buyers Guide
Studio monitors and DJ speakers are not the same
Some people confuse studio monitors and DJ speakers. Studio monitors are also called nearfield monitors or reference monitors. They are designed to be on your desk in the studio a couple of feet away so that you can listen to the music you are producing or recording and hear as much detail as possible. Not only are they not meant to fill an entire room with music, but you can also even damage them by skipping your tunes for hours.
On the other hand, PA / DJ speakers are specifically designed to reproduce sound at a much louder volume, at a much wider angle, and are subject to much more abuse than thin speakers designed for studio use.
It's best to use the right tools for the job and avoid the temptation to use your studio monitor speakers for something they shouldn't be doing. If you regularly perform (or plan to perform), good DJ speakers are a good investment. This will allow you to organize concerts at any time, and the fact that you are prepared using the appropriate equipment will make you more professional, leading to more concerts.
How many watts should DJ speakers be?
In general, if you are working indoors, you should aim for a minimum of five watts per person. If you play outdoors or want to get "rave volume," then you probably want to double that and get 10 watts per person. Naturally, this is a simple rule of thumb – for example, if you are going to play heavy bass music, you may need additional subwoofers. In this case, the ratio of submarines to tops is 2:1.
The most important thing that is often overlooked is to provide effective amplification for your speakers. Bigger doesn't necessarily mean better (or louder for that matter). Make sure the amplifiers are at least a third more powerful than the speakers they are rated for – twice or more is good. Contrary to popular belief, it is the loudspeakers that are powered by low power amplifiers, which tend to blow over rather than overwhelm them. Avoid this completely by using modern powered speakers where all of this has been thought for you.
DJ speakers placement
The location of your PA is just as important as anything else. The usual optimum for them is to be at the head level of your audience on either side of the DJ booth, pointing slightly towards the crowd. Always leave at least 30 cm to 1 meter of "breathing space" between the speakers and any walls or ceiling.
If you don't place the speakers above the audience, you will blow all the moving air into the first row of people. It's terrible to hear, and the sound won't reach the center of the dance floor. If you don't leave a breather, the speakers will not be able to move air efficiently enough, and you risk getting unwanted coloration that can make the sound cloudy or dull.
If you have subwoofers in your setup, they are easier to place – you simply leave them on the floor below or next to the main speakers.