If you've been surfing the Internet for a painfully long time looking for good surrounding speakers, you've come to the right place.

In search of the best satellite speakers, you can browse almost the entire Internet and I think this material will help you make a choice wisely.
Satellite speakers are created to fill up your room with live sound. They are usually not very big, sometimes are included in the interior, and frequently remain inconspicuous. Satellites are speakers in a home theater system that are usually located behind or on the side of the listening area to fill up a room with live sounds and immerse yourself in the atmosphere of the film as much as possible.
Nowadays, there are a whole bunch of brands that every year announce a new product and it is very easy to get lost and confused in them. That is why this article consists of satellite speakers reviews that focus on the most significant models that will suit any user. Moreover, all described products can be easily installed on shelves, stands, or even mounted into the wall.
Types of satellite surround speakers
While shopping for high-quality satellite surround speakers, you need to clearly understand what type perfectly meets your demands. In general, there are several kinds of speakers, and I'd like to dwell on differences that affect the purity of the sound output.
Monopole
Such a speaker is perceived as a standard variant with drivers embedded in the front of a case. However, since we are primarily interested in the surround sound quality, I suggest naming this speaker as a "direct-radiating" unit to better understand its functioning. Thanks to such an arrangement of drivers, the sound emitted travels directly from the speaker to a listener without covering the sideways area. Lots of speakers currently available in stores belong to this category. I believe that you have a couple at home or installed in your car.
Bipole
Bipole speakers are also called "hybrid" because they combine the features of dipole speakers with a slight upgrade in terms of operation. They are wedge-shaped units with drivers working in a phase. In other words, the drives are moving synchronically. Bipole speakers direct a portion of sound towards a listener, while the rest of the waves will be scattered across space.
What type of satellite speakers should I use?
There is no definite answer to the question because much depends on your demands, the room where you will locate your sound system, and the number of people who will listen to the audio. Therefore, let's cover the topic gradually.
Primarily, you need to determine how acoustically-controlled your room is. Most people usually rely on the trial-and-error method, but if you have purpose-built equipment to check this parameter, go for it. For example, if the room acoustics is well-damped, you can safely purchase bipole speakers. In other cases, you'd better invest in monopole models.
Another important criterion is the size of a room. For compact spaces, bipole speakers are a sufficient choice, while monopole counterparts ideally cover larger areas (5,000 cubic feet and larger).
I also believe that the choice of satellite speakers depends on how large your audience is. If there are 6-9 seats in total, I don't see why you should skip bipole speakers. They will evenly distribute sound across space, and you can hardly demand more. On the other hand, if you plan to organize a larger party/meeting, you'd better opt for monopole speakers. I also believe direct-radiating options better suit the single-listener scenario.
What surrounds should I use for Atmos?
Though many users are chasing genuine Atmos sound, few really understand how to achieve it in the comfort of a house without going bankrupt. Dolby Atmos technology is unrivaled when it comes to mixing movie soundtracks and boosting object-based listening experience.
To savor such sound effects, you need to shell out for 5.1 or 7.1 setups. As for the speakers, you can use either ceiling-embedded or Atmos-enabled surrounds located at stands with drivers facing the ceiling.
The choice of surrounds may be confusing, but avid audiophiles claim that direct-radiant speakers are more fitting for this task. I studied the topic in detail and learned that Atmos itself recommends using monopole speakers for the Atmos system. The only case when bipole speakers may serve as a replacement is in a tight setup.
However, the situation may change in the near future as Atmos technology is constantly evolving. So, chances are high it will be optimized for beautiful sounding even with bipole speakers.
Our pick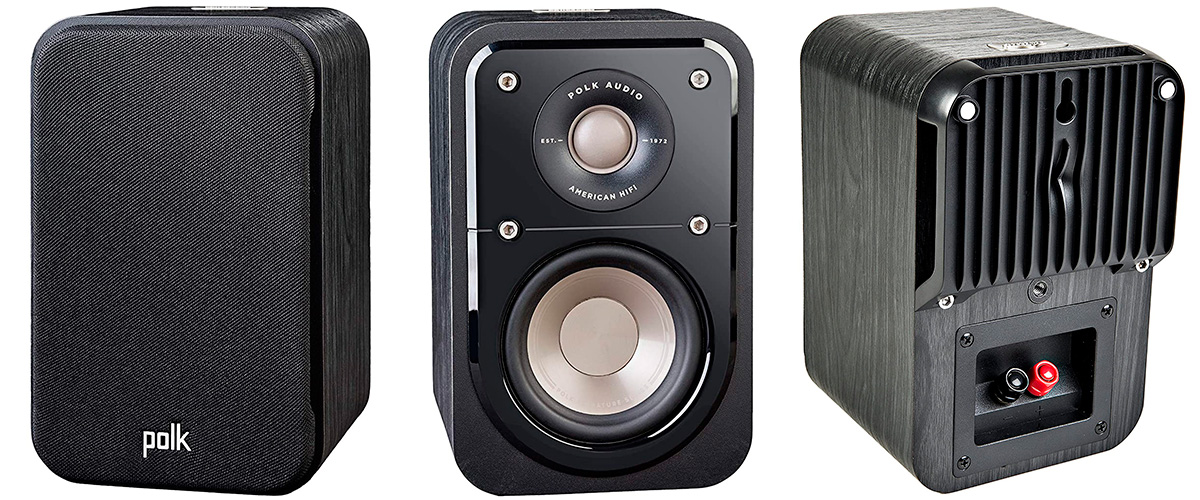 Polk Audio S10
Best Satellite Speakers
American HiFi home theater compact satellite surround speaker
Best Satellite Speakers Reviews
Monopole Satellite Speakers Reviews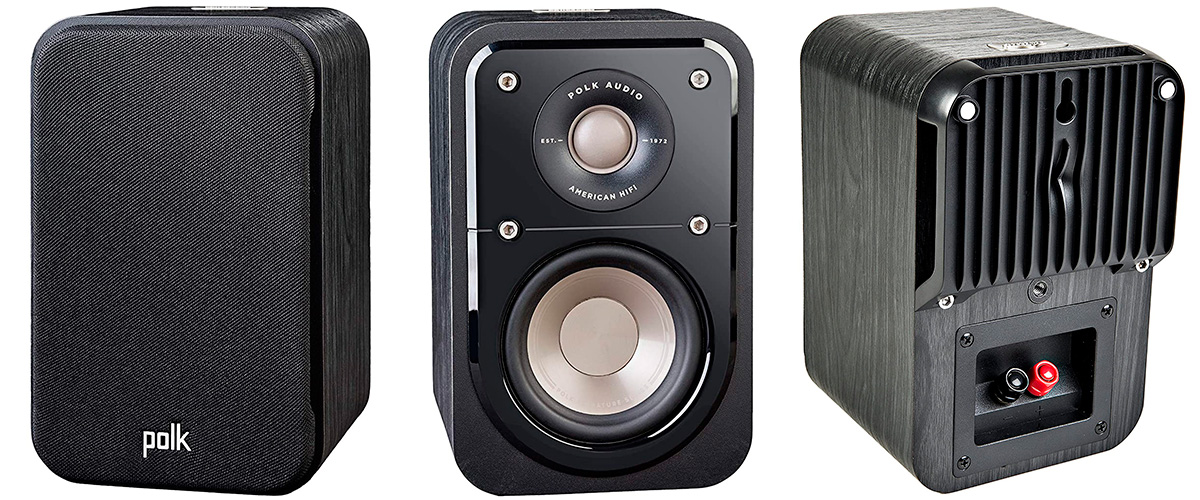 Polk Audio S10 is an excellent device that is specially designed for home theaters to give the users incredible and ambient listening experience. I think S10 can rightfully be called the best satellite speakers for home theater. Guys from Polk have done their maximum to bring the huge and surround sound theater and music experience into the comfort of your living room. Moreover, there are some things Polk surely boasts. First of all, it is their patented Power Port technology. Basically, it delivers a more ambient bass response than a regular back-ported speaker. Construction is designed as impressive as it is even imaginable. S10 smoothly transitions air flow from the speaker and spreads it slightly all over your room for deep, extended bass impact while minimizing turbulence and distortion.
Besides, S10 has pretty comfortable placement options. In my honest opinion, it is really important because it lets you find the right place for them so that the soft, ambient sound would cover the whole room and bring the highest quality experience. Specifically, these mostly can be bookshelf and wall-mountable satellite speakers. In other words, they're versatile so you can easily adjust an angle of sound streaming to perfectly fit listeners' needs.
Polk Audio S10 provides you with the crystal-clear high-end response for vocals and instrumentals in movies and music. In addition, it supports 40kHz to perfectly reproduce the most popular high-resolution audio files. Overall frequency starts from 67Hz up to 40kHz which I find really satisfying. Maximum sensitivity is also pretty solid, about 87dB.
However, despite so many positive points, it's important to remember that the S10 still remains as speakers with only a 4-inch driver. It means they cannot fairly boast deep bass sounds or provide high-frequency effects. Honestly, this part Somehow lacks. Generally, it does not change the basic essence and value of these beautiful compact satellite speakers, and they are still extremely good.
Pros
Excellent build quality
Amazing ambient sound
Comes with some mounting options built into the speakers to fit your needs
Amazing set of speakers for an affordable price
Cons
Comfortable size but a bit heavy
Polk Audio T15 – best budget monopole satellite speakers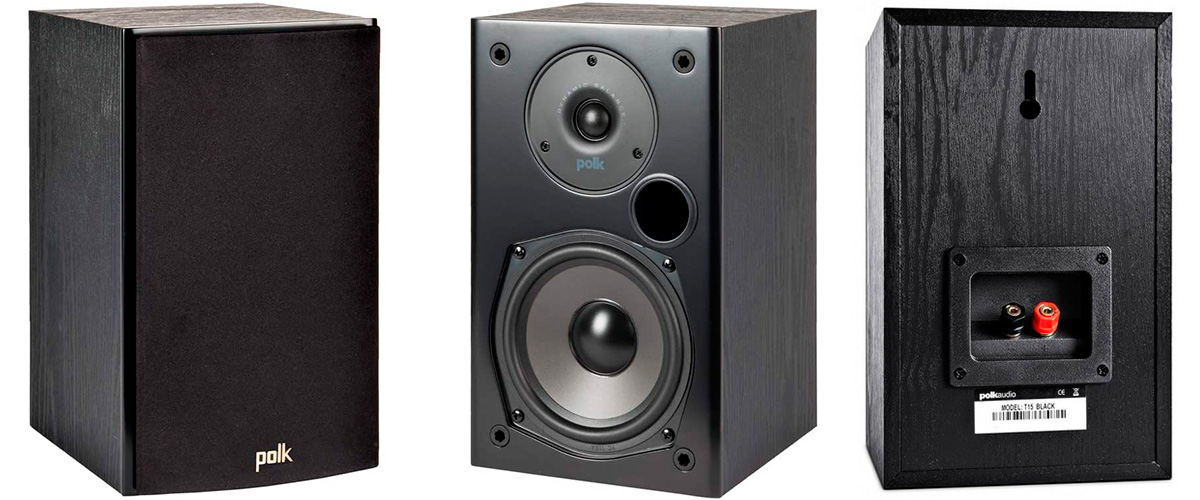 These bookshelf budget speakers are compact and easy to place, even in small rooms. They are made in a damped MDF enclosure with a very neat finish. The acoustics are characterized by very high build quality and reliability, which are usually characteristic of premium models. Any suitable stand or shelf can be used to position Polk Audio T15. In addition, this speaker system is very convenient for hanging on a wall thanks to the front-mounted 3.5cm port combined with a keyhole mount.
These speakers are produced of a half-inch MDF that is topped off with a wood-grain texture which is both appealing and refreshing next to all the vinyl. Polk Audio T15 can be installed close to a wall without the fear of distortion at low frequencies. An interesting feature of the T15 is that its bass reflex port has an output on the front panel, as usually speakers of this size are equipped with a port on the rear panels.
Polk Audio T15 are proprietary speakers that provide detailed and rich audio with a wide soundstage. The woofer of the model is based on Dynamic Balance technology, which combines materials of highly different resonant behavior so that they damp each other's resonances for an overall low-resonant composite. The tweeter featuring the Dynamic Balance design has a wide metal base that protects it from external vibrations and effectively dissipates heat from the voice coil.
The loudspeakers are connected to a crossover filter, which has high reliability and low distortion. The dense, punchy sound makes Polk Audio T15 great for use not only in big cinemas but also in home theaters. They have a relatively high sensitivity and stable impedance and are able to sound very loud with any modern integrated amplifiers and AV-receivers.
Pros
Binding posts provide five reliable connection options
The grille is held to the speaker with quite thick grille guides that do not look like they can break easily
Lots of setup arrangement options – in single or multi-room with 2.0, 2.1, 3.1 systems or an immersive 5.1, 7.1, or 9.1 setup
Cons
Sometimes too sharp on the edge
Bass lacks punch
Polk Audio OWM3 – best small surrounding speakers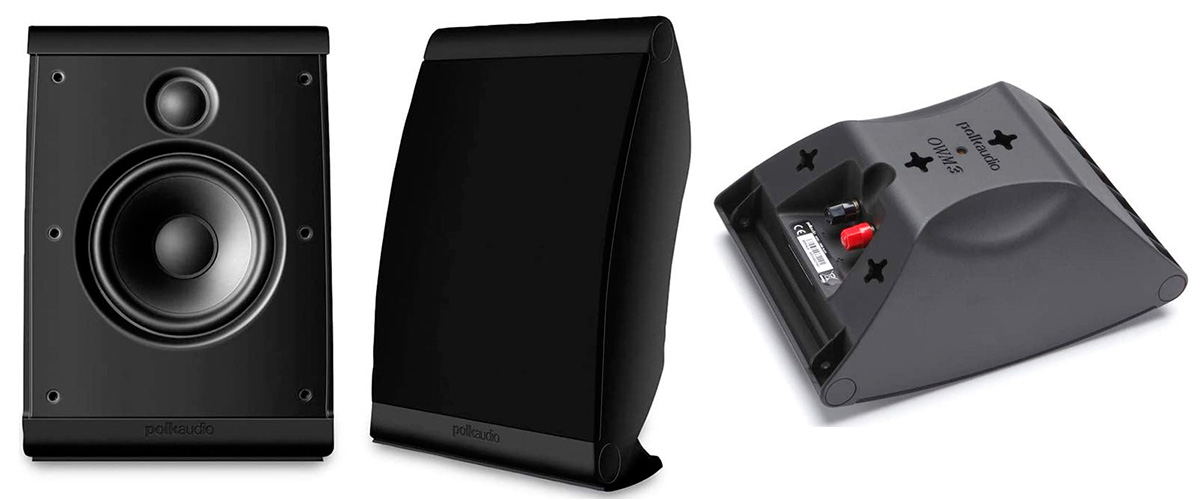 Let's imagine that you've been looking for the best satellite speakers and finally bought Polk Audio OWM3. The very first thing you realise when you'll just open the OWM3 package is that they don't feel too heavy, moreover, they're pretty lightweight and compact. They are made of hard matte plastic that has a very slight texture and it feels really nice. Speakers definitely have an interesting shape and according to which, they can be placed wherever you actually want and oriented in any way you can think of. It can be placed in actually 7 different orientations- horizontal, vertical, corner, angular, shelf, top or even mounted on a wall. Based on this, we can conclude that they are incredibly versatile. They can be used as home theater satellite speakers or plugged directly to your PC and become great speakers for incredible gaming experience.
Despite OWM3's pretty small size, this compact satellite speaker provides you with premium audio quality and literally "drowns" you in its ambient sound. This device delivers excellent sounds from deep bass to exquisite vocals even on high volume without any distortions. It is equipped with a 4.5″ Woofer, 1″ Tweeter, exclusive Dynamic Balance and Capacitive Coupling Technology (CCT) that surely produces detailed sounds.
While taking a closer look at OWM3 specs, it's important to know that Amplification Type
is passive and there is only a wired connectivity option. Basically, frequency response starts from 80Hz and is up to 25000kHz that is very solid for a small 4" speaker. Meanwhile, crossover frequency is 2500 Hz and nominal impedance is 8 ohms. As the manufacturer notes, recommended amplifier power equals 20 Watt.
Pros
Lightweight
Versatility in application
Can be oriented many different ways to fit your need
5 Way Binding posts supports wide variety of connection options
Crystal-clear and detailed sound
In comparing with similar speakers, much more smaller and versatile
SVS Prime Satellite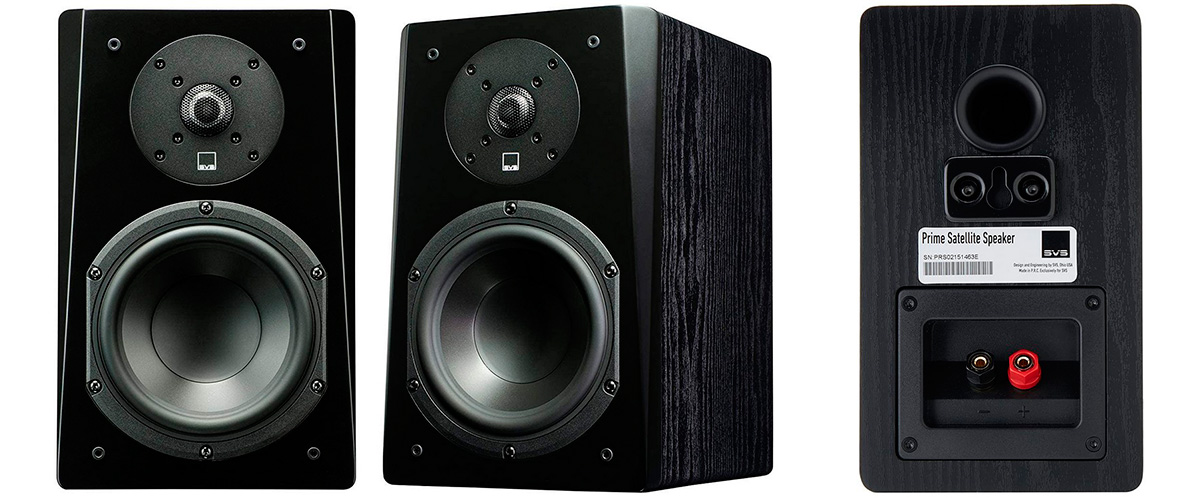 If you still desperately scroll & scroll in search of the best satellite surround speakers, you might be interested taking into consideration SVS Prime Satellite. Despite classic 4 inch size of satellite speakers, this one pretends to be a high performance loudspeaker that deftly plays any role in a home theater or audio system, and shatters expectations while doing it. In such an ultra-compact case, it guarantees maximum build quality and premium quality parts inside. As other similar products, this one also has an ability to be placed however you want. It easily mounts on any wall or ceiling, or sits on any surface , so again, SVS Prime satellite is extremely versatile.
Every aspect of the Prime Satellite speakers was designed to assure faithful clients in it's sonic excellence. While writing this review, I have become absolutely assured that SVSs' one of the most leading rules sounds like "compromises aren't an option." They adhere to this rule in everything: design, product build, active components. In result, we get one of the best small satellite speakers on the market. To prove that, I'll take a closer look at specs and everyone interested will find it out on his own.
First of all, the package includes 2 speakers. Both of them have 2-way crossover channel Qty. Device's frequency response is from 69 to 25000 Hz while the crossover frequency is 2300 Hz. Nominal impedance is 8 ohms and sensitivity equals 85dB. The only thing iPersonally like is 1 inch Aluminum Dome & FEA-Optimized Diffuser. Generally, it provides you with high SPL, minimal distortion, and a sense of utter transparency while listening. To produce an excellent on-axis and off-axis frequency response, Prime deploys a FEA optimized diffuser. If you still wonder whether it is a good thing or not, I should tell you that everyone in your listening room gets the best performance while enjoying excellent lows and highs even at maximum volume level.
Pros
Affordable and qualitative speaker
Excellent sounds in thanks to proggresive technologies
Easy to set up
Bose 161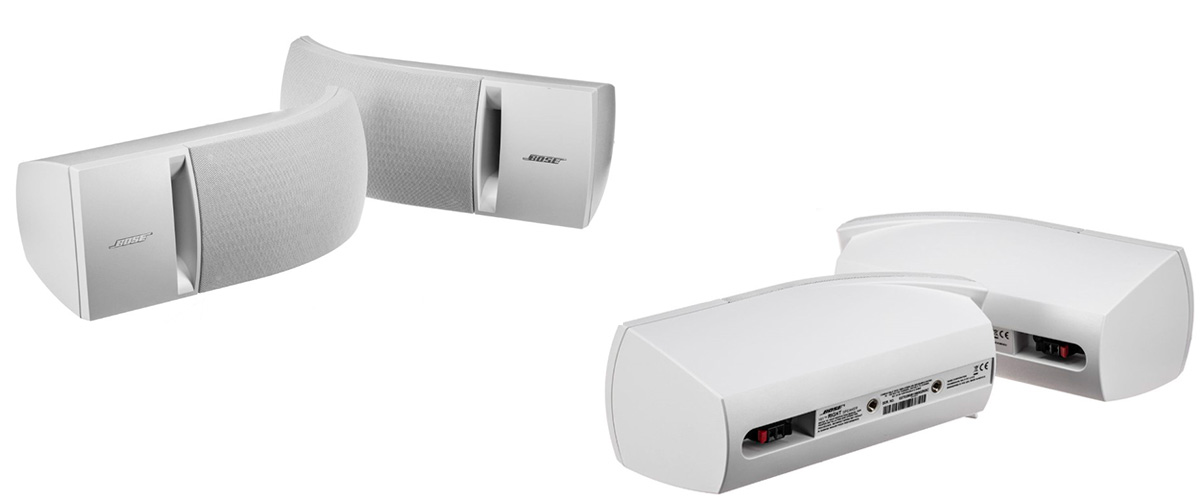 It would be impossible talking about satellite speakers without mentioning Bose 161. Unbelievably compact and versatile speakers 161, in thanks for their design are ideal for use in bookshelf or wall-mount applications. They provide you with rich and balanced stereo sound over a wide area. In addition to their flexibility, it's important to mention Bose 161 custom brackets included in the package. They are especially created for easy installation and flexible placement possibilities. Moreover, this device has a sort of magnetical shield that allows you to place speakers in close proximity to your TV. Speaker is also equipped with automatic protection circuitry that does everything possible to keep the speaker drivers cool and not overdriven. It also improves heightening the speakers' reliability without interfering with your listening. Bose 161 complectation is also pretty solid. There are custom mounting brackets, that offer a range of placement options, self-adhesive rubber feet and of course – user's manual.
Here is a closer look at the box and gear it contains. Bose 161s package includes 2 speakers. Both of them support only wired connection type. Nominal output power is 50 Watt and nominal impedance is 4/8 Ohm. If I've already noticed they're extremely portable, let's dive into dimensions and prove it. Generally, they're 11 x 5 x 4.2 inches while basic weight is 3.31 lbs and 1.5 kg accordingly.
Pros
Compact design
Very lightweight
Features overload protection circuitry
Bipole Satellite Speakers Reviews
Klipsch RP-250S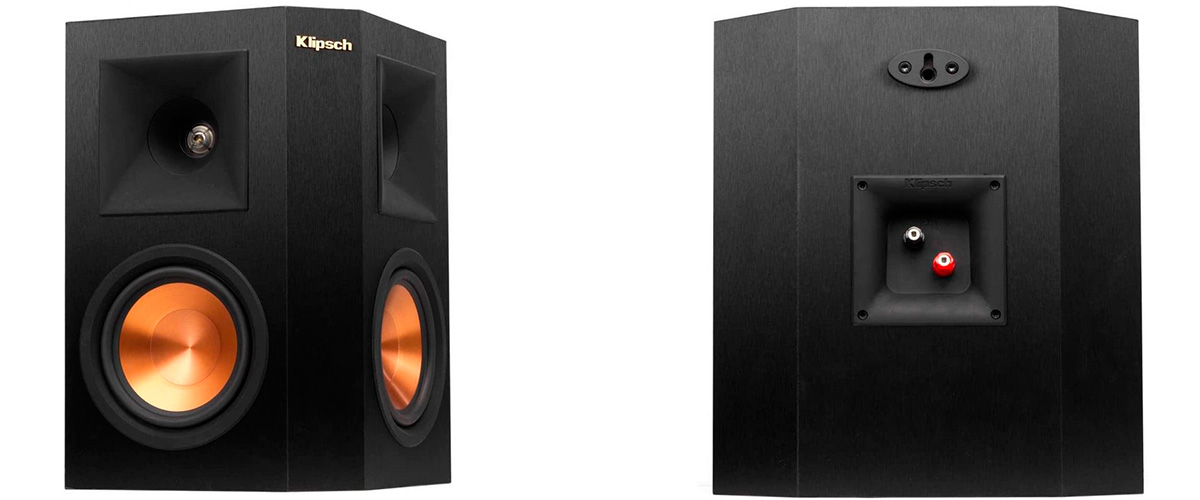 Klipsch Rp-250S tends to be called revolutional best satellite speaker and let's figure out why. As the manufacturer says, they had a mission to get their fans so close to their music they can touch it. Traditionally, let's start with the design. All system components are positioned perfectionistically right. The whole box looks unrealistically cool and modern. Rp-250S is equipped with a 90×90 Hybrid Tractrix to further improve high frequency response and extension, while enhancing sounds and dynamics.
This gear also features A Linear Travel Suspension (LTS) technology to minimize distortion and provide you an excellent sound clarity. To my mind, Klipsch spent lots of weeks taking satellite and ambient sound to another level and to be honest, I'm assured they did it.
RP-250S is interesting because of many features it includes. For example, it has dual 1″ LTS titanium tweeter for a stable sound, dual 5.25″ spun copper cerametallic cone woofers that guarantee the device's lightweight and minimal distortions. RP-250S is also finished with brushed polymer veneer baffle finish to incorporate it in any interior. Its frequency response is 58 Hz to 25 kHz and sensitivity of 95 dB. It can handle continuous power of 100 W while the peak is near 400W. However, I think it's weight cannot be left unnoticed. It equals 15.7 lbs or 7.12 kg. Despite it having lots of features for that price, you should definitely take weight into account as wall or ceiling mounting may cause some troubles in future.
Pros
Has the latest technology features
Provides unbelievably amazing ambient sound
Smooth design for every interior
Cons
Very heavy as for satellite speaker
Fluance HFBP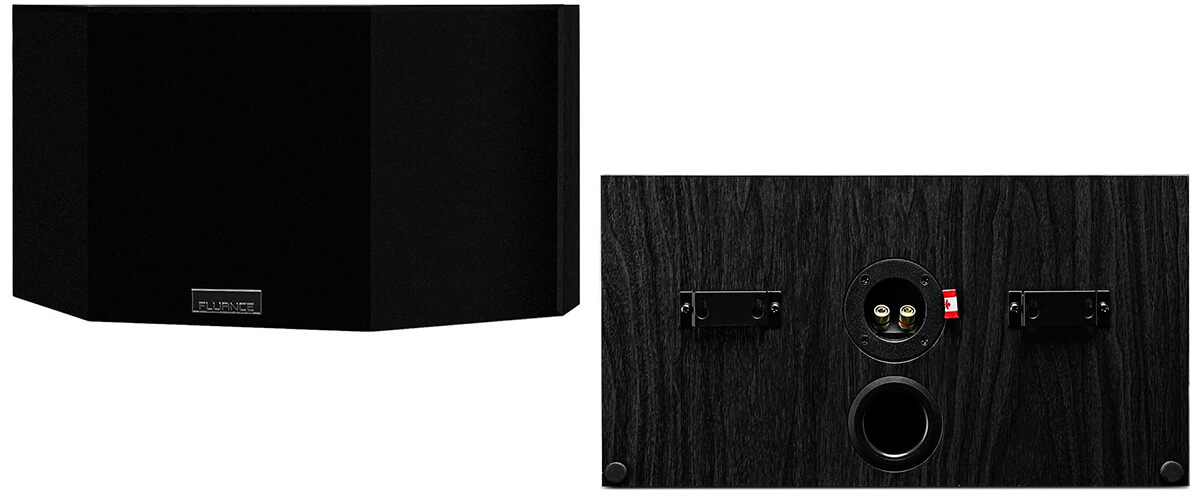 Being a praiseworthy representative of the Signature Series Bipolar speaker group, Fluance HFBP has won the hearts and minds of movie lovers who want to create a convenient home theater in their houses/flats.
At first sight, you feel that the model is designed to become a centerpiece of your speaker setup without cluttering the space. During the test, I got genuine surround sound in every corner of my studio. Thanks to the bi-directional design, the soundstage reaches that desirable 3D scale. In addition, the company's engineers added two tweeters to the construction on the opposite sides of the case, so there appears a perfect combo of direct and indirect sound.
After several runs, I understood that it's better to place the speakers behind or beside listeners for a more encompassing sound experience similar to what you get in a real theater. However, I was doubtful whether the speakers could deliver the purity and details promised by the manufacturer and was amazed when they accentuated the movie's tiniest details even at high volumes. That is possible thanks to embedded midrange drivers and a pointed dome.
All in all, the HFBP speakers sound and look great. Use them as sides in your surround system and enjoy the pure and deep sound. The only issue you may have is mounting, but that is a one-time challenge, and it doesn't directly affect the functioning of speakers.
Pros
Can blow even major high-end manufacturers out the water in terms of sound quality
Blend well with the SVS front, center, and subs
Neatly designed with an elegant finishing
Cons
Troublesome mounting
Disappointing with bass, so you need to use additional sub
Buyers Guide
How to set up a surround sound speaker system?
Once you've made the choice about speakers, another question has come, how exactly do you place them so that your home theater experience becomes as enjoyable as possible?
It is actually very easy to do. The first thing you need to know is that all speakers should be placed approximately at the level of the listener's ears. In my opinion, it is best to have a center speaker as well, since it is usually the most powerful one and transmits sound to the side or satellite speakers. Left and right speakers, although they produce the sound a little weaker, they perfectly help to plunge into the atmosphere of music or a movie.
Satellite speakers play an incredibly important role in this matter. They make the sound more spacious and ambient. A properly configured connection between speakers will almost always guarantee you a spacious sound that envelops you. Thus, by setting the entire grille correctly or experimenting, you will get an incredibly lively and rich sound. By the way, make sure that all devices you use can be interconnected.
Where should you place my satellite speakers?
You are actually in one one step away from enjoying the absolute awesomeness of your new satellite speakers. This step is the proper speaker placement. Satellite speakers are specially designed to convey a sense of spaciousness when viewing or listening. Their first aim is a reproduction of mid- to high frequencies. In a properly equipped home theater, satellites mostly take care of the high-ends while other speakers take care of other sounds. I think it's most suitable to place them directly behind or closer to the listener's side.
I understand that the interiors are always different and you may not have a possibility to, so I think the ultimatum rule is: put them at 90 degrees on each side of the listening position. Moreover, users give lots of complaints about set up because they have a small room. To my mind, it's not a problem at all, simple mounting your satellites may involve speaker aiming and toe-in – adjusting speaker angle. These speakers usually have to be placed a little higher than all the others to provide the most volumetric sound around the entire perimeter of the room. As I know, the most common placement is 1 to 2 feet above your head.