Smartphones, tablets, and PCs let us listen to music wherever we go. However, if you want to enjoy favorite tracks without headphones, then it is time to choose the best Bluetooth boombox. You can take such a device with you when going to rest with friends. It is normally pretty lightweight and takes minimum space, so carrying the unit is not a problem.

I have made a list of the most impressive speakers that can be found on the market. Each of them deserves your attention. Trying to choose perfectly sounding boomboxes, I considered a lot of different aspects. For instance, every description includes info about the output power. This feature does not affect the sound quality but characterizes the maximum volume of the boombox. Support for various types of connections is important as well. The more ports your speaker has, the more different devices it is compatible with. The most common ways of connection are Bluetooth, Wi-Fi, and wired connection using a standard 3.5-inch audio jack. A variety of styles and designs and a wide range of prices make boomboxes popular.
Our pick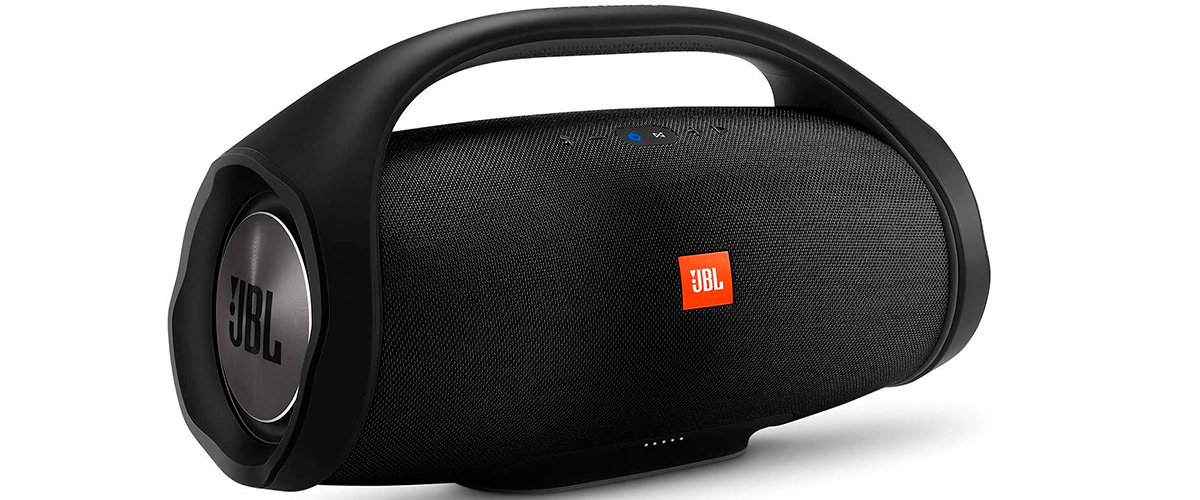 JBL Boombox
The Best Bluetooth Boombox Reviews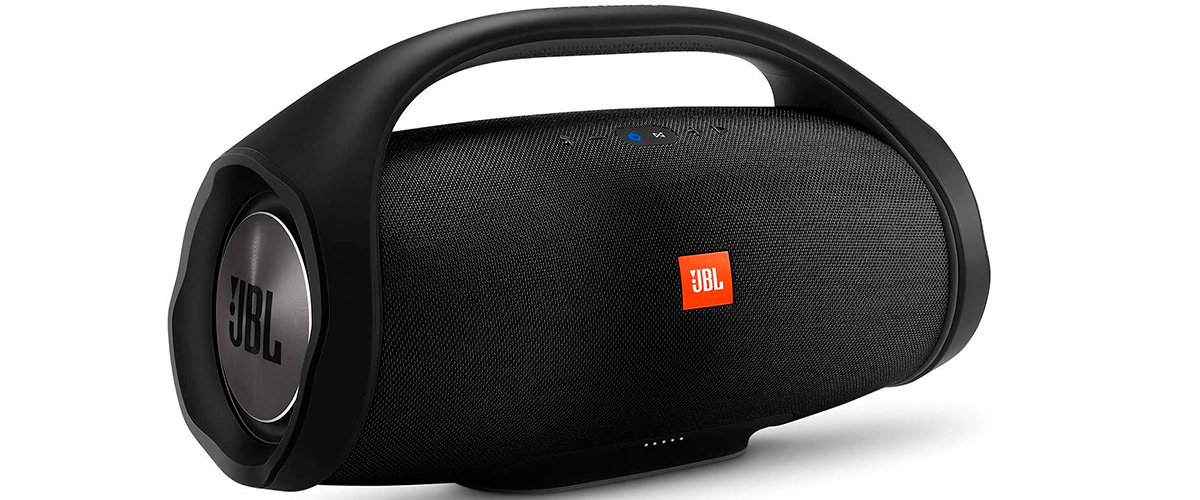 This device can work up to 24 hours without a stop. So, you just have to charge it for 6.5 hours before going for a walk with friends. This and other features make it the first on my list of the Bluetooth boomboxes. A 3.5 mm audio cable input comes with the boombox. I got a pretty detailed sound since this appliance has a wide frequency response which is 50 Hz – 20 kHz. It provides incredibly powerful audio performance, with booming bass and sculpted highs. The beauty of its sound is the lack of distortion at higher volumes.
Another benefit of the device is the fact that it is IPX7 waterproof. It means that you can listen to music when it rains without being afraid that something can happen to the boombox. Even swimming in a pool with this unit is possible! The back of the speaker houses a covered connections panel — this cover must be closed in order for the JBL Boombox to remain waterproof.
If you want to know why this is the best Bluetooth boombox, then I am going to tell you about JBL Connect + which will allow you to connect the speaker with up to 100 (yes, you read that right – 100) other speakers via Bluetooth. This gives you an opportunity to double the volume or simply listen to stereo sound. You can switch between Indoor and Outdoor modes (there is a special button on the speaker for that). In addition, you can choose between Party and Stereo. One more thing that makes this appliance attractive is the Voice Assistant integration.
JBL Boombox supports Bluetooth 4.2 and has 80 dB of the signal-to-noise ratio. It also has to be mentioned that the output power is 2 x 30 W. This boombox weighs 5.2/11.5 kg/lbs and has a handle for carrying. This is not the kind of portable speaker you can throw in a backpack but I also cannot call it very heavy. Speaking of the dimensions of the boombox, it is 45.8 x 25.4 x 19.5/19.4 x 10 x 7.6 cm and inches respectively.
Pros
Available in black or camouflage models
There is a built-in mic for voice calls
On either end of the speaker, there are two large passive radiators that aid in pumping out bass
Cons
There are no equalizer (EQ) or custom audio profiles to personalize the sound a little
Not for purists who are looking for flat response-style sound signature
There is no Google Cast, Spotify Connect or Apple AirPlay support
Aiwa Exos-9 – best bass and loudest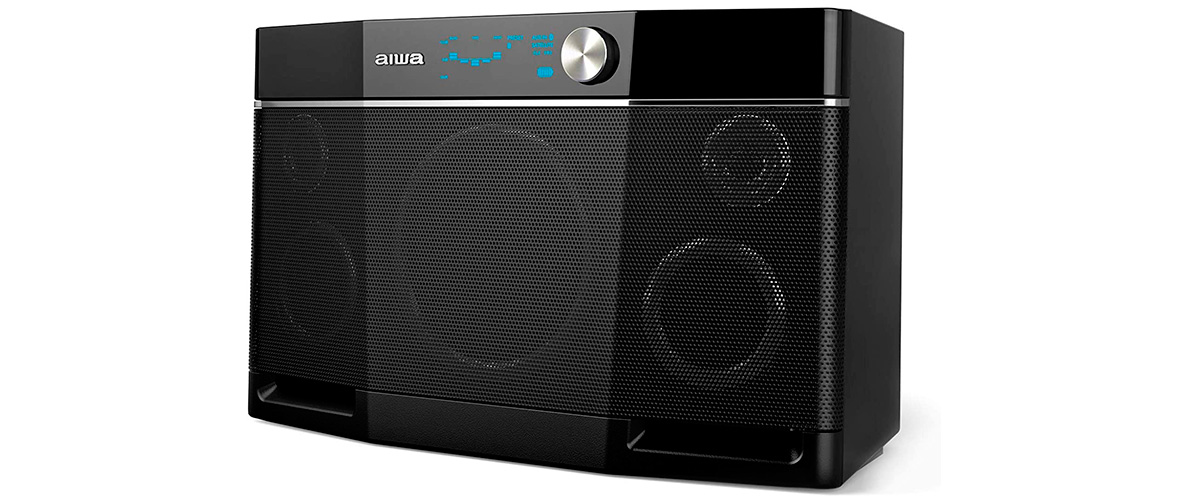 This appliance is among rechargeable boomboxes with the greatest bass. The bass is quite deep and very warm yet can be ramped up to a punchier and booming sound. Moreover, the Exos-9 is the loudest one on my list. This speaker will have no problem filling the largest of rooms in your house with music. One of the ways of connection it has is aptX. You can also connect it with your phone or tablet via NFC. In addition, there is a 3.5 mm audio jack for direct connection.
I decided to find out what makes this device special and was impressed to learn that Aiwa Exos-9 has 200 Watts of continuous power and 5 drivers, including a 6.5″ dual-voice coil subwoofer. Its frequency response is great as well — 40 Hz – 20 kHz. With this unit, you can enjoy up to 9 hours of playback. The manufacturer also offers to buy an 18-hours lasting battery if you need more. Recharging takes about 5-6 hours. Keep in mind that you need the mains power connection for recharging the battery.
The heft makes sense when considering the size of the unit itself. The speaker weighs 5.8/13 kg/lbs. This boombox is pretty big since its dimensions are 48.2 x 28 x 17.7/19.4 x 11.7 x 7.5 cm/inch. However, real audiophiles know that the larger the surface of the speaker, the more powerful the sound it can reproduce. The entire speaker is black with small silver accents like the aluminum volume knob. Aiwa does offer an optional carrying case which gives the speaker an IPX4 splash and dustproof rating.
On the front of the boombox, you will find an LCD panel that shows the EQ settings you are using, level of battery, etc. By the way, there are 5-band with 4 equalizer presets. Speaking of control, there is a touchpad on top for play pause and other functions.
If you want to get an extremely powerful sound, link two Exos-9 speakers together as an LR stereo pair or link two rooms for a big house party. For those who are wondering about the signal-to-noise ratio, I will mention that it is 100 dB.
Pros
The customizable EQ makes every genre of music sound amazing
There is a Battery Save Mode EQ setting
You always can see how much battery is left thanks to the battery level indicator
Cons
There is no smartphone app to control the speaker
Marshall Kilburn II
Let me show you this fantastic speaker for outdoor use that can be found in other Bluetooth boombox reviews. Marshall Kilburn II supports Bluetooth 5.0 and aptX. There is an uncovered 3.5 mm aux input. You have to spend only 2.5 hours charging this device. After that, the boombox can be used for 20 hours. But there is also a quick charge option that allows you to use the boombox for 3 hours after 20-minutes charge. The speaker is IPX2 waterproof which means it can withstand a little water.
I find it important to mention that the frequency response you get with this appliance is 52 Hz – 20 kHz. Its pronounced and articulate sound will amaze you. For such a small speaker it packs a powerful punch in terms of volume. The bass and treble controls let you tailor the audio to your preferences.
So, why did this water-resistant boombox get into my list of the greatest devices? There is something special about its output power which is 36 W. It has two dome tweeters (2 x 8 W) and one woofer (20 W), driven by three independent Class D amplifiers. The device weighs only 2.5/5.5 kg/lbs. With regard to its dimensions, it is 24.3 x 16.2 x 14/9.5 x 6.4 x 5.5 cm/inch.
The iconic Marshall logo in white makes the unit perfect for those who want to boast of the speaker from the legendary manufacturer. In terms of design, it looks like a rectangular box covered in a soft-touch material that from a distance looks a bit like leather. Flush corner caps give the boombox a rugged and durable feel.
Pros
Available in 4 colors: black, grey, burgundy, indigo
The new "multi-host" function lets you easily connect and switch between two Bluetooth devices
Has the removable strap that is helpful for transporting it around
JBL Charge 4 – smallest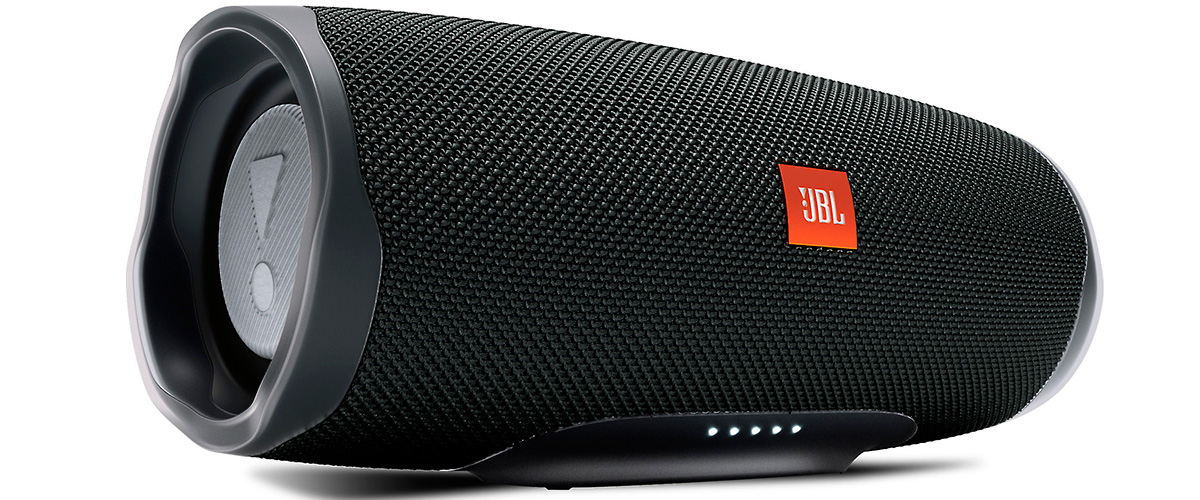 Take a look at this boombox which is the smallest one here. Although its dimensions are 22 x 9.5 x 9.3/8.6 x 3.7 x 3.6 cm/inch, the features of the unit are pretty impressive. Let's start with the fact that the device is IPX7 waterproof and can handle being submerged in water to a depth of 1.5 m. So, you can leave it under the rain or take a shower enjoying music. I have to say that the appliance is pretty light, too. It weighs only 1/2.2 kg/lbs. On top of the speaker, you will find all of the speaker's physical controls.
You can charge the speaker via USB port. After 4 hours charging its high-capacity 7500mAh rechargeable Li-ion battery provides approximately 20 hours. Another thing to consider is that the device features JBL Connect+. So, the boombox can wirelessly link more than 100 JBL Connect + enabled speakers.
JBL Charge 4 supports Bluetooth 4.2. The 3.5 mm audio cable input makes a wired connection possible as well. When it comes to frequency response, it is 60 Hz – 20 kHz. Its output power is 20 W. I would also like to share with you the information about the signal-to-noise ratio which is 80 dB. Speaking of the sound, the mids are great, they let vocals come through loud and clear. The JBL Charge 4's audio is classy and surprisingly refined for a mainstream speaker.
Pros
You can also use the JBL Charge 4 to charge your phone or tablet
Compact and easy-to-carry in a backpack
Has the characteristic exposed dual passive radiators on either end
Cons
Lack of Wi-Fi and no native support for digital smart assistants
The buttons that aren't lit up are hard to see in the dark
Harman Kardon Go+Play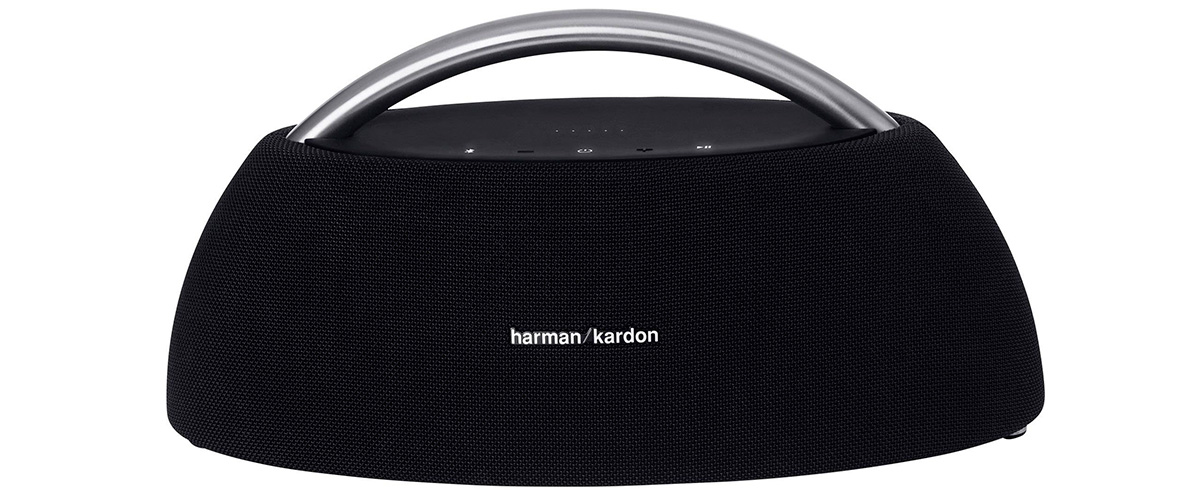 I am going to introduce you to this unusual looking speaker with a nice handle for comfortable carrying. It is made of robust metal and has a satin finish that does a good job resisting fingerprints.
The output power of the device is 4 x 25 W. It is worth mentioning that the frequency response is 50 Hz – 20 kHz. This speaker will fill your room with a full spectrum of sound powered by its quad drivers. The depth of the bass frequencies is awesome. Where most Bluetooth boomboxes just cannot provide sub-bass frequencies, they are no problem for Harman Kardon Go+Play. It manages to keep up with the great speed and not bleed heavily into the midrange.
It does not weigh much — only 3.4/7.4 kg/lbs. Its size makes the speaker pretty compact — 41.7 x 21.1 x 18.1/16.4 x 8.3 x 7.1 cm/inch. One more technical feature you have to know about is the signal-to-noise ratio which is 80 dB.
The device supports Bluetooth 4.1. Do you wanna know how much time you can listen to music with this speaker? The battery life of this portable Bluetooth boombox is about 8 hours after 3 hours of charging.
Let's discuss the design. The front and back of the boombox are covered with a curved woven grille, all-black apart from the bright silver Harman Kardon logo dead center on the front. The rubbery feets located on the bottom stop you from having to worry about damaging some surfaces in your house.
Pros
You can charge your phone or tablet using a USB port on the back
Build quality is exceptional as it blends the line between industrially rugged and modern stylish
Available in both black and white
Cons
No Wi-Fi or multi-room
Probably not suitable for those who crave the delicate and agile sound
Buyers Guide
Things to consider before buying a Bluetooth boombox
Wherever you are going to use a boombox with a wireless connection, certain things must be considered anyway. Usually, manufacturers create a new device with some purpose in mind. For example, some speakers are perfect for bass-heavy music, while the main benefit of others is their lightweight built and water resistance.
A portable speaker is comfortable to carry a tiny one with you for walks and picnics. And with a heavier boombox, you can have a cool party. But which wireless model to choose so that it is compact and sounds powerful? My list of popular portable speakers will help with this.
Loudness and sound quality
With volume, everything is pretty clear — the higher the power, the louder the sound. For example, a 15-20 W speaker is capable of delivering sound up to 80 dB, which is enough to listen to music on a noisy street.
In addition, the frequency range affects sound quality. A human can hear sounds from 20 Hz to 20 kHz. A boombox should be able to sound in the whole range, and even better — overlap it.
Battery
Battery life should be at least 5 hours. The longer it lasts after full charge, the better the speaker is. Some boomboxes on my list can work for so long that they can even be used as Powerbank for other devices such as phones or tablets.
Connectivity
The vast majority of wireless boomboxes also offer a wired connection method. For this, they have a 3.5 mm input. If you do not want to deal with an audio cable, buy the devices with Bluetooth and NFC support.
Portability
The more lightweight the speaker, the easier it is to carry. The best wireless boombox should have up to 3 kg, this makes it perfect for tailgates, camping, fishing, backyard fun, the beach, or any other outdoor activities where nature has not installed power outlets. You can take them with you everywhere you go.
Rugged and waterproof Bluetooth boomboxes
Here I showed you the speakers that feel sturdy and durable. I think only rugged units deserve the music lovers' attention. But durability is not only manifested when the speaker falls to the ground and does not break. If you buy a waterproof boombox, then it will be safe even in the rain. There are several levels of water resistance. For instance, IPX7 means that you can swim with the speaker in the hand, while IPX2 protects the device only from the little water.
You can choose the best waterproof boombox from my list. The speakers introduced here are made by famous manufacturers and offer a lot of great features that will provide you excellent listening experience.