Choosing a microphone headset can be difficult even for a professional musician with a perfect hearing and a lot of experience. The best wireless microphone headset must be convenient, easy to use, versatile, and expandable. The thing is that there are thousands of devices that meet these requirements. That's why I decided to figure out what models should be chosen by those who want to find the most appropriate microphone sets.
Let me show you several reliable gadgets that deliver a perfectly clear sound as usually, the sound is the highest priority. Another thing that needs to be considered while buying such a headset is reliability. Moreover, in case it breaks, the device has to be fixable in the field. Only the set of these properties will let you give a public speech freely, with no worries about the microphone.
As you can see, almost all the headsets in this review are made by Shure. It was not my intention to describe only the devices of this company but the result is not surprising since Shure has many years of experience in producing handsfree wireless microphones. This brand is pretty famous and its products are used for speeches to the thousandth audience.
So, if you want to know more about this manufacturer and find out what headset models are the most suitable for you, just keep reading.
Our pick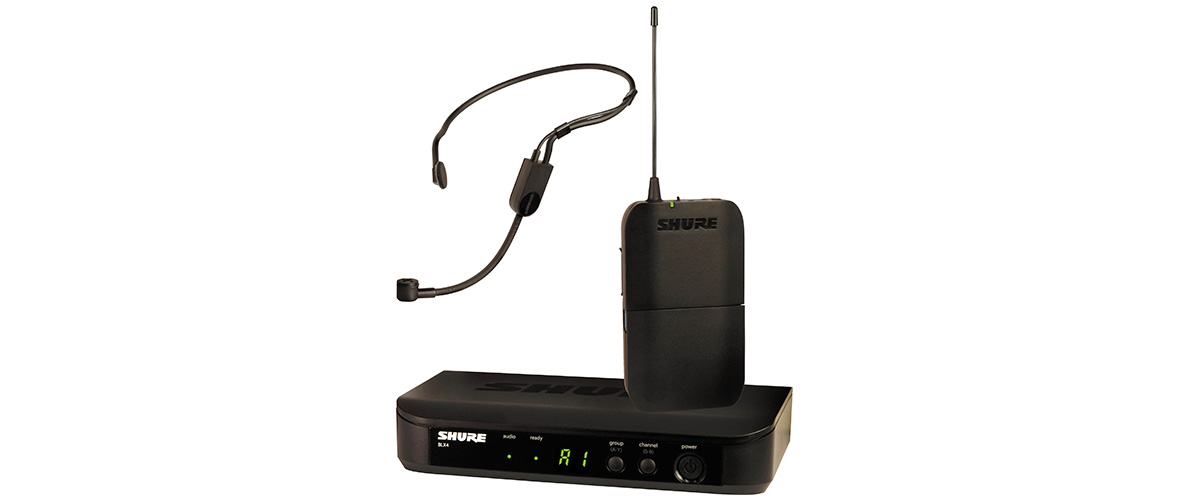 Shure BLX14/P31
The Best Wireless Microphone Headset
Best Wireless Microphone Headset Reviews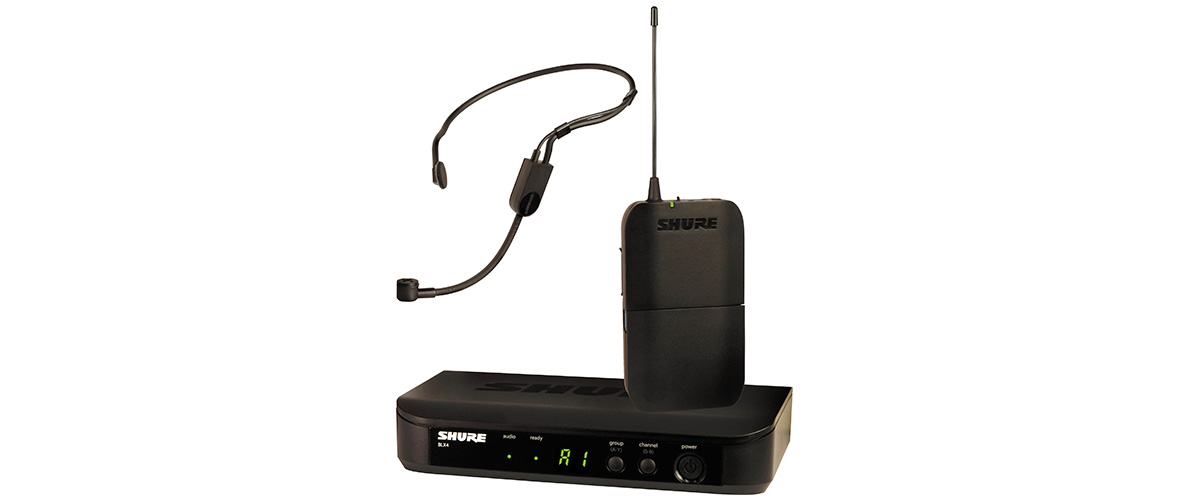 I am going to start with a gadget that has a cardioid polar pattern. The BLX4 single-channel receiver is pretty durable and has very intuitive controls. To add, there is a microprocessor-controlled internal antenna diversity. Two AA batteries let you use the device for about 14 hours, which means you can give your speech with confidence. The sound produced by Shure BLX14/P31 is crystal clear. The vocal intelligibility and exceptional comfort of this microphone headset make it a leader in its class.
It is incredibly comfortable that the LED display shows group and channel settings. Moreover, there are 2 additional LED lights that show when the microphone headset is ready for use.
Speaking of its frequency response, it is 542 – 572 MHz. One-touch QuickScan frequency selection quickly locates the widest frequency in case of interference. There are 123 available frequencies. Up to 12 microphone channels can operate in each frequency band at the same time.
The thoughtful gooseneck design with discrete adjustment options give you an opportunity to position the mic for decent noise isolation in loud environments. This system is great for speeches and vocal performances in small music venues. It is also suitable for wedding halls, conferences, and houses of worship.
This electret condenser with an analog system is a great choice for mid-level budgets. You are going to be impressed with the durability of this product. The device works at a range up to 300′. I have included Shure BLX14/P31 in my wireless headset microphone review since it has professional features and high quality.
Pros
Available in a huge selection of handheld configurations and bodypack
You will get a bodypack transmitter and microphone windscreen with it
Cons
The cord cannot hold up to daily use for more than several months
Shure SM35 – best budget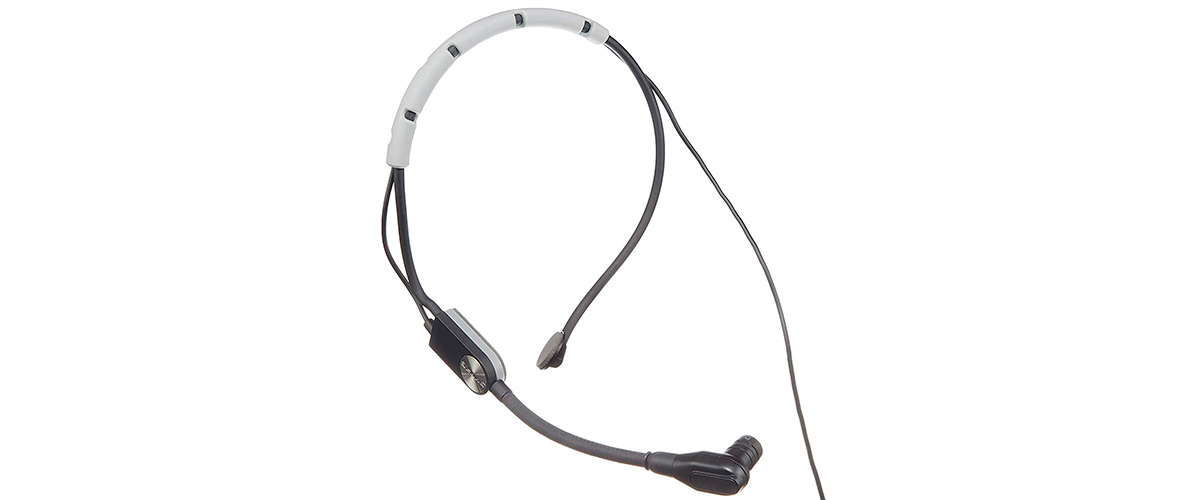 This is a condenser type of a microphone headset. The board features a mute switch, a solid-state pre-amp, and a TC Mic Mechanic. The microphone cartridge is small enough to not distract attention. This part of the device does its job very well providing strong, full sound while minimizing feedback. Shure SM35 has a low-profile form that enables long-wearing use.
Sound quality is awesome, however, be ready to adjust your singing technique to accommodate the fixed mic position. Shure SM35 is lightweight and easy-to-use. However, the microphone headset is pretty large. It comes with a clip-on windscreen.
This is a perfect wireless microphone for fitness instructors. The gadget holds tightly and allows you to speak while doing some exercises. I find Shure SM35 the best wireless microphone headset for multi-instrumentalists in live vocal performance. It has a "de-essing" tone option that sounds amazing and makes the soundboard operator's job much easier. I would suggest buying this set for those who are looking for a gadget that hooks directly to a mixer or PA system instead of wireless.
Shure SM35 rejects feedback and does not pick up any stage noise, or the breath of the speaker when he is not speaking or singing. This gadget is made for musicians who really value performance and reliability above anything else.
It is equipped with a TA4F (TQG) connector that is compatible with any Shure wireless bodypack. However, for use with Shure wireless systems, you will need a transmitter and receiver.
Pros
You get two windscreens, microphone clip, user guide, and preamp with this device
Convenient even for those who wear glasses
Cons
Can seem bulky and awkward at first
Comes without a carry case
Shure GLXD14R/MX53 – best premium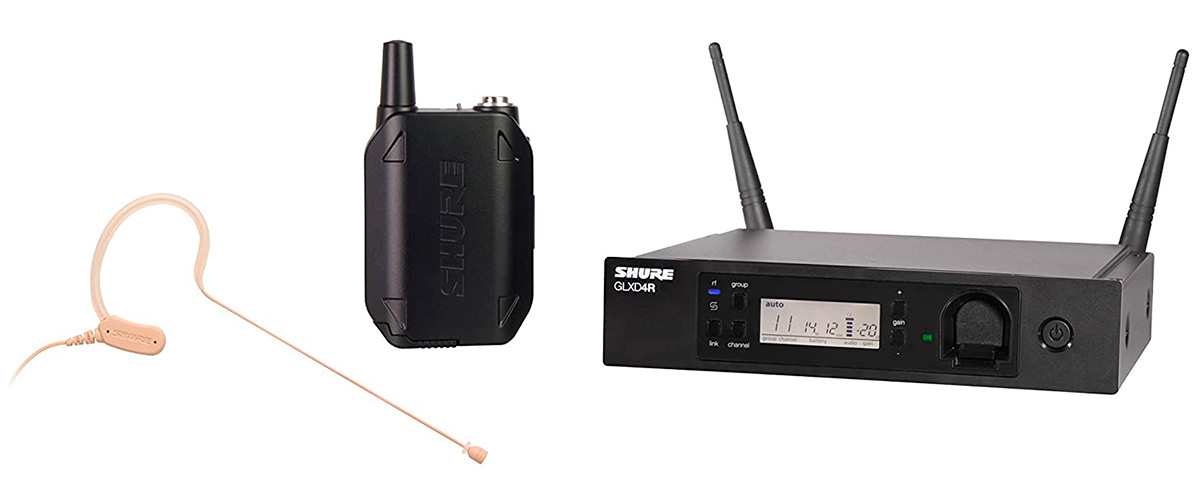 The next device here is the condenser microphone set with an omnidirectional polar pattern. The frequency range of this digital system is 2.4 GHz. What makes the construction special is a rugged metal receiver housed in a half-rack chassis and two removable antennas.
The transmitter offers approximately 16 hours of work on an SB902 rechargeable lithium-ion battery. Since the system automatically turns off, the mentioned battery life seems really long. Keep in mind that the transmission range is up to 200′.
It is great for use in small and mid-sized venues. I have to mention that this device is pretty easy to carry thanks to its ultra-lightweight, comfortable, and flexible design. There is a LED display that allows you to see the channel you're operating. In addition, it shows a level meter, and the remaining battery life of the transmitter: Green: Charged, Flashing Green: 90% charged, Red: Charging.
When you turn on the receiver, it automatically finds the cleanest available frequency range, that helps avoid time-consuming frequency setup. The manufacturer used a CommShield Technology that guards against interference from cellular RF gadgets and digital bodypack transmitters.
One more reason to buy Shure GLXD14R/MX53 is the fact that this gadget will let you run up to 8 mics at the same time. Moreover, if needed, you can get an additional UA846Z2 frequency manager which lets the system operate up to 11 mics simultaneously.
Pros
The setup is exceptionally simple: just press one button on the receiver, then one on the transmitter and the system is ready to operate
Remotely adjustable transmitter gain control
Durable design with rugged metal construction
AKG C520L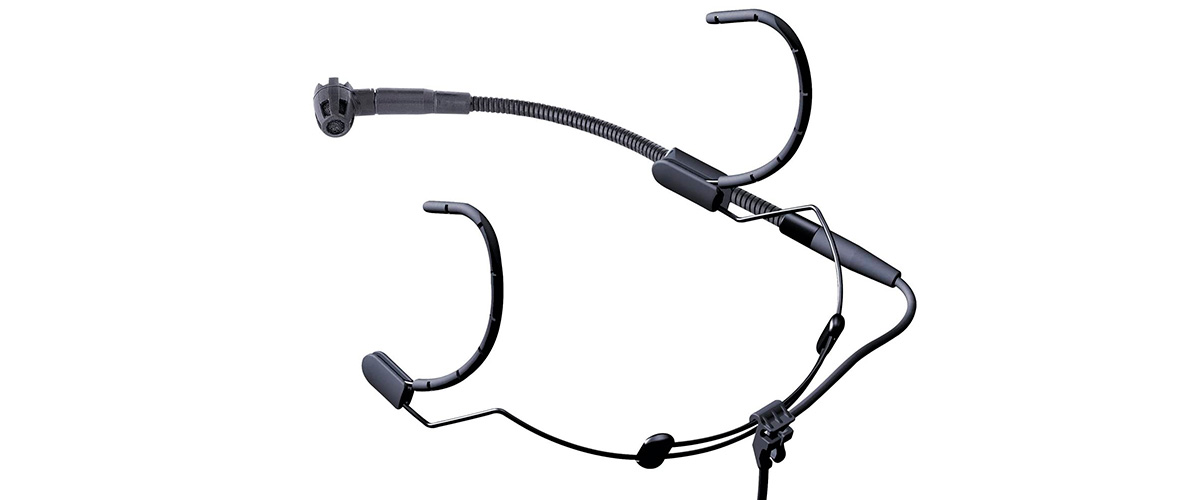 If you are looking for a wireless microphone headset for singing, pay attention to this model with a cardioid polar pattern that rejects unwanted ambient noise. This gadget can be used with the AKG WMS series transmitters, B 29 L battery power supply, or the MPA V L adapter. Vocal quality is excellent, this device puts out a very strong signal that requires only little gain/amplification.
The wireless headset microphone for singing is incredibly light, its weight is only 26 g/0.9 oz. The headband can be easily adjusted for maximum comfort and total freedom of movement. This condenser system will be convenient for those who wear glasses. You can place the microphone on either the right or left side, depending on what is more comfortable for you.
The system is equipped with a moisture shield that helps prevent perspiration from penetrating into the transducer element, in this way ensuring a high degree of humidity protection for the microphone itself. You will get this gadget with a W44 windscreen. The frequency response of AKG C520L is 60 Hz – 20 kHz. Speaking of its sensitivity, it is 5mV/Pa 9-46dBV. Such a microphone is a good choice not only for live vocals but for fitness, too.
It needs to be mentioned that this mic can be used as a wireless gadget only with a transmitter. If you are going to use it with a wire, then you have to know that the cable is 1.5 m/5 ft long.
Pros
Has a professional mini XLR connector that can be used for AKG wireless body-pack transmitters
Perfect stage microphone for singing keyboardists, drummers, guitarists, and other performers
Cons
Can be too big for small-sized heads
Shure SM31FH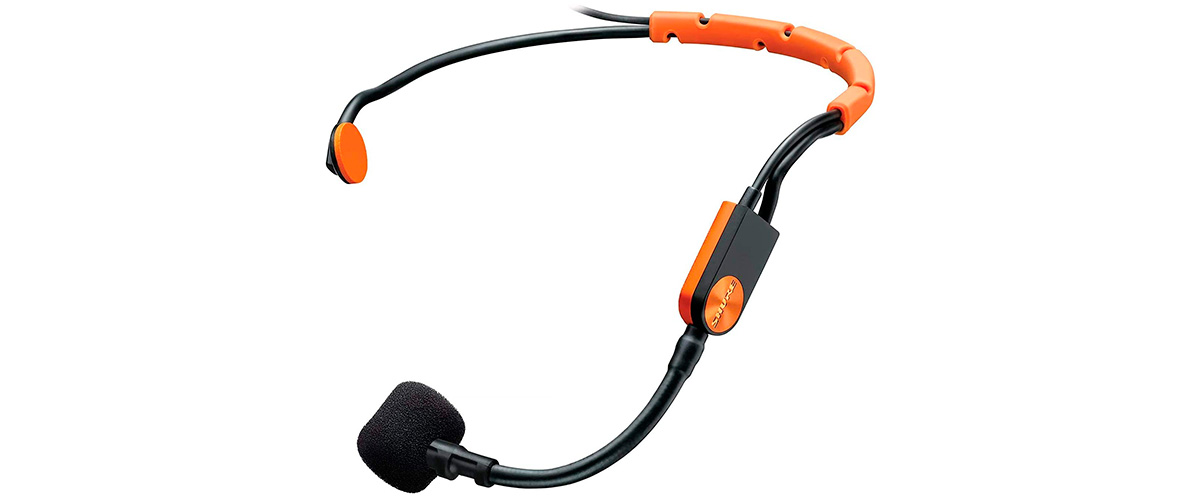 A good fitness trainer should give all the instructions maximum clear and it is not only about what he is saying. The condenser microphone will help you to talk without raising your voice since it is pretty powerful and delivers crystal clear sound.
There is a cable, but it has to be connected to the battery pack that attaches to clothing. If you want to use it with no wires, you will need a transmitter and receiver. In this case, you have to attach the battery pack to your clothing.
An important thing to consider when choosing a fitness microphone is the functionality of the product. The mentioned gadget features a cardioid polar pattern that protects the system from ambient noise. Note that Shure SM31FH is moisture-resistant which means you can do the workout even in a swimming pool or when it rains a little. To add, the hydrophobic, moisture-repellent fabric covering the microphone protects it from sweat and helps resist corrosion. This is a reliable wireless microphone for fitness instructors with exceptional durability.
The microphone headset has a super flexible gooseneck that lets you feel as comfortable as possible using the device. With Shure SM31FH you can do any activities without being afraid that the gadget will fall or you will not be heard clearly enough.
Pros
The design is a combination of black and orange that looks sleek
You can easily adjust the volume of your voice or the audio and it is possible to turn it off or on with just the click of one button
Features TA4F 4-pin (TQG) connectors that make it a viable replacement for any Shure wireless headset system
Cons
When using the microphone underwater, there can be a slight echo
Buyers Guide
The directionality of the microphone
There are 4 main kinds of the directionality of the microphone. The system can be omnidirectional, cardioid, hypercardioid / supercardioid, or bi-directional. Let's talk in more detail. Omnidirectional microphones are mostly used for public speaking and group vocals. These types of gadgets are not the best wireless headset microphone for public speaking in noisy places. In contrast, cardioid systems are better protected from external sounds, which means they are good at blocking ambient noise. When it comes to hypercardioid / supercardioid microphone headsets, they are the most popular ones. Such gadgets are famous for being most sensitive to sounds that are coming from in front of the microphone and least sensitive directly behind it. Another impressive fact about these systems is that they have a useful pickup angle of 131 degrees. With regard to the bi-directional type, there are only a few wireless models with such a directionality on the market. You have to choose the type of directionality according to the purpose you are buying the microphone headset for.
UHF vs VHF wireless microphone systems
If you have already tried to choose the best wireless headset microphone for speaking, you probably know that these devices can be either UHF (Ultra high frequency) or VHF (Very high frequency). Now I offer you to figure out what is the difference. Basically, these are two divisions of the radio frequency spectrum VHF microphones usually transmit at around 170 Mhz to 216 Mhz while UHF microphones transmit between 450 Mhz and 952 Mhz. Since VHF wavelengths are longer than UHF, it allows them to travel longer distances and pass through such obstructions as ceilings or walls.
If the wireless microphone is going to be used in situations where several other wireless systems are working, UHF systems are a better choice. These systems are less prone to interference, however, they are usually more expensive. Anyway, they are totally worth their money since the sound quality you get with such microphone headsets is excellent.