There are not many things as enjoyable as your favorite music coming through a good stereo system. Just imagine hearing perfectly clear mids and highs and noticing a lot of sounds that you have not heard before. If you buy the best mini stereo system, it will let you share music with friends giving parties. Such an appliance does not take much space but does produce amazing audio. You can easily place it on the shelf and play some nice tracks of the musicians you like. And if you want to buy such a device, then you will probably face some difficulties since there are hundreds of models on the market.

Those who are trying to make the right choice must consider lots of things. Here I will show you several great units that are really worth their money. All the models on this list are made by famous manufacturers. In addition, I am going to tell you something you might not know about the benefits of mini stereo systems and what makes them different from all-in-one ones. If you do not want to get confused when visiting an online shop, just read the info below. There are plenty of things music lovers have to know about.
Our pick
Denon D-M41
The Best Small Stereo Systems Review
Best Mini Stereo Systems
This tech supports such audio formats as WMA and MP3. With the mentioned stereo system you will have an AM/FM stereo tuner. If you are one of those guys who like visiting CD shops and buying new discs, then you might be glad to know that Denon D-M41 has compatibility with CD, CD-R, RW. To add, the set plays digital music files from a USB flash drive. Another feature I have to tell you about is the 2 x 30W output and pre-out socket for an active subwoofer. What does it get you? Incredibly powerful and clean audio will fill your room every time you turn on music.
Now, let's talk about dimensions. It is 20.8 x 11.4 x 30.7/8.2 x 4.5 x 12.1 in cm and inches respectively. There are several color combinations available. This unit is super easy to set up. This is the best mini stereo system that supports Bluetooth. So, you can connect Denon D-M41 with your tablet, smartphone, or laptop. At the same time, you will have 2 digital optical ins, which means you will be able to connect it with a TV or another optical appliance. Here is also an analog in. The circuit design of the unit and the way the chassis is built guarantee that the audio you hear is utterly faithful to the original performance.
Pros
The system is equipped on the principle of Triple Noise Reduction Design
The set is absolutely perfect for a medium-sized room, like a bedroom or small living room
Wide stereo pan, accents in the low and low middle, impressive for this class, the absence of distortion at high volume
Cons
The radio does not have a digital DAB+ tuner
Onkyo CS-265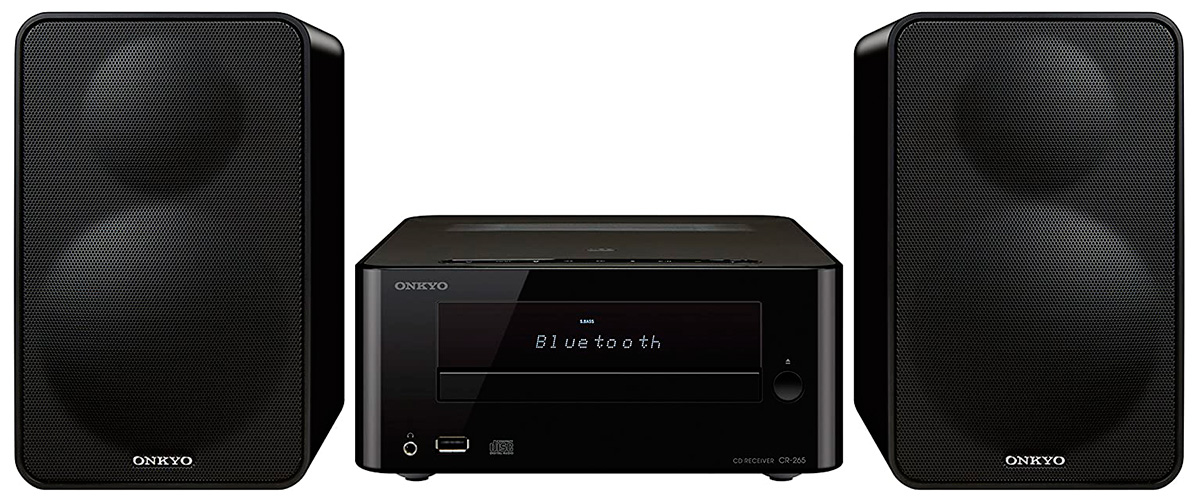 This device supports Bluetooth 4.0, so you can easily connect it with your smartphone or computer. Onkyo CS-265 supports two audio formats: WMA and MP3. Moreover, with this set, you can use NFC connection. The manufacturer of the best small stereo system cared about those who use CDs and made an appliance that is capable of running CD, CD-R, CD-RW, and MP3-Encoded CDs. There is also an AM/FM stereo tuner if you need it. For wired connection, you have a minijack. The model CS-265 has 1 analog in. Its power output is 2 x 30/6 W/Ohm. Using the remote, you can intuitively control music playing on the monochrome display, switch the modes, change the volume, etc.
Speaking of dimensions, it is 31.7 x 20.3 x 27.1 in cm and 12.5 x 8 x 10.7 in inches. So, it can easily fit even to the TV bookshelf or any other area. With the overall stereo system weight of 7.9 lb/3.6 kg, you do not have to worry at all when moving it to another room. Despite the fact it is pretty lightweight, it does not mean that the appliance is not sturdy. Also, the wooden surface on the shelf where you might put the system will not be damaged. When it comes to sound, the bass is extremely deep and very dynamic. To add, there is a very distinct sonic signature. Overall, it brings a big and brilliant sound to small spaces.
Pros
Has a Super Bass Function, which means that there are 3 different playback modes for CD
Available in three colors: white, black, and red
The good digital AMP provides an incredibly clear and balanced soundstage
Cons
Outdated Bluetooth version
The quality of sound and connection stability, are falling when a smartphone or laptop is getting away further from the system
Sharp XL-BH250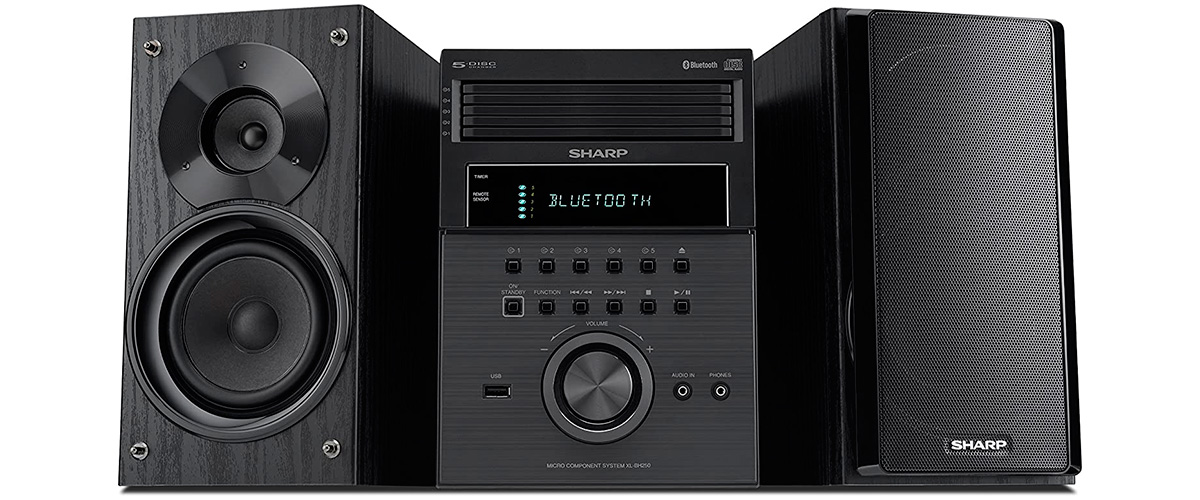 Here we have one of the best compact stereo systems with a powerful output 2 x 25/6 W/Ohm. You can listen to music from CD/CD-R/RW discs with it. This set can be used as wireless since it supports Bluetooth. Its remote control can work at a long distance. With Sharp XL-BH250, it is possible to play music in two formats: WMA and MP3. Another way to connect it with your smartphone is NFC. Moreover, the device has a USB-A jack, so wired connectivity is available, too. The next thing which makes the considered system better than many other ones is the 5-disc changer. In addition, you will have 1 analog in for RCA connection and 1 minijack output. Sharp XL-BH250 has a built-in digital clock.
As an additional feature, there is an AM/FM stereo tuner. It lets you set your favorite channels for one-touch recall. If you are buying a micro stereo system, then you are probably paying a lot of attention to its size. So, the dimensions of this set are 31.5 x 17.5 x 24.1 cm or 12.4 x 6.9 x 9.5 inches. With regard to the music quality, the treble frequencies sound really bright without any harshness at all. You can change the bass and treble controls that suit your preferences.
Pros
Provides excellent audio quality, with a well-detailed stereo separation and satisfactory volume for most uses
The controls for the volume control and LED display are located at the front which makes the system very intuitive to use
Has a fantastic design that blends in nicely with modern interior style
Cons
Lacks some low-end bass response because of not having a dedicated subwoofer
Best All In One Stereo System
Bose Wave Music System IV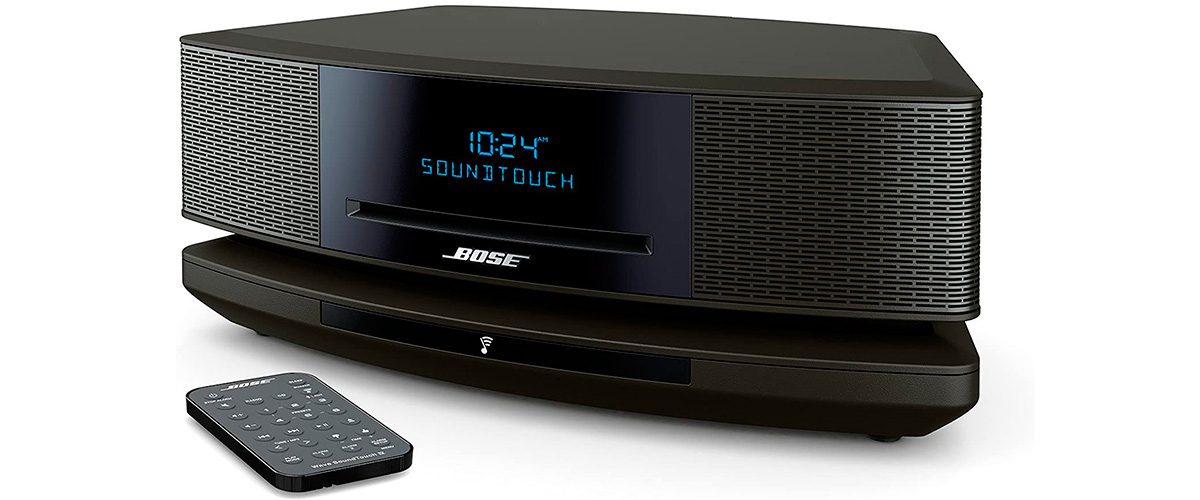 Let's take a look at the best all in one stereo system that has an optional Bluetooth adapter and thanks to this can be connected with different electronic devices such as tablets, smartphones, or PC. No wires running around your room anymore! For the wireless connection, you can also use NFC. With the considered device you will have an advanced AM/FM stereo tuner AM/FM tuner with an onscreen text display of song and artist information. When it comes to audio formats, this system supports only MP3. If you are wondering what makes this set special, I have to tell you about the Bose link which is an input that accepts the output of another Bose link enabled product via a Bose link cable. One of the awesome features of the device is the ability to set two different daily alarms.
This model is slightly bigger than the previous ones since its size is 37 x 10.6 x 22 in cm and 14.6 x 4.2 x 8.7 in inches. The display is large enough to see all the functions and tracks clearly. For those who want to have an opportunity to listen to music with headphones, the manufacturer added a headphones jack. The appliance has a power output 2 x 25/6 W/Ohm. Bose has gone above and beyond when it comes to the audio quality this stereo system provides all thanks to the Bose Wave speaker technology.
Pros
The remote has very clean and easy-to-recognize white text and icons with physical buttons which you can feel and also hear a click when pressed
High-quality audio and signature tone
The screen is bright and clear
Cons
Unintuitive and a little confusing to use
The remote has too little weight to it and feels more like a toy for this pretty expensive, high-end stereo system
Toshiba TY-CWU700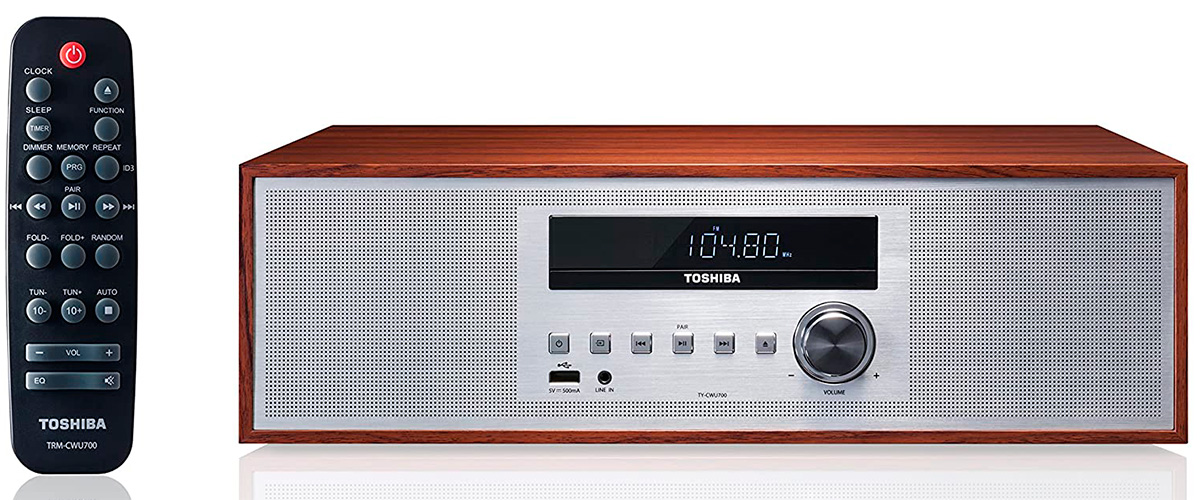 The next stereo system on this list is the one with two supported audio formats: CD-DA and MP3. It is not a problem to connect Toshiba TY-CWU700 with a tablet, PC, or smartphone since it has Bluetooth 2.1. I have to say that the wireless connection is quite stable and plays without any static. I have not had any issues with it. Another way of connection is via USB since the appliance has a USB-A in.
In addition, the model TY-CWU700 has 2 digital optical ins that will let you transmit music from TV. Speaking of its CD compatibility, you can use CD/CD-R/RW. You can also listen to music the old fashion way using the built-in Digital FM tuner. It is worth considering that the size of the display is 40.5 x 11.9 x 27.5/16 x 4.6 x 10.8 cm/inch. The system is made of real wood and looks pretty luxurious. The front side is mostly covered by a grille.
It is produced in the USA. With this appliance, you get a full-function remote to fine-tune adjustments to your liking. Toshiba shows significant talent in creating a super clear and detailed audio signature. The vocals and guitars sound warm and clear. Among other TY-CWU700 features is a built-in LED clock that has a sleep timer function.
Pros
2 built-in speakers with an 80 mm driver provide crisp and incredibly clear sound
Perfect for any home setting and any genre of music
The audio signature is designed for real music lovers
Cons
The buttons on the front panel of the device are not very practical with the CD tray in the open position
The CD players don't support gapless playback
Buyers Guide
Mini stereo system with separate speakers vs all in one
As you may have notices, I have divided all the appliances here into two categories: mini stereo systems and all-in-one devices. What is the difference? In the first case, you get a set with separate speakers. One of the biggest benefits of this kind of device is the possibility to replace the speakers if yours got broken or you simply want to get better ones. To add, such a system is a great choice for those who do not have space for one big appliance as you can put the mini stereo system on several shelves. An important thing to mention is that when you are choosing a unit with separate speakers, pay attention to whether the offered price includes the speakers or only the main part of the device.
Let's see what is special about the all-in-one option. Such devices are usually pretty compact. Some modern ones can be mounted even on the wall which also lets you save space. Among such models, you will find lots of home stereo systems with wireless connection and some features that are not available in the case with mini units.
What to consider when choosing a stereo system
All the models mentioned on the list above have a built-in CD player and radio receiver. Keep in mind that Toshiba TY-CWU700 has only an FM tuner. So, I decided that it makes sense to take a closer look at some of their features. Here I am going to tell you more about the sound, connectivity, etc.
Sound
If you want to get really powerful audio, then pay attention to the size of a dynamic. The second thing that has an impact on sound quality is a power output. The built-in speakers vary in the strength of their output, typically ranging between 10 and 30 W per channel. The higher these figures are, the louder your music can get. Mini hi-fi systems can be a worthy alternative to a TV soundbar. If you decided to connect such a device with a TV, check if the speakers are positioned in the right way – you have to sit in the centre of a surround-sound system in order to get the realistic sound. For those who want to have a spacious and easy-going sound, with plenty of top-end shine and mid-range detail, I would recommend choosing one of the units introduced here.
Features
The most attractive feature of modern stereo systems is wireless connectivity. If the device you chose has Wi-Fi, then you can forget about the problems with a tangled or suddenly damaged wire. This kind of connection allows you to stream music from such services as Spotify, BBC iPlayer Radio, Google Play Music, etc. Also, it can integrate with systems like Alexa. Usually, the setup is not simple and you have to spend some time trying to figure out how it works, but it is definitely worth it.
If your stereo unit has Bluetooth support, then you can connect it with a smartphone, tablet, or laptop and listen to your favorite songs with good speakers. The same thing is with NFC support. Using this feature, you can play tracks from any device that also has NFC. Any of these features means that the only wire you need is the one connecting your speaker to its power supply.
USB port
If your stereo device is equipped with a USB port, you can connect it with an MP3 player in order to play the music through the speakers. Moreover, it gives you the opportunity to plug a USB flash drive and listen to songs that are there. When buying a device, check whether you get a USB cable or have to buy it additionally.
Headphone jack
The sound you get with the headphones that are plugged in a stereo system is much more powerful and loud than if you would use your smartphone for it. So, if it is not always possible for you to play music through speakers, then choose a unit with a headphones jack for private listening. Most of the models I have described on my list have such a jack.
Inputs and outputs
The systems with an AUX-in can be connected with other devices via an AUX cable. If your aim is to connect the stereo unit with TV or any other digital appliances, then it should have a Digital Optical In. For having unlimited opportunities, it is better to buy a device that has all kinds of ins, therefore I included them in my list.