Choosing the best home theater seating might be a hard issue for the home theater owners.

Home theater furniture manufacturers also face a major challenge because seats must be suitable for a wide range of people of different age, weight, etc., and besides, furniture must provide relaxing and comfortable seating for a long period, therefore they must be durable and have special padding that does not reflect or absorb sound. For your convenience, we divided reviews into two sections about sofas and single recliners.
The role of seating in a home theater room is to provide a correct and comfortable body position so that you can effectively rest while enjoying the viewing. Any home cinema can be equipped with standard sofas and chairs. The main difference between ordinary sofas for the living room and specialized furniture is that the seats can be equipped with special mechanical adjustments for the backrest and seat position. Change of position can be provided using an electronic control panel or through mechanical manipulations. A sofa or chair can be easily transformed into a position more comfortable for the anatomical structure of the human body for a comfortable long stay.
Best Home Theater Seating Review
Best Home Theater Sofas
To be honest, there are so many types of seatings for today, each with its unique features, but sofas continue to be the most popular type. The home theater sofa would be a great choice if you need seating for a family watching and long movie sessions. The sofa means you'll also be able to choose between various designs and materials depending on your room layout and personal preferences.
Sofas are very customizable and can be set up quickly. There are options for different numbers of seats, however, the most common are 7-seater, 3-seater, double or single. Their size can also be changed easily. That's why sofas are the top choice for smaller and bigger companies. Their benefit is, first of all, a homely feel in your theater, and the downside is that they are bulky and usually take up a lot of space.
Seatcraft Anthem – best home theater sofa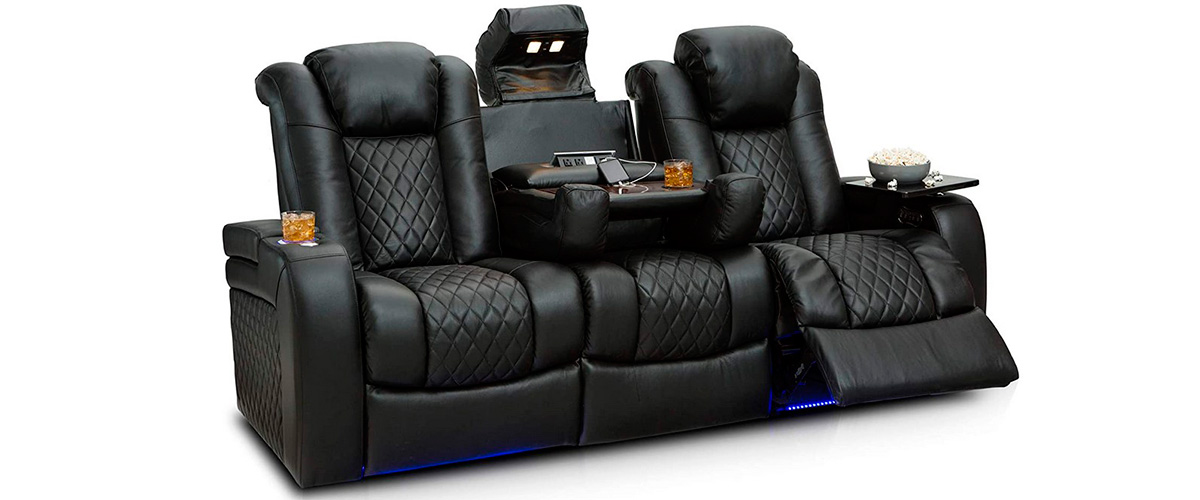 Seatcraft Anthem has built innovative furniture since 1978. Nowadays, they offer all possible categories of the home theater seatings. If you hesitated on what sofa will be the best home theater seating for you or if you want to own the most comfortable home theater seating, then this review of the Seatcraft Anthem sofa is a must-read for you.
The first time I looked at it, I immediately understood that this is the best home theater seating I could ever imagine, of course, since you have space and money to afford it. It belongs to the most luxurious sectionals this company has ever produced, as their sofas are made of premium-quality leather materials. The Seatcraft Anthem Home Theater Sectional line comes in a prestigious Leather 7000 upholstery, which gives you a new sense of luxury. Diamond stitching creates an extremely stylish look. The maximum comfort is gained by the cool gel foam layers that are spun through the construction, making it unrivalled craftsmanship. Anthem takes care of its high-end design and ability to provide the floating sensation when you go adrift into the ergonomically perfect angle for watching with its power-view recline and headrest adjustment capabilities.
The Seatcraft Anthem offers a single multimedia recline sofa with an illuminated flip-down console in its center or a two-seater loveseat with storage console in the center. A surprising feature for me was that this sofa features a cup-holder, lighted basement, and several USB charging ports, each can glow in green at your command while your phone is charging. A sofa of such caliber is of course equipped with a complimentary, brand-new glossy black tray table that can be easily hidden within the sofa's armrests, leaving your essential items hidden from view. To sum up, everything about this sofa says about its modernized look and unbelievable abilities. With such a seat you will enjoy a luxury cinema experience without after aches.
Pros
Genuine top-grain leather will serve you for years and save your body from pain
Very comfy cushions
The recline construction allows you to bend the sofa up to 35 degrees to the floor
The transformer wood table can be used for holding food and drinks
Cons
The wireless charging port only works when the power output is closed
The seats don't line up when everything is in the vertical position
Delange Reclining Power Sofa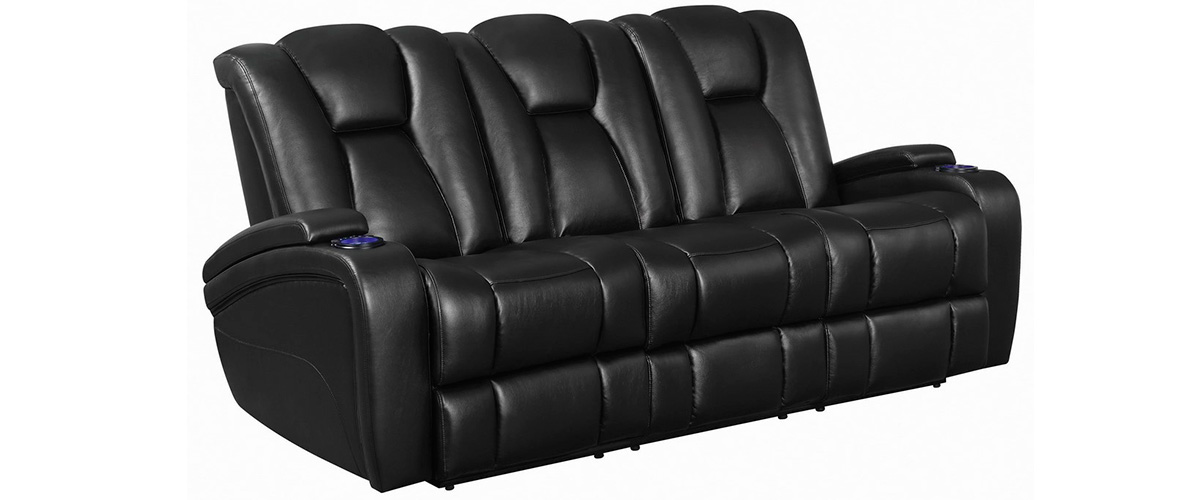 Extremely comfortable up-to-date the Delange power reclining furniture collection will bring a new level of comfort to your home entertainment. You will be more than satisfied by its cushioned black leatherette upholstery, which is so pleasant to touch. Among the numerous features that make it one of the best theater seats, I'd like to mention the controllable headrests, armrest depot, and cup holders with LED lighting.
Made of the top grain leather, this leather won't let you leave so quickly. Additionally, with controls located upfront, all buttons will be visible so that you don't need to turn and hassle to find the necessary one. This sofa also comes with lumbar pillows that both look, and feel nice.
Two controls are provided on the right and left side with LED lighting, which looks cool if you put there a glass of water. The LED ring will turn off automatically after an hour of idle. The reclining forth/back buttons, providing a smooth, quick and quiet bending, as well as the headrest, are conveniently positioned within your hands. One more thing I loved about the Delange sofa is huge storage in the side compartment, where the game controller fits just fine. It also features reading lights in the middle seat that can be turned on by flicking switches. The center flip-down console will also reveal two more cup holders with a place for your snacks, two AC outlets, and two USB outputs.
Pros
It's easy to assemble
Thick durable leather and the finest wood materials
LED side buttons and center flip-down section provide a top functionality
Nice back support and headrest option
Cons
The instruction is hard to understand
The middle headrest always drops back when not used as a console, and doesn't line up with other pads
Valencia Tuscany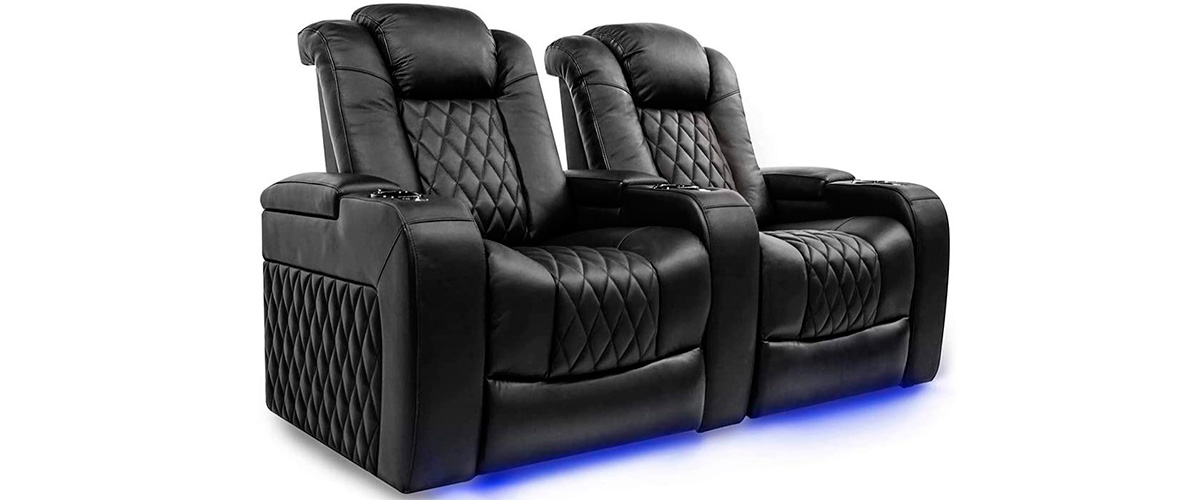 Having read heaps of home theater seating reviews, I realized that the Valencia Tuscany sofa would be a seat you will remember forever. It's suitable for having a great dinner, spending time with an amazing company, and watching your favorite films? From my point of view, the Tuscany home theater sofa is what will make your evenings special. It can boast an exceptional functionality as each seat comes with its own power cord located in the armrests and a USB charger on each cup holder.
Tuscany collection perfectly combines style, comfort, luxury, and quality, which makes it possible to bring incredible impressions of your movie nights with family, friends, or on your own. The Tuscany sofa features LED cup-holders, circumjacent base lighting, brand Italian top grain Nappa leather 11000 on all seats which is usually used in exotic high-end cars, and motorized recliner gears. A wall-hugging design ensures that a seat will be kept on the 10.5 inches distance from the wall even in a prone position. I hope you already understood that with such a sofa you can experience your home theater the way you have never imagined before.
Pros
A diamond pattern stitching along with a grained soft leather gives it a nice touch and great durability
The LED lights are used to illuminate buttons on the cup holders, as well as to light up the bottom of each chair
The headrest option can be used when you're in the reclined position
The buttons for lumbar support are provided
Cons
It won't charge the PS4 game controller
The controls are always illuminated which can be very distracting
Best Home Theater Recliners
Home theater recliners are an indispensable element of modern home cinemas. They provide various options for completing and assembling furniture due to their modular construction. The armrests allow you to design any line of the auditorium (from a standard amphitheater to a wave line) due to their shape (rectangular or trapezoidal). The presence of a transformation mechanism allows the viewer to change the position of various parts of the body during prolonged viewing of film material, finding the most comfortable position.
The big plus is that seats also have controlled acoustic properties. For each model, the frequency response of the absorption coefficient is determined, which is taken into account in the process of mathematical modeling of the acoustic treatment of a personal cinema.
Moreover, such chairs "adjust" to the future owner. The height of the backrest, the width of the chair, the height and width of the armrests vary. The armchairs are equipped with several options for seats and back cushions. The convenience of transportation and installation is also a great advantage.
The only downside I can admit is that recliners can be supplied without a transformation mechanism. A variety of features can also be confusing for a new user and some of them can be left unused for a long time.
Seatcraft Pantheon – best home theater recliner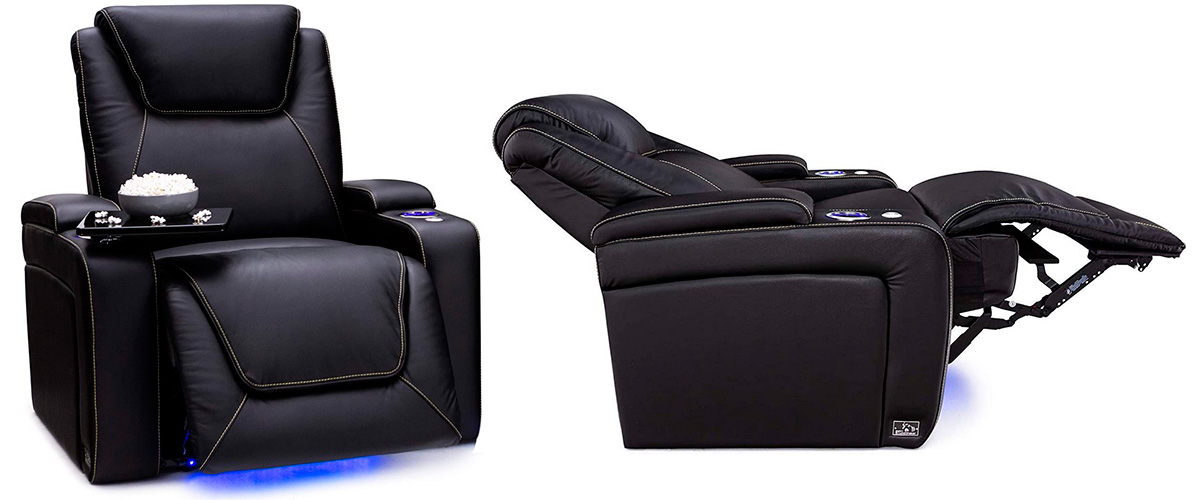 Seatcraft Pantheon recliners are considered to be the best movie theater seats for watching alone. They provide a huge amount of space to cope with any type of body. As usual, with such a recliner you will benefit from a premium top grain leather, powered mechanism of reclining, headrest, and lumbar.
The first thing you will probably notice about it is its size. Yes, it was made for big guys, so the sturdiness and sustainability will surpass your expectations. However, it is fairly expensive because it has too many things to offer. Despite it's big and tall size chair it can also without a problem fit a normal size person and be super comfortable as well. With a heavy-duty construction and powerful motors inside you will be enjoying every aspect of your watching experience. Moreover, it has two memory positions so that you can just hold the button down and the seat will go back to this remembered position. And, of course, the home button which returns it to the default upright position.
As for the other specs, the Seatcraft Pantheon is equipped with a USB charging port on the side, so you can keep your remotes or phone always charged. The storage inside the armrests has lighted cup holders, as well as base, and you can turn it on and off if you find it annoying or anything like that. The tray is also included in the price; it can be swiveled out the cup holders just like in the airplane seat.
So, this recliner is truly about comfort at an unprecedented scale. It's a powerful chair from Plus size series which is designed from the ground up to fit your body. The reinforced wood frame at a 400lb capacity is a real upgrade. The motorized power view headrest and lumbar will make everything to adjust your head and pine to a comfy position and reduce back strain. I would highly recommend this chair as a bigger home theater choice to fit your needs.
Pros
The leather feels thick and durable
The recliner looks rich from the bottom to the top
Plenty of options to adjust your comfortable positions
Quick and easy setup
Cons
Position of electric controls is on the inner side of the chair which is confusing for many customers
You've got to be tall to use lumbar support and hit a correct position
Homall Recliner Chair – best budget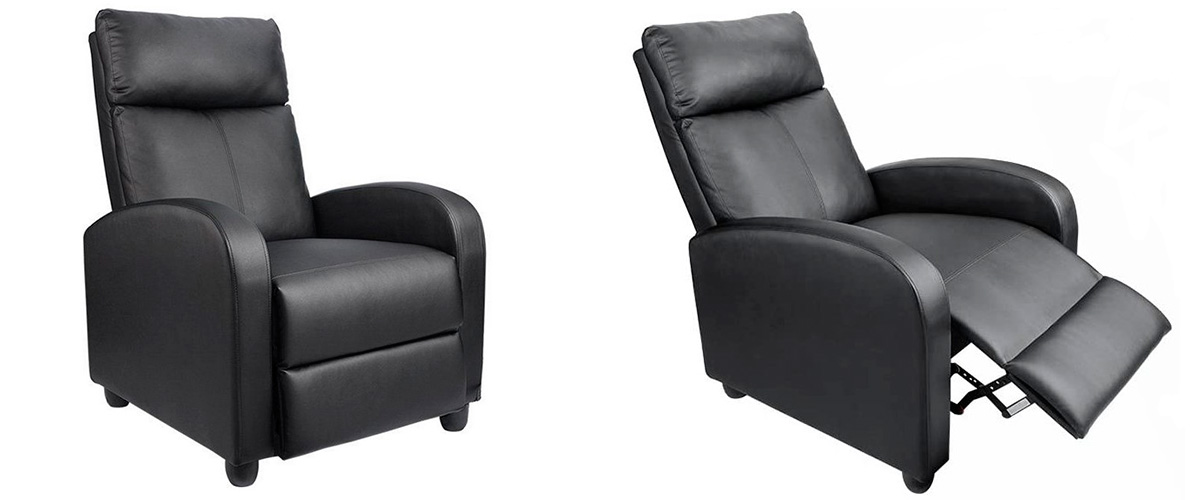 This is a recliner with a superb ratio of price and quality. It's the cheap home theater seating with a classic nice-looking design with gorgeous functions to let your body rest completely. I agree that it will provide extra comfort to any home theater.
The construction looks robust and just like in the picture so the first impression was obviously good. For its money, it has better quality than many widespread manufacturers of the home theater furniture. It's made of a high-quality PU leather which is hypoallergenic and can be cleaned with ease, also a high-density thicker sponge that gives higher elasticity and decent permeability. The foot protection on it will also protect your floor as it comes with 4 sturdy feet to support your recliner and keep the flooring safe.
A reliable build is one thing I really loved about it. It has a nice 3mm thick steel construction that doesn't seem to wear out with time. This is noticeable and this is why Homall recliner differs from other cheap chairs in this category. When you recline it, the position stays fixed – no feelings of flimsiness. It also supplies surprisingly good ergonomics so that you can lean back and stop easily using your body weight.
The verdict is, if you need something solidly built, comfortable, with a modern design and a fine value for money, then don/t hesitate to buy this recliner.
Pros
Reliable build, even for a large man
The lumbar massage function is provided for a backrest
The chair is very easy to operate and adjust to your needs
Retractable footrest with various modes to meet your requirements
Cons
The operation is completely manual and can be a problem for smaller persons
The wood and bolts on it can wear out after some period of use
Best A Row Of Individual Home Theater Seats
A row of separate chairs can be a great deal if you want a classic look at the cinema at home. Individual seats stand for individual comfort, too. A row of seatings has the benefit of having a compact and portable design so they won't be as bulky as a sofa, and, at the same time, can be attached conveniently.
Many companies nowadays provide their collections of the rows with 4-5 seats with their own unpredictable style to match your living room perfectly. That's why they look better than a random gathering of home chairs.They also come with all the mentioned options for the top comfort. Each seat will have a built-in cup holder and sometimes even a table tray which can be stored in the armrest compactly. You can choose between joined or a straight row model. Sometimes they even come in the curved shape. An arched row will bring an impressive perception of the media, as well as a comfortable position concerning other watchers.
I recommend you to take a look at the Octane brand chairs made from finely stitched leather, which is a great value seating set with cotton velvet padding. Mostly a row of home theater chairs comes with a complete chaise footrest option. Thus, you can stretch at the whole height and enjoy watching the movie.
Octane Turbo XL700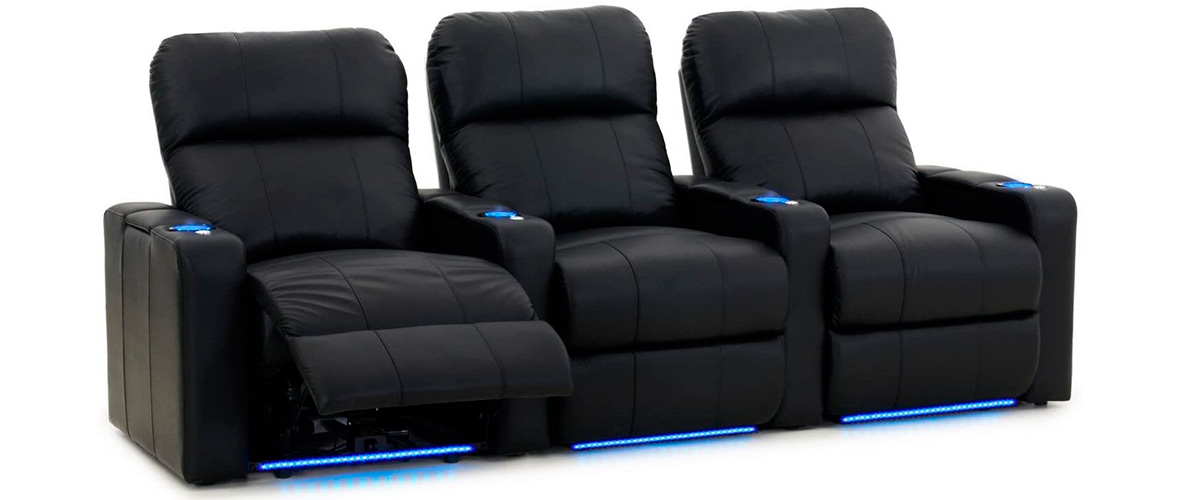 You won't regret buying the best home theater chairs for the new feeling of luxury and comfort. Octane makes all their products from top-quality materials and puts an accent to your body's rest.
What can I say about these seats? Well, they were made for ultimate comfort. A row of 4 seats can come in different configurations, as well as materials – you can choose between more luxury Italian Luxe or bonded leathers. Anyway, it will last you incredibly long. The first look on these armchairs gives a nice feeling – they are just like traditional seats in some cinemas, all neat, and also with the Octane badge on the bottom.
Switching to the features, this model is unbelievably functional. It has a pretty deep container inside the armrest on each chair and a cup holder, as well. You can use each seat separately, in this case, one of the armchairs will be left with two side compartments(one is a bit shorter) and the rest with a single compartment. Nevertheless, they feel very tight when joined in a row – nothing is moving or bothering you. There are also buttons on the side of each chair – a USB port, LED light on/off and two buttons to make a chair go up and down. Fully reclined chairs won't even touch your wall, which is a big plus. Overall, I was very satisfied with this type of furniture.
Pros
Powered recline, which is very quiet and smooth in any direction
Each chair is independent in terms of control; you can switch the light on and off separately on each of them
The tray pops and hides without excessive movements
Gel memory foam ensures the most comfortable positions for all your seances
Cons
The wires underneath aren't hidden properly so that they can damage scissors mechanism
Octane Bolt XS400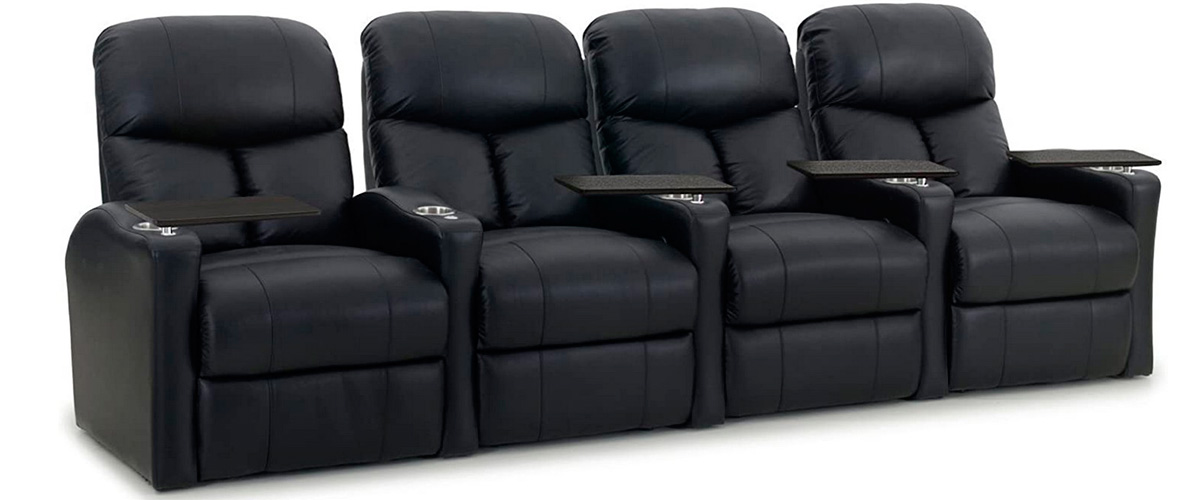 This model was love from the first sight. A row of two seats, which will suit perfectly for a couple, has an elastic leather cover and refined pine finish. The upholstery not only has a pleasant look – it's also extremely soft to touch. It feels durable and can be cleaned with a cloth super quickly. As all the last Octane series, it includes an exclusive accessory dock with a huge space for your belongings. And don't forget about comfort because the lumbar and head support of these chairs will turn your watching experience into a dream.
The special thing it features is SpaceSaving technology. With a 42 inches seatback and 25 inches wide seat body of any size can lay comfortably in it, yet saving a lot of space. With one touch you can regulate your recline angle to get the most out viewing session. It also has an exceptional wall safer design that prevents touching the wall even when placed inches from it. The arms are slimmer than normal, allowing you to add more seats per row, save space and fit unusual room layouts. Despite the arms being narrower than usual, they still have full-sized cup holders to hold your favorite beverages. So now you know which row will be a great solution to watch films or play games and relax together.
Pros
Maximum comfort to the spine is reached through the three bolsters on the seatback, which are responsible for low and middle lumbar support
Seats are ergonomically designed, the recline is motorized
Power components move smoothly just like they should
Gel memory foam infused in the seat core strives for your body's wellness
Cons
The buttons are difficult to find
The two seats can be placed separately – they come as one piece
Buyers Guide
How much room do you need for home theater seating?
This is quite a controversial issue. For instance, eight spectators may well be accommodated in a room of 15 m2, but an auditorium of 30 m2 will be much more comfortable. The width of one standard cinema chair is 55 cm along the axis of the armrests. It is 230 cm for four people.
If you want to stay more comfortable and not feel the elbow of your neighbor, you will have to work out 80 cm per person. It would be better, of course, a meter, this is the width of a really decent chair. But let 80 cm, this is already 320 cm. Plus a passage of 80-100 cm. In total, 400 cm is the required width of the room with an average comfortable seating of spectators, and 500 cm – by the way.
It is desirable that when watching a movie for viewers sitting on the side seats, the angle of view to the screen does not exceed 20º. Based on this, people sitting in chairs with a width of 55 cm should sit no closer than 250 cm from the screen, with a seat width of 80 cm – 350 cm. The distance between the rows: minimum (as in a cinema for a mass audience) – 120 cm, medium – comfortable – 170 cm.
Optimal viewing distance for your home theater
We all strive for the optimal conditions for watching home theater. Setting up a home theater always includes picking up a proper distance from the seats to the screen so that your experience would be no worse than in real cinema.
And it doesn't depend on the screen size only – you must consider the radius and acuity of vision, and the height of your screen. After some calculations, it will be possible to find the perfect viewing distance. Talking about the field of vision, it means that the screen needs to fill 30 degrees of your field of vision when you're looking at it. Therefore, for a 5- inch screen, the 30 degrees will be seen at a distance between 5.6 and 10.8 feet, and for a 60-inch screen, it's from 6.7 to 13 feet. The personal preferences can diverge, but it's recommended to keep the field of vision in the range of 26-36 degrees.
Also, the bigger resolution your screen has, the farther you will be able to see each detail on it. Let's say that we have a person with normal vision of 20/20. In such cases, we can use the 2-to-5 basic rule to define optimal viewing distance. It says that the nearest seat shouldn't be closer than twice the screen width, and the most distant seat shouldn't be more than five times the screen width.
Then, let's consider your TV screen height. Maybe you already know that it's recommended to place the screen so that it will be just opposite your eyes. However, this can vary, too. The maximum vertical angle suitable for viewing is 35 degrees. For instance, if you mount a TV over the fireplace and sit too close this can put you over the 35-degree optimal angle. And then, you'll need to move seats farther.
What is the best material for a home theater seating?
Cinema seat upholstery fabrics are the most important part of a movie theater. The upholstery must be durable, not rubbed, not lose color and shape, resistant to fire, damage of various kinds, and dirt. In this case, you should use only proven types of fabrics with the desired color scheme.
If you've read reviews above you noticed they all had leather upholstery. That's because leather is the most common material for such kind of furniture. Undoubtedly, natural leather is the most appropriate for long viewing sessions and it will look luxurious even after a long time of use. The top-notch quality can be found only in full-grain leather, however, a top-grain or bonded type will serve you for years, too. A top-grain material is also the most popular for any rated home theater seating today, as it gives a nice smooth finish and touch to it. As for the faux leather – it won't preserve the warmth of natural leather but still could be a durable material. And the last type used for the home theater purposes is fabric. If you don't like the feeling that leather passes or if leatherette furniture doesn't fit your interior, then go with fabric chairs. This will also provide you with a wide range of colors to choose from.