If you're a beginner or even an advanced musician, there always comes a moment when you realize that you want to improve your music to higher levels by adding some unusual sounds and effects. So, it's just the right moment to figure out what bass synth pedals need.
To start with, I'd like to tell you about the bass pedal necessity. It's important to understand that the best bass synth pedals were specially created to help emulate the sound of a synthesizer and to provide a wide range of different sounds from a variety of different parameter controls. Pedals usually have a huge set of parameters that are actually multi-effect units. Pedals bring together awesome tone-shaping features like EQ, compression, and distortions. They almost always provide options like synth tones, delays, downloadable amp emulations, and savable presets.
Shortly, pedals increase the range of tones you can generate to an incredible number. Generally, every outgoing sound depends entirely on how you want it to sound. This ability lets you manipulate music open-ended and basically allows you to create unique, outstanding, new-age sounds that couldn't even imagine with only a bass guitar. As we already know, a bass synthesizer processor emulates the sound from the synthesizer. It is actually possible through manipulating the input analog bass signal. According to settings that you set up and get them active on the device, the bass signal will be processed and outputted.
Our pick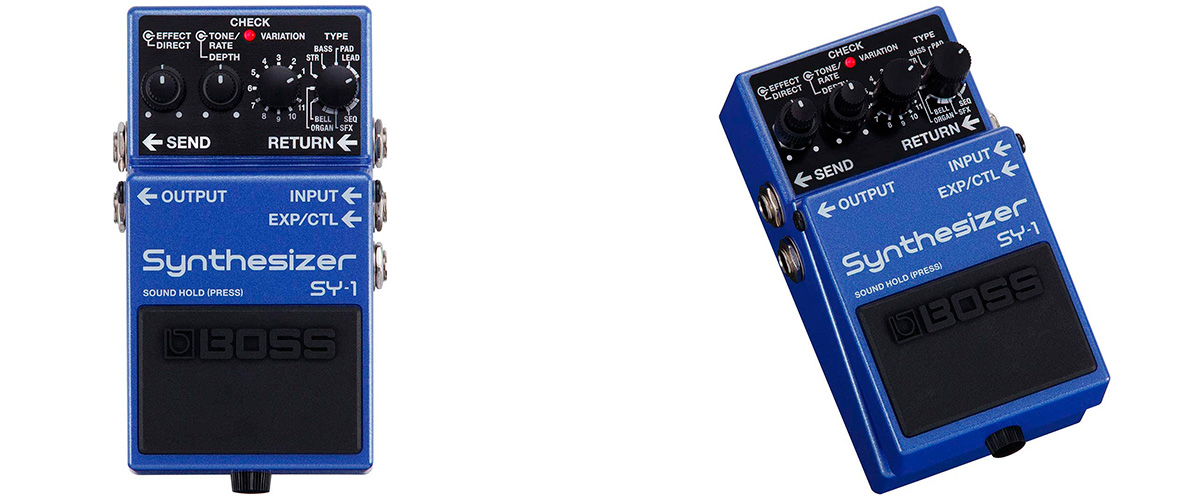 BOSS SY-1
Best Bass Synth Pedal
This amazingly expressive tool is filled with 121 ultra-responsive sounds, all distilled down into a BOSS compact pedal that slides easily into any setup.
Best Bass Synth Pedal Reviews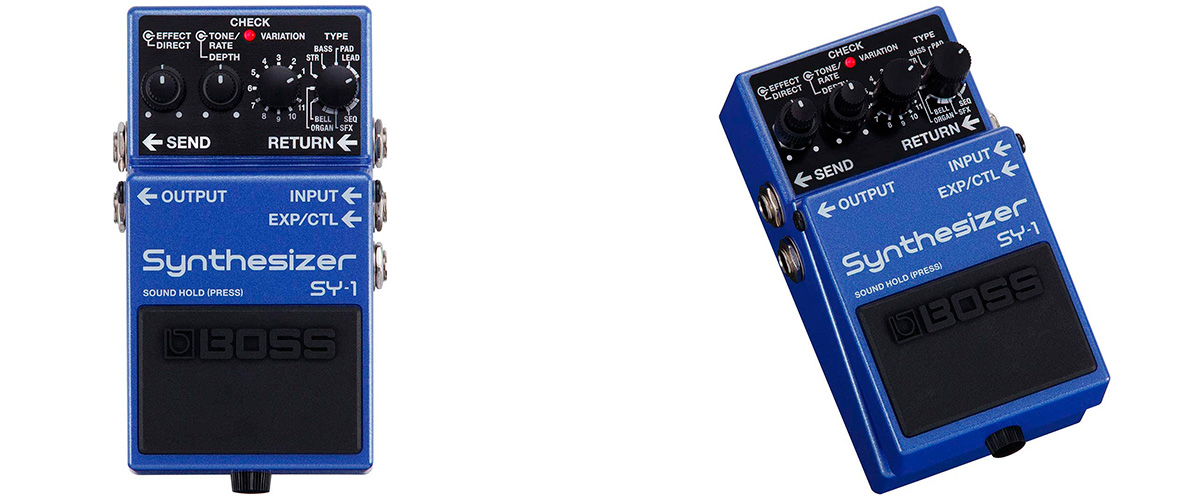 The one and only BOSS SY-1 can be deservedly named the best bass synth pedal and let's try to figure out why. First of all, it has earned this title thanks to a reliable brand that makes a huge contribution to the development of musical technology of all kinds. BOSS SY-1 doesn't require at all any additional downloadable hardware for your guitar. Due to this, you don't have to know literally everything to get maximum impact from this device, just plug-in, try and start to experiment. Moreover, the SY-1 synth bass pedal allows you to select from 11 core synth types, and then you'll be able to choose from 11 variations of that core synth sound. After all, the only thing I'm personally astonished about is that SY-1 provides you with an excellent amount of 121 different sounds to experiment with your music and explore new horizons.
The device also suits different activities, because it has the ability to switch modes on bass guitar. In addition, BOSS SY-1 can also be compared with pedals that provide different effects so, in fact, it can become a truly worthwhile product in the chain of your pedals. Together, synthesizer bass pedals can produce an unbelievable amount of sound variations while you add another layer to your synth sound.
While taking a closer look at specifications, the very first thing that is worth to be highlighted is the various effects that SY-1 features. So the device provides Strings, Bass, Layered Pads, Lead, Bell, SFX ½ and Pulsating effects. Gear has actually 2 1 x 1/4″ inputs, as well as 2 1 x 1/4″ outputs. In addition, it also has one input/output 1 x 1/4″ TRS for expression or control. SY-1 has a stable power usage of 85mA and requires a 9V power source. Basic dimensions are 15.16 x 13.39 x 6.69 inches therefore 38.5 x 34 x 18.2 cm.
Pros
Easy to use with a lot of useful marks
Huge variety of sound combinations
Requires no additional hardware
Cons
No cons found for that amount of features
Source Audio C4 – best premium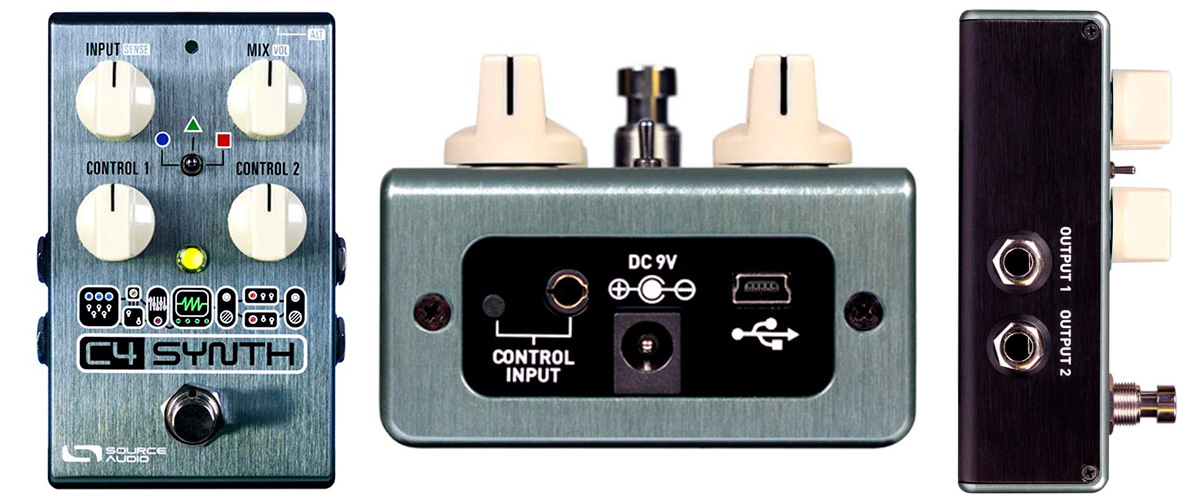 As for me, I have already fairly decided that Source Audio C4 is an excellent bass synth pedal available at the market in my honest opinion. Mainly, I've understood it thanks to C4's excellent design and features. The manufacturer did everything so that the user does not strain while using the device and just enjoy the creative process. Neatly placed knobs, soft metallic color, and the beautifully made inscriptions and marks – it's all about Source Audio C4. As the manufacturer said, the C4 synth pedal packs the power of a classic modular synthesizer into a compact and versatile device suitable for many applications. Actually, having four simple controls and a choice of three guitar/bass synth effects makes this tiny device very easy to use even for those who just start to try their luck in music. It boasts extremely fast response, nice tracking capability, and all these features combine in great sonic potential.
For more advanced users, it may be very interesting to discover new music horizons via connecting C4 to Source Audio's Neuro Desktop Editor or Neuro App. Both of these apps are totally free to download for Mac, Windows, iOS, and Android devices. Despite the fact that it's pretty difficult to understand the functions and capabilities of the program while using the app, you have an incredible variety of options like four absolutely different parallel voices, three oscillator wave shapes, more than 10 envelope followers, and more than 20 modulating filters.
The device also features distortions, tremolo, pitch shifting, intelligent harmonization, programmable sequencing. All these finest customization options allow you to have an almost infinite number of variations to change the sound as you want and to create definitely unique products.
What about specs, I think C4 has more than enough connectivity abilities to suit everyone: 2 ¼' inputs, and 2 ¼'outputs. Moreover, it has a USB connection possibility and 1 ⅛' input/output. Basic dimensions of this device are 2.0 x 2.75 x 4.5 inches and 5.08 x 6.99 x 11.43 in cm.
Pros
Excellent sound quality
A load of customization options
Easy preset switching
Neat and extremely comfortable design
Has apps for even more sound customization
Cons
Pretty hard to understand properly how all the features work
Electro-Harmonix Bass Mono Synth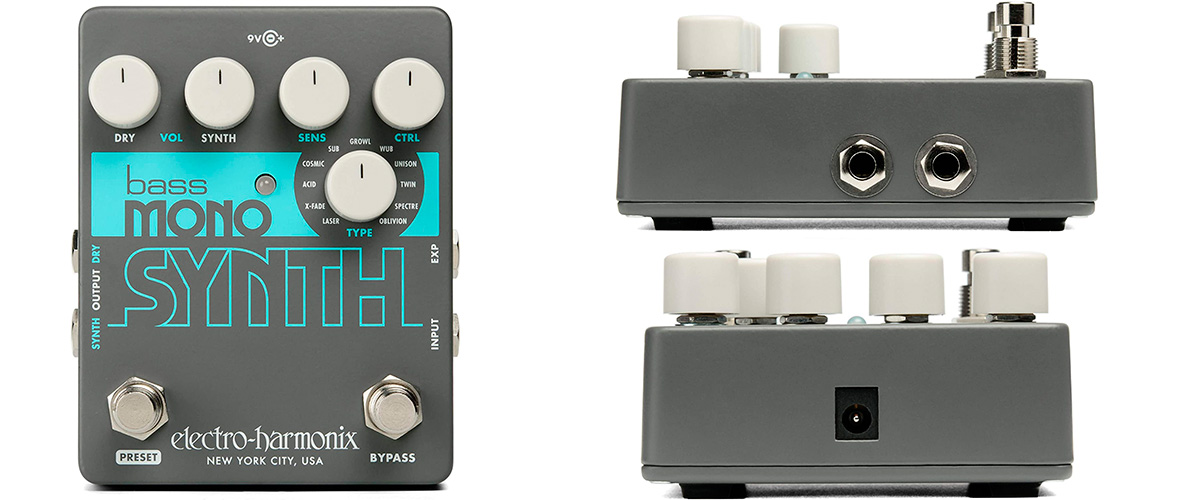 Here is another excellent choice to discover for those who look for the best guitar synth pedal available on the market. Electro-Harmonix Bass Mono Synth pedal does everything possible to convert your bass guitar into a mono synth with a huge variety of sound tuning. Actually, Electro-Harmonix doesn't require any additional drivers, hardware and can be easily connected directly to your guitar. The device grants a lot of space to experiment with sound based on 11 synth types to choose from. Accordingly, it features Growl, Wub, Unison, Twin, Spectre, Oblivion, Laser, X-Fade, Acid, Cosmic, Sub synth types. As for me, it looks really spectacular because it's even hard to imagine how many different combos it makes possible to create.
While Electro-Harmonix Bass Mono Synth designed with ease, it has lots of useful knobs to control literally everything of the music creation process. For example, the sensitivity control adjusts how your playing dynamics trigger the synthesizer and allows you to adjust the pedal's response to perfectly fit your style. Dry and Synth knobs made for dialing in the perfect wet or dry balance.
Electro-Harmonix Bass Mono Synth pedal features not many connectivity options, for example, only 1 ¼' input and outputs are 1 ¼' for effect out and 1 ¼' for dry out. In addition, the device also has one ¼' input/output for expression options. The gear of Electro-Harmonix Bass Mono Synth also has a stable power usage of 125 mA and requires a 9V power source, pretty basic I must admit.
Pros
Wide effects range
Interesting design with lots of sturdy and reliable knobs
Frugal connectivity options
Electro-Harmonix Bass Micro Synth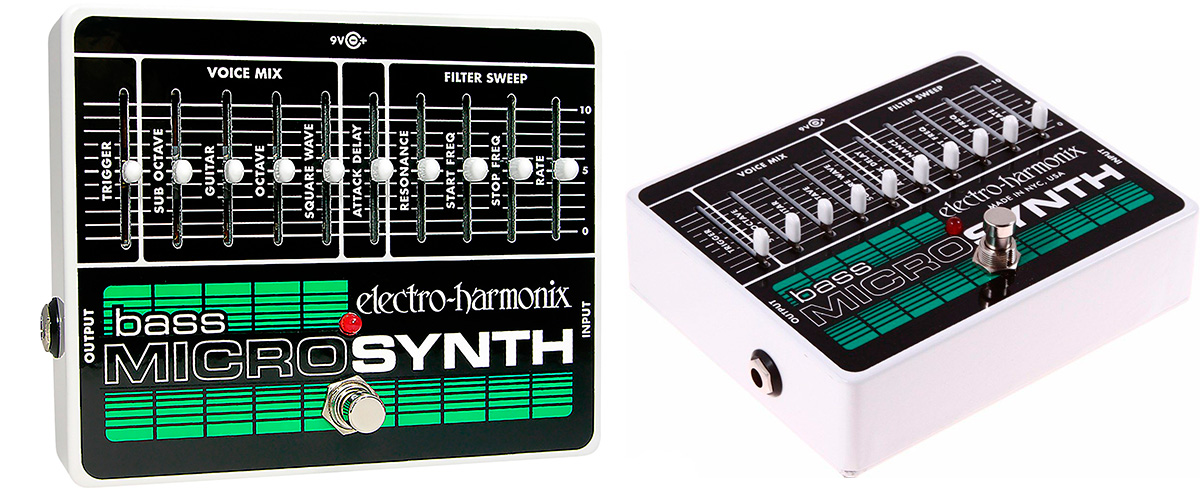 Electro-Harmonix Bass Micro Synth, as well as his brother, is one of the greatest bass synth pedals and one of the finest Electro-Harmonix creations. First of all, it's impossible to avoid discussing its appearance made in kind of retro style with a noticeable soft green color addition and old-school switchers. Its simple slider-based interface lets you get into those 'otherworld' spaces with ease, and it may be just the thing for you if you're into vintage synth sounds.
The pedal can additionally modulate signals using the envelope section, which allows you to achieve soft or aggressive sound variations. In addition to this, Bass Micro Synth is equipped with a pretty decent filtering option, which provides the ability to make significant frequency changes to the current sound characteristics. Taken together, the possibilities offered by this device are truly endless. What about sound, with 10 slider controls you are actually able to create an enormous amount of different sound variations.
The device also features four independent voices – Guitar, Octave, Sub-Octave, and Square Wave that are actually fully mixable and versatile. In addition, Electro-Harmonix Bass Micro Synth also has very useful controls, for example, Attack Delay, Resonance, Start Frequency and Stop Frequency, and finally – Rate. According to many satisfied customers, the device grants detailed and sweet sounding. It is especially good for creating some kind of vintage synth sounds from slow sweeps to more old-school things.
Connectivity options of Electro-Harmonix Bass Micro Synth are also pretty basic due to the fact that it features only 1 ¼' input and only 1 ¼' output accordingly. Basic Measurements are 120 x 145 x 64 mm and 2.5 x 4.75 x 5.75 in inches.
Pros
Brilliant sound quality
Huge variety of effects
Loads of tweak ability
Made of sturdy and reliable components
Old-school appearance and fresh color spectrum
Cons
No cons found for that price and features
BOSS SYB-5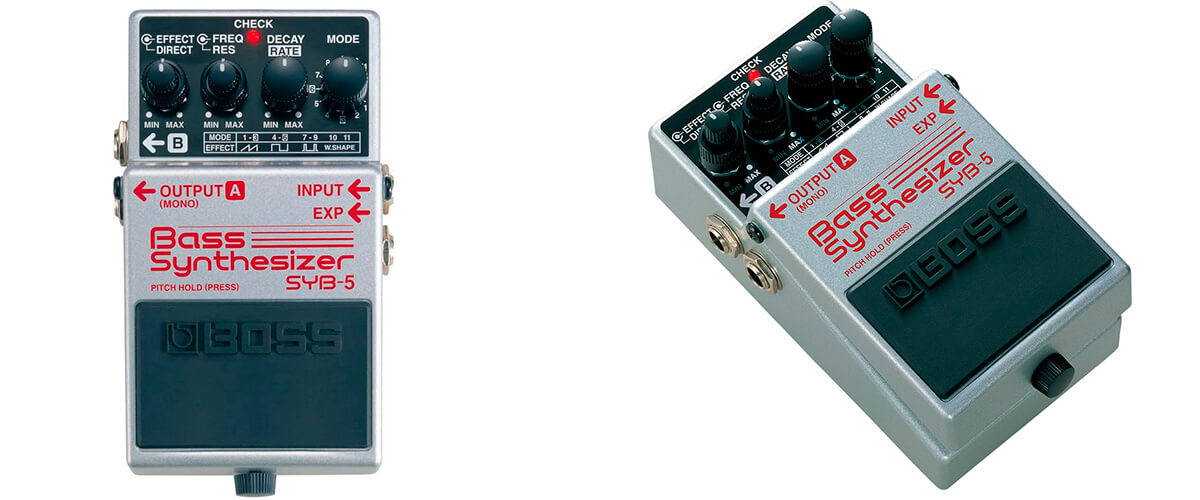 This bass synth pedal is an evolution of its older SYB-3, which was the world's first bass synthesizer to be housed in a guitar pedal body. That bass synthesizer quickly received positive reviews from experimental bassists and other musicians, so the new generation SYB-5 BOSS bass pedal used all the technological know-how to surpass itself. With the new DSP, the SYB-5 has the classic characteristics of analog synthesizers with improved clarity and rich bass sound.
The SYB-5 bass pedal offers you an extraordinary analog synthesizer effect in the compact body. More than ten waveforms, cutoff filter, LFO frequency control, waveform expansion, and other impressive bass pedal performance are brought to life with the new DSP from BOSS. An extensive set of settings will help you choose the best sound, and the ability to control effects using an external pedal expands the functionality of the SYB-5 to the level of a full-length analog synthesizer.
The SYB-5 analog bass synthesizer in the body of the guitar pedal has well-arranged knobs located on the front of the pedal body: Effect, Freq, Direct, Res, Decay Rate, and 11 Mode switch. This set of settings may seem overwhelming, but rest assured – for your bass guitar, all this will help you achieve ideal tonal characteristics while maintaining the dynamics of your playing and all the subtle nuances of the instrument.
Pros
Control filter cutoff and LFO rate via EV-5 Expression Pedal
Operates on a 9-volt battery or power supply
Enhanced Wave Shape for clearer sound
You can hold notes with the onboard pedal and jam over the top
Cons
I have noticed minimal note latency
Buyers Guide
Where does a synth pedal go in my signal chain?
In a signal chain, they play an incredibly important role in accurately conveying all the sounds you want to enrich your music with. The ability to add unique sounds such as distortion, chorus, or some other kind of modulation effect directly depends on the correct pedal position. First of all, you might have noticed that there's always one device that sits before literally every other device in your signal chain – the tuner. I think it is most important to put all your pedals in before it, which in turn, combines all the individual sounds into one single melody.
How can I get my bass synth pedal to track better?
In the world of music and it's creation, looking for the best guitar synth pedals requires lots of knowledge and understanding of all processes of music creating. Actually, to get the most out of a synth pedal, it certainly should be placed early in your signal chain. Generally, All synth pedals sound best when fed into a full-range amplifier, and pedals that also have stereo outputs obviously sound best fed through a stereo system. In order for the signal to be processed in the best way and we get the most authentic tone that can be achieved, pedals are always placed at the beginning of the chain. Thus, this is to ensure that the rawest amount of signal is being fed into the pedal's input.
When you set up your pedal at the beginning of the chain, it also means that the tracking and response of the effect will be much better. In that way, it's also important to understand that tracking is the thing that defines a signal and calculates how quickly the whole system will recognize it. If you have already built your chain and pedal is tracked well, that means that it will pick up notes and sounds extremely detailed and balanced with almost no delays.