A keyboard workstation is a helpful electronic instrument, which has a sound module and sequencers combined in one keyboard. It provides many features both for performers as well as composers, allowing them to generate unique sounds.
If you wonder which might be the best keyboard workstation for you – keep reading! I prepared the reviews of the best keyboard workstations, and also attached a guide for customers in the end.
So, what are the functions of such workstations? Currently, the main area of their use is in recording studios, as well as concert "live" performances. The main function is to create a sound synthesis – a complex sound consisting of a fundamental (tone) and additional (overtones) to it. Modern keyboard workstations are equipped with dynamic tracking, low-frequency oscillator, filter to select a band of frequencies, effect processors to refine final composition, and lots of other components. Classifying modern synthesizers by sound quality, they can be divided into professional and for home use. Often, home-use instruments are equipped with built-in speakers, while professional synthesizers are much more sophisticated in design and require certain knowledge and skills to reveal their full functionality.
Our pick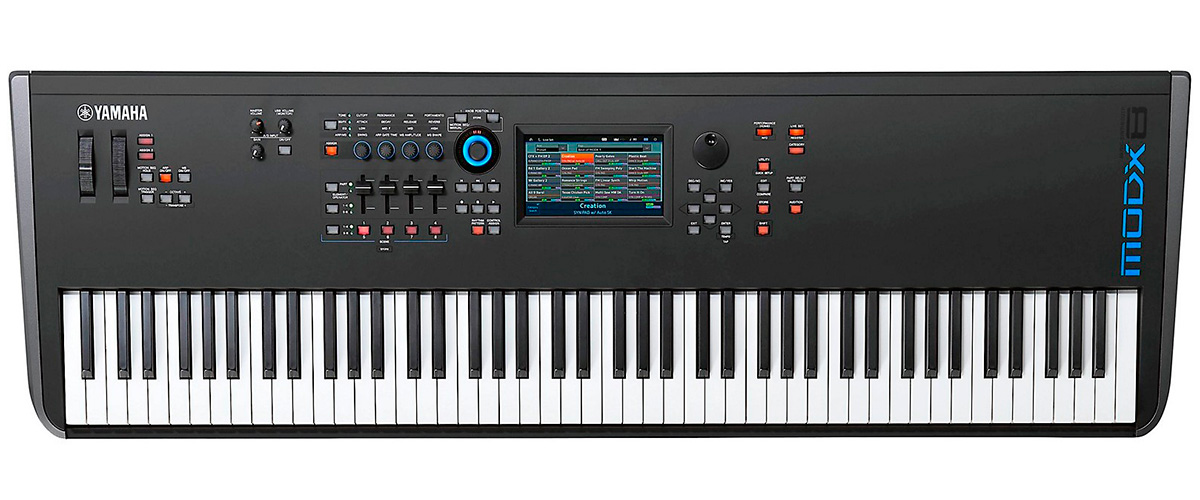 Yamaha MODX8
The best keyboard workstation
What To Pay Attention To?
What specifications to consider before buying? Firstly, decide what kind of station you need – amateur or a professional one. It's important, as it will be the main factor for all further choices. It defines the price of the instrument as well – that's why I divided all products into three categories depending on their price, so, notice, that the instruments with the perfect ratio of the cost, quality, and possibilities are in the first part of the reviews. However, if you're looking for something of premium quality, then don't hesitate to start from the third part of keyboard workstation reviews.
Next, pay attention to the keybed. For studio production, 25 keys are quite enough, but for performing parts at the concerts, you should choose instruments with a minimum of 61 keys.
Continue with the type of sound synthesis. If you need to keep all the bases, take a look at a classy workstation that applies multiple synth generators. Think about sound combining. If you plan on adding external musical inserts to your music, then your instrument will definitely need a built-in sampler – a device that records digital audio and allows you to modify and play this audio in various combinations.
Another useful device is a sequencer that records MIDI commands and plays them back in custom sequence. There are standalone sequencers, although many advanced workstations and arrangers also include sequencers as a built-in module. As for the effects, nowadays every keyboard has on-board buttons with available effects, and workstations with audio recording capability commonly provide additional tools such as EQ and dynamics processing.
Keyboard Workstations Comparison Table
Keyboard workstation
Keys
Category
Yamaha MODX8

best overall

88
under $2000
Review
Casio WK-6600

best budget

76
under $500
Review
Korg Kronos 2 88

best premium

88
premium
Review
Best Keyboard Workstation Reviews
Best Keyboard Workstation Under $2000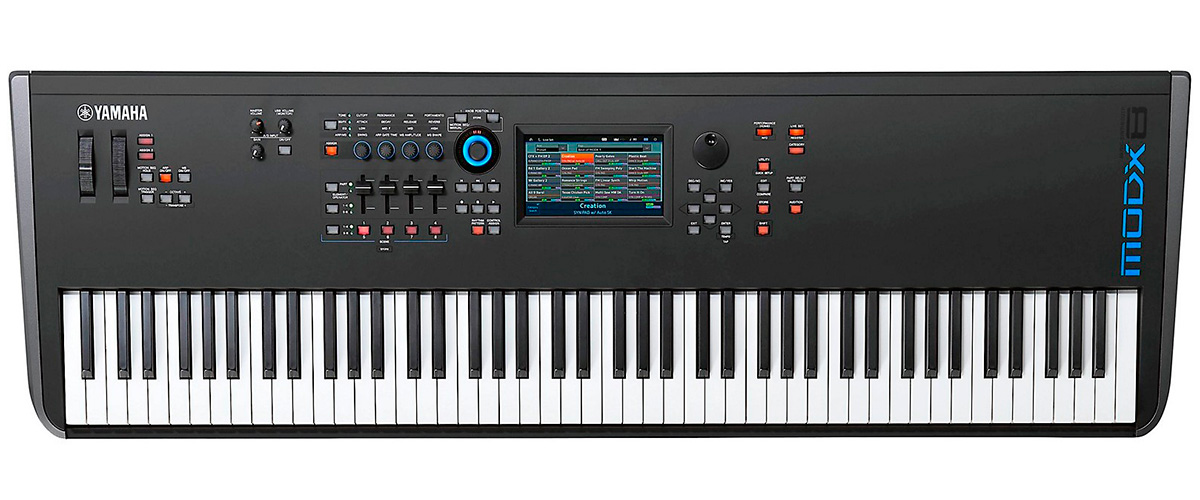 It's the best keyboard workstation if you need versatile functionality for a reasonable price. Yamaha MODX8 has 88 keys(maximum number) and features a GHS keyboard(different touch for the bass and treble keys) which suits perfectly for beginners, especially if you want to play an acoustic piano. It's a noble instrument for creative music-makers, lightweight, with an advanced synth engine, actually top-choice from this industry-leading brand.
The MODX series works on the same principle as the flagship Montage – two legendary tone-engines: AWM2 (professional samples and subtractive synthesis) and FM-X (modern synthesis based on the frequency modulation). The Motion Control system helps to easily control both sound engines. Among other cool features – onboard Motion Sequences to drive synthesis parameters via rhythm you can adjust your music to in real-time, a Vocoder effect helps to perform the standard voice-synthesizer sound, Seamless Sound Switching with four levels, an Envelope Follower that lets you use internal or external audio as a sample, set of 27 effects, an onboard audio interface with 4 inputs and 10 outputs, and 1GB of internal flash memory as a nice topping.
Pianists will appreciate special piano effects in this model such as Damper Resonance, which creates a wide and deep sound field for the piano, as well as mirrored changes in the pitch of an acoustic grand piano when you release the damper pedal. And superb HD reverb can take you to any space – from the living room to the cathedral.
One more grand feature is Super Knob technology. From the smallest detail to global transformations, it can control up to 128 parameters at the same time, opening up new horizons for your creativity. You can also assign a Super Knob to the expression pedal for full control even when two hands are engaged.
Overall, it's difficult to find a single drawback in MODX8, so I would call it the best workstation keyboard for today.
Pros
Weighted keys help you to "feel" the touch
Full mobility and relatively small weight
Heaps of possibilities due to two legendary engines presence
The touchscreen looks just the same as in well-known Montage
Great memory storage for this price
Cons
USB-requirements aren't fully convenient – you have to set it on your own and there's a limit of 71 minute
Roland FA-08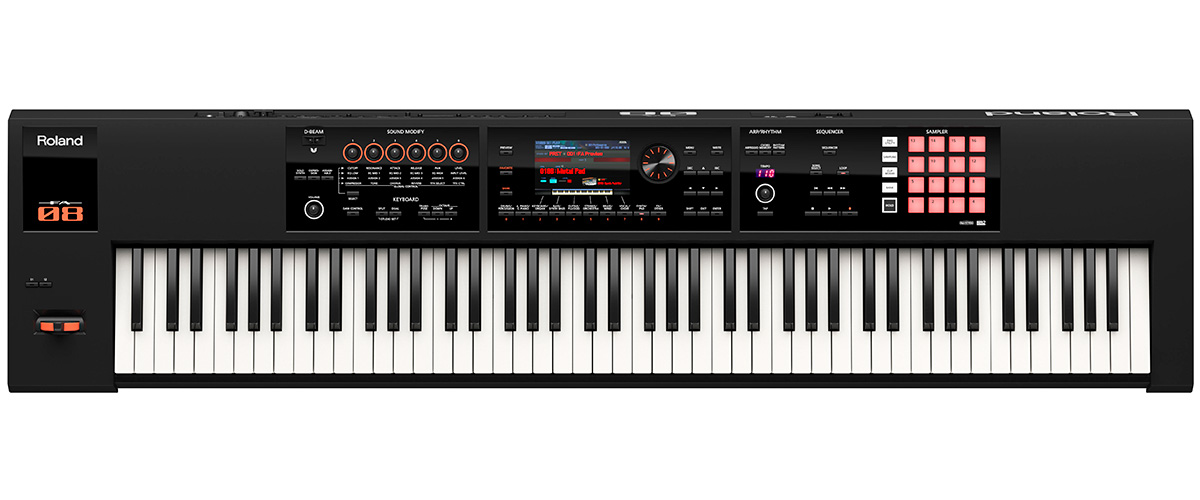 The Roland Fantom FA-08 synth workstation literally took the "work" out of its name. Even if you have never seen similar devices before but have a desire to write music – this model will provide an excellent, beginners-oriented user interface. This 88-note workstation is heavier than one from Yamaha but its functionality along with sleek design will capture your heart.
This model has a large library of ready-made sounds. In total, more than 2,000 professional voices inherited from the INTEGRA-7 module, with support for SuperNatural technology, which allows you to switch to new timbres while continuing to play, without losing notes or effects. A big plus is that you can expand the set of sounds for free by visiting the Axial website from Roland.
The basis of work on the Roland Fantom FA-08 is a 16-track sequencer, which contains all the necessary functions for modern musicians. It supports non-stop loop recording and there's a possibility to download your tracks to an SDHC card(which goes in the set), as multitrack composition or as MIDI to your digital audio workstation. Independent multi-effect processors are accessible for each track as well as for the master bus. All effects may be edited as well.
Pros
Great performance without extra apparatus needed- writing, editing music, creating mixdowns, etc.
Seamless connection to the composing software
Professional vocoder
16-track complete sequencer with everything you might need for a nice workflow
Huge FX library and expressive real-time recording
Cons
Some instruments, for example, brasses may feel not fully revealed in the sound
The glossy blackboard makes it hard to see lettering in dark places
Best Keyboard Workstation Under $1000
Korg Kross 2-61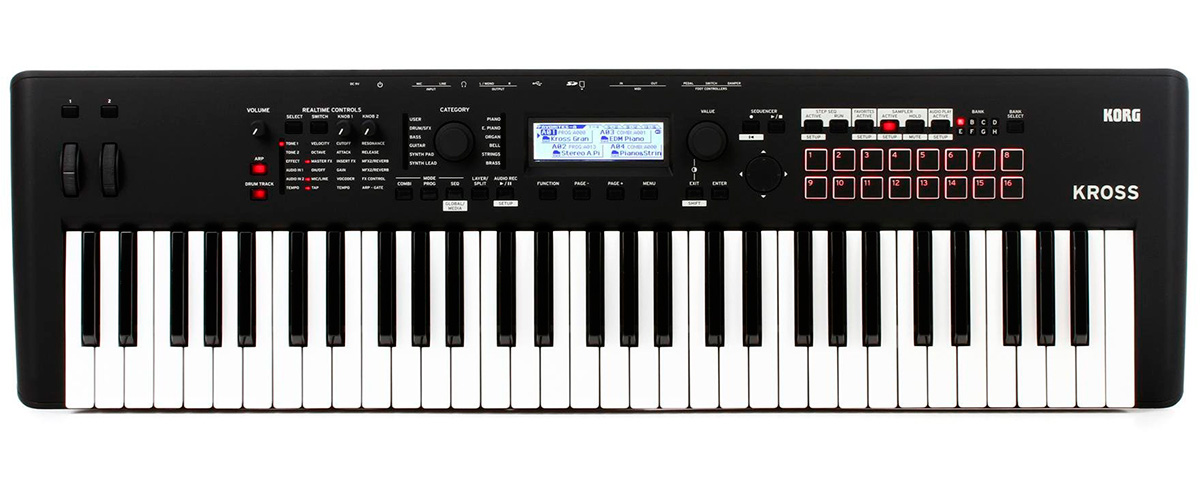 This is undoubtedly the best keyboard workstation under 1000 dollars. Kross 2 synthesizer workstation, an improved version of the Kross series, differs from its predecessor quite significantly: Kross 2-61-MB has more presets, a more user-friendly interface, and increased to 120 voices polyphony. In terms of functionality, the Kross 2-61-MB is also superior to the original product, as it can boast a built-in phrase sampler with 16 pads. The keybed has a slightly improved formula with weighted keys to make it just like the original piano in the process. 61 keys in the keybed mean that you won't be able to perform complex parts as such available on the authentic piano, although it's still enough for creating anything from electronic style. Korg Kross 2-61-MB can work both from the network and from usual "alkaline" batteries or Ni-MH accumulators.
The first thing I've noticed is the quality of the board – kind of rubberized, texturized, and well-designed section with 16 samples, which you can import or direct from audio inputs.
Also, pay attention to its size – only 3.8 kg/8.36 lb of weight with dimensions of 935x269x88 mm make the instruments easy to transport. USB audio interface also serves user's caprices – you can couple the KROSS 2 with the Mac or Windows computer, or connect it to your iPad or iPhone. The KORG Module prime-quality sound module app is a module with external sounds that are played from the KROSS 2, or you can use the backing of tracks that you created thanks to the KORG Gadget DAW app, all requiring simply a single cable.
There's much more if to be precise about the performance. Korg Kross 2-61 gives you a rich selection of timbres: more than 1000 presets, 128 MB of memory to download additional audio libraries, integrated audio player/recorder for 3 hours of continuous creating, which can be controlled from the ped, built-in sequencer, drum track, arpeggiator, and way more. I highly recommend it for EDM producers and live performers. The sound quality is amazing – and I'm sure you won't find a better electronic instrument for such price.
Pros
Multifunctional built-in sampler with sixteen pads
Favorites function to save and quickly recall selected sounds
Decent drum track and arpeggiator
Aesthetic professional-look design
A SD-card attached allows you to quickly record and overdub your samples
Cons
You need to use batteries which work up to 6 hours
It doesn't come with the manual and might be too complicated for the beginners
Roland JUNO-DS61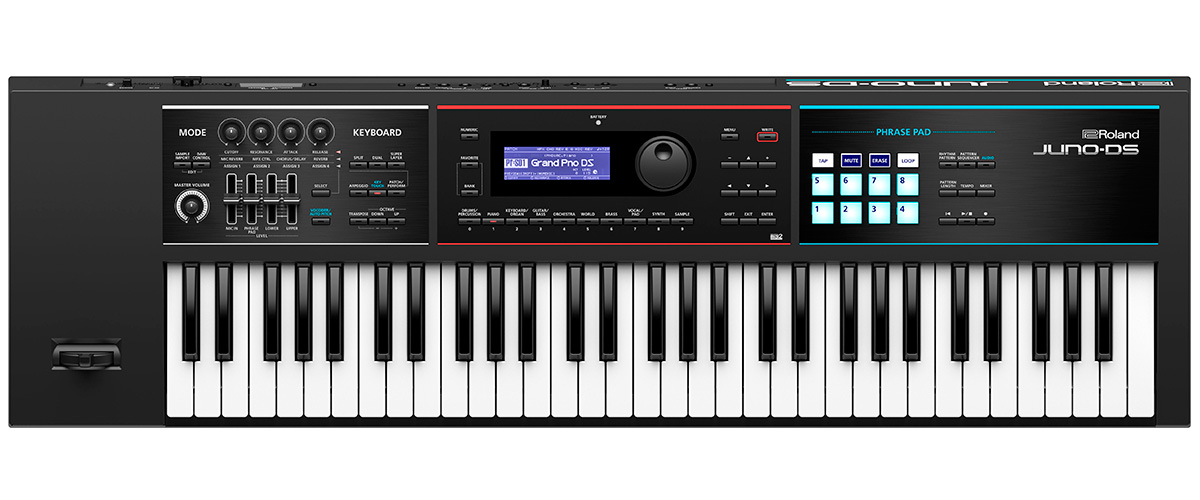 If you wonder what cheap keyboard workstation to buy for your home studio then this review is a must-read for you. Like other Juno instruments, this 61-note keyboard workstation also has an amazing quality of sound, and ease of control. It is an updated version of the famous Juno series with additional piano, organ, brasses and other sounds. Extended libraries with more than 1000 presets are available for download on the official Roland site. 8 phrase pads on a keyboard sequencer will enhance your performances with triggered sampling and song-recording. You should try its Super Layer section with prepared multilayer sounds. Moreover, JUNO-DS61 is incredibly lightweight(11.12 lb/5 kg) which will come in handy for the touring musicians.
This synthesizer can be powered by batteries and has a built-in sound card so that you're not dependent on the network when writing demos on your laptop. With mic input and audio pitch effect, it is possible to write a song of full value. Your favorite sounds can be saved in ten banks(categories) conveniently placed on the board. Numeric and navigation buttons will help you to switch between all sounds swiftly. On the left side you'll find everything to control your sound – volume-knob, distinct adjustment of the microphone volume, phrase pad volume, lower and upper(left and right hand) modes, four knobs for the complex editing, including cutoff, resonance, attack and reverse options, four parameters to edit with an EQ and button for the quick call of the sample input. JUNO DS-61 can also be applied as a modulator for your DAW.
Pros
A dedicated mic input with effects will especially suit singers
Expanded, generated and favorite sounds in one convenient menu
The super-layer and arpeggio functions add versatility to the audio
Realistic acoustic and electronic piano, drum kits, organ, and other add-ons
Cons
Keys don't go as deeply as wanted when you press them
61 notes restrict the amount of available compositions
Best Keyboard Workstation Under $500
Casio WK-6600 – best budget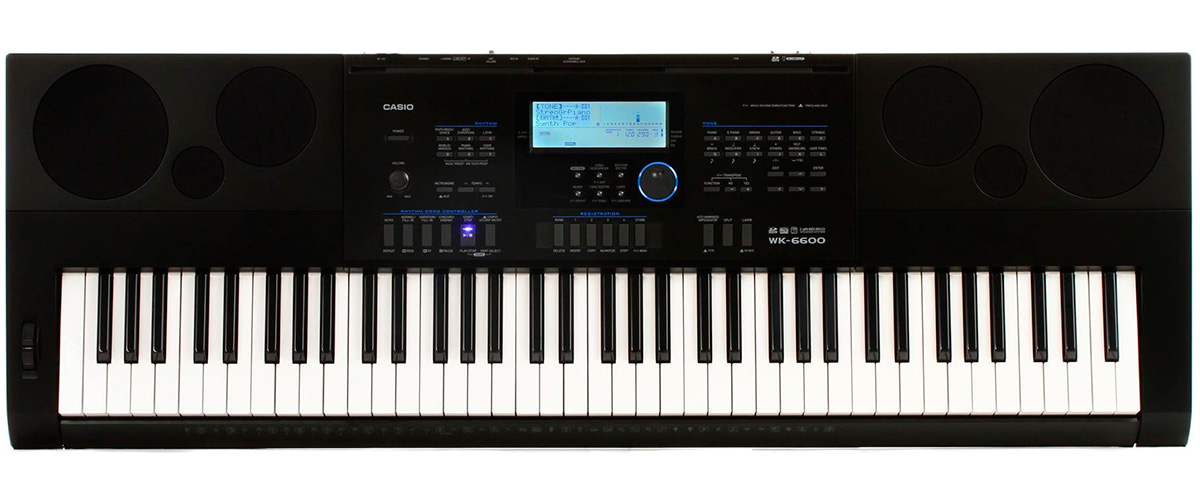 This is a truly impressive keyboard workstation for its price. It comes with a 16 track song sequencer. The WK-6600 is equipped with 76 touch-responsive keys. Moreover, it has one system track that supports recording of up to 5 tracks or about 30 000 notes. With this model, you have an excellent opportunity to combine instrumentals from the 210 built-in rhythms and change settings to create your own rhythms. It is extremely easy to set the release time, attack time, reverb, and other parameters to get perfect audio.
The WK-6600 features four high outputs. It has 2-way stereo speakers and a 6W + 6W amplifier, which provide very rich, resonating sound. If you want to have more powerful volume and overall audio, the appliance is equipped with a Line Out port (L / Mono, R – Standard Jack), Mic In (Mono – Standard) port, and an Audio In Mini Jack. In fact, it has everything you might need. In addition to the 220V mains, the synthesizer can also be powered from six D-batteries (not included).
One of the things I like the most about Casio WK-6600 is its built-in arpeggiator, which gives you the possibility to assign various phrases or rhythms to one dedicated key on the keyboard. Overall, the appliance combines the portability and automatization of Casio products with some characteristics of higher-end keyboards that cost much more. Creating new rhythms, adding sound effects, and saving your own individual settings allows any musician, regardless of the level of experience, to easily and quickly compose and record their musical hits.
Pros
The dedicated wheel to bend pitches from 0-24 semitones is conveniently placed on the left side of the device
You can easily connect it to any device, running on Windows, iOS, or Android with no driver discs required
Supports SD and SDHC memory cards up to 32GB
The selection of built-in effects includes ten reverbs, five choruses, and 100 DSP types
Cons
At a total of 76-keys, the device is almost an octave shorter than standard 88-keys of an acoustic or digital piano
Although it is MIDI enabled, you need to buy a USB to MIDI Interface Adapter cable to use this feature
Premium Keyboard Workstations
Korg Kronos 2 88 – best premium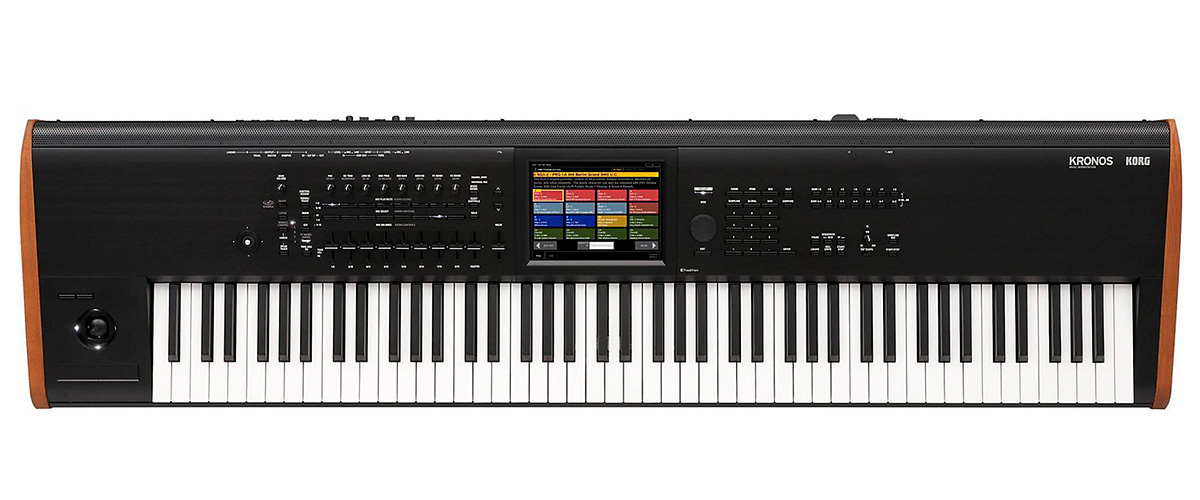 Let me introduce you to a phenomenal keyboard workstation – Korg Kronos 2 with 88 keys. Featuring nine separate engines, updated Set List mode, new Berlin Grand piano integrated into the powerful SGX-2 Grand Piano engine, colored Touch View sensory display, and massive KRONOS sound libraries it's a superb instrument with unlimited possibilities for creation. Plus a natural touch of the weighted keyboard will accommodate the most demanding and experienced performers.
What differs Korg Kronos 2 from other similar workstations? Well, there's a couple of things. Firstly, you will be amazed by professionally-programmed new sounds that take up 21 GB of space compared to 12 GB in previous models!
Among the features you should notice several new working features, using the original color mode, which visually facilitates the operations of the station and sounds, especially deep sound tuning. And, of course, the newest generation of sonic engines must be mentioned.
The CX-3 Tonewheel Organ is a tonewheel organ sound module that clearly conveys the characteristics of classic electromechanical tools. The timbres of organs found for legendary representatives of famous composers now are at your disposal.
The HD-1 High Definition Synthesizer – is the flagship PCM sound module with the operation and wave sectioning function to ensure great results when writing music of different styles and for different goals.
The AL-1 Analog Synthesizer is a high-quality audio simulation module that allows you to create generators in real-time and save them with ultra-low cross-ratio (HD-1 radiation). Resonant simulation affords to switch between different classic sounds and multifilter flex control to produce hybrid filtered shapes.
Another individual feature of the company is the KARMA system – innovative algorithmic technology that was created to produce refined pieces, drum grooves, and backing tracks and expand your imagination on the music field.
Pros
The wide range of sounds across instruments and boundless possibilities for experimenting
Delicate touch with weighted hammer action will be more than enough for piano composers
Plentiful effects – you can play 16 at once with EQ mode available for each part
The profound interface of each engine
Super convenient touch screen
Cons
You need to spend loads of time to get the most out of the keyboard
The software that comes with it, which presumably allows you to control the Kronos from you Mac works pretty slow
Yamaha Montage7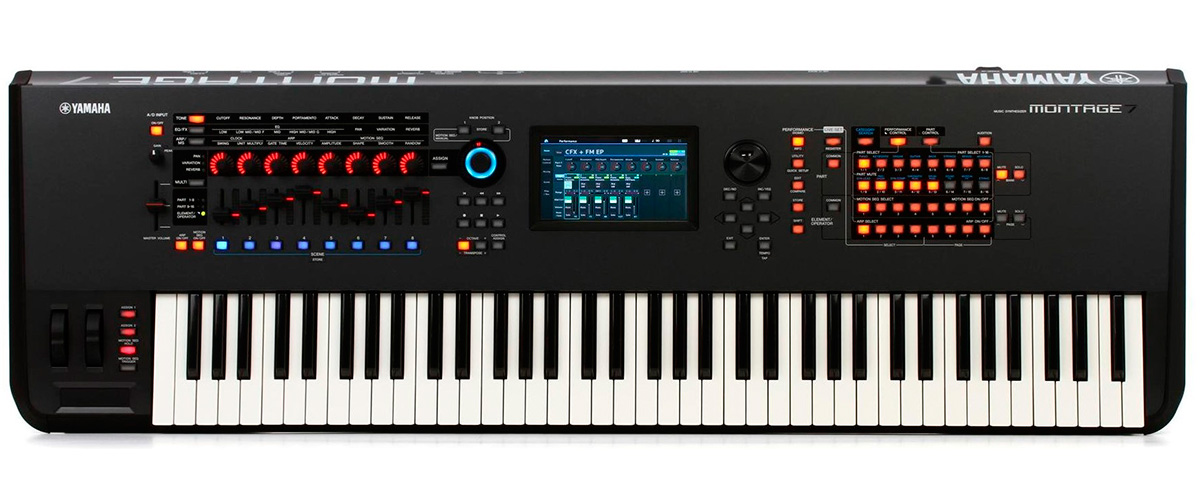 Based on the principles of these two legendary systems – DX and MOTIF, the Montage flagship workstation sets new standards for control, sound mixing, and usability. If you liked DX or Motif, you will definitely love Montage. Let's be honest – it hasn't got the whole workstation functionality but it's all about the synths. Montage 7 has two synth engines – you got AWM sampling from the Motif with eight times more sample memory and FM-X engine which is brand-new and eight-operator. Both of them are of 128-note polyphony stereo – merge it, and enjoy the result of the 256-note polyphony with 32 inter effects all running at once.
There are a lot of functions added to this feature-packed music machine, and I'd like to start with a super-efficient Motion Sequences technology. Motion Sequences are rhythm-synced, fully programmable control sequences that can be bound to any synthesizer parameter and discover completely new ways to program sounds.
No matter who you are – song-tweaker, sound producer, or a songwriter your fingers will be definitely satisfied with the Montage 7's successful enabled with soft aftertouch, 76-note FSX semi-weighted keybed, as you regulate multiple parameters in real-time with the controller named Super Knob.
MONTAGE's waveform memory is another success as it's approximately 10 times larger than that of the MOTIF XF, allowing you to use more effects per instrument for more realism and details. MONTAGE has 1.75 GB of user memory with high access speed. It can store all patches or libraries downloaded from the official Yamaha website.
One more benefit is a USB audio connection. You can pair Montage with your computer using a single regular USB cable and transfer every little nuance of your ingenuity to the audio editor. The advanced USB driver allows you to transfer up to 16 and receive up to 3 stereo audio channels in 24 bit / 44.1 kHz format to/from your computer or smartphone. Additionally, the USB connection provides full support for MIDI (16 channels).
Pros
Natural synth sounds will blow your mind
Envelope follower which turns your audio into the control source
Truly responsive touchscreen
Motion Control adds expressiveness to the EDM type music
Cons
No sequencer – there's no possibility to add own sequences
Sliders are poorly built and don't latch in a proper direction
Buyers Guide
What is the difference between an arranger keyboard and a workstation?
An arranger keyboard and a musical workstation look pretty alike and have corresponding functions, thus, differ with an important one. A music workstation is an electronic musical device with the facilities of a sound module, a keyboard sequencer, and usually a musical keyboard, while an arranger keyboard is a more advanced, professional instrument because it provides backing accompaniments for performance. Such keyboards are equipped with advanced production tools allowing you to arrange and perform complete musical composition with help of the auto-accompaniments, inbuilt displays, and various intuitive controls. With a huge range of features, they are ideal for composers and solo performers looking for a quality keyboard.
To sum up, an arranger keyboard will be a solution for solo-performers, who want to replicate a complete band sound and play their voice apart from instruments in the background. This is because the arranger keyboards have accompaniment styles included that respond to chord changes and other cues, just as a real band would. But for amateurs, a music workstation will be more than enough.
Should I get a 61 or 88 key keyboard?
The number of keys is an essential characteristic for digital instruments, however many customers might be confused when choosing between 61 or 88-note keyboards on their workstations.
To begin with, all digital music devices have a different number of keys, ranging from 25 on portable the midi workstation to 88 like a standard acoustic piano. When choosing the optimal number of keys for you, the main factors are space you can free for it and the style of music that you intend to play. So, for studio production, 25 keys are quite enough, but for playing complex parts, you should choose advanced composing keyboards from 61 keys.
That's not a coincidence that the majority of home music keyboards come with 61 keys. All is simple – 61 is more than enough for electronic music, but for a full-pledged performance with classical songs included you will probably need an 88-note composing keyboard.