Finding the best microphone for live vocals can be a hard job even if you know what type of mic you want.

Depending on your style and venue there are many microphones in different price ranges, however, not all of them are of decent quality. In this article, you will find a suitable model very quickly, as we divided reviews into sections based on their price, and also made a separate section for the wireless models. No matter who you are – a beginner, a singer, who needs an upgraded brand-new mic or a conference speaker – this guide will answer all your questions. Remember that everything is measured by subjective opinion and individual cases, so don't expect models from the top of the charts to suit you well.
Nowadays, on the market, there's a huge amount of microphones but I emphasized the most important ones, which were tested on my own and which will be a great complement for the vocal or live performance. If you're a newbie you can boldly go to the budget part, the price there really doesn't say much about functionality and quality of the product. Over some time you will with pleasure switch to the high-end
Best Microphone For Live Vocals Review
Best Wired Microphone For Live Vocals Under $300
Sennheiser e945 – best wired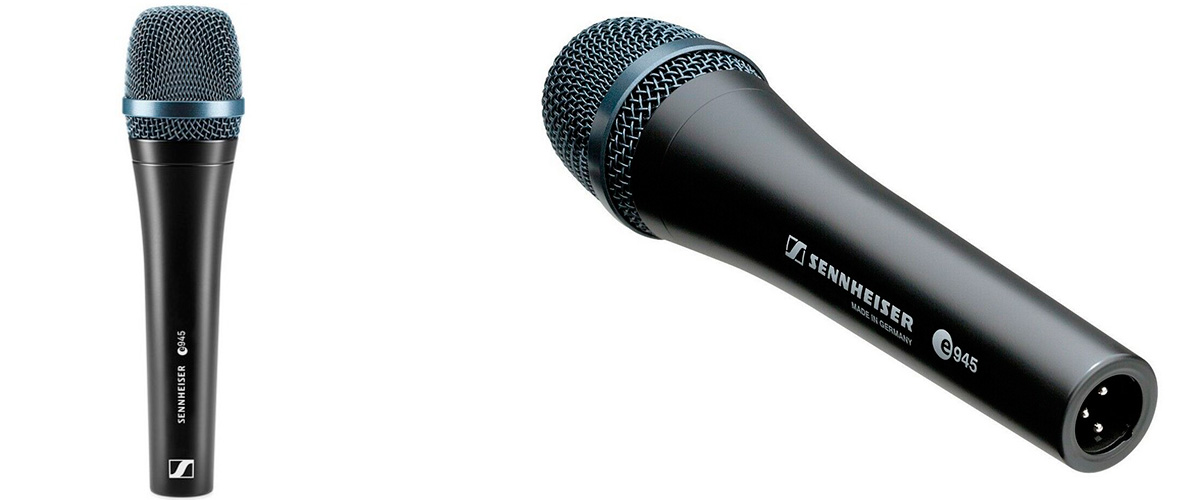 Sennheiser e945 is one of the best live vocal mics for today. Produced in Germany this microphone became a trusty model among professionals all over the world. It's a dynamic microphone with a super-cardioid pick-up pattern for professional sound reproduction of lead and backing vocals on stage. Even the pickiest experts admit that it sounds absolutely great and is unrivaled in terms of sound quality. It also has a superb feedback rejection and works fine even with the most uncompromising instruments and vocals.
Excellent acoustic properties of e945 are combined with a natural, open sound to provide excellent vocal intelligibility. Gives a very clear and bright sound, works great with not too high-pitched female and male voices. As the company states, it was created for working musicians to deliver smooth and natural responses. It's also recommended for presentations, sound-producing, and recordings. Everything is possible with Sennheiser e945 thanks to the wide frequency range of 40 – 18000 Hz and sensitivity of –54 dB.
The microphone perfectly captures attacks and is virtually insensitive to feedback. It is equipped with an anti-shock suspension for the capsule and an electromagnetic interference suppression coil. It also comes in a robust metal body, so you don't need to worry about its reliability. Additionally, it's equipped with a neodymium ferrous-boron magnet to save the microphone from harmful climate impact. This model combines modern engineering and advanced design features. Thanks to its dedicated noise suppression coil, the e945 will give you a warm and clear sound in the harshest environments.The excellent value for money Sennheiser e945 is an indisputable advantage when buying affordable, and at the same time reliable vocal equipment. A lot of professional singers already said that this mic is just what they needed for live performance and it is incredibly easy to use.
Pros
Crisp highs and vivid lows, nice velocity sensitivity, and overall very pleasant sound
It's a powerful mic with a super-cardioid polar pattern, which helps to take away the feedback problem
Advanced shock-resistant design to handle noise
Rugged metal housing
Cons
It tends to produce more feedback from the side than other mics in this category
Proximity effect isn't compensated enough
Shure BETA 87A – best wired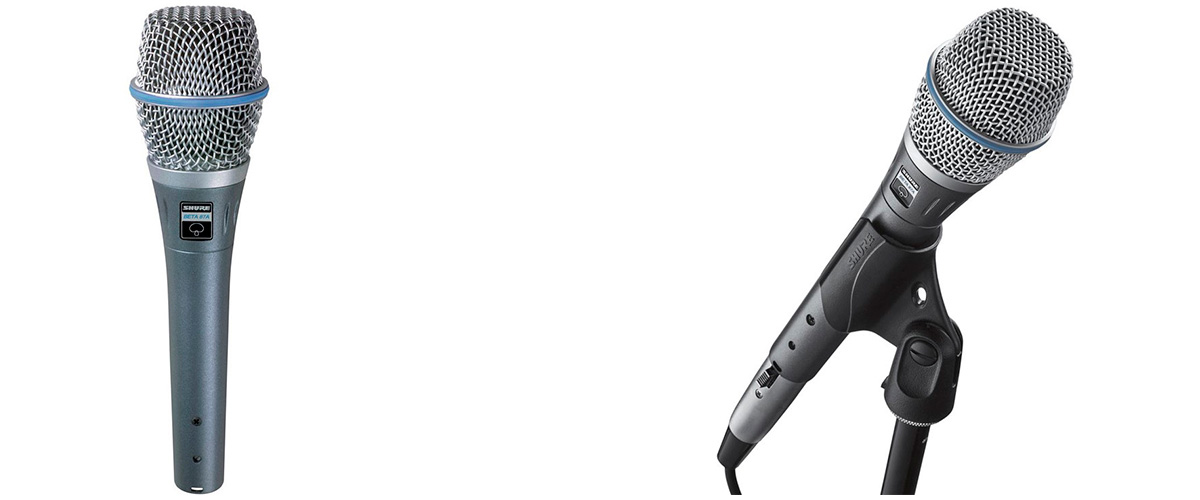 If you've been looking for the best microphone for live vocals I am glad to present you the review of this handheld condenser super-cardioid microphone from Shure. This mike delivers warm, accurate sound thanks to its supercardioid pick-up pattern and controlled roll-off at low frequencies to compensate for proximity effects. The microphone is virtually immune to radio interference and has a shock absorption system to absorb shock and reduce noise. If you decide to pick this professional mike, it will set you back about 250$, but it's for sure worth it.
Now, let's take a look at the main characteristics. First of all, I advise you to put attention to the smooth frequency response with improved presence enhancement. The BETA 87A has a controlled roll-off in the low-frequency range, which compensates for the effect of proximity and prevents the appearance of the humming bass, which often occurs when the microphone is located close. Immersive Adapted Frequency Response brightens the upper midrange and enhances the audibility of vocals in the background. The tapered super-cardioid pick-up pattern provides maximum isolation from other vocalists or instruments.
The electronically implemented low-frequency roll-off compensates for the proximity effect and wide dynamic range (117dB) ensures low distortion. With the advanced shockproof capsule system, any kind of mechanical shock is absorbed easily and operating noise is reduced. Finally, the built-in pop filter removes unwanted breath and wind noise. I hope this is already enough for you to be convinced that you're deserving of the legendary Shure quality and reliability.
Pros
Impressive quality of the sound both for live vocals, as well as recording any instrument
Excellent noise rejection without stage noise impact
Clear and loud sound with a natural perception of your voice
Very lightweight
Cons
Highs are too brittle
You will more likely after hear it when using on stage
Best Wired Microphone For Live Vocals Under $200
Shure BETA 58A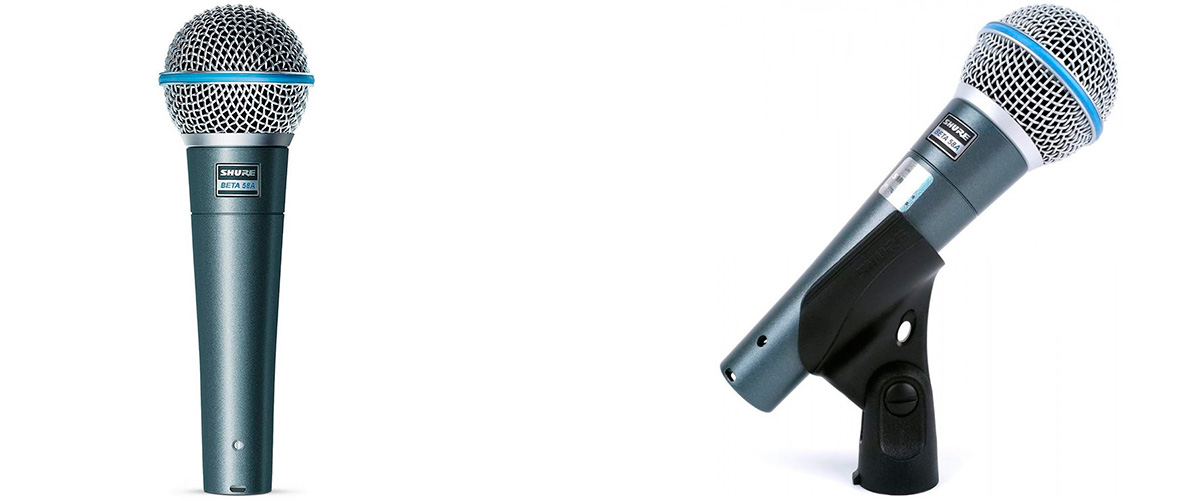 The Shure Beta 58A supercardioid microphone for live vocals offers the ultimate performance for live performance and recording. It is a dynamic type high-output device designed for professional sound reinforcement and studio applications. Supercardioid directivity extends across the entire transmission range and guarantees high, feedback-resistant gains, maximum isolation from other sources, and minimum off-axis sound. The contoured frequency response is ideal for vocals.
Buying a Shure Beta 58A vocal microphone at a great price, you will get a real workhorse. This device is ideal for live vocals. It provides the necessary strength and its super-cardioid capsule provides excellent protection against external sound sources. Also, it has a very smooth frequency response, so it works well on a variety of voices. When a clean, crisp, detailed stage sound is required, then this is clearly the option. Singers and performers all over the world love this microphone. The high power model has a natural presence amplification at 4 kHz and 9 kHz. This frequency response is perfect for powerful vocals, providing the clarity you need to cut through a live mix. And the low-frequency effect helps control the proximity effect, so you get consistent performance from your device while you're busy performing. An internal shock absorber also minimizes operating noise. It's hard to find a microphone more specialized for vocals than this one.
Shure is known to test its enclosures under various conditions, subjecting them to all kinds of tests. The company knew when they designed this microphone that the stage and the road are extremely challenging environments.
Pros
Great frequency response that enhances your vocal
The proven reliability of the brand
Solid mesh grill protects it from the hit
Cons
Noise is hugely amplified over the PA system
Not the proper choice for a studio work
Sennheiser e935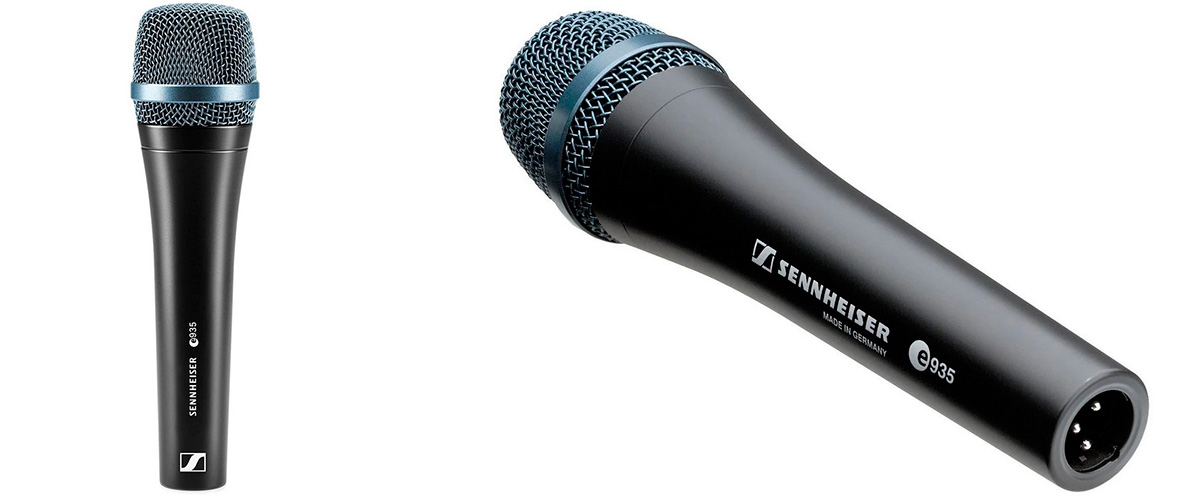 The Sennheiser e935 stage microphone with a cardioid pattern is a high-quality professional microphone for working with vocals. Designed specifically for stage work, it allows you to get surround sound in any environment, as well as distinguish vocals from the overall sound.
This device is optimized for synchronization with sources of increased pressure. It is equipped with a high-strength black metal casing and an anti-interference grill. The e935 combines state-of-the-art engineering and advanced design features such as a dedicated anti-jamming coil. By suppressing contact noise, the e35 will give you a warm and clear sound in the harshest environments. The frequency range from 40 Hz to 18 kHz, has proven itself perfectly when reproducing various types of vocals.
The first thing you will notice will be its durable metal body, vibration-softening, design, and noise-compensating coil, complemented by the insensitivity of this model to extraneous and feedback noise, which makes it a great choice for live performances. It has a quite solid construction and substantial feel in the hand, that makes it an appropriate mic for concerts. The all-metal body with a very sturdy mesh grille also adds to a nice minimalistic look. The e935 literally brings a revolution to your sound, as it has nice off-axis tone coloration, professional noise, and proximity effect handling. The delivery set also includes a convenient protective bag, a holder that comes with a ⅝-⅜ inches stand adapter, and operating instructions.
Pros
User-friendly design – everything constructed so that you don't mess anything up on the stage
This is a high-end microphone, so it will provide you with a maximum of clarity and crispness in the sound
The construction feels like a worthy craftsmanship
Excellent dynamic range and off-axis rejection
Cons
Doesn't handle all interfaces, because it has 350-ohm impedance
The mouth needs to be always directed in front of the mic
Best Wired Microphone For Live Vocals Under $100
Shure SM58S – best budget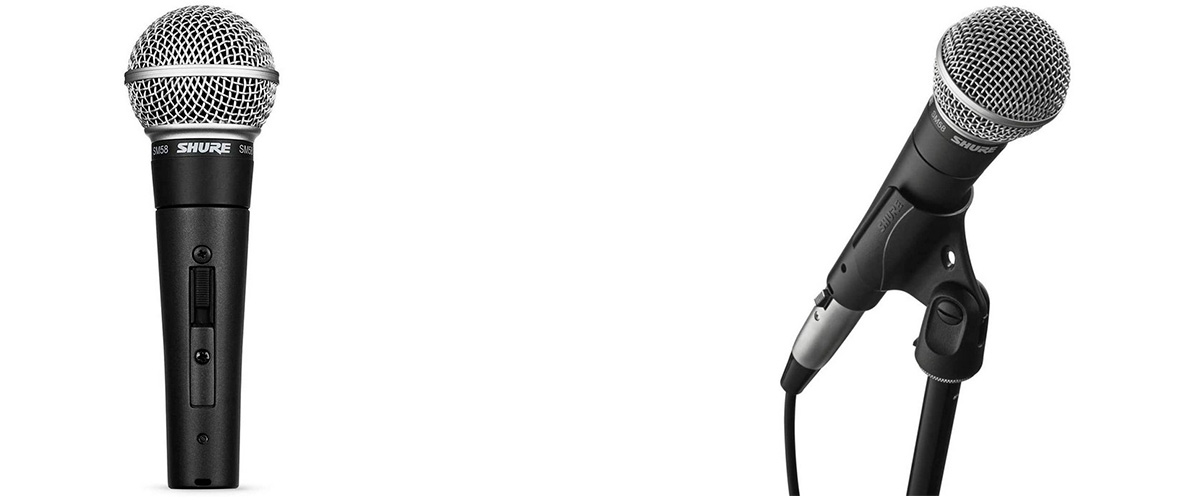 Shure SM58 SE is a legendary model that has established itself as a recognized standard of concert vocal microphone. It's considered to be the best live vocal mike, especially if you need a powerful performance. Typically vocal amplitude-frequency response with clear and clear sound in the midrange and with a slight attenuation in the low-frequency range is what makes it so good. Its smoothly rising midrange response and bass roll-off maximize power and energy with minimal booming for both male and female vocals. The microphone is available in two versions: with a button – SM58S and without a button – SM58-LC. Shure SM58-LCE (basic version) comes in the kit with a stand and an adapter for it (from 5/8 "to 3/8"), a carrying case, a branded strap, a sticker, and documentation.
What I personally liked about it is its die-cast metal body and weight of only 300g. As for other dimensions they are 162mm of length and 51mm diameter. Cardioid characteristic of the direction is a plus, too; it prevents the penetration of extraneous sounds and the emergence of feedback.
Among some special features, I want to mention the pneumatic system of protection against mechanical impact, the built-in effective spherical wind protection, tactile switch on the microphone body, and in general strong and reliable construction. Once again, you probably won't find a better option for the main and backing vocals. This is the best vocal microphone for live performance under 100$ for today.
Pros
Exceptionally loud midrange, the top choice of bands, which perform live
The integrated pop filter will be useful for announcers
The option of muting the mic works very smoothly and is efficient in the studio recording
Can be with ease connected to your computer, amplifier or speakers
Cons
Not comfortable for opera genres
The switch feels fragile after some time of use
Best Wireless Microphone For Live Vocals
Shure QLXD24/B87A – best wireless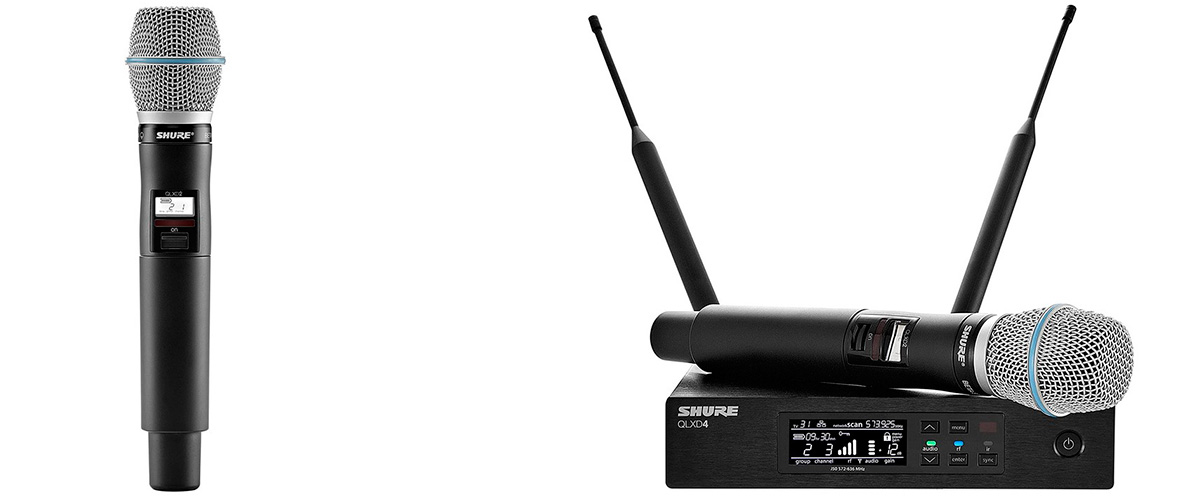 Shure QLXD24/B87A is a professional radio system with a manual condenser super-cardioid microphone, which is a part of the QLX-D family series. It's truly the best suited wireless microphone for live vocals that reveals its full potential in medium-sized rooms. All live tasks can be solved with the QLXD24/B87A as it became an indispensable mic for all kinds of conference playgrounds. In the complect you will get a wireless manual microphone with BETA 87A transmitter, QLXD4 receiver, microphone clip, power supply, 2 AA batteries, a lid with battery contacts, two 1⁄2 wave antennas, 2 BNC cables, zippered pouch, a pair of BNC adapters, a stand and, of course, user manual. I like that it features Ethernet technology which allows it to search channels in the network on several receivers and integrate the Wireless Workbench program for the distance control of sound from your computer. Moreover, it can work with up to 17 systems with 6 MHz per channel or 22 systems with 8 MHz!
What you should know about the wireless digital QLXD4 receiver is that it has the clear 24-bit digital audio quality and a very efficient radio frequency spectrum. It superposes pro settings with a flexible install and work. Autoscanning instantly finds open frequencies and appoints them to the receiver through IR-synchronization in one touch. The SharePlus software potentiates faraway monitoring and control over the receiver with IOS devices. The professional settings here are matched with a plain operation. You will be delighted to use it in any space conditions.
As for the high-end handheld QLXD2/BETA87A transmitter with a renowned BETA 87A capsule, it perfectly handles the wireless transmitting of voice and is compatible with all digital QLX-D systems. It also gives 9 hours of continuous work from two alkaline batteries or 10 hours from the lithium-ionized accumulators from Shure.
Pros
The lasting all-metal body that feels strong when you hold it
Diapason of its wireless handling can reach 100 meters
External antennas are of top-notch quality
High-density mode allows using a great number of channels
Cons
Condenser type of microphone might not suit all performers
It takes a reasonable amount of time to assembly
Shure BLX24/PG58 – best budget wireless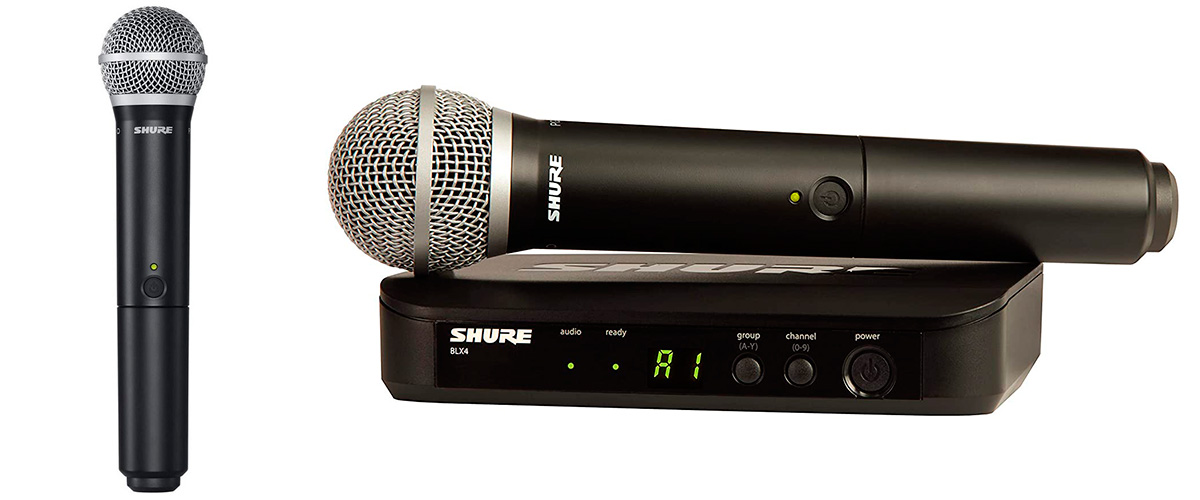 It's the most affordable Shure vocal concert dynamic microphone with a cardioid directionality that combines reliable performance, intuitive operation and simple assembly to deliver true-to-life sound. It is a radio system consisting of a fixed BLX4 receiver, a BLX2 / PG58 handheld transmitter (with a PG58 dynamic microphone head). The front panel contains a multicolored indicator for the volume, and microphone status. A dedicated Power button will allow you to power off the entire system at once. The transmitter is also equipped with a battery indicator. The product is made of polymer materials with high strength characteristics. Shure BLX24 / PG58, can be used in various weather conditions (from -18 to +50 C), which will be a big plus for corporate meetings, school meetings, and weddings, at any time of the year.
The radius of work is stated to reach 100 m in normal conditions. It can also support up to 12 compatible systems depending on the region. The specs I liked about it are the microprocessor-based internal antenna manyfold, a one-touch QuickScan finds the most appropriate clear frequency, 10 dB attenuator, 1/4 in. (6.3 mm) and XLR outputs and bi-color LED audio volume indicator. Green LED stands for normal sound level and red for excessive sound level (overload/circumcision). AA batteries included in the kit provide up to 14 hours of continuous use. In the kit, you will get a microphone holder, a power supply, and a threaded adapter for a microphone stand. The colored cap set can be bought separately.
Pros
Lightweight yet durable construction
Incredible combo of the transmitter options which brings excellent sound right from the box
Very powerful work on batteries continuously for 14 hours
Cons
It picks up some interference noise from the side
Some buyers claim it has more sound distortion than cheaper wireless systems
Buyers Guide
Dynamic or condenser mic for live vocals?
Dynamic microphones are electromagnetic microphones. This type of microphone resembles a mesh ball attached to a stick. When working with live sound, practically all microphones will use the dynamic option. Typically, for studio recordings of bass, electric guitar, and drums, dynamic microphones are preferred. The microphones don't need an accumulator or power supply to operate, they are reliable and relatively cheap As we mentioned, substantially a plastic film diaphragm is affixed to a little wire spool. This wire coil is usually hooked in the field of a permanent magnet. When the diaphragm vibrates, the assembly will produce an electrical current. Since the electrical output is very small, a microphone preamplifier must be connected.
Small condenser microphones are built into your mobile phone, computer, and even some cars. You will find them embedded in the camcorder, mounted on microphone stands – simply everywhere. This type of microphone uses a different kind of transducer. The technology uses conductive plates. One plate is a moving diaphragm and the other is fixed. When the space between these two plates changes, due to the vibration of the diaphragm, the capacitance will change, which generates electricity. This microphone is very susceptible and can record harmonics beyond the range of human hearing.
It is impossible to say exactly which type of microphone will be suitable for you because a dynamic microphone produces a warmer, denser sound and tends to wear out better over time. On the other hand, a hoarse, gentle voice can benefit from the detailed high level of a condenser mic.
Which polar pattern is best for vocals?
Directionality is the sensitivity of a microphone to sound, depending on the direction or angle from which the sound is coming from. You can find a graphic illustration of the sensitivity variation around the microphone over a 360-degree range on the polar patterns, where the microphone is the center of the circle and the angle reference is in front of the microphone. By their nature, unidirectional microphones can not only separate the sound of one instrument from another but also reduce feedback, thereby allowing more amplification.
A cardioid microphone is indifferent to sound coming from behind. The super-cardioid microphone has a narrower pickup area in front. Therefore, for live singing, you usually only need microphones that pick up sound directly from the front while suppressing sound from the back or side. Most microphones used in live performance have a polarized cardioid pattern or a super-cardioid pattern to prevent feedback.