Human nature is so arranged that it is constantly striving for something new and starting in voice overs is not an exception. This is a huge niche of people with a different kind of employment who have one thing in common – they all have to understand a bunch of devices, different measurements, sounds and specifications.

Ultimately, all these people are united by the desire to choose a good and qualitative product. Now, I sincerely hope that the same desire brought you here.
Before looking for the best microphone for voice over, you should definitely find out why you need it and what exactly you need to pay attention to. It's important to understand that microphone for voice over recording always differs by connection type, so that it is also suitable for different users with specific needs. In this article, I've divided mics by connection type: XLR and USB so you will clearly discover it's variety and decide what exactly suits your needs.
Nowadays, there are plenty of devices for voice-overs on the market, but for a more convenient choice, there is an accent made on the best microphones for voice acting that do their job better than others, boast unique features and have interesting design solutions. Most important things are written and described for you to make a reasonable and smart choice.
Best Microphone For Voice Over Reviews
Best USB Microphones For Voice Over
Blue Yeti Pro – best USB mic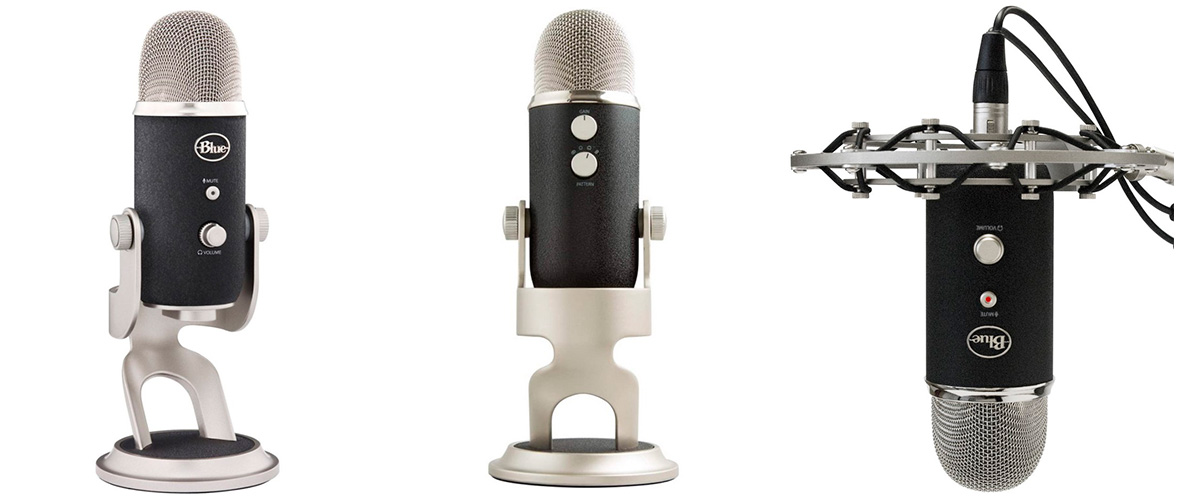 Here comes the Blue Yeti Pro review. To be honest, I'm absolutely assured that it is the best USB microphone for voice over on the market now. It combines the finest features and deserves to be called a mini recording studio. It's a great combination of easy plug-and-play USB connectivity, reliability, sturdiness that make this high-quality product suitable for many different recording situations. This one is chosen for a wide variety of applications like podcasting, blogging, and even more: it perfectly fits as a microphone for voice actor. Blue Yeti Pro also features built-in headphone output so it facilitates your work and makes it an all-in-one solution. Actually, the device supports not only USB but also XLR connection, it features a digital recording resolution of 24-bit/192 kHz with XLR output so it makes it very versatile for beginners and for professionals as well. The device also has four pattern settings. In addition, it comes with three custom condenser capsules.
Let's dive into specs now. First things first, I should underline that this microphone is related to condenser type ones. Yeti Pro includes a stand so it is 29.5cm tall in total, 12.5cm wide, and weighs in at 1.55Kg. The diaphragm capsules size is 3 x 14mm. Yeti Pro cannot be very portable and compact, but instead the device boasts its sturdiness and reliability. As I previously said, Blue Yeti Pro has 4 different polar patterns: stereo, cardioid, bidirectional and omnidirectional. It can also boast its frequency response that is extremely important for those who look for a microphone for podcasting or interviewing. That's why considering buying Blue Yeti Pro is an excellent decision because this wonderful microphone has a frequency response rate that equals 20Hz-20kHz and has A/D resolution of 24-bit/192kHz.
Pros
Includes USB microphone for a convenient plug-and-play
Very versatile, combines both XLR and USB connections
Reliable and sturdy
Clear sound recording
Extremely suitable for vocals
Cons
Set up is pretty complicated
Large and a bit heavy
Blue Snowball – best budget
Here comes Blue Snowball USB microphone with its excellent design, different color versions and perfect sound-capture capabilities. Snowball affordability is aimed at people who are just getting into streaming, podcasting or recording voice-over for videos. According to lots of sources and my personal impression I can affirm that the Snowball works well for close-up vocals or speech, while the pattern switching system gives a choice of two very usable tonalities. Moreover, this one is a good choice for those who look for a great combination of quality and not empyreal price. In other words, Blue Snowball is a really affordable and cheap voice over microphone. It is very easy to set up and you can exhale with relief, as the headache of installing drivers and software won't bother you. The microphone setup is incredibly simple and straightforward to let you enjoy everyday usage.
This one features Blue condenser capsule technology to provide you with premium-quality natural sound. There is a simple switcher on the backside that changes the Snowball to either cardioid, Omni, or cardioid with -10db pad. Blue Snowball's basic dimensions are 4.88 x 7.88 x 10.00 inches. In fact, this microphone's affordability also has a dark side. For example, this gear features only a 40 Hz frequency response and only 44.1kHz/16 bit limit of its sonic capabilities. Nevertheless, it's not a really big problem due to the fact that the device still works perfectly and remains an excellent mic.To my mind, Snowball is more than suitable for those who just start and look for reliable gear.
Pros
Extremely affordable
Different color options
Great snowball-design
Stunning and crisp audio quality
Cons
Features only Only 44.1kHz/16 bit
Captures background sounds in non acoustically treated rooms
Audio-Technica AT2020 USB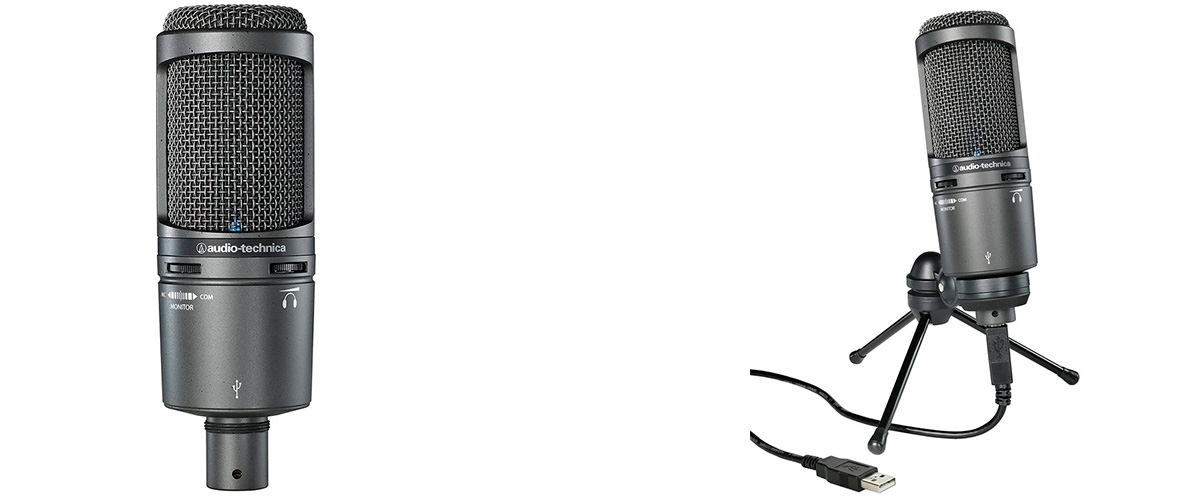 AT2020 USB + tends to be one of the best mics for voice overs. As it is already clear from the name of the product, it is supported only with USB connection. While boasting its simplicity, the microphone brings an excellent sound, premium quality, and affordability right to your desktop. While Audio-Technica AT2020 USB+ is functioning perfectly with modern recording software, this microphone is designed to be used for podcasting, studio recording, and voice-overs. Another thing that worths to be meant is the AT2020s package that includes a tripod desk stand for easy adjustment and placement, USB cable, mic stand adapter, and a soft pouch for comfortable carrying your device.
Basically, native specs are pretty respectable. Let's dive into real specifications. The USB side of things caters for 16-bit A-D conversion (which can accommodate a dynamic range of over 90dB) and a sample rate of 44.1kHz. Dimensions are 6.38 x 2.05 inches while basic weight is 85 lbs or 385g. As I previously said, AT2020 USB+ features a condenser microphone type with a cardioid polar pattern. Its diaphragm size is 63 inches or 16mm. What about the most worrying thing, the frequency response starts from 20Hz up to 20kHz what I personally find pretty solid. A/D Resolution is not so spectacular with its 16-bit/48kHz, but also appropriate.
Pros
Provides crispy and detailed sound
Handles lots of studio applications
low-mass diaphragm provides extended frequency response
Package includes some useful things
Picks up all sounds with no distortions
Cons
No shock mount
Storage bag is insecure
Best XLR Microphones For Voice Over
Neumann TLM 102 – best XLR mic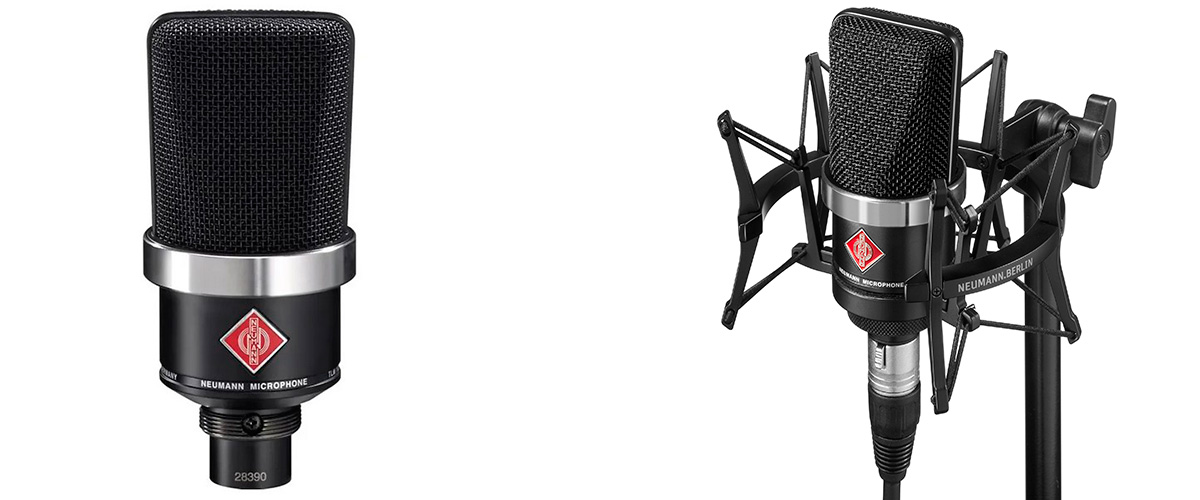 Next in line is the Neumann TLM 102 and looking ahead, I'd like to be honest and say that this is one of the most popular XLR mic I've ever seen. The first thing that comes to my sight is the Neumann TLM 102s compact design. Despite this condenser's tiny appearance, there is literally a monster inside. Neumann has especially developed its brand new cardioid capsule for the next generation of microphones. Whole TLM series including 102 was designed focusing on low-noise circuitry and capturing sound sources.
Still wonder if TLM 102 is the best microphone for voice over? This microphone is extremely versatile, really. Due to the fact that this device is much smaller than his opponents, it is easy to place it wherever and however you want to capture the sound properly and clearly. It is particularly good in vocal perception and also has a possibility to support high SPLs. I think it wouldn't be a mistake to admit that TLM 102 is specially created for vocal and instrumental recordings. In addition to all these amenities, the device has a huge diaphragm that guarantees silky, natural, and detailed sound. Moreover, in thanks to 144dB of sound pressure levels, even extreme volume processing will not be a problem and the device anyway delivers exceptional quality from capturing lows and highs, loud amps and drums. Even these few things show how multi-purposeful TLM 102 is.
Let's as we usually do-take a closer look at the specs. As I already said, TLM 102 is a condenser mic with only one cardioid polar pattern. The most important part is the sound. Frequency response is from 20Hz just up to 20kHz and max SPL, as I previously highlighted, is very solid-about 144dB. The device also boasts its 50 ohms output impedance. What about basics you may want to know, dimensions are 4.5 x 2 inches or 116 x 52mm and accordingly weight is 0.57lbs or 260g.
Pros
A compact and transportable design
Well-executed emphasis on acoustic recording and vocals with high SPL
Suitable for a wide variety of recordings from podcasting to drums recording
Package includes stand mount
Cons
Package doesn't include storage case or bag for carrying
Rode NT1-A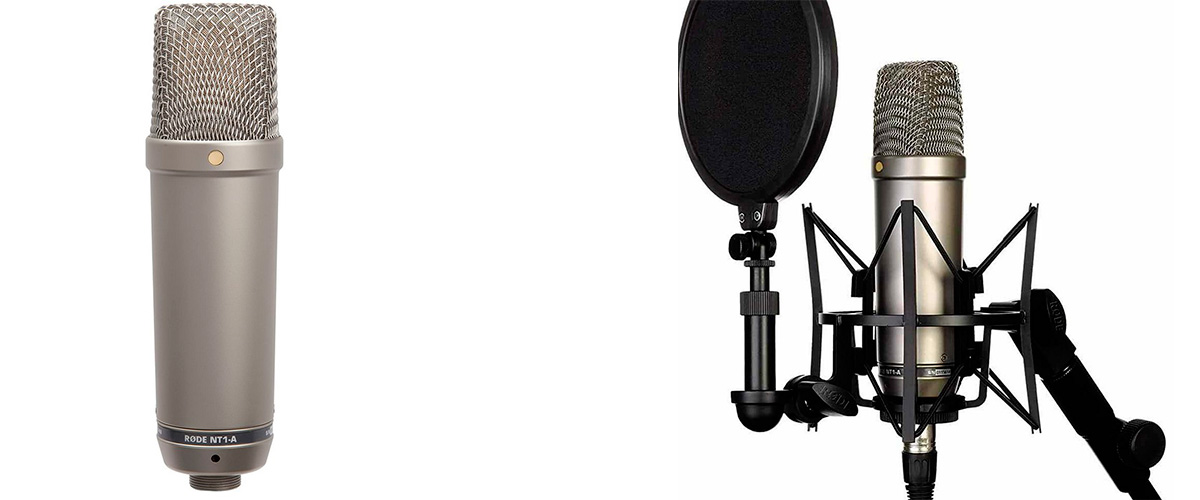 Cardioid condenser Rode NT1-A microphone for voice over work is regularly meant as an industry standard for the quietest mic ever. Regardless of your background, NT1-A has a self-noise level of only 5dBA so it captures your sounds clearly and detailed. It is actually the one from a wide variety of different others you definitely take into account. The thing that made me really proud of Rode is the package and its "filling". It Includes shock mount, pop shield, XLR cable, mic dust cover, and instructional DVD to facilitate your set up. Setting up doesn't create some unwelcome hussle but you still might need some equipment. Nevertheless, I believe people who choose XLR mics know what they do and made their choice not by coincidence. There is still a thing you should be aware of, is that Rode NT1-A is extremely sensitive. Actually in one hand, this one captures the smallest and quietest sounds that makes it the perfect choice for artists, musicians, interviewers. On the other hand, it may cause some trouble because due to the sensitivity, you may need to equip your room so the mic could capture sounds you only want it to capture, without any distortions or background noises.
Traditionally, specs are already tired of waiting so here they are. Basic dimensions are 7.48 x 1.96 inches and accordingly 18.91 x 4.97 in cm. The NT1-A can handle 137dB SPL and it really prevents overloads and records exceptional brilliant-clear sound. Diaphragm size is 1 inch or 25.4mm. Weight is 0.7lbs and 317g. The frequency response rate is usual-from 20Hz up to 20kHz with output impedance about 100 ohms.
Pros
Absolutely noiseless
Premium all-metal build quality
Records crystal-clear sounds even with background noise
Features 137dB SPL for wide variety of recordings from whisper to extremely loud
Includes a lot of useful stuff for setting up and comfortable placement
Has built-in shockmounting system
Cons
A bit heavy
Captures even the smallest noises
Shure SM7B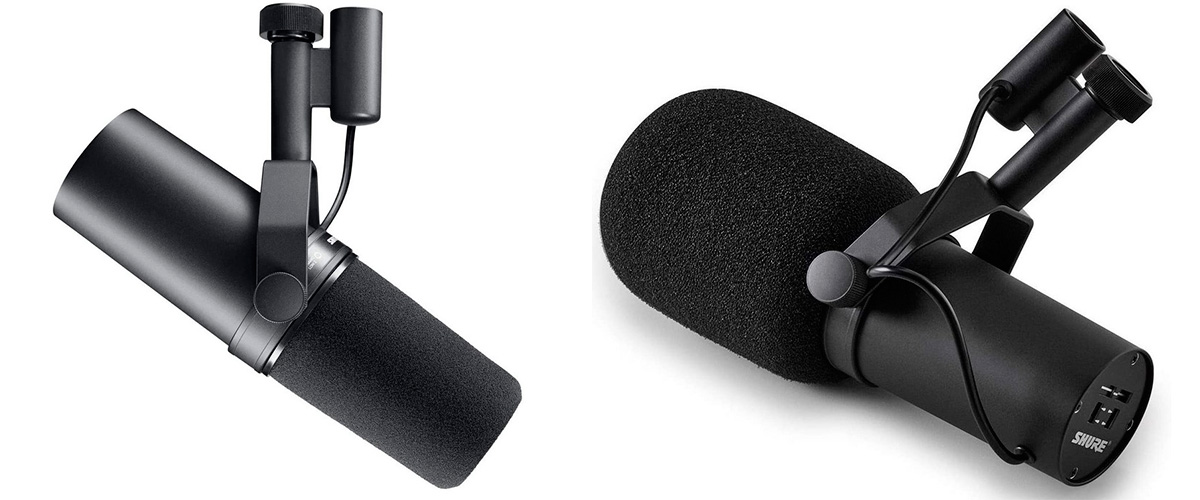 Here comes ShureSM7B-one of the most popular mics in the world. It can be met everywhere-on the radio, podcasts studio, TV show, etc. SM7B has dual tone controls, so it is exceptionally versatile. This dual-band switchable passive EQ offers low cut and presence boost controls. Flat or with the low cut, the SM7B is an amazing mic for male dialog and vocals, but a switch of the presence boost makes it an excellent choice for thin sources and brittle female vocals.
This device's type is dynamic and the polar pattern is cardioid. Frequency response starts from 50Hz and continues up to 20kHz while an output impedance equals 150 ohms. It can also take up to 180dB, which makes the SM7B a top choice for recording bass instruments, drums and so on. SM7B features an internal suspension and shockmounting system, which decreases light vibration. Advanced electromagnetic shielding keeps out hum. And since it features a cardioid polar pattern, off-axis sound would never be a problem if you decide to choose Shure SM7B.
Pros
Dynamic and natural sound
Smooth highs and clean lows
Easy to set up and use
Don't run hot as condensers
Outstanding value for those who want to capture heavy music
Cons
No visible or audible problems spotted
Buyers Guide
What type of microphone is best for voice over?
If you've finished looking for the greatest usb microphone for voice over or excellent XLR mic, you may be alarmed with the question "What exactly type of mic is the most suitable for voice over?" To start with, it's obligatory to understand the main difference between XLR and USB connection types. Despite the different ports form, the main distinction lies in the fact that XLR cannot be connected directly to your computer, it needs to be connected to a mixer or so on, and just then to your computer. While the situation with XLR is not that good, USB connects directly to every device with a USB port. USB mics are easy to set up and more affordable due to the lack of technical knowledge needed so it is usually chosen by people who only start podcasting, interviewing.
XLR connection type tends to be chosen by those who have more tech experience and need more adjustability and capability. Due to the fact that XLR microphones have to be connected through the use of a mixer, they are usually used by those who are considering a more professional setup.
What equipment do you need to record voice overs?
Voice overs are actually very responsible works that require a lot of effort before you can gain a foothold. If you're a beginner who only starts to find his own way in the world of audio and voice overs, you should definitely consider creating your wishlist.
Well, there are some essential devices you definitely need to create your own voice over studio. Firstly, it's a microphone. To my mind it is the most important one, because the overall quality of your audio depends exactly on the mic. Secondly, you need good headphones to properly hear what you are recording. Different microphone stands and mounts are also very important because they will help you to place your device just right where it'll be needed to. Finally, you need a shock mount to reduce vibrations and a pop filter. It will help you to diffuse unwanted noise from your mouth like hissing letters or whispering.
What about the type of microphone, I'd like to highly recommend some with USB connection. It is extremely simple to set up, you usually don't need to download any additional drivers and tools. To my mind, USB mic is an ideal option for novice podcasters, amateurs, supporting actors and people who just want to start doing something new and don't really need to spend a fortune at first.