Whatever device you are trying to choose, it is complicated since the modern market has a lot to offer. But the task becomes even more challenging when you have to consider such things as your intended audience and venues, appropriate weight of the best portable PA system for you, and expected power needs.

A huge and powerful setup seems to be a great solution. However, lots of musicians claim that compact PA systems benefit in many ways. Here I am going to discuss the reasons to use these units and show you the speakers with excellent power and portability.
All the items in my review are separated according to their construction and features. This will be helpful if you know what you are looking for and want to find a good blend of particular characteristics. I have chosen the greatest versatile devices that can be found not only in normal shops but also online. In addition, here you can get information about the most portable systems and the appliances with separate speakers. So, if you are looking for a mobile PA system and feel lost among thousands of different models, I have something interesting to tell you.
Our pick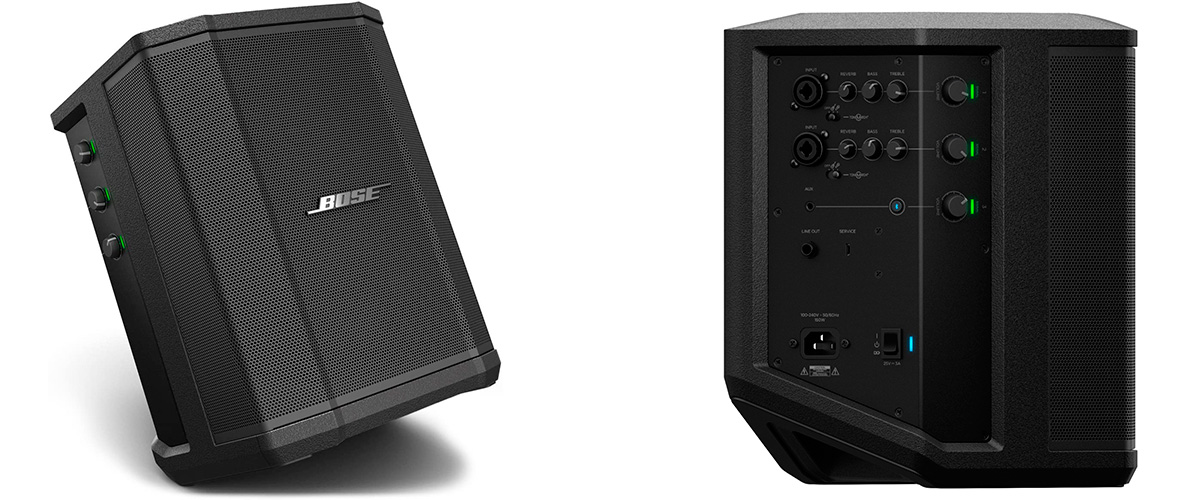 Bose S1 Pro
The Best portable PA system
Best Portable PA System Reviews
All in one portable PA systems
First, let's find out what is special about such a system. These units have all the main components included which makes them very comfortable to carry. Normally, the all-in-one model is Bluetooth-enabled, stream tracks from your smartphone or laptop. In most cases, the PA system is equipped with speakers and a mixer that will help tune your output. Quite often such a system also has microphones and an amplifier. Moreover, some models come with additional audio connection inputs and multiple microphone ports. If your party is going to be outdoors or you simply do not want to depend on a source of electricity, then a setup with a rechargeable battery would be a perfect choice. There are relatively cheap systems that can work for about 20 hours.
The biggest advantage of this setup is portability since you can carry it around with no problem. The models mentioned below are pretty sturdy and durable. Compact construction and clean sound make all-in-one units extremely popular. A typical battery powered PA system like this can be used to play music or give performances for an audience of up to 500 people.
Bose S1 Pro – best all in one and small portable PA system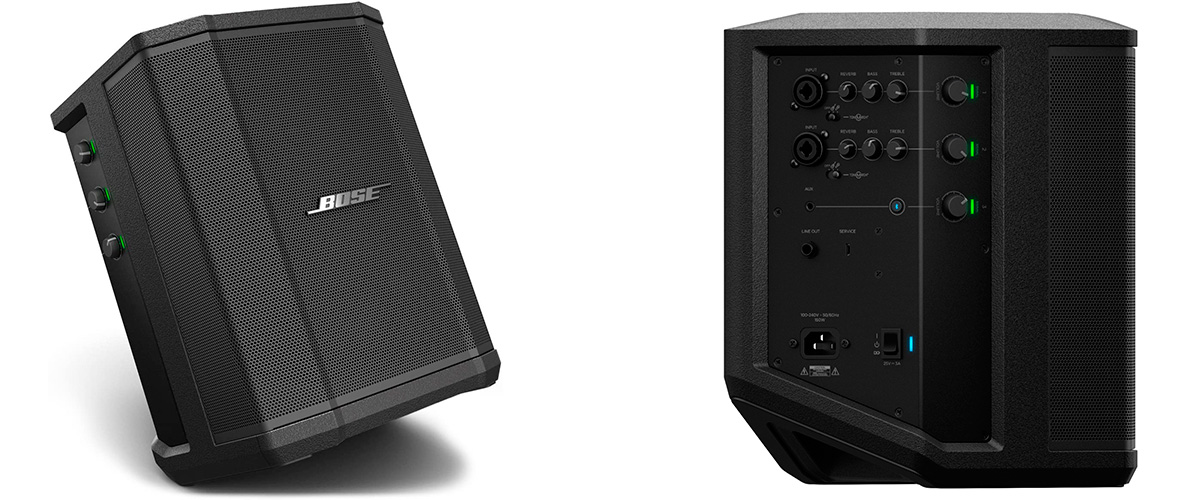 Wanna buy the best small PA system? This pretty compact PA system that has Bluetooth and can be used for outdoor parties, small presentations, etc. In wireless mode, it operates in a range of 9 m/30 ft. The mentioned model can be connected with another S1 Pro system or any Bose speaker that supports Bluetooth. Its lithium-ion battery gives you about 11 hours of playback which will let you forget all the worries and focus in the event. The Quick Charge function gives you an opportunity to charge the appliance very quickly if you are in a hurry. Bose S1 Pro is intended for solo performers. The ToneMatch feature optimizes the audio quality of musical instruments and vocal microphones to provide a distortion-free tone.
Using this mobile PA system with 150 W of power, you can plug in a mic and get an amazing sound. Relatively light construction and a handle for carrying make the system suitable for those who are going to give performances in different places. The considered model weighs 7.1 kg/15.7 lb and provides excellent audio. When it comes to size, here are the dimensions of the unit: 13″ H x 9.5″ W x 11.2″ D.
Being a DJ with such a PA system is truly enjoyable as you can make announcements of the next song clearly with the microphone and control all the musical instruments plugged in Bose S1 Pro. This setup has a unique multi-position design that includes tilt-back, floor monitor, elevated surface or on a speaker stand. In addition, it can adapt to different situations to provide optimal sound thanks to the equalizer for automatically tuning the system to get fantastic audio in any position.
With the Bose Connect app, you can switch the system to Party Mode, control the bass, treble, and other effects. An onboard 3-channel mixer has a channel for wired (3.5 mm) and wireless music sources. Furthermore, this model has 2 combo XLR – ¼" inputs and ¼" TRS line output.
Pros
Its shape facilitates horizontal laying for use as a monitor wedge
Each channel of a mixer has its own volume knob and signal/clip indicator
Offers a natural sound
Cons
A break button would have been a useful feature
If you want to change the volume of the sound, you have to adjust each channel separately
Pyle PWMA1090UI – with wireless mic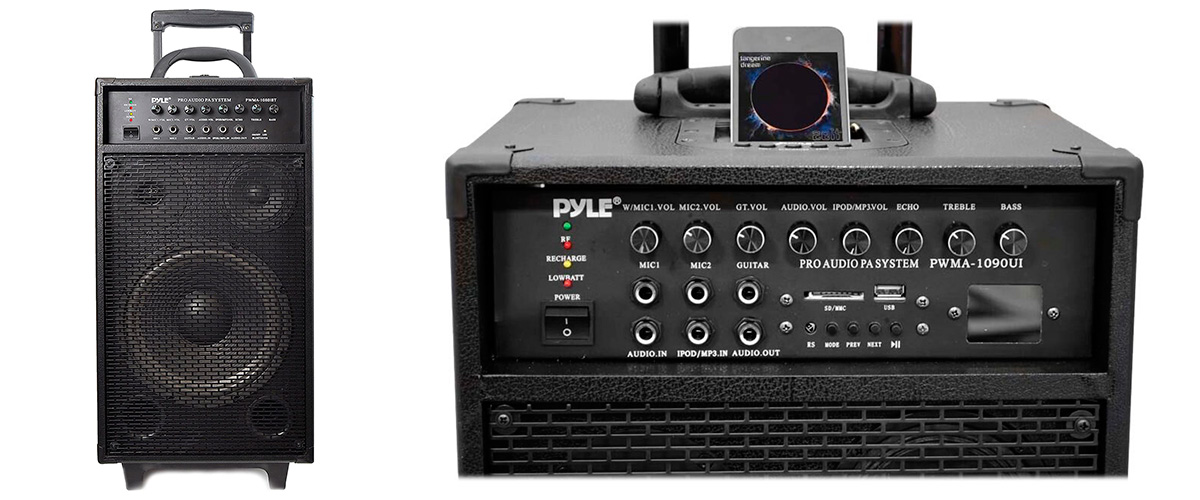 This portable sound system with wireless mic has lots of nice features that make it suitable for any performance. The PWMA1090UI is able to work approximately 5 hours after a full charge.
It has several separate volume controls for guitars, iPod/MP3, microphones, and Input. You can connect two mics to this system: handheld and lavalier. Both of them have an impressive range with good clarity and almost no noise. With this system, you can listen to the radio, connect an MP3 player, or your iPhone. Your opportunities with it are really unlimited since the device also lets you stream songs from a USB stick or memory card.
The powerful 800 watt speaker can work with no wires and produce amazing audio quality. People 30 m/100 ft away will listen to the sound provided by this system. The mentioned high-powered 10" 3-Way PA loudspeaker system has small but sturdy wheels and handles for super easy carrying. Its dimensions increase the portability of the unit: 22.3″ H x 12.2″ W x 10.2″ D.
You can charge your iPod or iPhone from this device. Pyle PWMA1090UI is designed for use in America, Europe and plenty of other countries, because it has a switch that allows you to change between 110 V, 60 Hz and 220 V, 50 Hz. There are several connection ports and a power bank that make the portable speaker system with wheels universal.
Pros
Equipped with 4 inputs on the front, each of them has its own volume control
It allows you to connect another music player using the detachable 3.5mm wire
Has a woofer, mid-range, and tweeter for incredibly rich sound
Cons
The iPod dock has some problems when connected to older iPods
USB/Radio display window may seem too small
JBL EON ONE Compact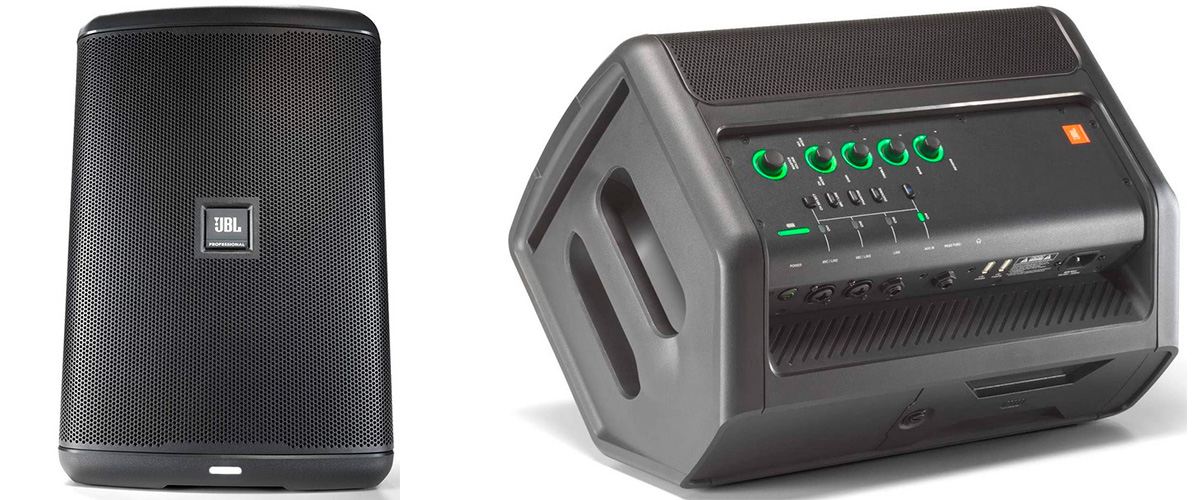 This is a small portable PA system that can operate on either mains power or a built-in battery. It offers 120 watts of power, of which 100 Watts are provided for the woofer. The device is equipped with a digital mixer, built-in effects, wireless control, and a set of inputs for different signal sources. This 4-channel digital mixer comes with 4-band EQ, reverb, chorus, and delay. Using the quick-recall settings, you will have a great sound in any environment.
The EON ONE Compact features Bluetooth connectivity and comes with high-quality Lexicon and DBX signal processing algorithms. You can control the device using its buttons and from the tablet/smartphone. The green LED indicator rings around rotary encoders make them very easy to see in poor lighting. The battery life of this model is 12 hours.
The appliance allows you to connect up to 4 different sources simultaneously. The first two channels have XLR/TRS combo jacks for connecting microphones or line-level devices.
The EON ONE provides the ability to supply + 48V phantom power to the first microphone input. The third channel is for connecting a guitar, as it has a Hi-Z input with a TRS jack. The fourth channel is provided for Bluetooth connection or an additional AUX source with a mini-jack connector. A pass-through output is provided for connecting multiple speakers.
Pros
Large handle for easy carrying
Two USB ports for charging mobile devices
Battery charging is possible not only in the off state but also during normal operation of the system
JBL Compact Connect app for iOS and Android devices helps to control the device
Cons
An option to power up with master volume at zero could be useful in the app
Behringer EUROPORT MPA40BT-PRO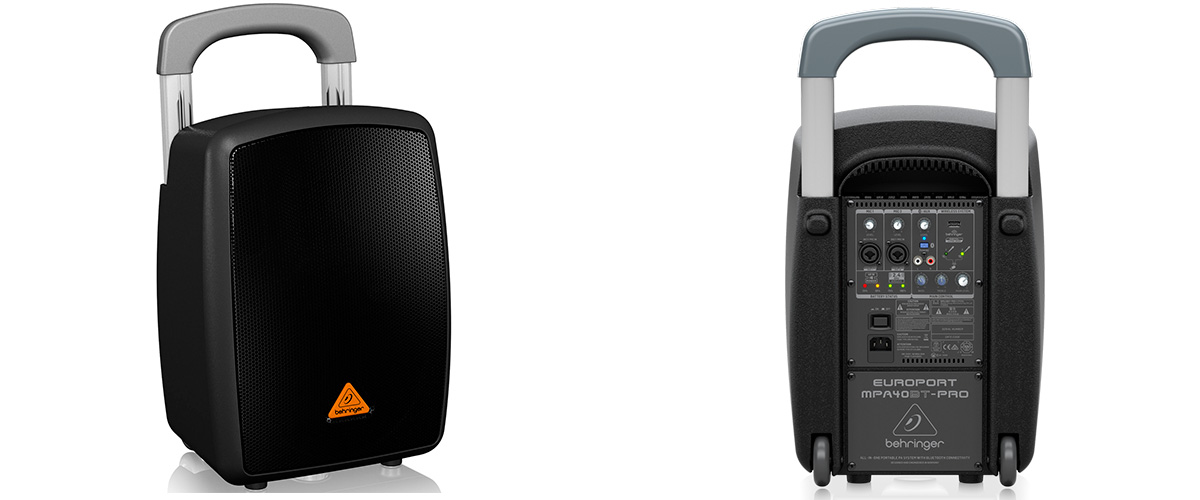 Let me introduce you to the extremely simple to use wireless PA system with wheels. You absolutely do not need to have any technical skills to set up this unit. With the considered model, you can give concerts or presentations for audiences of up to 250 people. The unit has a rechargeable battery that works up to 12 hours. Behringer EUROPORT MPA40BT-PRO is made in Germany which says a lot about its quality.
With its 40W amplifier and premium 2-way speaker system, the MPA40BT-PRO offers decent sound. This setup is great for seminars, parties, corporate presentations, etc. If you are going to move the unit often, then you will be happy to know that it has a retractable luggage-style handle and sturdy wheels.
It is very easy to connect to your Bluetooth enabled iOS gadget. The sound offered by this speaker is well-balanced with a variety of gorgeous, well-defined treble. A high-definition tweeter controlled by a Class D amplifier makes the setup really great.
With regard to inputs, there are 2 microphone jacks with independent volume control. Moreover, you will have an Aux input to connect to your CD player. Another thing you have to be aware about is that the unit includes a powerful 8″ woofer.
Pros
The mixers have ultra-low noise and high-headroom microphone preamps
The body is made of quite thick ABS high-impact plastic
Bluetooth operation is really instantaneous
Portable PA with separate speakers
Before you start reading the best portable PA system reviews and look for an appropriate PA system on the Internet, ask yourself "How portable do I need the unit to be?" If portability isn't the main priority for you, then let me show a few amazing models with separate speakers and a standalone mixing board. Such devices need quite a lot of space and transporting them isn't very easy. I would suggest thinking in advance about where you are going to store this system. But why do people actually prefer these huge constructions instead of super portable ones? The answer is simple — they are more powerful.
It is incredibly important to choose an amp with enough power to drive your speakers and enough headroom to avoid sound distortion. The general rule used by lots of musicians is the heavier the music, the louder it should be. So, for playing pop, hip-hop, and rock you are going to need significantly more power than for folk or jazz. Whatever your portable sound system requirements, you will find the appropriate model below.
Yamaha StagePas 600BT – best portable PA with separate speakers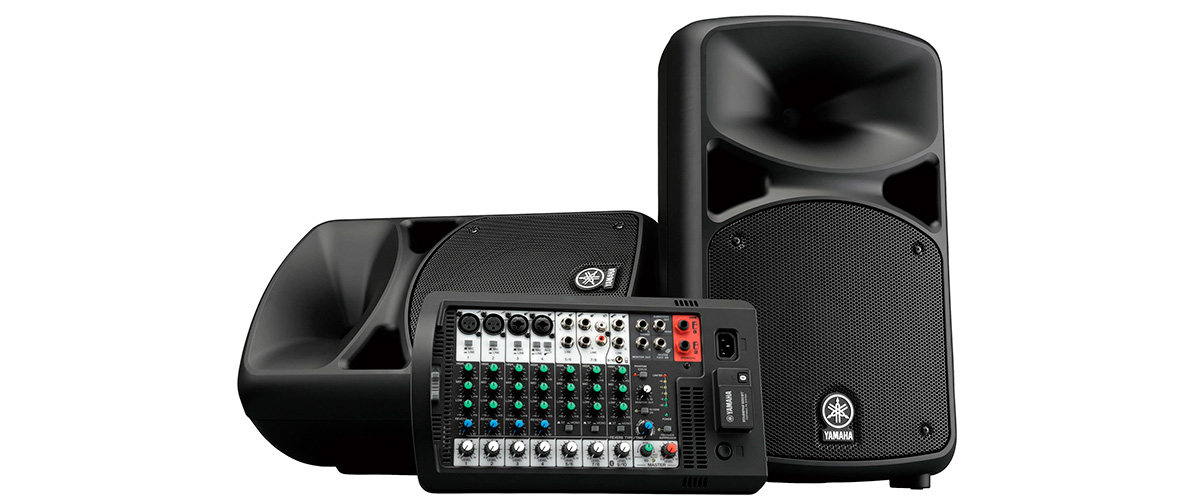 The first setup in this category has intuitive control and provides an awesome sound. The system has a detachable 10-channel powered mixer that allows you to get the desired audio quality. They provide 2 x 340 watts of audio power to the transducers. This is a perfect choice for those who want to buy a reliable setup that supports Bluetooth. Thanks to this function you can stream break music, software instruments, etc. The tonal control on the output section is unbelievably simple. Moreover, the system has labels that are especially helpful for inexperienced users. If your space is limited, you can operate the mixer right from the back of the PA system. However, the compact mixer fits nicely on a mic stand, and mounting it there will provide you a much more functional setup.
You get standard speaker cables with it, however, the length of 6 m/20 ft creates some restrictions. This model has two 8-inch speakers. The Yamaha StagePas 600BT has an optional output that is used to power active subwoofers. The device is equipped with 4 channels for microphone/line inputs. But what makes it versatile is the fact they support both XLR and 1/4" jacks. The PA system comes with a three-band equalizer that allows you to control a high shelf (8Khz), a peaking band (around 2.5Khz), and a low shelf (100Hz). In addition, the unit comes with 2 unpowered monitor sends with separate level control.
Although this model has two separate speakers, the construction is pretty lightweight. Each speaker weighs 10.8 kg/24 lb. The mixer you get with the unit has 3.8 kg/8.4 lb and easily snaps into the back of one speaker enclosure which makes the StagePas 600BT comfortable to transport.
Pros
There is an optional footswitch that can be used for tuning reverb on and off
You will get a feedback suppressor with a seven-band notch filter for producing an excellent sound
Suitable for supporting spoken word engagements and small musical events
Cons
Although there are 4 XLR inputs, only 2 are Phantom Power
Fender Passport Conference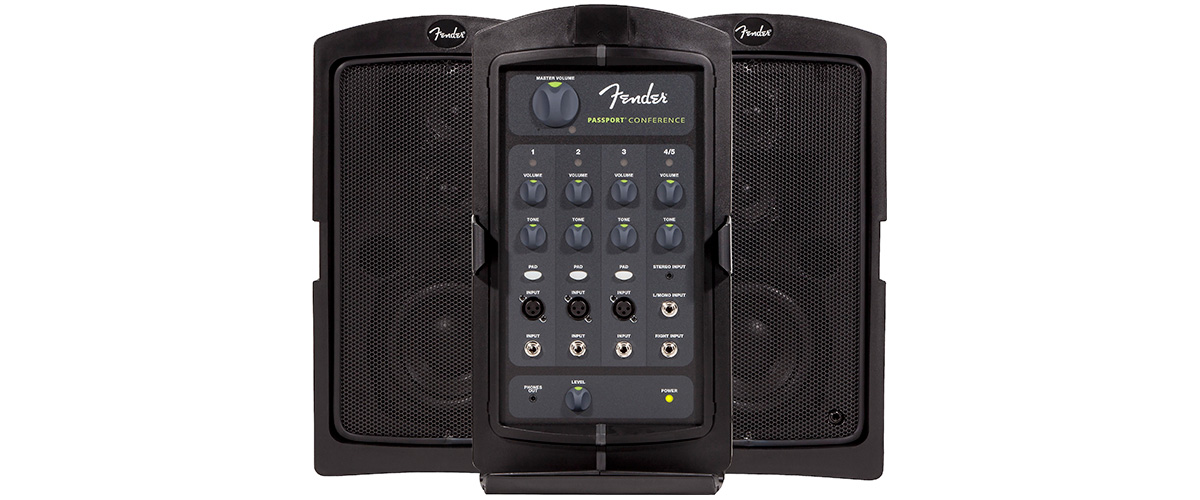 Let's take a look at this PA system with a five-channel mixer and 175 watts of power. Fender Passport Conference is suitable for small to medium-sized audiences. You can carry this setup as a suitcase because it has a convenient handle.
This is a self-contained portable audio system that has absolutely everything you may need for fantastic sound anywhere you go. It consists of 2 full-range speaker cabinets and a mixer. In addition, it comes with several detachable audio cables that you may need for work with the mentioned model.
This system is suitable for non-professionals that want to get good quality audio with maximum simple functionality. You can use this setup for parties, different kinds of presentations, business conferences, and lots of other events. Speaking of its outlook, speakers fit together nicely in a suitcase design.
It has a 1/8" stereo input and 1/8" stereo output. The unit lets stream music from a laptop or mobile phone with no problem. The PA system can be used for headphone monitoring, too. Plus, the Passport Conference is also good for recording.
Pros
Its cabinet is made of molded plastic and feels pretty sturdy
Comes with a powerful Class D power amp
Two custom-designed drivers offer very detailed and surprisingly clear audio
Cons
When it comes to streaming music, I would like to have a bit more bass than what it provides
Behringer PPA2000BT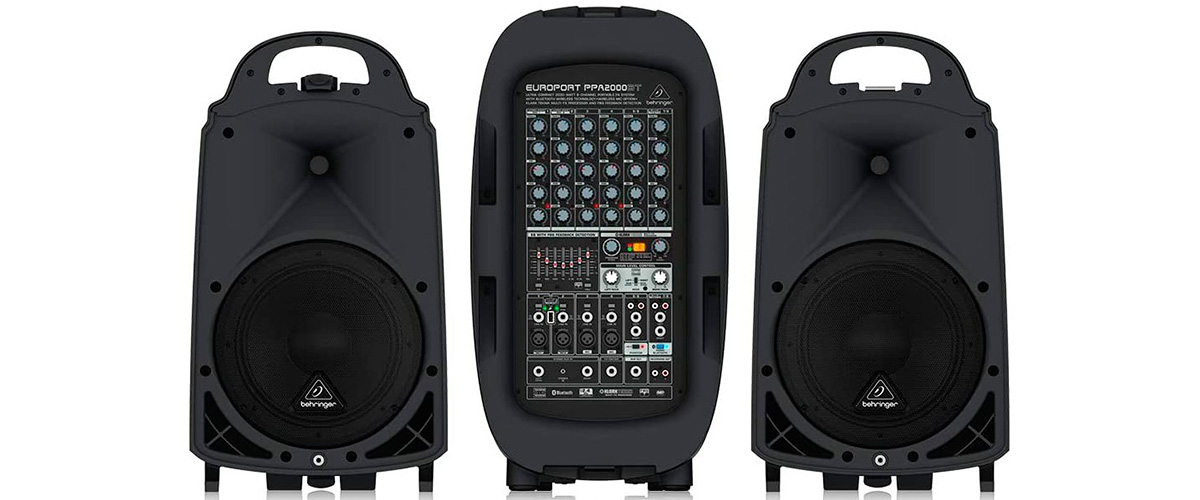 The 8-channel portable PA system is equipped with four high-quality microphone preamplifiers with switchable phantom power +48 W for condenser microphones. The public address speakers come with a built-in 2000 Watt amplifier.
You will definitely like the 2-band equalizer, which is switched by Pad and Clip LEDs on all mono channels. Also, this device has a stereo 7-band graphic equalizer that provides accurate frequency correction of the main outputs. The PPA2000BT can connect up to four microphones, any MP3 player, as well as two musical instruments.
This system has four mono channels, each with a balanced XLR microphone input (and master 48V phantom power switch), a balanced ¼" TRS line input, and a pad switch to curb high-level inputs, two stereo channels with balanced ¼" TRS and unbalanced RCA stereo line inputs. In addition, it is also equipped with a stereo unbalanced RCA stereo recording output, an unbalanced TS sub output, a stereo ¼" TRS and 3.5mm mini TRS AUX input, and stereo unbalanced ¼" TRS speaker outputs.
Since the manufacturer uses a high-performance and powerful processor from KLARK TEKNIK in the design of the system, it produces crystal clear audio without interference and distortion. In addition, a 24-bit studio-grade sound processor has been developed specifically for this model by Behringer engineers.
Pros
You can adjust the treble and bass levels for each channel separately
Incredibly powerful 10" woofers and 1.35" aluminum-diaphragm compression drivers for perfect audio reproduction
You can connect this device to iPod, iPhone, iPad, or any other MP3 player via Bluetooth
Cons
Tiny wheels on the unit do not seem to be very durable
Skimpy compartment door that keeps the mic, speaker wires, and power cord in the back of the amplifier
Portable column PA systems
If you want to strike a balance between the super-portable PA systems and bulky units with separate speakers, this would be a wonderful choice. Whether you are giving a speech in front of hundreds of people or DJing an outdoor festival, the PA setup you are using has to be maximum portable and clear sounding.
The units included in this category will let you take the system wherever you go and set it up quickly. Even if you have no technical background, it is not going to be an issue. The functionality of the PA systems selected by me is quite simple. Some of them can operate on a rechargeable battery, so no worries about the availability of a source of electricity are expected.
With the setups that are mentioned here, you will be able to get a great sound in any situation. Due to the column structure, the sound is spread evenly from left to right, while avoiding the floor and ceiling and, therefore, those unwelcome reflections. An equalizer that comes with the PA systems provides an opportunity to tune the sound and get rid of noises. There are also models that include built-in effects that may be helpful for both, non-experienced musicians and professionals.
Bose L1 Compact – best portable column PA system
So, what does the famous brand offer? The company uses a unique Spatial Dispersion technology which means the sound is spread evenly across the stage and throughout the audience. L1 Compact has 200 W of total power and can be set up in a minute. The PA system has a stereo RCA input and a 1/8 "stereo input.
This PA system weighs only 13.1 kg/29 lb and its small size makes it possible to put the unit in a trunk or even on the back seat of your car. If you use this unit, you do not need to carry an amplifier and bass cabinet as Bose L1 Compact already has them. Moreover, there is a mixer included in the construction. For power, you will have a grounded 3-prong AC cord.
You need to know more about the mixer. It provides the XLR microphone jack on channel 1. All the inputs and controls are intuitive. There is a channel 2 with an instrument jack. The sound provided by the Bose product can be configured using the ToneMatch preset.
If you want to use Bose L1 Compact for an event with a small audience, just arrange it in a collapsed configuration. The considered model includes two outputs: 1/4" balanced line and one RCA stereo. For great performances, you will need extended configuration.
If you take a look at this construction, you will notice that it has an unusual design. Its vertical shape remarkably improves sound coverage. The people who are giving a performance can hear the same clean sound with no distortion as those who are listening to them.
Pros
The combination of the PA and monitors into one unit looks sleek
Thanks to the special technology invented by Bose you can put the PA system to the side of a performer or behind him
You get a sturdy case for poles with a nice handle and comfortable shoulder strap
Electro-Voice Evolve 50 – best for live music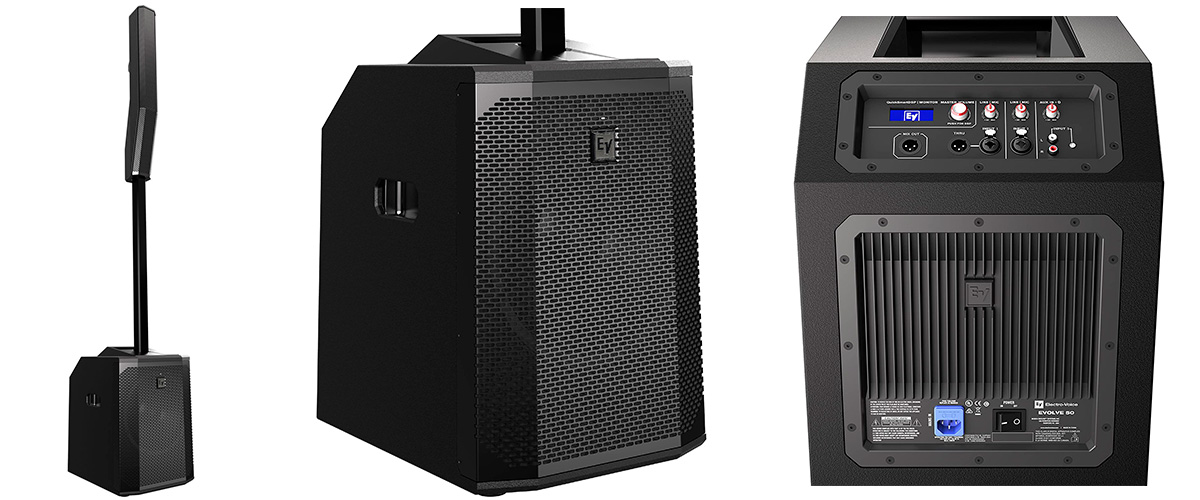 This is the best portable pa system for live music powered by a 1000 W Class-D amplifier. It has three presets: Music, Live, Speech, and Club. So, you can choose any of them in order to make the music sound great at a particular event. But if you hear that the voice of a person who is giving a performance does not sound perfectly clean, then the Electro-Voice QuickSmart Mobile app will be very useful. The point is that with this application you have an opportunity to control, and monitor up to six EVOLVE 50 systems at the same time.
As you may have guessed, Electro-Voice Evolve 50 supports Bluetooth. If you want your audience to hear the songs from your phone, just click a button. The PA system has output delay, phantom power (+15V) and input level control. All the amplifiers and mixing facilities are built into the sub.
You can hook up two of the Electro-Voice Bluetooth public address speakers to flank either side of a stage. The mentioned model has a peak around 10 kHz, while in case with most other PA systems it happens at 2kHz. This fact makes the Evolve 50 "bitier" than others.
Pros
Clear sound and great deep thumping bass when needed
Produces great room dispersion
Three durable handles for ease of carrying
Cons
The cover protects the top and four sides of the system, however the bottom is not covered
Portable PA System Buyers Guide
Selecting the Right PA
Even if you have not bought a PA system before and do not know what features have to be considered, after reading these short instructions selecting the right model is going to be pretty easy. Firstly, the main components of such a system must be remembered. I am talking about an input transducer, output transducer, and amplifiers. The system you choose can vary from a simple setup for DJing in a club to giving a speech in front of thousands of people. Before making the choice, you need to decide what would be the perfect weight of the PA system, how many mics you are going to plug in, and what is the expected size of the audience.
How far is it from the speakers to the back of the room?
Keep in mind that the further you go from the system, the weaker signal becomes. When you give a performance in a relatively small place, the sound will be good no matter what part of the hall you are in. However, when it comes to larger venues, you will notice the decrease of an audio level. Remember that every time you go double further from the speakers, the SPL will decrease by 6 dB. For example, if you are standing 1 m/3 ft away from the system with 110 dB of sensitivity, you will get 104 dB signal at the distance of 2 m/6.5 ft from it.
How loud does it need to be?
Everything depends on the music genre. For playing classical you will rather need a speaker with a range of 80 – 95 dB SPL. Speaking of rock and pop, for them you are going to need a system that is pumping out around 95 – 110 dB SPL.
Note that normally such systems are tested in anechoic chambers. It means when you use the setup indoors, its technical features are going to be slightly different from what the manufacturer says. The level may be about 6dB SPL higher than promised which makes the system only better.