The popularity of audiobooks is constantly increasing since modern technologies allow us to turn any printed story into audio. So, in order to enjoy your favorite literature you have to buy the best mp3 player for audiobooks. Nowadays you can listen to the novels, mysteries, and books of other genres while traveling, commuting, or just doing some housework. Some copies might be not available in your city or country in the needed language, however, they can be downloaded in seconds from the internet.

If you find MP3 players for audiobooks not comfortable to use, perhaps you have not tried the ones from this list. I have chosen excellent models to show you their main features and benefits. To choose the right player you have to consider many aspects such as its battery backup, sound quality, portability, etc. The listed features can be very different for various devices, since some manufacturers focus on huge storage, while others put a lot of effort in order to create an app-friendly player.
I added my own impressions from using certain appliances. Every year a huge amount of new devices for audiobooks appear. So, to keep up to date read my description of the top ones that are popular these days and make the right choice.
Our pick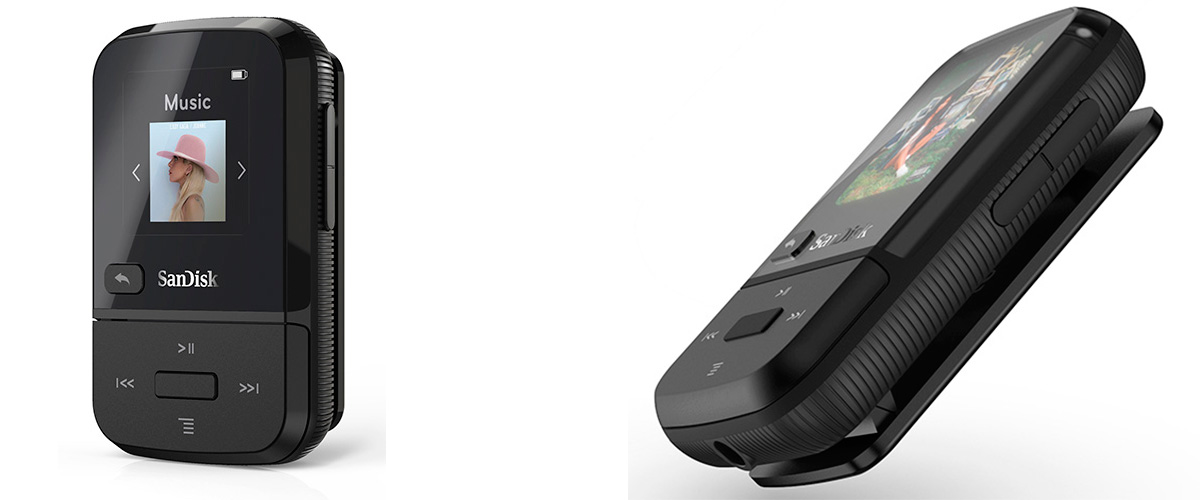 Sandisk Clip Sport Go
The Best MP3 Player for Listening to Audiobooks
Best mp3 Player For Audiobooks Reviews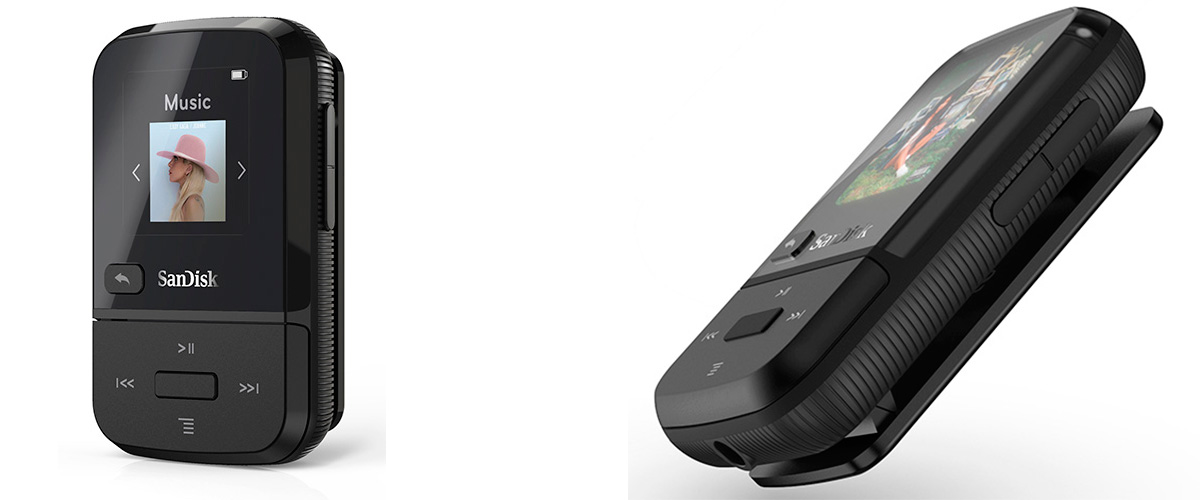 I am going to start with this device since this is simply a fabulous mp3 player for audio books. It has a LED screen with an optimal size which is 2.23 x 1.4 x 0.6 inch and the appliance is pretty lightweight. You can easily attach it to your clothes using a little clipse. It lets you have a worry-free workout or just walk along the street without holding anything in your hands.
Speaking of its battery life, the player can work up to 18 hours. So, you can listen to a few books before you need to charge it again. With this device, you will get 32 GB of internal memory that can accommodate about 8,000 songs or a pretty big number of different-sized books. When it comes to supported audio formats, there are MP3, WMA, AAC, WAV, Audible, FLAC.
An excellent function that is definitely worth mentioning is the bookmarking capability. It means that you do not have to memorize what minute of the book you stopped. This device is the best mp3 player for audiobooks with bookmarking on this list. To add, the player comes with a built-in FM radio, which uses your headphones as an antenna.
Pros
Strong top volume
The controls are incredibly simple and easy-to-use
The size is incredibly small – it is about 2.5 times smaller than a business card
Cons
No lock switch
Does not offer Bluetooth
Has no instructions other than to transfer songs from a computer to the appliance, so if you never had an MP3 before this one could be a little daunting
Sony NW-A55 – best performance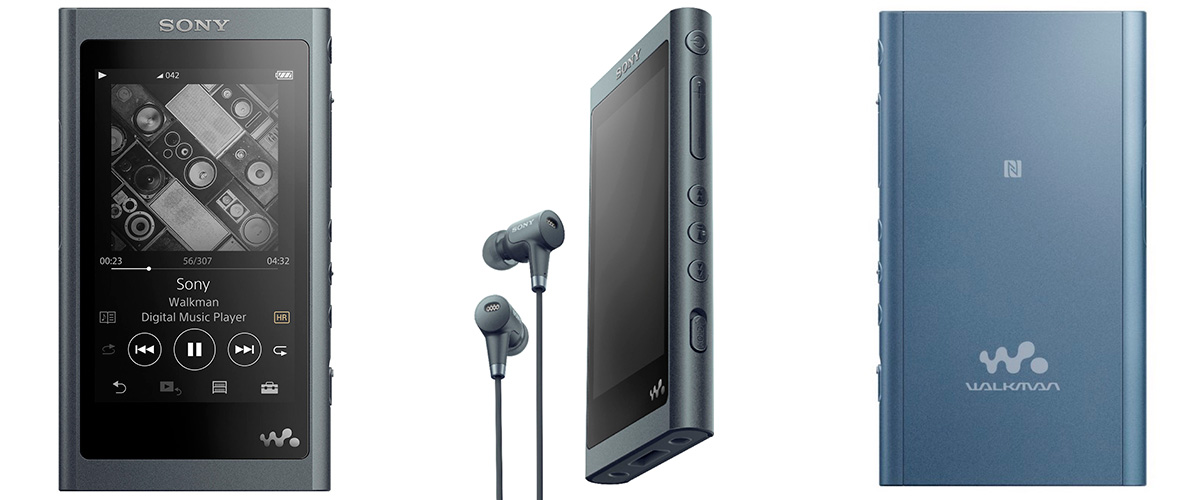 The considered appliance is the best mp3 player for listening to audiobooks reviews since its performance is truly amazing. You will have an incredibly clear sound that makes you focus on the book and recognize each word. With the NW-A55 you also get S-Master HX digital amplifier for pure sound quality, so listening to music with it would be a pleasure, too. To add, it is a waterproof device. The left side of the player houses the micro-SD card slot which is protected by a color-matched flap. It supports Bluetooth version 4.2. The nice thing here is that you can quickly and easily pair the A55 with another device over NFC such as your mobile phone or something from Sony like the WM-1000XM3 headphones. Unfortunately, there is no bookmarking capability.
The player has a TFT color display with white LED-backlight. Its screen size is 3.5 x 1.75 x 6.5 inch. This device is a great choice for those who like traveling and want to listen to audiobooks on long trips since Sony NW-A55 has a long-lasting battery that allows you to use the device for 45 hours. You will have to charge it using a USB cable. The appliance supports a lot of different audio formats such as MP3, WMA, AAC, WAV, FLAC, AIFF. The weight of the player is approximately 99 g/3.5 oz which means it is easy-to-carry. With regard to the internal memory, there is 16 GB.
Pros
Intuitive side key buttons let you control your audio tracks with ease
The body is designed with curved edges which helps ergonomically to hold
In terms of interface, Sony NW-A55 has a 3.5 mm audio interface, charging interface, and a micro-SD expansion interface, which can meet the needs of the vast majority of users
Cons
Gets warm on prolonged usage
Soulcker D16 – best budget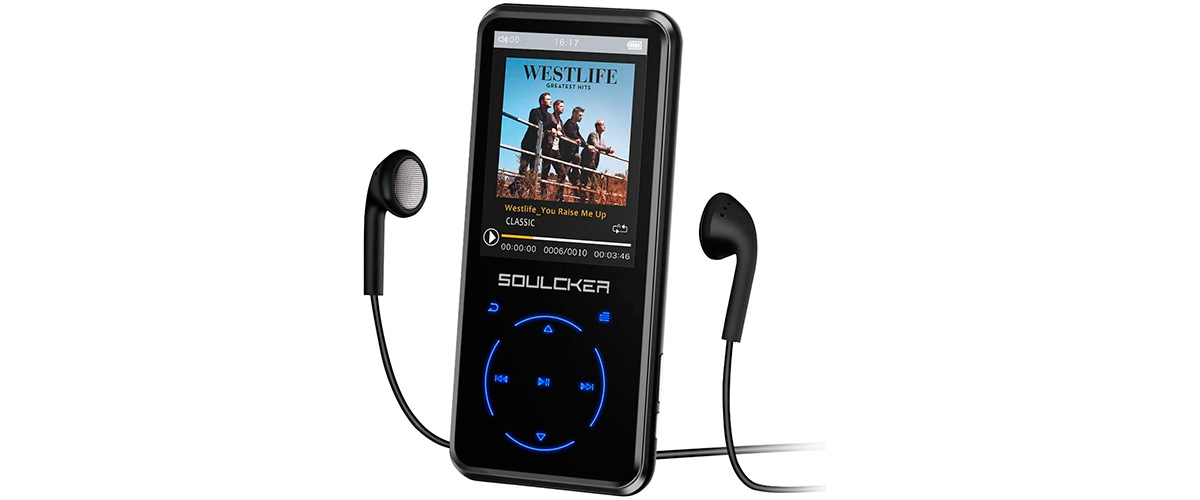 This is a versatile budget MP3 player for audiobooks that supports Bluetooth 4.0. The device provides consistent transmission and advanced technology. Most of all, I like that the D16 model offers a whole control over all popular audio formats such as MP3, AAC, WMA, etc. Moreover, the appliance supports TXT format, which means you can read electronic books with it.
The music player has a built-in FM radio and a 2.4-inch large screen display where you can view pictures or videos, see information about the music being played, etc. The menu is available in 26 languages, including Korean, German, Spanish, and others.
Thanks to the Bluetooth 4.0 technology, connecting wireless headphones or speakers to Soulcker D16 is super easy. And it is worth mentioning that its speed and performance is intensely fast. The superb quality of sound makes the device perfect for listening to audiobooks.
The size of the unit is only 4.17×1.96 inches, which is much smaller than a smartphone. The player has 16GB of built-in capacity. Thus, you can download up to 5000 songs. On top of that, Soulcker D16 supports up to 128GB TF cards.
Pros
A playtime of 55 hours on a full charge
Features a head locked screen function
Requires only 2 hours for complete charging
Buttons are easy to see in darkness
Cons
I would prefer a touch screen instead of touch buttons
Sony NWE394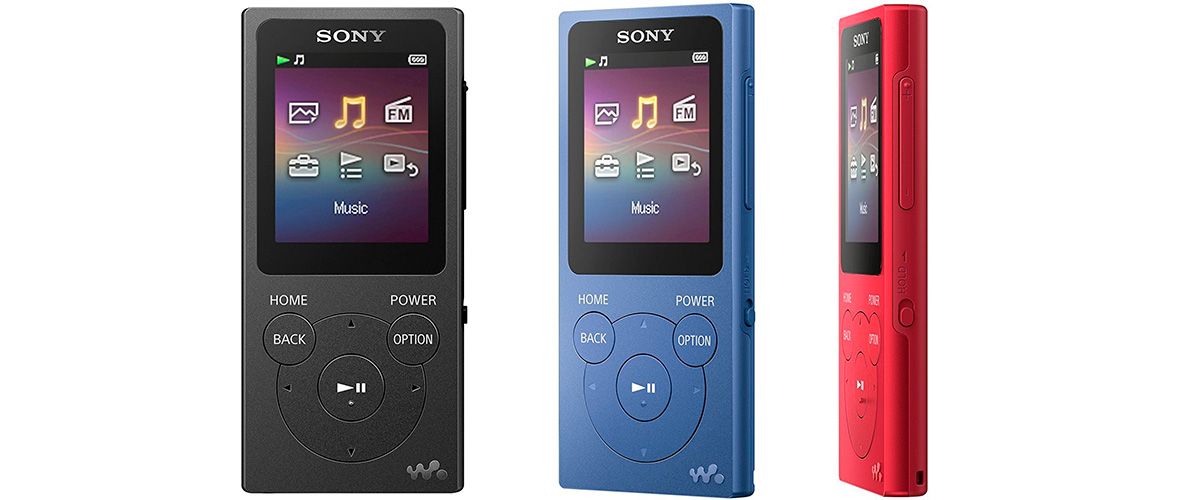 Lots of people find this device a perfect player for audiobooks, so I decided to check its quality and comfort by myself. First, let's take a look at the technical features. The appliance has 35 hours of battery life. Its screen is big enough (1.7 x 3.6 x 0.4 inch), so it is quite easy to use all the functions. Also, it provides convenient viewing of photos and album artwork. The 35-hours battery life lets you forget about charging for a week or more. Its memory capacity is 8 GB. Sony NWE394 is playlist compatible so you can transfer book playlists from your PC.
It is a pity but you cannot mark the moment of the book where you stopped listening, which means that you will have to memorize the time. This device is produced of the rigid aluminum milled frame and audio-grade lead-free circuit soldering spiked with gold, for perfectly clear sound. This player supports Bluetooth and can work with such audio formats as MP3, WMA, AAC, PCM. The device does not have a USB-C port which might cause some discomfort.
Pros
The easy-to-use controls let you find the right song, view photos and tune the radio in seconds
Simple file transfer, for example via drag and drop, without requiring any software installation
The sound quality holds up favorably to many other players
Cons
Its body is made of plastic that feels cheap
The buttons are way too sensitive, so if kept in your pants pockets, it will turn on 90% of the time
No expandable memory
AKAMATE FX100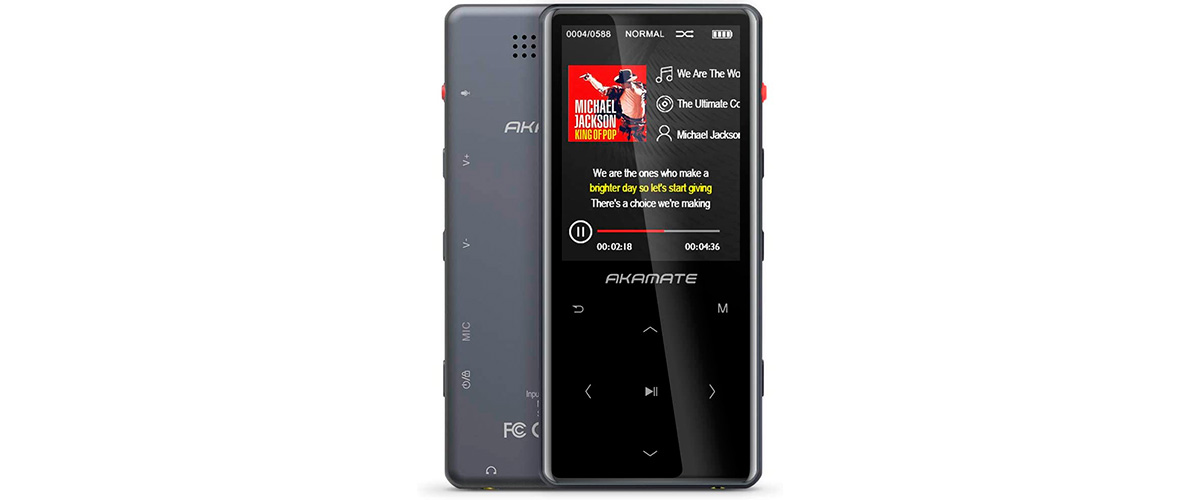 This device supports Bluetooth and can be used for recording or listening to FM radio. You can lock the display by pressing one button. Among other features of the FX100, there are A-B repeat, video playback, picture viewing, and file browsing. Since the appliance supports TXT format, you also can read e-books with it. However, consider that it does not directly support Audiobooks and iTunes.
The player has a 2.4in TFT LCD screen that will allow you to view pictures in sharp, vivid, and lifelike colors. The unit dimensions are 4.21×1.96×0.31 inch, and it weighs only 80 g, so carrying it with you is not going to be a problem. You might think that such a small device cannot provide high-quality sound. Nevertheless, it does have six equalizers that will help you to add some audio effects to your favorite tracks. Speaking of its battery capacity, the appliance can work up to 7 days once fully charged. Being more precise, one charge gives you up to 40 hours of audio playtime.
Pros
One-click Voice Rec efficiently reduces ambient noise for clearer recordings
The case is made of sturdy aluminum alloy
16GB built-in memory and up to 128GB SD card expand
USB-C fast charging technology
Cons
It's a little annoying to not be able to plug it into a standard charger because of the mini-USB
Buyers Guide
What factors to consider when buying an MP3 player for audiobooks?
Battery life
You can listen to audiobooks at home but in most cases people do it while traveling or commuting. So, battery life matters. I suggest you not just to look for a device that works super long after it has been charged but to find an optimal combination of a good price and long-lasting battery. If you are going to use it for evening walks, then there is no reason to overpay for a player that can work 50 hours.
Consider that the battery life depends on the volume of a sound, frequency of pressing buttons, and some other factors. So it is not always exactly the amount of time promised by the manufacturer.
Storage capacity
One of the biggest benefits of audiobooks is that they do not take any space. But when it comes to defining needed storage capacity, lots of people feel confused. Well, let's count. An average book in audio format takes from 14 MB to 29 MB per hour, it depends mostly on the sound quality. So, one 10-hour long book with clear audio would take about 290 MB. And if you are going on holiday and do not want to worry that you will run out of literature in the middle of the vacation, it is better to get a device with a minimum of 8 GB of storage.
Bookmarking capability
Since audiobooks are not the only thing you can listen to with a player, not all appliances have a bookmarking capability. But this feature is undeniably useful as it allows you to come back to the moment where you stopped without making any additional marks. Even if you prefer short stories, there is always a possibility that something can make you interrupt listening. Keep in mind that if your appliance does not have the bookmarking capability but has access to the App Store, then you can easily download an app that lets you bookmark audiobooks.
File compatibility
Most websites offer books in different formats which can be chosen before downloading. However, some copies are available only in one format, so your appliance should support as many of them as possible: MP3, WMA, AAC, WAV, FLAC. Of course, you can change the format using special online programs but it is always better to save time. I would highly recommend you to buy a player that supports Audible books since plenty of literature nowadays is offered exactly in this format. One of the players on my list has such a feature that makes the device just a perfect choice for real book lovers.
Connectivity
There are two main options for connecting a computer with your player. The first one is to use a USB cable every time you want to transfer an audio file. This may be a little uncomfortable, so it is better to buy a device that supports Wi-Fi. In this case, you just have to connect to the internet on your appliance and the book is downloaded. There is one more way of wireless connection – Bluetooth. It will help you exchange books with friends or connect your player with a laptop that also has Bluetooth.
Playback quality
The sound quality of an audiobook depends most of all on the file you downloaded. All the players on my list will let you hear clear audio if the book by itself is recorded well. Usually, an MP3 player is made not particularly for audiobooks but also for music. With any of the devices mentioned here you can enjoy listening to any kind of sound without issues. An important thing to consider is the maximum volume of a player that may have some impact on your feelings while listening to a new novel.
Device to listen to audiobooks
There are a lot of different appliances that allow you to listen to audiobooks. For instance, you can use iPods, iPads, or other iOS devices, Android products, or a Windows Phone. But the disadvantage of them all is that you may distract for many other things while listening to a mystery or horror. Moreover, the listed devices are quite heavy compared to an MP3 appliance. Do you really want to carry your phone or iPad with you while going for a walk? A little player can easily fit into your pocket. In addition, most players come with a little clipse that lets you attach it to clothes. It is extremely comfortable if you are going to do some exercise with the device. Also, such appliances have no skipping or jumping on playback. At times, it is a great idea to get rid of all devices where you can get calls or messages and just focus on a new motivational book.
Nowadays, it is possible to find an MP3 player for any budget. Even very popular and multifunctional ones are pretty cheap compared to smartphones and tablets that cost a lot.