Have you already designed the whole studio but it feels like something is missing? I think you should take into account buying an integral part of your workroom – best studio monitor stands.

This seemingly unknown part of your cabinet actually plays an incredible role in creating a truly worthwhile sound. When you look at a beautiful and well-designed studio, you do not always think about why it is so compactly equipped, why there are no wires on the floor, how they fit so much equipment into one room? Mostly, this is due to the stands that we do not immediately notice.
Stands give you a possibility to channel sound in ways you need and to organize your studio with maximum accuracy without a bunch of protruding wires that constantly create the appearance of a mess. In fact, such things make the layout of the room much easier.
Actually proper positioning is the key to getting the most out of your setup, so you should think twice about your studio layout. In addition, it's really important to choose the right specifications that will provide you with comfortable work. For example sturdiness and adjustability are the most common and significant criterion on the basis of which users make their choice. I am going to share with you my own experience in choosing the stands.
Best Studio Monitor Speaker Stands Reviews
When buying a certain product, you need to understand its purpose, know everything about the size, material and to understand it's features and facilities. In this review, studio monitor desk stands are divided in 2 columns by type: floor stands and desktop stands. Starting from here, you should clearly realize what exact kind of stands you need. First one is extremely helpful to organize your stuff and fixate it in the right position, while the second one mostly specializes on desktop fixations and organization of the workplace at the table.
All provided products differ depending on the size, material, structure and functionality so the selection process can be quite complicated and tedious. However, this review will help you to make the right choice and select the best desk and studio monitor speaker stands because each unit is properly described and highlighted with pros and cons. Everything is done perfectly so that you can make your decisions without any problems. Read my review to find out more interesting info about all kinds of monitor speaker stands and choose the most suitable of them.
Best Floor Monitor Stands Reviews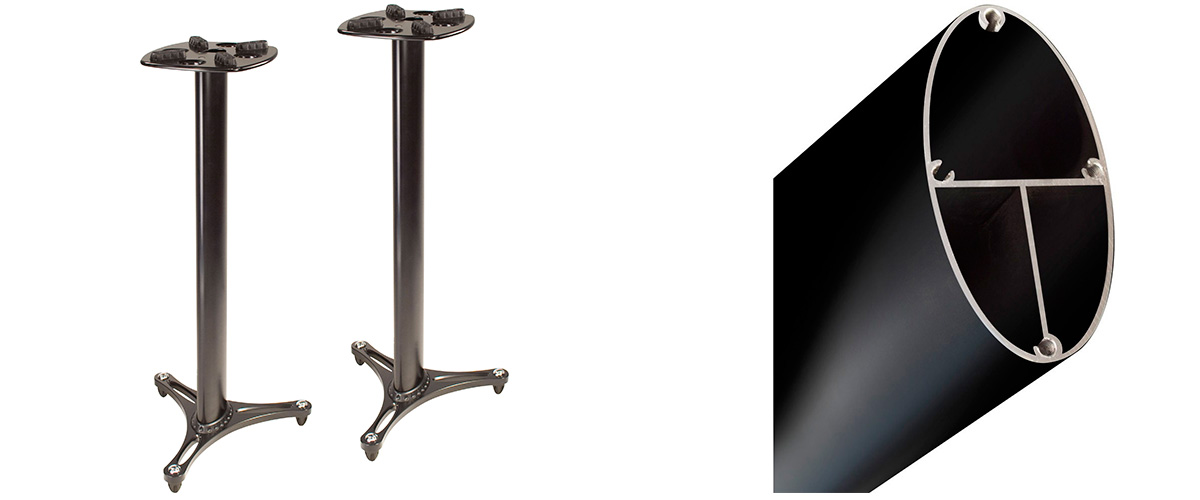 The Ultimate Support MS-90 is especially created to fit into demands of studios. I personally think it's one of the best studio monitor stands. Honestly, I appreciate their aesthetic value, when considering how they may help to declutter studio space. They are created with emphasis on space saving, decluttering and vibration isolation. Ultimate Support MS-90 is made from aluminium with three internal channels. Two of them are made for organizing your power and audio cables while the third one is created to be filled in with sand or other material to improve sturdiness.
This floor monitor stands are 36" height but also available in 45" height version. Moreover, they come with four sound-decoupling pads that work properly with most studio monitors.
Pros
Available in 36" and 45" height
Compact design that fits in every studio
Cons
Only one possible color to choose from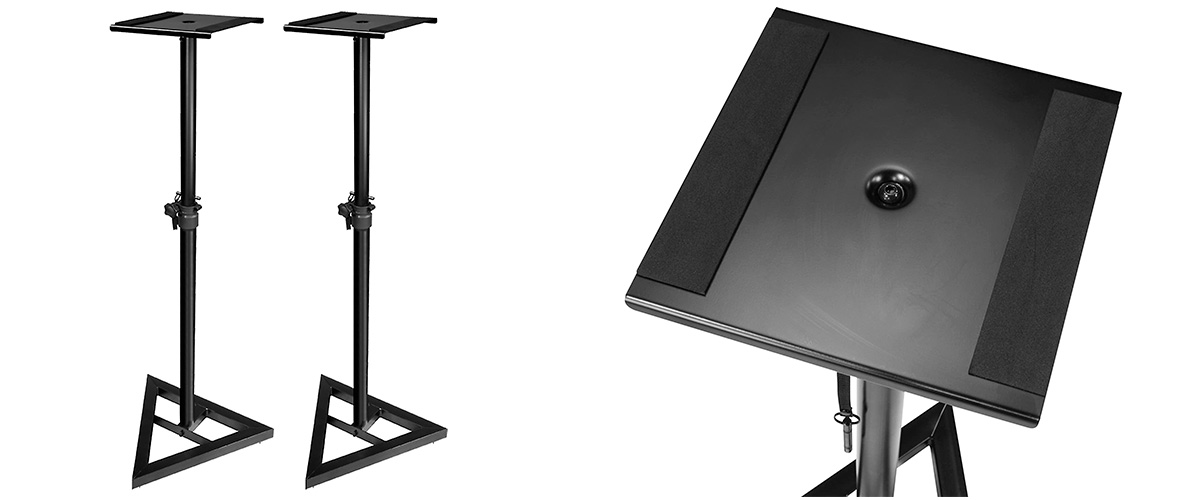 Ultimate Support JS-MS70 may well pretend to be one of the best monitor speaker stands. It's a perfect solution for those who are just starting out looking for a not very expensive, convenient and versatile stand. In thanks to design, this one easily fits into tight spaces. It includes floor spikes to stand firmly on carpeted places and rubber feet for wooden floor and tile surfaces. I have to admit, the whole construction looks really amazing.
This stands heights vary from 32.5″ to 44.25″ and can be locked in the right position. Ultimate Support JS-MS70 has locking Heights: 32.25", 36.25", 40. 25", 44.25" (819mm, 1022mm, 1124mm). Moreover, its weight is 8.4 lbs/3.8kg so it's pretty portable. To sum up, we do not have expensive and really comfortable studio monitor floor stands that are really popular among artists and producers all over the world.
Pros
Convenient price among similar stands
Suitable for most types of surfaces
Several locking positions
Cons
Available in only one color
Best Studio Monitor Desk Stands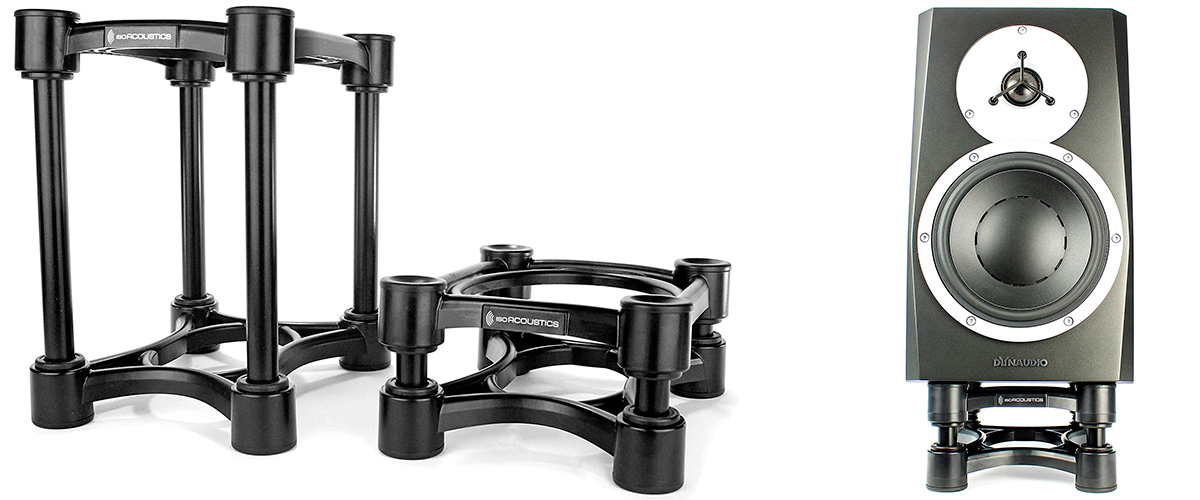 Here is another perfect offer among similar products. Usually, speaker stands perform multiple functions. The first one is that stands help you to put speakers in the right position. Another one, is about reducing vibrations that pass through into your surface. Luckily, This stand performs both tasks perfectly.
IsoAcoustics ISO-155 emphasizes acoustic principles of placement, isolation and focus. They certainly feel secure and stable. Moreover, they also help isolate vibration. Stands have an adjustable height while the maximum one is 8.75". Originally, the size was 7.5″ x 6.1″. This desk monitor stand is made of ABS Plastic with minimalistic design to reduce reflections and to improve maximum vibration absorption. ISO-155 helps you to place your monitors without worrying about your desk resonating with the vibration.
In addition, lots of satisfied users all around the world highlight the fact that ISO-155 has better focus and deeper, tighter bass so in their opinion it's one of the greatest studio monitor stands.
Pros
Isolation-enhancing design
Tilt and height adjustment
Cons
Designed only for small desktop studio monitors
Buyers Guide
Difference between bookshelf and studio monitor stands
One thing you should take into account is that there is no specific difference between basic speaker stands and monitor stands. Although the main countable difference that should be taken into consideration lies in speakers you will be using with those stands. Studio monitors
tend to be listened at shorter distances in a studio recording environment while a bookshelf speakers have a more general purpose of listening at far or short distances.
When choosing stands for monitor speakers, you should understand the conditions in which they will be used. For example, the size of the studio, a possibility to install certain stands, the required height of the stands for speakers, etc.
Only after full understanding of all these factors, you can choose the option you need, stands with adjustable or fixed height, floor monitor speaker stands or designed for a table, space of the studio etc. However, if you are a conscientious person looking for a suitable product, you will definitely find the best studio monitor speaker stands that are suitable for all your needs.