A speaker stand is an appliance that was made to increase the grade of your listening experience. I managed to gather the best speaker stands in one review, and also included a useful guide in the end.
So what is the reason to own the stands for the speakers? Let's talk about the difference between loudspeaker and typical bookshelf speakers. In first drivers remind pistons, which move back and forward to create sonic vibrations in the air. Large, floor-standing acoustic cabinets can soak in a lot of energy, produced by these waves and transmit it into the ground. But smaller systems can't absorb such an amount of energy and require a stand of optimal height to do the same job as large ones.
Raising your acoustic facilities is not just a way to show them off, this will also improve their performance by removing the dampening effects and giving them more attention from the audience. When the speakers are put above the floor or any other rigid surfaces eliminates redundant vibrations, in such a way improving the sound quality. Stands let you point sound in the necessary place, allowing you to enjoy the clear audio. It can be easily explained by the specific construct of modern speakers – most of them produce better, more voluminous sound when located approximately a foot away from the, and when the tweeter of the speaker is on the distance equal to the height of the listener's ears.
Our pick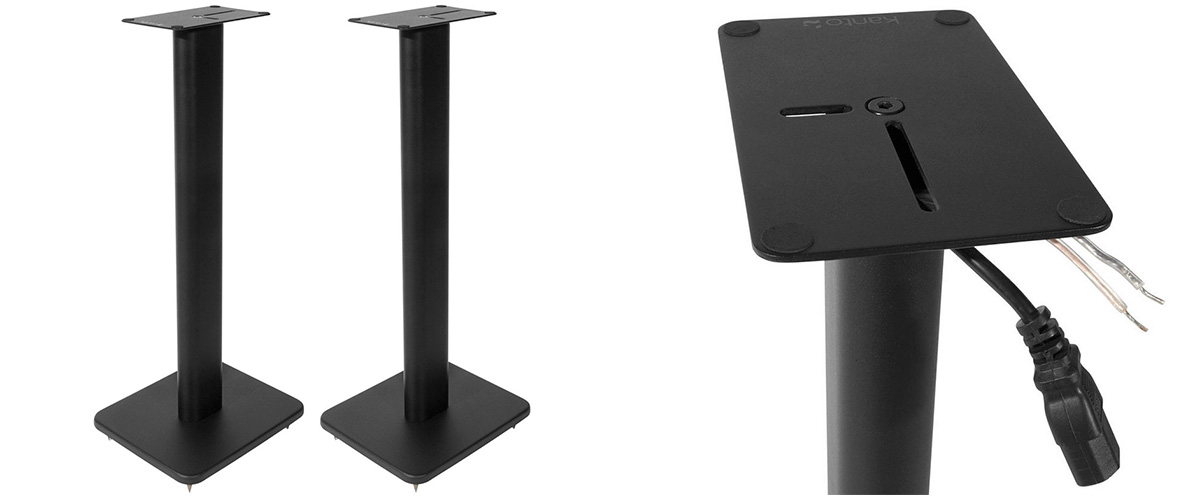 Kanto SP26
Best Speaker Stands
Get the most out of your speakers with the SP series
Speaker Stands Comparison Table
Speaker stands
Height
Color
Material
Kanto SP26

best overall

26″
black, white
steel
Review
Pangea Audio DS400

best for large speakers

32″
black
steel
Review
VIVO STAND-SP02B

best budget

23″
black
aluminum/glass
Review
Best Speaker Stands Reviews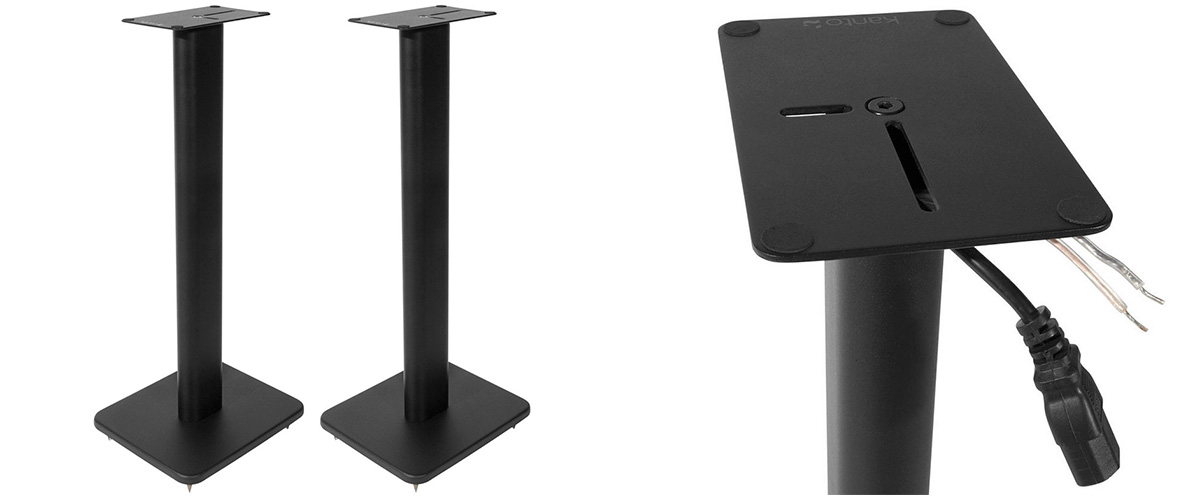 To get the most out of your speakers, I highly recommend you to get to know this stand from the SP series that is worth your attention. Considering their specifications I can certainly call them the best speaker stands.
This model was created to match perfectly with YU4 and YU6 speakers from Kanto, although they are suitable literally with any acoustic system, everything thanks to various sizes of plates and pretty wide basement – its dimension is 10.6 by 8.9 inches. I tried them with the speakers which are a bit larger than the scale of the upper plate and they were stabilized absolutely fine as their weight was within the range of the SP26 weight capacity.
This product is available in height of 26 and 32 inches with 7-inch and 4-inch wide top plates respectively to adjust speakers of different dimensions and two colors – black and white. Each plate is rotatable to guarantee every sound to be pointed right to your ears. Speaking of material, they are made of heavy-duty steel to decrease undesirable distortion. The stands are also tooled with a vault basis to hide cables and wires. A big advantage is that they have a screw in the package, which lets you tightly mount speakers that require the trivet type of mount screw. The product is sold with lots of extra equipment that allows installing speakers of any sizes. To prove its excellence and universality I should mention spiked feet, which are attached to keep the stands securely fixed on a carpeted surface, and domed gum feet to leave no traces on a surface like laminate. On the official Kanto website, you can look up all the information, beginning from main features and ending with an explicit user manual.
In terms of the sound quality – with Kanto stands it becomes top-notch! It doesn't even ring when struck and I didn't hear any odd vibrations while listening to music.
So my verdict is – these stands will bring you nothing except positive emotions. They are all about the extra heavy base, reliable hardware, with the comfort provided with every detail, so I can hardly even name one drawback of them!
Pros
Excellent, sturdy construction
Well-designed, substantial pillars
The top plate can be easily inclined to meet your requirements
Wires can be concealed neatly
Top-quality of the sound, achieved by foam packing and premium-quality steel
Cons
There's a risk of getting a defective exemplar when purchasing online
Pangea Audio DS400 – best for large speakers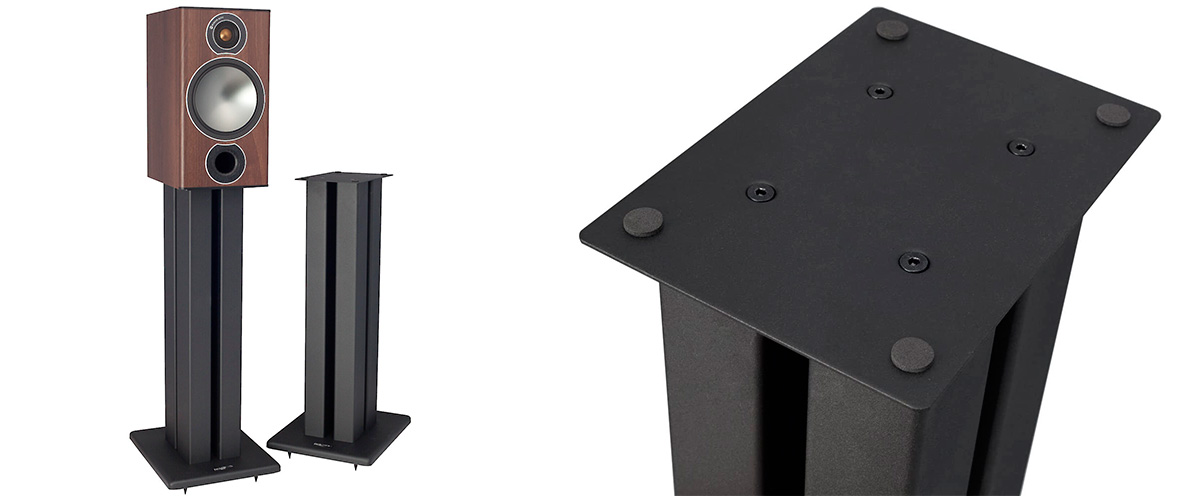 This is undoubtedly the most durable stand for big-sized speakers. DS400 speaker stand comes with extremely sturdy abutments to use with compact monitors or any other bookshelf speakers. A glance at it can say a lot about the endurance of construction. As usual, Pangea ensures you a perfect efficiency for a surprisingly low price. The company paid attention to all-steel design instead of wood, as the wood can handle sound pressure well and overall has poor acoustic traits. And steel will never bring you the dirty sound, additionally, it will embellish the midrange and bass, making them sound in a way you have never heard before!
You shouldn't worry about the grade of sound – any spare energy is absorbed and redirected by steel wedges into the floor, creating an effect of the refined professional sound of the huge floor-standing acoustic systems. With such stands, you'll feel kind of cinema sound at home. You will instantly admit how Pangea's construction technology affects all aspects of sound, involving bright coloring of the low mid-range, and nice bass. Moreover, you can fill all the four support pillars with sand or steel infusion for more professional vibration attenuation, which proves that they are the greatest speaker stands for large speakers.
Each stand is made of premium-quality steel, that can hold a speaker weight up to 120 lbs/55 kg. The stands are featured by a 6-inch wide by 8.5-inch high steel top plate to suit all possible compact monitor-type speakers and a thick, 9.75 by 12 inches lower plate. The DS400 is equipped with regulable carpet-piercing bottom wedges and is produced in different heights – 24, 28, and 32 inches.
Pros
Heavy, good-looking rectangular piers
You can fill piers with a shot for higher stability
Suitable for many monitor devices
Solid large-diameter screws from the heavy gauge material rigidly connect holders with the basement
Cons
When using with the spiked trotters, the base becomes unstable; it's noticeable that the feet have consequently a more narrow track than the whole base
There might be problems in assemblage
VIVO STAND-SP02B – best budget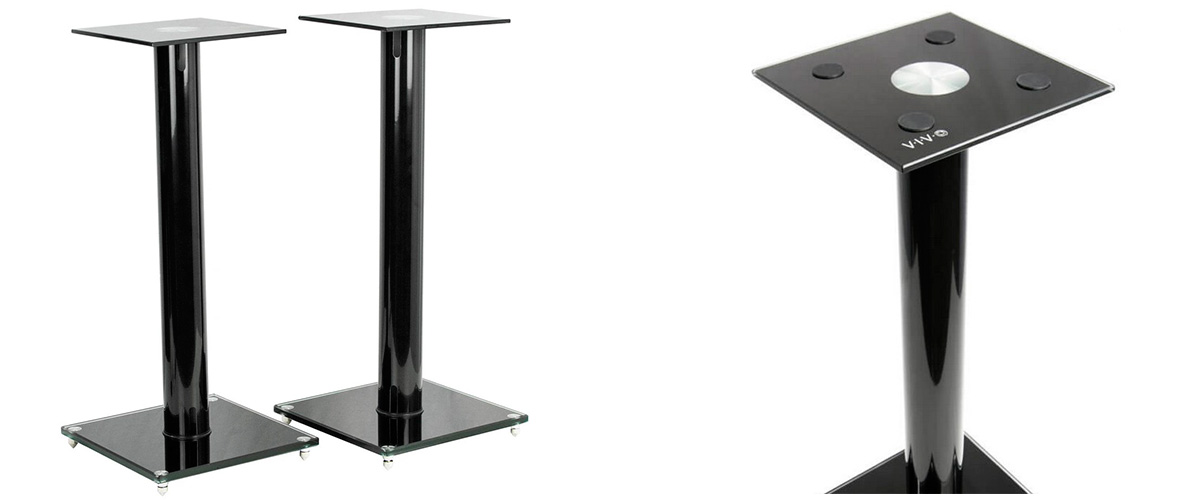 If you're not ready to pay for heavy-duty steel columns with all the complexed equipment, I'm glad to present you the best budget speaker stands- Vivo SP02B. This universal model will provide you with full compatibility – you can with ease place the satellite, bookshelf, monitor, and many other models on the stands. This particular model will also suit people, who appreciate elaborate design – materials of the stands include aluminum and glass of superior quality with a polished shiny black decor. Aluminum on the tubes is pretty thin but I didn't notice any roughnesses – they looked and felt mastered when I touched them. The glass has a top-notch quality – really sleek coating, with no scratches or cracks. It is not only about beauty though, as their ergonomic construction is intended to amplify the audio. I can say from my experience, that they work fine with any kind of a receiver, without any loss of sound sensitivity.
I was amazed by the functionality of this cheap stand. It offers you two alternatives for a foundation – spikes for nappy flooring and rubber feet, which grants a strong, stable foundation and prevents scratching on any kind of surface. There's only one unpleasant issue about founding on the hardwood floor – I'd recommend to screw something to the feet of the central rod and put sticky felted cushions on the heads of the screws to protect the parquet. Hollow tubes are included to hide cables and create a clean look.
Pillars of SP02B can be described as hardy enough – they can cope with 22 lbs/10 kg weight on each stand. The height of the stand is 23 inches. As for the rest of the measurements: the upper shelf is 8 x 8 inches and the basement takes 10 x 10 inches.
Pros
Can cope even with heavy speakers
Carpet spikes and gum spigots included
Spanner for mounting is included
Refined design, glossy coating
Cable management channels help to hide cords of any thickness
Cons
Pads for wooden surfaces aren't permanently affixed, which makes them uncomfortable to move
Threads on the trotters make them hard to screw into the basement
TransDeco TD32BA
TD32BA is a perfect purchase for those who need something affordable, yet well-designed. a 32-inch high, elegant stand built with black tempered glass on the lower plate and steel of heavy gauge on the rest of the carcass looks luxuriously. The stand is completed with spike feet, which of course can be moved adjusting to your needs, and special cover to protect the hardwood surface. Such build allows you to plant your speakers securely above uneven surfaces and diminish sound corruptions. You will also find a soft lining attached for more steadiness and an integrated cable management system so that you don't need to get confused with wires every time. What I liked about this TD32BA is its ready-to-assemble design, which really takes you minimum time as well as efforts to install the stands. Other technical features are great – dimensions are 7.1 by 7.1 inches for the upper plate and 10 by 12 inches for the lower, and the weight capacity is remarkably big – 150 lbs/68 kg with own weight only 34 lbs/15 kg.
An important note – I found out that you can't screw the bolt deeply enough to match the top plate. In my case, it indeed stuck over the corner dampers supplied. Therefore, I found a solution: to buy taller dampers or get new screw-bolts with narrower heads.
There might be also troubles with filling the columns with sand due to the presence of the speaker cable holes. In this case, simply pass the wire first, then drop in sealed sandbags, finally set back the top. This will throw on ponderosity to the pillar, consequently averting the whole construction from falling accidentally. Altogether, I must admit that these are one of the best bookshelf speaker stands.
Pros
The premium quality of steel and glass
The attractive design makes them look pretty expensive
Gum caps are included to cover carpet wedges when you don't use them
The stands could accommodate speakers of any size
Cons
There's no insert for the lower glass where the bolt joins it to the pillar
The port hollows inside the columns could have been finished better (removed burs or added some type of rubber grommet)
Sanus SF30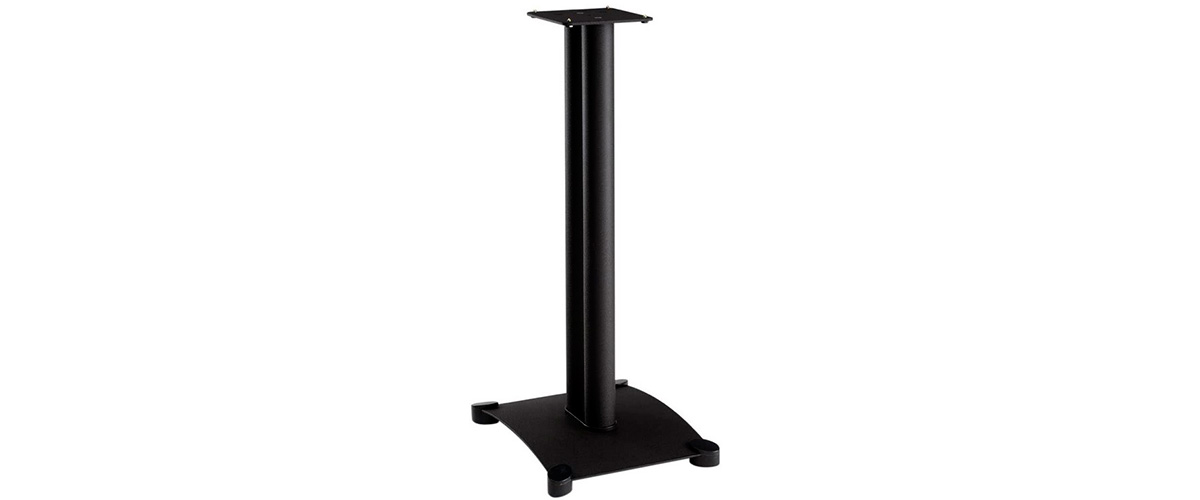 Let me show you these speakers stand for small to medium format bookshelf devices weighing up to 11.3 kg. The construction will hold your speakers 30″ off the ground and can be placed on the brass isolation studs or bolt-mounted. Sanus SF30 does have to be assembled, but assembly is very quick and painless, requiring just a Phillips screwdriver.
The stands Sanus SF30 are produced entirely of black textured steel, with the exception of plastic feet. The extra-large steel base is equipped with extra carpet pins for great stability on any surface. The 15.2 x 16.5 cm (6-6.5 inch) top plate has brass rods and neoprene spacers to isolate the speaker.
The double struts of heavy gauge steel come with a conduit for wires and resonance suppression rings, which can be filled with sand or shot to increase the mass. Once filled with the finest, smallest particle sand you can find, the stands should be acoustically neutral with zero resonance.
Pros
Heavy-weight base provides excellent stability on any surface
Bolt-mounting secures your speaker to the stand
Nicely built and sturdy
Designed in collaboration with renowned industrial design firm Cramer Studio
Cons
Confusing instructions
Too tiny holes for filling the stands with sand
Buyers Guide
Do speaker stands make a difference?
After the speaker stand reviews I'd like to emphasize the mission of these appliances and consider the question – do they actually matter? Choosing a good audio device is of the same import as choosing the proper stand for them. Placing your speakers on the floor, shelf, or next to the wall will cause undesired acoustic effects – the frequency response will be fluctuating, and sound will be muddy. A speaker standing on the floor, if it does deliver good sonic quality, then only towards the ground, where the sound potential is lost. In order to get a proper sound, the speakers must be lifted on a certain height above the floor. Also, the distance between the speaker and the wall makes a big difference to the sound performance.
When using specialized constructions instead of self-made stands you'll also receive a lot of easements supplied, for example, space for sand in the support pier or convenient cable compartments. Plates affect the sound as well, generally, the top plate will include an additional layer of separation between the pedestal and speaker. And the carpet spikes along with the rubber feet will manage to remove audible vibrations considering all specifications of the flooring.
You can add some mass to the columns to reduce distortion, which appears with every vibration and isn't fully removed by bracing. It's recommended to not more than 70% of your stand's height to save gravity center on its position.
What is the best height for speaker stands?
The height is another principal factor, no matter where you want to arrange your garniture and what you are expecting from the listening sessions.
The best listening experience is reached by placing the speakers at the height of the seated listener's ears. Providing appropriate height is important as it lines up the tweeter and loudspeaker system with the ear in order to get the ideal sound balance. When these conditions are not kept, high peaks of frequencies are lost. The most spread are static speaker stands with a standard height range from 20 to 34 inches. Nevertheless, height-adjustable stands are produced, too. They are commonly used for festivals or any events on the open air, and their height can be changed from 24 up to 40 inches with no tools! This kind of stand gives you more control over placing your small speakers at the most suitable level. Thanks to the interchangeable height and plates' angle the sound will be always pointed to the listener's ears and get enough of the treble from the tweeter's radiation.
It's a question of taste – what height and construction to choose – anyway, the speaker stand is a must-have purchase if you still place your garniture on the table, chair, or another inefficient surface.